This post may contain affiliate links, meaning if you book or buy something through one of these links, I may earn an affiliate commission at no additional cost to you. Learn more
Live a life of fun, challenge, and happiness with your partner in crime, and use our couples bucket list ideas to dream big, have fun, and make lifelong memories together.
Couples Bucket List Ideas (Things to do as a Couple)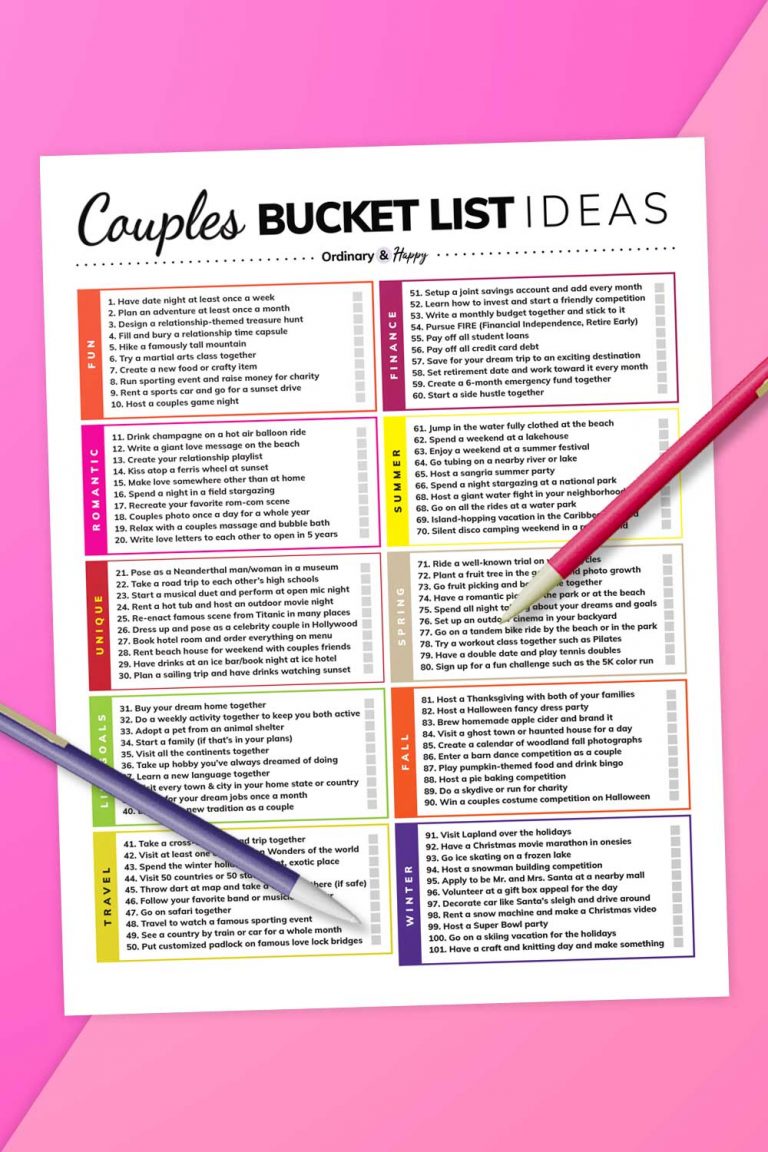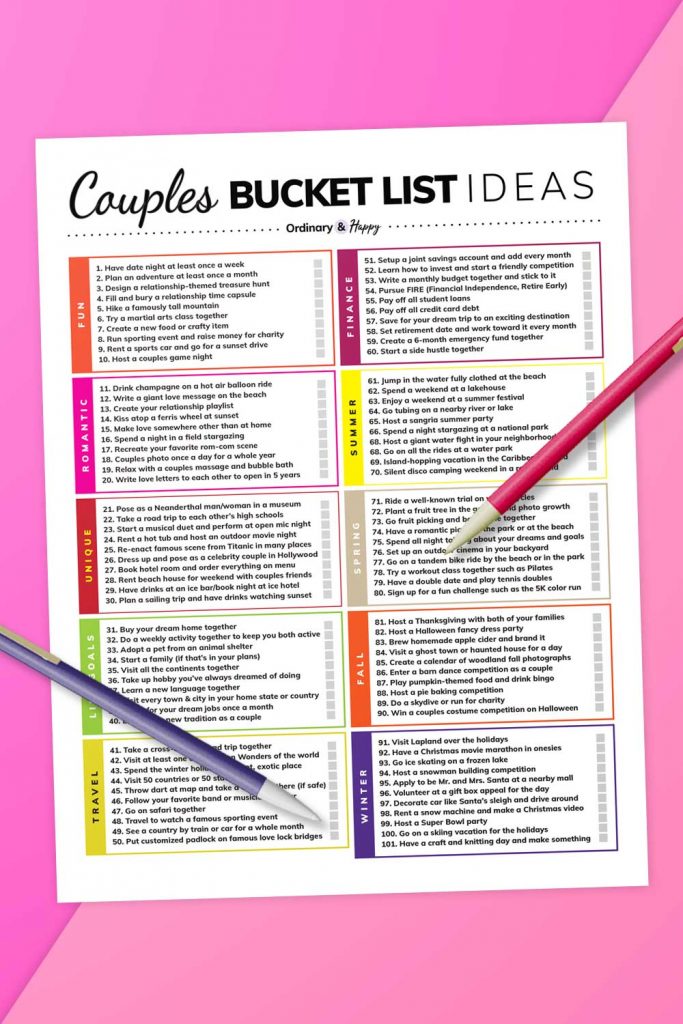 Want to take your relationship goals to a whole new level? Scroll to the bottom of this bucket list to download our ultimate couples bucket list printable for free.
Download it, print it off, laminate it, and stick it in a special place. Then, set about ticking off as many as you can over days, weeks, months, and years!
---
Fun Activities for Couples
Fill your evenings, weekends, and free time with plenty of laughs and joy with these fun ideas for couples, ideal for making memories and spending quality time together.
1. Have date night at least once a week
Related: 100+ Ultimate Date Ideas Bucket List for the Perfect Date
2. Plan an adventure at least once a month
3. Design a treasure hunt with clues about your relationship and important spots and places
4. Fill and bury a relationship time capsule and open it in the future
Related: Fun Time Capsule Ideas
5. Hike a famously tall mountain
6. Try a martial arts class together
7. Create a new food or crafty item and sell it at a farmer's market
8. Run a sporting event and raise money for charity
9. Rent a sports car and go for a sunset drive
10. Host a couples game night
---
Romantic Activities for Couples
Make your date nights and alone time rom-com worthy with some of these fun and fabulous romantic things to do – who says romance is dead in the 21st century?
11. Drink champagne on a hot air balloon ride
12. Write a giant love message to each other in the sand on the beach and photograph it from a nearby hillside or viewpoint
13. Create your relationship playlist, including all the songs that hold special meaning to you as a couple
14. Kiss atop a ferris wheel at sunset
15. Make love somewhere other than your bedroom or home
16. Spend a night in a field stargazing
17. Recreate and photograph your favorite rom-com scene
18. Take a couples photo once a day for a whole year and scrapbook the photos
19. Relax by having a couples massage or enjoying a bubble bath together
20. Write love letters to each other to open in 5 years
---
Unique Activities for Couples
Get inspired to do some truly creative and radical things together with these unique things to do, and take your couple goals to wild and whacky places while you're at it.
21. Pose as a Neanderthal man and woman in a history museum
22. Take a road trip to each other's high schools and make out on campus
23. Start a musical duet and perform at an open mic night
24. Rent a hot tub and host an outdoor movie night watching the movie 'Hot Tub Time Machine'
25. Re-enact the famous scene from Titanic in as many places as you can for a whole year and photograph it each time
26. Dress up and pose as a celebrity couple in Hollywood
27. Book a hotel room for date night and order everything on the room service menu
28. Rent a beach house for the weekend and invite all your best couple friends to come along
29. Have drinks at an ice bar or book a night at an ice hotel
30. Plan a sailing trip and have drinks while watching the sunset from the boat
---
Couples' Life Goals
Dream big and aspire for a better tomorrow together, and set high-level goals now that you can start working towards today. Do a little bit every day, and slowly work toward these awesome life goals.
31. Buy your dream home together
32. Do a weekly activity together to keep you both active
33. Adopt a pet from an animal shelter
34. Start a family (if that's in your plans)
35. Visit all the continents together
36. Take up a hobby you've always dreamed of doing as a couple and practice every day for a whole year
37. Learn a new language together
38. Visit every single town and city in your home state or country
39. Apply for your dream jobs once a month until you retire or until you get it
40. Establish a new tradition as a couple
---
Travel Activities for Couples
Stop putting off those vacations you think about every day, and make positive moves to have more travel in your life. From road trips to paradise islands, a life full of travel together is a life well-lived.
41. Take a cross-country road trip together
42. Visit at least one of the Seven Wonders of the world
43. Go on a food tour in your favorite country (other than your own, of course)
44. Visit 50 countries or 50 states
45. Throw a dart at a world map and take a vacation there (if safe to do so)
46. Follow your favorite band or musician on tour for several dates
47. Go on safari together
48. Travel to watch a famous sporting event such as the summer Olympics
49. See a country by train or car for a whole month
50. Put a customized padlock on one of the famous love lock bridges such as Pont des Arts in Paris
---
Couples' Finance Goals
As much as we can often bury our heads in the sand about it, money matters. As a couple, managing finances and working toward a financially independent future is important both in the immediate, and the long-term.
Use these financial couples goals to help you both start getting on top of your finances, together.
51. Setup a joint savings account and contribute to it every month
52. Learn how to invest and start a friendly competition by seeing who made the most each month
53. Write a monthly budget together and stick to it
54. Pursue FIRE (Financial Independence, Retire Early) together
55. Pay off all student loans
56. Pay off all credit card debt
57. Save for your dream trip to an exciting destination
58. Set a retirement date and work toward it every month
59. Create a 6-month emergency fund together
60. Start a side hustle together
---
Summer Things to Do as a Couple
Make the most of the summer sun with these awesome things to do, and spend your time having fun and making memories, together, in one of the most enjoyable seasons.
61. Jump in the water fully clothed at the beach
62. Spend a weekend at a lakehouse
63. Enjoy a weekend at a summer festival
64. Go tubing on a nearby river or lake
65. Host a sangria summer party
66. Spend a night stargazing at a national park
68. Host a giant water fight in your neighborhood
68. Go on all the rides at a water park
69. Have an island-hopping vacation in the Caribbean or the Mediterranean
70. Have a silent disco camping weekend in a rented field
---
Spring Things to Do as a Couple
A time of growth and new opportunities, spend quality time together throughout spring with these fun and creative things to do.
71. Ride a well-known trial on your bicycles
72. Plant a fruit tree in the garden and photograph its growth
73. Go fruit picking and bake a pie together
74. Have a romantic picnic in the park or at the beach
Related: Summer Picnic Essentials
75. Spend all night talking about your dreams and goals
76. Set up an outdoor cinema in your backyard and binge watch your favorite TV show
77. Go on a tandem bike ride by the beach or in the park
78. Try a workout class together such as Pilates or cycling
79. Have a double date and play tennis doubles
80. Sign up for a fun challenge such as the 5K color run
---
Fall Things to Do as a Couple
A time of gorgeous color and unique events, make every fall you spend together a truly memorable one by giving these fun and exciting things to do a try.
81. Host a Thanksgiving with both of your families
82. Host a Halloween fancy dress party
83. Brew homemade apple cider and brand it
84. Visit a ghost town or haunted house for a day
85. Create a calendar of woodland fall photographs and sell copies for charity
86. Enter a barn dance competition as a couple
87. Play pumpkin-themed food and drink bingo
88. Host a pie baking competition with friends and family
89. Do a skydive or run for charity
90. Win a couples costume competition on Halloween
---
Winter Things to Do as a Couple
The weather may be colder and the nights longer, but that doesn't mean winter can't be a productive, enjoyable, and magical time for you both.
Strive to make the most of your time during the winter months with these fun and creative winter things to do, and prepare for plenty of smiles and memories along the way.
91. Visit Lapland over the holidays
92. Have a Christmas movie marathon in onesies
93. Go ice skating on a frozen lake
94. Host a snowman building competition in your neighborhood
95. Apply to be Mr. and Mrs. Santa at a nearby mall
96. Volunteer at a gift box appeal for the day and donate unwanted clothes and items
97. Decorate your car like Santa's sleigh and drive around your neighborhood playing Christmas songs
98. Rent a snow machine and make a Christmas music video at home with family and friends
99. Host a Super Bowl party
100. Go on a skiing vacation for the holidays
101. Have a craft and knitting day and make something for a loved one
---
Grow, learn, and make memories as a couple, and commit to a life of exciting adventures and new opportunities. This couple's bucket list is an amazing place to start to inspire you to live in the moment, while also working toward and brighter and happier future.
Download our ultimate couples bucket list printable here.
You Might Also Like to Read
---
Want to strive toward a happier and purposeful life together? Keep this ultimate couples bucket list for safekeeping, by saving this article to one of your relationships or self-improvement Pinterest boards.