This post may contain affiliate links, meaning if you book or buy something through one of these links, I may earn an affiliate commission at no additional cost to you. Learn more
Live a life of fun, challenge, and happiness with your partner in crime, and use our couple's bucket list ideas to dream big, have fun, and make lifelong memories together.
Couples Bucket List Ideas (Things to do as a Couple)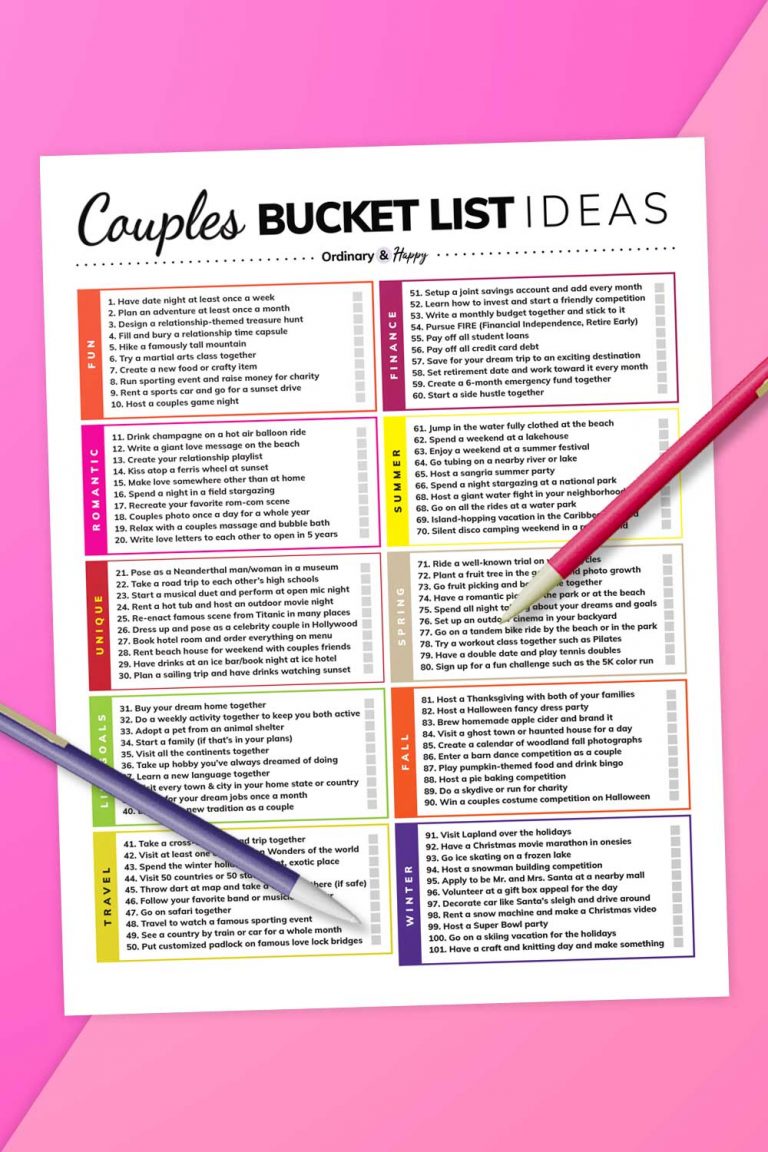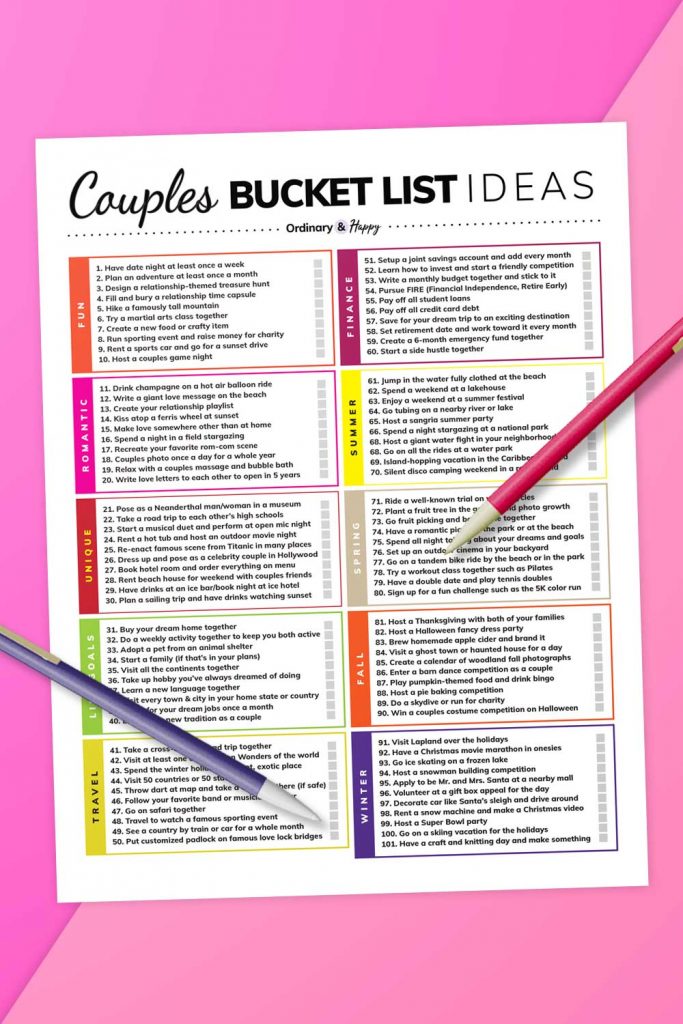 Want to take your relationship goals to a whole new level? Read to the end of this bucket list to download our ultimate couples bucket list printable for free.
Download it, print it off, laminate it, and display it in a special place. Then, set about ticking off as many as you can over days, weeks, months, and years!
---
Fun Activities
Fill your evenings, weekends, and free time with plenty of laughs and joy with these fun ideas for couples, ideal for making memories and spending quality time together.
1. Have a date night at least once a week
With everything life brings, from work to raising children, it's so important to keep your relationship strong by making time for each other.
Commit to a date night once a week, make that your day, and just spend quality time together.
Read more: 100+ Ultimate Date Ideas Bucket List for the Perfect Date
2. Plan an adventure at least once a month
Whether it's a road trip to a national park or a spa weekend in a fancy hotel, make sure you go somewhere new and exciting as a couple at least once a month.
3. Design a treasure hunt with clues about your relationship and important spots and places
This is a great way for you both to stay connected to your love story, take a trip down memory lane, and bring yourselves closer together as a result of it.
4. Fill and bury a relationship time capsule and open it in the future
Our fun time capsule ideas article can give you plenty of ideas of what you can bury together in your own backyard.
Several years in the future, you can unearth it together and relive those magical moments in your mind.
5. Hike a famously tall mountain
If you love hiking together, challenge yourselves with a timed ascent.
If you don't, make it a fun challenge you can both work toward and even make a weekend of it with a fancy dinner at a restaurant and an overnight stay.
6. Try a martial arts class together
Aside from learning some important self-defense, martial arts can be a great way for you both to stay fit and do something on an intimate level together.
7. Create a new food or crafty item and sell it at a farmer's market
Always loved baking cookies or making wreaths in the front room?
If this has always been an activity only one of you has done, get the other involved with a little business savvy and get your product into a local farmer's market.
8. Run a sporting event and raise money for charity
Charity runs are a great way for you both to get in good physical shape, and, together, you can raise money for a good cause.
Try a color run if you want something a little less intimidating.
9. Rent a sports car and go for a sunset drive
Tick a classic off your relationship bucket list and take a drive somewhere new and exciting in a rented sports car so that you can both feel like a celebrity power couple for a day!
10. Host a couple's game night
Great for double dates; if you have couple friends that you haven't seen in a while, get the snacks and drinks in and invite them over for a casual games night.
Have a look at some of our board games for couples ideas for inspiration.
---
Romantic Activities
Make your date nights and alone time rom-com worthy with some of these fun and fabulous romantic things to do – who says romance is dead in the 21st century?
11. Drink champagne on a hot air balloon ride
You can really pull out all the stops with this idea for a super romantic night. There are many hot air balloon packages you can buy for an evening of romance and epic views like nothing else.
12. Write a giant love message to each other in the sand
Do this at a beach and photograph it from a nearby hillside or viewpoint for a memento the both of you can print off and hang in your living room.
13. Create your relationship playlist, including all the songs that hold special meaning to you as a couple
You'll be amazed at how powerful doing this can be. Connecting over things like shared songs that have meaning to your relationship can help you connect on a truly deep level.
Related: Relationship Quotes to Inspire You
14. Kiss atop a Ferris wheel at sunset
This one is straight out of the romcoms, but it's a super fun bucket list thing to do together, no matter how cliche!
15. Make love somewhere other than your bedroom or home
Let your inhibitions run wild with this one, and let the thrill of lovemaking outside of the bedroom help you reach a deep level of intimacy.
16. Spend a night in a field stargazing
Swap stories, kiss, cuddle, and let the night sky capture your hearts. Turn it into a camping trip, or pack some picnic foods for the evening to make it a whole day activity.
17. Recreate and photograph your favorite rom-com scene
Whether it's holding up a boombox for that classic scene from 'Say Anything' or finding a cute London bookshop to reenact the famous scene from 'Notting Hill,' you can have so much fun with this one.
18. Take a couples photo once a day for a whole year and scrapbook the photos
Looking back through the photos after they're printed will bring back so many memories, and doing this will inspire you to get out of the house and do some fun things.
19. Relax by having a couples massage
Book a couples massage at a nearby spa for an afternoon and take some much-needed downtime. If you want to stay at home, you could enjoy a bubble bath together with essential oils.
20. Write love letters to each other to open in 5 years
Get creative with this idea, and set a date and place to open and read the letters together in the future.
---
Unique Activities
Get inspired to do some truly creative things together with these unique things to do, and take your couple goals to wild and whacky places while you're at it.
21. Pose as a Neanderthal man and woman in a history museum
This one is sure to put a smile on people's faces! As long as the museum is comfortable with your costumes, this idea can be so much fun. Be sure to take some pictures!
22. Take a road trip to each other's high schools and make out on campus
Ever asked yourselves if you'd have ended up together if you'd met in high school? Reenact this fantasy by taking a trip down memory lane, and be silly, lovestruck teenagers for an afternoon together.
23. Start a musical duet and perform at an open mic night
It doesn't matter if neither of you has the voice of an angel. What matters is that you're both doing something fun and daring together.
24. Rent a hot tub and host an outdoor movie night watching the movie 'Hot Tub Time Machine'
Get super ironic with this one, rent a hot tub, and get a projector to show the classic comedy on a white sheet or screen. Is there a better way to watch movies?
25. Re-enact the famous scene from Titanic in as many places as you can
Recreate that classic Jack and Rose embrace at the bow of the ship, and do it for a whole year. Photograph it each time with a selfie, and make a photo album that is truly unique.
26. Dress up and pose as a celebrity couple in Hollywood
Take a road trip to Hollywood, and get passers-by double-taking as you strut around in luxurious clothes and sunglasses that make you look like a rich and famous couple.
27. Book a hotel room for date night and order everything on the room service menu
Let your stomachs do the talking for the night and live like a rockstar by getting room service to treat you like royalty.
28. Rent a beach house for the weekend and invite all your best couple friends to come along
Have a look on Vrbo or Airbnb for a swanky beach house, load up the cars with snacks and drinks, and invite your couple friends along for a weekend of sun, sea, and laughs.
29. Have drinks at an ice bar or book a night at an ice hotel
Ice bars are truly a unique experience. If you have to go to one in another city or state, make a weekend of it and enjoy a getaway with your loved one.
30. Plan a sailing trip
Hire or reach out to someone with a sailing boat who will sail it for you, and have drinks while watching the sunset from the boat.
---
Life Goals
Dream big and aspire for a better tomorrow together, and set high-level goals now that you can start working towards today. Do a little bit every day, and slowly work toward these awesome life goals.
31. Buy your dream home together
Find that home, print it off, and put it somewhere to motivate you both. Work hard, budget, save money, and keep working toward getting that amazing home in the future.
32. Do a weekly activity together to keep you both active
From tennis to swimming, hiking up mountains to walking with dogs, there's always something out there the two of you can do together to stay active.
33. Adopt a pet from an animal shelter
If you're both animal lovers or want to expand your family, head down to a local animal shelter and, after careful consideration, adopt a pet that both of you will care for, love, and make cherished memories with.
34. Start a family (if that's in your plans)
Have that all-important conversation together, and get on the same page. Having kids is a life-changing experience.
35. Visit all the continents together
Seven continents for seven trips of a lifetime. If this isn't the ultimate challenge to put on your couple's bucket list, then what is?
36. Take up a hobby you've always dreamed of doing as a couple
Practice every day for a whole year, and see how much better you are. At the end, you could be dueting classic numbers or running a side hustle together.
Read more: List of Hobbies to Try
37. Learn a new language together
Either sign up for some online classes or just download an app like Duolingo and learn together from the comfort of the sofa.
Read more: Skills to Learn Online
38. Visit every single town and city in your home state or country
If you love road trips or train travel, this is such a great lifelong challenge to attempt together. You can travel much cheaper than going abroad, but still see so many things and make loads of memories.
39. Apply for your dream jobs once a month until you retire or until you get it
Why not reach for the stars? There's no harm in trying, and if one of you gets the dream job, a whole world of opportunity could open up for you both.
40. Establish a new tradition as a couple
Make it fun, simple, and something the two of you can both enjoy together. Get creative, and see what you can come up with together.
---
Travel Activities
Stop putting off those vacations you think about every day, and make positive moves to have more travel in your life. From road trips to paradise islands, a life full of travel together is a life well-lived.
41. Take a cross-country road trip together
Go on an adventure that's unique to the two of you, load up the car with supplies, and see where the open road takes you.
42. Visit at least one of the Seven Wonders of the world
Whether it's the awe of the pyramids in Egypt or the magic of Peru's Machu Picchu, you'll make some wonderful memories on a trip of a lifetime to some of the world's must-see spots.
43. Go on a food tour in your favorite country (other than your own, of course)
Whether it's pizza from Naples, tacos from Cancun, or pad thai from Chaing Mai, seeing the world through food is a wonderful way to experience local culture and cuisine.
44. Visit 50 countries or 50 states
Put a numbered goal on your adventure bucket list, and striving to reach that number will get you excited to book more trips and see more amazing places.
45. Throw a dart at a world map and take a vacation there (if safe to do so)
Let fate take the wheel, and see what wild and wonderful places you can book a trip together to for quite an adventure.
46. Follow your favorite band or musician on tour for several dates
This is such a great way to travel and experience the energy and magic of one of your favorite bands or musicians live, over and over again.
47. Go on safari together
For the ultimate couple bucket list activity, take a trip to the likes of Kenya or South Africa and book a safari tour that you will never forget.
48. Travel to watch a famous sporting event such as the summer Olympics
Famous sporting events are always hosted in iconic cities. Not only will you experience a once-in-a-lifetime event, but you can also enjoy a new city and country and see some of the top attractions.
49. See a country by train or car for a whole month
Train or car travel is an excellent way to travel through a country at a slower pace. That way, you can live more like a local and experience more food, culture, and unique moments.
50. Put a customized padlock on one of the famous love lock bridges, such as Pont des Arts in Paris
Be sure to take a photograph, and declare your love for each other in an iconic way, like many other couples have.
---
Finance Goals
As much as we can often bury our heads in the sand about it, money matters. As a couple, managing finances and working toward a financially independent future is important both in the immediate and the long-term.
Use these financial couples goals to help you both start getting on top of your finances together.
51. Setup a joint savings account and contribute to it every month
You can slowly build your savings over time and work toward a more secure financial future together.
52. Learn how to invest and start a friendly competition by seeing who made the most each month
Either track your monthly progress in a spreadsheet or use an app such as Robin Hood to make investing a fun little pastime you do together.
53. Write a monthly budget together and stick to it
Use a budget tracker printable on the refrigerator or a budgeting app to set a budget every month, and help each other stick to it. Use vision boards and talk about your dreams to keep you motivated.
54. Pursue FIRE (Financial Independence, Retire Early) together
Commit to retiring early and enjoying life in a strong financial state and gamify saving, cutting back on spending, and investing your extra money wisely.
55. Pay off all student loans
As with anything in finances, commit to a small amount each month, and work toward a long-term goal of both being free of student loans.
56. Pay off all credit card debt
Incentivize yourselves with small rewards and fun date nights every time you reach certain milestones. Remember, paying off debt is a marathon, not a sprint, so take your time.
57. Save for your dream trip to an exciting destination
Create a vision board for it, and use a budget tracker to slowly but surely amass the money needed to pay for a trip of a lifetime together.
58. Set a retirement date and work toward it every month
Get into the habit of making small changes now that will have positive impact years down the line, and continue to practice financial discipline.
59. Create a 6-month emergency fund together
Contribute to it together and give yourselves peace of mind in case you need immediate cash for emergencies.
60. Start a side hustle together
Make a little extra money on the side by doing deliveries, writing gigs, or selling a product you make at home together. Run it like a business and delegate between you.
---
Things to Do in the Summer
Make the most of the summer sun with these awesome things to do, and spend your time having fun and making memories together in one of the most enjoyable seasons.
61. Jump in the water fully clothed at the beach
Experience the rush of that water hitting your bodies, and hold hands while you jump into a pool, lake, or a calm sea, if safe to do so.
62. Spend a weekend at a lakehouse
Take a surprise trip together, and enjoy this classic romantic getaway together. Take a road trip, book in for some water activities, and spend some romantic evenings together watching the sunset.
63. Enjoy a weekend at a summer festival
Summer is festival season, so do some research, see what bands or music you would both love to see live and book a day or weekend pass to a popular festival or underrated gem.
64. Go tubing on a nearby river or lake
Recreate those exciting, butterfly moments you remember from being on a first date together, throw caution to the wind, and enjoy this super fun summer activity together.
65. Host a sangria summer party
Make plenty of batches of this wonderful Spanish drink, invite friends around, and set up a paddling pool outside for plenty of fun in the sun.
66. Spend a night stargazing at a national park
For romantic ideas, there's nothing quite like a night of stargazing together. Make it a weekend camping trip and load up on snacks and supplies so that you can enjoy all the beauty the national park has to offer.
68. Host a giant water fight in your neighborhood
Get everyone involved with water pistols, gather at a certain point, and split everyone into teams. Set a time, and let the antics play out.
68. Go on all the rides at a water park
Why stop at one or two? Spend a day at a water park together, and make it a game to go on absolutely every single ride.
69. Have an island-hopping vacation in the Caribbean or the Mediterranean
Both these sun-kissed destinations should be on any bucket list for couples. So save up for a summer vacation of a lifetime and book an island hopping cruise or tour, or book several places yourself and make it a longer trip.
70. Have a silent disco camping weekend in a rented field
Let your inner dance freak out, and dance like no one is watching. Either book a silent disco company to host the event or rent your own equipment.
---
Things to Do in the Spring
A time of growth and new opportunities, spend quality time together throughout spring with these fun and creative things to do.
71. Ride a well-known trial on your bicycles
With the flowers in bloom and that fresh feeling in the air, there's no better time to immerse in the beauty on your bikes together.
72. Plant a fruit tree in the garden and photograph its growth
Document its journey, and gorge on the fresh fruit it produces once the plant is in bloom. You could also make jams, salads, and other recipes with the fruit.
73. Go fruit picking and bake a pie together
Make all your hard work pay off by enjoying a delicious fruit pie after your time outside and in the kitchen.
74. Have a romantic picnic in the park or at the beach
Be sure to pack plenty of our summer picnic essentials and find a beautiful green spot under some trees, or at a nearby beach, on a warm day for a relaxing afternoon together.
75. Spend all night talking about your dreams and goals
Let everything off your chest, and get inspired to start working towards the bucket list things you both have always wanted to do in life.
Related: 35+ Best Things to do at Night
76. Set up an outdoor cinema in your backyard
Binge-watch your favorite TV show or put on a childhood movie, and snuggle up with duvets, beanbags, and lots of snacks.
77. Go on a tandem bike ride by the beach or in the park
Rent a tandem bike for the day, and have fun cycling together past beautiful beaches and through scenic parks.
78. Try a workout class together
You could try a pilates or yoga class for something a little slower-paced or give spin or hit workouts classes a go if you both want to get a sweat on.
79. Have a double date and play tennis doubles
Fun to do together, an afternoon of mixed doubles can then be followed by a nice spot of lunch or afternoon tea with your partner friends.
80. Sign up for a fun challenge
You could sign up for something like a 5K color run and put time aside every week to train for the challenge together.
---
Things to Do in the Fall
A time of gorgeous color and unique events, make every fall you spend together a truly memorable one by giving these fun and exciting things to do and date ideas a try.
81. Host a Thanksgiving with both of your families
Go all out for Thanksgiving, and host both your families for a day of delicious food and drink, wonderful memories, and some quality family time together.
82. Host a Halloween fancy dress party
Get inspired with our 100+ Halloween bucket list ideas to plan a party at home that kids and adults alike will have an amazing time at.
83. Brew homemade apple cider and brand it
Fall is apple season, so put those crisp and juicy fruits to good use by brewing your own homemade cider. If you get the proper permits and licensing, you could even brand it, bottle it, and sell it at a farmer's market.
84. Visit a ghost town or haunted house for a day
Bucket list adventures don't come more spooky than a day at a ghost town or haunted house, and especially if you're in the US, there are plenty of places to visit.
85. Create a calendar of woodland fall photographs
Embrace the beauty of fall by capturing it on camera. You can then sell copies of your calendar for charity once it has been put together and printed.
86. Enter a barn dance competition as a couple
Regardless of whether you dance like you were cast in Dirty Dancing or have two left feet, this is such a great way to have a super fun time together.
87. Play pumpkin-themed food and drink bingo
From pumpkin-spiced lattes to pumpkin pie, throughout the fall everyone gets pumpkin crazy. See how many pumpkin-themed dishes and drinks you can find, and try them all.
88. Host a pie baking competition with friends and family
Hand out plenty of prizes, and encourage everyone to be really creative with their recipes. So many fruits, cheeses, and meats can be used in pies.
89. Do a skydive or run for charity
For a bucket list idea high on many people's wish list, couple this adrenaline-fuelled activity with a financial fundraiser. If skydiving is a little too out there, opt for a run instead.
90. Win a couples costume competition on Halloween
There's no end to the fun and creativity you can have with a couple's costume on Halloween. Attend a gathering or party with a costume competition, and see if you can take the top prize.
---
Things to Do in the Winter
The weather may be colder and the nights longer, but that doesn't mean winter can't be a productive, enjoyable, and magical time for you both.
Strive to make the most of your time during the winter months with these fun and creative winter things to do, and prepare for plenty of smiles and memories along the way.
91. Visit Lapland over the holidays
From reindeer sleigh rides to visiting Santa's grotto, Lapland really is one of the best places on Earth to soak up the magical atmosphere of Christmas and all its festivities.
92. Have a Christmas movie marathon in onesies
Our ultimate list of Christmas movies gives you over 100 classic, new, and unconventional titles to choose from, which you can watch snuggled up on the couch together.
93. Go ice skating on a frozen lake
A wonderful activity on so many bucket lists, there's something so magical about taking to a frozen lake with your skates on, if safe to do so.
94. Host a snowman-building competition in your neighborhood
Get all the kids, parents, and adults involved, and hand out lots of different prizes for the snowmen, from tallest to most creative.
95. Apply to be Mr. and Mrs. Santa at a nearby mall
This surely has to be added to any married couples bucket list! Go to your local mall, and see if you can be the couple that brings joy to so many kids' faces during the run-up to Christmas.
96. Volunteer at a gift box appeal for the day
Donate unwanted clothes and items, put your time toward a good cause, and know there will be plenty of kids out there who will have joy on Christmas morning because of the gift box appeal.
97. Decorate your car like Santa's sleigh
Drive around your neighborhood playing Christmas songs, and bring plenty of festive cheer and spirit to your local area.
98. Rent a snow machine and make a Christmas music video at home
Get all your family and friends involved, and spend a few days editing your masterpiece to put on YouTube or your social channels. You may be the next viral sensation!
99. Host a Super Bowl party
One of the most beloved US party nights, embrace all that is fun about the super bowl with lots of yummy food and all your family and friends at home.
100. Go on a skiing vacation for the holidays
From Aspen in the US to the Austrian and French Alps, skiing is a truly magical way to spend the holidays. Even if you're a total beginner, skiing should be on everyone's bucket list.
101. Have a craft and knitting day
Make something for a loved one, like a snuggly scarf or comfy sweater, and enjoy doing a relaxing activity together from home.
---
Grow, learn, and make memories as a couple, and commit to a life of exciting adventures and new opportunities. This couple's bucket list is an amazing place to start to inspire you to live in the moment while also working toward and brighter and happier future.
Download our ultimate couples bucket list printable here.
You Might Also Like to Read
---
Want to strive toward a happier and more purposeful life together? Keep this ultimate couples bucket list for safekeeping by saving this article to one of your relationships or self-improvement Pinterest boards.