This post may contain affiliate links, meaning if you book or buy something through one of these links, I may earn an affiliate commission at no additional cost to you. Learn more
Pouring down outside? These things to do on a rainy day are ideal for a day of fun, laughs, and feel-good factor when you can't go outside and enjoy the great outdoors.
Things to Do on a Rainy Day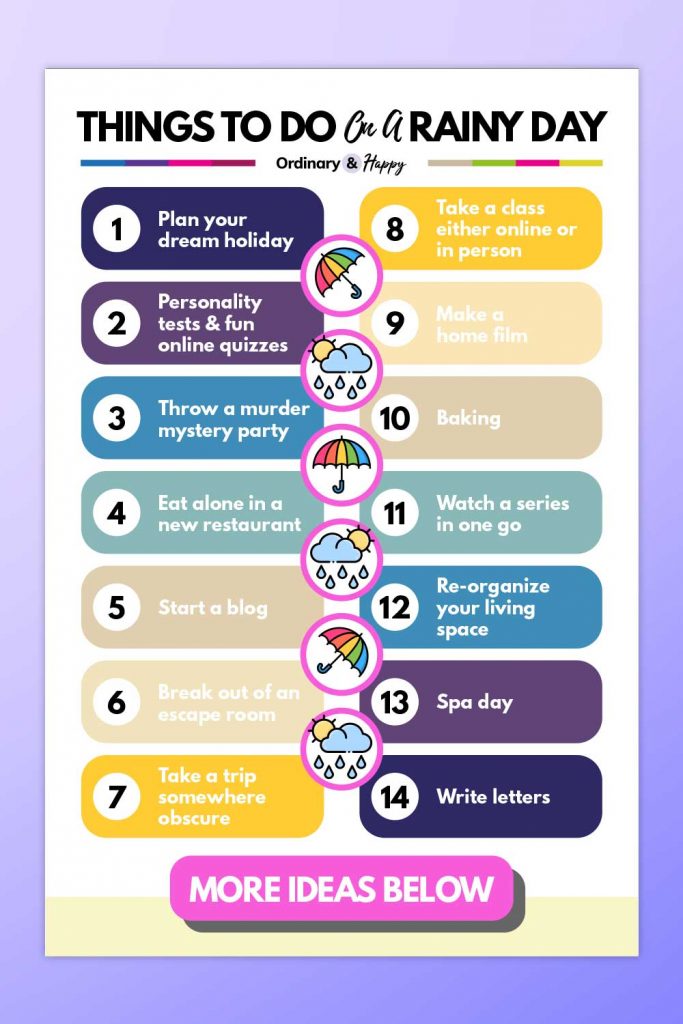 ---
Fun
After a long week of work, sometimes we just want to use our free time to enjoy ourselves. These fun things to do can all be done indoors, and are perfect if you just want to have a good time.
1. Plan Your Dream Holiday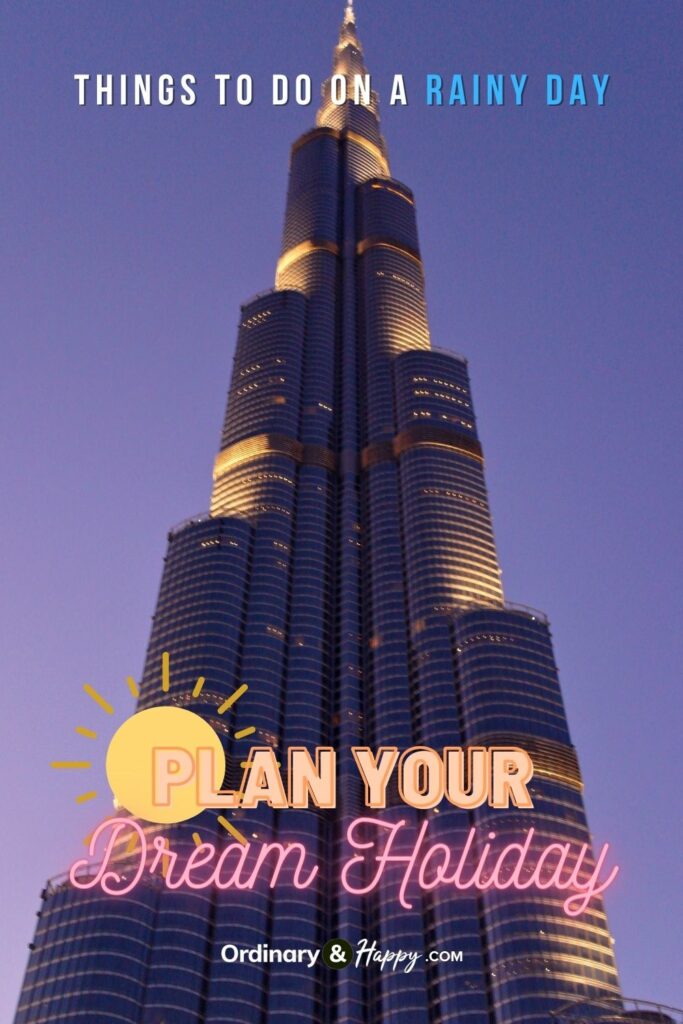 Just because it's raining where you are, doesn't mean it's raining everywhere! Use this rainy day to plan your next sun-filled adventure.
Download some apps, and make lists of your ideal destinations, hotels, and tourist activities. It'll be summer again before you know it!
2. Take Personality Tests and Fun Online Quizzes
A rainy day is the perfect opportunity to learn what kind of pizza topping you are, if you're an introvert or an extrovert, and if you're an INFP or an ENFJ.
Spend the day taking personality tests and silly quizzes – you might even learn something about yourself in the process.
3. Throw a Murder Mystery Party
Get family and friends over for a fun-filled game of mystery and bluffing.
You can buy a game online or create your own – if you make your own, you can invent any theme you like: 90s, Gatsby, Wartime, or even themed around your local area.
4. Eat Alone in a New Restaurant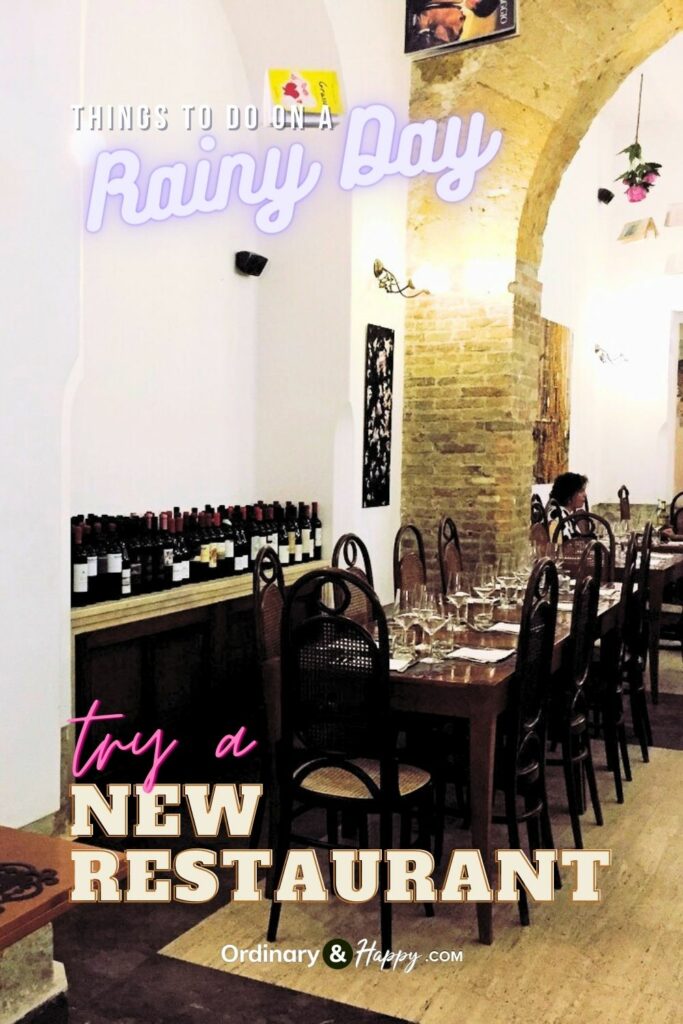 We've all had the fear of eating alone in a restaurant – or rather, the fear of being judged for doing so.
However, eating alone in a restaurant is underrated: you don't need to worry about splitting the bill with Mr or Mrs "I'll-have-the-$100 lobster," you can enjoy some quality alone time, and you can order whatever you want without judgment.
Next time you find yourself bored on a rainy day, head to a cozy local bistro and treat yourself.
5. Start a Blog
If you're always ranting at the politicians on television, taking photos of your cooking, or filling up a journal with your daily thoughts, why not start an online blog?
Having a blog is a great way to stay regular with your writing, as well as maintain your hobbies and personal interests.
Some bloggers even go on to make money from their blogs, so why not give it a try?
---
Creative and Unique
Want to use your indoor time to try something different? These creative and unique ideas can help you use your creative energy, and discover new things and experiences.
6. Break Out of an Escape Room
If you're tired of playing video games on your console or phone, what about becoming a real-life video game character?
Escape rooms have surged in popularity over the last few years, and they make for the perfect rainy-day activity.
With one hour on the clock, try to find your way out of an enclosed room by solving a complicated – but not impossible – puzzle. Grab your smartest friends and head over to your nearest escape room venue.
7. Take a Trip Somewhere Obscure in Your City
No matter where you live in the world, there is almost always some history to discover lurking in the walls and in the buildings; a history of war or bloody battles, of political revolution or tyranny.
Use Google maps or a site like Atlas Obscura to pinpoint your local area and find some secretive, unknown historic sites you can drive to.
8. Take a Class Either Online or in Person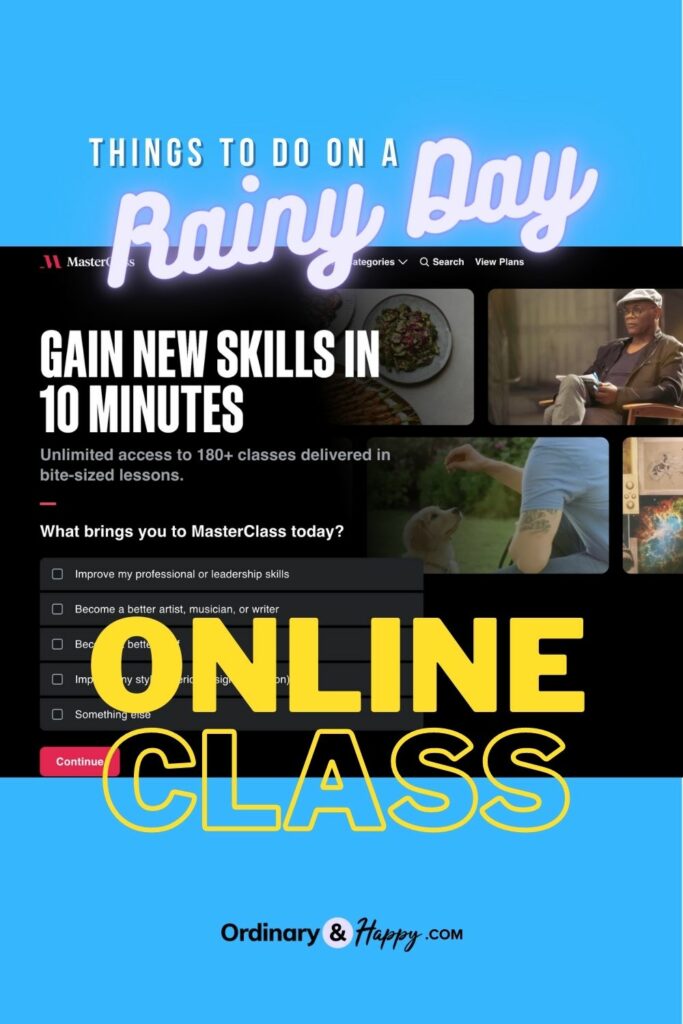 Have you always wanted to learn how to speak Italian, or learn how to paint, or take a class on French patisserie?
The magic of the internet gives you the opportunity to learn almost anything from the comfort of your own sofa – and many classes are free!
Spend the day taking advantage of new online courses – you might end up with a new skill to show off. MasterClass, for example, is a great place to learn skills from seasoned professionals.
Read more: Best Skills to Learn Online
9. Make a Home Film
Did you know that the hit UK series 'The Office' was originally inspired by two friends recording each other having a laugh at work?
While I can't promise that your home films will have the same impact, use your rainy day to experiment with filming – you probably have a free camera on your phone after all, so why not use it?
Create something funny, obscure, or even frightening. Pretend you're being interviewed by Ellen, or give your Presidential inauguration speech.
You can even pretend that you're a news reporter reporting on the eventual zombie takeover of Earth in 2075. Who knows, maybe a Netflix series will follow!
---
At Home
If the rain is lashing down and you are confined to your home or apartment, that doesn't mean a day of staring out the window has to pass you by. There's still plenty of fun to be had at home, as these things you can do prove.
10. Baking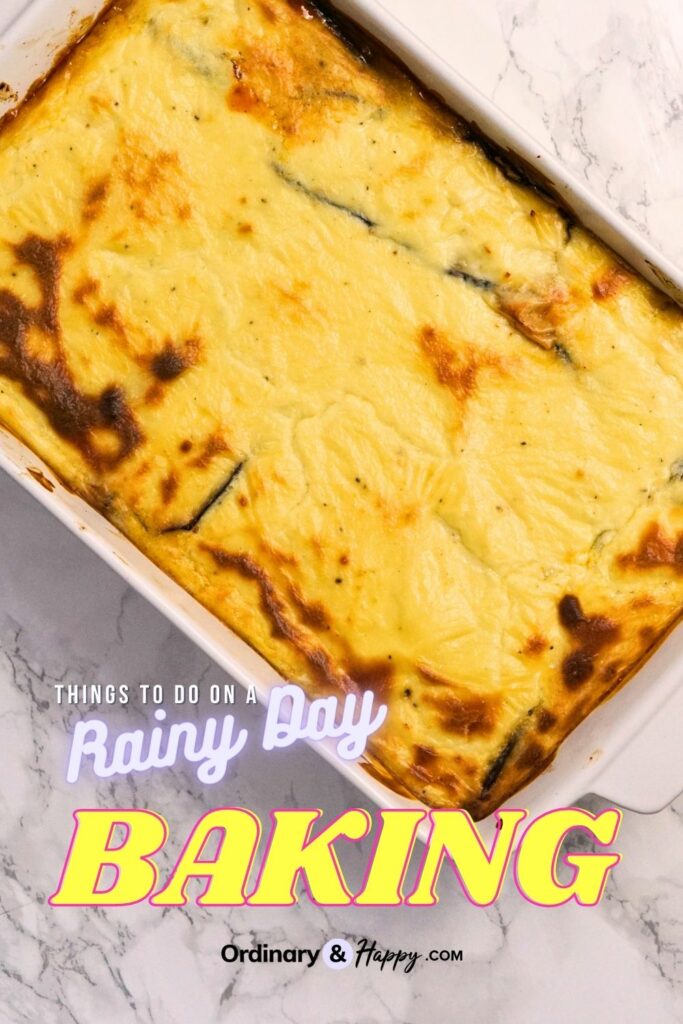 A rainy day at home is incomplete without the smell of freshly baked cookies wafting through the house.
Crack out the cookbooks and try your hand at cakes, pastries, and pies – you'll be the most popular person in the house at the end of the day!
11. Watch a Series in One Go
That one TV series that everybody is always talking about at work or on Twitter, the one that you've never had the time to get into?
Now is your chance! Grab a streaming free trial and get comfortable on the sofa – soon, all the GIFs will make sense.
12. Re-Organize Your Living Space
Now is the perfect time to put your desk at the sun-facing window, feng-shui your bedroom, or attempt to turn your kitchen into a retro cocktail bar.
Spend the day reorganizing your living space and watch your mind re-energize along with it.
Related: Cool Kitchen Organization Gadgets and Accessories
13. Spa Day
Light a scented candle, pour a glass of wine, and get the bath running – you're now on a spa holiday!
Pamper yourself with face masks, scrubs, and bath salts until you feel renewed. Bonus points if your significant other or flatmate can bring you snacks on the hour!
Read more: DIY Spa Day at Home Essentials
14. Write Letters
Revive the lost art of letter writing and send some nice words to old friends; people love to know that others are thinking of them.
If you're not sold on the snail mail concept, an affectionate email will do the trick.
15. Create a Home Gym for the Day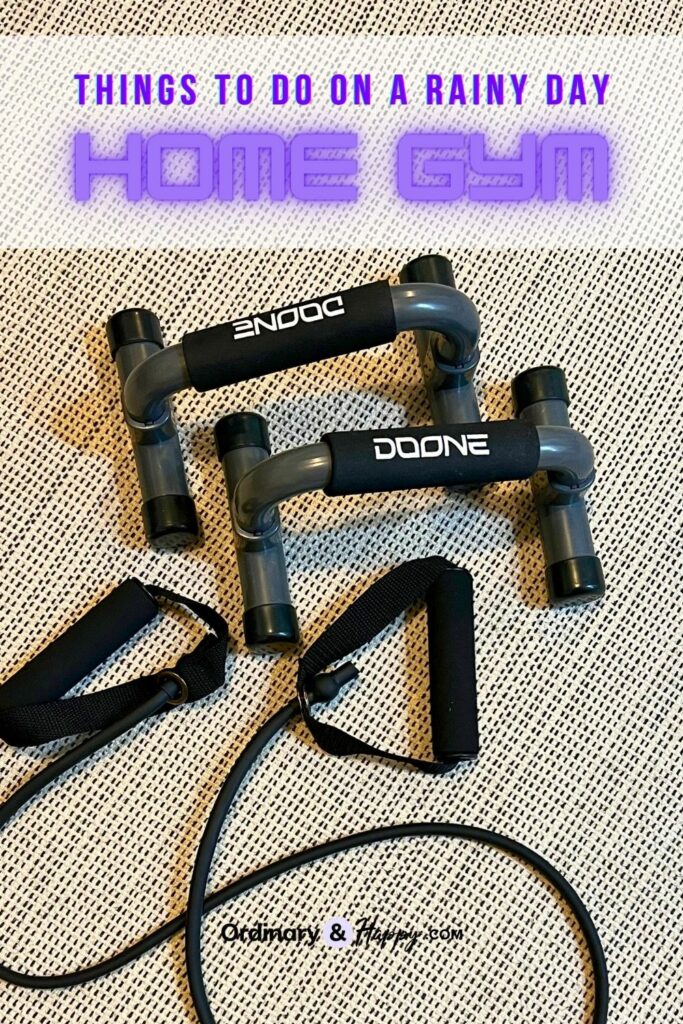 Who says you need an expensive gym membership to stay in shape?
With cans of beans for dumbbells, water bottles for kettlebells, and a Harry Potter book as an aerobic step, you can turn your home into a gym for the day and kickstart your fitness journey.
16. Have a Clear-Out
Those jeans from 2008 that you've pledged every January to fit into again?
Whether you want to pop them on eBay to make a little extra cash, or simply donate them to a local charity shop, having a clear-out of your wardrobe will clear your head, clear your space, and give you room for new things!
Related: Best Desk Organization Gadgets, Accessories, and Essentials
---
Productive
Want to put that indoor time to good use. Get organized, learn a new skill, or exert some creative energy with these productive things to do.
17. Organize Your "I'll Do It Tomorrow" List.
We've all got a list of things in our heads that we'll do tomorrow. Bills, emails, canceling that subscription, and replying to that text you've been ignoring for two weeks all quickly add up.
Put the kettle on and spend a couple of hours sorting through your correspondence and emails – you'll feel better after, I promise!
18. Read
With so much of our lives spent in the digital world both at home and at work, reading books is often one of the first things we abandon after a busy day.
A rainy day is the perfect excuse to curl up with a new novel and immerse yourself in a fantasy world!
19. Meditate
Our everyday lives are often hectic and non-stop, leaving us little time to focus on ourselves.
Take advantage of the numerous meditation resources online and pick up a healthy new habit.
20. Create a Plan for Something You've Always Wanted to Do

A solo trip to Venice? A hike up the Himalayas? A fitness plan? A home renovation?
Whatever personal ambition you daydream about during your work commute, now is the time to create a plan to put it into action.
Crack out a notebook or download a planning app and explore your options.
Related: 5 Bucket List Printable Templates
21. Make Sustainable Resolutions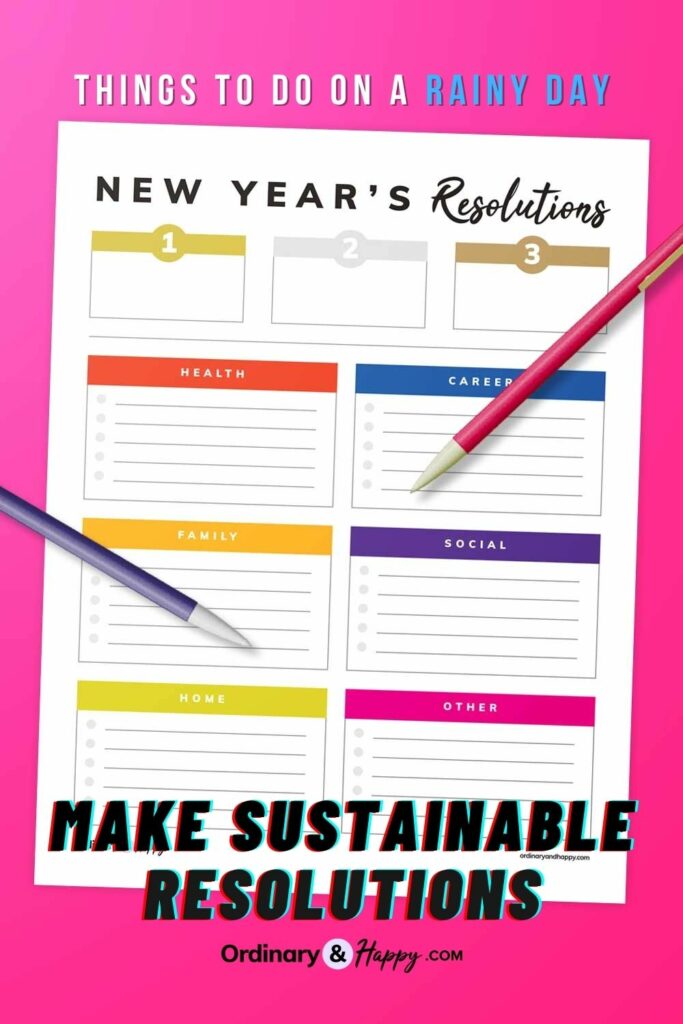 New Year's resolutions can be overrated: most of us realize by mid-January that "make $1,000,000 by summer" is a mildly unreasonable expectation.
Instead, use your rainy day to make sustainable resolutions: resolutions by the month, or even by the week.
Short-term resolutions are easier to keep – provided they remain attainable – and will help you achieve your goals faster.
Read more: Monthly Habit Tracker Printables
---
With Friends
Just because it's raining outside, that doesn't mean you can be with those nearest and dearest to you. Get your squad together in WhatsApp, and pitch them some of these great ideas.
22. Create a 90s Time Machine
If you're stuck indoors with friends on a rainy day, cut the Wi-Fi and ask everyone to turn off their phones.
You've now been transported to the 1990s – try to have fun amusing yourselves without Twitter, Netflix, and YouTube!
23. Board Game Marathon
Go retro again, this time with a board game marathon: we're talking Monopoly, Cluedo, Scrabble, even Twister! Add cocktails and pizza for an enhanced experience.
Read more: 20 Board Games for Adults for an Evening of Fun
24. Cooking Competition
Grab the contents of your food cupboards, pile them together and see who can make the best dish.
Assign one friend to be Gordon Ramsay, the judge of all your culinary efforts. As Gordon infamously says, 'where is the lamb sauce?'
25. Throw a Dinner Party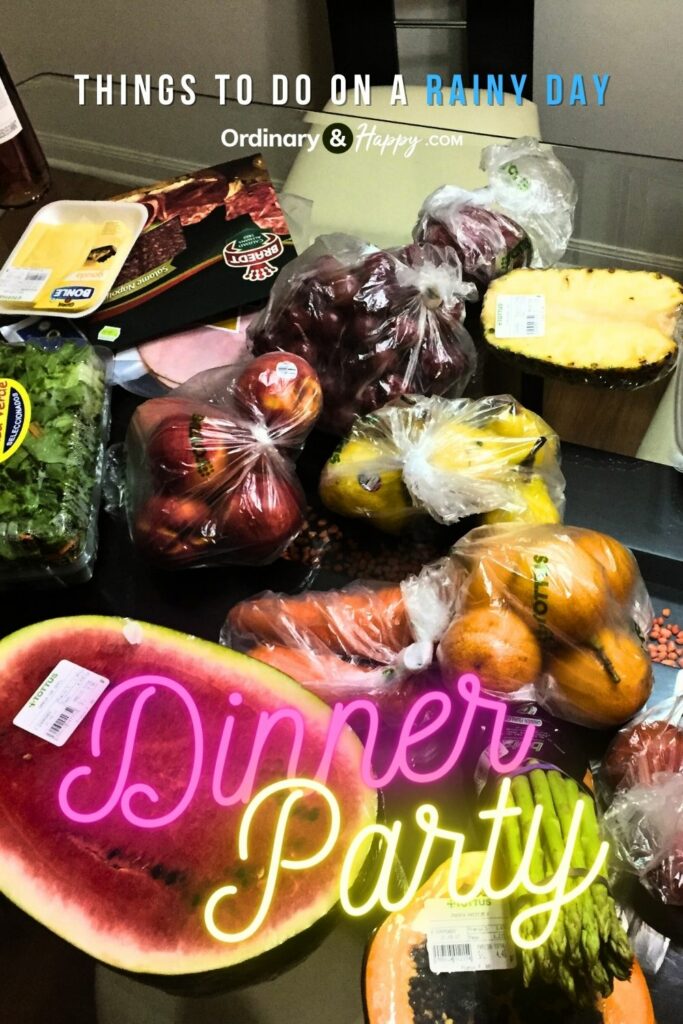 Dress code: Formal
The Nigella cookbooks: Cracked open on the kitchen surface
Expensive champagne: Flowing
Dinner topics: Politics, Art, High Culture
Organize a formal dinner party with close friends, and try your hand at high-society socializing. Suits and dresses below the knees only!
26. Themed Movie Marathon
An 80s movie marathon, a Harry Potter-themed movie marathon, a black-and-white movie marathon, a musical movie marathon, a Western movie marathon; the possibilities are endless, as should be the popcorn!
Related: 100+ Movie Trivia Questions and Answers for a Hollywood-Themed Quiz Night
27. Indoor Climbing
Why go climbing outdoors and suffer the wind, the knee scrapes, the bugs, and the potential spontaneous falling boulders?
Grab some friends and head to an indoor climbing area for an adrenaline-packed afternoon.
---
On a Budget
Money a little tight? No problem! There's still plenty to do when it's pouring outside that costs very little, if anything. A little resourcefulness and an adventurous spirit are all you need for these rainy-day budget ideas.
28. Be a Tourist in Your Own City
Many indoor attractions such as museums, libraries, art galleries, and local tourist attractions are funded by local authorities and totally free for the public to take advantage of.
Use the excuse of a rainy day to take a tour of these attractions, playing tourist in your own city.
You'll most likely discover cool places you never knew existed, and maybe learn a little about the place you call home.
29. Listen to Audiobooks on YouTube
Audiobook subscription services are great but often expensive and out-of-budget for many. Luckily, many audiobooks are in the public domain and freely available in full on YouTube.
Choice might be slightly more limited in comparison with a subscription service, but many classics, both ancient and modern, are available to take advantage of.
Get cozy on the sofa and immerse yourself in a fictive world!
30. Local Events in the Community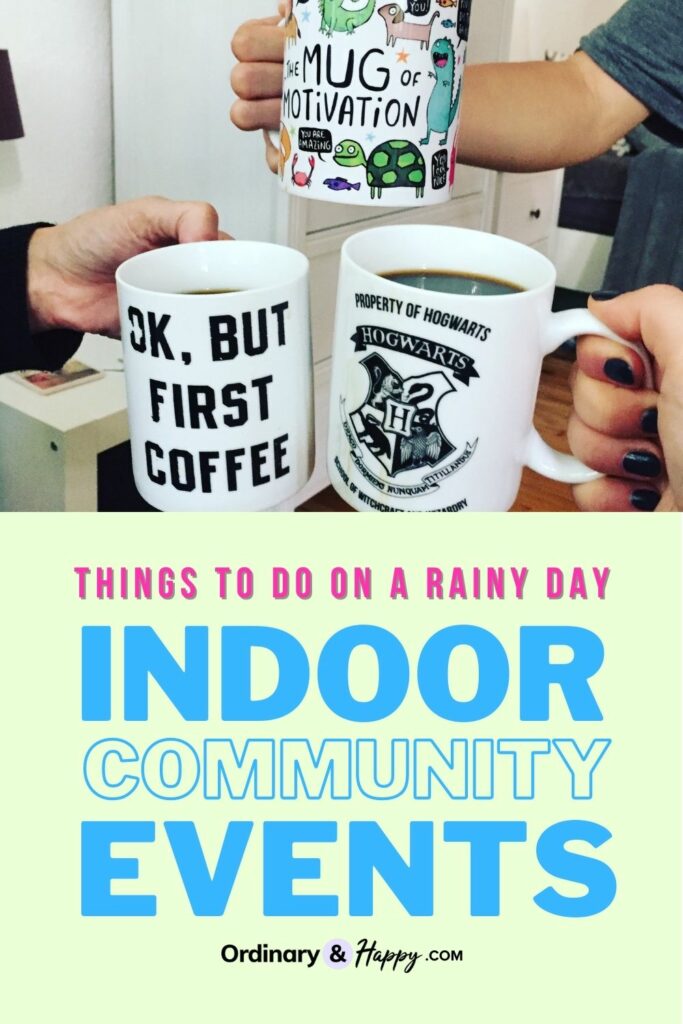 Whether it's a church, a school, or a community center, most local authorities run regular fundraising events, most of which are free or cost very little to attend.
Check online for the possibility of local bake sales, plays, or coffee mornings – perfect for a rainy day on a budget.
---
With Kids
With a little creativity and imagination, entertaining the kids on a rainy day can be a hugely fun experience for everyone. These things to do should give you some great ideas.
31. Create a Blanket Fort
When the little ones are at a loose end, grab some sheets from the cupboard, hang up some fairy lights and let the kids create the pillow fort of their dreams.
Even better, let your own inner child shine and help build the fort yourself – with all the effort and exhaustion, you might end up taking a nap there yourself!
32. Faux-lympics
With some medals made from tin foil, YouTube playing the Olympic anthem, and a bit of space in the living room, it's time to light the metaphorical Olympic torch!
Let the kids choose what country they want to represent and what activities they want to do; a Faux-lympics is a great way to get them exercising and enjoying some healthy competition – and sleeping well afterward, too!
33. Soft Play or Indoor Playground
A rainy-day classic – isn't it a shame that there are no soft plays for adults?
If the kids are restless and you need a breather, head down to a local soft play / indoor playground, and let the kids enjoy themselves while you relax with a coffee and a magazine.
34. Make Pizza
Pizza is one of the easiest things to make at home and can be a fun introduction for kids to the joy of cooking.
Grab some cheap Pizza mix from the supermarket, and let the kids go nuts with toppings. No pineapple, please!
35. Scavenger Hunt
Kids love exploring and going through the cupboards on any given day of the week, so why not let them have fun and enjoy a bit of competition at the same time?
Use the internet to print off lists of items and let the kids go off looking for them – meanwhile, you can take a breather and enjoy a coffee.
36. Puddle-Jumping
If there's not enough space in the house and the kids need to move around, pop on the rain boots and the raincoat and take the kids puddle-jumping – just make sure you're not wearing your favorite pair of jeans!
37. Bake Chocolate Chip Cookies and Decorate Them
One of the best rainy day activities for kids, you can spend the entire day baking and decorating lots of cookies to enjoy and to share with friends and the whole family.
To get a little more creative, use cookie cutters to give your baked treats different shapes, sizes, and styles.
38. Afternoon at Kids Play
Ideal for younger kids when you've got the rainy day blues, kids' soft play areas are nearly always indoors and are perfect for entertaining your children.
Look online for a nearby center, and see if they have a cafe onsite so that you can do some reading or enjoy a hot drink while they play.
---
More Ideas
38. Create Your Own Indoor Mini Golf at Home
Order a simple putting machine with a club and ball, and get creative around your home.
Use cushions, chairs, toys, and boxes to create a fun mini-golf obstacle course around your home, and see how many strokes it takes to complete.
39. Make Paper Airplanes and Decorate Them
Simple to make, you can use newspaper or colored paper, or pens and paints to design beautiful skins for your airplanes before you fold them.
40. Join an Online Dance Party in 90s Attire
Scour your closets for clothes that represent this iconic era for dance music, and let loose on an online dance party. Strut your stuff, and dance like no one cares.
41. Laser Tag
A great excuse to get out of the house and let your inner child run wild, laser tag is a fast and thrilling indoor activity that you can do with friends, or show up and join a team that needs players.
42. Watch a New Show in a Hot Bubble Bath
Get yourself a bath tray, and use it to hold an iPad or tablet. Pour a hot bath, filled with bubbles, and enjoy a relaxing afternoon or evening with a brand-new show.
43. Go to an Indoor Rock Climbing Center
If it's a dreary day and you're suffering from cabin fever, give indoor rock climbing a try.
It's great fun and done in a controlled environment on indoor climbing walls, so you don't have to worry about braving the elements.
44. Download and Play Arcade Games and Childhood Classics on Your Laptop
Gaming can still be a lot of fun, without having to have a console and play the latest popular titles.
Nowadays, laptops and computers have the power to host classic titles from the 80s, 90s, and 00s.
Have a look online to see what old games you played as a child you can find, and delve into a little gaming nostalgia.
45. Create a Pin Board of Memories
Get yourself a felt board to which you can pin things. Go through old photos and old magazines, and find things of meaning, such as plane tickets, and create a memories board with these beloved items.
46. Host a Board Games Marathon
In rainy weather, board games are a popular go-to. If you don't want to be stuck inside doing the same thing, however, bring more than one game into play.
Invite friends and family, and ask everyone to bring over their favorite board game to create a board game marathon.
Put a timer to each board game, such as a certain number of rounds or plays, and assign players points based on performance.
47. Host a Video Game Tournament
The beauty of this idea for rainy days is that you can set it up to best suit you. You can either invite people for some classic console gaming or host it online and play virtually together.
Either play a series of games, or focus on one, and put everyone involved either into a league table, or a knock-out format competition.
48. Play Card Games
As rainy day activities go, this is one of the easiest and most fun. There are so many card games you can play, and lose yourself for hours in good company and healthy competition.
49. Make New Cocktail Recipes to Fun Music
Spice up your cocktail making to some dance music, and let your creative juices flow as you pretend you're a bartender in a luxurious club, whipping up cocktails for celebrities and society's finest.
Related: Best Home Bar Gadgets and Accessories to Own
50. Go on a Museum Tour of Your Local Area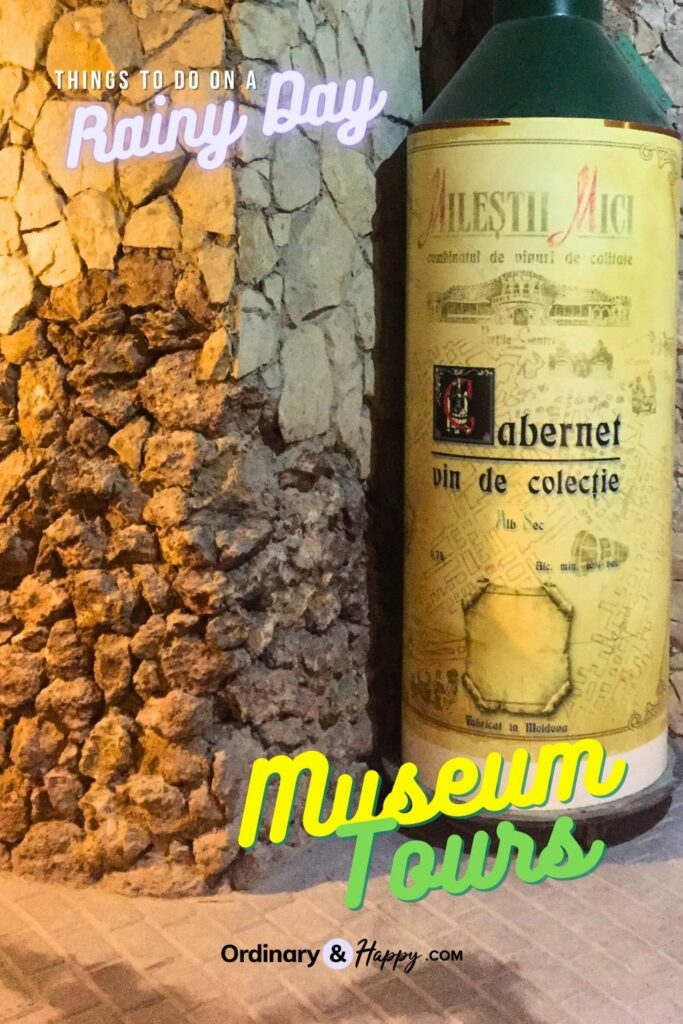 For an exciting day out without having to be outside, go through every museum in a drivable radius, and create a fun day out where you visit each one.
Most museum visits will be free, and this is a great way to get out of the house while still doing indoor activities.
From art to science, there are plenty of amazing things to see and do. Set a time limit for each museum, and run a whirlwind visit of them.
51. Take a Personality Test
Maybe you've got problem-solving skills not being fulfilled in your job, or maybe you're not doing enough creative work.
There are plenty of free personality tests you can take, that can help you better understand your behaviors, and what you need from important things such as relationships, or your career.
52. Host an 'Around-the-World' Tea Party
Order teas from different countries, such as Morocco and India, and enjoy these delicious beverages with your nearest and dearest.
You can make notes about your favorite teas, let their aromas waft around the house, and dive deep into the history and story of these exotic teas if you use a tea subscription.
Read more: Fun Tea Party Ideas for Adults (Activities, Games, and More)
---
When the heavens open, don't let indoor time pass you by. Even when it's raining, there are so many places you can go, things you can do, and fun to be had.
Use our list to inspire you to stop staring out the window, longing for nice weather, and make great use of the time you have.
You Might Also Like to Read
---
Checked the forecast and saw that rain is coming? Keep this great list of things to do on a rainy day handy, by saving it to one of your Pinterest boards.