This post may contain affiliate links, meaning if you book or buy something through one of these links, I may earn an affiliate commission at no additional cost to you. Learn more
Make your summer one of fun, laughs, and unforgettable memories, and get inspired with our summer bucket list ideas!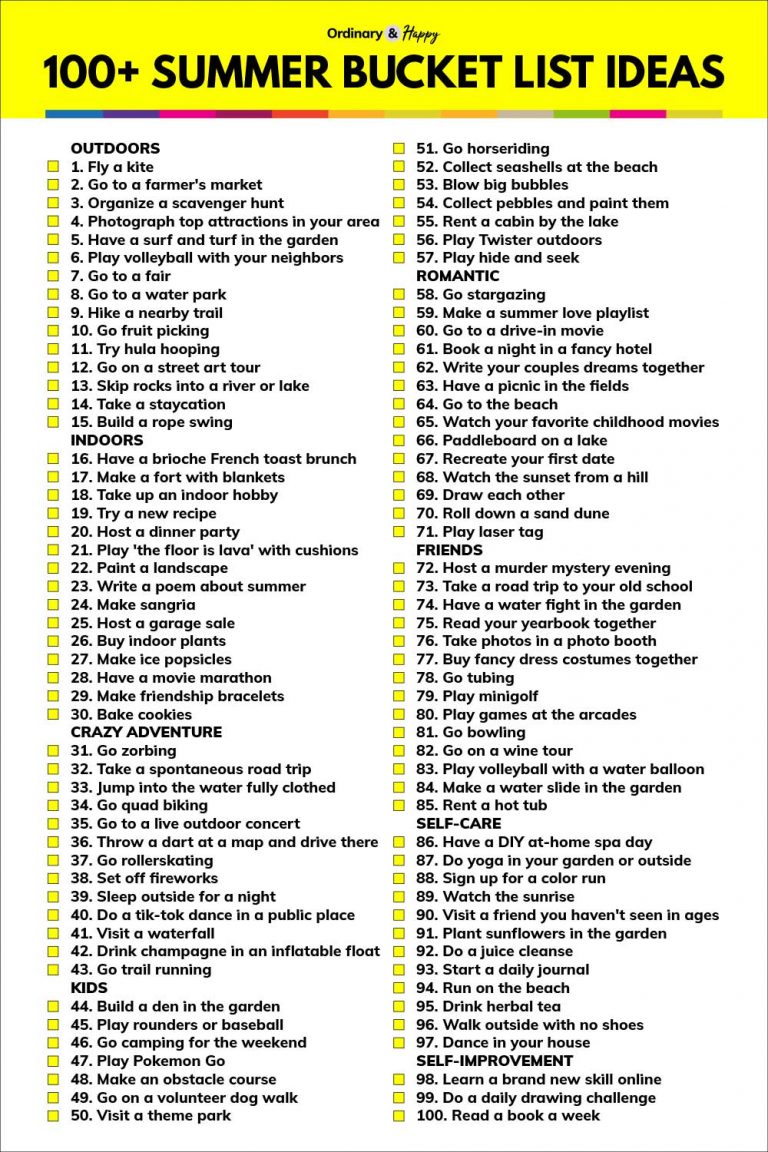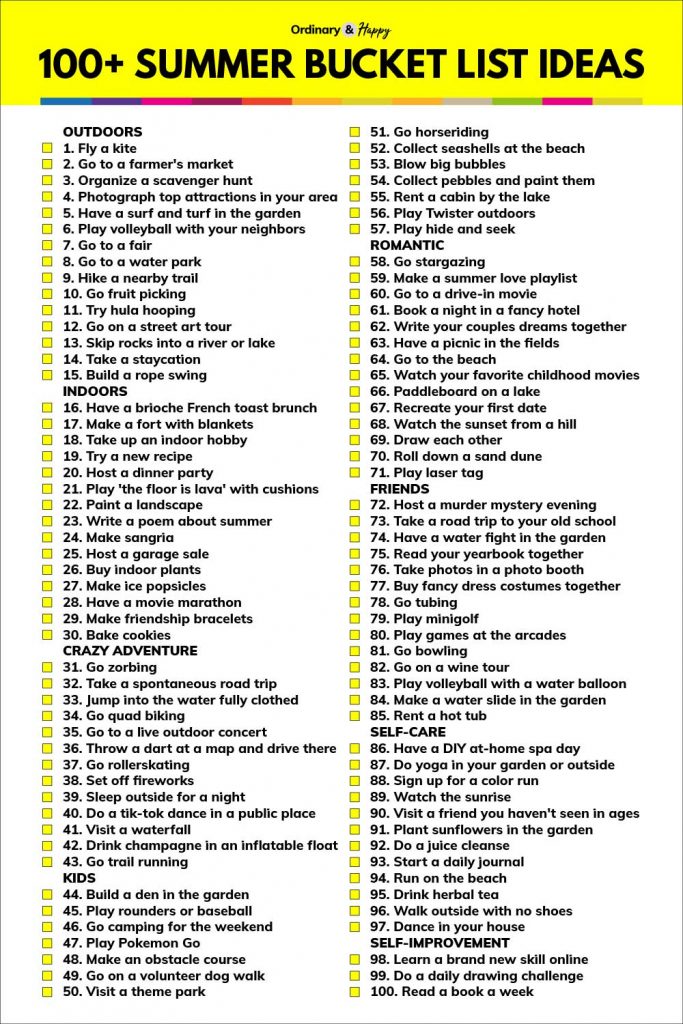 Summer is a time of sun, making memories, and awesome adventures. But sometimes, we all need a little help to decide what to do and how to make the most of each day.
Our list of 100+ things to do this summer will help you plan a summer like no other. Whether you're looking for outdoor adventures, fun with the kids, or taking better care of yourself, there are so many great ideas on our list.
Feel free to download our summer bucket list printable, and check off the ideas you decide to do this summer!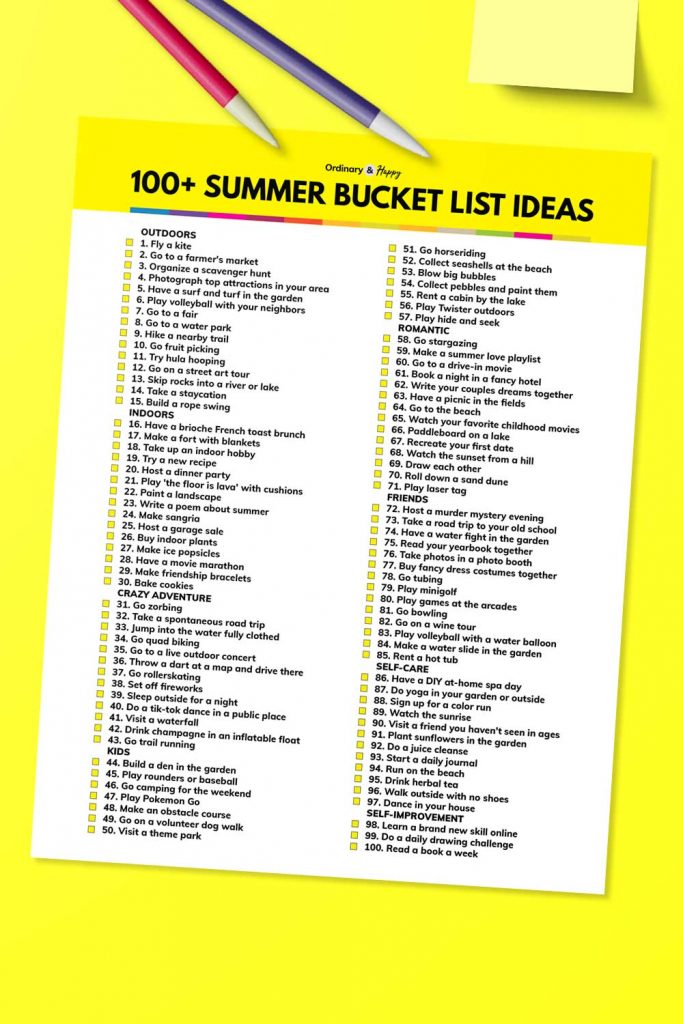 So, let's get inspired, and dive straight into our list.
---
Outdoors
1. Fly a kite
Get yourself a beautiful kite like this one on Amazon, and head down to the beach or sweeping meadows. Flying a kite will take you back to your childhood. It is fun, exhilarating, and great to do on your own, with a partner, and kids.
2. Go to a farmer's market
The lively atmosphere of a local farmer's market is great for soaking up the summer sun. Bring an eco-friendly burlap tote bag like this one with you, and see what goodies you can find!
3. Organize a scavenger hunt
As fun ideas for summer activities go, this is one of the most creative. Have your friends trawling your local area for clues, solving challenges in the heat of summer.
4. Photograph top attractions in your local town or city
Taking wonderful photographs can make visiting even the most low-key of attractions so much fun. At the end of it all, you could order the photos to be printed in a book, entitled 'summer fun' and the year.
5. Have a surf and turf in the garden
Fire up that backyard grill, and invite your friends around for tender steak and delicious lobster.
Load up on root beer and drinks, put on an outdoor movie, and even have a water balloon fight in the garden once the grill has been put away.
6. Play volleyball with your neighbors over the fence
A fun way to get the neighbors involved, this summer activity only requires a ball and some willing participants. Enjoy some food and drinks afterward, as the victors exercise their bragging rights!
7. Go to a fair
From the gentle bobbing of the carousel to the sugar rush of cotton candy, the fair is a wonderful place to embrace the joy of summer.
For a little extra thrill, head out to an amusement park, and indulge in some white-knuckle thrills on roller coasters and slides.
8. Go to a water park
What better way to keep cool in the heat of summer than to dive head or feet first into a range of slides and inflatables, making a hefty splash as you do so.
Ideal for kids and grown-ups alike, no matter how far your nearest water park is, it'll always be worth the drive.
9. Hike a nearby trail
Hikes are so much better in the summer sun. Equip yourself with some useful hiking essentials, and search your local area for recommended trials. A great way to spend time outdoors, hiking allows you to connect with nature in a fun and challenging way.
10. Go fruit picking
A great stop for road trips, the joy of picking summer fruits in bloom is one of the most rewarding and fun activities you can do at no extra cost.
Once picked, you can whip up some delicious treats and pies to share with friends and family, using the juiciest and tastiest local produce.
11. Try hula hooping
Having a set of hula hoops handy for the garden is a great way to keep fit, entertain the kids, and spend time in the sun. For extra fun, try these light-up LED hula hoops or a budget-friendlier version like these LED hula hoops. Get those hips swinging, and see how many hoops you can do in one go.
12. Go on a street art tour
Uncover beautiful art while enjoying the great outdoors on a street art tour. You could walk, hire a local guide, or cycle to different locations.
13. Skip rocks into a river or lake
There's no school like the old school, and this age-old activity is a great way to pass time with close friends, swapping stories and seeing who can get their rock the furthest.
You don't have to go abroad to soak up some summer sun. From camping spots to quirky AirBnBs, explore your home country and enjoy a summer staycation somewhere fun.
15. Build a rope swing
An overhanging, sturdy branch in the garden or a nearby wood is perfect for setting up a rope swing like this one. The ultimate DIY thrill activity, the feeling of the wind in your hair and sun on your skin as you whizz and turn takes you straight back to childhood.
---
Indoors
Is there anything more picturesque than enjoying French toast and champagne out on the porch in the late morning? We thought not either!
17. Make a fort with blankets
Swap the treehouse or tent for an indoor fort, and spend the evening as the sun sets reading books, watching movies, and reminiscing in your awesome blanket fort.
From indoor herb gardening to online gaming, there are plenty of productive and fun hobbies you can take up indoors throughout the summer.
19. Try a new recipe
Summer is a time for refreshing salads and icy cold fruit-based drinks, so pull a beloved recipe book or have a look online for a summer recipe to serve friends and guests.
20. Host a dinner party
Show off your cooking skills with a range of light and refreshing dishes to enjoy the sun, and invite your nearest and dearest over for great food and even better company.
21. Play 'the floor is lava' with cushions
Play it with your kids, or summon your inner child with your adult friends, and enjoy playing this classic game in your living room.
22. Paint a landscape
Gaze out of your window, set up an easel and paints, and paint the picturesque landscape around you. Use online tutorials to guide you, or use our ultimate list of painting ideas to inspire you.
23. Write a poem about summer
Get your creative cap on and spin words of wonder and inspiration in a quiet, relaxed place. You could even share your writing online or enter it into a competition.
24. Make sangria
The classic summer drink, sangria is so much fun to make and gives you the perfect opportunity to invite friends and family around.
25. Host a garage sale
With nice weather abound, use the opportunity of people passing by to open up your garage and garden to help unclutter the house and make a little money.
26. Buy indoor plants
Don't have a garden or space for plants outside? Air-purifying plants are a great way to decorate your home. Use them to add color, aroma, and plenty of summer vibes to your home.
27. Make ice popsicles
Homemade popsicles are so much fun to make and the ideal treat to serve kids and adults amid the heat of a weekend afternoon.
28. Have a movie marathon
From summer blockbusters to timeless rom-com, summer is the best time to enjoy so many movies.
Take things up a level by setting up a DIY outdoor movie theatre with a projector, seats, and a sheet in your backyard.
29. Make friendship bracelets
Making bracelets is a relaxing way to spend time with your friends and do something a little creative with your free time.
30. Bake cookies
Cookies are perfect for any time of year. Be it with friends, partners, or family, nothing beats the smell of that first batch of cookies that fills the kitchen. Get yourself a cookie decorating kit to make your cookie baking even more fun.
---
Crazy Adventure
31. Go zorbing
For a great summer you'll never forget, give some fun sports, such as zorbing, a try. The thrills and spills that come with rolling in a giant inflatable ball are unrivaled, that's for sure.
32. Take a spontaneous road trip
The weather's hot, so anywhere can be a fun place to go. Quickly decide on the first place that pops into your head, and take a trip somewhere new with your friends.
33. Jump into the water fully clothed
As long as the water isn't too deep, pools and lakeshores are ideal for giving in to your crazy side and just jumping into the water on a whim.
34. Go quad biking
Plenty of farms and parks offer quad biking as a fun activity to try. Tear it up in the heat of the sun, and go on a wild four-wheeled adventure.
35. Go to a live outdoor concert
Nothing beats the gentle breeze against your skin as talented artists sing their hearts out into the night sky. Try parks and landmarks, or look online to see what music is playing live in your area.
36. Throw a dart at a map and drive there
Leave your adventure to chance by throwing a dart at a map and taking a last-minute trip place for some spontaneous adventures.
37. Go rollerskating
The ultimate summer activity, there are plenty of parks and cool places you can go to rollerskate on your own or with other people.
38. Set off fireworks
Summer is a time of celebration, and safely setting off fireworks one evening from your garden can be a great way to finish off a lovely afternoon with friends and family.
39. Sleep outside for a night
Embrace the outdoors in its rawest form, and ditch your bedroom for the night. You could sleep in your backyard or head to a licensed camping spot.
Bring a comfortable mat and blanket, and prepare to spend the night reminiscing and stargazing.
40. Do a tik-tok dance in a public place
Let your wild side roam free, and don't worry about what people think. Head to a mall or park, and get your groove on. Other people may even join in!
41. Visit a waterfall
The calming sounds and luscious beauty of waterfalls are an absolute treat to behold. Search for a waterfall within driving distance, pack some food, and go check it out, camera in hand.
42. Drink champagne in an inflatable float
What's life without a little luxury? Take an inflatable to an outdoor pool or safe shallow spot by the lake, and enjoy living life like a millionaire for the afternoon.
43. Go trail running
A great way to work up a sweat and spend time outdoors, trail running takes road running to another level. Be sure to wear appropriate shoes, and look for trails online in your local area.
---
For Kids
44. Build a den in the garden
Kids lovely getting crafty, and with spare sheets, boxes, and some recycled materials, you and your kids can build a den fit for kings and queens to enjoy the summer sun in.
45. Play rounders or baseball
A great game for your kids to play with their friends, a bat, a ball, and a spot in a local park or garden is all your need to play some super fun bat and ball games.
46. Go camping for the weekend
Marshmallows over an open fire. Stargazing in the forest. Family games in the sun. Load up your car with some camping essentials and have yourself a weekend of fun, sun, and memories that will last a lifetime.
47. Play Pokemon Go
A great way to enjoy the great outdoors with a little challenge, the 2016 phenomenon is still a popular game to play. You can spend hours outside looking for new Pokemon.
48. Make an obstacle course
From toys in the shed to garden furniture, there's so much you can use to make an obstacle course in the backyard.
Tells your kids to invite their friends over and see who can complete it in the fastest time.
49. Go on a volunteer dog walk
With warm sun and bright skies, there's no better time for a dog to enjoy the great outdoors.
If you don't own a dog, volunteer at a nearby shelter, and go on an adventure with your newfound friend.
50. Visit a theme park
A theme park can provide hours of entertainment, from the rush of the rollercoasters to the fun of the arcade games.
Theme parks have attractions for kids of all ages, so make your trip there a fun day out, and load up the car with plenty of snacks and games for the ride.
51. Go horseriding
Take a canter with some of the planet's most majestic mammals, and take your kids horseriding at a nearby ranch or farm.
52. Collect seashells at the beach
Give your kids the fun challenge of collecting seashells when you're at the beach and use the shells in creative ways once they've collected them. They could paint them at home, or decorate a sandcastle with them.
53. Blow big bubbles
Bubbles and summer fun go hand in hand, and kids love to chase them and pop them. Get a supersized bubble blower to really up the fun factor.
54. Collect pebbles and paint them
This is a great activity to channel some creative energy while spending time at a beautiful place outdoors.
Be it finger painting or with brushes, exhibit your kids' colored pebbles at the end of the day.
55. Rent a cabin by the lake
From fun water games to stories around a campfire, spending a weekend at a cabin by the lake is one of the classic family summer activities to try.
Plus, if it's a rainy day, you can still have a fun time in the cabin, playing games and cooking delicious food.
56. Play Twister outdoors
Kids and adults from all walks of life can enjoy Twister. It is a game full of thrills and laughs and a great way to enjoy an afternoon in the garden, at the lake, or a game to pack for a camping trip.
57. Play hide and seek
Make this classic game a favorite summer bucket list activity for your kids, and see how good their hiding skills are at home or in the garden.
---
Romantic
58. Go stargazing
Discover the constellations in all their beauty, and spend the evening looking up at the night sky with your loved one.
59. Make a summer love playlist
A summer playlist loaded with feel-good love tracks can provide the perfect backdrop to BBQs, garden parties, and road trips.
60. Go to a drive-in movie
Revel in a little nostalgia with this classic romantic activity, and be sure to pack plenty of snacks and blankets for the car.
61. Book a night in a fancy hotel
Find a great place to stay at the coast or in a must-visit city, and treat yourselves to a weekend of relaxation and shopping, or great food and adventure.
62. Write your couples dreams together
Connect on a deep level with your significant other, and write your dreams down together on a bucket list printable or mood board, then make it a priority to make them happen.
63. Have a picnic in the fields
The quintessential summer activity, our picnic foods list, and picnic essentials guides will give you everything you need to pack and enjoy a memorable picnic in the sun.
64. Go to the beach
Pack a good book and plenty of food to enjoy a relaxing day in the sun, or bring your swimwear for an adventurous day of kayaking or surfing.
65. Watch your favorite childhood movies
Nothing ignites nostalgia quite like our favorite childhood movies. Set up on the porch or in a bedroom at sunset, and put on some classic films as you snack and snuggle up together.
66. Paddleboard on a lake
If you don't have a paddleboard, choose a lake with an activities center you can rent boards from. Paddleboarding is such a fun way to enjoy the calm waters and summer sun, and anyone can give it a try.
67. Recreate your first date
Be it mini-golfing, an afternoon on an indoor skating rink, or a classic dinner date, take things back to where it all began for the both of you and try to recreate everything you remember.
68. Watch the sunset from a hill
Few activities ooze with romance quite like watching a sunset. Find a quiet, nearby spot, and pack food and blankets for hours of quality time together.
69. Draw each other
It doesn't quite have to be Jack and Rose on the Titanic, but drawing each other is an intimate activity that will both allow you to channel your creative energy into a romantic gift like no other.
70. Roll down a sand dune
Let your inner children roam free, and embrace being in the moment. Be it at the beach, or sand dunes in a park or nature reserve, there's something freeing about rolling downhill in the sand, surrounded by beauty.
71. Play laser tag
The ultimate combination of strategy and thrill, plenty of famous couples, such as Mr. and Mrs. Smith, were sharpshooters together – so why can't you both be!
---
For Groups
72. Host a murder mystery evening
Add this super fun activity to your awesome list of things to do with friends, and get everyone dressed up and ready for an evening of clues, intrigue, and delicious food and drink.
73. Take a road trip to your old school
Take a trip down memory lane with all your friends, and embark on the ultimate road trip back to where you all first met. Prepare to swim nostalgia by the end of it all.
74. Have a water fight in the garden
Either make it a free for all or put everyone into two teams. You could make it Hunger Games-style and put a range of water pistols and devices in the center of the garden, or give one person the hose pipe, and everyone else has to run from them.
75. Read your yearbook together
See if anyone lived up to their prophecies in school, and have an evening of storytelling and reminiscing out on the porch, or in the garden, with lots of drinks.
76. Take photos in a photo booth
Look for a photo booth in the mall or at an event, and pull your silliest faces. Keep the photos in your purses or wallets, and scrapbook some to preserve the memories.
77. Buy fancy dress costumes for each other
Guaranteed to tickle some ribs, head to a fancy dress costume together, or look online, and choose costumes for each other.
Head out in your costumes for some silly summer fun at a local bar, the beach, or on a road trip to somewhere new and exciting.
78. Go tubing
The thrill of tubing down a nearby river is some of the purest, most magical, and inexpensive fun you can have. Bring a large group with you, and be sure to film the splashes and antics throughout the day.
79. Play mini golf
Mini golf is fun by the bucket load, and a great group activity to enjoy with friends. Head to a local fair, beach, or activity center, and prepare for plenty of laughs and putting.
80. Play games at the arcades
81. Go bowling
82. Go on a wine tour
83. Play volleyball with a water balloon
84. Make a water slide in the garden
A water slide like this one is a perfect way to make the most of the summer sun in your back garden. With a hosepipe and some dish soap, you have hours of fun, thrills, and laughs for the whole family to enjoy.
85. Rent a hot tub
---
Self-Care
86. Have a DIY at-home spa day
Summer is a time of happiness and good well-being. Use these DIY at-home spa day ideas to unwind and re-energize after long hikes, weekends away, and fun and games in the garden.
87. Do yoga in your garden or outside
Many will tell you that outdoor yoga is a sensation like no other. Get yourself a yoga mat like this Manduka Pro Yoga Mat and head with friends to the beach, a field, or the back garden. The sun on your skin and the breeze in your hair helps you feel truly connected to nature.
88. Sign up for a color run
89. Watch the sunrise
90. Visit a friend you haven't seen for years
91. Plant sunflowers in the garden
92. Do a juice cleanse
93. Start a daily journal
The sun and the positive vibes of summer are the perfect time to build wellness habits that can aid you through the winter. A daily journal is a great way to record fun things and reflect on everything that is positive in your life.
94. Run on the beach
95. Drink herbal tea
A cup of your favorite herbal tea is ideal for summer evenings out on the porch, watching the sunset and reminiscing about the good times. Plus, herbal tea is loaded with vitamins and antioxidants.
96. Walk outside with no shoes
97. Dance in your house
Read more: 60+ Best Self Care Ideas
---
Self-Improvement
98. Learn a brand new skill online
Always wanted to paint sunsets? Eager to be the person who plays the guitar around an open fire? Summer is a great time to learn a new skill. There are so many online courses you can take to learn, grow, and get creative.
99. Do a daily drawing challenge
100. Read a book a week
101. Start a gratitude journal
A gratitude journal will help you appreciate all that is good in your life. And summer, with its long days and great weather, is a great time to spend documenting everything positive in your life.
102. Learn chords to your favorite song on the guitar
103. Make friends with a stranger
104. Help a friend out
105. Volunteer at a local charity
---
More Ideas
106. Host a water balloon fight in a nearby park
107. Make unique flavors of homemade ice cream
108. Dance around a fire pit at night
109. Take a sunset photo from the top of a Ferris wheel
110. Bury a time capsule with summer memories
112. Go skinny dipping
---
Don't let this and future summers pass you by without making the most of your free time. With your very own summer bucket list, you can plan a summer that lives long in the memory.
Use our list, or grab a piece of paper and a pencil, and start planning a memorable summer with friends, family, and loved ones. Explore. Try new things. And make memories that will last forever!
You Might Also Like to Read
---
Keep this ultimate list of 100+ summer bucket list ideas for safekeeping by saving this article to one of your Pinterest boards.