This post may contain affiliate links, meaning if you book or buy something through one of these links, I may earn an affiliate commission at no additional cost to you. Learn more
Make your summer one of fun, laughs, and unforgettable memories and get inspired with our summer bucket list ideas!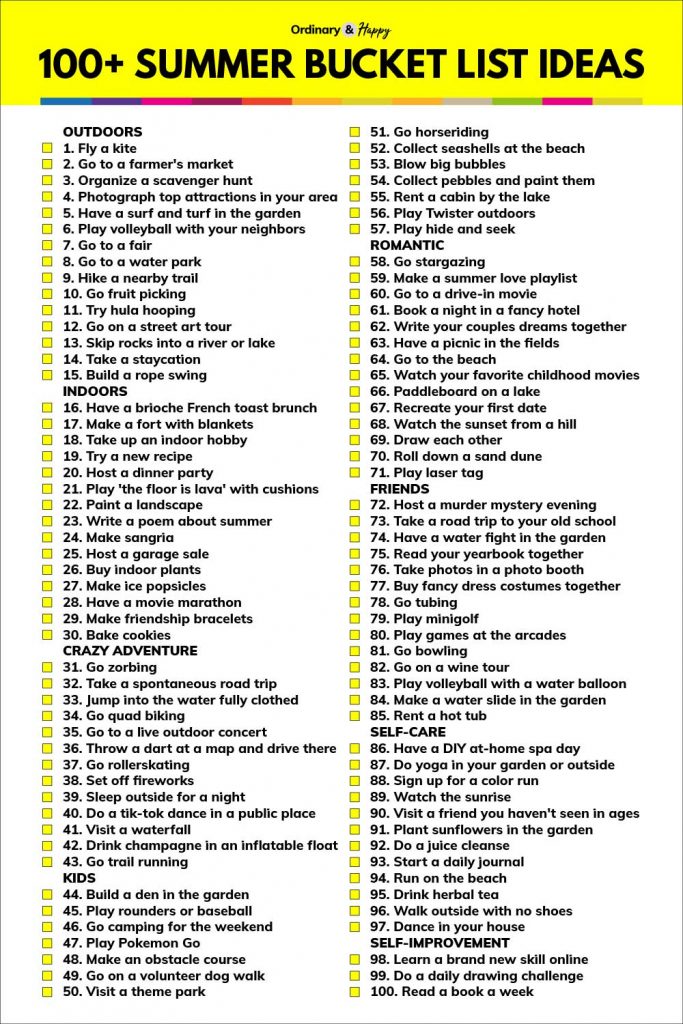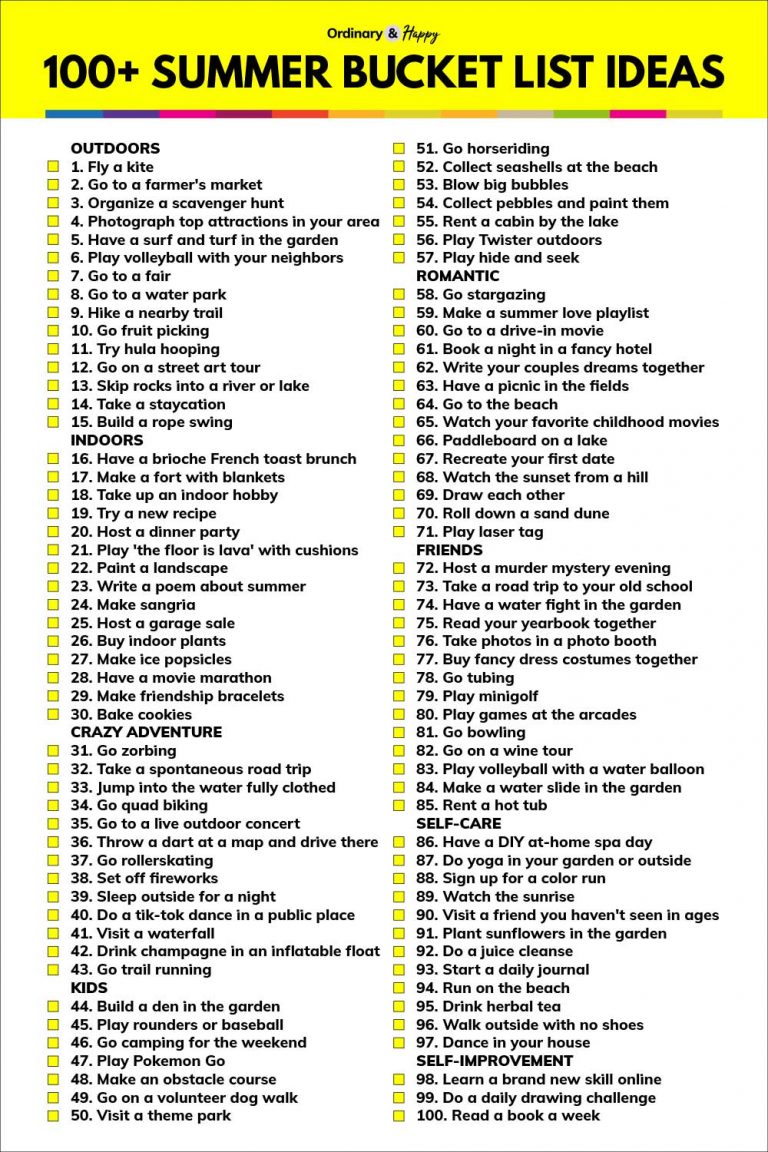 Summer is a time of sun, making memories, and awesome adventures. But sometimes, we all need a little help to decide what to do and how to make the most of each day.
Our list of 100+ summer bucket list ideas will help you plan a summer like no other. Whether you're looking for outdoor adventures, fun with the kids, or taking better care of yourself, there's so many great ideas on our list.
Feel free to download our printable, and check off the ideas you decide to do this summer!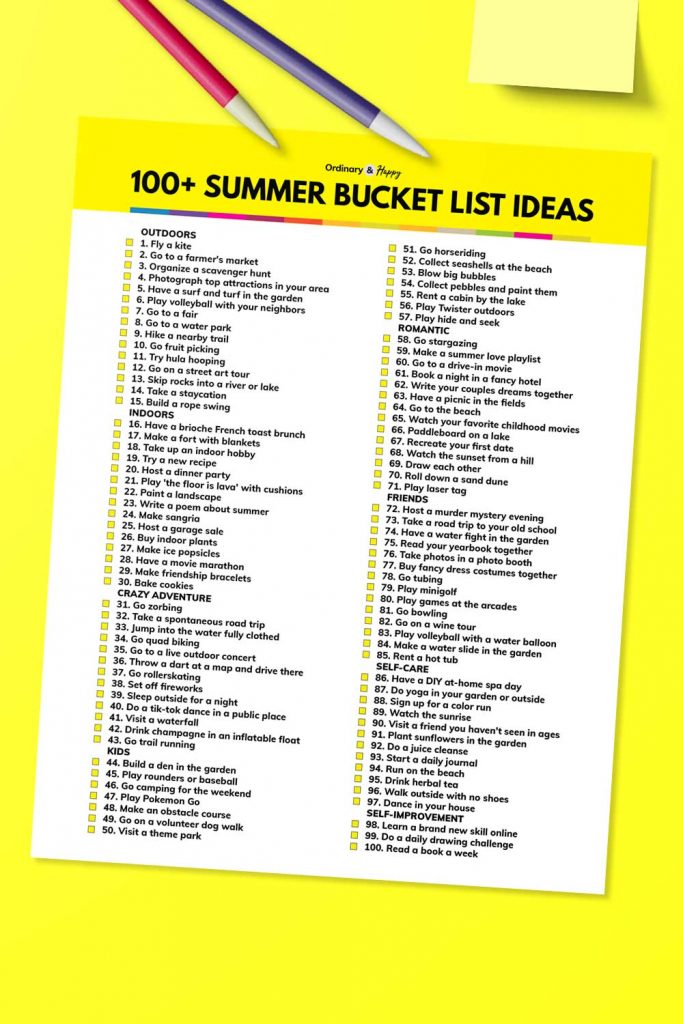 So, let's get inspired, and dive straight into our list.
Outdoors Summer Bucket List Ideas
1. Fly a kite
Get yourself a sturdy and beautiful kite, and head down to the beach or sweeping meadows. Flying a kite will take you back to your childhood. It is fun, exhilarating, and great to do on your own, with a partner, and kids.
2. Go to a farmer's market
The lively atmosphere of a local farmer's market is great to soak up in the summer sun. Bring an eco-friendly tote bag with you, and see what goodies you can find!
3. Organize a scavenger hunt
4. Photograph top attractions in your local town or city
5. Have a surf and turf in the garden
6. Play volleyball with your neighbors over the fence
7. Go to a fair
8. Go to a water park
9. Hike a nearby trail
Hikes are so much better in the summer sun. Equip yourself with some useful hiking essentials, and search your local area for recommended trials. A great way to spend time outdoors, hiking allows you to connect with nature in a fun and challenging way.
10. Go fruit picking
11. Try hula hooping
Having a set of hula hoops handy for the garden is a great way to keep fit, entertain the kids, and spend time in the sun. Get those hips swinging, and see how many hoops you can do in one go.
12. Go on a street art tour
13. Skip rocks into a river or lake
15. Build a rope swing
An overhanging, sturdy branch in the garden or a nearby wood is perfect for setting up a rope swing. The ultimate DIY thrill activity, the feeling of the wind in your hair and sun on your skin as you whizz and turn takes you straight back to childhood.
Indoors Summer Bucket List Ideas
17. Make a fort with blankets
19. Try a new recipe
20. Host a dinner party
21. Play 'the floor is lava' with cushions
22. Paint a landscape
23. Write a poem about summer
24. Make sangria
25. Host a garage sale
26. Buy indoor plants
Don't have a garden or space for plants outside? Air purifying plants are a great way to decorate your home. Use them to add color, aroma, and plenty of summer vibes to your home.
27. Make ice popsicles
28. Have a movie marathon
29. Make friendship bracelets
30. Bake cookies
Cookies are perfect for any time of year. Be it with friends, partners, or family, nothing beats the smell of that first batch of cookies that fills the kitchen. Get yourself a cookie decorating kit to make your cookie baking even more fun.
Crazy Adventure Summer Bucket List Ideas
31. Go zorbing
32. Take a spontaneous road trip
33. Jump into the water fully clothed
34. Go quad biking
35. Go to a live outdoor concert
36. Throw a dart at a map and drive there
37. Go rollerskating
38. Set off fireworks
39. Sleep outside for a night
40. Do a tik-tok dance in a public place
41. Visit a waterfall
42. Drink champagne in an inflatable float
43. Go trail running
Kids Summer Bucket List Ideas
44. Build a den in the garden
45. Play rounders or baseball
46. Go camping for the weekend
Marshmallows over an open fire. Stargazing in the forest. Family games in the sun. Load up your car with some camping essentials and have yourself a weekend of fun, sun, and memories that will last a lifetime.
47. Play Pokemon Go
48. Make an obstacle course
49. Go on a volunteer dog walk
50. Visit a theme park
51. Go horseriding
52. Collect seashells at the beach
53. Blow big bubbles
54. Collect pebbles and paint them
55. Rent a cabin by the lake
56. Play Twister outdoors
Kids and adults from all walks of life can enjoy Twister. It is a game full of thrills and laughs, and a great way to enjoy an afternoon in the garden, at the lake, or a game to pack for a camping trip.
57. Play hide and seek
Romantic Summer Bucket List Ideas
58. Go stargazing
59. Make a summer love playlist
60. Go to a drive-in movie
61. Book a night in a fancy hotel
62. Write your couples dreams together
63. Have a picnic in the fields
64. Go to the beach
65. Watch your favorite childhood movies
66. Paddleboard on a lake
67. Recreate your first date
68. Watch the sunset from a hill
69. Draw each other
70. Roll down a sand dune
71. Play laser tag
Friends/Group Summer Bucket List Ideas
72. Host a murder mystery evening
73. Take a road trip to your old school
74. Have a water fight in the garden
75. Read your yearbook together
76. Take photos in a photo booth
77. Buy fancy dress costumes for each other
78. Go tubing
79. Play minigolf
80. Play games at the arcades
81. Go bowling
82. Go on a wine tour
83. Play volleyball with a water balloon
84. Make a water slide in the garden
A DIY water slide is the perfect way to make the most of the summer sun in your back garden. With a hosepipe and some dish soap, you have hours of fun, thrills, and laughs for the whole family to enjoy.
85. Rent a hot tub
Self-Care Summer Bucket List Ideas
86. Have a DIY at-home spa day
Summer is a time of happiness and good well-being. Use these DIY at-home spa day ideas to unwind and re-energize after long hikes, weekends away, and fun and games in the garden.
87. Do yoga in your garden or outside
Many will tell you that outdoor yoga is a sensation like no other. Get yourself a yoga mat and head with friends to the beach, a field, or the back garden. The sun on your skin and the breeze in your hair helps you feel truly connected to nature.
88. Sign up for a color run
89. Watch the sunrise
90. Visit a friend you haven't seen for years
91. Plant sunflowers in the garden
92. Do a juice cleanse
93. Start a daily journal
The sun and the positive vibes of summer are the perfect time to build wellness habits that can aid you through the winter. A daily journal is a great way to record fun things and reflect on everything that is positive in your life.
94. Run on the beach
95. Drink herbal tea
A cup of your favorite herbal tea is ideal for summer evenings out on the porch, watching the sunset and reminiscing about the good times. Plus, herbal tea is loaded with vitamins and antioxidants.
96. Walk outside with no shoes
97. Dance in your house
Self-Improvement Summer Bucket List Ideas
98. Learn a brand new skill online
Always wanted to paint sunsets? Eager to be the person who plays the guitar around an open fire? Summer is a great time to learn a new skill. There are so many online courses you can take to learn, grow, and get creative.
99. Do a daily drawing challenge
100. Read a book a week
101. Start a gratitude journal
A gratitude journal will help you appreciate all that is good in your life. And summer, with its long days and great weather, is a great time to spend documenting everything positive in your life.
102. Learn chords to your favorite song on guitar
103. Make friends with a stranger
104. Help a friend out
105. Volunteer at a local charity
---
Don't let this and future summers pass you by without making the most of the free time.
Use our list, or grab a piece of paper and a pencil, and start planning a memorable summer with friends, family, and loved ones. Explore. Try new things. And make memories that will last forever!
You Might Also Like to Read
---
Keep this ultimate list of 100+ summer bucket list ideas for safekeeping by saving this article to one of your Pinterest boards.