This post may contain affiliate links, meaning if you book or buy something through one of these links, I may earn an affiliate commission at no additional cost to you. Learn more
Get inspired to plan a date you will both enjoy, cherish, and never forget with our ultimate bucket list of date ideas, suitable for all occasions. It's the ultimate couple's bucket list!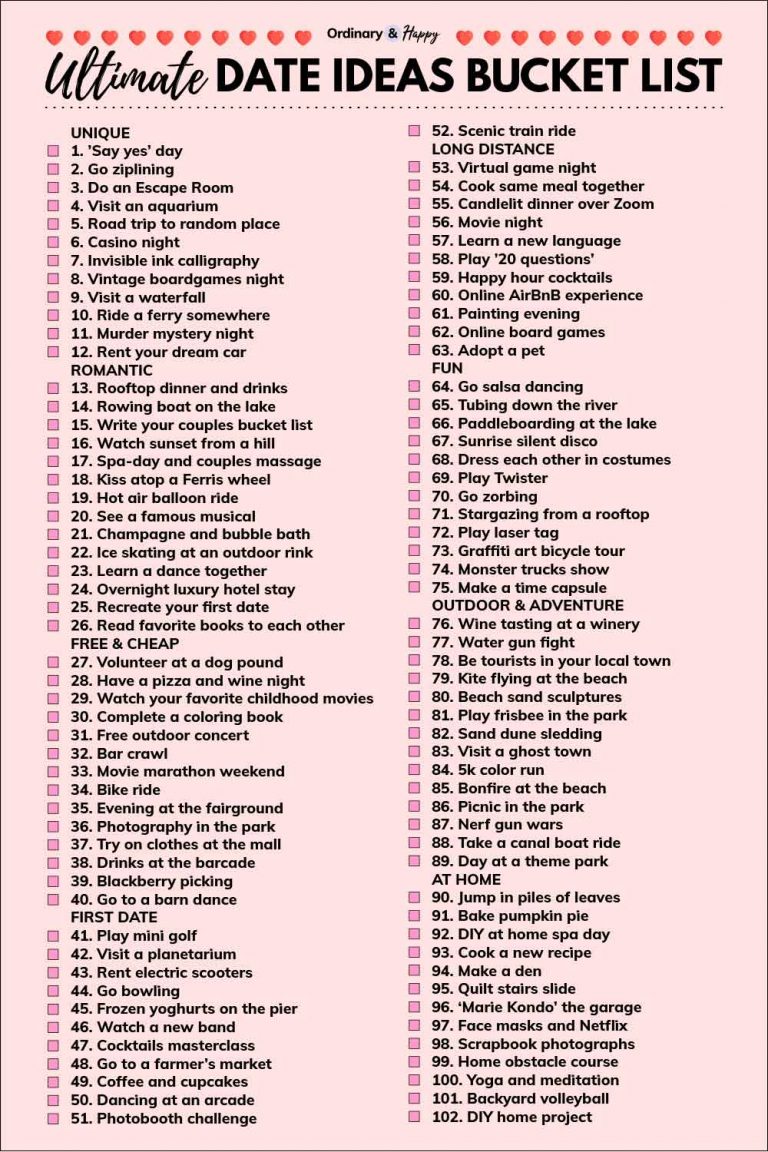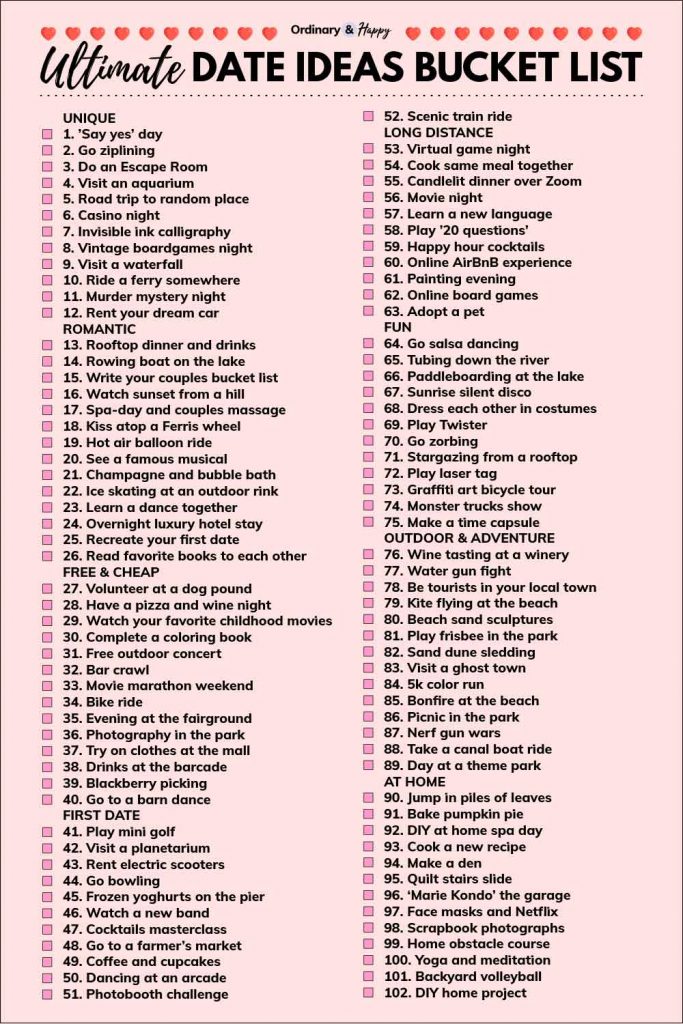 Date Ideas Bucket List
Don't let the pressure of a date going well for both of you work you up into a tizz. Be it for the first time or a landmark relationship goal, or an inch or a thousand miles between you, there's a perfect date for every couple and every situation.
Our ultimate date ideas bucket list, complete with over 100 ideas, can help give you plenty of inspiration and positive vibes to plan something that both of you will love and remember.
And if you'd like to try lots of ideas, download our free printable, and check each date idea off once you have tried it.
---
Unique Date Ideas
Try something a little different and out there, and dive into new experiences and adventures with these unique date ideas.
1. Go ziplining
2. 'Say yes' day
3. Do an Escape Room
4. Visit an aquarium
5. Road trip to random place
6. Casino night
7. Invisible ink calligraphy
8. Vintage board games night
9. Visit a waterfall
10. Ride a ferry somewhere
11. Murder mystery night
12. Rent your dream car
---
Romantic Date Ideas
Can't resist the allure of classic romance? Pull a date straight out of a beloved romcom with one or more of these romantic ideas.
13. Rooftop dinner and drinks
14. Rowing boat on the lake
15. Write your couples bucket list
16. Watch the sunset from a hill
17. Spa-day and couples massage
18. Kiss atop a Ferris wheel
19. Hot air balloon ride
20. See a famous musical
21. Champagne and bubble bath
22. Ice skating at an outdoor rink
23. Learn a dance together
24. Overnight luxury hotel stay
25. Recreate your first date
26. Read favorite books to each other
---
Free and Cheap Date Ideas
Dates don't have to be extravagant and expensive to be intimate. Keep things simple and inexpensive but memorable with these free and cheap ideas.
27. Volunteer at a dog pound
28. Have a pizza and wine night
29. Watch your favorite childhood movies
30. Complete a coloring book
31. Free outdoor concert
32. Bar crawl
33. Movie marathon weekend
34. Bike ride
35. Evening at the fairground
36. Photography in the park
37. Try on clothes at the mall
38. Drinks at the barcade
39. Blackberry picking
40. Go to a barn dance
---
First Date Ideas
Help quash the nerves and make a good impression by throwing yourselves into one of these super fun first date ideas, and hopefully have so much fun a second date simply has to be on the cards.
41. Play mini golf
42. Visit a planetarium
43. Rent electric scooters
44. Go bowling
45. Frozen yogurts on the pier
46. Watch a new band
47. Cocktails masterclass
48. Go to a farmer's market
49. Coffee and cupcakes
50. Dancing at an arcade
51. Photobooth challenge
52. Scenic train ride
---
Long-Distance Date Ideas
Even if you can't physically be together, that doesn't mean you can't have a date that both of you enjoy so much. Give some of these long-distance ideas a try.
53. Virtual game night
54. Cook the same meal together
55. Candlelit dinner over Zoom
56. Movie night
57. Learn a new language
58. Play '20 questions'
59. Happy hour cocktails
60. Online AirBnB experience
61. Painting evening
62. Online board games
63. Adopt an animal
Keep the romance electrified long distance with more virtual date ideas here.
---
Fun Date Ideas
If you're both looking for fun, laughs, and adventures, ditch the cliche date ideas and try some of these activities and experiences for a super fun time.
64. Go salsa dancing
65. Tubing down the river
66. Paddleboarding at the lake
67. Sunrise silent disco
68. Dress each other in costumes
69. Play Twister
70. Go zorbing
71. Stargazing from a rooftop
72. Play laser tag
73. Graffiti art bicycle tour
74. Monster trucks show
75. Make a time capsule
There are plenty more super fun date ideas to inspire your next date night here.
---
Outdoor & Adventure (Spring & Summer) Date Ideas
If the sun the shining and the feel-good factor is high, make the most of the season and use these date ideas to get inspired.
76. Wine tasting at a winery
77. Water gun fight
78. Be tourists in your local town
79. Kite flying at the beach
80. Beach sand sculptures
81. Play frisbee in the park
82. Sand dune sledding
83. Visit a ghost town
84. 5k color run
85. Bonfire at the beach
86. Picnic in the park
87. Nerf gun wars
88. Take a canal boat ride
89. Day at a theme park
Get inspired with some more summer date ideas here.
---
At-Home (Autumn and Winter) Date Ideas
If the weather outside is a little too cold, you can still plan a date filled with fun, joy, and laughs indoors with these at-home date ideas.
90. Make piles of leaves and jump in them
91. Bake pumpkin pie
92. DIY at home spa day
93. Cook a new recipe
94. Make a den
95. Quilt stairs slide
96. 'Marie Kondo' the garage
97. Face masks and Netflix
98. Scrapbook photographs
99. Home obstacle course
100. Yoga and meditation
101. Backyard volleyball
102. DIY home project
And here are some more at home date night ideas to inspire you.
---
Whatever your situation, and whatever you love doing, there's always a date night that both of you can enjoy, and help you grow closer.
Hopefully our ultimate list will inspire many dates to come. And feel free to let us know if you have any super ideas you think would be awesome on our list!
You Might Also Like to Read
---
Get inspired to plan a future date by saving this listicle to one of your Pinterest boards for safekeeping.