This post may contain affiliate links, meaning if you book or buy something through one of these links, I may earn an affiliate commission at no additional cost to you. Learn more
Get inspired to plan a date you will both enjoy, cherish, and never forget with our ultimate bucket list of date ideas, suitable for all occasions. It's the ultimate couple's bucket list!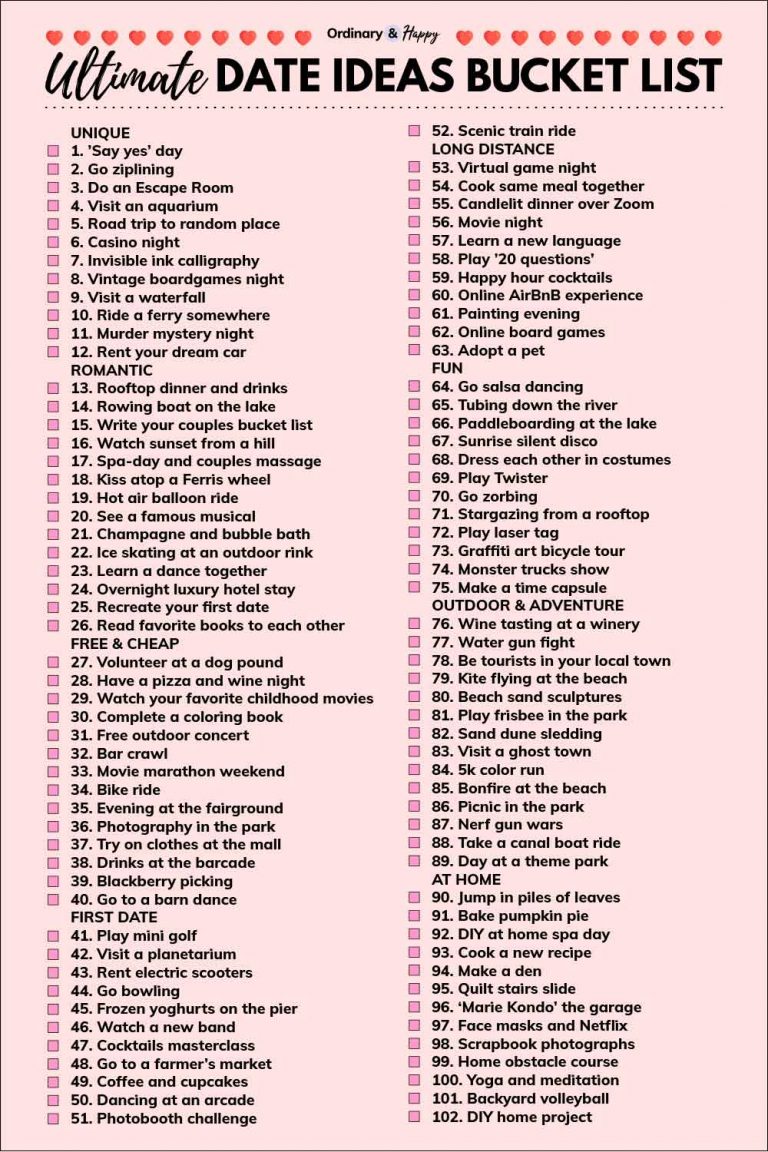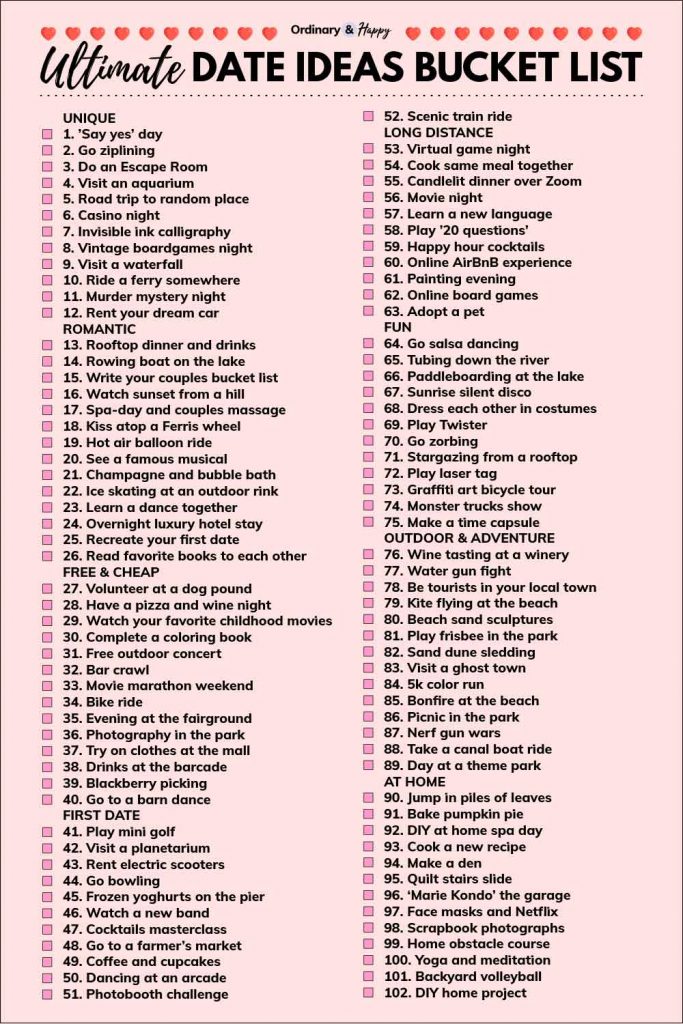 Date Ideas Bucket List
Don't let the pressure of a date going well for both of you work you up into a tizz. Be it for the first time or a landmark relationship goal, or an inch or a thousand miles between you, there's a perfect date for every couple and every situation.
Our ultimate date ideas bucket list, complete with over 100 ideas, can help give you plenty of inspiration and positive vibes to plan something that both of you will love and remember.
And if you'd like to try lots of ideas, keep reading and scrolling to the bottom of this article to find the download link for our printable, and check each date idea off once you have tried it.
---
Unique
Try something a little different and out there, and dive into new experiences and adventures with these unique date ideas.
1. Go Ziplining
Enjoy the thrill of this super fun activity together, and be sure to take plenty of selfies as you whiz from one side to the other.
2. 'Say Yes' Day
Nothing is off the table on a 'say yes' day! Let positive energy take the wheel, and see what fun and exciting things you end up doing together.
3. Do an Escape Room
Put your minds together, and see how quickly you can solve puzzles and escape. You can either go to one of many escape rooms or get an at-home kit like this one (available on Amazon) and solve puzzles from the comfort of your home.
4. Visit an Aquarium
Enjoy the tranquility and awe of marine life at a nearby aquarium, and maybe even take a dive with a scuba instructor if the aquarium offers such an experience.
5. Road Trip to a Random Place
Either pick from a hat or throw a dart at a map, load up the car with snacks and supplies, and go see a new place together. You could even make it an overnight trip with a hotel stay for a romantic date weekend.
6. Casino Night
Don a fancy tuxedo and gorgeous dress, and go into full James Bond mode by spending an evening at a casino.
7. Invisible Ink Calligraphy
Write some love messages to each other with an invisible ink set, then enjoy revealing them together and reading what they say to each other.
Supplies needed: an invisible ink set.
8. Vintage Board Games Night
Enjoy a super fun throwback evening by playing a classic board game (or several) from your childhood. Have a look at our board games for couples' ideas to get inspired.
9. Visit a Waterfall
Head out in nature on a memorable road trip and spend some time taking in the sights and enjoying the aura of a waterfall in a forest or national park.
10. Ride a Ferry Somewhere
Take your date on a romantic ride across the water, and book a ferry tour to an exciting island or secluded getaway.
11. Murder Mystery Night
Invite other couples of friends around, and enjoy being Poirot for the evening by hosting a murder mystery night. Be sure to dress up and complete the night with delicious food and fancy cocktails.
12. Rent Your Dream Car
Live like a celebrity couple for a day, and use a sports car rental service to hit the road in your dream car. Go somewhere new or rent a car to drive around a race track for an afternoon.
---
Romantic
Can't resist the allure of classic romance? Pull a date straight out of a beloved rom-com with one or more of these romantic ideas.
13. Rooftop Dinner and Drinks
For a vintage date idea, find a rooftop bar or restaurant in your local town and city and book in for a lovely evening together with a view like no other.
14. Rowing Boat on the Lake
Take a leaf out of the Pride and Prejudice book, and enjoy this super romantic date idea by renting a rowing boat and immersing in the tranquility of a nearby lake or body of water.
15. Write your Couples Bucket List
Clear an afternoon, get some drinks and snacks in, and get creative planning future adventures and must-do things together. Download one of our bucket list printables to help you plan.
Read more: Couples Bucket List
16. Watch the Sunset from a Hill
For a great way to spend a romantic evening together, head out just before the sun goes down and find a great spot to watch it.
Chat, cuddle, and pack some picnic foods for the evening.
17. Spa Day and Couples Massage
If work and life's challenges are making you both feel tired, give yourselves some much-needed self-care and book in for a spa day at a nearby spa or hotel.
18. Kiss atop a Ferris Wheel
Give this classic romantic moment a try for yourselves, and spend the evening at a theme park or fairground within driving distance.
19. Hot Air Balloon Ride
Very much a bucket list activity in its own right, surprise your date with this awesome idea and enjoy some spectacular views and romantic moments.
20. See a Famous Musical
If New York or London are within traveling distance, you can make a super romantic weekend out of this idea.
But if not, there are so many theatres in towns and cities you can visit and watch a classic musical or theatrical performance.
21. Champagne and Bubble Bath
Head to the supermarket for a nice bottle of champagne, run a bubble bath with essential oils, and enjoy a fun, intimate evening together. Chat, splash, or put on a movie and relax.
22. Ice Skating at an Outdoor Rink
In the winter, is there anything more romantic than holding hands and skating around an outdoor ice rink together?
Head to a winter wonderland during the holidays, as so many of them often have an ice rink.
23. Learn a Dance Together
Get inspired by Dirty Dancing and countless other romantic movies, and learn a new dance together.
Go to a class or learn from home with an online course.
24. Overnight Luxury Hotel Stay
Enjoy an evening of gorgeous views, relaxation, and a little taste of the good life, and book a fancy hotel in a nearby town or city for one night together.
25. Recreate Your First Date
Take a trip down memory lane, and recreate your first date. Reminisce about that afternoon or evening and talk deeply about how far you've come.
26. Read Favorite Books to Each Other
Enjoy a relaxing evening reading each other's favorite books to each other.
Make the afternoon or evening complete with yummy food and delicious drinks.
---
Free and Cheap
Dates don't have to be extravagant and expensive to be intimate. Keep things simple and inexpensive but memorable with these free and cheap ideas.
27. Volunteer at a Dog Pound
Have a lot of fun with a newfound furry friend, and volunteer your time for a good cause. If you can't or don't own a dog, that doesn't mean you can't spend time with them.
28. Have a Pizza and Wine Night
It's so easy to order a big, cheesy pizza and pick up an inexpensive bottle of wine from the local supermarket. Complete the night with movies, games, or cuddles on the sofa.
29. Watch Your Favorite Childhood Movies
Get nostalgic together, and have a movie night where you both watch a favorite childhood movie back-to-back, complete with snacks, drinks, and onesies.
30. Complete a Coloring Book
You can lose yourselves for hours with an adult coloring book. Engage in some great conversation, and enjoy a relaxing afternoon together.
31. Free Outdoor Concert
Have a look on Eventbrite or Meetup for free concerts in your area or local town or city, and head down to enjoy an evening of music and dancing in the great outdoors.
32. Bar Crawl
Hit the local sports or pool bars, and embrace your inner teenagers as you play pool, darts, watch sports, and enjoy a few casual drinks.
33. Movie Marathon Weekend
You don't need to pay for expensive cinema tickets to enjoy the magic of the movies. Line up some classics or new releases on some online streaming services, and get the cheesy nachos and sodas in.
34. Bike Ride
Either dust down bikes from the garage or rent some for the day, and explore your local area in a fun, active, and relaxing way.
35. Evening at the Fairground
The rides at most fairgrounds are relatively inexpensive to ride, and if you don't fancy the thrills, you can simply walk around and enjoy the energy and atmosphere.
36. Photography in the Park
Pick a gorgeous nearby park, and spend an afternoon taking photos of the scenery and each other, either with a camera you have or your phones.
37. Try on Clothes at the Mall
Get a feel for what it's like to be a rich and famous celebrity, even if for an afternoon, and have fun photographing each other trying on new and luxurious outfits at the mall.
38. Drinks at the Barcade
Barcades are packed with old video games that you can play together for plenty of nostalgia vibes, and you can enjoy a drink or two while you're there.
39. Blackberry Picking
Head out into nature, soak up some sun, and pick some blackberries or other berries from nearby fields or hedges. You could make jam or a pie when you return home with your haul.
40. Go to a Barn Dance
Get ready to shake those hips and get involved with one of the most fun and enjoyable activities you can do with lots of other people without having to spend a lot of money.
---
First Dates
Help quash the nerves and make a good impression by throwing yourselves into one of these super fun first date ideas, and hopefully have so much fun a second date simply has to be on the cards.
41. Play Mini Golf
For a cute date idea, enjoy a few holes of mini golf together. You can enjoy some casual conversation and put your putting skills to the test.
42. Visit a Planetarium
Get lost in the aura and magic of space in a planetarium show, and afterward enjoy some ice cream or coffee and chat about what you learned.
43. Rent Electric Scooters
See your local town or city in a fun and enjoyable way, and possibly discover a new thrift store, coffee shop, or hidden gem along the way.
44. Go Bowling
Give this old-school date idea a proper go, and enjoy an evening of casual chat, drinks, and hopefully a few strikes.
45. Frozen Yogurts on the Pier
Get to know each other a little better over one of life's most epic desserts, and enjoy a gorgeous sea view while you're at it.
46. Watch a New Band
Music is a great thing to bond over, and if you like similar bands or just want to see some live music, head down to a venue to listen to some new music for the evening.
47. Cocktails Masterclass
Get to know each other while putting your bartender skills to the test, and try a cocktail-making class at a local bar or restaurant.
48. Go to a Farmer's Market
Explore a local farmer's market on a lovely weekend afternoon together. Enjoy some delicious food, see what cool crafts and items you can find, and get to know each other in a casual way.
49. Coffee and Cupcakes
Take the classic coffee date to the next level by ordering some cupcakes, and enjoy an afternoon of coffee shop ambiance, fun conversation, and delicious coffee and cake.
50. Dancing at an Arcade
Head to your local arcade, locate the dance master and see if you're a Patrick Swayze and Jennifer Grey couple in the marking by putting your feet to good use.
51. Photobooth Challenge
Embrace your silly sides, find a photo booth, and take a reel of funny poses and facial expressions. You'll have a lovely memento from your first date, that will hopefully lead to more.
52. Scenic Train Ride
Riding the train gives you plenty of time to get to know each other, while also traveling through beautiful countryside and taking you to new towns and cities.
---
Long-Distance
Even if you can't physically be together, that doesn't mean you can't have a date that both of you enjoy so much. Give some of these long-distance ideas a try.
53. Virtual Game Night
Whether it's the thrill of console first-person shooters or some classic strategy games, there's a world of virtual games waiting for you both to play and bond over.
54. Cook the Same Meal Together
You could take a cooking class together online, or agree to a particular meal and, with a video feed set up, cook the meal together, side by side. Enjoy your delicious dish at the end of it over a video call, complete with a well-earned drink.
55. Candlelit Dinner over Zoom
Take the dinner date to the next level by creating some fancy restaurant ambiance. Light candles, dim the lights, and make sure you serve your food on your finest plates, then enjoy delicious food and great company together.
56. Movie Night
Either choose a nostalgic childhood classic or watch a new release on a streaming service. Enjoy watching the movie at the same time, and feel free to pause at certain times to discuss or to get to know each other a little more.
57. Learn a New Language
Take a language class together, and enjoy the fun and challenge of learning a new language with each other.
58. Play '20 Questions'
'20 questions' is perfect for playing virtually. One of you thinks of a famous person, and the other must ask a series of 'yes or no' questions and try to guess who you are thinking of. Take it in turns, and use the game to help ease the pressure of constantly needing topics to talk about.
59. Happy Hour Cocktails
Both of you can whip up a classic cocktail or mocktail together, either from memory or with an online class, and then enjoy them with some engaging conversation.
60. Online AirBnB Experience
From virtual tours to sangria making, there are so many Airbnb experiences you can both book and enjoy for your date night. Try new things, learn, and have laughs and fun together.
61. Painting Evening
Channel your inner artists and enjoy an evening of painting. A paint-by-numbers kit is a great way to do this so that you can both paint the same image and enjoy the therapeutic nature of painting while being able to chat together on your date.
62. Online Board Games
From chess to Monopoly, there are endless options when it comes to online board games you can play virtually. Sign up together and let your competitive streaks take the wheel.
63. Adopt an Animal
Many charities allow you to adopt endangered animals overseas. You can do this together, and spend time on your date learning about your adopted animal, keeping tabs on them, and maybe even watch some video footage of them.
Want some more inspiration? Keep the romance electrified in your long-distance relationship with more virtual date ideas here.
---
Fun
If you're both looking for fun, laughs, and adventures, ditch the cliche date ideas and try some of these activities and experiences for a super fun time.
64. Go Salsa Dancing
Salsa is a dance of such flair and passion, and an in-person dance class with your partner is such a fun way to truly experience the magic of salsa. If you can't get to a dance studio or the host venue, try an online salsa class together.
65. Tubing Down the River
Unleash your inner child, get yourselves some inner tubes, and head down to the river on a hot, sunny day for a super fun date activity, if safe to do so.
66. Paddleboarding at the Lake
If tubing is a little too adrenaline-fueled, why not try an afternoon of paddleboarding at a nearby river or lake? It's a little less frantic, and a great way to spend time outdoors in the sun.
67. Sunrise Silent Disco
Nothing quite beats dancing your heart out to a gorgeous sunrise, no matter how old you are. Have a look online for an organized sunrise disco near you, or get your own equipment and do it yourself.
68. Dress Each Other in Costumes
Have lots of fun with this one, and see how silly or crazy you can make your date or partner look. Head out to a fancy dress party or head around town in your costumes for a fun date night like no other.
69. Play Twister
Ideal for both indoors and outdoors, Twister is an amazing way to get to know each other while having some serious, laugh-out-loud fun. You could even double date with this one.
70. Go Zorbing
Experience the thrill of rolling down hills and through winding courses in a giant inflatable ball, and have a date together neither of you will forget any time soon.
71. Stargazing from a Rooftop
Straight out of a rom-com, pack some picnic foods, and think of a great spot you know to watch the stars in the sky. From apartment buildings to hilltops overlooking the city, there are many romantic places to spend the evening with your date, if safe to do so.
72. Play Laser Tag
A high school classic, laser tag also makes for a super fun date idea. Pair this fun activity with some arcade-themed antics, and you have a fun date both of you will love.
73. Graffiti Art Bicycle Tour
Street art tours are such a great way to explore your local or nearby town or city. Have a look online for a guided bike tour, and if there isn't one plan a route on Google Maps, rent or take your own bikes, and host your own tour.
74. Monster Trucks Show
Embrace that inner need for more than a little carnage, and enjoy an afternoon of monster truck madness, complete with hotdogs, drinks, and plenty of chanting with your date or partner.
75. Make a Time Capsule
A thoughtful and very enjoyable activity to do together, our list of time capsule ideas will give you plenty of inspiration for what to put in your time capsule before you bury it. Just be sure to remember where you buried it!
If you're still looking for ideas, there are plenty more super fun date ideas to inspire your next date night here.
---
Outdoor & Adventure (Spring & Summer)
If the sun the shining and the feel-good factor is high, make the most of the season and use these date ideas to get inspired.
76. Wine Tasting at a Winery
Enjoy gorgeous scenery, and delicious wines, and learn a thing or two on a wine tour to a nearby vineyard or valley.
77. Water Gun Fight
Cool off amid the heat of summer by getting yourselves some water guns, putting on some old clothes, and letting your inner children come to the forefront.
78. Be Tourists in your Local Town
So many times we forget how much fun and beauty is in the places we live. Be it a botanical garden or a famous landmark, make a list of everything in your local town or city you've never visited and tick them off your bucket list together.
79. Kite Flying at the Beach
Flying kites can be so much fun, and doing it at the beach gives you plenty of wind and a beautiful, relaxing environment.
80. Beach Sand Sculptures
While you're at the beach flying kites, why not get a little creative and make some sand sculptures together? Photograph your sculptures at the end and see who gets the most love online.
81. Play Frisbee in the Park
Simple and fun to do, frisbee is a great way to enjoy an active outdoor date in a casual way. Bonus points for any one-handed catches!
82. Sand Dune Sledding
Either book a tour or simply get yourselves some simple sleds and take a road trip to some sand dunes within driving distance. You'll have hours of fun with this easy and simple date idea.
83. Visit a Ghost Town
There are so many abandoned towns across the US and Europe you could visit. Either book a ghost tour with a guide or drive there yourselves and enjoy an afternoon of exploring some unique and eerie places.
84. 5k Color Run
Add plenty of fun to running by signing up for a color run together. You'll get to partake in the color-fueled madness, maybe raise some money for charity, and stay active together.
85. Bonfire at the Beach
If safe to do so, start a beach bonfire, roast s'mores, and enjoy each other's company in a romantic setting under the stars to the sound of the waves.
86. Picnic in the Park
Use our picnic foods list and picnic essentials to make sure you pack an awesome picnic hamper, ideal for a chilled outdoor date in a scenic park or outdoor area.
87. Nerf Gun Wars
Who says nerf guns are for kids? You could even wear t-shirts with painted targets on them, and award points for hits.
88. Take a Canal Boat Ride
Embrace the beautiful scenery and warm weather by spending an afternoon together on a canal boat, and enjoy the peace and tranquility with some engaging conversation.
89. Day at a Theme Park
An amusement park has thrills galore in store for you. Ride the rollercoasters, hold on tight on the pirate ship, and let loose on the water slides. This date idea has all the makings of an epic and romantic day out.
If you're still looking for some date ideas to get you both into the great outdoors when the weather is nice, get inspired with some more summer date ideas here.
---
At-Home (Autumn and Winter)
If the weather outside is a little too cold, you can still plan a date filled with fun, joy, and laughs indoors with these at-home date ideas.
90. Make Piles of Leaves and Jump in Them (Carefully)
Embrace the fallen leaves during fall and enjoy having fun with your date and partner by being kids once again. Be sure to take plenty of photos too.
91. Bake Pumpkin Pie
Pumpkins are in season during fall, so for a date idea that's oh so yummy, buy some pumpkins from the supermarket or a farmer, and spend the afternoon baking a delicious pie together.
92. DIY At-Home Spa Day
Turn your humble abode into a place of relaxation, and use our DIY at-home spa day ideas to give you plenty of inspiration and products you can buy for your spa date.
93. Cook a New Recipe
Get creative in the kitchen together, pull out a cookbook or a popular cooking blog, and spend an afternoon trying a new recipe.
94. Make a Den
Blankets, cushions, and the back of the sofa are all you need for you and your partner and date to make a fun den together.
95. Quilt Stairs Slide
If safe to do so, lay down a quilt over your indoor stairs, and place a big pile of cushions at the bottom. Have fun sliding down the quilt like kids.
96. 'Marie Kondo' the Garage
Do a healthy spot of decluttering and reorganizing together, and reap the benefits of a cleaner, less cluttered home.
97. Face Masks and Netflix
Enjoy a show or movie on the sofa complete with nourishing facemasks for a truly relaxing date night.
98. Scrapbook Photographs
Print off all those photos you've been collecting over the years and have a fun date night sticking them into a blank photo album to look back on in the future.
99. Home Obstacle Course
Get creative with chairs, cushions, and household items, and see who can get around the obstacle course in the fastest time.
100. Yoga and Meditation
Either go to a yoga studio or gym, or book an online class at home, and get yourselves some yoga mats you can use in the living room or a spare bedroom.
101. Backyard Volleyball
Order in a volleyball net and ball, and enjoy playing this fun sport together in the backyard if the weather permits.
102. DIY Home Project
From putting up a shelf to building a birdfeeder, DIY is a great way for you to spend time together doing something creative.
Want a little more inspiration? Here are some more at-home date night ideas to inspire you.
---
Download our ultimate date night ideas bucket list printable here.
Whatever your situation and whatever you love doing, there's always a date night that both of you can enjoy and help you grow closer.
Hopefully, our ultimate list will inspire many dates to come. And feel free to let us know if you have any super ideas you think would be awesome on our list!
Once again, you can download our ultimate date night ideas bucket list printable here.
You Might Also Like to Read
---
Get inspired to plan a future date by saving this listicle to one of your Pinterest boards for safekeeping.