This post may contain affiliate links, meaning if you book or buy something through one of these links, I may earn an affiliate commission at no additional cost to you. Learn more
Gear up for thrills, fun, and some unforgettable moments with these amazing things to do at the beach.
Whether you're looking for adventure or relaxation, games or romance, there's so much on this bucket list to help you make the most of your upcoming beach trip.
Things to Do at the Beach (Bucket List)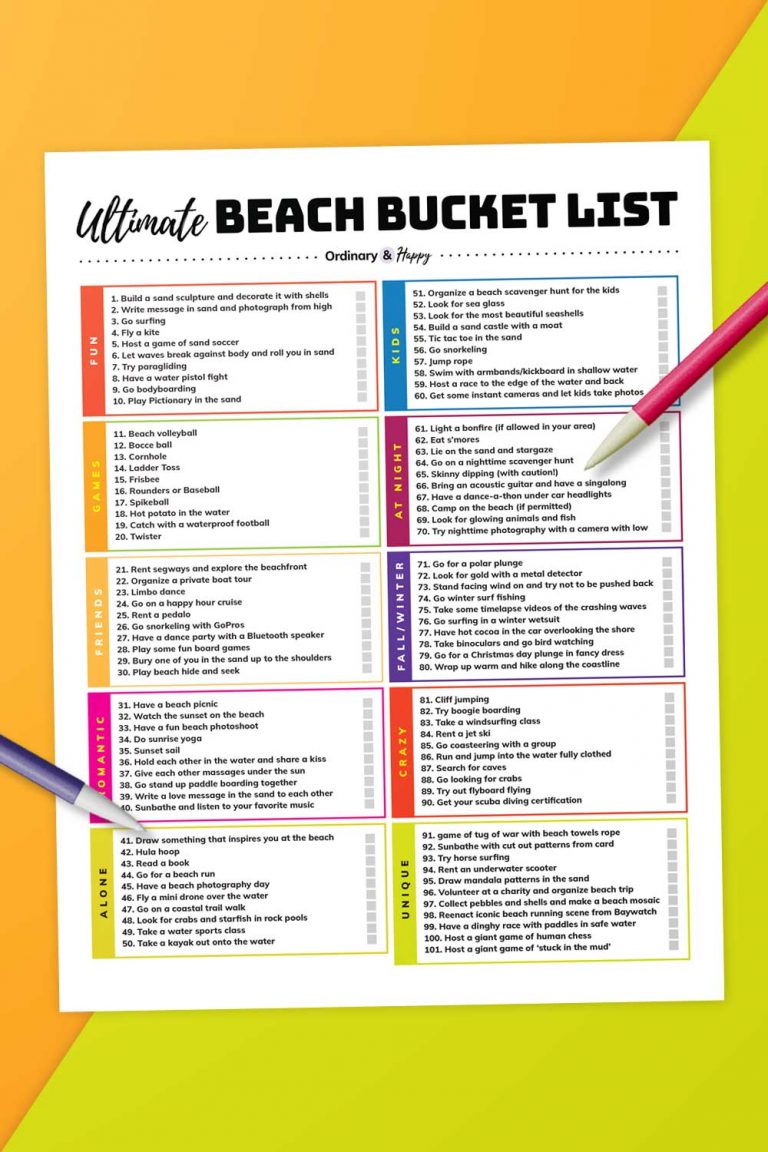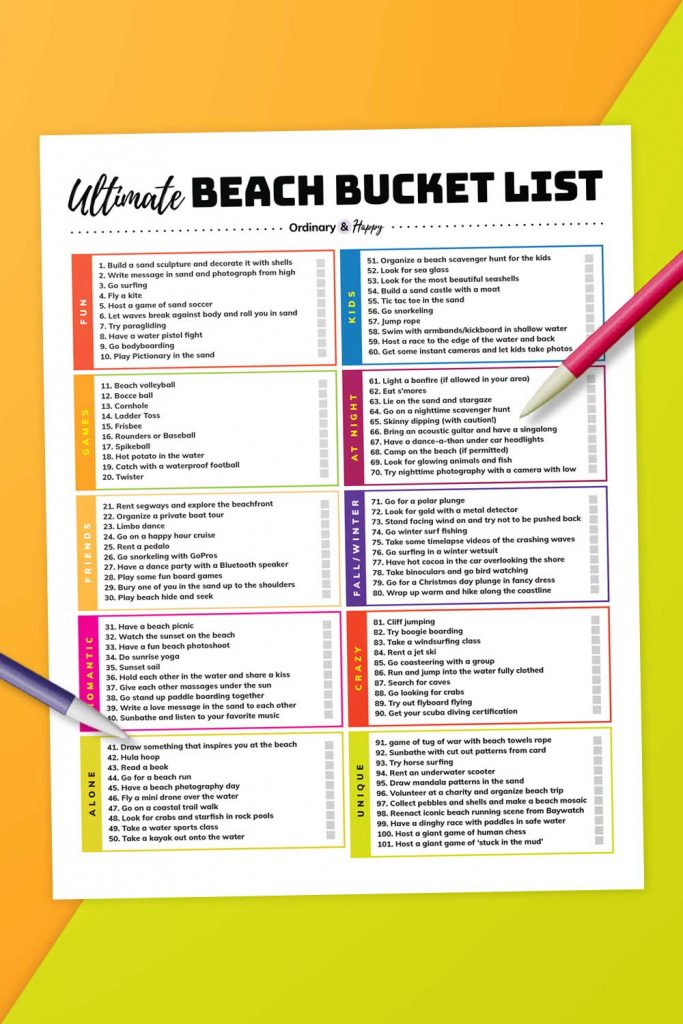 Want to download and print off this ultimate beach bucket list and spend a lifetime ticking off all the activities?
Scroll to the bottom of this article to find the download link, and may your beach trips forever be epic!
So, without further ado, let's dive in and see all that the beach has to offer for a wonderful visit.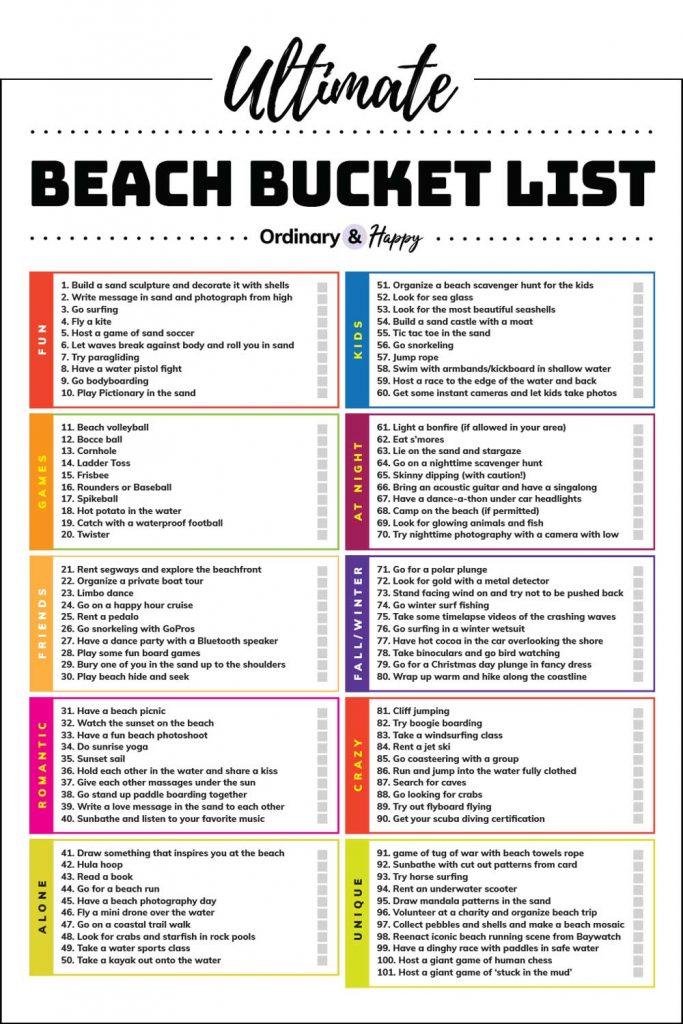 ---
Fun
Make some truly epic memories at the beach with some of these super fun activities you can do in the sun and the sand.
1. Build a sand sculpture and decorate it with shells
2. Write a message in the sand and photograph it from a high point
3. Go surfing
4. Fly a kite
5. Host a game of sand soccer
6. Let the waves break against your body and roll you along the sand
7. Try paragliding
8. Have a water pistol fight
9. Go bodyboarding
10. Play Pictionary in the sand
---
Games
Let everyone's competitive spirit catch fire by organizing one or more of these beach games with your adult friends, and may the best person or team win!
11. Beach volleyball
12. Bocce ball
13. Cornhole
14. Ladder Toss
15. Frisbee
16. Rounders or Baseball
17. Spikeball
18. Hot potato in the water
19. Catch with a waterproof football
20. Twister
---
With Friends
Turn up the fun factor as well as the SP factor with your closest friends by giving some of these awesome beach activities a try.
21. Rent segways and explore the beachfront
22. Organize a private boat tour
23. Limbo dance
24. Go on a happy hour cruise
25. Rent a pedalo
26. Go snorkeling with GoPros and see who gets the best footage
27. Have a dance party and play music with a Bluetooth speaker
28. Play some fun board games
29. Bury one of you in the sand up to the shoulders and take a photo
30. Play beach hide and seek
---
With Your Partner
While the beach is a place of sun, fun, and games, it can also be an incredibly romantic place to spend with your partner or significant other.
For a date you'll both remember for a very long time, give some of these romantic activities a try.
31. Have a beach picnic
32. Watch the sunset on the beach
33. Have a fun beach photoshoot
34. Do sunrise yoga
35. Sunset sail
37. Give each other massages under the sun
38. Rent boards and go stand up paddleboarding together
39. Write a love message in the sand to each other
40. Sunbathe and listen to your favorite music
---
Alone
Riding solo? No problem! There's so much fun and adventure to be had at the beach when your by yourself. Try some of these activities.
41. Draw something that inspires you at the beach
42. Hula hoop
43. Read a book
44. Go for a beach run
45. Have a beach photography day
46. Fly a mini drone over the water
47. Go on a coastal trail walk
48. Look for crabs and starfish in rock pools
49. Take a water sports class
50. Take a kayak out onto the water
---
With your Kids
Beach days with your kids can be truly magical. Give them plenty to experience and enjoy by trying some of these things to do.
51. Organize a beach scavenger hunt for the kids
52. Look for sea glass
53. Look for the most beautiful seashells
54. Build a sand castle with a moat
55. Tic tac toe in the sand
56. Go snorkeling
57. Jump rope
58. Go for a swim with armbands and kickboard in shallow water
59. Host a race to the edge of the water and back
60. Get some instant cameras and let your kids take photos
---
At Night
Under moonlight and a starry sky, the beach is a completely different place, full of wonder and opportunity.
If you venture to the beach after the sun has set with friends or your partner, make some magical memories with some of these things to do.
61. Light a bonfire (if allowed in your area)
62. Eat s'mores
63. Lie on the sand and stargaze
64. Go on a nighttime scavenger hunt
65. Skinny dipping (with caution!)
66. Bring an acoustic guitar and have a merry singalong
67. Have a dance-a-thon under car headlights
68. Camp on the beach (if permitted)
69. Look for glowing animals and fish on the sand and in the water
70. Try nighttime photography with a camera with low light mode
---
In the Fall or Winter
Cold evenings and blustery winds? The beach can still be a wonderful place to visit even without the summer sun.
In the fall or winter, if you're looking for a fun adventure, give some of these activities a go.
71. Go for a polar plunge
72. Look for gold with a metal detector
73. Stand facing the wind on the beach and try not to be pushed back
74. Go winter surf fishing
75. Take some timelapse videos of the crashing waves
76. Go surfing in a winter wetsuit
77. Have hot cocoa in the car overlooking the shore
78. Take binoculars and go bird watching
79. Go for a Christmas day plunge in fancy dress
80. Wrap up warm and hike along the coastline
---
Crazy and Adventurous
Appeal to the adrenaline junkie within you, and give some of these crazy and adventurous activities a try if you really want a beach trip that will live long in the memory.
81. Cliff jumping
82. Try boogie boarding
83. Take a windsurfing class
84. Rent a jet ski
85. Go coasteering with a group
86. Run and jump into the water fully clothed
87. Search for caves
88. Go looking for crabs
89. Try out flyboard flying
90. Get your scuba diving certification
---
Unique
Give yourself and whoever is with you at the beach a truly unforgettable day or evening, and get inspired with some of these truly unique beach activities.
91. Have a game of tug of war with a rope made of beach towels
92. Cut out patterns or your initials from card and sunbathe with them on your skin
93. Try horse surfing
94. Rent an underwater scooter
95. Draw mandala patterns in the sand
96. Volunteer at a charity and organize a trip to the beach for everyone
97. Collect pebbles and shells and make a beach mosaic
98. Reenact and film the iconic beach running scene from Baywatch
99. Have a dinghy race with paddles in safe shallow water
100. Host a giant game of human chess
101. Host a giant game of 'stuck in the mud'
---
Beach days or weekends are always a time of adventure and enjoyment. With a little planning and some great activities planned, you can truly make the most of your time there.
Use our beach bucket list to help make sure every beach visit is one that will live long in the memory, no matter what time of the year it is!
Download our ultimate beach bucket list ideas printable here.
You Might Also Like to Read
---
Planning a beach trip soon? Keep this super fun list of things to do for safekeeping, by saving this article to one of your Pinterest boards.