This post may contain affiliate links, meaning if you book or buy something through one of these links, I may earn an affiliate commission at no additional cost to you. Learn more
Make this spring a time of new challenges, fun adventures, and wonderful memories with our spring bucket list, and embrace this wondrous season of growth, opportunity, and change.
Spring Bucket List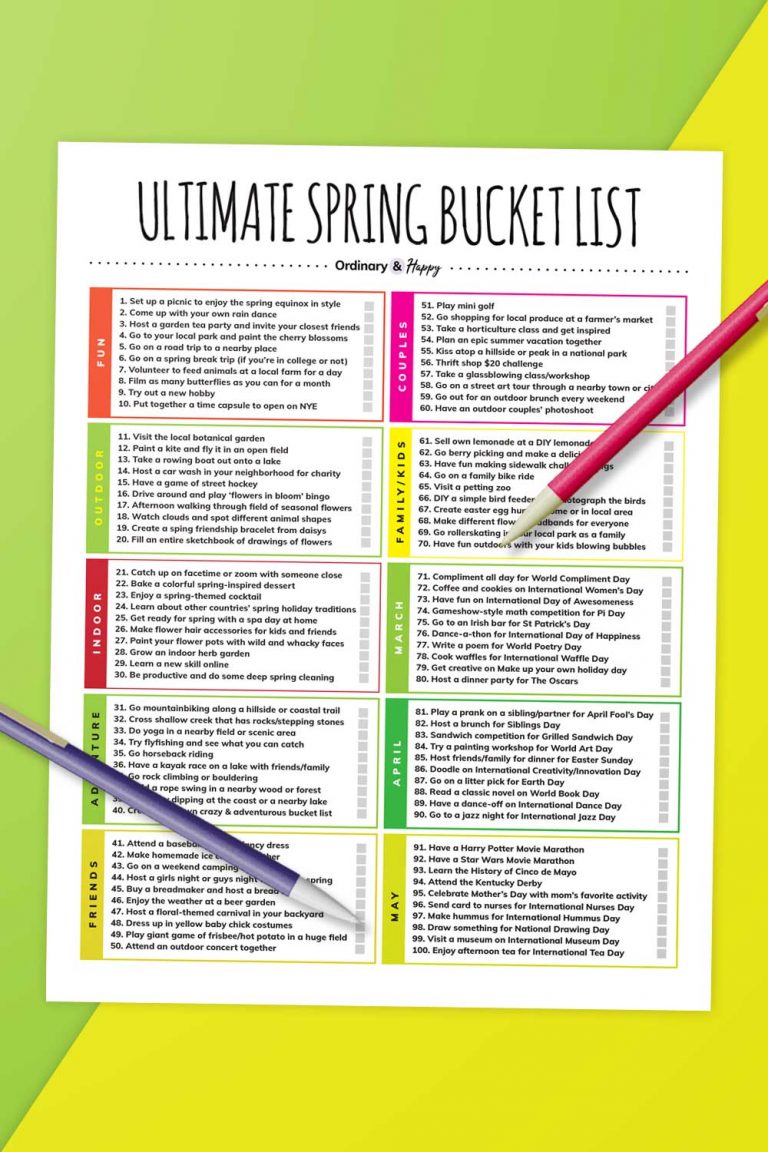 Fancy making this spring a season to remember? Download our spring bucket list printable for free, print it off, and tick off as many activities as you can. Scroll to the end to get the PDF printable checklist.
---
Fun
Looking for fun and exciting things to do this spring? Look no further than these fun spring activities to fill your afternoons, evenings, and weekends with buckets of laughter, joy, and adventure.
1. Find a beautiful meadow and set up a picnic to enjoy the spring equinox in style
Related: Picnic essentials and picnic food ideas list
2. Come up with your own rain dance and perform it on mornings when rain is forecast
3. Host a garden tea party and invite your closest friends
Related: Tea Party Ideas, Activities, and Games
4. Go to your local park and paint the cherry blossoms
Related: 100+ Painting Ideas and 100+ Drawing Ideas
5. Go on a road trip to a nearby place you've always wanted to visit but never had the time
6. Go on a spring break trip (whether you're in college or not)
7. Volunteer to feed animals at a local farm for a day
8. Film as many butterflies as you can for a month and make a montage movie with the footage
9. Try out a new hobby
10. Put together a time capsule to open on NYE
---
Outdoors
With the nights drawing out and the weather getting warmer, it's time to get out into the great outdoors and embrace the beauty and color around you. These outdoor spring activities are ideal for spending time in the great outdoors in new and exciting ways.
11. Visit the local botanical garden and enjoy seeing the plants and flowers at their peak
12. Paint a kite and fly it in an open field
13. Take a rowing boat out onto a lake
14. Host a car wash in your neighborhood or at a local venue for charity
15. Have a game of street hockey
16. Drive around and play 'flowers in bloom' bingo in your local area
17. Spend an afternoon walking by or through a field of seasonal flowers
18. Watch the clouds in the sky and spot different animal shapes
19. Create a spring friendship bracelet from daisies and other plants to give to a friend or loved one
20. Fill an entire sketchbook with drawings of flowers and other things you see in spring
---
Indoors
Even if the weather is getting warmer, there are plenty of fun and enjoyable things to do at home or indoors this spring with friends, family, and loved ones.
21. Catch up on facetime or zoom with your long-distance friends or partner
Related: Things to do on facetime
22. Bake a colorful spring-inspired dessert such as a seasonal pie, fruit tart, or rhubarb cake
23. Enjoy a spring-themed cocktail such as a cherry blossom or strawberry blond
24. Learn about other countries' spring holiday traditions such as "Mărțișor" in Romania and Moldova
25. Get ready for spring with a spa day at home
26. Make flower hair accessories for your kids, friends, and family
27. Paint your flower pots with wild and whacky faces
28. Grow an indoor herb garden containing all your favorite herbs
30. Be productive and do some deep spring cleaning
---
Adventurous
Push the boat out and challenge your mind, body, and soul this spring with some adventurous activities that are ideal for the weather and the season.
31. Go mountain biking along a hillside or coastal trail
32. Cross a shallow river or creek that has rocks and stepping stones (if safe to do so)
33. Do yoga in a nearby field or scenic area
34. Try flyfishing and see what you can catch
35. Go horseback riding
36. Have a kayak race on a lake with friends and/or family
37. Go rock climbing or bouldering
38. Build a rope swing in a nearby wood or forest
39. Go skinny dipping at the coast or a nearby lake
---
With Friends
Use these things to do to plan some memorable days out and fun activities with your closest friends, and be sure to take plenty of photos along the way to capture the magical moments.
41. Attend a baseball game in fancy dress
42. Make homemade ice cream together
43. Go on a weekend camping trip
44. Host a girls' night or guys' night to welcome the new season
Related: Girls night in and girls night out ideas
45. Buy a breadmaker and host a bread bake-off
46. Enjoy the weather at a beer garden
47. Host a floral-themed carnival in your backyard
48. Dress up in yellow baby chick costumes and waddle in sync through your local neighborhood or town
49. Play a giant game of frisbee or hot potato in a huge field
50. Attend an outdoor concert together
---
For Couples
Make this season a time of epic adventures and wonderful memories with your partner in crime, and get inspired with some of these spring activities for couples.
51. Play mini golf
52. Go shopping for local produce at a farmer's market
53. Take a horticulture class or course and get inspired to grow different flowers and plants in your garden
54. Plan an epic summer vacation together
55. Kiss atop a hillside or peak in a national park
56. Visit the local flea market or thrift shop and have a competition to see who can get the best find for under $20
57. Take a glassblowing class/workshop
58. Go on a street art tour through a nearby town or city
59. Go out for brunch every weekend and find your favorite outdoor brunch spot
60. Have an outdoor couples' photoshoot
---
For Families/Kid-Friendly
Spend some quality time with your kids this spring, and get them involved in some of these super fun and creative activities you can all do together.
61. Make your own lemonade and sell it at a lemonade stand outside your house
62. Go berry picking and make a delicious pie with the fruits you find
63. Have fun making sidewalk chalk drawings
64. Go on a family bike ride
65. Visit a petting zoo
66. DIY a simple bird feeder and photograph the birds that use it
67. Create an easter egg hunt around your home or local area
68. Make different flower headbands for you and your kids and perform a spring dance together
69. Go rollerskating in your local park as a family
70. Have fun playing outdoors with your kids blowing bubbles
---
March Activities
There are plenty of amazing events and dates to celebrate throughout March, all of which you can come up with your own ideas for, or go to meetups and events to celebrate these days.
71. Compliment everyone all day for the First Day of March & World Compliment Day (March 1)
72. Have coffee and cookies with the important women in your life on International Women's Day (March 8)
73. Make a funny video on International Day of Awesomeness (March 10)
74. Host a fun gameshow-style math competition at home for Pi Day (March 14)
75. Go to an Irish bar for St Patrick's Day (March 17)
76. Have a dance-a-thon for the International Day of Happiness (March 20)
77. Write a poem for World Poetry Day (March 21)
78. Make waffles for International Waffle Day (March 25)
79. Get creative on Make Up Your Own Holiday Day (March 26)
80. Host a dinner party for the Oscars (March 27)
---
April Activities
Have a fun, exciting, and memorable April by taking part in these landmark dates, and do something to celebrate the occasion with friends and loved ones.
81. Play a classic prank on a sibling or partner for April Fool's Day (April 1)
82. Host a brunch for Siblings Day (April 10)
83. Host a sandwich competition for Grilled Sandwich Day (April 12)
84. Try a painting workshop for World Art Day (April 15)
85. Host friends and family for dinner to celebrate Easter Sunday (April 17/24)
86. Doodle a giant white sheet with friends and family for International Creativity and Innovation Day (April 21)
87. Go on a litter pick for Earth Day (April 22)
88. Get your friends and family to read a classic novel on World Book Day (April 23)
89. Challenge a stranger to a dance-off on International Dance Day (April 29)
90. Go to a jazz night for International Jazz Day (April 30)
---
May Activities
Summer may almost be there, but that doesn't mean there's not plenty of laughs, fun, and joy to be had in May, the last month of spring. Take part in some of these iconic days, and celebrate them in style.
91. Have a Harry Potter movie marathon (May 2)
92. Have a Star Wars movie marathon (May 4)
93. Learn the history of Cinco de Mayo (May 5)
94. Attend the Kentucky Derby (May 7)
95. Celebrate Mother's Day with your mom's favorite activity (May 8)
96. Send a card to your friends who are nurses for International Nurses Day (May 12)
97. Learn how to make hummus for International Hummus Day (May 13)
98. Get inspired and draw something for National Drawing Day (May 16)
Related: 100+ Drawing Ideas List
99. Visit a museum on International Museum Day (May 18)
100. Enjoy afternoon tea for International Tea Day (May 21)
---
Make this spring one of amazing adventures, new ideas, and quality time spent with loved ones, and use our bucket list to inspire you to make the most of this unique season.
Download our ultimate spring bucket list ideas printable here.
You Might Also Like to Read
---
Keep our spring bucket list for safekeeping, by saving this article to one of your Pinterest boards.