This post may contain affiliate links, meaning if you book or buy something through one of these links, I may earn an affiliate commission at no additional cost to you. Learn more
Ensure your weekly schedule runs like clockwork with our weekly planner printables, and get back your time and energy while you're at it.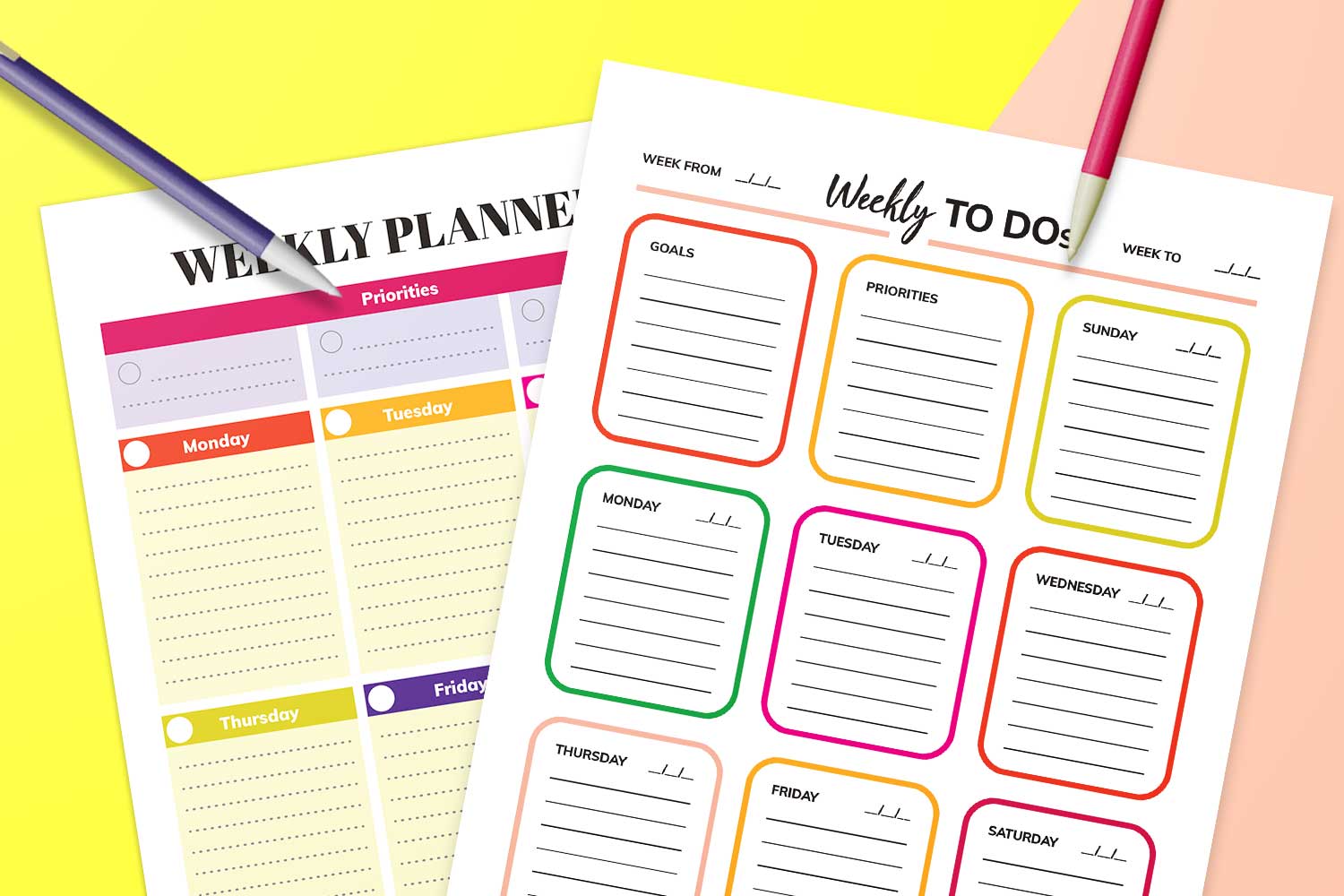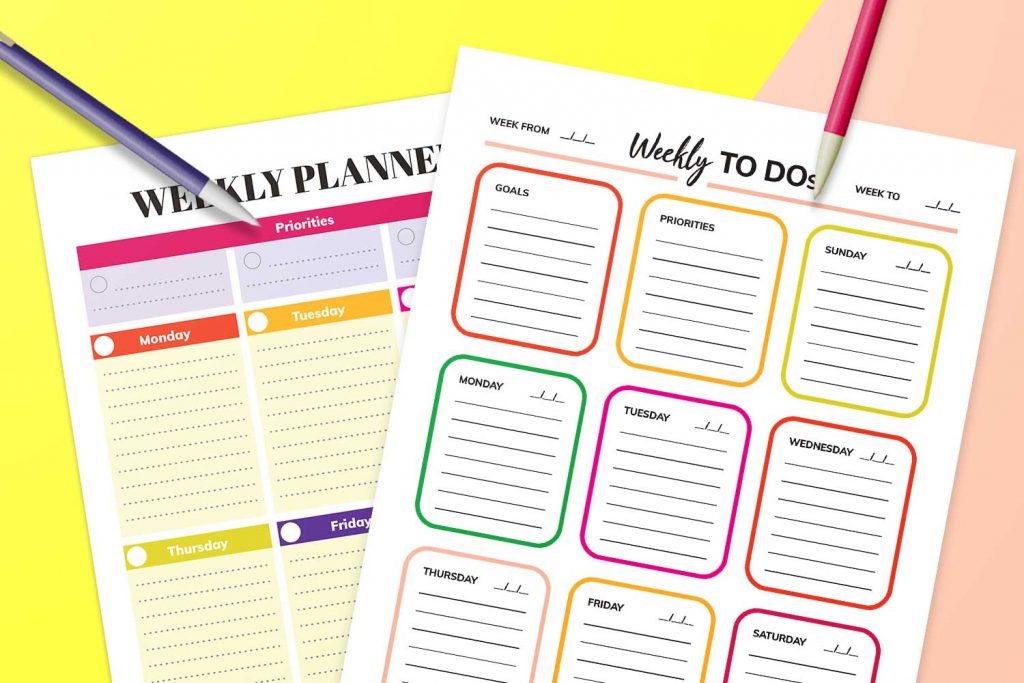 Weekly Planner Printables
Planning your days allows you to get tasks and small goals done, while planning your year allows you to see the bigger picture. But as humans, we pretty much always operate on a weekly basis.
The Monday to Sunday schedule is a big part of how we structure our lives. Hence, weekly planning is a great way to not get lost in the little things, while at the same time maintaining order and structure to your days and weeks.
Whether it's for reminders, occasions, daily tasks, or prioritizing, you can use our weekly planner printables in a way that best suits you. Our weekly planners can help you organize your weeks, saving you time and energy.
Free Weekly Planner Printable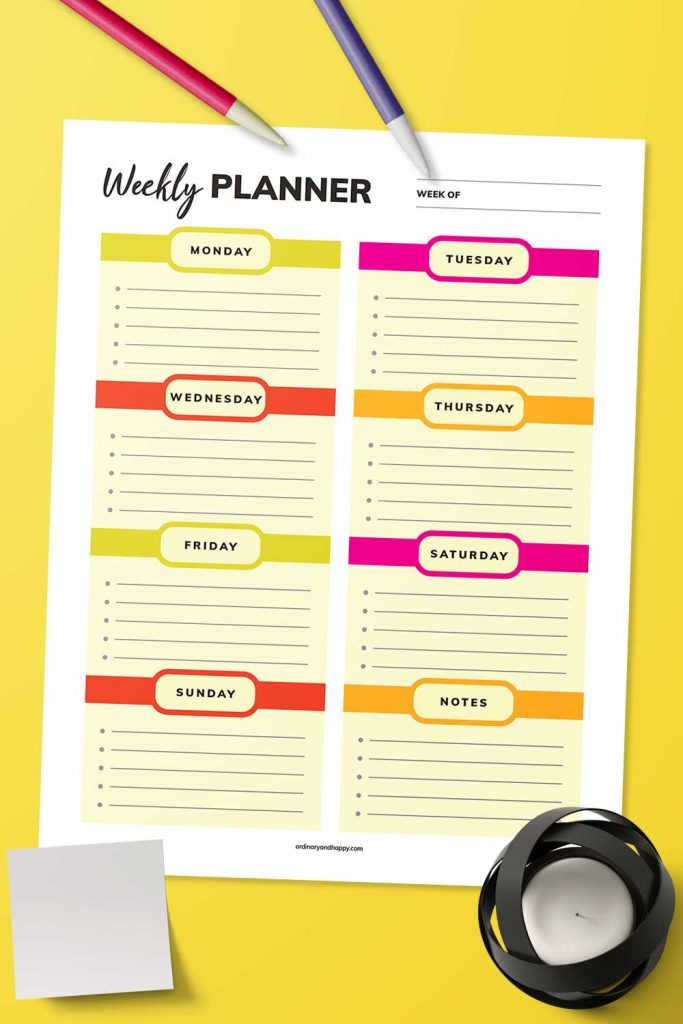 Colorful, with a royal, authoritative feel to it, our free weekly planner is a great place to start if you just want to get your weekly tasks written down in order, in one place.
This planner also gives you room to add your own notes and extra to-dos, in any way you see fit.
Get it here
Spacious Weekly Planner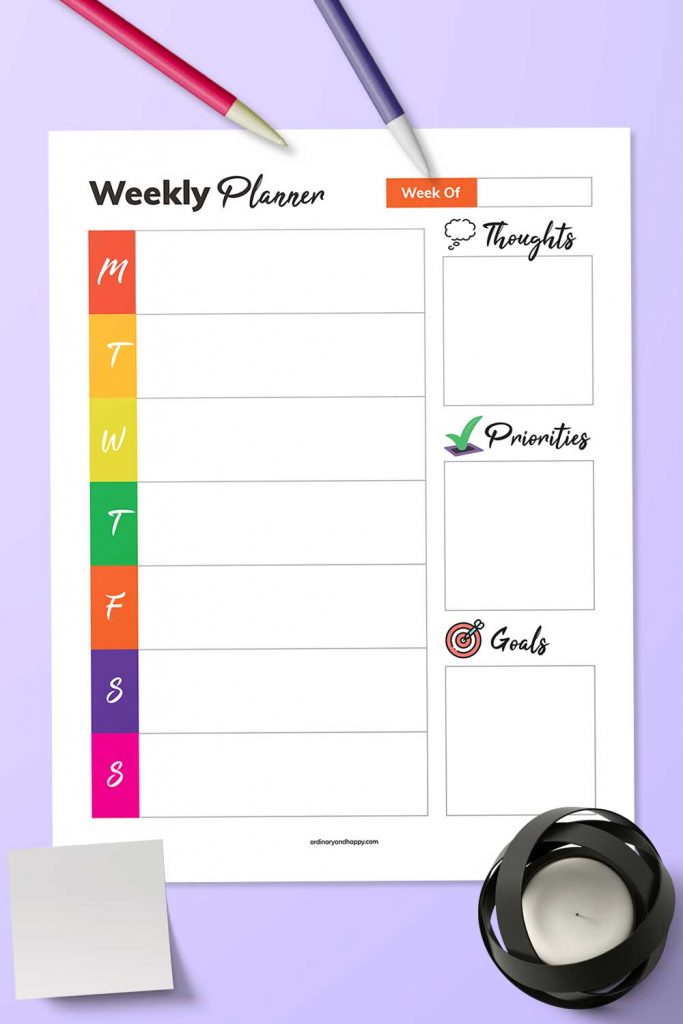 If you like to doodle, draw, or scribble, our spacious weekly planner is a good choice for you. With no lines, you are free to fill the boxes as you see fit.
You can make grids, doodle, draw, or just use the extra space to write in a less bullet-pointed way.
The thoughts box you can use to track how you're feeling, while the priorities and goals boxes can help you highlight the week's most important tasks and accomplishments to aim for.
Get it here
Weekly Priorities Planner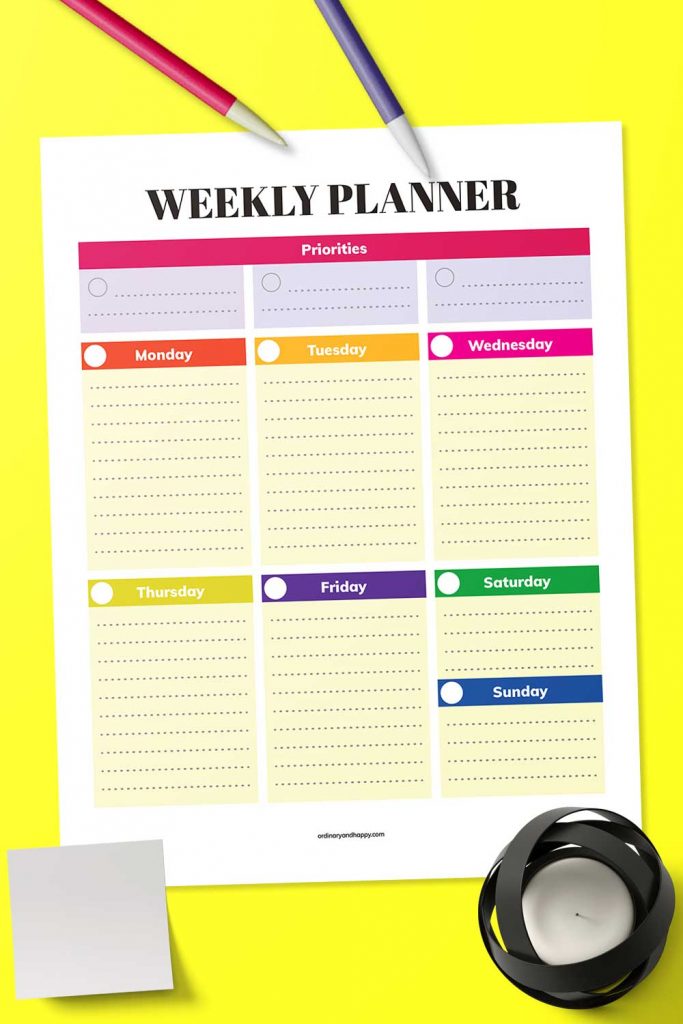 A good choice for parents or busy workers, our weekly priorities planner puts more focus on Monday to Friday.
You can use the priorities box to highlight the most important things to get done in the week, and the long lined boxes to list your daily tasks and to-dos.
There is still space for you to add to-dos for Saturday and Sunday too, while the white circles allow you to input the day of the month.
Get it here
Weekly To-Do's Planner
Love organizing your life in bullet points? Our weekly to-dos planner is the printable for you. Beautifully designed, this planner is ideal for people who just want to get to the point and get things done.
Set your goals, priorities, and your to-dos from Monday to Sunday. Then, simply cross or check them off when done. You can also track the date of each day, and the week from and to.
Get it here
---
Planning your weeks will help you create order in a busy life. Paired with a daily planner, you can really focus on specific tasks, while still keeping an eye on the months and the year's bigger goals.
Have fun with our weekly planners. Print them, scribble on them, or laminate them and wipe down the planner every week, to start afresh.
But most importantly, use these printables to take back control of your schedule, your time, and your life, so that you can find time to do more things with family and friends.
You Might Also Like to Read
---
Get inspired to get your weeks organized, by saving this article to one of your Pinterest boards for safekeeping. And be sure to download your free weekly planner printable!