This post may contain affiliate links, meaning if you book or buy something through one of these links, I may earn an affiliate commission at no additional cost to you. Learn more
Use our 100+ Halloween bucket list ideas to inspire you to plan a Halloween packed with thrills, laughs, and unforgettable memories that everyone involved will love.
Halloween Bucket List Ideas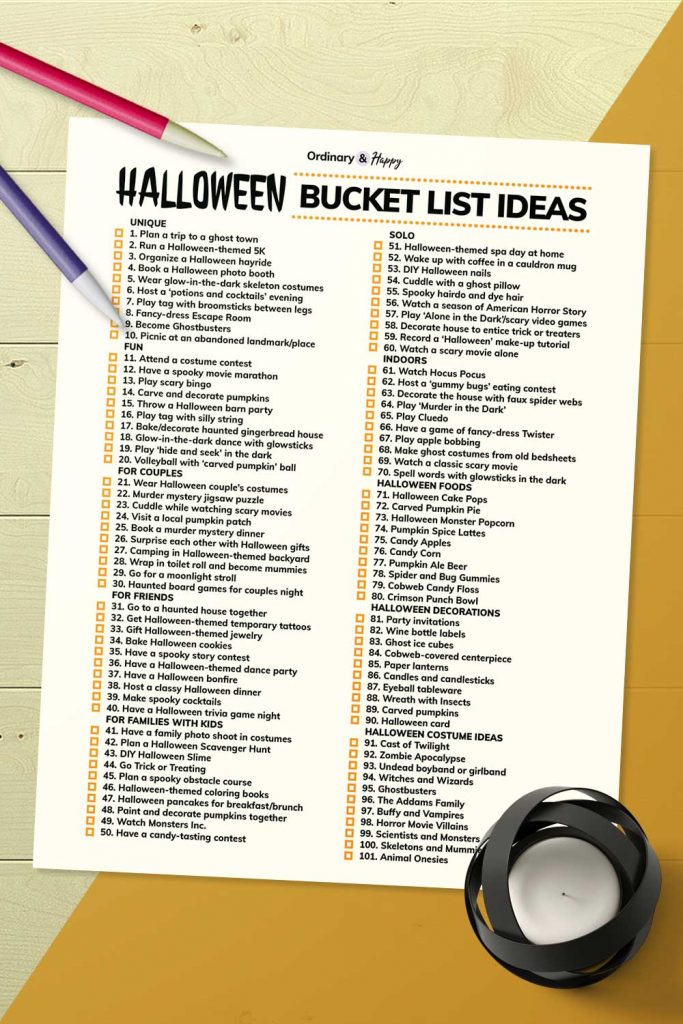 Halloween is a time to get creative. But with day-to-day life already busy enough, sometimes Halloween can become an afterthought, rather than a true celebration.
So, get inspired to embrace this beloved holiday and do something fun and memorable. No matter where you are or who you're with, our list can help you.
And if you want to try plenty of these ideas, scroll down to the bottom of this article and download this ultimate Halloween bucket list as a printable PDF.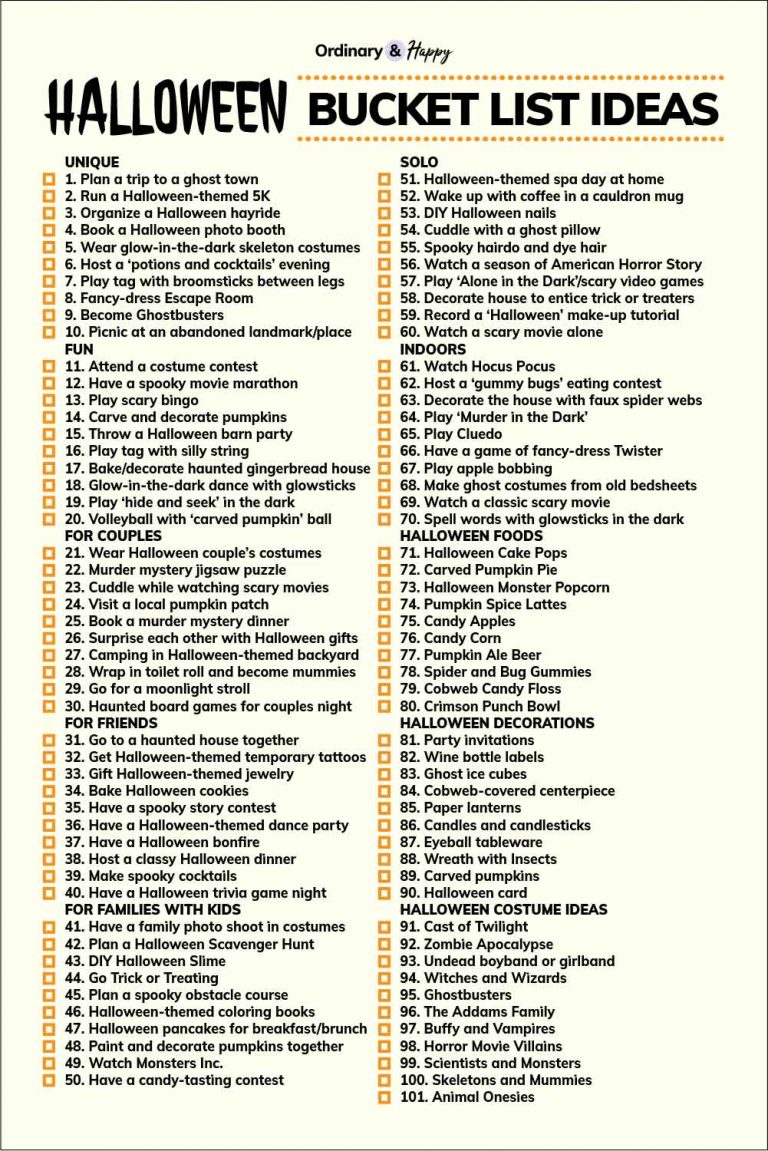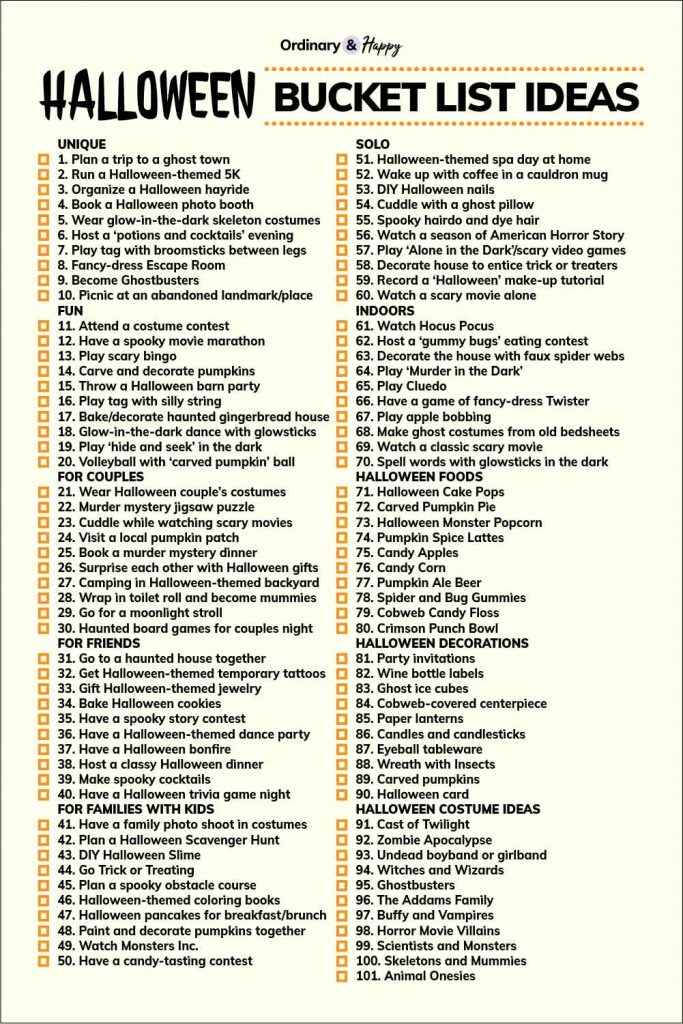 ---
Unique
Host a night to remember that really challenges your creative skills with these unique ideas for Halloween.
1. Plan a Trip to a Ghost Town
2. Run a Halloween-Themed 5K
3. Organize a Halloween Hayride
4. Book a Halloween Photo Booth
5. Wear Glow-in-the-Dark Skeleton Costumes
6. Host a 'Potions and Cocktails' Evening
7. Play Tag with Broomsticks Between Your Legs
8. Try an Escape Room in Costumes
9. Become Ghostbusters
Dress in overalls, and take turns using the nozzle of your vacuum cleaner to suck old blankets, cloths, and clothes, cut and decorated as ghosts, hidden around the house. Collect ghosts by putting them in a laundry basket against a time limit. Whoever has the most ghosts after everyone has played wins.
10. Have a Picnic at an Abandoned Landmark or Place
---
Fun
Make your Halloween full of fun, laughs, and thrills with some of these awesome bucket list ideas.
11. Attend a Costume Contest
12. Have a Spooky Movie Marathon
13. Play Scary Bingo
Don't have the time to get creative? This beautifully designed Scary Bingo set can bring joy and thrills to your party or gathering.
14. Carve and Decorate Pumpkins
15. Throw a Halloween Barn Party
16. Play Tag with Silly String
17. Bake and Decorate a Haunted Gingerbread House
18. Record a Glow-in-the-Dark Dance with Glowsticks
19. Play 'Hide and Seek' in the Dark
20. Play Volleyball/Swingball with a 'Carved Pumpkin Painted' Ball
---
For Couples
Have a night to remember with your significant other with these super fun Halloween ideas you can do together.
21. Wear Halloween Couple's Costumes
Classic duos and partnerships are a great idea for couples' costumes. Think Adam & Eve, salt & pepper, loofah & soap, and Bonnie & Clyde. Let your imagination run wild, there are so many amazing couples' costumes you could wear together!
22. Solve a Murder Mystery Jigsaw Puzzle Together
This murder mystery jigsaw puzzle, complete with 500 pieces, is a great way to spend an afternoon or evening this Halloween.
23. Cuddle on the Couch While Watching Scary Movies in the Dark
24. Visit a Local Pumpkin Patch
25. Book a Murder Mystery Dinner
26. Surprise Each Other with Small Halloween Gifts
27. Go Camping in Your Halloween-Decorated Backyard
28. Wrap Each Other in Toilet Roll and Become Mummies
29. Go for a Moonlight Stroll
30. Host a 'Haunted Board Games for Couples' Night
---
For Friends
Spending Halloween with your best friends? Make it a night you'll look back on for years and give some of these spooky-themed activities a try together.
31. Go to a Haunted House Together
32. Get Halloween-Themed Temporary Tattoos
This temporary tattoo kit on Uncommon Goods is packed with plenty of cool designs, perfect for showing off this Halloween.
33. Gift Halloween-Themed Jewelry
34. Bake Halloween Cookies
35. Have a Spooky Story Contest
36. Have a Halloween-Themed Dance Party
37. Have a Halloween Bonfire
38. Host a Classy Halloween Dinner
39. Make Spooky Cocktails
40. Have a Halloween Trivia Game Night
---
For Families with Kids
There's no end to the thrills and excitement of Halloween when you're celebrating it with your kids and family. These ideas can help you plan an evening everyone will love.
41. Have a Family Photoshoot in Your Halloween Costumes
42. Plan a Halloween Scavenger Hunt
43. DIY Halloween Slime
44. Go Trick or Treating
45. Plan a Spooky Obstacle Course
46. Color Together Using Halloween-Themed Coloring Books
47. Make Halloween Pancakes for Breakfast or Brunch
48. Paint and decorate pumpkins together
49. Watch Monsters Inc.
50. Have a Candy-Tasting Contest
---
Solo
Celebrating on your own? These Halloween ideas are ideal for anyone who is on their own for the evening and still wants to join in with the fun.
51. Have a Halloween-Themed Spa Day at Home
Spooky decorations, Halloween-themed candles, and Halloween bath bombs are just three of so many ways you can give your relaxing at-home spa day a ghoulish touch, while still creating a calm, relaxed environment.
52. Wake up with Coffee Served in a Cauldron Mug
53. DIY Halloween Nails
54. Cuddle with a Ghost Pillow
55. Get a Spooky Hairdo and Dye Hair with Temporary Color
56. Watch a Season of American Horror Story
57. Play 'Alone in the Dark' and Other Scary Video Games
58. Decorate the House to Entice Trick or Treaters
59. Record a 'Halloween' Make-up Tutorial
60. Watch a Scary Movie Alone
---
Indoors
Turn your humble abode into a haunted house and have a night to remember with these awesome indoor ideas for Halloween.
61. Watch Hocus Pocus
62. Host a 'Gummy Bugs' Eating Contest
63. Decorate the House with Faux Spider Webs
64. Play 'Murder in the Dark'
65. Play Cluedo
66. Have a Game of Twister in Halloween Costumes
67. Play Apple Bobbing
68. Make Ghost Costumes from Old Bedsheets
69. Watch a Classic Scary Movie
70. Spell Words with Glowsticks in the Dark
---
Halloween Foods
If you're hosting Halloween this year, keep your guests well-fed and in the Halloween spirit with these super creative themed foods you can make at home.
72. Carved Pumpkin Pie
74. Pumpkin Spice Lattes
75. Candy Apples
76. Candy Corn
77. Pumpkin Ale Beer
Can't find pumpkin ale beer? Why not get your own brewing kit, and serve this delicious ale to your friends and family at your Halloween party or gathering.
78. Spider and Bug Gummies
79. Cobweb Candy Floss
80. Crimson Punch Bowl
---
Halloween Decorations
Turn your house into a place for all things frights and ghouls, and use these Halloween decorations to create an atmosphere like no other.
81. Party Invitations
82. Wine Bottle Labels
83. Ghost Ice Cubes
84. Cobweb-Covered Centerpiece
85. Paper Lanterns
86. Candles and Candlesticks
87. Eyeball Tableware
88. Wreath with Insects
89. Carved Pumpkins
90. Halloween Cards
---
Halloween Costume Ideas
Struggling for costume ideas on the one night of the year where costumes are everything? Give some of these ideas a try and prepare for plenty of Instagram shots!
91. Cast of Twilight
92. Zombie Apocalypse
93. Undead Boyband or Girlband
94. Witches and Wizards
95. Ghostbusters
96. The Addams Family
97. Buffy and Vampires
98. Horror Movie Villains
99. Scientists and Monsters
100. Skeletons and Mummies
101. Animal Onesies
---
Excited about this winter? Feel free to download our fun Halloween bucket list ideas checklist and check off as many as you can!
Make your next Halloween one to remember, and use these ideas to inspire you when Halloween is approaching.
Be you with your kids, partner, family, friends, or on your own, there are so many fun ways you can celebrate one of the most creative and unique celebrations of the year.
You Might Also Like to Read
---
Want to plan a Halloween that everyone will love and remember? Keep this article for safekeeping on one of your Pinterest boards, and get inspired with our bucket list once Halloween is on the horizon.