This post may contain affiliate links, meaning if you book or buy something through one of these links, I may earn an affiliate commission at no additional cost to you. Learn more
Put your free time to good use, and choose from our ultimate list of hobbies to help you learn new skills, find new communities, and discover new passions.
Ultimate List of Hobbies to Try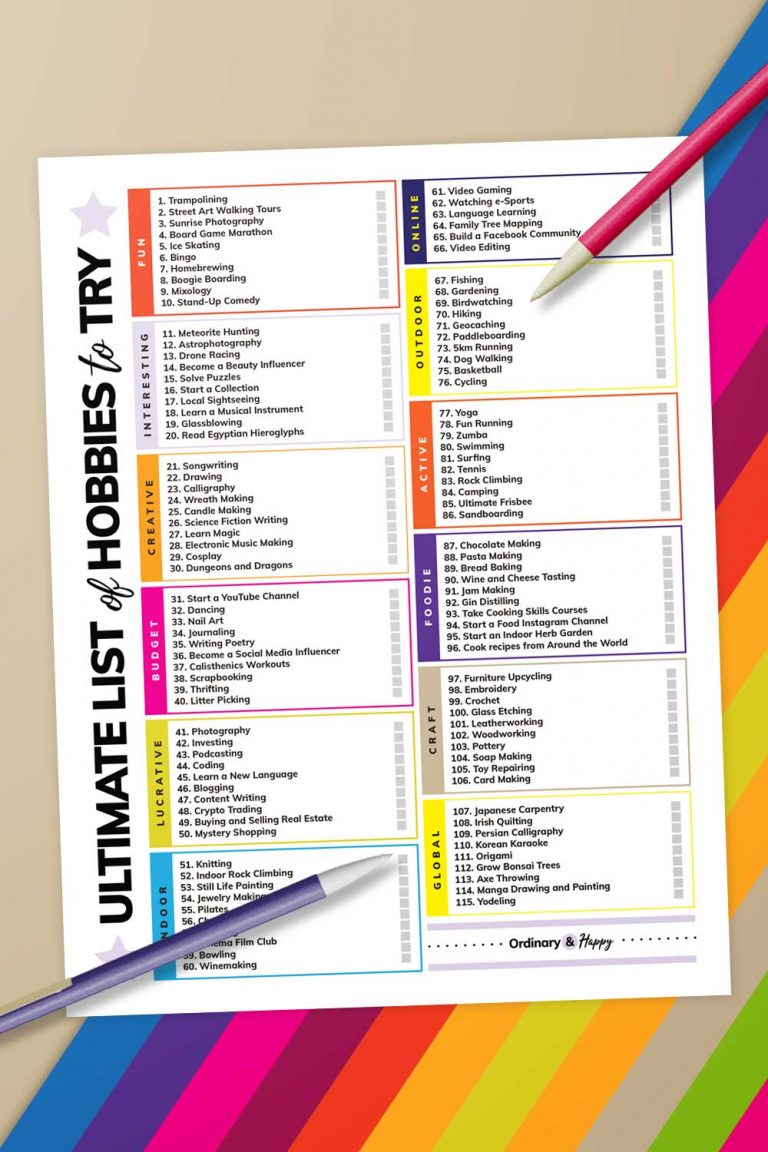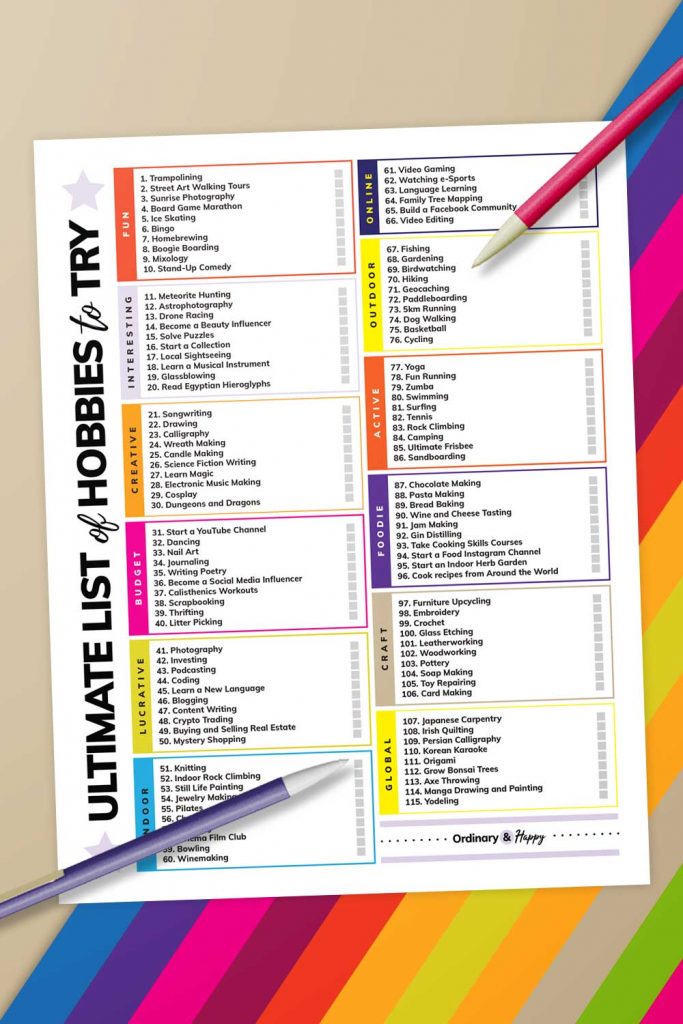 Want to go for gold and try all 115 in our ultimate hobby list? Scroll to the end of this article to find the link to download this ultimate list as a printable PDF. Evenings, weekends, and free time will never be the same again!
---
So, let's dive in and see if there's a new passion or pastime out there to captivate you, challenge you, and bring joy to your life.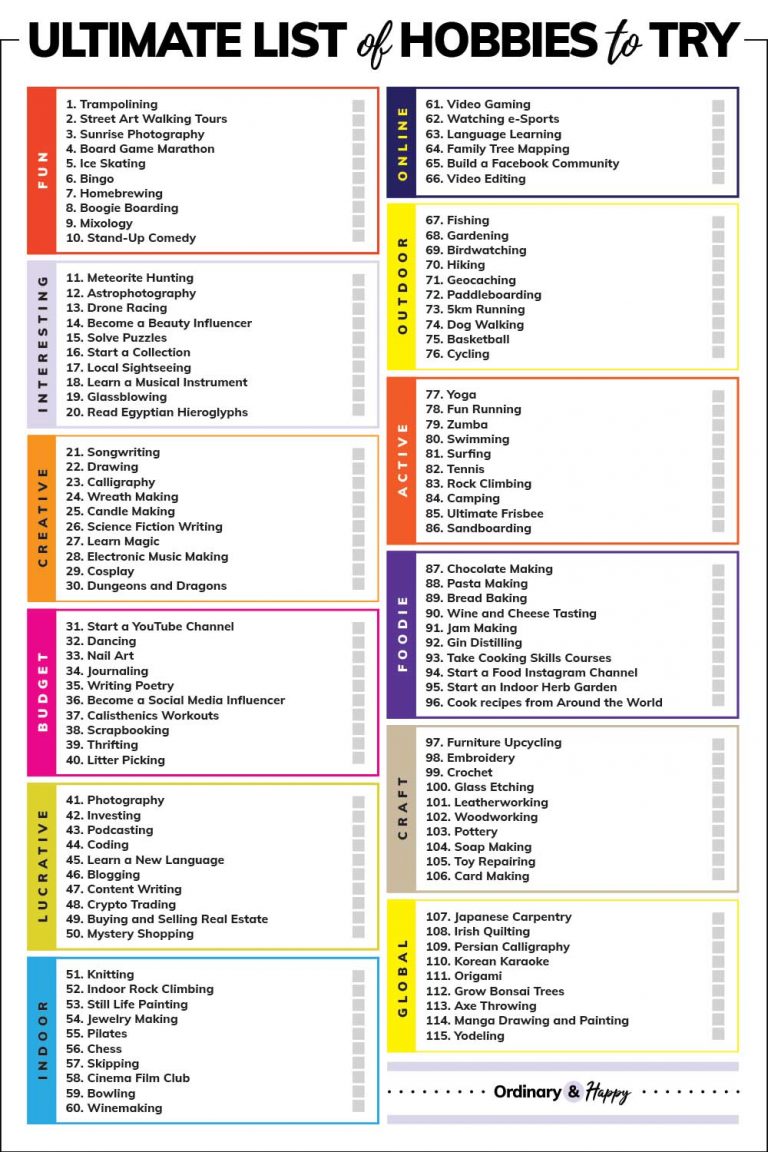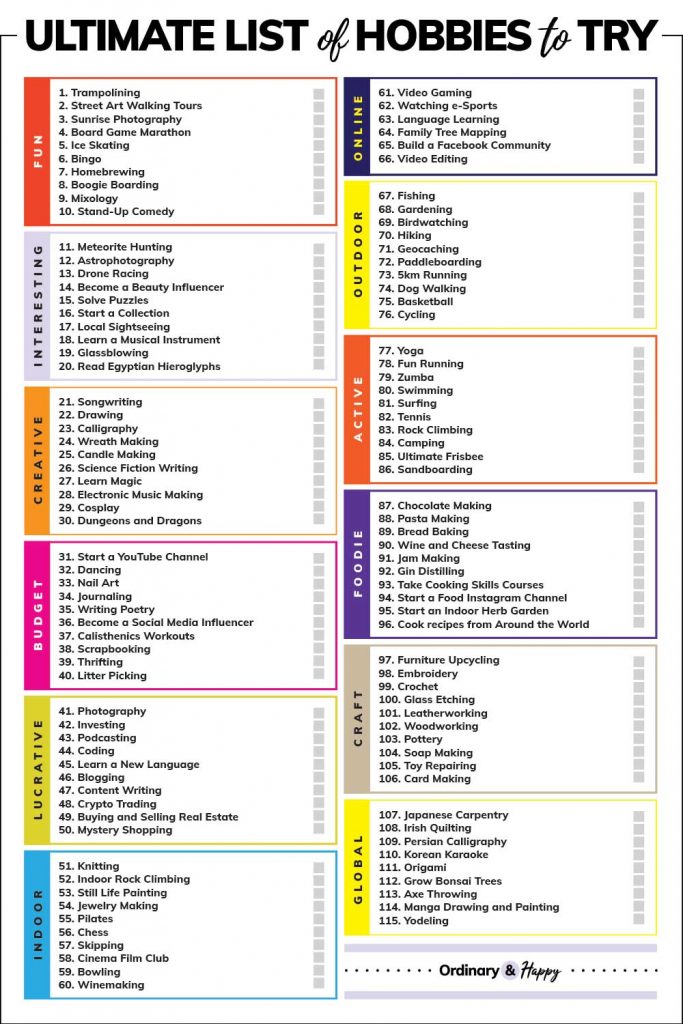 Fun
Give some of these hobby ideas a try if you're looking for ways to enjoy your free time, try something new, and have a few laughs along the way.
1. Trampolining
There's no end to the joy that trampolining can bring, be it in a trampolining class or in the back garden. It's also a great way to keep fit.
2. Street Art Walking Tours
Street art is an undiscovered world in most cities, and be it by foot or on a bicycle, it's a great way to spend time outdoors and explore a town or city.
3. Sunrise Photography
Need a reason to get up early in the morning? Catching those majestic colors in all their glory on camera is a feeling like nothing else.
4. Board Game Marathon
Who doesn't love a game of Monopoly or Cluedo? If you're looking for something engaging and fun to do, playing board games with friends will stave away boredom.
If you've got children, why not get them involved too? Board games offer opportunities for early learning by boosting language skills, sharpening focus, and teaching your children the value of teamwork.
Related: Best Board Games for Couples
5. Ice Skating
Head down to your local ice rink and get skating. Ice skating works for almost every muscle group in the body and improves balance, flexibility, and joint health.
Once you've challenged yourself to let go of the barriers, ice skating is exhilarating.
6. Bingo
Head down to your local bingo hall with some friends and try your luck. Bingo can be quite the thrill.
Of course, if you'd rather stay inside, you can download bingo apps on your phone and play with friends virtually. Thank goodness for technology!
7. Homebrewing
Homebrewing is a great hobby that ends in a beer; what could be better? You can purchase homebrewing kits online, which show you how to make beer step-by-step.
8. Boogie Boarding
If you live near the coast, this thrill-filled way to ride the waves should definitely be added to your must-try list.
9. Mixology
Always been mesmerized watching bartenders pour drinks? Whip up some classic cocktails at a class or at home, and impress your friends while enjoying some delicious drinks.
10. Stand-Up Comedy
Think you've got a great sense of humor? Try stand-up at an open mic night, and see if you can get the crowd howling with laughter.
---
Interesting
Want your hobby to intrigue you, fascinate you, and constantly challenge you? Give some of these interesting hobbies a try, and see if you're drawn in.
11. Meteorite Hunting
With a strong community, meteorite hunting is a great way to spend time in large, outdoor spaces, and go on an adventure.
You'll need some specialized equipment and a little patience, but who knows what you'll find!
12. Astrophotography
Already a keen photographer, or love looking up at the night sky? Astrophotography will open your eyes to a world of gorgeous stars, planets, and out-of-this-world photography, excuse the pun!
13. Drone Racing
The huge rise in drone ownership has led to some creative ways to use them. Drone racing puts your drone skills to the test and can take you to new and exciting places.
14. Become a Beauty Influencer
Gather your favorite makeup products and browse the internet to learn makeup techniques you've never tried before.
Beauty influencers such as Nikkie Tutorials, Zoe Sugg, and Huda Beauty have amassed millions of followers who are inspired by their easy-to-follow beauty tutorials.
15. Solve Puzzles
Not only are puzzles an interesting hobby, but also they improve your memory, reduce stress, and improve hand-eye coordination.
So clear the kitchen table, dust off your favorite puzzle box, and enjoy!
16. Start a Collection
Collecting is a popular hobby. Think of almost any item, and someone will be collecting it: stamps, butterflies, seashells, books, bottle caps, and many other items.
If you're passionate about an object, perhaps you could start your own collection.
17. Local Sightseeing
Why not research some local places of interest to visit? So many people haven't seen top tourist attractions in their local town, simply because they've never put aside the time to do it.
Look up the top attractions, and take a drive or walk around your local area. Tick them off, and you'll be amazed at what is on your doorstep!
18. Learn a Musical Instrument
Learning a musical instrument is highly rewarding. Whatever instrument you prefer to play, the guitar, piano, drums, or even the triangle, creating music is an inspiring activity that harnesses creativity and promotes happiness.
19. Glassblowing
There's no end to the creativity you can have lending your hand to an ancient art form. With plenty of practice, you'll be sculpting decadent ornaments for the home in no time.
20. Read Egyptian Hieroglyphs
People have been studying Egyptian hieroglyphs for thousands of years. This ancient pictorial language is a fascinating outlet for your intrigue and a great challenge for learning a new language.
---
Creative & Unique
Use these hobby ideas to find an outlay for your creative energy and have something to show for your effort and hard work at the end of it.
21. Songwriting
Channel your feelings and energy into captivating lyrics, and if you've got the confidence to sing, see if your new song touches the soul while practicing in the mirror.
22. Drawing
Even if you're a novice, drawing is a great way to unleash your creativity and have some downtime. You don't need to purchase fancy equipment, either.
Instead, find a couple of sheets of paper and a pencil and sketch whatever comes to mind, or get inspired using this list of drawing ideas. To make the experience even more relaxing, put on a calming playlist and scribble away.
23. Calligraphy
If you're looking for a hobby away from screens, calligraphy might tickle your fancy. Simply purchase some calligraphy pens and see what you can do.
If you'd like to refine your calligraphy skills, you can find thousands of free tutorials online. Some even transition this creative hobby into a calligraphy business and earn some money on the side.
24. Wreath Making
Wreathmaking isn't confined to the Christmas season. If you're searching for a unique, creative hobby, wreath-making is a cheap and enjoyable way to pass the time.
You can even attend wreath-making classes. However, if you're trying to save money, the internet is chock-full of tutorials that can help you craft a beautiful wreath for free.
25. Candle Making
Candles make your home feel cozy and comforting, so why not add a personal touch to your home and make your own candles?
You can purchase DIY candle kits online, which come with detailed instructions to ensure you're making them correctly.
26. Science Fiction Writing
People all over the world are looking for the next epic universe and cosmic adventures to lose themselves in. If you love your sci-fi, that next award-winning author could be you!
27. Learn Magic
Whether you're pulling a rabbit from a hat or pretending to saw an assistant in half, magic tricks have been around for centuries, and there's no end to the fun you can have learning how to perform them.
28. Electronic Music Making
Programs such as Cubase give you everything you need to make catchy, energetic electronic music, even if you can't play a musical instrument.
29. Cosplay
Put your creative mind and crafty hands to good work, and get into the wonderful world of cosplay.
There's no end to the characters, heroes, and villains from comics, films, and anime you can dress up as.
30. Dungeons and Dragons
Role-playing games thrive on great ideas and creative thinking, and Dungeons and Dragons is arguably one of the best games to get involved in.
---
Budget-Friendly (Cheap or Free)
Hobbies don't have to be expensive. There are plenty of awesome ways to spend your free time, and things to get passionate about, that cost little to no money.
31. Start a YouTube Channel
Passionate about something that you want to share with the world? Perhaps you're a movie fan, a beauty enthusiast, or a car lover.
Whatever your hobby, a YouTube channel will connect you with other like-minded people who share your interests.
32. Dancing
Not only is dancing an enjoyable way to spend your time, but it also helps to keep you fit.
Whether you're a ballet, ballroom, or hip-hop fan, dancing is an enjoyable pastime that gets your blood pumping.
If you're feeling up to it, you could even learn a TikTok dance; there are plenty of dances to choose from to popular songs such as "The Box," "Don't Start Now," and "Savage." 
33. Nail Art
Many of us count down the days until we get our nails done. Wait no longer! Become your own nail technician with the help of nail art kits.
You can purchase nail art sets for under $25 (depending on the size of the kit), and many include nail art tools and accessories.
Not only does doing your own nail art save money, but it also allows you to unleash your creativity.
34. Journaling
Writing down your thoughts can be incredibly helpful if you're struggling with stress, depression, or anxiety.
Transferring your thoughts to paper can help you gain control of your emotions and improve your mental health in the process.
35. Writing Poetry
You don't need to show anyone what you've written. It can be your own personal project which explores themes of your choosing.
If you're feeling brave and ready to share your work, you could try getting some of your writing published.
36. Become a Social Media Influencer
Whatever your interest, there's an audience for it online. Instagram, TikTok, Snapchat, and many other platforms can give you a voice, and help you grow a following.
Consistent content, a willingness to learn, and interacting with your following will give you a great head start when growing on a platform.
37. Calisthenics Workouts
Can't afford an expensive gym membership? Calisthenics workouts focus on bodyweight workouts that often require little or no equipment and that can be done at home.
38. Scrapbooking
Got heaps of photographs and mementos lying around? Your future self will love you for getting into scrapbooking, and archiving all that is magic and memorable in your life.
39. Thrifting
There's no end to the hidden gems you can find in thrift shops. It's a great way to pass the time, save money, and assemble a brand-new wardrobe in the process.
40. Litter Picking
Give back to your local area by going on regular litter picks. You'll be doing a good deed while meeting new people and spending time outdoors.
---
Productive & Lucrative
If you want to put your energy into something that's more than a way to pass the time, consider these hobby ideas. You can grow, learn new skills, and potentially make a side income.
41. Photography
It has never been easier to get into photography. Today's smartphones allow you to take high-quality photos which look like they were taken on an expensive DSLR camera.
Head out into the great outdoors and snap a few shots of whatever takes your fancy: trees, animals, water – anything you find remotely inspiring. You can even go on to sell your photos as licensed stock images.
42. Investing
Making your money work harder for you will reap great rewards in the future. Apps such as Robinhood and Freetrade give you a great starting point for buying stocks and shares.
However, if you're completely new to investing, spend time researching best practices to ensure you're making suitable investments.
43. Podcasting
If you've got something you're passionate about, you're bound to find a community of other people who share the same passion.
Podcasts continue to grow in popularity, and with plenty of practice, and learning how to edit audio and online marketing, in time you can grow your audience and open up new opportunities.
44. Coding
Our world is built on software and systems that run everything in our lives. Coding is highly lucrative, and you can forge multiple career paths.
Plus, there are so many tutorials online to get started and advance, both for beginners and experts.
45. Learn a New Language
There are more ways to learn a language than ever. You can attend classes, watch video tutorials via YouTube, or learn through apps such as Duolingo.
46. Blogging
If you're less of a talker and more of a writer, you might prefer to create a blog instead of a YouTube channel.
Platforms such as WordPress and Wix allow you to create blog websites for free, allowing you to share your thoughts and opinions with the rest of the world with ease.
In time, blogs can become a source of income, if you stick to a schedule, know your niche, and continue to create engaging content.
47. Content Writing
There's no shortage of websites and blogs that need writers to create content on topics covering absolutely everything. Put your writing skills to good use, and earn some money while doing it.
48. Crypto Trading
Cryptocurrencies are a genuine investment opportunity for people who understand the technology while the crypto community continues to grow all over the world.
49. Buying and Selling Real Estate
If you have the money to do so, there are plenty of opportunities to get into the housing market while learning all about renovating property in the process.
50. Mystery Shopping
Restaurants, supermarkets, and all kinds of businesses pay people to try their services under the guise of an everyday person and rate them with plenty of perks, such as free food.
---
At Home or Indoors
If the weather is cold and wet, or you're just looking for great ways to spend your time between four walls, these indoor hobbies can bring plenty of fun, joy, and challenge to your life.
51. Knitting
If you prefer to multitask, knitting might be a creative hobby well-suited to you. Additionally, knitting is calming because of the repetitive rhythmic movements, which can help manage feelings of stress, depression, and pain.
So next time you're feeling a bit low, grab your knitting needles and some yarn, pop the TV on, and knit to your heart's content.
52. Indoor Rock Climbing
A great way to enjoy the fitness and challenge of rock climbing, but with the safety of indoor walls and the support of a growing community.
53. Still Life Painting
You don't have to find majestic landscapes out in the wilderness to paint. Everything around your house, from vases to house plants, can be painted in a tranquil, relaxing way.
Read more: 100+ Painting Ideas
54. Jewelry Making
Get yourself an online kit, and have fun making necklaces, brooches, and other beautiful pieces to wear yourself or give to family and friends.
55. Pilates
Either by yourself or with an online guide, loosen up those muscles and joints, and embrace all the goodness that comes with doing pilates.
56. Chess
A game as old as time itself, there's something magical about dusting down a wooden chessboard and playing with close friends and family. Or, go online, and pit yourself against millions of others.
57. Skipping
Looking for a great way to work up a sweat and stay in shape from the comfort of your own home?
Get yourself a skipping rope, find a spot in your house, and reap the benefits of this amazing exercise.
58. Cinema Film Club
Love watching films? Join a club of fellow film buffs, and go see regular movies together that you can critique afterward.
59. Bowling
The classic indoor activity, bowling is so much fun and a great way to get you out of the house and meeting new people in a growing community.
60. Winemaking
With relative ease, you can order your own winemaking kits and make crisp and delicious wine from the comfort of your own home.
---
Online
Delve into a discover new virtual worlds and thriving communities with these online hobbies you can do from the comfort of your couch.
61. Video Gaming
You can lose yourself for hours in video games, and the choice is endless. Play online, meet new friends, and explore new worlds.
62. Watching e-Sports
Don't want to play games yourself. Platforms such as Twitch allow you to watch seasoned gamers play their favorite games, providing hours of entertainment.
63. Language Learning
Always wanted to order tapas in Spanish on the Costa del Sol? Either from an app or talking to an instructor online, challenge yourself to become bilingual, and see where the wonders of learning a second language take you.
64. Family Tree Mapping
Connecting your family tree can turn into a lifelong passion of intrigue and search. It's never been easier to start online, and who knows where your journey will take you?
65. Build an Online Community
Whatever your passions or interests, it's almost certain there are others online who care about those things too. Curate a community online, allowing you to connect with like-minded people.
66. Video Editing
Video content is rife across the Internet, and there's no shortage of people looking for editors to cut, crop, animate, and tell their stories from raw footage.
---
Outdoors
Enjoy the great outdoors in a fun, positive, and challenging way by giving one or more of these outdoor hobbies a try.
67. Fishing
Enjoy some solitude in nature as you wait for a fish to tug the line. Fishing can also help you learn survival skills, should you ever need them!
68. Gardening
As well as being an enjoyable hobby, gardening also enhances well-being. Gardening will give you a greater sense of purpose and a nice dose of vitamin D, all while keeping you fit and active.
69. Birdwatching
Bird watching is a highly flexible pastime that gets you into the great outdoors to experience the wonder of animals.
Even better, bird watching is a hobby that can be enjoyed all year round and in any weather conditions.
70. Hiking
One of the best outdoor hobbies to occupy your time is hiking. Not only is it a fun activity that you can do with friends and family, but hiking also burns calories and improves heart health and mental health. 
71. Geocaching
Find out what this global phenomenon is all about, and use your mobile or a navigational device to search for containers hidden all over the world.
72. Paddleboarding
Take advantage of nearby lakes and rivers by enjoying the calm pace and adventure of paddleboarding. Either get your own and load it up in the car or find a paddleboard rental near you.
73. 5km Running
5km running is ideal for the casual runner, as the distance is challenging enough for a good workout but doesn't require the hours of daily commitment running longer distances needs.
74. Dog Walking
Don't have a dog? Head down to a dog pound or shelter, and volunteer to walk the dogs. This is a great way to get fresh air, keep active, and spend time with some gorgeous animals.
75. Basketball
There's no shortage of hoops and outdoor courts that are often free to play on. Head down to a local one with a basketball, and see who wants to play.
76. Cycling
A great activity for people of all abilities, cycling is a wonderful way to explore your local area at a pace that best suits you.
---
Active & Sports
For those looking for high-energy, calorie-burning sports and activities to get into, give some of these awesome hobbies a try.
77. Yoga
Yoga improves flexibility, respiration, athletic performance and lowers blood pressure. If you've never tried yoga before, you can find tutorials online that talk you through the process. You'll wish you had tried it earlier.
78. Fun Running
Take the seriousness out of running, and sign up for some fun or color runs. All about cool costumes and colorful paints, fun runs make running less about the personal bests and more about the laughs.
79. Zumba
Zumba is all about high-energy, great dance music, and lots of fun. It's an awesome way to work up a sweat and meet some awesome people while you're at it.
80. Swimming
Swimming is one of the best sports for a full-body workout. If you're a total beginner, head down to a nearby pool or sports centre, and see what classes they have available.
81. Surfing
A challenging sport with a huge community, the feeling of finally riding a wave, after so much practice, feels absolutely incredible.
82. Tennis
Book a court, and challenge some friends to come to play with you. Tennis is high-energy, lots of fun, and people of all skill levels can give it a go.
83. Rock Climbing
If you want to really challenge yourself, join a rock climbing club, and take on some of Mother Nature's most awe-inspiring creations. The feeling when you reach the top is like no other.
84. Camping
One of the most enjoyable, purest ways to immerse yourself in the great outdoors, camping is fun for the whole family, and your choice of location is never-ending.
85. Ultimate Frisbee
The fast-paced nature of ultimate frisbee makes it a brilliant team sport for you to get involved in if you like your workouts fun and explosive.
86. Sandboarding
Sand dunes and beaches provide the perfect terrain on which to give surfing's on-land cousin, sandboarding, a whirl. It's so much fun, and it requires less equipment than surfing.
---
Foodie
Got a passion for cooking or a love for all foods rich, sumptuous, and gourmet in your life?
These hobbies are perfect if you're a self-proclaimed foodie, looking to delve into new activities and discover new foods.
87. Chocolate Making
See if you have what it takes to become a chocolate connoisseur, and whip and melt your own brand of the world's most beloved sweet treat.
88. Pasta Making
Want to take your pasta game to the next level? Kick store-bought pasta to the curb, and practice making your own pasta with a pasta machine to enhance your Italian cooking.
89. Bread Baking
The aroma of freshly baked bread is like no other. Get yourself a bread maker, and get creative with new recipes and delicious additions for your very own bread.
90. Wine and Cheese Tasting
The ultimate activity for hosting and dinner parties, there's a bottomless selection of incredible wines and cheeses for you and your guests to sample and enjoy.
91. Jam Making
Constantly find yourself with leftover fruit from the store or from your garden? Put those sweet treats to good use, and get into the fun hobby of making jams and compotes for everyone. You can even package it up and sell it at farmer's markets.
92. Gin Distilling
Gin is a beverage with a rich and fascinating history, and there's no end to the herbs, botanicals, and ingredients you can add to your very own batch. Just be sure to comply with any local licensing and permit regulations.
93. Take Cooking Skills Courses
Always wanted to make spicy Indian curries? Eager to bring French food into your home kitchen? Level up your skills with platforms such as Masterclass, which have thousands of cooking courses to choose from.
94. Start a Food Instagram Channel
If you love making delicious, decadent food, why not share it with everyone online? Get into food photography, and take the magic of your home-cooking outside of the four walls of your kitchen.
95. Start an Indoor Herb Garden
If you love cooking, growing an indoor herb garden can give you all the rewards of gardening without having to brave the elements outside.
96. Cook recipes from every country in the world
For passionate foodies, this is the ultimate challenge that could take you on a lifelong journey of discovery. Choose a country to start with, and see what wonderous dishes you can conjure up, inspired by recipes from all over the world.
---
Craft
Put your hands and creative side of your brain to good use, and spend your free time building, stitching, and making a range of awesome things for the home or to gift to others.
97. Furniture Upcycling
Repurposing old objects reduces waste and allows you to get creative. People have created some really incredible things thanks to upcycling.
Whether you repurpose things around the home or look online to find free or cheap furniture to give a little TLC to, there's no end to where this hobby could take you.
98. Embroidery
Breathe new life into clothes and fabric you have around the house, and see if embroidery is the creative outlet you've been waiting for all this time.
99. Crochet
Believed by many to be easier than knitting, there's no end to the gorgeous garments and accessories you can make.
100. Glass Etching
Always loved those intricate patterns and beautiful calligraphy on glasses at hotels, events, and bars? With some practice, you can create mesmerizing patterns on glass from the comfort of your own home.
101. Leatherworking/Leather Crafting
Incredibly rewarding, you can craft a range of gear, drums, and accessories with leather if you want to put the time and invest in the tools needed.
102. Woodworking
There's no end to the gorgeous ornaments and furniture you can make with wood. Take an online class, and immerse yourself in this craft.
103. Pottery
Sign up for a pottery class in your area, and put your fingers and patience to work making a range of ceramic art and pottery while enjoying the benefits of this ancient art.
104. Soap Making
Enjoy the fun, aromas, and relaxation that comes with soap making, and even have a unique gift to give friends and family during the holidays.
105. Toy Repairing
In a world of excessive waste, there is a real need to fix up old and broken things rather than keep on buying new.
Put your hands to good use, and fix old toys and gadgets around the house.
106. Card Making
Making greeting cards can not only be a great way to get crafty and pass the time, it could even become a side hustle that makes you money.
---
Globally-Inspired Hobbies to Try
Take more than a little inspiration from cultures around the world, and get busy with some of these amazing hobbies from other countries.
107. Japanese Carpentry
The process of building structures from grooved wood has been practiced in Japan for millennia and is a fun, challenging, and rewarding hobby to put your crafty energy toward.
108. Irish Quilting
Give this intricate and highly rewarding pastime a try if you enjoy knitting, crochet, or are looking for a hobby that is relaxing, methodical, and intriguing to learn more about.
109. Persian Calligraphy
A truly majestic art form, if you enjoy pattern-making and calligraphy, Persian calligraphy is the hobby you need to truly challenge yourself and create enthralling, beautiful art and communication.
110. Korean Karaoke
Belt your heart out to some classic pop numbers with friends and family, and enjoy the unique experience of the Korean karaoke booth.
111. Origami
Making objects and shapes with paper is so much fun. The more you do it, the more challenging the structure you'll want to make.
112. Grow Bonsai Trees
Nurture and grow one of Japan's most beloved trees in your own home, and enjoy its awe and beauty as it grows.
113. Axe Throwing
Thrilling and technical at the same time, axe-throwing clubs and competitions are becoming hugely popular. This is a great way to meet new people and try a very unique sport.
114. Manga Drawing and Painting
If you enjoy painting and storytelling, there's plenty of fun to be had creating art in the style of manga, one of Japan's most recognized and beloved art forms.
115. Yodeling
Now here's a great hobby to try if you have little faith in your singing voice! A long-time European tradition, yodeling is so much fun to try and utterly unique.
---
Feel free to download our free hobby ideas list PDF and check off as many as you can!
A brand new passion and outlay for your energy in your downtime could be just around the corner if you're willing to go out of your comfort zone and try something new.
There are so many amazing and enjoyable hobbies out there, that could lead to much bigger things. For now, dip your toe in the water, and use this ultimate list to inspire you to try something new, either on your own, a group of friends, or family and loved ones.
You Might Also Like to Read
---
Eager to try a new hobby? Keep this list for safekeeping to get inspired, by saving it to one of your Pinterest boards.