This post may contain affiliate links, meaning if you book or buy something through one of these links, I may earn an affiliate commission at no additional cost to you. Learn more
Our time is precious, so if you're not quite ready to fall asleep use these things to do at night to exert unused energy or set yourself up for a productive next day.
Things to Do at Night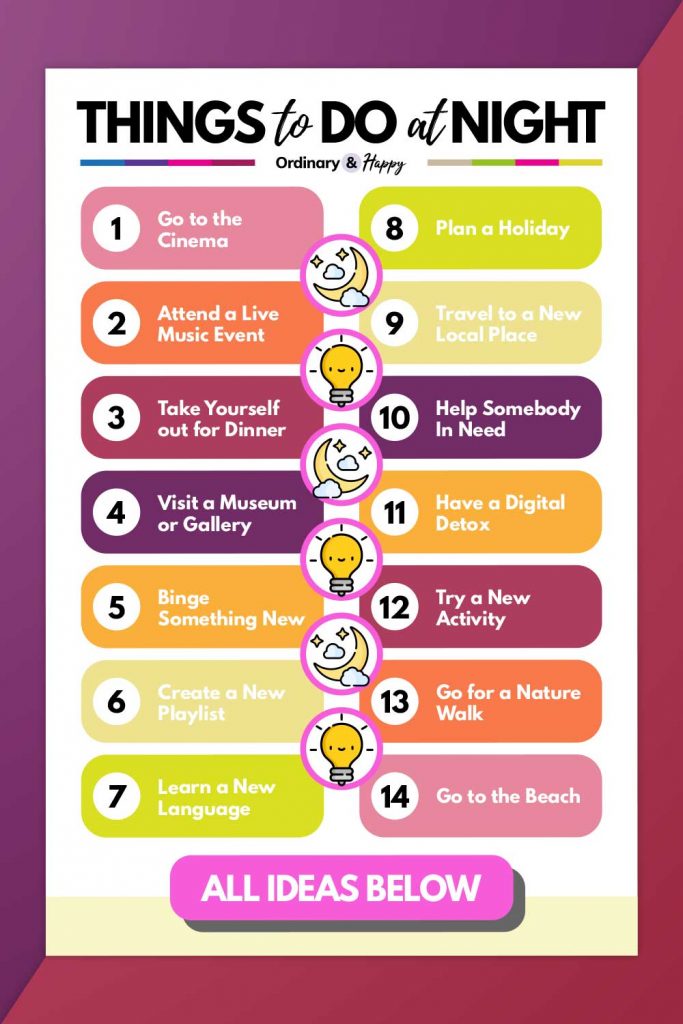 ---
Fun
1. Go to a Night Market
Street markets aren't just for the daytime. Many areas organize night markets, too, featuring a range of stallholders selling products and food.
If you want to enjoy the hustle and bustle of a market with a twist, head to your nearest night market and get to know your local vendors.
2. Go Bar Hopping
The only thing more fun than spending the evening in a bar? Spending the evening across multiple bars, of course!
For a night to remember, head to your local town or city (or somewhere brand new!) and spend the evening hopping from bar to bar, enjoying a variety of tasty food and drinks.
3. Start a Side Hustle
The arrival of social media and e-commerce sites has ushered in a new era of jobs; 'the side hustle.' If you find yourself with spare time on your hands in the evening, use it to make some money by starting a small business on top of your day job.
It can be something as simple as selling your old clothes on eBay or starting a blog based on your interests. Whatever you choose, a side hustle can help you earn more money and develop new skills. You never know – you may find a new passion!
4. Go to the Theatre
If you're a fan of the performing arts, head to your local theatre to see a play or musical. Many towns put on stage shows with reasonable ticket prices, and the quality of acting tends to be incredibly high.
Even if nobody else is around, going to the theatre on your own can be a thrill! Make a night of it by getting there half an hour early and soaking up the atmosphere in the theatre bar.
---
At Home
5. At-Home Cinema
Grab some classic cinema snacks and spend the evening watching your favorite movie at home for the authentic cinema experience without leaving your couch.
If you have a garden, you can hire a projector and transform your yard into an outdoor cinema during the warmer months.
6. Prep Your Meals
Sometimes the best way to spend an evening is to be productive. On your next free evening, save some time by prepping a week's worth of meals in advance.
That way, you can spend ten extra minutes in bed every day since lunch is already sorted.
7. Pamper Yourself
If you're at a loose end after a stressful week, make the most of your free time by indulging in an at-home spa experience.
Light some candles, run a bubble bath, and let your worries slip away with a pamper evening. Bonus points if you add an aromatherapy oil to the mix!
8. Do Yoga
Yoga is excellent for boosting your mood, increasing flexibility, and reducing joint pain. If you've been rushing around all week, treat yourself to some nighttime self-care in the form of yoga.
You'll go to bed feeling thoroughly relaxed, and you'll find more mobility and ease of movement during the days that follow.
9. Fill in a Gratitude Journal
Keeping a gratitude journal can support your mental well-being and help you maintain a positive outlook, even when times are tough.
Invest in your mental health by taking time in the evening to write down everything you're grateful for – even the small things! Your mood will improve in no time.
Read more: 39 Things to Be Grateful for Today
10. Take a Virtual Class
Recently, virtual classes have burst into prominence. We now have access to virtual courses for every skill imaginable, from cooking to cocktail-making to speaking Spanish.
If there's a skill you've always wanted to learn, now's your chance! Find a suitable class online and spend your evening learning something new.
Read more: 30 Skills to Learn Online
11. Host a Musical Singalong
Musical lovers assemble! The best way to celebrate your love of musicals is to gather your besties in one place for a musical sing-along.
Pick your favorite musical(s) and spend the evening singing along to the songs in your front room. Bonus points if you come dressed up as your favorite character.
---
With Friends
12. Bowling
If you're looking for an affordable evening activity with friends, look no further than a trip to the bowling alley. To spice things up, make it a competition, with the loser being subject to hilarious dares.
13. Go to a Funfair
Funfairs aren't just for kids! If you're looking for a nostalgic way to spend an evening with friends, attend your local funfair or festival. You'll be instantly transported back to your childhood with candy floss and a ride on the Ferris wheel.
14. Host a Cosplay Night
If you and your besties are fans of a particular comic, TV show, or movie, host a cosplay night dedicated to your favorite pop culture offering.
Go one step further than fancy dress by decorating your house to match the set of the show or movie you love. You can even add some competition to the proceedings by awarding a prize to the most convincing costume.
15. Go to a Comedy Show
For an evening guaranteed to be fun of giggles, grab a group of buddies and head to a comedy show. Just make sure you don't sit on the front row – or you'll be in for a night of teasing!
---
Late at Night
16. Watch a Scary Movie
If you dare to scare, add some creepiness to your late-night by watching a scary movie.
The thrills and chills of the horror movie will be heightened by the dark and quiet atmosphere. But be warned – this activity is not for the faint-hearted!
17. Make a Midnight Meal
When you were little, you'd probably dream of being able to wake up at midnight and raid your fridge. Now you're an adult – you can do just that!
If you're up late at night to indulge in some gaming or simply work through some tasks, reward yourself with a tasty meal or snack.
18. Meditate
If you're struggling to get to sleep or rest after a busy day, relax your mind with a ten-minute meditation.
You can find apps or YouTube videos to guide you or simply sit in a comfortable position, close your eyes, and focus on your breath. You'll feel better in no time!
19. Get on with a Tricky Task
It might seem counterintuitive, but for some people, evenings are more productive than mornings.
If you find yourself staying up late with nothing to do, take the opportunity to get on with some chores or life admin you've been putting off. You'll be more productive without the constant distractions of emails, phone calls, and deliveries.
---
When Everything is Closed
20. Stargaze
When all the shops and bars are closed, but you find yourself wide awake, find comfort in Mother Nature. Grab a blanket, head to your garden, lie on your back, and gaze up at the stars.
You're guaranteed a relaxing evening searching the sky for constellations and stars. You never know, it could become your new favorite hobby!
21. Go for a Drive
Driving can be fun even with no destination. To clear your head and relax, hop in the car and drive around your local area.
You'll see familiar places in a whole new way during the nighttime – and you might see some wildlife out and about, too.
22. Create a Nighttime Routine
If you're stuck at home with nowhere to go, make the most of the free time available by creating a nighttime routine.
Consider healthy habits that would benefit your mental health, such as journaling, yoga, or meditation, and then incorporate them into your evening routine.
23. Make a Fakeaway
So all the takeaway joints near you have closed? No problem! Enjoy takeaway-style food at home with a takeaway.
Whether it's pizza, sushi, or curry, there are tons of recipes online that will help you create food just like you buy from your local takeaway. The best part is, you'll have delicious leftovers for the following day's lunch!
---
On a Budget
24. Play Card Games
Invite your friends and family over and host a card game night for the ultimate night in.
From simple classics such as Snap to casino games like poker, your front room will be transformed into Las Vegas with this exciting nighttime activity.
Read more: 24 Awesome Card Games for Adults for Hours of Fun with Friends and Family
25. Host a Potluck Dinner
Sometimes, a homecooked meal can be infinitely more delicious than something you'd get at a fancy restaurant.
Assemble your nearest and dearest at your house for a potluck dinner, where each guest brings a dish they've made, and you all get to try each others' food and trade recipes.
You're guaranteed a night of tasty food and good conversation – all for the cost of just one meal.
26. Camp in Your Garden
Even if you're short on cash, it doesn't mean you can't go camping.
Bring the campsite to you by pitching a tent in your garden. Decorate it with blankets, pillows, and fairy lights, and enjoy a memorable night's sleep in the great outdoors.
Make the camping experience even more authentic by starting a campfire, telling stories, and toasting marshmallows.
27. Listen to a Podcast
Streaming apps are full of podcasts about popular culture, business, sports, and more.
Find a podcast about a topic that interests you and spend the evening listening and making notes about what you learn.
If you're struggling to get to sleep, there are podcasts designed to help, including meditation podcasts to calm your mind before you drift off.
---
Exciting and Adventurous
28. Ghost Tour
If you like horror and aren't scared of the dark, enjoy a spooky evening with a ghost tour.
Many cities have ghost tours, which take tourists around the supposedly haunted buildings in the area and tell stories of the ghost that haunts them.
Ghost tours are scary enough in the daylight, but tours that take place at night seriously up the scare factor!
29. Skinny Dip
If you're feeling adventurous, find your nearest (safe) body of water and go skinny dipping!
This once-in-a-lifetime crazy act will give you stories to tell for years – and something to tick off your bucket list.
30. Take any Train
If you like taking risks and exploring new places, grab a friend, head to your nearest train station, and take the next train that's leaving.
You'll have the chance to get to know a whole new place that you may never have visited otherwise.
Once you've got off the train at your destination, chat with a couple of locals to discover the best bars and restaurants in the area, and make your evening a night to remember.
31. Go for a Midnight Hike
If you live somewhere safe with a beauty spot nearby, gather your buddies and head there in the evening.
Remember to take flashlights, so you don't lose your footing, and pack snacks and something fizzy to celebrate when you arrive at your destination.
If you'd like to go outdoors but want to take it easy, consider a gentle evening stroll instead.
---
Outdoors
32. Have a BBQ
One of the best things about spring and summer is the light evenings – so make the most of them by hosting a BBQ.
All you need is a couple of buddies, some delicious food, and a cheap grill for an evening filled with fun.
33. Gather 'Round a Firepit
When it's chilly outside, recreate the campfires of your youth with a fire pit.
Stay up all night telling funny stories and toasting marshmallows around a warm fire for the ultimate outdoor evening activity.
34. Pool Party
Inflatables? Check. Swimming costume? Check. A fun-filled summer evening with friends? Check. When summer hits, gather your besties for an outdoor pool party.
If you don't have a pool at home, rent a jacuzzi for the weekend, so you can spend an evening soaking in the suds under the stars.
35. Head to the Beach
Visiting a beach at night is a truly magical experience. You can walk along with the sand at your feet, the stars above you, and the relaxing sound of the waves lapping by your side.
Take your friends and pack some food for the ultimate outdoor evening – even better if you start a campfire to keep warm.
Read more: Things to do at the Beach (Best Beach Activities)
---
Your day doesn't have to stop once the sun goes down. Even if it's dark outside, there are still many hours in the day that can be used for fun and productive things.
These things to do at night are great if you want to have some fun on your own or with friends, or just want to find more time in your day to get things done and take the pressure off the following morning.
There's a real magic about being up late and embracing the quiet, the night sky, and the after-dark activities that come while many others are settling down or sound asleep.
You Might Also Like to Read
---
Keep these great things to do at night on hand, so that next time you're looking for something to do at night you can revisit this list.