This post may contain affiliate links, meaning if you book or buy something through one of these links, I may earn an affiliate commission at no additional cost to you. Learn more
Fill long drives with joy by playing these fun road trip games, helping you say goodbye to boredom on the journey, no matter who you're traveling with.
I've been on plenty of road trips across Europe and the U.S. in my time, and these games have helped me, friends, and fellow travelers pass the time with lots of laughs and intrigue.
Road Trip Games (Fun Games to Play in the Car)
For Adults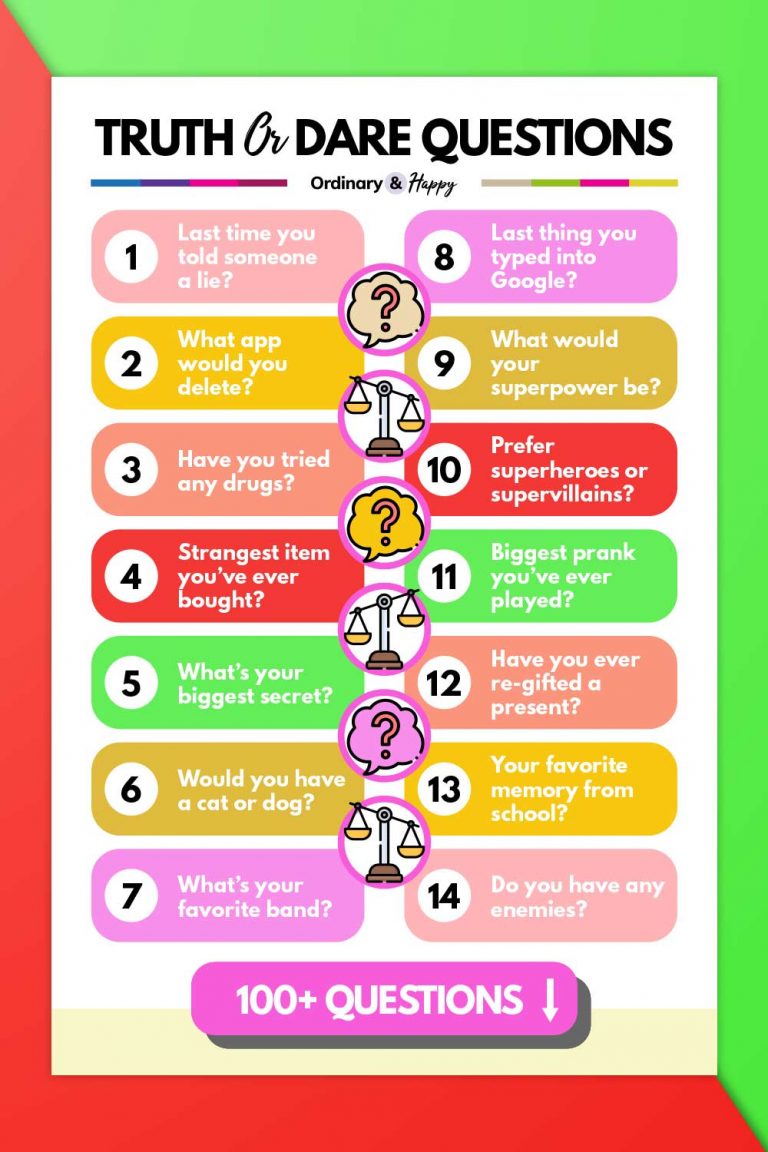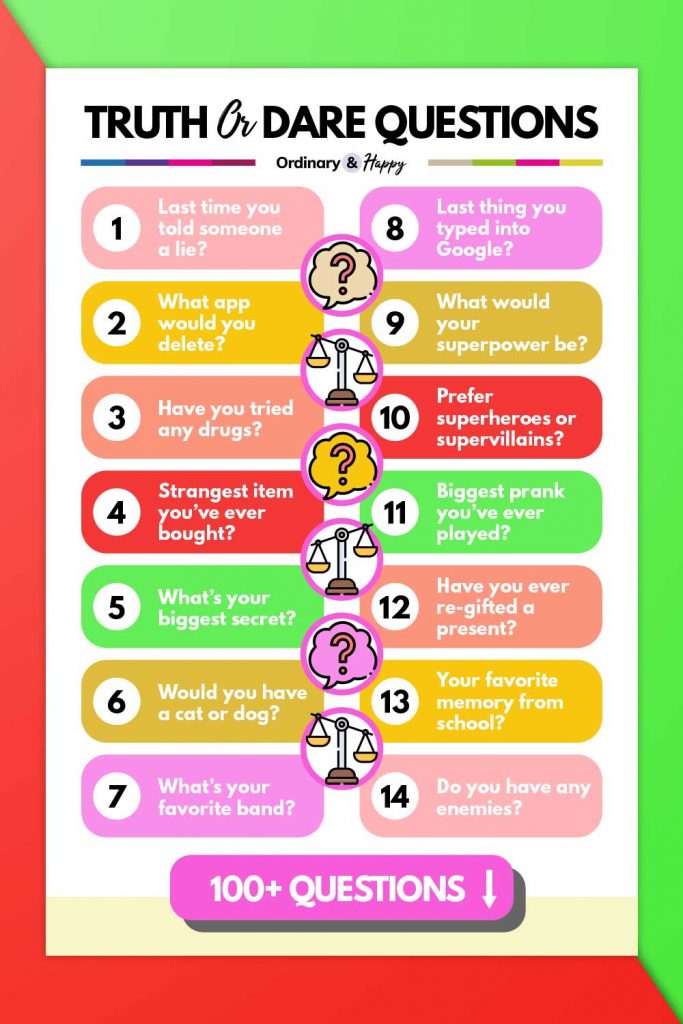 This is a classic game, but it can be adapted to a road trip as well. Take turns picking whether you want to reveal a truth or take a dare.
In this case, you will need to pick a dare that can be done safely in the car or by stopping the car when you get the chance. Time to be creative!
Read more: 100+ Best Truth or Dare Questions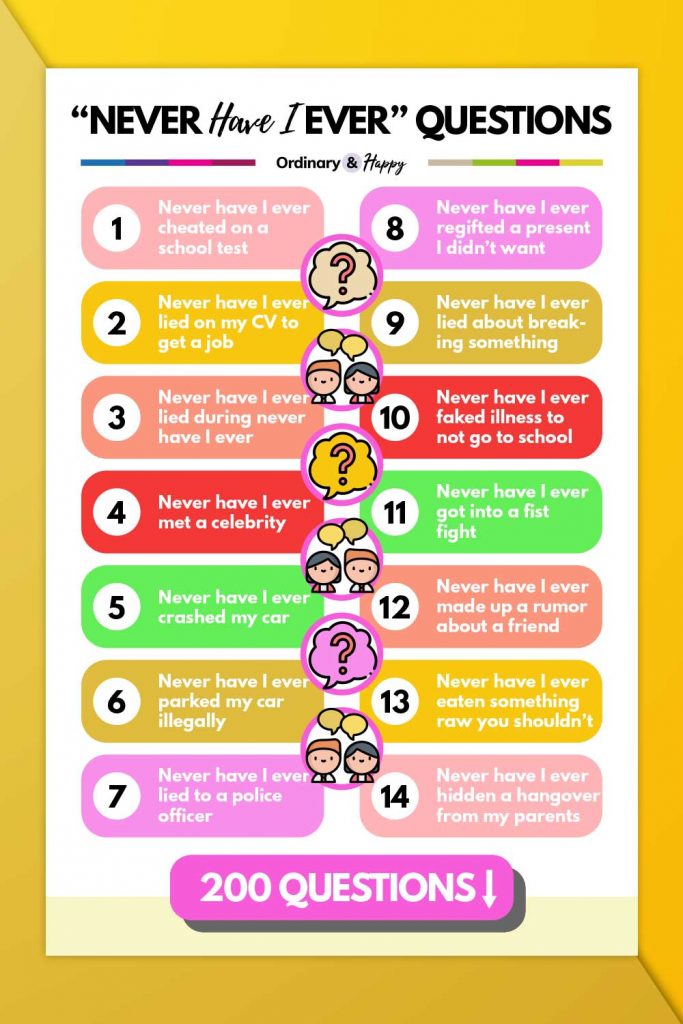 Each player holds up five fingers, and in turn, they name something they have never done, for instance, "Never have I ever been to Italy."
For each thing they have done, players need to fold a finger. The person who folds all five fingers first loses. This is a fun game, and if you pick the right questions, you may even learn some interesting or funny things about your friends.
Read more: 200+ 'Never Have I Ever' Questions
3. The Compliment Game
In this game, you go through the alphabet, and for every letter, you say a compliment about someone else in the car. For instance, "A is for how awesome Monica is," "B is for Jack's beautiful hair," and so on, taking turns.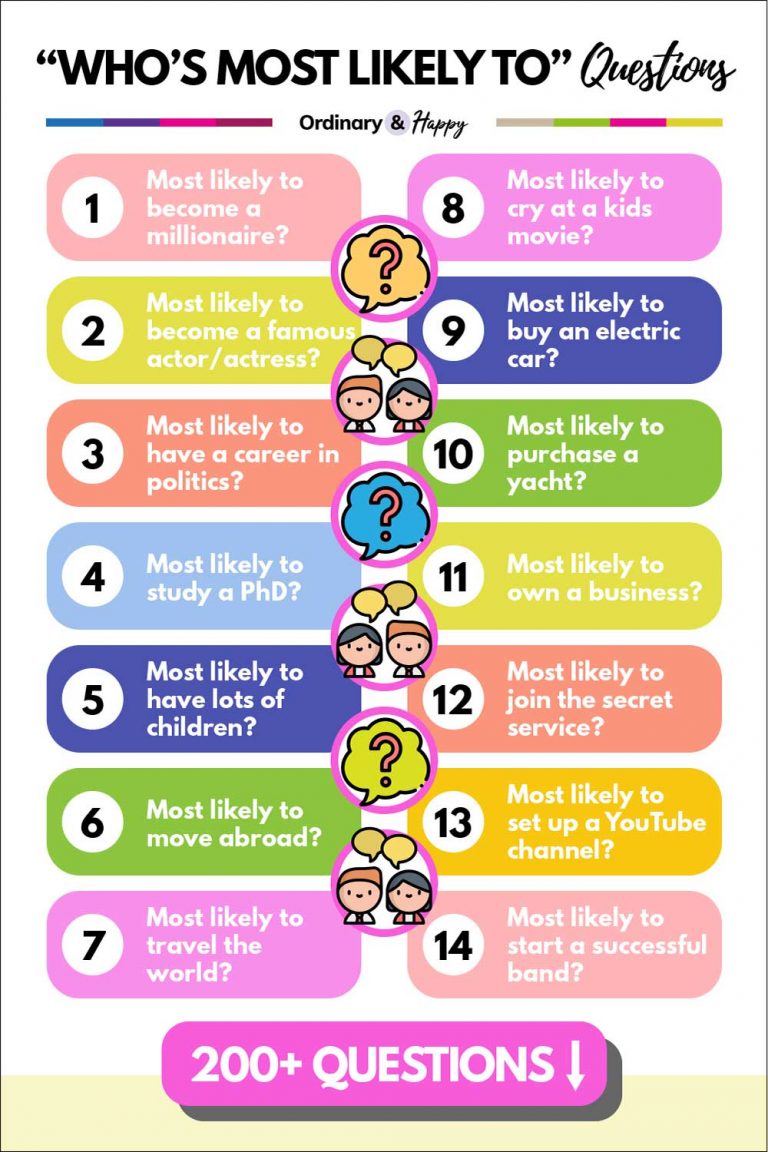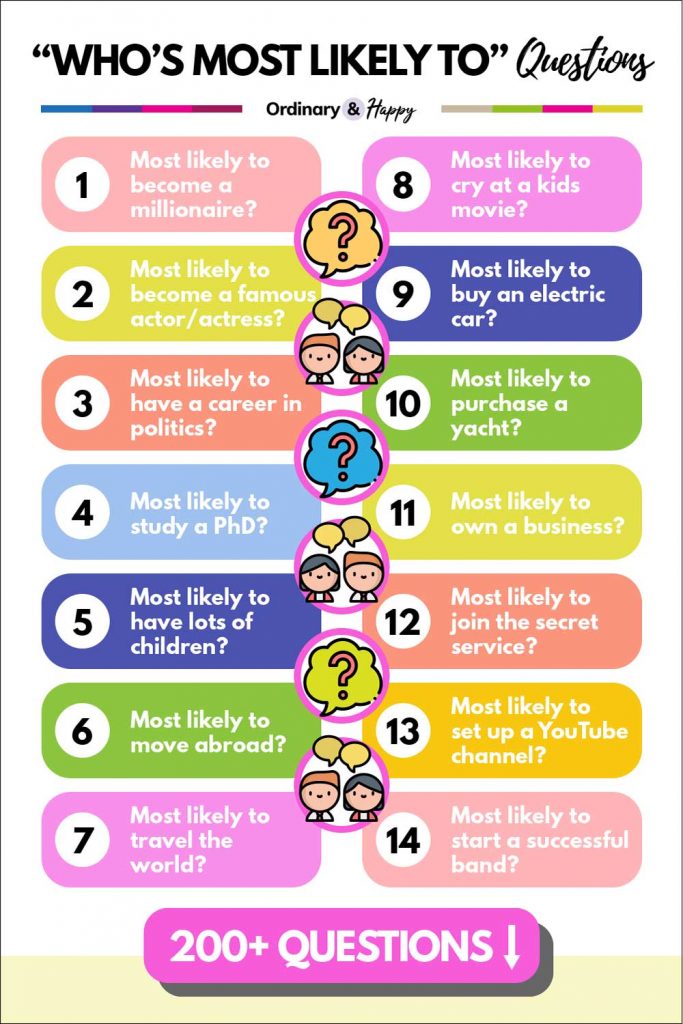 Take turns and come up with "most likely to" scenarios about your friends. Everyone in the car must point to the person they believe reflects the title.
You could say things like "Most likely to become a celebrity" or "Most likely to win a Nobel prize." If you're out of ideas, you can find many examples online, or just try to be creative and invent fun scenarios.
Read more: 300+ "Who is Most Likely to" Questions
5. The Forbidden Word
Pick a forbidden word at the beginning of your trip. Try to aim for a word that you would normally use a lot. Keep count of how many times each person says the forbidden word.
At the end of the trip, whoever has said the word the most will have to take a pre-agreed forfeit, such as paying for a round of drinks.
6. Truth or Lie?
This is a storytelling game in which one person in the car tells a true or invented story from their past, ideally something elaborate and hard to believe.
The other people in the car take turns and get to ask one question about the story before deciding if it's true or not. Reveal the right answer after everyone took their guess. Take turns telling stories and see who has the greatest number of correct guesses.
7. Smurfing
Pick one person in the car who will be the subject of the game. While the subject covers their ears, the other persons need to pick a verb. Then, the subject must ask questions replacing the verb with the word "smurf."
For instance, "Do you smurf in the morning or evening" or "When did you last smurf?" They need to guess the right verb as quickly as possible. You may even decide how many questions they get to ask or set a time limit, like 2 minutes, to guess the right verb.
For Families and Kids
8. What Color Is It?
In this game, start naming a list of items of the same color until your kid, or one of your kids, guesses the right color. For instance, you could start by saying "Sky, sea, smurfs…" and keep going until someone guesses blue.
9. I Spy
A classic road trip game for families and kids, "I spy" consists in choosing an object, preferably something in the car, and having other players guess by asking yes or no questions.
You can use colors or the first letter of the object. For instance, you could say "I spy with my little eye… something blue/something that starts with the letter B." The first person to guess the object gains a point.
10. Spelling Bee
A fun and educational game, the spelling bee is easy to play in a car. You can pick random words or make it more fun by choosing a theme, possibly something kids would enjoy.
For instance, you could do a Harry Potter spelling bee with words from the book/movie. Make sure to have someone keep track of the points on a piece of paper or a note app.
11. Scavenger Hunt
This game may require a bit of preparation but it's a great way to keep kids entertained on a long road trip.
Before the trip, prepare a list of things you would usually see on the road, like road signs, cars, animals, and so on. The person who checks the most items off the list before the end of the trip wins.
12. Car Color Search
This game also needs some preparation, but it can be very entertaining for small kids. You can draw several cars of different colors or find a ready-made sheet online and print it.
Every time they spot a car of a certain color, they cross it off the list. Whoever crosses the most cars off the list wins the game.
13. Going on a Picnic
This challenging memory game is great for adults, but you can also play it with older kids. The first person starts by saying "I'm going on a picnic, and I'll bring…" and picks an item.
The next person repeats the sentence and adds another item, then the third adds a third item, and so on. The list will get longer and longer. The first person who can't remember the correct list is out of the game and it resets until there is one winner.
14. Storytime
If you're feeling creative, why not invent a fairy tale with the kids? Start with the classic fairy tale beginning "Once upon a time…" and come up with the start of a magical journey in a singular sentence.
Each player will add a sentence to the story until you either reach the end or until a set time limit elapses. You can also record the story so you can listen to it later.
15. The Quiet Game
If you're traveling with kids and want some downtime, you can always try the quiet game. See how long your kids can go without saying a word. The first one to break the silence loses.
For Couples or Two People
16. 20 Questions
In this guessing game, one person will have to think about an object, animal, or person, and the other must ask yes or no questions to figure out what the other person is thinking.
They have a limit of 20 questions to guess the item or person. Ideally, you would start with more generic questions, like "Is it an animal" or "Is it an object?" and get more specific with questions about the size, color, and other features.
If the person guesses in less than 20 questions, they take the place of the answerer. Otherwise, the same person gets to think of a new thing.
17. The Human Jukebox
This can be a really fun song if you know song lyrics. One person starts singing a song, and the next has to connect it to another song using the last word of the lyrics, then another has to connect a new song, and so on.
For instance, "Take me down to the paradise city where the girls…. Just wanna have fun, oh girls… Who run the world? Girls. Who run…. Boy run. This world is not made for you…" And see how long you can keep going before someone is stumped.
18. 6 Degrees of Separation
A person has to name two people, objects, movies, or any other thing. You can mix them, for instance, a celebrity and a movie, that are apparently not connected. Another player has to connect the two in six statements, or less.
You could, for example, pick Uma Turman and the movie Mamma Mia. And then say "Uma Turman starred in "Kill Bill" with Lucy Liu. Lucy Liu starred in Charlie's Angels with Cameron Diaz. Cameron Diaz had a relationship with Justin Timberlake. Justin Timberlake starred in "In Time" alongside Amanda Seyfried. Amanda Seyfried starred in Mamma Mia!"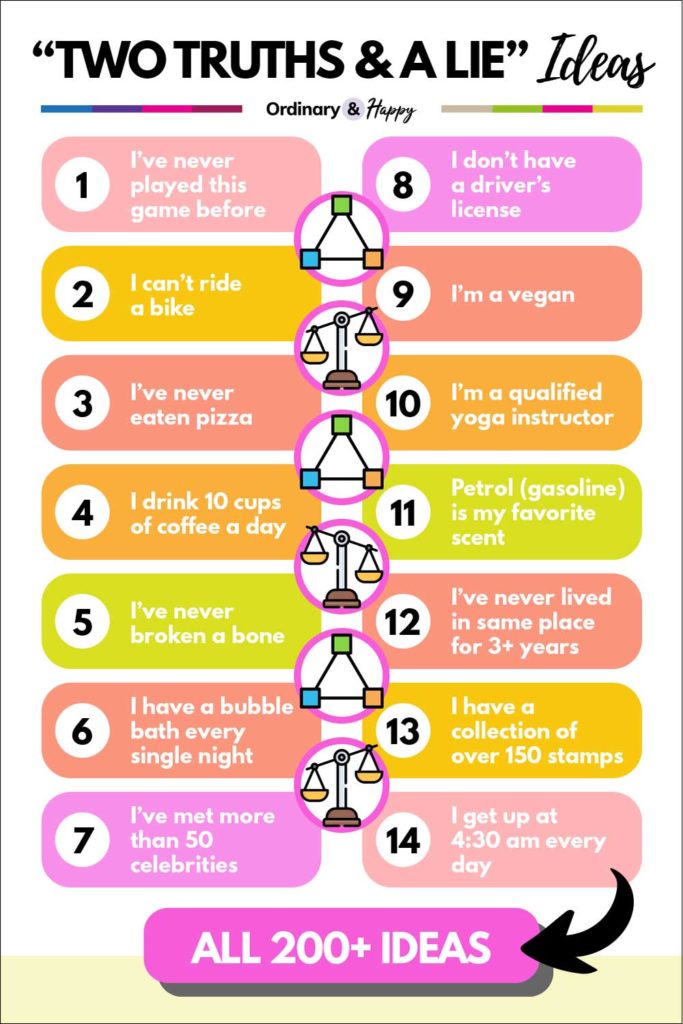 This is a great game to learn more about your travel companion. Take turns and tell two truths and one line. The other person has to guess which is the lie.
You can just keep playing to discover curious facts about yourselves or make it a points game. Whoever gets to 10 correct answers first wins. Remember to choose a reward for the winner.
Read more: 2 Truths and a Lie: 200+ Lie Ideas
20. Holiday Memory Game
In this memory game, you pretend you are packing your suitcase for the holidays and need to take turns listing all the items you will pack. The first person will start by saying "I am going on a holiday and I'm taking…" and adds an item.
The next player has to repeat the sentence and add a new item then the next player will do the same. Keep adding items to the bag, repeating the entire list every time. The first person who messes up the order or forgets an item loses the game or is out. Ready to test your memory?
21. Kiss Mary Avoid
Pick three people, either someone you know or celebrities, both from past and present. You may even pick a fictional character.
The other person will need to choose which person they would kiss, marry, and avoid. Depending on your choice of people, this game can be really fun. Take turns and get creative!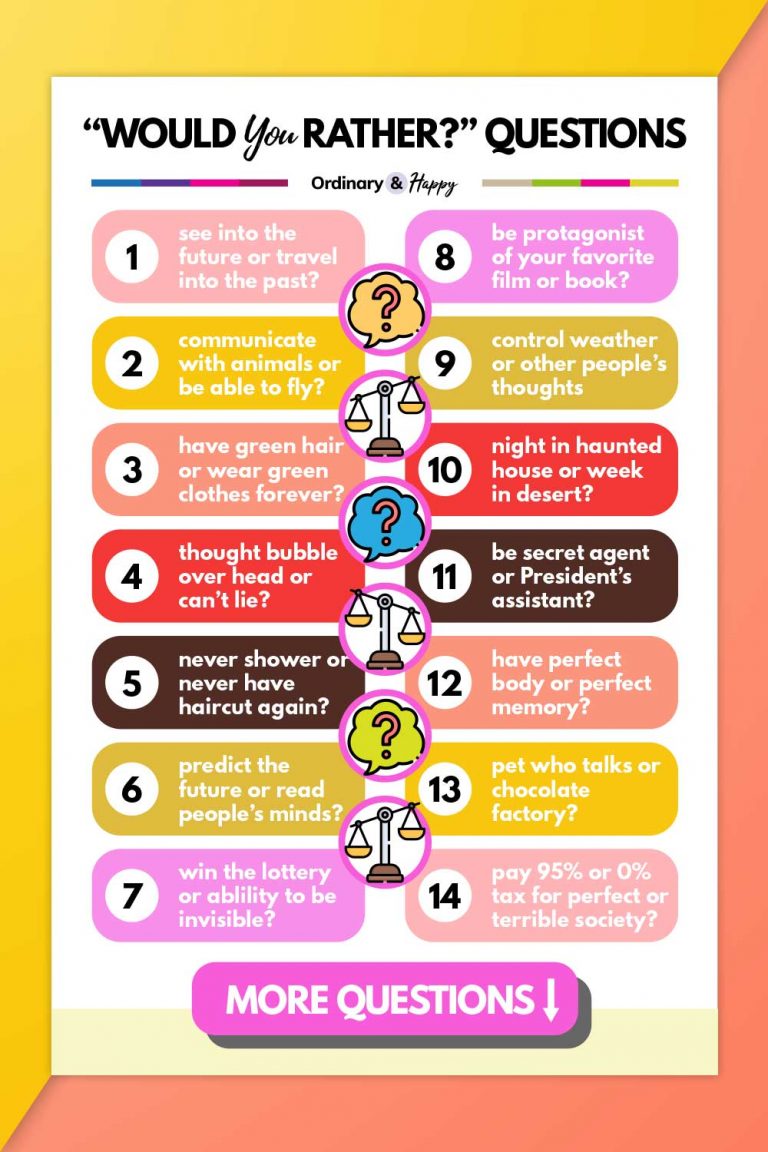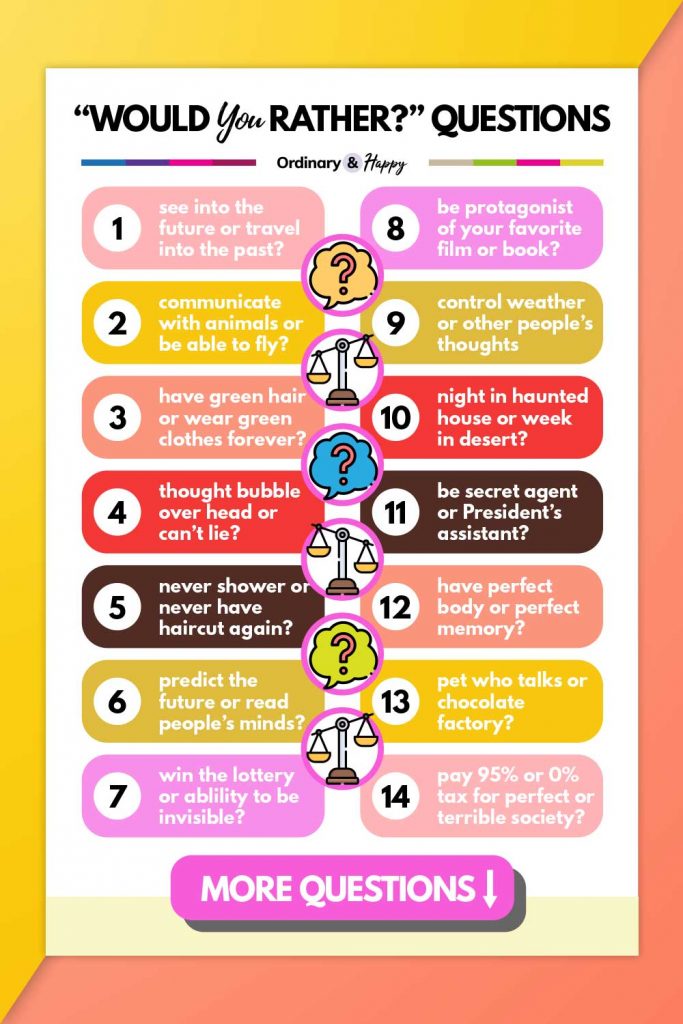 Time to get creative for this game where a person has to ask the other(s) what they would choose between two options.
The idea is to come up with impossible or weird choices, like "Would you rather never see again or never taste food?" If you're out of ideas, this "would you rather" questions list can help you out. Tine to make some difficult choices.
Generally Fun Road Trip Games
23. Categories
While this is not necessarily a road trip game, it's a really fun one to pass the time. Pick a category, anything from ice cream flavors to R&B songs. Every player takes turns naming an item in that category. See who runs out of ideas first.
24. The Humming Song Game
The game is pretty easy yet fun to play. One player must hum a famous song while the others need to guess the song. The person who guesses correctly gets to hum a new song. It may sound really easy, but it can get quite tricky.
25. Music Battle
To play this game you must be at least three passengers. One person is the judge while the others need to play songs on their phones.
Select different categories, and for each one, every player picks a song and plays it. The judge has to decide the winning song for every category.
26. Alphabet
This game consists in spotting items that start with each letter of the alphabet, in order. You can use objects in the car or on the road, like road signs, billboards, animals, or anything else you may spot.
Call out each letter and the item/word as you see it. The first person the get to Z wins. In a different version, you may pick a category, like animals, and take turns naming items in that category in alphabetic order.
27. Rhyme
One player starts by saying a word, then each passenger takes turns saying words that rhyme. Set a 15-second time limit per turn. If the person can't come up with a word within the time limit, they are out.
The remaining person wins a point. See who gains the most point before you get to the destination or who gets to 10 points first.
28. Storyteller
The game is pretty simple but depending on how creative you get it can be very fun. One person starts a story with the first sentence. Then, everyone takes turns adding to the story.
Come up with interesting and fun plot twists to make the story more entertaining. Record it to have a memory of your road trip story.
29. Fortunately/Unfortunately
This game consists of telling a story where each sentence starts with the word "fortunately" or "unfortunately," alternating between them.
For example: "Anna had to go to work. Unfortunately, her car broke down. Fortunately, she could take the train. Unfortunately, all trains were delayed." Keep the story going, alternating between the two.
30. While You Were Sleeping
This is a funny game that you can play if any of the passengers falls asleep during the trip. With the other passengers, come up with an interesting and unbelievable story of something that happened while the other person was asleep.
When they wake up, tell them the story, starting with "While you were sleeping…". Each passenger adds a little to the story to make it credible that you all witnessed it. Try not to break character and see if the other person believes your story.
31. Car Rule
To play this game, each person in the car gets to make up a random rule, and everyone has to follow it. Try to think of weird and fun rules, like "Whenever I change the radio station, everyone has to clap their hands".
Assign points to everyone who enforces the rules except for the last person to do so. The person with the most points at the destination wins.
32. The License Plate Game
This classic road trip game can be played in different ways. You can try to spot a license plate from every US state or from different countries if you're traveling in Europe.
Or you can try to spot a license plate starting with each letter of the alphabet, and the first one to get to Z wins. If you are playing with kids, you can even print a coloring map of the U.S. and have them color each state they spot on a license plate.
Trivia Road Trip Games
33. Name that Tune
A great game for music lovers is "Name that tune". You can simply turn on the radio or put on a Spotify playlist, making sure the song name is not visible on the display.
As soon as the song starts, the first person to shout the right song title wins a point. This is a great game to have fun, listen to music, and refresh your memory of song names.
34. Name the Artist
A different take on "Name that tune," this game requires players to guess the artist. You can even prepare a playlist in advance and set different rules.
You can assign points based on who answers first, or you can take turns, play a song for 5 to 10 seconds, and let the player guess or pass. Whoever makes more points or reaches a set number of points first wins.
35. The Movie Game
If you know your movies and actors, you can play this potentially endless game during your road trip. To start, a person mentions an actor while another person must name a movie the actor has been in.
Another player must name a different actor in that movie, and the next player must then name another movie with that actor, and so on. See how long you can go!
36. Guess the Quote
One person in the car has to say a quote from a movie, TV show, or song, while the other passengers must guess where the quote is from.
The player who makes the right guess takes the next turn in saying a quote. Try to make it hard, and for extra fun, use the accent of the actor who said the quote.
37. "Sorry I am Late" Movie Guessing
This can be a really fun game for movie buffs. It essentially consists of saying a sentence that starts with "Sorry I am late" and continues with the main plot of a movie, told in a fun way.
For instance, "Sorry I am late, but I got a letter saying I am a wizard and I had to go to wizarding school only to find out this evil wizard has been trying to kill me since I was a newborn," which would be Harry Potter. The person who guesses 10 movies first wins.
38. Bad Movie Plot
Another fun movie fame consists in picking a movie and explaining the plot in a really bad way, although factually correct. The other person has to guess the movie.
If they do, they win a point. Take turns and see who makes the most points or gets first to 10 correct guesses.
39. Celebrity
In this game, one person will play the character of a celebrity of their choice while the others take turns asking random questions.
The celebrity player answers the questions as if they were the famous person. The first person to guess the celebrity wins.
---
Long journeys in the car can often be difficult, for both you and the other passengers you are traveling with. Finding activities to pass the time can go a long way making the journey far more comfortable and enjoyable.
The beauty of these road trip games is that they require little, if any, equipment and preparation to play, yet can provide hours of fun.
Don't let tiredness and boredom take control on a long car ride. Use these fun car games to create a fun and relaxing atmosphere, keeping your minds off the journey and giving you all an opportunity to interact and bond.
From word games to games involving famous people, there's so much you can do in the car with minimal resources to entertain young kids, teenagers, and the whole family!
You Might Also Like to Read
Save and Pin for Later
Keep these super fun road trip games for safekeeping, ready for when you next travel by car, and save this article to one of your Pinterest boards.