This post may contain affiliate links, meaning if you book or buy something through one of these links, I may earn an affiliate commission at no additional cost to you. Learn more
Better understand your flow and energy cycles by using one of our mood tracker template printables, and start working toward a happier and more productive you from today.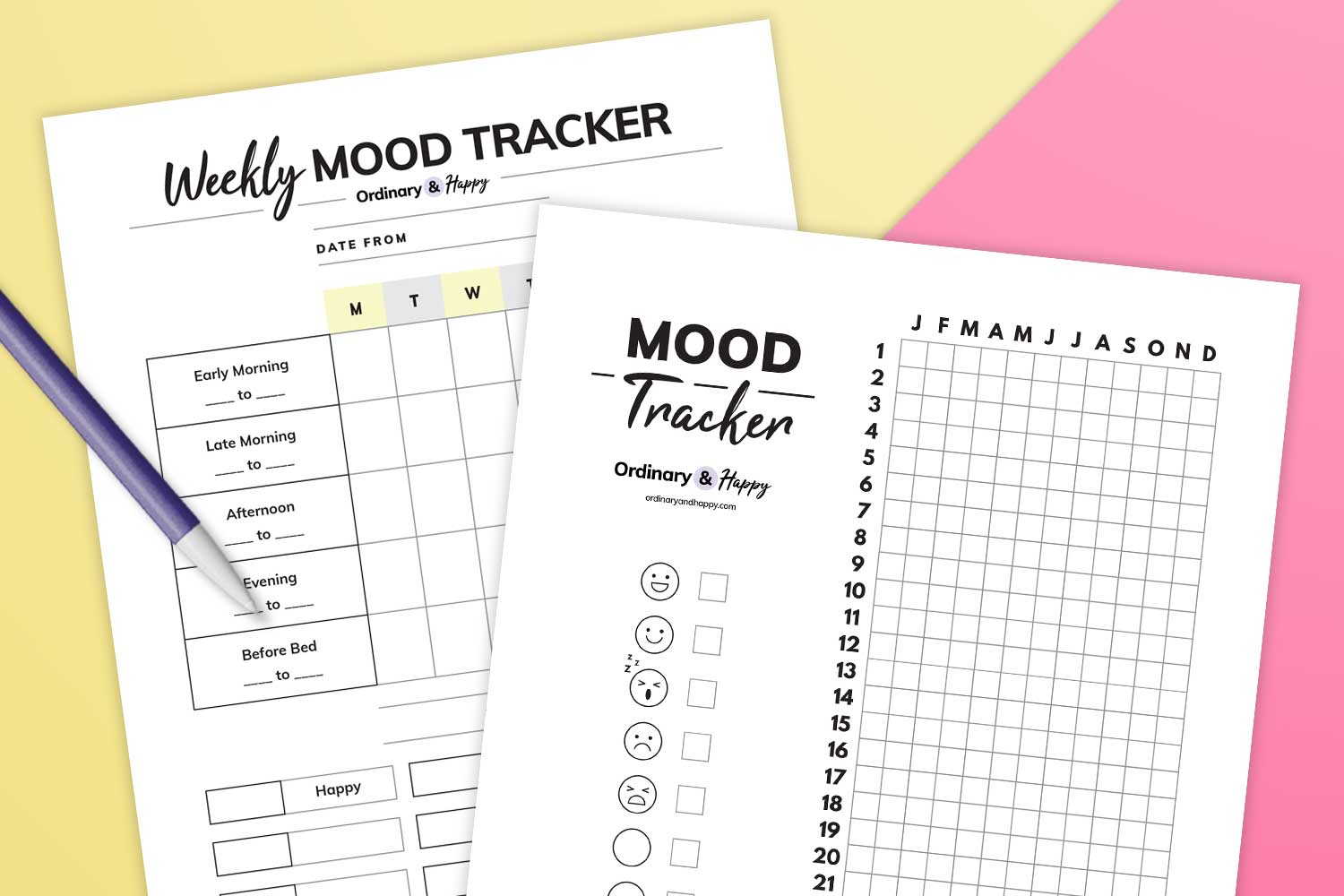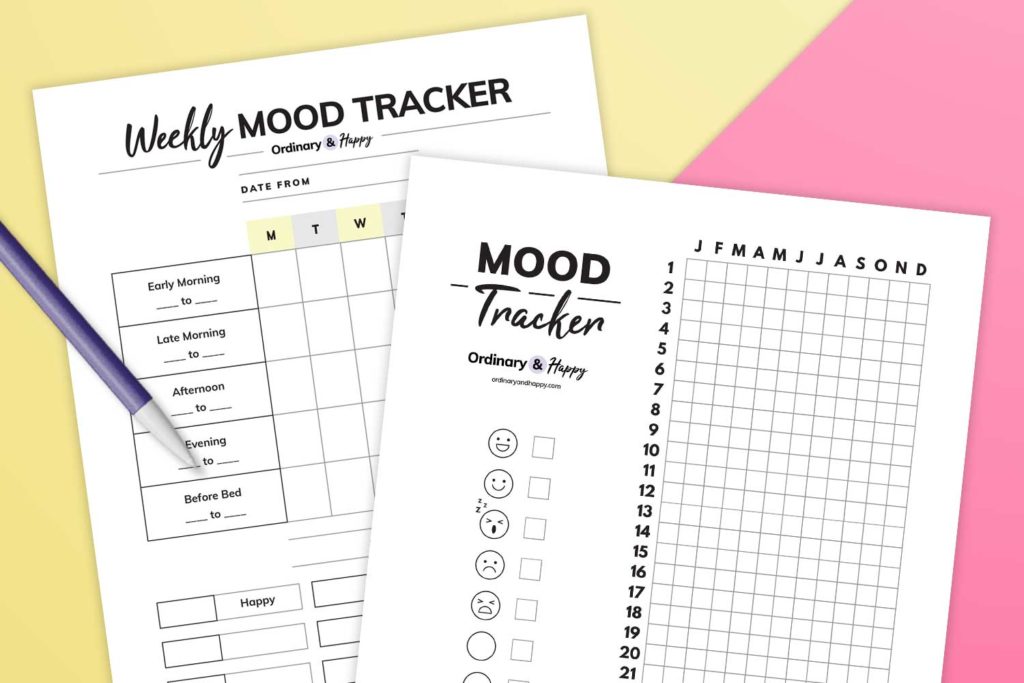 Mood Tracker Templates
Life is a constant cycle of ups and downs, even on a daily basis. But when your mood is feeling far more negative than positive, or it's affecting your work, health, and attitude, that's when it becomes a problem.
Using a mood tracker is a simple way to identify what you're feeling every day, and when you feel that way. Once you start tracking your mood, you can begin to identify patterns and triggers and see how often you feel certain emotions and states of mind.
With our mood tracker printables, you can track how you're feeling throughout the day, which can help with productivity and daily planning. Or, you can look at the whole year, and identify generally how you are feeling.
However you use our printables, we really hope they help you better understand how you're feeling, and identify where you can make changes in your life to feel happier, energetic, and more positive.
---
Free Template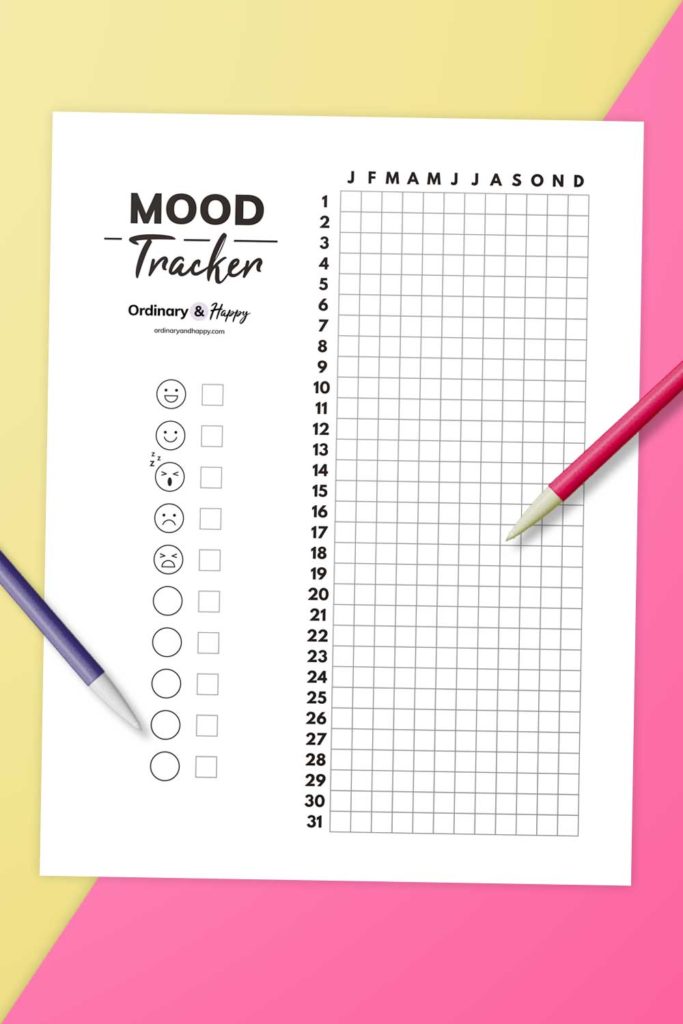 A great place to start is our free mood tracker. You can assign different emotions a color, and use the colors to track how you're feeling for a whole year.
Our pre-drawn emotions cover some common emotions, such as happiness and tiredness, but there's plenty of room to add your own.
Get it here
---
Premium Templates
Weekly Mood Tracker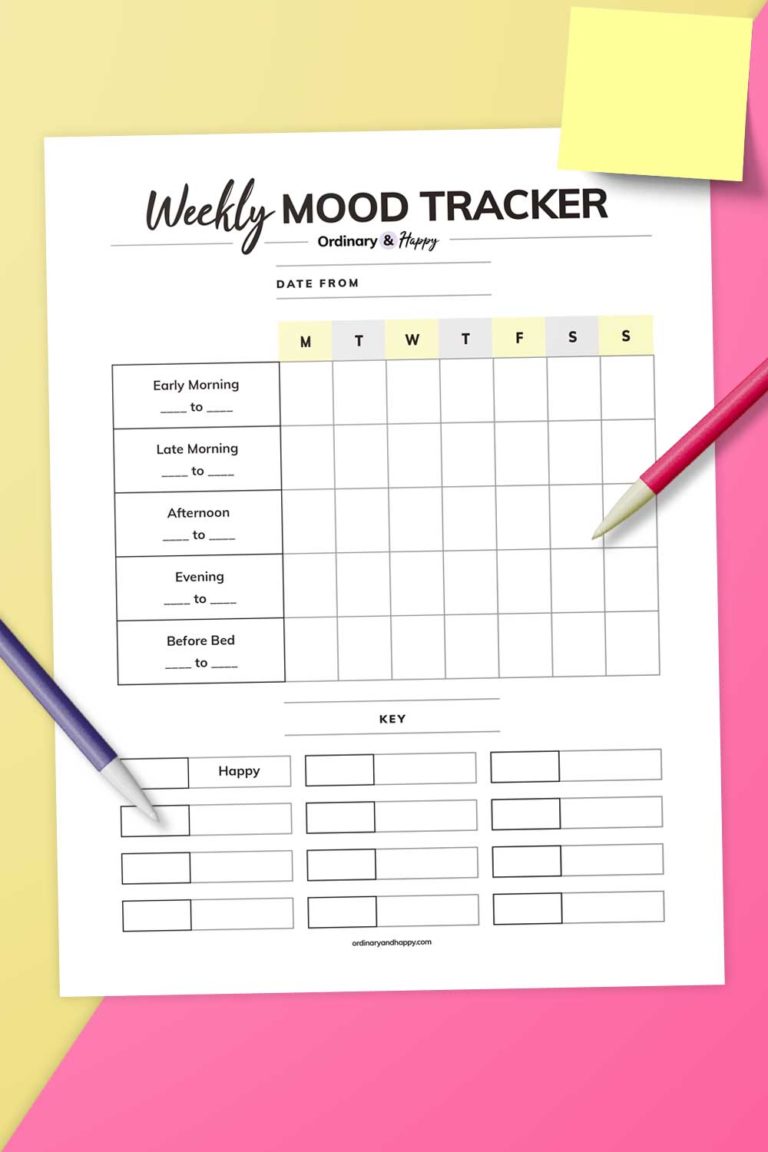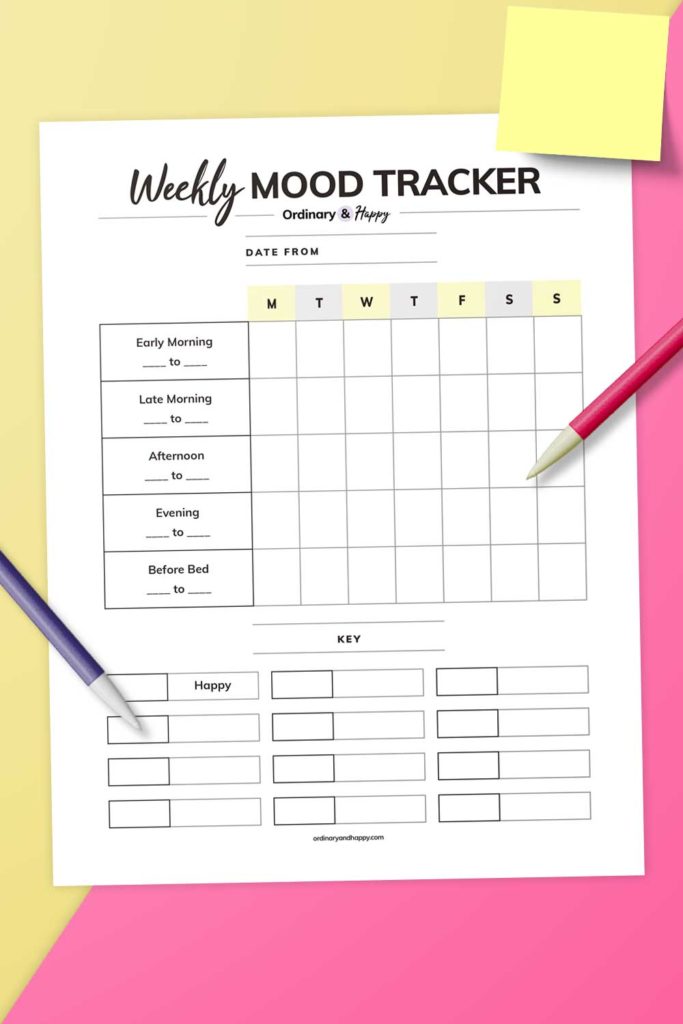 Our weekly mood tracker is perfect if you're trying to understand when you're at your most and least energetic throughout the day and better understand what is triggering certain moods.
You have five sets of time to work with for each weekday, in which you can assign your own hours, depending on your schedule. At the bottom, you can color-code up to 12 different emotions or feelings.
This printable is great to help you manage your day better, be more productive, and design a daily routine around your energy cycle to maximize productivity and happiness.
Get it here
Monthly Mood Tracker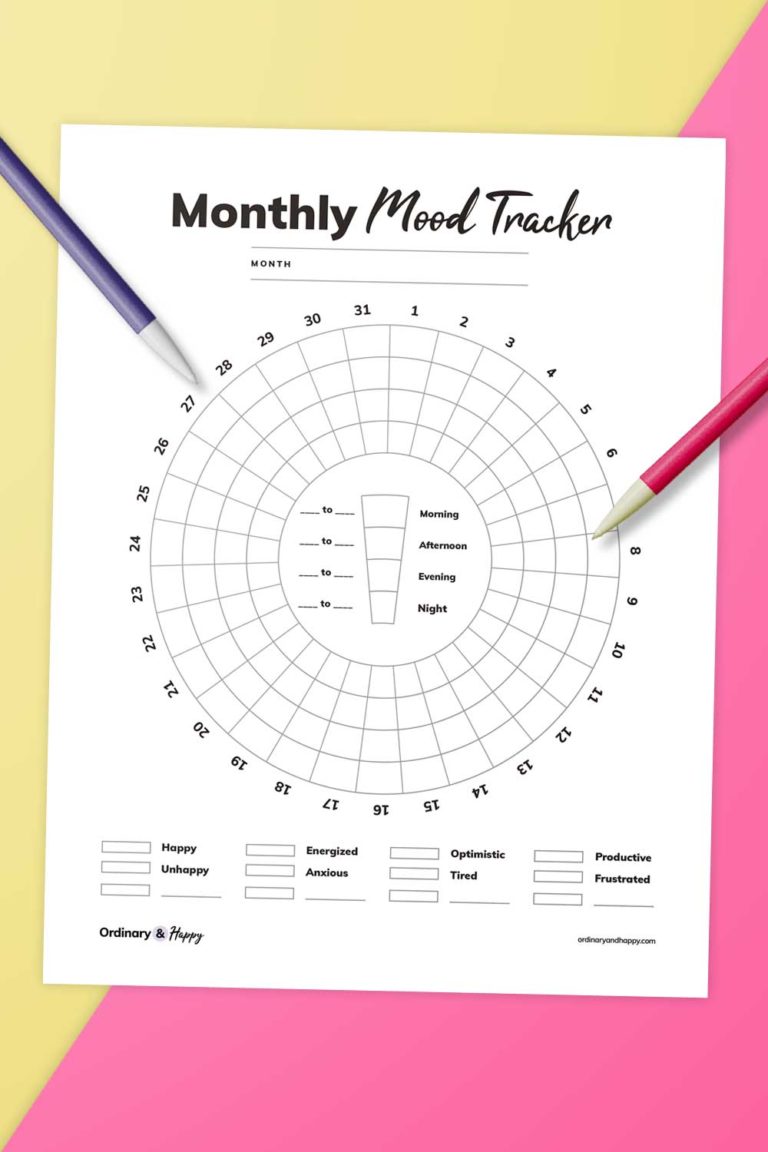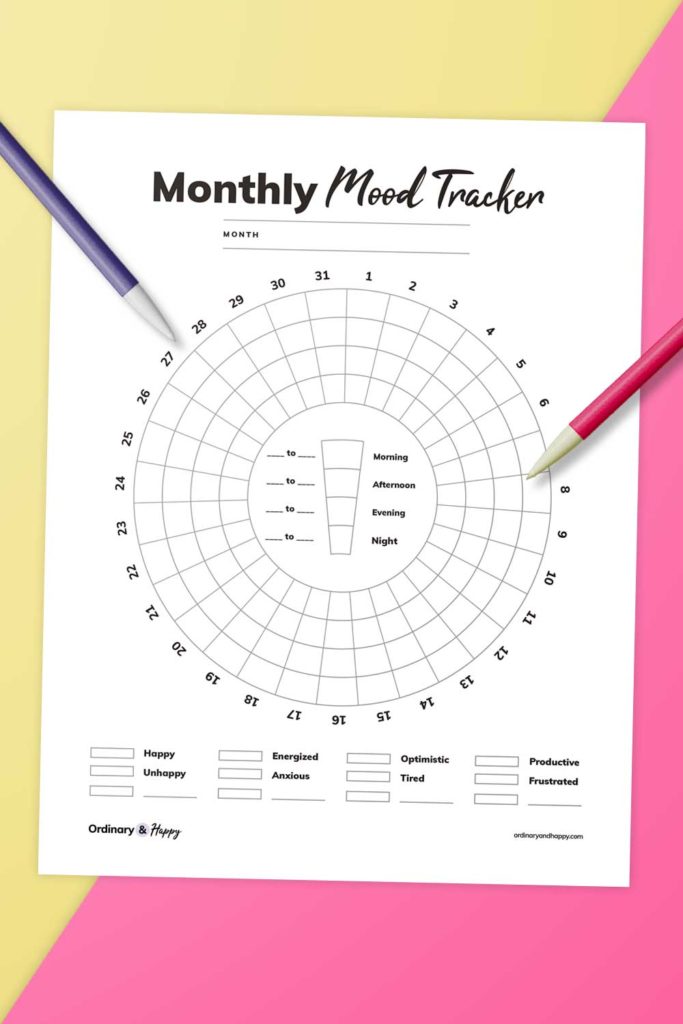 If you want to track your mood for longer than a week, try our monthly mood tracker. You have space for every day of whatever month you assign, and 4 different times of each day to record.
With 8 assigned moods and room to add more, the monthly tracker is great for quickly understanding what days you struggle on the most and what times of the day you feel tired and energized.
Get it here
Yearly Mood Tracker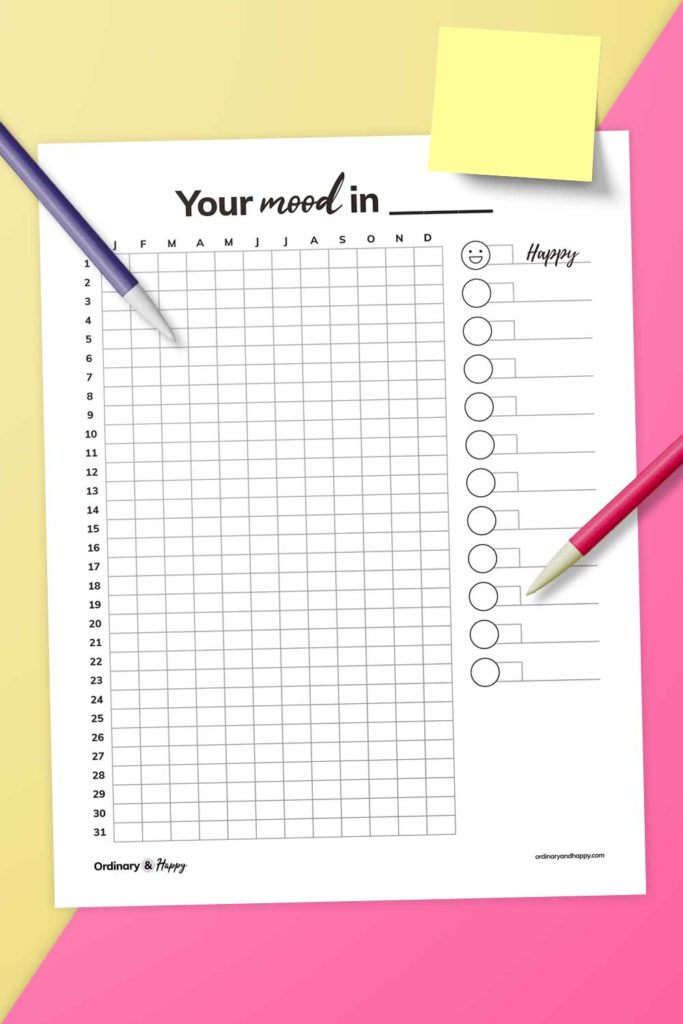 If you're looking to understand generally how you're feeling over a longer period of time, our yearly mood tracker printable can really help you understand your overall state of mind.
With space for 12 moods to draw and assign a color to, this mood tracker will reward patience, and help you understand if certain days of the week, seasons, or events or moments in your life are having a big effect on your mood and wellbeing.
If you feel like you've been stuck in a rut for a while, make it a priority to start tracking your mood over a longer period of time and see if you can identify any patterns or triggers.
Get it here
---
We all have good and bad days, and that's totally normal. But if you're feeling tired, anxious, and unproductive often, it's time to start taking back control of your emotions and wellbeing.
Tracking your mood will help you understand how and when you feel certain moods, and get a better idea of what is causing those switches in the mood. It could be what you're eating for lunch, the manic nature of Monday, or the weather in colder seasons.
Once you know what the cause is, you can then start to make changes in your life to help you avoid certain triggers, or know when you're going to feel a certain way and plan better for it.
You deserve to have more positive than negative days. Don't settle for days, weeks, or even months of poor mood that affects everything in your life. Start today with a small change, and soon enough you'll see the bigger picture.
You Might Also Like to Read
---
Need help tracking your mood? Keep these printables on-hand, ready for when you'd like to start tracking it every day, and save this article to one of your Pinterest boards.