This post may contain affiliate links, meaning if you book or buy something through one of these links, I may earn an affiliate commission at no additional cost to you. Learn more
Looking for advice and tips on creating the perfect picnic date? From location advice to food ideas to games and activities, the list of picnic date ideas below will inspire you and impress your date!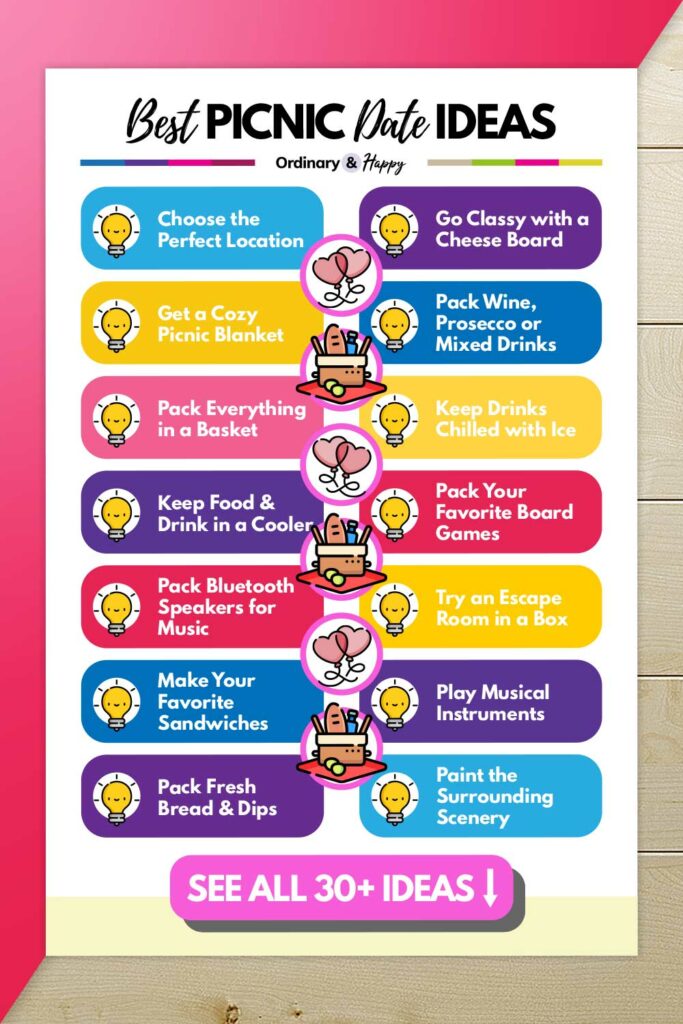 Picnic Date Ideas
In my opinion, creating the perfect picnic date involves four elements:
The Perfect Location
Picnic Set-Up & Essentials
Picnic Foods and Drinks
Fun Activities and Games
Picnic Location
Let's start by finding the perfect picnic location.
1. Beach
A beach picnic is my idea of the perfect relaxing date. It allows you to soak up the sun, play in the water, and watch a beautiful sunset at the end of the date.
2. Local Park
The local park is another good location for a picnic date. It likely has many shaded spots that would be perfect for setting up a blanket. It provides a taste of nature in a comfortable and familiar place, and the bonus is that you don't have to drive or walk too far to set up your picnic!
3. Botanical Garden
The botanical garden is a charming and romantic place to have a date (if they allow people to set up picnics). Check with your local botanical garden, and if you're lucky, you could be dining surrounded by colorful blooms and bird songs.
4. Rooftop
A rooftop picnic will provide you with panoramic views of the skyline. You could spend a lovely evening with your date admiring the city lights or watching the sun set in a blaze of colors.
5. By a Waterfall
If your date is into hiking and nature, a picnic by a waterfall would be magical! The waterfall would provide a memorable backdrop for your picnic.
6. Winery Picnic
Many wineries will offer a picnic package that generally includes a delightful spread of cheeses, meats, fruits, and freshly baked bread, all paired with a glass (or more) of exquisite wine. The best part about a winery picnic is that they'll set up everything for you! So, if you're busy and don't have much time for planning, this would be the ideal location for you!
7. Camping Site
Drive to a camping site and have a nice picnic, followed by some exploring and hiking. It's the perfect date for those who love the outdoors and want to soak in the tranquility of nature together!
Related: 40 Fun Camping Activities and Games
8. On a Boat
A boat picnic really elevates your date experience to a whole new dimension. You can rent a boat/yacht for a couple of hours, and often, they'll even set up the picnic for you! It's a luxurious date that's really worth experiencing!
9. Indoors
If you live in a rainy location or you think there's a chance it might rain, consider having an indoor picnic at home!
Set up your picnic blanket, picnic basket, and add some fairy lights to set a romantic mood. This picnic date will be remembered as the perfect rainy day activity!
10. Backyard
If you have a backyard at home, you could create your personal picnic paradise there. It should be pretty quick to set up and very comfortable as you have access to all the amenities of your home.
You could even set up an outdoor movie theater with a simple projector, a projector screen, and a Bluetooth speaker.
Picnic Set-Up & Essentials
11. Picnic Blanket
Check Price on Amazon
A blanket is the number one thing you should be packing for a picnic date. If you invest in a waterproof blanket, it will make your picnics so much more comfortable!
12. Picnic Basket
Check Price on Amazon
A picnic basket that includes plates, cutlery, and glasses for two will make going on picnic dates a breeze! You could go for a wicker-style basket (like the one pictured above) or a picnic backpack like this one. My favorite is the wicker basket, as it contributes to a more romantic atmosphere, but the backpack is certainly more practical!
13. Picnic Cooler
Check Price on Amazon
If you're bringing just a wine bottle or just a couple of drinks, a picnic basket or backpack should suffice. However, if you're packing more drinks and perhaps having a varied spread of foods, you might want to invest in a cooler as well. The cooler is particularly helpful if you're planning to take some ice with you (perfect for those warm summer evenings!)
14. Bluetooth Speakers
Check Price on Amazon
Curate the mood for the date by bringing a Bluetooth speaker along. You could play romantic songs or put on a laid-back and relaxed playlist or an upbeat track. The choice is yours!
15. More Picnic Essentials
While I've covered the four main things you should bring along to set up your picnic, there are additional ones you should consider (depending on your location), such as bug spray, sunscreen, and an extra sweater. I've covered more of these in my picnic essentials list.
Read more: Picnic Essentials You Need for the Perfect Picnic
---
Picnic Food Ideas
16. Sandwiches or Wraps
Check Price on Amazon
Sandwiches and wraps are the perfect picnic food: easy to make, versatile, and relatively mess-free.
You could create a variety of sandwiches to suit your date's preferences, from the classic ham and cheese to more gourmet choices such as smoked salmon, capers, and herb cream cheese.
You can use sandwich containers to pack them and keep them fresh, or you could wrap them in cling film/plastic wrap.
17. Fresh Bread
Pack a loaf of fresh bread and a variety of spreads and cheeses, pair everything with a drink, and you have all you need for a simple yet tasty picnic.
Spreads that will go well with fresh bread include hummus, guacamole, and this mozzarella, basil, and balsamic glaze topping.
18. Cut-Up Fruit & Veggies
A colorful selection of fruits and veggies is a great way to add savory or sweet but healthy flavors to your picnic spread. I personally love packing cubed watermelon, berries, apples, carrot sticks, and cherry tomatoes.
19. Cheese Board
Pair 3-4 cheeses such as Brie, Manchego, Gouda, and Smoked Cheddar with some cold cuts, olives, crackers, chutneys, and fresh fruit. It will be a delightful gastronomic experience.
20. Cold Salads
Salads are another great choice for your picnic date. Whether it's a Greek salad, tomato feta mint salad, or a Cobb Salad, these dishes can be prepared ahead of time and packed in some salad containers like these ones.
21. Chips and Dip
Chips and dip are a great choice if you're in a rush and looking for a laid-back, leisurely picnic. Get a variety of dips and at least a couple of different chips to go with them.
22. Wine/Prosecco or Mixed Drinks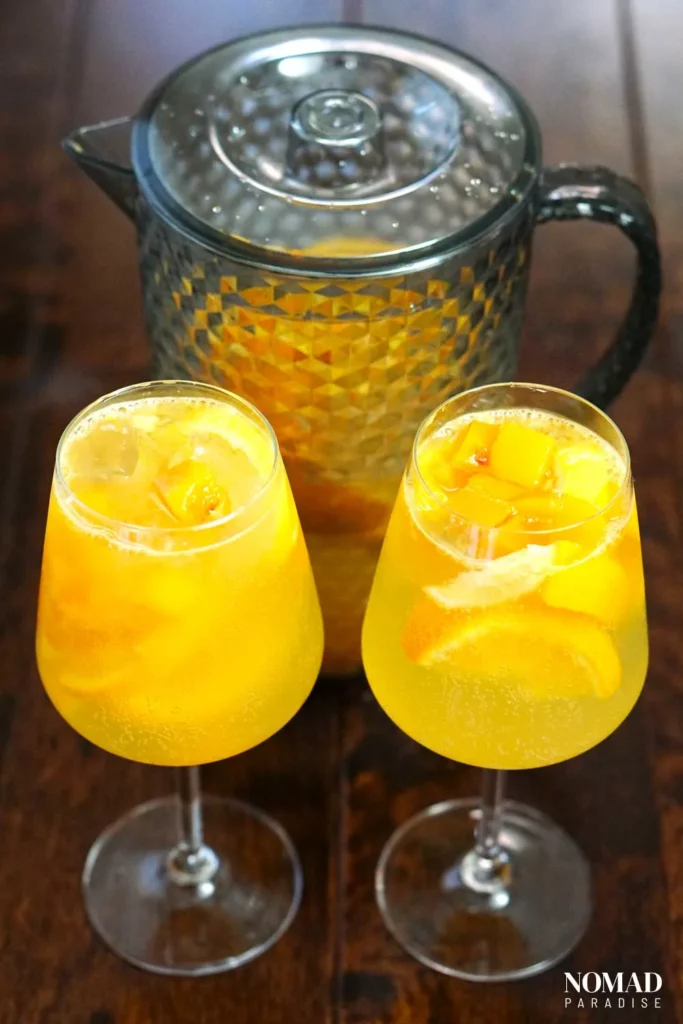 A bottle of your favorite wine will be a welcome addition to your picnic. If you really want to impress your date, you could also make a mixed drink like white wine sangria or clericot.
23. Sodas
Pack some sodas in a cooler with ice, and you'll have refreshingly cold beverages to go with your spread and quench your thirst.
24. Ice
Ice is essential for picnics during warm summer days or evenings.
25. More Picnic Food Ideas
If you're still looking for more ideas for picnic foods and drinks, I've covered over 100 of them in my list of 100+ Picnic Food Ideas You Will Love.
Picnic Games and Activities
26. Board Games
For a picnic date, nothing beats a good board game! Some good choices include Sequence, Chess, and Scrabble. For more ideas, check out my list of fun board games for couples.
27. Escape Room in a Box
Check Price on Amazon
Recreate the escape room experience while on your picnic with an escape room in a box. There are multiple versions out there – just make sure you get one suitable for 2 players!
28. Play an Instrument
If one or both of you play an instrument like the ukulele or guitar, bring it along for a musical interlude to your picnic.
29. Card Games
Taking up little space in your picnic backpack or basket and fun to play, card games are a great picnic activity.
Be it a classic game of Poker or a quirky modern card game, it will bring playful elements to your date.
30. Painting
If you both have an artistic inclination, bring along some canvases and paints, and recreate some of the surrounding scenery with your brushes.
31. More Activities
Other activities for your picnic date could include the following:
Playing frisbee.
Going on a nature walk or hike.
Watching the clouds float by.
Flying kites together.
Have an outdoor yoga or Pilates session.
Have a dance-off (if you're in an appropriate location).
Have a poetry reading session.
---
Plan your ideal picnic date with the ideas above and enjoy each other's company!
Whether sharing some laughs over a silly game or enjoying the flavors of the tasty picnic foods and drinks you packed, hopefully, your picnic date will bring you a perfect blend of romance and laid-back fun.
You Might Also Like to Read
Save this article to your Pinterest dating or relationship boards for later reference.