This post may contain affiliate links, meaning if you book or buy something through one of these links, I may earn an affiliate commission at no additional cost to you. Learn more
Give a new homeowner you're close to a thoughtful and creative gift with one of these housewarming gift ideas, and watch it bring a welcome sparkle to their humble abode instead of being stored away in a cupboard for the rest of eternity!
Housewarming Gifts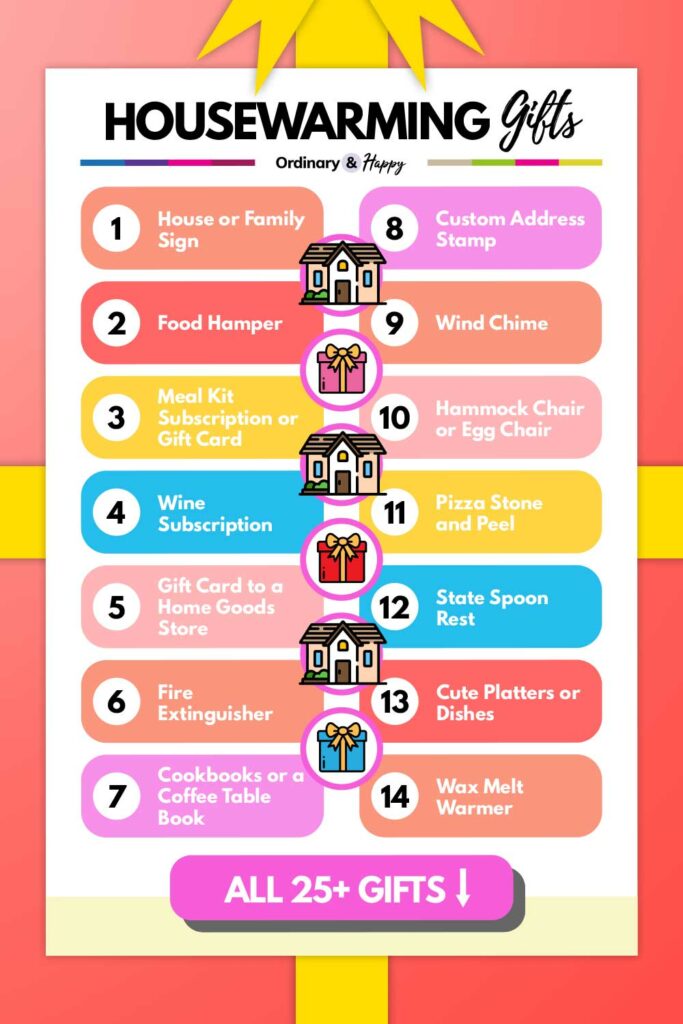 ---
Good Gifts
1. House/Family Sign
For a housewarming gift to give the new homeowners a unique keepsake, try a house or family sign.
This latitude longitude sign, for example, shows the exact corner of the world where the house is located in an attractive industrial-style sign. Not only will it set their house apart from others, but it looks great too!
2. Food Hamper
Check Price on Amazon
When somebody moves into a new house, what's the best way to spend the evening? For many of us, it's curled up in our new front room with some tasty food and a glass of something bubbly.
To make the new homeowners' night in their new house special, treat them to a food hamper full of tasty treats for the ultimate luxurious night in.
3. Meal Kit Subscription/Gift Card
We've all been there. You move into a new house, and between all the unpacking, painting, and decorating, there's barely any time to cook.
A meal subscription service like HelloFresh or Blue Apron removes the hassle by sending pre-weighed ingredients to your house along with a recipe for gourmet food with minimal fuss.
The best part? Since the ingredients are already weighed out, gone are the days of buying a spice for one recipe and never using it again. Housewarming gifts don't get much more thoughtful than this.
4. Wine Subscription
Is the new homeowner in your life a fan of wine? If so, they'll love a wine subscription like this one from Winc.
With bottles of a new tipple delivered to your door every week or month, the wine lover you know can enjoy a whole new palate experience. Plus, it saves them from having to go wine shopping as soon as they move in. Win-win!
---
Practical and Useful Gifts
5. Gift Card to a Home Goods Store
When somebody moves into a new property, they've likely already spent quite a bit of money on deposits, admin, fees, and decorating. It's easy to move in and then realize you've forgotten to put aside money for a new couch!
With this in mind, one of the most useful gifts you can buy for a housewarming party is a gift card to a home goods store like Ikea, Home Depot, Lowe's, or Target. That way, you can help the new homeowner(s) financially, and you won't accidentally buy them a gift they don't want.
6. Fire Extinguisher
Check Price on Amazon
Accidents happening in the home is a thought we don't want to entertain, but unfortunately, it does happen. A practical, thoughtful gift to buy anybody moving into a new home is a fire extinguisher, to keep them safe on the rare occasion they need it.
7. Cookbooks or a Coffee Table Book
Check Price on Amazon
Is the homeowner you're buying for a budding chef (or do they like to pretend they are with cookbooks strewn all over the kitchen)? If so, treat them to one of the many iconic hardback cookbooks featuring recipes from around the world.
My personal favorites include the Joy of Cooking, Jerusalem, The Food Lab, and Mastering the Art of French Cooking.
Not only will they learn new recipes, but the book will also look great on the coffee table. Just make sure you get an invite for dinner with their newfound cooking skills!
---
Unique Gifts
8. Custom Address Stamp
Check Price on Amazon
If you know somebody who appreciates the beauty of the written word, treat them to a custom address stamp so that they can stamp all their elegantly written letters and cards with their return address in attractive graphics.
9. Wind Chime
Check Price on Amazon
The sound of a windchime is one that so many of us adore, so why not treat the homeowner in your life to one of these delightful accessories?
It looks great, sounds even better, and is a truly unique gift idea – so it's unlikely you'll have doubled up with another guest!
10. Hammock Chair or Egg Chair
Check Price on Amazon
One of the quirkiest gifts you can buy somebody who's just moved into a new house? A funky chair! Whether it's a 90's style egg chair or a cool hammock chair, they'll appreciate this quirky addition to their new home – plus, it saves them money on furniture.
11. Pizza Stone and Peel
Check Price on Amazon
If the lucky recipient of your gift is a pizza lover (let's face it, who isn't?), treat them to a pizza stone and peel so that they can cook their own authentic Naples-style pizza.
Just make sure you get an invite to the new pizza party to sample the goods!
12. State Spoon Rest
We've all been there. You're cooking a delicious meal, stirring the ingredients in your frying pan, then you need to grab something from another room, but where do you put your spoon?!
Make sure the lucky recipient of your gift never has this problem again with a spoon rest in the shape of their home state. Not only do they give your spoon somewhere to go, but they also make an attractive addition to any kitchen. Win-win!
---
Cute Gifts
13. Cute Platters or Dishes
Check Price on Amazon
If the housewarming gift recipient is a fan of hosting, they'll appreciate some cute, patterned platters or dishes to be the centerpiece at their next party.
Not only do the dishes look great, but they're super practical, too, allowing you to serve up all manner of party food, from crisps to salad.
14. Wax Melt Warmer
Check Price on Amazon
There's nothing more comforting than arriving home after a stressful day at work to the smell of a scented candle.
Give the gift of relaxation to the new homeowner in your life with a quirky candle warmer, which melts wax melts to spread a mood-boosting fragrance around any room.
15. Cheese and Tapas Board
For the person who just loves hosting dinner parties, a cheese and tapas board is the perfect gift. Complete with compartments for knives and a variety of food, this swivel cheese board is sure to impress any guests at a cheese and wine party, while offering a genuinely practical way to serve up food.
You won't brie-lieve how useful this tapas board is (pun intended)!
16. Soap Set
Soaps make a fragrant and practical addition to any bathroom or kitchen, and they can be more environmentally friendly than shower gels that are packaged in plastic.
For the scent lover in your life, opt for a set of soaps with various fragrances that can spruce up their shower routine while also making an attractive addition to the room.
17. Spice Kit
Check Price on Amazon
Sometimes cooking can seem like a hassle when you don't have all the ingredients. Plus, there's the risk of buying spices for a particular recipe that you'll never use again, creating unnecessary food waste.
Solve those problems for the recipient of your housewarming gift by buying them a spice kit, which they can use to create a recipe, enjoying restaurant-quality food from the comfort of their own kitchen.
---
Inexpensive Gifts
18. Cool Tea Towel/Kitchen Towel
Tea towels don't have to just be practical – they can look great too. If you're searching for a gift on a budget, look no further than a set of unique tea towels or kitchen towels like this chilli peppers of the world dish towel.
They'll not only help with washing up and cleaning, but they'll also look great on any kitchen counter.
19. Coasters
Check Price on Amazon
When buying essentials for a new house, it's easy to spend your entire budget on large pieces and forget about the smaller details. That's where you come in.
Bringing coasters to a housewarming party is an inexpensive way to treat the host(s) to something they may not have thought of, that's practical and also looks great.
20. Low-Maintenance Plant
Check Price on Amazon
No budding plant parent wants the stress of looking after a hard-to-manage plant, so why not treat them instead to a low-maintenance plant? That way, they can enjoy a touch of greenery in their new home without worrying about constant watering or sunlight.
21. Bottle of Wine
Housewarming gifts don't have to be homeware! If the host of the party is a wine lover, you can't go wrong with a simple bottle of fancy wine they can enjoy during evenings in their new home.
---
Luxury Gifts
22. Nice Countertop Appliance
Check Price on Amazon
If you have a generous budget to spend on your housewarming gift, opt for a fancy countertop appliance such as an espresso maker, kitchen aid, or this powerful Vitamix blender. Not only will it look amazing on their kitchen counter, but it's also super practical.
In the midst of buying sofas, wardrobes, and other useful furniture, many new homeowners forget about the smaller treats, so it's a great way to save somebody an expense while buying them something they can really make the most of.
23. Robot Vacuum Cleaner
Check Price on Amazon
Cleaning is (unfortunately) a crucial part of owning a home, and there are few more expensive cleaning accessories than vacuum cleaners.
Save your loved one a huge expense and treat them to something practical with a good-quality vacuum cleaner.
Vacuum cleaners like Roombas vacuum by themselves with no need for human input, so a 'robot' cleaner like this can be even more useful if the lucky recipient is not a cleaning lover.
24. Cordless Stick Vacuum Cleaner
Check Price on Amazon
Dyson is well-known as one of the most effective vacuum cleaner brands available, so if you have the budget for it, the new homeowner will be incredibly grateful for a vacuum cleaner from this impressive brand, such as the Dyson Cyclone.
The Cyclone is lightweight, meaning it can be tucked away conveniently in corners of the house, and its cordless credentials mean no more tripping up the cat with a long wire winding around the house! It's the perfect luxurious but practical housewarming gift.
25. Good Cookware
Check Price on Amazon
Decent cookware can genuinely improve your food. If the person you're buying for is a whizz in the kitchen, they'll be eternally grateful for a luxury set of cookware, such as a cast iron set from the iconic Le Creuset.
26. Aerogarden
Check Price on Amazon
If you're buying for a plant lover who loves luxury, they'll adore an indoor herb garden, complete with grow lights. Not only does this look amazing, but it also allows you to grow herbs that are usually reserved for outdoors indoors instead.
Take homemade pizzas to a whole new level with fresh basil, or jazz up your curries with homemade coriander – anything's possible with this luxury indoor herb garden.
---
Funny Gifts
27. Big Pack of Toilet Paper or Paper Towels
For a gift that's funny but genuinely practical, too, treat the housewarming party's host to a huge pack of toilet paper or paper towels. Bonus points if they come complete with a funny phrase or logo!
The best part? They'll have a fully stocked set of toilet rolls for the party!
28. Magnetic Beer Bottle Opener
Check Price on Amazon
For the beer lover in your life, there's no better gift than a handy magnetic beer bottle opener. It's a super practical gift that you can mount on your wall for effortless bottle opening any time – and it looks pretty cool too!
29. Funny Doormat
Check Price on Amazon
If the housewarming party host has a good sense of humor, they'll love a funny doormat. With a comedy doormat, guests will have a laugh before they even enter your door – the perfect talking point for any dinner party!
---
Housewarming gifts don't have to be cliche or novelty, and very quickly end up hidden away in the cupboards or stored away taking up valuable space.
With a little thought and creativity, you can gift a close friend or family member who's a new homeowner something that adds a touch of class, fun, or practicality to their home. Get inspired, get shopping, and get gifting for their new home!
You Might Also Like to Read
Looking for a fun and thoughtful gift for a new homeowner? Keep this article on hand for inspiration by saving it to one of your gift idea Pinterest boards.