This post may contain affiliate links, meaning if you book or buy something through one of these links, I may earn an affiliate commission at no additional cost to you. Learn more
Plan a season of fun, thrills, and magic with our super fun winter bucket list, loaded with 100+ ideas to make the most of winter, no matter how cold the weather is!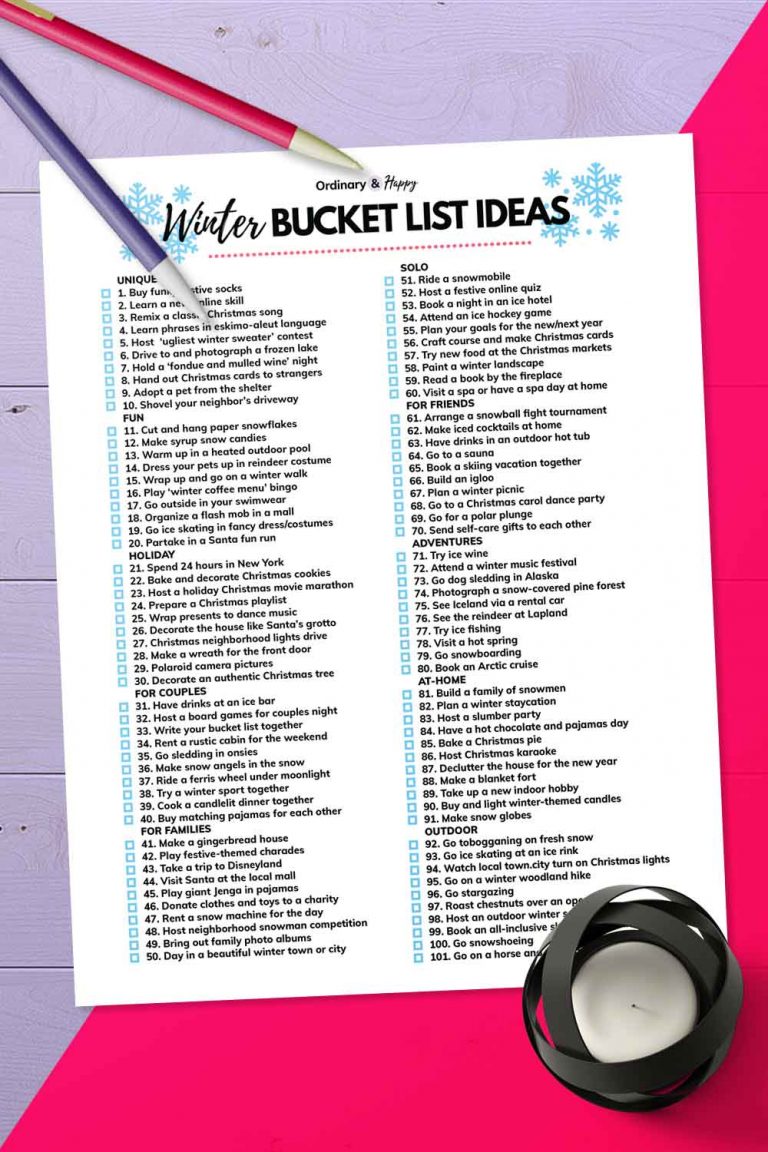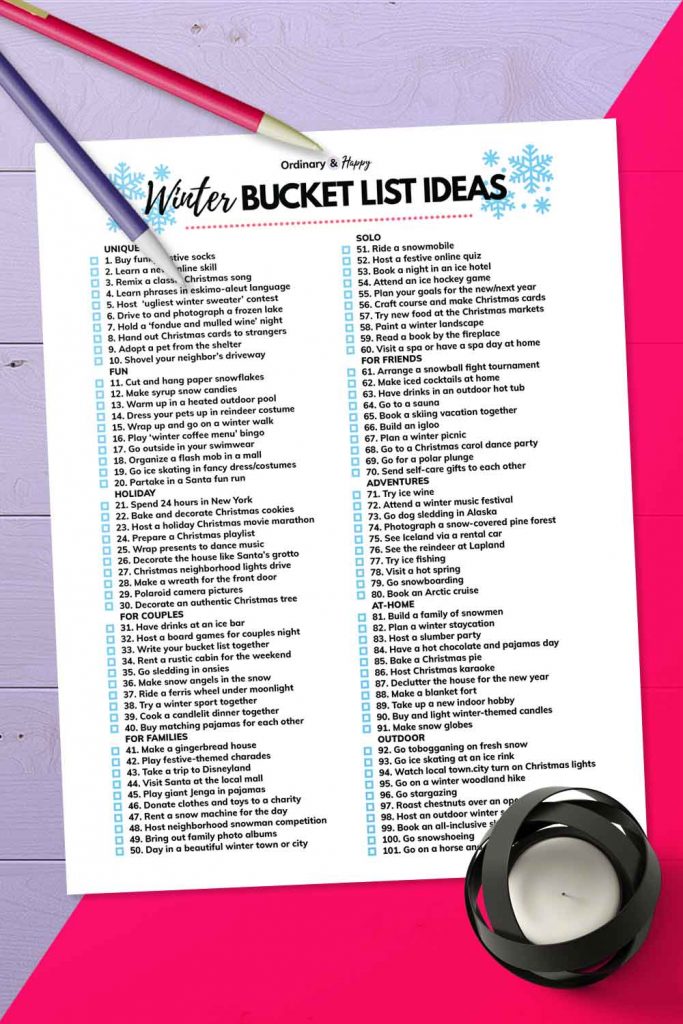 Winter Bucket List
Winter is a beautiful time, even if you're more of a hot-weather person. Be it indoors, outdoors, with friends and loved ones, or on your own, there's so much to do in this season of wonder.
If you'd like to download this bucket list and challenge yourself to do as much as you can this winter, scroll to the end of this article. You can download it as a PDF and print it off at home. Get busy, and get ticking those boxes!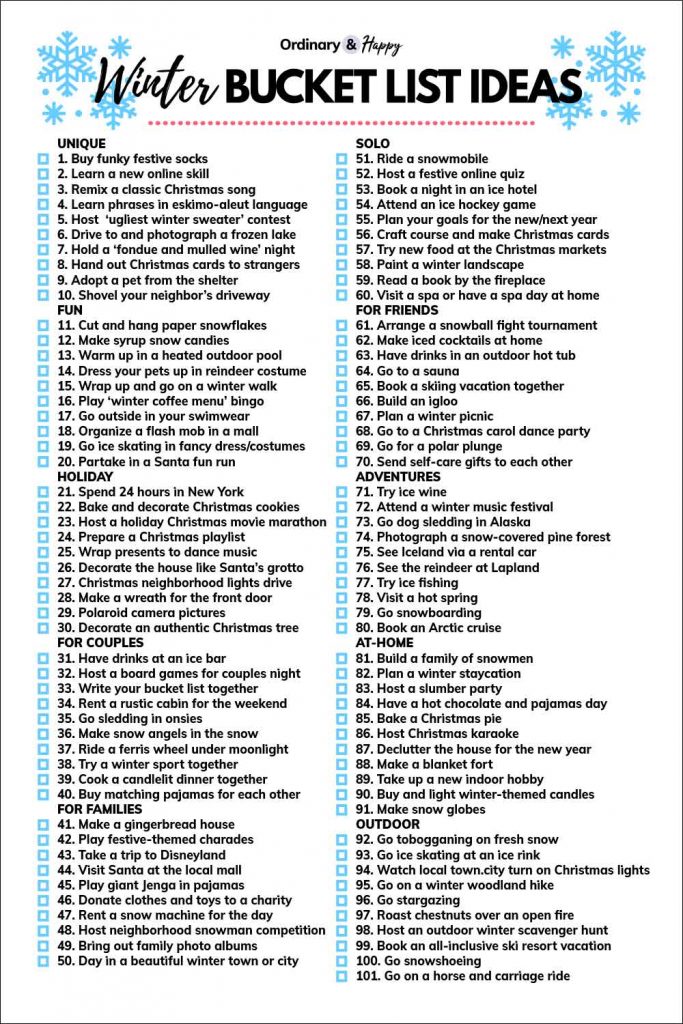 ---
Unique
Make winter an unforgettable one with some of these truly unique and original ideas, and be sure to push the boat out and try new things.
1. Buy funky festive socks
3. Get DJ software and remix a classic Christmas song
4. Learn phrases in eskimo-aleut language
5. Host an 'ugliest winter sweater' online contest
6. Drive to and photograph a frozen lake
7. Hold a 'fondue and mulled wine' night
8. Write and hand out Christmas cards to strangers
9. Adopt a pet from the shelter
10. Shovel your neighbor's driveway
---
Fun
Delve into plenty of afternoons, evenings, and weekends filled with fun, laughs, and games with these winter bucket list ideas, ideal for you, friends, and loved ones to try.
11. Cut and hang paper snowflakes
12. Make syrup snow candies
13. Warm up in a heated outdoor pool
14. Dress your pets up in reindeer costume
15. Wrap up and go on a winter walk
17. Go outside in your swimwear
18. Organize a flash mob in a mall
19. Go ice skating in fancy dress/costumes
20. Partake in a Santa fun run
---
Holiday
Embrace the magic of the holiday season and get into the festive spirit by giving some of these winter holiday bucket list ideas a spin.
21. Spend 24 hours in New York
23. Host a holiday Christmas movie marathon
24. Prepare a Christmas playlist
25. Wrap presents while listening to dance music
26. Decorate the house like Santa's grotto
27. Drive around and rank the Christmas neighborhood lights
28. Make a wreath for the front door
29. Take pictures with a Polaroid camera and hang them in the living room
30. Buy and decorate an authentic Christmas tree
---
For Couples
Up the festive romance factor to 'rom-com' levels with some of these amazing and fun things to do with your partner throughout winter.
31. Have drinks at an ice bar
33. Write your bucket list together
34. Rent a rustic cabin for the weekend
35. Go sledding in onsies
36. Make snow angels in the snow
37. Ride a Ferris wheel under the moonlight
38. Try a winter sport together
39. Cook a candlelit dinner together
40. Buy matching pajamas for each other
---
For Families
Get your partner and kids involved in the winter fun, and plan some of these great ideas for the whole family to enjoy.
41. Make a gingerbread house
42. Play festive-themed charades
43. Take a trip to Disneyland
44. Visit Santa at the local mall
45. Play giant Jenga in pajamas
46. Donate clothes and toys to a charity
47. Rent a snow machine for the day
48. Host a neighborhood snowman competition
49. Bring out family photo albums and reminisce
50. Spend a day in a beautiful winter town or city
---
Solo
Don't settle for months of quiet indoor activity if you're spending winter alone, and instead give some of these awesome solo ideas a try.
51. Ride a snowmobile
52. Host a festive online quiz
53. Book a night in an ice hotel
54. Attend an ice hockey game
55. Plan your goals for the new/next year
56. Attend a craft course and make Christmas cards
57. Try new food at the Christmas markets
58. Paint a winter landscape
59. Read a book by the fireplace
---
With Friends
Make some wonderful winter memories with your best friends courtesy of some of these super fun winter activities you can all do together.
61. Arrange a snowball fight tournament
62. Make iced cocktails at home
63. Have drinks in an outdoor hot tub
64. Go to a sauna
65. Book a skiing vacation together
66. Build an igloo
67. Plan a winter picnic
68. Go to a Christmas carol dance party
69. Go for a polar plunge
Related: Girls Night In and Girls Night Out Ideas
---
Adventurous
Wrap up warm and embrace the beauty of the winter weather by venturing out and going on an adventure (or several), and be sure to take plenty of photos along the way.
71. Try ice wine
72. Attend a winter music festival
73. Go dog sledding in Alaska
74. Photograph a snow-covered pine forest
75. See Iceland via a rental car
76. See the reindeer at Lapland
77. Try ice fishing
78. Visit a hot spring
79. Go snowboarding
80. Book an Arctic cruise
---
At Home
Naturally, when the weather is cold, you're going to have plenty of evenings and weekends indoors. Keep things fun, interesting, and exciting with some of these great at-home winter activities.
81. Build a family of snowmen
84. Have a hot chocolate and pajamas day
85. Bake a Christmas pie
86. Host Christmas karaoke
87. Declutter the house for the new year
88. Make a blanket fort
90. Buy and light winter-themed candles
91. Make snow globes
---
Outdoors
Don't let the cold weather stop you from enjoying the great outdoors, and instead, wrap up warm and venture out, giving some (or all) of these outdoor activities a try.
92. Go tobogganing on fresh snow
93. Go ice skating at an ice rink
94. Watch your local town or city turn on Christmas lights
95. Go on a winter woodland hike
96. Go stargazing
97. Roast chestnuts over an open fire
98. Host an outdoor winter scavenger hunt
99. Book an all-inclusive ski resort vacation
100. Go snowshoeing
101. Go on a horse and carriage ride
---
More Winter Bucket List Ideas
The fun never stops when it comes to the magic and splendor of the winter season. If you're still looking for fun, creative, and exciting ideas, dive beyond our initial 100 ideas and see if anyone else takes your fancy on this list:
102. Make a snow angel in fresh snowfall and photograph it
103. Host a game night in a cozy cabin retreat with family and friends
104. Knit a cozy blanket for a friend or loved one
105. Build a snow fort
106. Catch snowflakes in your hand
107. Take a polar bear plunge in freezing cold water (if safe to do so)
108. Enjoy a hot tea or hot cocoa with a view of the freshly fallen snow
109. Make snowman pancakes
110. Carry out a random act of kindness for a stranger on Christmas Eve
111. Enjoy a spa day and indoor pool swim at a local spa on a cold winter day
112. Have an art and crafts day and make holiday cards for friends and family
113. Take a winter-themed cooking class or baking class with a friend or loved one
114. Organize a sleigh ride for date night
115. Take part in a daily photography challenge through the winter months
---
Excited about this winter? Feel free to download our fun winter bucket list ideas checklist and check off as many as you can!
Let the magic of winter into your life. Our list of over 100 ideas is ideal for planning things to do that you, your loved ones, and those around you will love. Plus, you can use our free winter bucket list printable to track all the awesome things you do.
Be you an indoorsy person, a thrill-seeker, or a family looking for fun and adventure, get inspired with these fun and cool ideas. Winter will never be boring again!
You Might Also Like to Read:
---
Keep our winter bucket list ideas ready for the winter season, by saving this article to one of your Pinterest boards.