This post may contain affiliate links, meaning if you book or buy something through one of these links, I may earn an affiliate commission at no additional cost to you. Learn more
Planning your meals in advance goes a long way to helping you improve your health and well-being. A meal planner printable is a simple and amazing way to do this.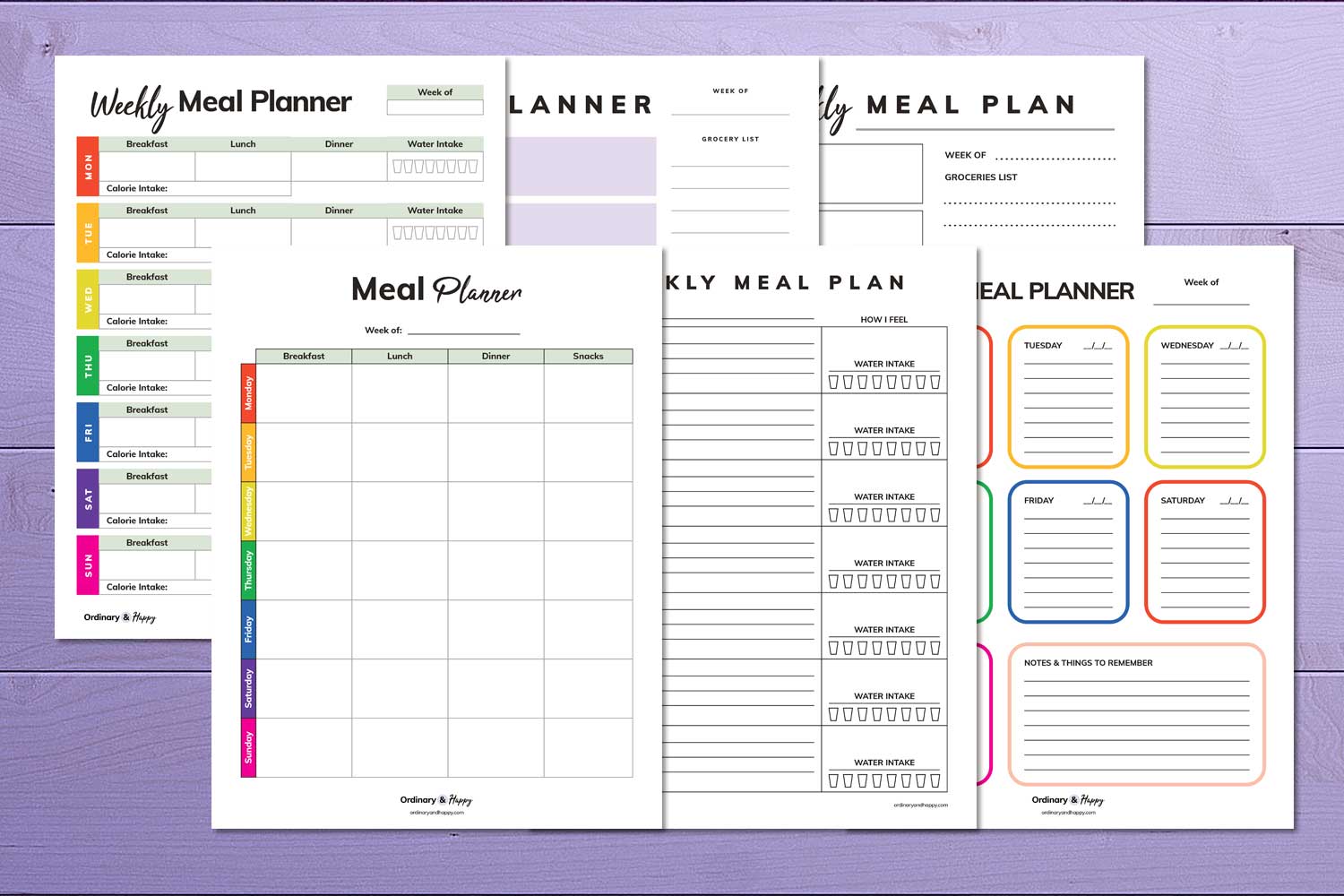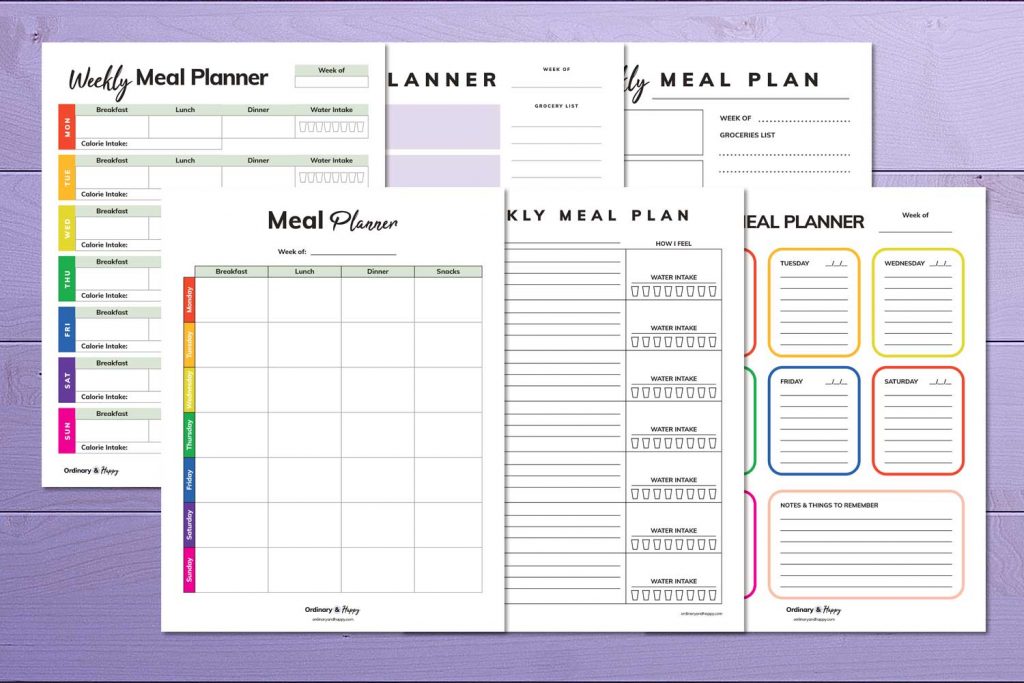 There are plenty of benefits to planning your meals. By planning in advance, you free up other time in the week to do other things.
Meal planning also encourages healthier eating. It helps stop those last-minute 'I'll just put a pizza in the oven' moments when you're tired and hungry.
By planning your meals, it's also much easier to stay on track with your weight loss or fitness goals.
And, by not spending money on takeaways and convenience meals, you can save thousands of dollars every year.
While there are plenty of apps that can help you track meals and plan, for many of us nothing beats writing down meals, plans, and goals on paper.
This is where weekly meal planner printables can be the difference between you sticking to a healthier eating plan or losing track within days.
These six weekly meal planner printables will help you plan meals each week in advance. They are simple to use and easy to print.
And best of all, you can get one or more printable meal planner straight away. This means you can start your meal planning today, and instantly begin working toward a happier and healthier life.
Meal Planner Printables You Can Get Today
1. Free Simple Grid Weekly Meal Planner
This simple grid weekly meal planner can easily be pinned to your notice board or stuck to your fridge for family or personal use.
Each day is segmented using a different color of the rainbow. You can also track your meals for breakfast, lunch, and dinner, as well as snacks.
The grid segments give you plenty of room to add ingredients for each meal. You could also add other information, such as calories or mood.
This colorful, beautiful, and simple meal planner gives you a great structure to work with while giving you plenty of space to add notes the way you like to.
Get it here
2. Calories and Water Intake Weekly Meal Planner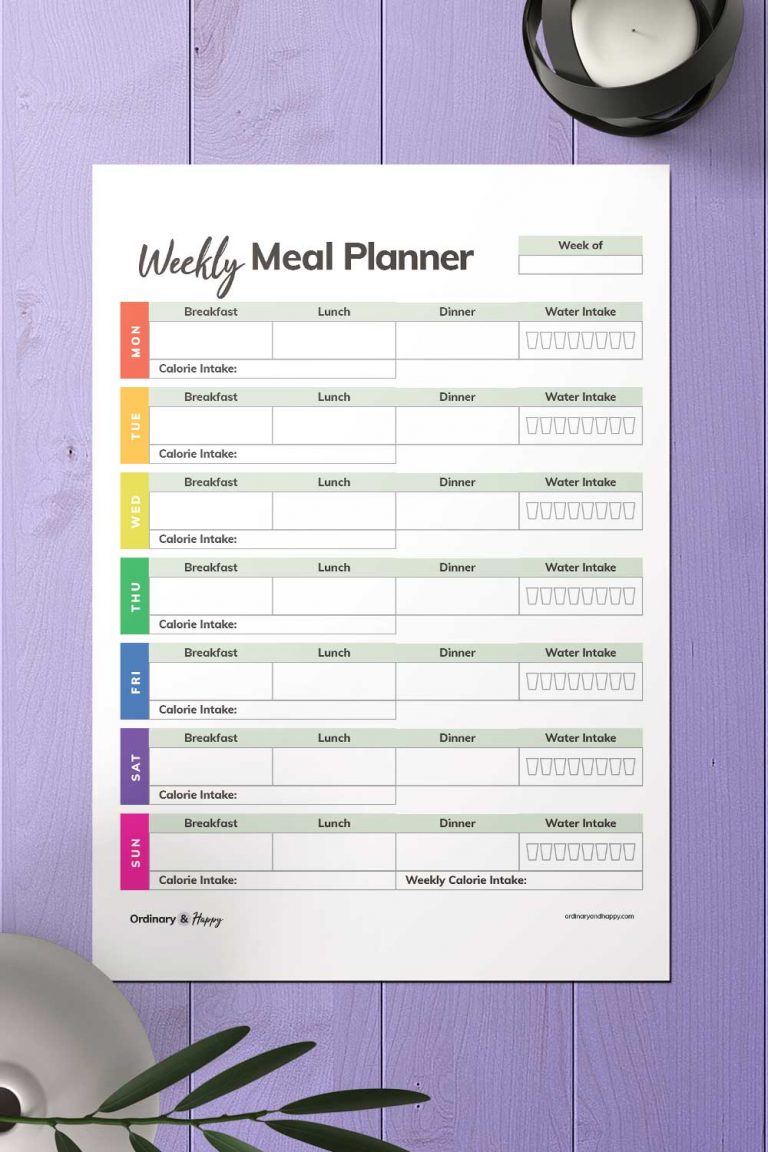 This rainbow-colored weekly meal planner template is great if you want to track other things alongside your meals.
Each day of the week has been assigned a vibrant color of the rainbow. You can add in the week at the top, and write in your meals for breakfast, lunch, and dinner.
This weekly meal plan allows you to track both calories consumed and your water intake. Your aim should be 8 glasses of water every day. Each time you drink a glass, mark one-off.
At the end of the week, you have space to tot up your total calory consumption. This weekly meal planner is ideal for anyone who is trying to lose weight, or track water consumption as well as meals.
Get it here
3. Weekly Meal Planner with Groceries List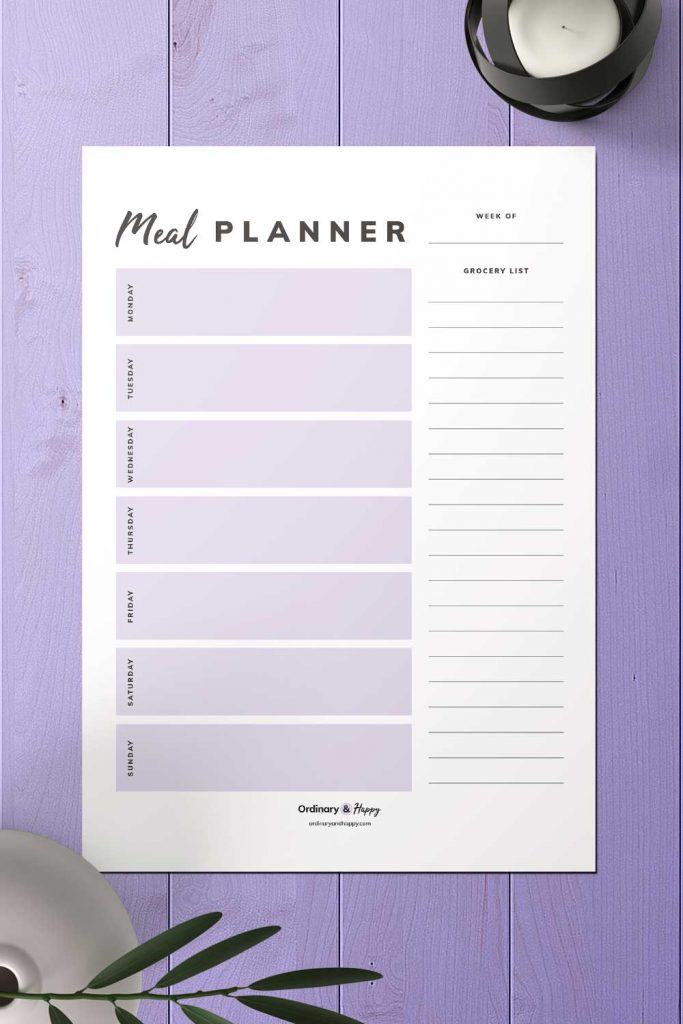 This simple and elegant weekly meal planner is great for anyone who likes to plan both their meals and shopping lists at the same time.
The lilac segments give you plenty of space to write in your meals for the day. As you're planning your meals, you can create your shopping list as you go, using the groceries segment.
This is a simple way to plan your meals, while being able to create one shopping list that covers all your meals.
Get it here
4. Rainbow-Colored Weekly Meal Planner with Water and Mood Tracker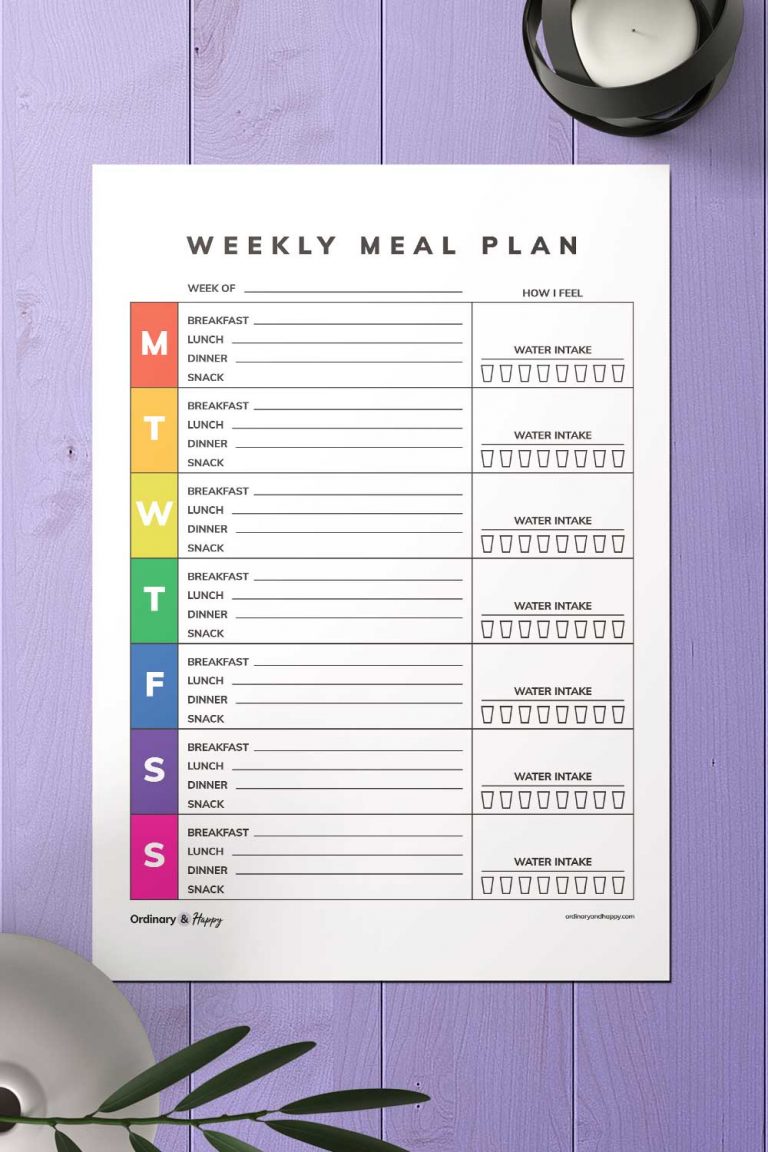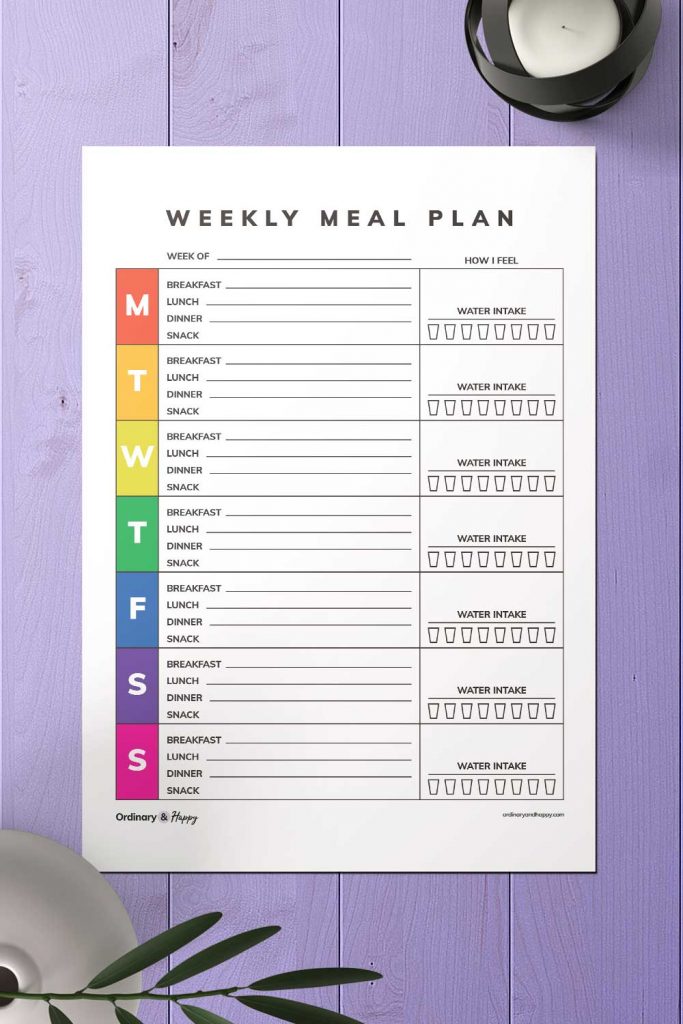 A great meal planner for anyone that likes plenty of structure and writing notes, rather than long sentences.
The rainbow-colored segments clearly mark each day of the week. In each, you can first write down your planned meals for breakfast, lunch, dinner, and any snacks.
At the end of each day, you can do a little self-assessment. You can mark off your water intake, and write down your mood and feelings.
This is a great meal planning printable if you like to track things through simple notes, diagrams, and color-coding.
Get it here
5. Diary-Style Weekly Meal Planner
Love tracking everything in your diary? Then this meal planner could be ideal for you. Each day of the week is designed like a page in a diary.
With this printable, you can write freely, or in bullet-point form. You can track each day by date, and input your meals and other information as you like.
There is also a large notes section for you to use. You could use this to journal feelings, calorie intake, or even divide it and use it as a shopping list.
If you love to diary and journal and don't like too much structure, this is a great meal planner to try.
Get it here
6. Simple Weekly Meal Planner with Groceries List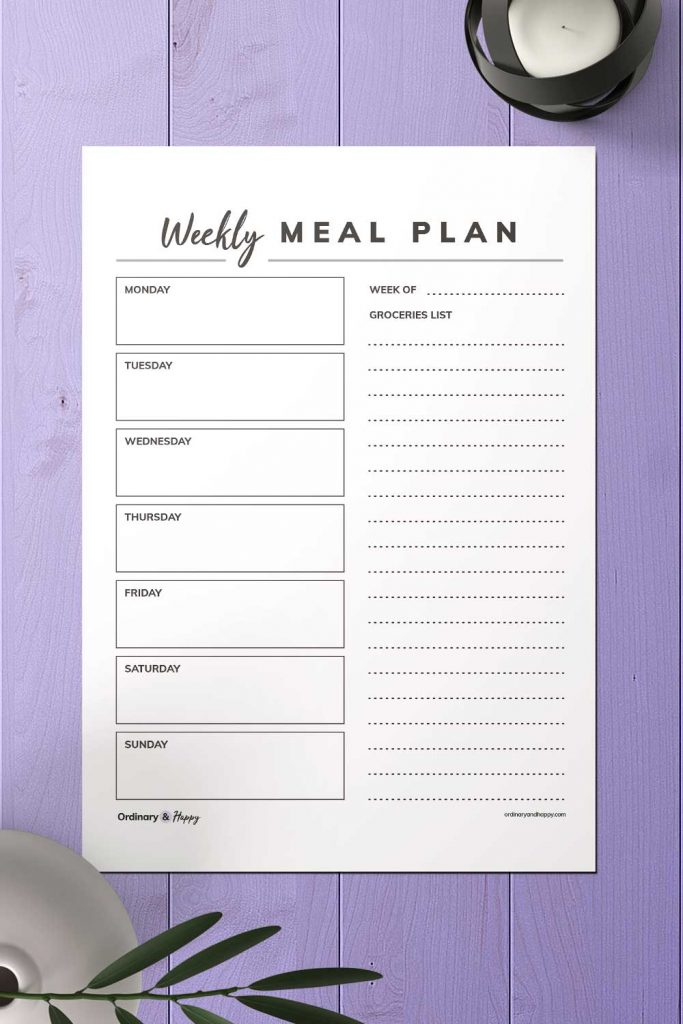 This meal planner gives you the space and freedom to write or journal as you would in a diary. However, you can also write down your weekly groceries list using the lined section.
It is a simple, black and white printable. That way, you can decorate and color it in any way you like.
This meal planner printable is ideal for anyone who wants a simple structure, but also a place to plan their groceries list along with their chosen meals for the week.
Get it here
---
How to make the meal planner printer reusable
If you don't want to print out a meal planner template every week, there are a couple of things you could do to save money, time, and the environment.
The first is laminating the printable with a wipeable laminate. That way, you can add your meals and notes throughout the week, then wipe them away on Sunday and start again.
Or, you could place the printable inside a clear file or sheet. With a wipeable marker, you can add your notes to the sheet, then wipe it down at the end of the week.
---
Meal Planner Printable Summary
Meal planner printables are an excellent way to plan your meals. Meal planning is a good habit to build, no matter what your goals are.
These 6 weekly meal planner printables can help kickstart your journey to a happier, healthier you.
They are easy to use and print, and they can be pinned, hung, or added to your organizational binder. They can help you stay organized and plan ahead for the entire week or month, depending on how you like to structure your week.
Use them in whatever way you like. And use them to help you get more time back, eat healthier, and keep on track with your health and fitness goals.
A healthy lifestyle where both you and your family can benefit is just around the corner when you start using weekly meal planners and meal plan templates. Welcome to a world of meal plans and healthy recipes to help improve your life for the better!
---
Pin this article to one of your life organization Pinterest boards for safe keeping, and remember to download your free meal planner printable today!