This post may contain affiliate links, meaning if you book or buy something through one of these links, I may earn an affiliate commission at no additional cost to you. Learn more
Plan a magical and memorable date that the two of you will love with the help of our ultimate date ideas list, with over 210+ date ideas for all occasions!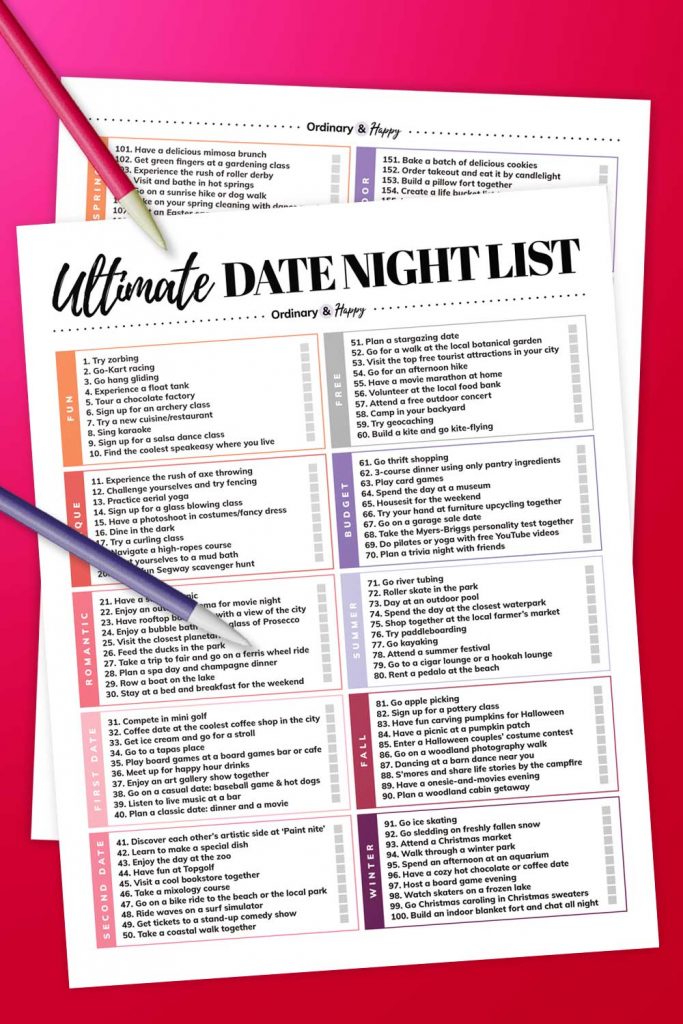 What's the best way to spend a date? The answer is up for debate. Some people prefer an outdoor activity while others might enjoy dinner and a movie. But one thing that most people agree on is that it's important to have fun!
I've compiled 210+ date ideas that will make up the only date night list you'll ever need. I've also grouped them into categories so feel free to jump around to the category you're interested in or scroll through the entire article.
And at the end, you'll get a special treat: a professionally designed free PDF checklist with all these date ideas!
210+ Date Ideas (The Ultimate List)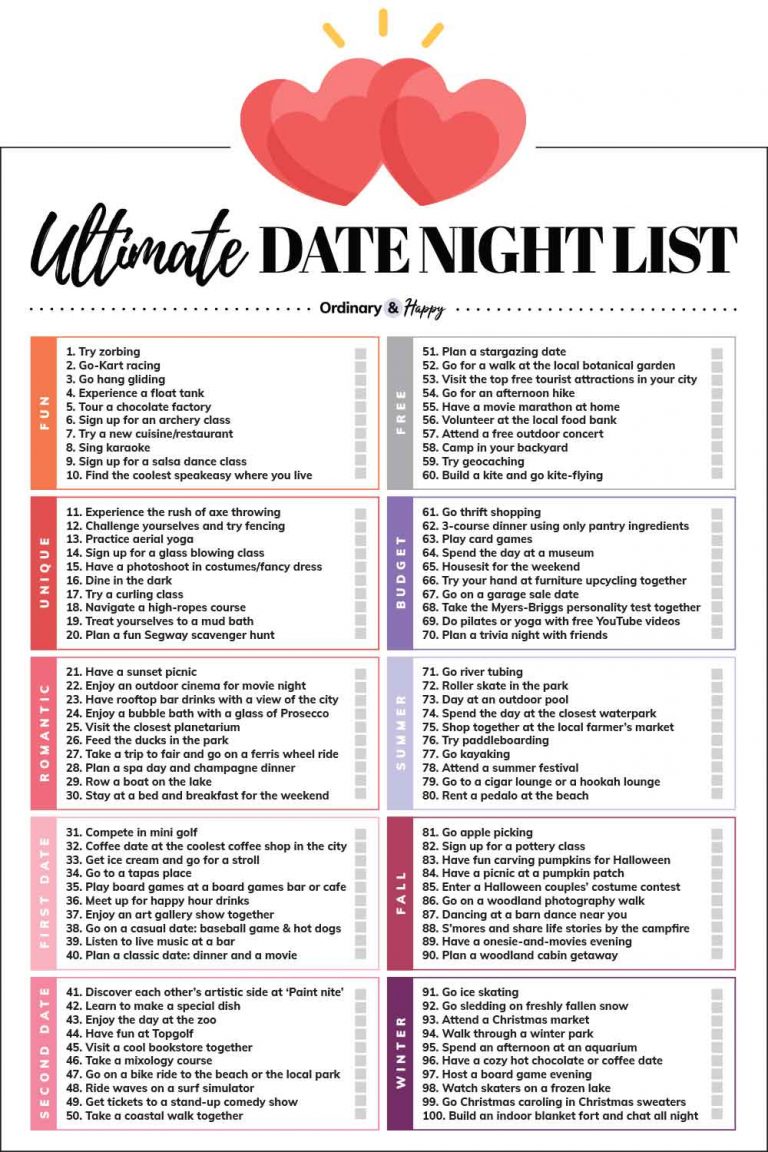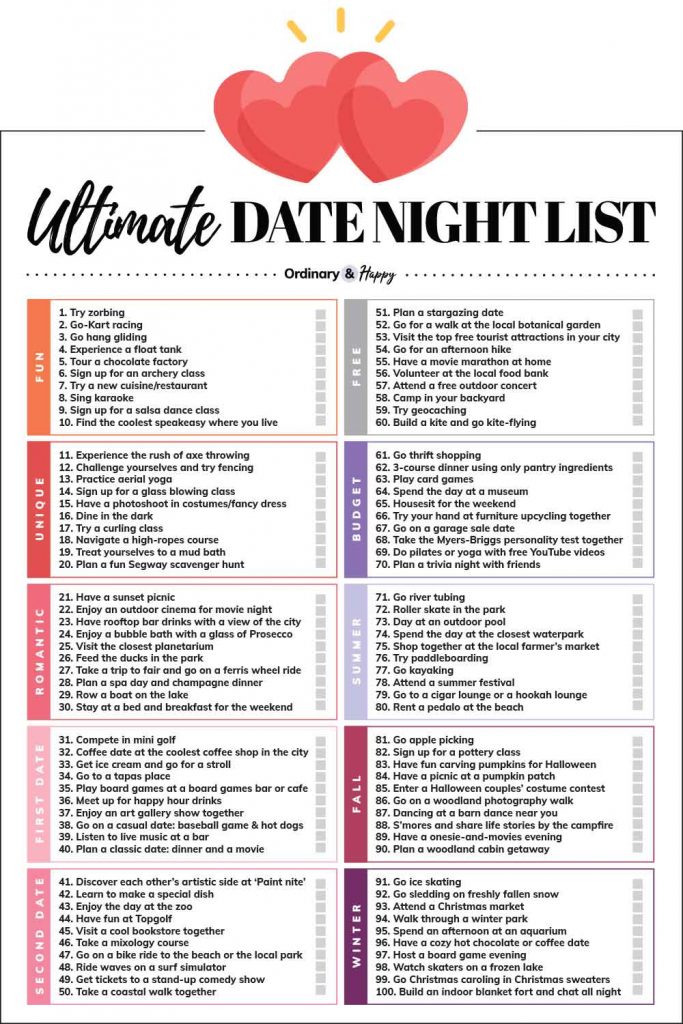 ---
Want a go on a date full of laughs, joy, and adventure? Dates don't have to be a serious face-to-face affair.
These date ideas are great activities to do together and take the pressure off from you having to talk all the time.
1. Try Zorbing
Zorbing is pretty much what it sounds like, a giant bubble rolling down a hill. It's fun and exciting, plus you get to see how your date reacts in an unusual situation!
2. Go-Kart Racing
Go-Karting is a date idea that allows you to have fun and get competitive. Tear around a track, try to win the race, and have so much fun with your date in the process.
3. Go Hang Gliding
Hang gliding is a rush you both never knew you needed! This amazing activity will give you a new perspective of your surroundings and show you things you may have never seen before.
4. Experience a Float Tank
A date that allows for a relaxed environment is floating in a float tank. Take your senses to a place of blissful relaxation, and enjoy escaping the noise and bustle of everyday life.
5. Tour a Chocolate Factory
A chocolate factory tour is an exciting date that's sure to delight most partners. Learn all about the chocolate-making process, and indulge in plenty of free chocolate along the way!
6. Sign up for an Archery Class
An archery class is a date idea that is unique and adventurous. Learn how to shoot arrows from an expert and experience the rush of hitting that first bullseye.
7. Try a New Cuisine or Restaurant
Trying a new cuisine and trying out restaurants you've never been to before are both excellent date ideas. If you live in a major city, you'll likely find many exciting restaurants featuring cuisines from all around the world.
Or, you can also download a globally-inspired recipe and buy the ingredients at the grocery store to learn how to make it together at home.
8. Sing Karaoke
If you're both good singers, show off your pipes. If not, it's still fun to belt out some upbeat tunes! Karaoke is fun, goofy, and a great way to feel comfortable around each other.
9. Sign up for a Salsa Dance Class
Join your date at a salsa dancing class and get in touch with your inner dancer. Have fun making mistakes together!
10. Find the Coolest Speakeasy Where You Live
If you want to experience something new and exciting together, find an off-the-beaten-path speakeasy. Dress up, order some fancy cocktails, and enjoy each other's company over candlelight.
---
Creative & Unique
Tired of going on conventional dates? These creative date ideas can open both of you to new experiences and activities and create some awesome memories while you're at it.
11. Experience the Rush of Axe Throwing
An axe-throwing date is something quite different from the "dinner and a movie" norm. It will be an activity you can cross off your bucket list and share the experience with your date or partner.
12. Challenge Yourselves and Try Fencing
Fencing is fun, fast, and a real challenge. Imagine you're both warriors in a land of times gone by and enjoy trying a brand-new sport.
13. Practice Aerial Yoga
Is yoga a little too passive and uneventful for you both? Aerial yoga really takes things up a notch. The thrill of hanging and twirling in the air is magnificent, and it can be very intimate doing it together.
14. Sign Up for a Glass-Blowing Class
Here's one for you, creatives! Unique and challenging, glass-blowing promises plenty of intrigue, laughs, and potentially some amazing glassware at the end of it all. There's one present on your Christmas list sorted!
15. Have a Photoshoot in Costumes
Nothing says goofy quite like dressing up in outrageous costumes and pulling faces and poses. Photoshoots are heaps of fun and a great way to relax around each other.
16. Dine in the Dark
Want to put a whole new spin on a romantic dinner? Dining in the dark is a truly sensual experience and perfect for intrigued minds and passionate foodies.
17. Try a Curling Class
Watching curling on the TV portrays a truly bizarre spectacle, but curling has ice skating, plenty of action, and requires strategic minds. For a date where you'll need to work together, this is more than worth trying.
18. Navigate a High-Ropes Course
A high rope course is a great date idea for an adventurous partner. Thrilling, fun, and challenging, if together you can conquer the high ropes, you can conquer (almost) anything.
19. Treat Yourselves to a Mud Bath
Want to take a step back from all the challenges and activities? Treat yourselves to a nourishing mud bath and awe at each other's flawless skin once you're finished.
20. Plan a Fun Segway Scavenger Hunt
Segways are so much fun to rent. If you want to create a truly unique date, hire a pair of Segways, and design a fun scavenger hunt for you both to navigate. They'll appreciate the effort put in, that's for sure!
---
Romantic
Are one or both of you a sucker for romance? These date ideas are straight out of any classic RomCom or romance novel.
These dates give you the opportunity to truly connect deeply and take your relationship to the next level.
21. Have a Sunset Picnic
Take your date to a beautiful park or a quiet beach for some lovely outdoor time at sunset. Pack up some picnic essentials and a basket with delicious picnic food, and make this a date to remember.
22. Enjoy an Outdoor Cinema for Movie Night
Fuse the romance of a classic date night at the movies with the awe of a star-studded sky, and you will have a recipe for a memorable date, that's for sure.
23. Have Rooftop Bar Drinks While Enjoying a View of the City
There's something about the sun setting over the city skyline that just takes the romance up a few notches. Drink, chat, get closer and enjoy the epic view.
24. Enjoy a Bubble Bath with a Glass of Prosecco
Need to spend some quality time together after a busy week? Let a hot bubble bath and a glass of fizzy Prosecco soothe your bodies and sink you both into a state of relaxation.
25. Visit the Closest Planetarium
If you can't quite get yourselves to a starry sky, an evening at a planetarium is a great alternative. Gaze up at a light show together, hand-in-hand, and go on a cosmic adventure together.
26. Feed the Ducks in the Park
Shimmering lakes, green surroundings, and quaking ducks are the perfect setting for intimate conversation and quality time. Stroll, feed the ducks, and sit on a bench and enjoy the scenery together.
27. Take a Trip to the Fair and Go on a Ferris Wheel Ride
Is there anything more romantic than a moonlight kiss atop a Ferris wheel? Play games, win prizes, and let the romance sparkle with this classic romantic date idea.
28. Plan a Spa Day and Champagne Dinner
All spas have packages that include treatments, high-end restaurant dinners, and even overnight stays. The spa day or weekend is as romantic as it is relaxing. You've both earned it, so book it.
29. Row a Boat on the Lake
Put yourselves in the shoes of some classic couples from romantic films, and take a boat out onto the lake for the afternoon. Just try not to fall in!
30. Stay at a Bed and Breakfast for the Weekend
Romantic getaways from the hustle of everyday life are so romantic. Go somewhere scenic, take walks, drink, and be merry, and enjoy a warm, hearty breakfast in rustic surroundings.
---
Take the pressure off meeting a date for the first time with these easy, fun, and quirky first date ideas. They're easy to arrange, don't take up too much time, and don't require you to go all-out on the 'dress to impress' front.
31. Compete in Mini Golf
Mini golf is fun, quirky, and a great way to get to know each other.
32. Go on a Coffee Date at the Coolest Coffee Shop in the City
You can't go wrong with coffee dates. Grab a latte or a cappuccino at your favorite coffee spot, and get to know each other in a casual and relaxed environment.
33. Get Ice Cream and Go for a Stroll
Who doesn't love ice cream? A creamy, indulgent dessert served in a cone, with a park stroll and fun conversation is always a good choice for a first date.
34. Go to a Tapas Place
Tapas puts the dinner date into a more energetic, relaxed environment. With lots of dishes to try, a sharing mentality, and great music, you can have a dinner date without the pressure of ordering the perfect meal and drink.
35. Play Board Games at a Board Games Bar or Cafe
Take the pressure off and have plenty of fun and giggles by playing board games in a relaxed environment. Is there a better way to get to know someone's goofier side than sipping a latte while watching them gently pull a block from a Jenga tower?
36. Meet Up for Happy Hour Drinks
Happy hour at bars is generally more relaxed, a little louder, and obviously cheaper. It's a great way to get to know someone while keeping the date short and sweet.
37. Enjoy an Art Gallery Show Together
Whether your date is an art lover or not, exhibitions come in all styles, shapes, and sizes. If you can find a gallery with art you both love, you've found something to connect over.
38. Go on a Casual Date: Baseball Game & Hot Dogs
The classic American activity is actually a great way to meet someone in a casual, fun environment. Chow down on a hot dog, root for your team, and see if the sparks fly.
39. Listen to Live Music at a Bar
From acoustic musicians to house DJs, music is a wonderful way to spend time with a first date in an environment you're comfortable in. If you both love the same music, you already have made a strong connection.
40. Plan a Classic Date: Dinner and a Movie
Often, the classics ring true. Find out what your date likes to eat and the types of movies they're into, so you can plan a date that both of you can enjoy.
---
Second Dates
The first date went well? Take the fun, romance, and intimacy levels up a touch with these great second-date ideas. You'll both have fun while getting to know each other a little more.
41. Discover Each Other's Artistic Side at 'Paint Nite'
Hang out, try something new, and paint a masterpiece in a cool venue or bar. This is a creative date idea to spend more quality time together.
42. Learn to Make a Special Dish or Learn a New Cooking Skill in a Cooking Class
Cooking classes are hands-on and very creative. You can get to know your date in a comfortable, high-energy environment, and enjoy your delicious food at the end.
43. Enjoy the Day at the Zoo
Turn the cute factor up a few notches and amble through a zoo together. There's so much to see and do, and plenty of opportunities to get to know each other more.
44. Have Fun at Topgolf
Topgolf is 'laugh-out-loud' fun high-tech golf. Take the sports bar date up a level, and get swinging.
45. Visit a Cool Bookstore Together and Discuss Your Favorite Books and Authors
If your date is a bookworm, conversations about books can help you connect on a deep level. Paired with coffee in a beautiful bookstore, you've got a marvelous second date.
46. Take a Mixology Course
Experience the innovation and craft of mixing drinks together and enjoy your alcoholic creations at the end of it all. This takes a drinks date to a whole new level.
47. Go on a Bike Ride to the Beach or the Local Park
Riding bikes is casual and enjoyable, and it allows you to talk to each other. You'll also get to explore some really awesome places.
48. Ride Waves on a Surf Simulator
Watching each other falling off a surfboard on a simulator is perfect for breaking down barriers. There are plenty of thrills and adrenaline to be had together on a surf simulator.
49. Get Tickets to a Stand-up Comedy Show
Nothing beats an evening of entertainment and belly laughs at a stand-up comedy show. Enjoy the show, then grab a drink to get to know each other afterward.
50. Take a Coastal Walk Together
Pick a beautiful spot that you can drive to and soak up plenty of that coastal air. On the walk, you can chat more and take plenty of photos.
---
Free
Whether you're tight on funds or just want to get creative, these free date ideas are perfect for spending time with your date, without having to spend a penny!
51. Plan a Stargazing Date
Is there anything more magical than sharing stories with your date as you look up at the beauty of the night sky?
52. Go for a Walk at the Local Botanical Garden
Botanical gardens are flush with color and beauty and a lovely place for a stroll to get to know someone.
53. Play Tourist for the Day by Visiting the Top Free Tourist Attractions in Your City
How many of us truly know everything there is to see in our local town or city? Get ready for a little fun and adventure close to home.
54. Go for an Afternoon Hike
Grab a blanket and some water, and head out for an evening hike at the local trailhead. Admire the sunset or sunrise together and enjoy time alone together with nature.
55. Have a Movie Marathon at Home
Is the price of the cinema a little too eye-watering? Supermarket popcorn, drawn curtains, and some classic movies are all you need for a free and fun movie date night.
56. Volunteer at the Local Food Bank
Give a little back to the local community, and put your time into something meaningful by volunteering for an afternoon with your date.
57. Attend a Free Outdoor Concert
There's nothing quite like the feeling of the great outdoors against your skin as you listen and jive to an awesome outdoor set.
58. Camp in Your Backyard
Don't have the money, time, or transport for a full-blown camping trip? Take the tent, snacks, and adventure into your backyard for deep conversation and fun games, all within a few meters of your home.
59. Try Geocaching
If you and your date love spending time outdoors, the phenomenon of geocaching is a fun and free way to spend time together, with plenty of adventure.
60. Build a Kite and Go Kite-Flying
Fun to put together, you can fly a kite in fields, at the beach, or in beautiful rural areas close to you. It's active, enjoyable, and, bar getting the kite, free to do.
---
On a Budget
Want to impress your date or partner but can't afford spa weekends or high-end restaurants?
With a little planning, these cheap date ideas can help you both have a memorable time without spending a small fortune to ignite the romance.
61. Go Thrift Shopping
See what gems you can uncover together at your local thrift store, and have a fun afternoon together.
62. Challenge Yourselves to Cook a 3-Course Dinner Together Using Only Pantry Ingredients
Amazing food doesn't have to be from Michelin-star restaurants. Find some great recipes or YouTube videos, order your ingredients, and get creative.
63. Play Card Games
Card games are a great way to pass hours of time while being able to chat and enjoy your date's company.
64. Spend the Day at a Museum
How many times have you walked past a nearby museum and never gone in? Most exhibitions are free, and there's always something to learn.
65. Housesit for the Weekend
Visit some new and exciting places, and get to care for some beautiful kittens, cats, dogs, and other animals using websites like Trusted Housesitters.
66. Try Your Hand at Furniture Upcycling Together
The feeling of taking something old and worn and making it new is wonderful. Find some cheap furniture together, and get busy on a DIY project you can both enjoy.
67. Go on a Garage Sale Date and Pick Up Some Inexpensive Items
You never know what hidden gems you'll find at a garage sale. One man's junk is another man's treasure, as they say.
68. Take the Myers-Briggs Personality Test Together
A fun way to learn more about each other, such tests will also help you understand your relationship dynamic better.
69. Do Pilates or Yoga Together Following Free YouTube Videos
Pilates and yoga at home are a fun and cheap way to spend time together, improve flexibility, and be guided for free via YouTube videos.
70. Plan a Trivia Night with Friends or Go to a Local Bar Trivia Night
Put your knowledge to the test together, either at home or at a local bar. Most trivia nights are free to enter, and all you'll need to pay for is a round or two of drinks.
Related: Trivia Questions for Game Night
---
Make the most of the clear skies, bright sun, and summer vibes with these awesome summer date ideas. Why spend your evening in a luxury restaurant when the beer gardens are bathed in sunlight?
71. Go River Tubing
The thrill of flying down the river in an inflatable tube is quite like no other. This is a great budget date to enjoy the summer sun.
72. Roller Skate in the Park
Whether you're a seasoned skater or a little like Bambi, there's something really romantic about roller skating in the sun together.
73. Day at an Outdoor Pool
Outdoor pools are perfect for enjoying the water while also being able to relax, sunbathe, and have food.
74. Spend the Day at the Closest Waterpark
Need a little more thrill and adrenaline for your water activities. There isn't a better time to enjoy the rides at the water park than during the summer season.
75. Shop Together at the Local Farmer's Market on a Weekend
Who knows what delicious foods, rustic crafts, and hidden treats you'll find at a farmer's market together?
76. Try Paddleboarding
Paddleboarding is relaxing, fun, and a wonderful way to spend time at a nearby lake amid the summer heat.
77. Go Kayaking
If you want to explore nearby caves, lakes, and rivers more, load up or rent some kayaks, and enjoy quality time on the water together.
78. Attend a Summer Festival
Summer is notoriously the season of festivals. The feel-good factor, rhythmic music, and non-stop parties are plentiful throughout the summer.
79. Go to a Cigar Lounge or a Hookah Lounge
After all the action and adrenaline, slow down one evening with a trip to a nearby cigar or hookah lounge with your date, other couples, or friends.
80. Rent a Pedalo at the Beach
Pedalos are so much fun, whether it's just the two of you or multiple couples. Bring some inflatables, drinks, and prepare for sunset views and plenty of laughs.
---
Fall/Autumn
Make the most of the colors, changing weather, and magic that comes in the fall with these great date ideas, ideal from September to the end of November.
81. Go apple picking
82. Sign up for a pottery class
83. Have fun carving pumpkins for Halloween
84. Have a picnic at a pumpkin patch
85. Enter a Halloween couples costume contest
86. Go on a woodland photography walk
87. Enjoy a fun night of dancing at a barn dance near you
88. Make s'mores and share life stories by the campfire
89. Have a onesie-and-movies evening
90. Plan a woodland cabin getaway
---
Winter
While the beach and outdoor dining may be out, there's still so much fun and adventure to be had amid the awe and magic of winter.
These date ideas are perfect for when there's snow on the ground and the streets at lined with Christmas lights.
91. Go ice skating
Ice skating is a date idea that really showcases your date's personality. If they are graceful on ice skates then it's great. If not, then prepare for some hard work!
Ice skating in the winter can be romantic but if you want to have an ice skating date in summer don't worry as many places offer floodlit ice rinks, so you can go at any time of year!
92. Go sledding on freshly fallen snow
93. Attend a Christmas market
94. Walk through a winter park
95. Spend an afternoon at an aquarium
96. Have a cozy hot chocolate or coffee date
97. Host a board game evening
98. Watch skaters on a frozen lake
99. Go Christmas caroling in Christmas sweaters
100. Build an indoor blanket fort and chat all night
---
Spring
Spring is a time of fresh starts and new beginnings. The weather is warming up, the flowers are starting to bloom, and the summer sun is on the horizon.
Let your date nights reflect this excitement and optimism with these fun and enjoyable date ideas, perfect for the spring season.
101. Have a delicious mimosa brunch
102. Get green fingers at a gardening class
103. Experience the rush of roller derby
104. Visit and bathe in hot springs
105. Go on a sunrise hike or dog walk
106. Take on your spring cleaning with dance music
107. Host an Easter egg scavenger hunt
108. Cook a chestnut-themed recipe
109. Sizzle steaks and have a backyard grill
110. Do a fun run in bunny costumes
---
Double Dates
Whether you're a little nervous about a first date or want to get your best friends involved, double dates are a great way to get the romance sizzling while having so much fun.
These date ideas are perfect for pairing up with blind dates or close friends. Get quirky, flirty, and make some wonderful memories!
111. Go on a pub crawl
112. Try new foods on a local food tour
113. Go trampolining and see who can bounce the highest (safely)
114. Get inspired on a street art walking tour
115. Make mess and memories in a pasta cooking class
116. Let the adrenaline take over in an Escape Room
117. Host a couples board game night
118. Don your shiny shoes and go bowling together
119. Play giant Jenga at a bar
120. Enter a laser tag tournament
---
Luxury
Do the two of you enjoy the finer things in life? From sipping bubbly to sunset views, there are plenty of ways to spend time with a date or loved one with a generous amount of luxury.
Treat your partner or date to one or more of these luxurious date ideas, and watch that smile widen on their face!
121. Set up a luxury picnic on a sunny afternoon
122. Marvel at the views on a hot-air balloon ride
123. Travel like a billionaire and take a helicopter ride
124. Enjoy the rush of parasailing
125. Don your finest attire and spend a night at the casino
126. Get wined and dined at a chef's table dinner
127. Experience weightlessness on a zero-gravity flight
128. Meet your idol with a VIP backstage concert pass
129. Dine in luxury with a yacht dinner cruise for two
130. Go glamping at a popular music festival
---
Can't physically be together? That's not a problem. These date ideas will help make your virtual dates fun and exciting, all from the comfort of your home.
131. Take a virtual trip somewhere exotic
132. Enjoy an AirBnB online experience
133. Learn and drink with a virtual wine tour
134. Get nostalgic with a virtual favorite childhood movie night
135. Belly laugh in a virtual stand-up show
136. Take a virtual museum tour
137. Enjoy the same meal on a cooking dinner date
138. Keep it low-key with a virtual pizza and movie night
139. Work out to an online fitness class together
140. Let loose at a virtual dance party
---
Long-Distance
If you're miles apart, it doesn't mean you still can't feel close. These date ideas will help you laugh, have fun, and connect deeply together, no matter how much land or sea is between you.
141. Have a PS4 or Xbox gaming date together
142. Binge-watch a TV show together
143. Order dinner for each other
144. Learn to play the ukulele together
145. Write calligraphy love letters to each other
146. Learn a language together
147. Have a 'funny YouTube video' night
148. Engage in some pillow talk over video
149. Journal and plan future trips together
150. Play 20 Questions, Heads Up & other games
---
Stuck at home, or is the weather outside not great? These indoor at-home date ideas are ideal for a rainy day. There's still so much fun and romance to be had at home.
151. Bake a batch of delicious cookies
152. Order takeout and eat it by candlelight
153. Build a pillow fort together
154. Create a life bucket list together
155. Learn a new skill together
Choose from 30+ skills to learn online.
156. Host a fun puzzle night
157. Do fun science experiments together
158. Have a chocolate taste testing at home
159. Host your own murder mystery with a 'Hunt a Killer' subscription box
Love solving a good ol' murder mystery? With the 'Hunt a Killer' subscription box, every month you'll be sent a brand new box of items, clues, and evidence to host a memorable whodunit experience from the comfort of your own home.
160. Have a fun and delicious indoor picnic
---
Outdoors
Take advantage of gorgeous scenery, warm weather, and nearby areas with these outdoor date ideas. A great outdoor adventure is an ideal way to ignite plenty of romance.
161. Run a fun color 5K
162. Spend a day at an indoor rock climbing center
163. Learn to ride the waves and take surfing classes
164. Go paintballing for the ultimate day of thrill and strategy
165. Go ziplining and prepare for an adrenaline rush like no other
If you are both adventurous, try ziplining through the canopy of a forest. It's exhilarating, and you'll add to the date night stories to tell for years.
166. Spend an evening camping by the coast
167. Go fishing and see what you can catch.
Fishing is a timeless pastime that's as fun for him as it is for her. Why not go on an adventure to the lake in search of dinner? If you don't catch any, then have no fear because there will surely be plenty of nearby restaurants serving fresh fish!
168. Hit the courts and play tennis together
169. Spend an afternoon horseback riding
170. Have a relaxing afternoon and go cloud watching
Grab some blankets, find a high vista or rooftop in the city, and enjoy an afternoon laying under the clouds.
---
Anniversary
Looking for ways to make your date memorable, and a little more special? These date ideas are perfect for an anniversary, as you can make them a lot more personal, and magical.
171. Enjoy a couple's massage
172. Take a road trip to a meaningful spot
173. Recreate your first date and get nostalgic
174. Attend a gin-making class
175. Get creative at a mixology class
176. Go on a vineyard tour with wine tasting and lunch
177. Time capsule throughout the year and open it on your anniversary
178. Book a weekend getaway at a rustic cottage
179. Relax and enjoy a spa weekend at a hotel
180. Create a memories scrapbook or photo album
---
DIY
Are the pair of you creative types, that love to build, innovate, and do things? These DIY date ideas will help you create things together while spending quality time in each other's company.
181. Draw something together
Let your inner Picassos run wild, and choose from over 100 drawing ideas with our helpful and creative drawing bucket list.
182. Make your favorite cocktails together
From Cosmopolitans to White Russians, make some classic cocktails together with supermarket ingredients, online recipes, and a can-do attitude.
183. Learn how to bake macarons together
Biting into these light, colorful, and delightful French desserts is the perfect end to this fun and creative kitchen date.
184. Have a jewelry-making evening
Get beads and other jewelry-making packs from Amazon or Etsy, equip yourselves with some tools, and have an enjoyable evening creating beautiful jewelry for your friends, family, or each other.
185. Build a giant Lego structure
Empty a giant box of lego onto the floor and let your inner child run wild. Together, there's no limit to the amazing structures you can create.
186. Build a bird or squirrel feeder
With the right materials and tools, an afternoon in the garden or garage assembling a bird feeder can be fun, enjoyable, and bring you both closer together.
187. Draw blueprints for your dream home
Pencils, paper, and wild imaginations are at the ready for this one. Make your dream home as wonderful and incredible as you can possibly imagine, and strive to build it one day!
188. Cook a three-course meal from different countries
Worldly cuisines will help make this cooking date challenging. Choose three courses from three different countries, and see what you can come up with.
189. Attend a gin or beer brewing course
Plenty of distilleries and breweries run brewing courses alongside their tours. Learn, have fun, and enjoy your batch of gin or beer at the end of it all.
190. Bake a batch of delicious bread together
The smell of freshly made bread alone makes this fun and creative afternoon date more than worthwhile!
---
Car Dates
Plan a magical date at the wheel of your trusted car or RV with these fun, exciting, and easy car date ideas, and at no point ever have to leave the comfort of your seat!
191. Watch a classic movie at a drive-in movie theater
Drive-in movies have been the bedrock of romantic dates for generations, and, to this day, remain a fun and comfortable way to watch a new release or a classic movie.
192. Sing your heart out at a drive-in concert
Enjoy your favorite genres or artists without the crowds, pushing, and noise at a drive-in concert, and maybe even duet together!
193. Go car camping for an evening or weekend
No tent or camping gear? No problem. Drive to a nearby campsite for an evening of chat and games, and either sleep in the car or get a car tent to provide cover to sleep on the ground.
194. Drive to the countryside for sunset or sunrise
The gorgeous colors of the sky at sunrise or sunset can be the perfect romantic finish to a fun and adventurous road trip somewhere you've both always wanted to go.
195. Host your own carpool karaoke
The beauty of karaoke is that anyone can belt their heart out, no matter how bad their singing! Load up some classic sing-alongs on your playlist, and let loose in the car together.
196. Throw a dart on a map and road trip there
Can't decide where to road trip to? Why not let chance (or bad aim!) decide for you? Throw a dart, load up the car, and prepare for a memorable date on the road. Before you go, remember to load up on some road trip essentials for comfort and safety.
197. Rent a convertible for the day
Hit the highways or country roads like celebrities for the day, and have a memorable day at the wheel of a classic convertible car.
198. Test drive a sports car on a race track
There are plenty of experiences and companies that will allow you to spend an afternoon at the wheel of a sports car. For car enthusiasts, this is the perfect gift.
199. Take a trip to your childhood home or university
Nothing cranks up the nostalgia quite like a trip down memory lane. This can be a fun road trip for the two of you, giving you the opportunity to learn a lot about each other.
200. Have an evening meal at a drive-in diner
The classic romantic movie date, enjoy a memorable evening of food, chat, and music together from the comfort of your car.
---
Cute
Sometimes, it's the little things in life that make the difference. If your date isn't into big adventures or grand gestures, give one or more of these cute date ideas a whirl.
201. Make breakfast in bed for your date
202. Spend a day at an amusement park
203. Take a trip to Ikea to plan the interior decor of your future home
204. Volunteer at a dog shelter for the day
205. Visit an antique shop and see what you can find
206. Enjoy a progressive dinner together
207. Have a bake-off and see who's the best baker
208. Watch home renovation shows together
209. Rent a treehouse for a night or a weekend
210. Spend an evening at the arcade
---
Feel free to download our free dating ideas list PDF and check off as many as you can!
We hope you enjoyed this list of date ideas, and are now inspired to plan your next date. Whether it's a romantic one, an adventurous one, or a totally unique one, be sure to make it memorable.
If you need more guidance, don't forget that we have an entire section on the blog dedicated to relationships and couples. Have fun making memories with your partner!
---
Read More:
---
No matter what type of date you're planning, never get stuck for ideas by keeping this article for safekeeping. Pin it to one of your Pinterest boards, and revisit for inspiration at any time.