This post may contain affiliate links, meaning if you book or buy something through one of these links, I may earn an affiliate commission at no additional cost to you. Learn more
Plan adventures and make memories with your dearest friends by getting inspired with these amazing best friends bucket list ideas for all occasions.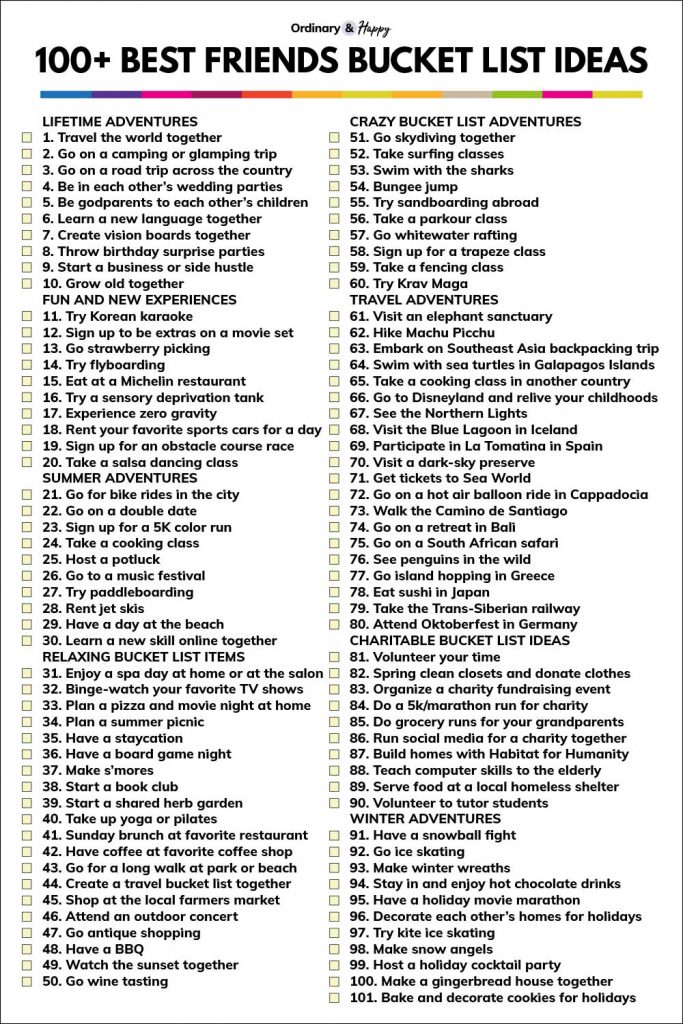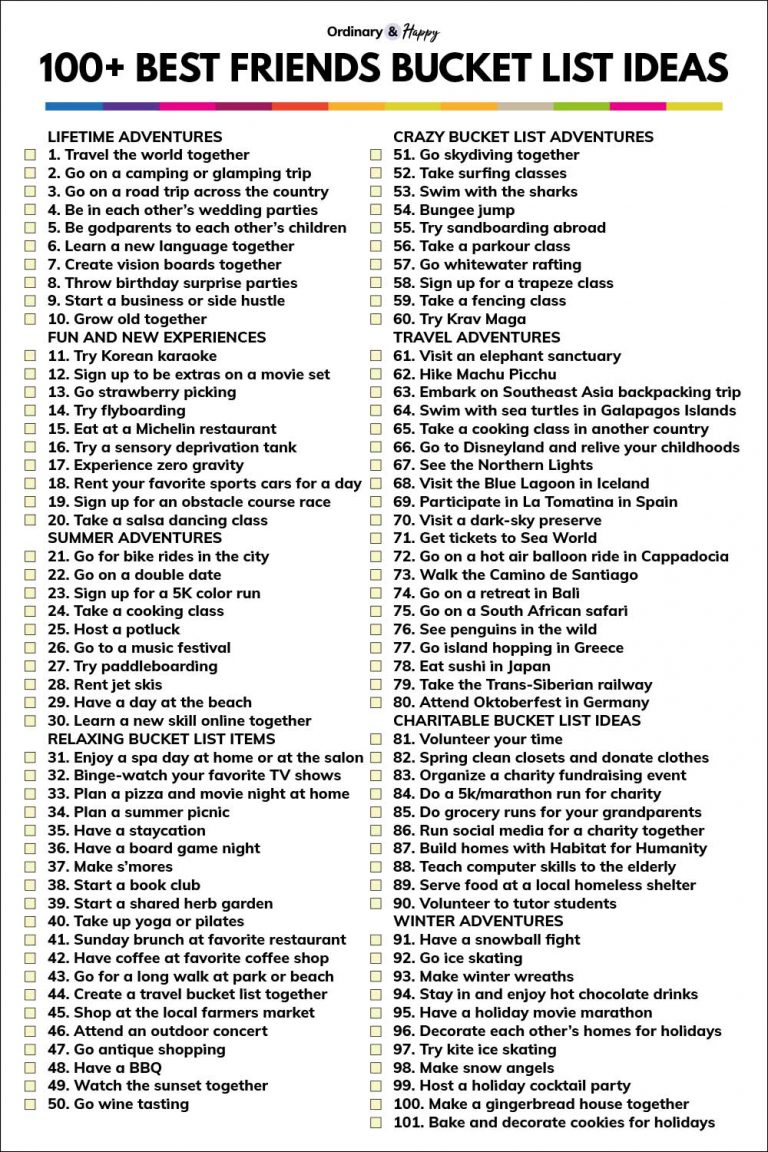 Your time is so valuable. So it's best to spend it having fun and making memories, especially with your best friends.
Our bucket list ideas will help you live your best life with those friends who would follow you to the ends of the Earth.
Want to make an epic game out of bucket list experiences with your best friend? Get our bucket list checklist here.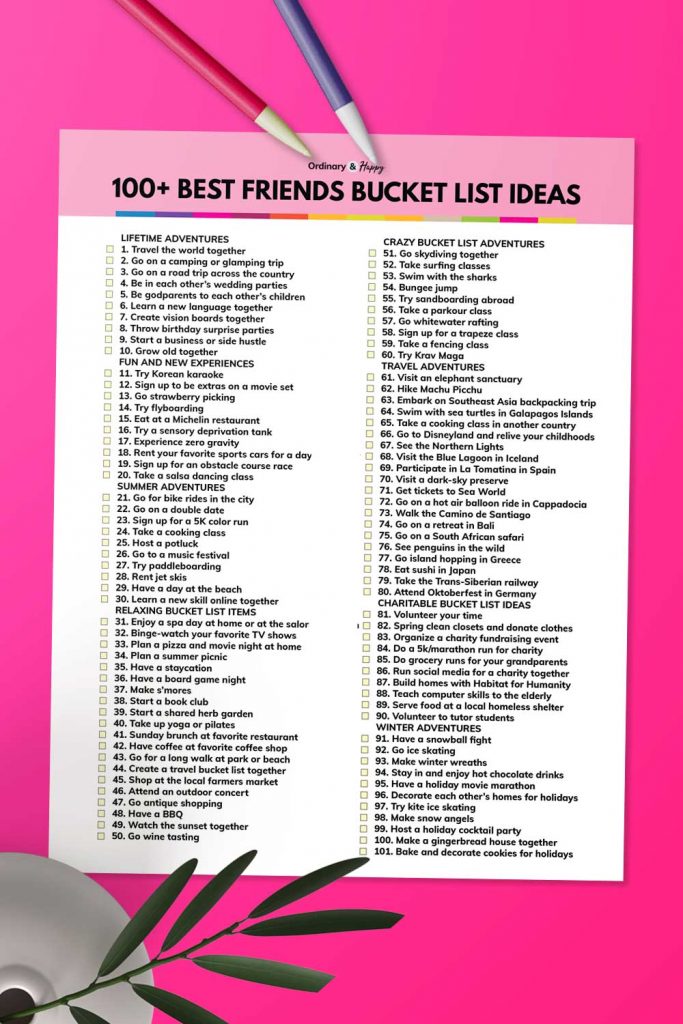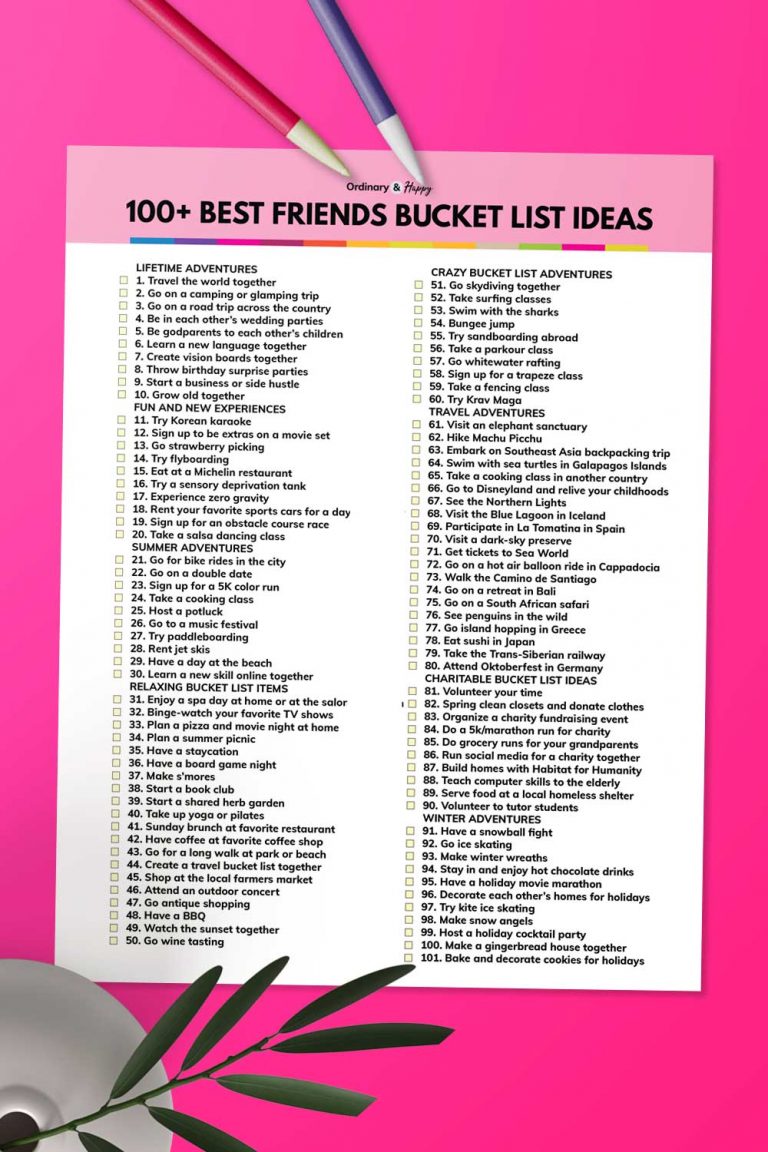 100+ Best Friends Bucket List Ideas (Best Things to Do with Your Best Friend)
Lifetime Adventures
1. Travel the world together
2. Go on a camping or glamping trip
3. Go on a road trip across the country
4. Be in each other's wedding parties
5. Be godparents to each other's children
6. Learn a new language together
7. Create vision boards together
8. Throw birthday surprise parties for each other
9. Start a business or side hustle
10. Grow old together
Fun and New Experiences
11. Try Korean karaoke
12. Sign up to be extras on a movie set
13. Go strawberry picking
14. Try flyboarding
15. Eat at a Michelin restaurant
16. Try a sensory deprivation tank
17. Experience zero gravity
18. Rent your favorite sports cars for the day
19. Sign up for an obstacle course race
20. Take a salsa dancing class
Summer Adventures
21. Go for bike rides in the city
22. Go on a double date
23. Sign up for a 5K color run
24. Take a cooking class
25. Host a potluck
26. Go to a music festival
27. Try paddleboarding
28. Rent jet skis
29. Have a day at the beach
30. Learn a new skill online together
Related: 100+ Summer Bucket List Ideas
Relaxing Bucket List Items
31. Enjoy a spa day at home or at the salon
32. Binge-watch your favorite TV shows
33. Plan a pizza and movie night at home
35. Have a staycation
36. Have a board game night
37. Make s'mores
38. Start a book club
39. Start a shared herb garden
40. Take up yoga or pilates
41. Go for Sunday brunch at your favorite restaurant
42. Have coffee at your favorite coffee shop
43. Go for a long walk in the park or at the beach
44. Create a travel bucket list together
45. Shop at the local farmers market
46. Attend an outdoor concert
47. Go antique shopping
48. Have a BBQ
49. Watch the sunset together
50. Go wine tasting
Crazy Bucket List Adventures
51. Go skydiving together
52. Take surfing classes
53. Swim with the sharks
54. Bungee jump
55. Try sandboarding abroad
56. Take a parkour class
57. Go whitewater rafting
58. Sign up for a trapeze class
59. Take a fencing class
60. Try Krav Maga
Travel Adventures
61. Visit an elephant sanctuary
62. Hike Machu Picchu
63. Embark on a Southeast Asia backpacking trip
64. Swim with sea turtles in Galapagos Islands
65. Take a cooking class in another country
66. Go to Disneyland and relive your childhoods
67. See the Northern Lights
68. Visit the Blue Lagoon in Iceland
69. Participate in La Tomatina in Spain
70. Visit a dark-sky preserve
71. Get tickets to Sea World
72. Go on a hot air balloon ride in Cappadocia
73. Walk the Camino de Santiago
74. Go on a retreat in Bali
75. Go on a South African safari
76. See penguins in the wild
77. Go island hopping in Greece
78. Eat sushi in Japan
79. Take the Trans-Siberian railway
80. Attend Oktoberfest in Germany
Charitable Bucket List Ideas for Friends
81. Volunteer your time
82. Spring clean your closets and donate the clothes you don't need
83. Organize a charity fundraising event together
84. Do a 5k/marathon run for charity
85. Do grocery runs for your grandparents
86. Run the social media accounts for a charity together
87. Help build and repair homes with Habitat for Humanity
88. Teach computer skills to the elderly at a senior center
89. Serve food at a local homeless shelter
90. Volunteer to tutor students
Winter Adventures
91. Have a snowball fight
92. Go ice skating
93. Make winter wreaths
94. Stay in and enjoy hot chocolate drinks
95. Have a holiday movie marathon
96. Decorate each other's homes for the holidays
97. Try kite ice skating
98. Make snow angels
99. Host a holiday cocktail party
100. Make a gingerbread house together
101. Bake and decorate cookies for the holidays
---
Never waste time with your best friends. Spend every moment with them doing something fun, adventurous, and memorable. You won't regret it!
You Might Also Like to Read
---
Never get stuck for ideas to spend time with your best friends by saving this bucket list article to one of your Pinterest boards.