This post may contain affiliate links, meaning if you book or buy something through one of these links, I may earn an affiliate commission at no additional cost to you. Learn more
Plan adventures and make memories with your dearest friends by getting inspired by these amazing best friends bucket list ideas for all occasions.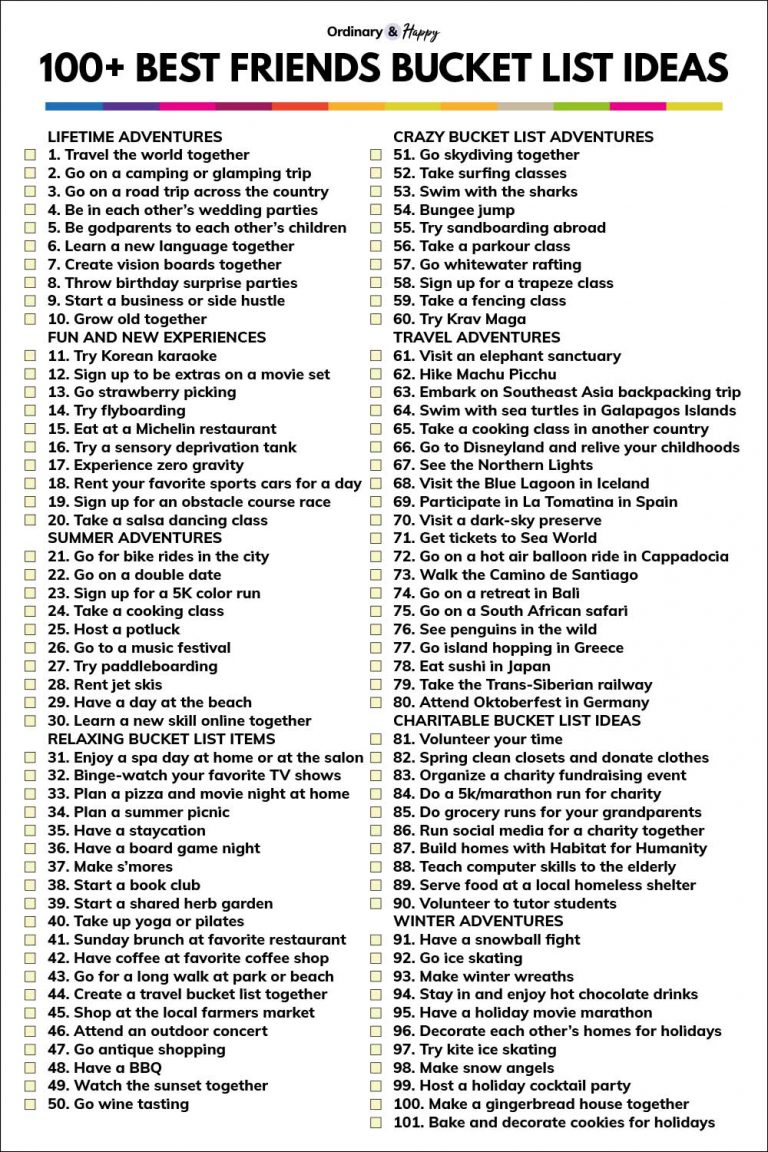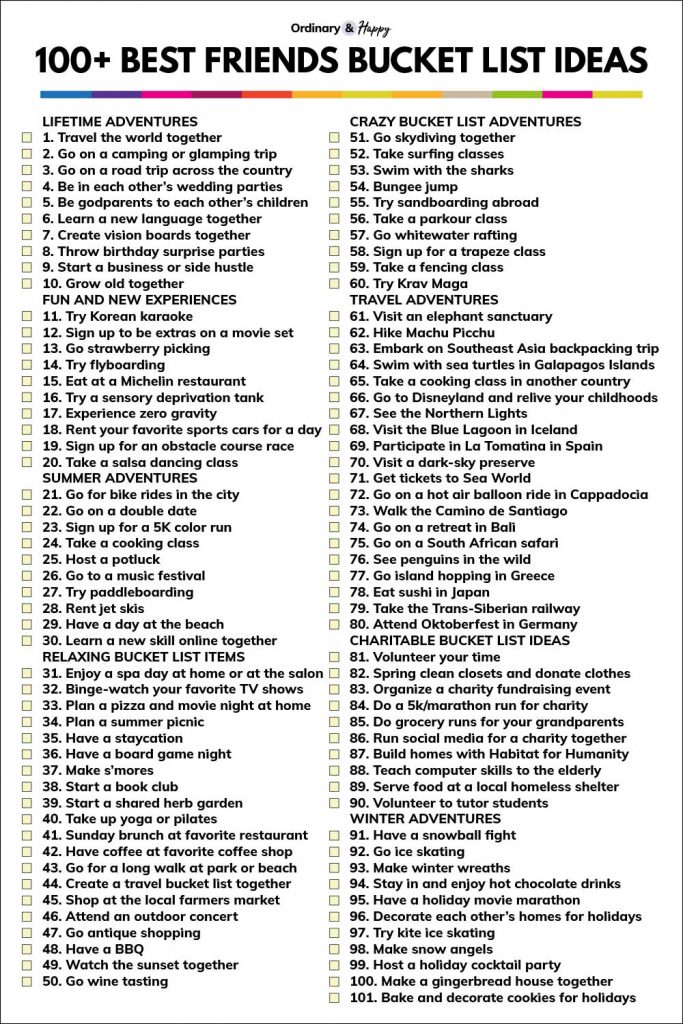 100+ Best Friends Bucket List Ideas (Best Things to Do with Your Best Friend)
Your time is so valuable. So it's best to spend it having fun and making memories, especially with your best friends.
Our bucket list ideas will help you live your best life with those friends who would follow you to the ends of the Earth.
Want to make an epic game out of bucket list experiences with your best friend? Get our bucket list checklist here.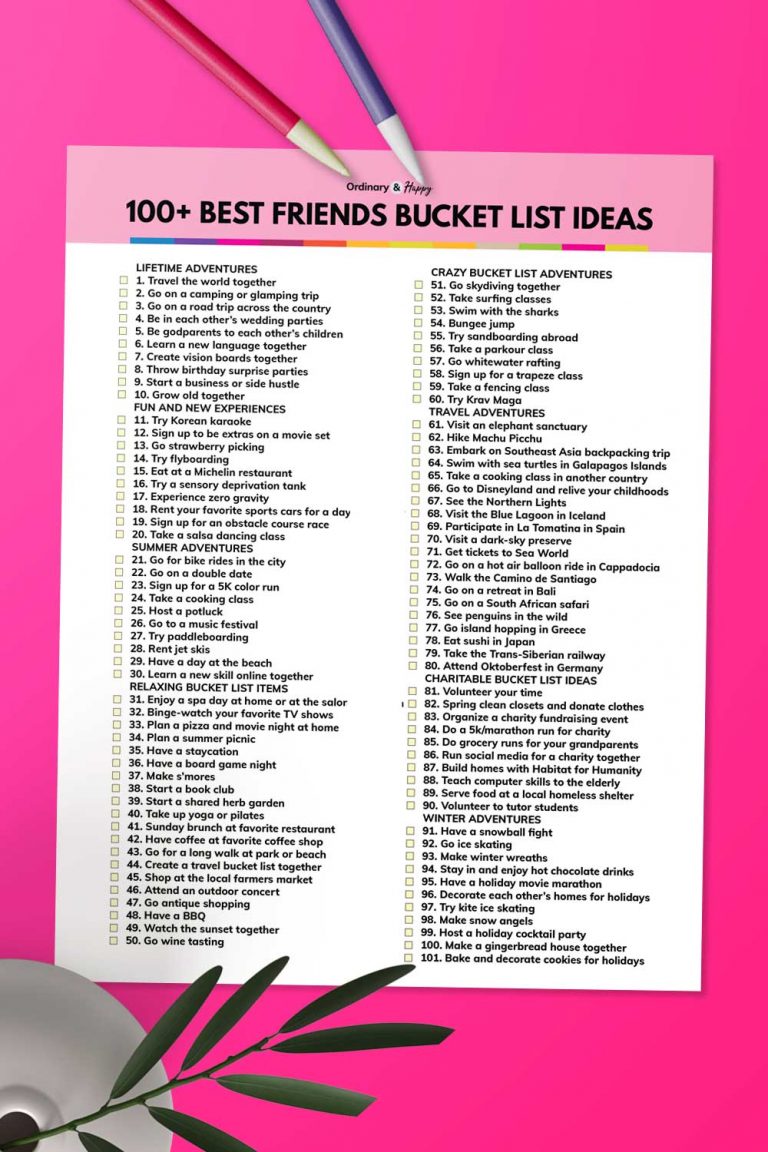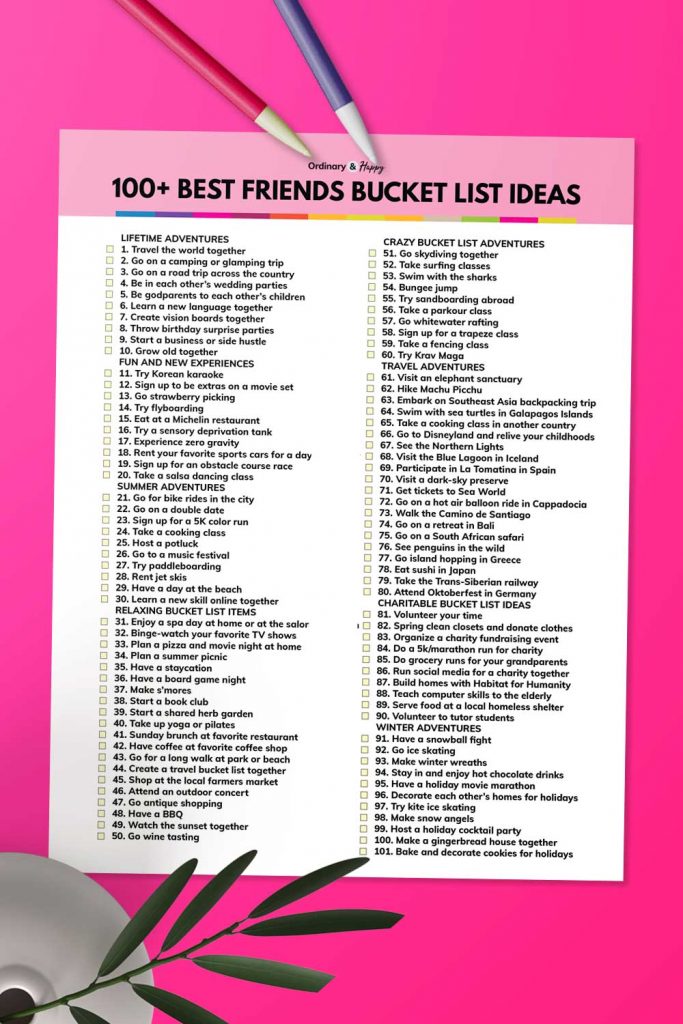 ---
Lifetime Adventures
Get ticking off more than a few of those bucket list items by planning some truly epic and memorable adventures and landmark moments together.
1. Travel the world together
Take six months to a year out, buy a one-way ticket to somewhere exotic with your best friend, and see where the world takes you.
2. Go on a camping or glamping trip
Enjoy swapping stories, roasting s'mores, and outdoor adventures with your best friend for a whole weekend.
3. Go on a road trip across the country
Either take your own car or rent a convertible for a week or two. Load up the trunk with clothes and supplies, and see how many places and states you can visit from east to west, or vice versa.
4. Be in each other's wedding parties
There absolutely needs to be a place for each other as a maid of honor, bridesmaid, usher, or best man when one or both of you get married.
5. Be godparents to each other's children
Is there a better person in the world you would want to look after your kids than your best friend? Put it in writing, and make that sacred promise to each other.
6. Learn a new language together
Try some online classes, practice on the sofa with an app like Duolingo, or really dive in at the deep end by studying or teaching English abroad for a few months, and learn by living in a place.
7. Create vision boards together
Map out the crazy adventures and life goals you want to achieve together. Keep the vision board in one of your homes, and both have a photo of it on your phones to look at on bad days.
8. Throw birthday surprise parties for each other
Go all out for a big birthday milestone when you both reach it. Our 18th birthday party ideas, 21st birthday party ideas, and 30th birthday party ideas are great places to get some inspiration for a surprise party.
9. Start a business or side hustle
If you have skills that complement each other, put them to good use. From furniture flipping to selling baked goods at a farmer's market, there are plenty of ways you can make money together.
10. Grow old together
Promise you'll never let that special bond slip. Stay in each other's lives, and spend a lifetime of making memories together, not growing apart.
---
Fun and New Experiences
Push each other out of your comfort zones and give some of these fun experiences a try together. You'll learn, grow as people, and make some truly incredible memories together.
11. Try Korean karaoke
There are few better ways to spend the night than signing your hearts out together in a karaoke bar, either in your hometown or abroad.
12. Sign up to be extras on a movie set
Movies always need extras in the background. You'll get paid, get to spend the day doing something fun, and you may even get to rub shoulders with a famous movie star.
13. Go strawberry picking
Soak up some of that fresh spring goodness and head out with your best friend to pick strawberries. You can then spend the evening making sweet treats, jams, or pies.
14. Try flyboarding
Plenty of thrills and laughs are guaranteed if you try this super fun and crazy water activity together.
15. Eat at a Michelin restaurant
Push the boat out one evening and sign up for a tasting menu at a Michelin star restaurant in your home city or somewhere within driving distance. Eat like royalty for an evening, and take plenty of food photos.
16. Try a sensory deprivation tank
Add this unique experience to your best friends bucket list and book in for an afternoon to escape the bustle of daily life for a little while.
17. Experience zero gravity
Sign up together, and experience this true bucket list experience with each other. This truly is an experience like nothing else.
18. Rent your favorite sports cars for the day
Either take an epic road trip together or try a package where you get to race the car around a sports track for a memorable day.
19. Sign up for an obstacle course race
Regardless of whether you both love to stay fit or not, obstacle course races promise lots of challenges and plenty of laughs you can take on together.
20. Take a salsa dancing class
Embrace the rhythm and flair of this iconic Spanish dance, and get those feet and hips moving to the beat. You can take a class online, or try salsa at a salsa bar or dance hall.
---
Summer Adventures
Embrace the warmth and joy of summer together, and give as many of these summer activities a try when the season comes around in all its glory.
21. Go for bike rides in the city
Soak in that glorious summer sun, and see plenty of the city or surrounding countryside as you enjoy this fun activity together.
22. Go on a double date
You both could meet Mr or Miss Charming, and if you don't, you still have a date night to laugh about together in the future if the sparks don't quite fly.
23. Sign up for a 5K color run
You could sign up and raise a little money for charity. If you don't like running, this is a great way to do a running event with far more fun and energy.
24. Take a cooking class
Whether it's Italian, Mexican, or Indian, you can have so much fun together learning to cook dishes from cuisines all over the world. Either book one online and get the ingredients yourself, or book an on-site class for a fun day out.
25. Host a potluck
Invite friends and family and ask them to cook their favorite dishes to bring to the potluck. Host at one of your places, and enjoy an evening of great food and warm company.
26. Go to a music festival
For an all-time favorite best friend bucket list idea look online at summer festivals nearby or a road trip away, and prepare for a weekend of live music, partying, and magic moments.
27. Try paddleboarding
Head down to a nearby lake or body of water, and give this classic summer sport a try together – you may even discover a new hobby.
28. Rent jet skis
Let your wild sides run loose and give this super fun water activity a try together. Be sure to film each other, because there's a high chance one or both of you are falling into the water!
29. Have a day at the beach
Kick back and relax in the afternoon heat with a beach trip. Load up the car, pack some beachwear and towels, and embrace the sea, sun, and sand.
Read more: 100+ Things to Do at the Beach (Bucket List)
There's so much you can learn online, and doing it with someone close to you makes it all the more fun. You can also keep each other accountable.
Related: 100+ Summer Bucket List Ideas
---
Relaxing Bucket List Items
Life can't be non-stop all of the time. Sometimes it's good to take a step back and enjoy a little calm and self-care together.
These relaxing bucket list items are ideal for doing with your best friend and will allow you to truly appreciate some of the little, low-key things in life that make all the difference.
31. Enjoy a spa day at home or at the salon
Our DIY at-home spa day ideas and essentials have plenty of ideas to help you plan a relaxing afternoon or evening together, from bubble baths to face masks.
32. Binge-watch your favorite TV shows
Spend the entire day watching seasons of TV together, from classics like Grey's Anatomy to modern favorites like Stranger Things with plenty of snacks, drinks, and good company.
33. Plan a pizza and movie night at home
Either order in, or have fun making your own pizza together. Dim the lights, put on a new or classic film, and cozy up for a relaxing evening.
34. Host a summer picnic
Use our article to plan a summer picnic like no other, and enjoy a relaxing afternoon with great food in a quiet, scenic location.
From backyard camping to a trip to a national park, there are plenty of ways you can go for a staycation and not have to go abroad.
36. Have a board game night
See what you have in the bookcase or wardrobe, and make it even more interesting by having a board game marathon and seeing how many wins you can get.
37. Make s'mores
Either use the hob or a disposable grill you can safely light in the backyard, get some marshmallows from the supermarket, and create that camping atmosphere with torch lighting and swapping scary stories.
38. Start a book club
You can do this together, or invite others too, both in-person or online. Commit to a book a week or month, and meet at set times to discuss what you thought of the book.
39. Start a shared herb garden
Start one in the kitchen or one of your backyards, and spend time watering it, adding new herbs, and documenting the growth together.
40. Take up yoga or pilates
Get supple, stay active, and enjoy the benefits of these popular activities, either via an online class or in-person at a gym or yoga studio.
41. Go for Sunday brunch at your favorite restaurant
42. Have coffee at your favorite coffee shop
43. Go for a long walk in the park or at the beach
44. Create a travel bucket list together
45. Shop at the local farmer's market
46. Attend an outdoor concert
47. Go antique shopping
48. Have a BBQ
49. Watch the sunset together
50. Go wine tasting
---
Crazy Bucket List Adventures
If your best friend helps bring out your wild side, these crazy bucket list adventures are perfect for you to take on together. Prepare for thrills, adrenaline, and a whole host of crazy stories.
51. Go skydiving together
52. Take surfing classes
53. Swim with the sharks
54. Bungee jump
55. Try sandboarding abroad
56. Take a parkour class
57. Go whitewater rafting
58. Sign up for a trapeze class
59. Take a fencing class
60. Try Krav Maga
---
Travel Adventures
There's no doubt that travel is top on so many people's bucket lists, but having someone to share those experiences with can make them even more magical.
Use these epic travel experiences to inspire you both to get out there, see new things, and live a life you can both love and share together.
61. Visit an elephant sanctuary
62. Hike Machu Picchu
63. Embark on a Southeast Asia backpacking trip
64. Swim with sea turtles in Galapagos Islands
65. Take a cooking class in another country
66. Go to Disneyland and relive your childhoods
67. See the Northern Lights
68. Visit the Blue Lagoon in Iceland
69. Participate in La Tomatina in Spain
70. Visit a dark-sky preserve
71. Get tickets to Sea World
72. Go on a hot air balloon ride in Cappadocia
73. Walk the Camino de Santiago
74. Go on a retreat in Bali
75. Go on a South African safari
76. See penguins in the wild
77. Go island hopping in Greece
78. Eat sushi in Japan
79. Take the Trans-Siberian railway
80. Attend Oktoberfest in Germany
---
Charitable Bucket List Ideas for Friends
In life, it's important to give back and help those less fortunate than yourselves. Together, get inspired to help great causes with these charitable bucket list ideas. A little effort can go a long way.
81. Volunteer your time
82. Spring clean your closets and donate the clothes you don't need
83. Organize a charity fundraising event together
84. Sign up for a 5k or a marathon for charity
85. Do grocery runs for your grandparents
86. Run the social media accounts for a charity together
87. Help build and repair homes with Habitat for Humanity
88. Teach computer skills to the elderly at a senior center
89. Serve food at a local homeless shelter
90. Volunteer to tutor students
---
Winter Adventures
Winter can be a magical time of year, despite the cold, in so many places. Fill this season with laugh, joy, and memories, and see how many of these winter adventures you can tick off together.
91. Have a snowball fight
92. Go ice skating
93. Make winter wreaths
94. Stay in and enjoy hot chocolate drinks
95. Have a holiday movie marathon
96. Decorate each other's homes for the holidays
97. Try kite ice skating
98. Make snow angels
99. Host a holiday cocktail party
100. Make a gingerbread house together
101. Bake and decorate cookies for the holidays
---
Never waste time with your best friends. Spend every moment with them doing something fun, adventurous, and memorable. You won't regret it!
You Might Also Like to Read
---
Never get stuck for ideas to spend time with your best friends by saving this bucket list article to one of your Pinterest boards.