This post may contain affiliate links, meaning if you book or buy something through one of these links, I may earn an affiliate commission at no additional cost to you. Learn more
Struggling to find ways to use your pent-up energy? These creative things to do are perfect for putting your free time to good use and having something new and exciting to show for it at the end.
Creative Things To Do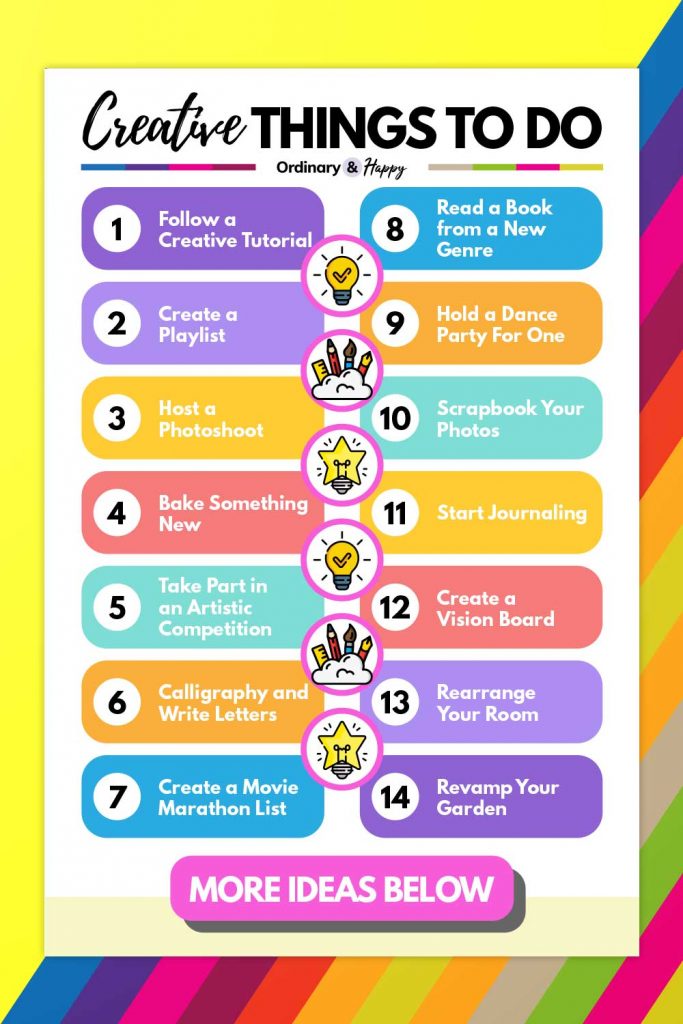 ---
Fun
1. Follow a Creative Tutorial
You can find tutorials to help you to complete many creative activities. Choose one depending on the resources you have or can access.
Then, challenge yourself to create a new piece of art to show off to your friends or family.
If you enjoy this activity, you can return to it whenever you're stuck with things to do or feel the need to express your creativity.
2. Create a Playlist
Are you someone who has a passion for music? Then, you can create a playlist using Spotify or Apple Music on your computer or mobile phone.
Create a playlist for various things; car journeys, parties, a loved one, or even for when you are studying.
3. Host a Photoshoot
Is no one around to take photos of you? Why not create your own photoshoot? You can be as creative as you want with this. Think about the props you need and what to wear.
Then use your creative skills to edit your photos using editing apps, or if you're good, you can have a go at using Photoshop.
4. Bake Something New
Baking is always a fun pastime, especially for those who love food! See what you have in your cupboards, or head to the store to buy the right ingredients.
Bake something you have never tried before by following a recipe or a video tutorial. Not only have you learned something new, but you also have delicious food to share.
5. Take Part in an Artistic Competition
Everyone loves a competition. See if there are any local art competitions in your area, or create one with your friends. You could make anything your heart desires, from paintings to crafts.
6. Learn Calligraphy and Write Letters
There is something so satisfying about watching people practice calligraphy.
Why not try it for yourself? Write a letter to your future self or someone you love.
If you love this activity, you can level up your writing skills forever with a bit of continuous practice.
---
When Bored
7. Create a Movie Marathon List
Watching movies is a great way to curb your boredom. Maybe there's a selection of films you haven't gotten around to watching, or there's a bunch of classics that never get old.
Compile your list and share it with your friends or family. You can then host a movie marathon night!
8. Read a Book from a New Genre
Reading helps distract your mind and get lost in fantasy worlds and enthralling stories. So, if you're bored and can't think of anything else to do, why not start reading a new book?
To make things more interesting, try a genre you're not familiar with. After all, few people thought they were into witchcraft and wizardry before Harry Potter came along!
9. Hold a Dance Party for One
Super bored, home alone? It doesn't take long to have some fun once you put your favorite music on and start to have a dance party.
Sing out loud and get creative with your moves! You could even try following a tutorial or learning a new dance you've seen online.
10. Scrapbook Your Photos
Do you have lots of photos just sitting in a drawer? Start creating a scrapbook to showcase your printed images.
Scrapbooking is a super fun and creative way to spend your time. In the end, you'll have a scrapbook to look over for many years to come.
11. Start Journaling
Journaling is a quick and easy way to be creative. You can write, jot, doodle, and color whatever you want in your journal.
There are tons of excellent bullet journal ideas found online too. Bullet journaling can also involve using stickers, colorful pens, and magazine cutouts! Try anything that sparks your creativity.
Related: Daily Journal Printables (Free and Premium)
12. Create a Vision Board
Try creating a vision board of the things you enjoy, the future you aspire to have, and some inspiring quotes or messages.
A vision board can help redirect you onto the right path. You can get your creative juices flowing with this one!
---
At Home
13. Rearrange Your Room
Take a look at the space around you. Do you think it could do with a change?
Re-arrange your room to make it feel like a whole new space. You can get creative with this and completely switch your layout around.
Sometimes, when you have rearranged a space, it can help you feel more motivated and inspired!
14. Revamp Your Garden
You may be a keen gardener. If so, why not revamp your flower beds, or create something new in your garden space?
You could build a new piece of furniture, add more colorful flowers to your space, or tend your garden to make it how you wish.
15. Host a Themed Dinner Party
Hosting a dinner party in your own home is a great way to connect with friends and enjoy some good food.
To spark creativity, choose a fun theme to go along with your dinner party. The topic could be anything you want. Then, decorate your home and choose dishes to match.
16. Decorate!
Along with re-arranging rooms in your home, you could also add a touch of paint to any space that has started to feel rather dull.
Find some inspiration online to add some color to your home.
17. Upcycle Old Furniture
Do you have an old side table or set of drawers that could do with an upgrade? Scout around your home to see what you could upcycle.
You could paint, fix any broken pieces, change the handles, and even sell your finished furniture if you wish.
18. Organize Your Space
Organizing your cupboards, wardrobes, or anything else in your home that has gotten messy over time is a fantastic way to use a little free time in a creative way.
Not only will you feel a sense of calm, knowing where everything is (and maybe finding things you thought you'd lost), but you will also feel a massive sense of achievement.
Read more: Best Desk Organization Gadgets
---
Online
19. Listen to New Music/Artists
There will forever be a bounty of musicians and artists online for you to enjoy. If you love music, why not search for new music and artists in the genre you like?
When you find a new song or artist you love, share what you have found with your friends, and enjoy listening together.
20. Start a Blog or Website
If you're looking for something creative to do consistently, starting a blog is a brilliant place to start.
You could create a blog to write about absolutely anything you wanted. For example, if you have a passion for birdwatching, fashion, or cars, someone would love to read what you are sharing.
You can also improve your writing and typing skills over time by blogging or creating a website.
21. Create Music
Have a passion for music? Have a go at using online services or apps to create beats of your own.
You may even want to grow your confidence and record yourself singing. Then, once you have finished, you can share it online.
22. Play Simulation Games
Some video games online can spark your creativity. These games involve world-building, outfit creation, or simply keeping characters alive, all of which tap into your creative abilities.
There are also tons of apps and games that will use your creative art skills. Have a look around, and delve into a brand-new virtual world.
23. Read Comics or Create Your Own
Another way to get creative online is to read comics people have created. You can find thousands of comics online, from fan forums to e-commerce stores.
If you enjoy reading online comics, why not have a go at making your own? There are tons of software and apps available to assist you with comic creation, or you can go old school with pen and paper. Let your imagination run wild.
24. Watch Videos on Youtube
Youtube is a fantastic source to find videos on just about anything. The 'Youtube rabbit hole' is very much a thing, and you can spend hours watching and learning from others.
If you aren't feeling like making something, you could also find inspirational or motivational videos to boost your mood.
25. Create GIFS or Home Movies
Take a look at the videos or short clips you have on your phone. You could create funny GIFS for you and your friends to share.
Or create wholesome home videos for different social media platforms. Home movies are a great keepsake for the future.
Share your passions online via websites like Youtube. Then, other people are sure to feel inspired by your content.
---
Outdoors
26. Have an Outdoor Movie Night
Depending on the weather, you could set up a movie theatre in your back garden to enjoy yourself with your friends and family.
Project your chosen movie onto a white sheet, or get the complete kit. An outdoor movie night is a super cozy, fun way to spend your evening. Oh, and don't forget the snacks!
27. Play an Outdoor Sport or Game
Love a particular sport? From volleyball to soccer, there are plenty of sports games you can host at home or in your back garden.
Invite your friends, offer snacks, and even create outfits. There's no end to the fun you can have.
28. Host a Bonfire/Firework Night
Many creative possibilities can be available whilst hosting a bonfire or firework night. You can sing songs, eat smores, and dance around until the fire has burnt out.
Make sure you're in a safe location before you create a bonfire or set off fireworks. Also, this is an adult-only activity.
29. Tie-Dye Old Shirts or Bedsheets
A classic creative activity – tie-dye your old bedsheets or any old clothing you want to upcycle.
Take a look online to learn how to create your chosen tie-dye pattern, and give it a go.
30. Create a Fairy or Magical Garden
If you have children who love to be creative and love using their imagination, why not make your own fairy or magical garden?
You can create your own stories and names for the creatures that live there and use your DIY skills to build tiny houses.
31. Grow Fruit and Vegetables
Have space in your garden for a greenhouse? Or a small patch perfect for potatoes? Perfect! Growing your fruit and vegetables can be very rewarding.
Study your chosen foods to find the best time to start planting. And begin tending to your garden daily.
You can then create meals or desserts with the fruit and vegetables you have grown.
32. Collect Leaves and Flowers to Scrapbook
This is a great idea if you have children or simply love scrapbooking. Collect fallen leaves and pretty flowers to dry and press.
You can then use these to do several creative activities; create jewelry, collages, and scrapbook your findings.
If you wanted to keep this as an outdoor activity, your children could use leaves and flowers to make temporary patio art.
---
With Friends
33. Attend a Live Music or Dance Performance
Check out local bars or event buildings to see if they are holding any performances. You could watch an act with your friends and sing along and laugh the night away.
34. Have a Pajama Party
Have a pajama party at home or at one of your friend's houses. This is a super cute way to relax with your friends and spend some quality time together.
Wear matching outfits, bring some games, karaoke, or create your quizzes. The possibilities are endless with this one.
35. Create Cocktails
Love a good cocktail? Why not attend a cocktail-making class, or host a cocktail night? Supply the alcohol and mixers, and see what you and your friends can make.
You can even rate the drinks from best to worst, including the chosen names for the drink.
36. Take a Creative Class Together
Is there a hobby you have always wanted to pursue? Maybe your friend is interested in the same creative outlet?
Look online to find local classes for pottery, painting, or even still life drawing.
37. Have a Spa Day
Spend some quality time with your friends by creating an at-home spa day. Purchase the supplies between you, and spend the day relaxing as if you're at an actual spa.
Create face masks for your skin type, paint your nails, and listen to a playlist of relaxing music.
38. Watch a Live Sports Match
Do you and your friend both love the same sport or the same team? See if they are playing nearby and attend the game together.
39. Play Board Games or Video Games
Board games or video games are a great way to connect with your friends for little money.
You could create your games or play your favorite video game together, either in the same house or online.
---
On a Budget (Cheap or Free)
40. Thrift Shop
Thrift shopping is a great way to spend your time in a creative way. You could try to get a cool new outfit on a budget or look for old furniture to recycle.
Set yourself a budget, and see how much you can purchase for your money.
41. Attend a Free Event
Many places will hold free events, especially if they are a new business launching or it's a special occasion or festival.
Check out some local museums, or maybe there's a free event at a local park.
42. Read or Listen to a Podcast!
An easy way to feel creative and relaxed at the same time is to read or listen to a podcast.
Pick up your favorite book, or put in your headphones. Allow yourself to unwind for free!
43. Go on a Hike or a Walk
Maybe you live in a great area with amazing views. You may have been thinking about climbing that hill or mountain for some time now.
Take some snacks and water to stay hydrated. Explore new places, and take a photograph for Instagram to remember the afternoon or evening.
44. Sell Things You Have Made
If you have a knack for crafts and making particular items, why not turn it into a little side hustle?
From wreath-making to furniture flipping, there are plenty of ways you can sell handmade or upcycled items, both online and at markets or stalls.
45. Have a Picnic
Gather your family or friends and head to the local park for a picnic. You could play games, chat away, or relax in the sunshine.
Is the weather not great? Have an indoor or back garden picnic instead, and invite your friends and family around to join in and enjoy some yummy food and treats.
Read more: Best Picnic Essentials
46. Start Writing Poetry or a Book
If you're a keen writer, why not start writing that book or those poems you keep thinking about starting?
Open your notebook or computer and start writing today. You don't always need a massive plan beforehand. The best thing to do is simply write and see where it takes you.
---
Free time doesn't just have to be spent watching hours of TV or scrolling through social media.
Your time is precious, and there are so many fun, interesting, and creative ways you can spend it.
Doing creative things helps stimulate the mind, hone your skills, and provide an outlet for all that creative energy bubbling away inside you. There may even be a new passion or career in there for you, too!
You Might Also Like to Read
---
Looking for creative ways to spend your free time? Keep this article for reference, and save it to one of your self-improvement Pinterest boards.