This post may contain affiliate links, meaning if you book or buy something through one of these links, I may earn an affiliate commission at no additional cost to you. Learn more
Fill your entire year with joy, laughs, and memorable moments by getting inspired with our ultimate simple bucket list ideas, and don't let time or money stop you from having fun!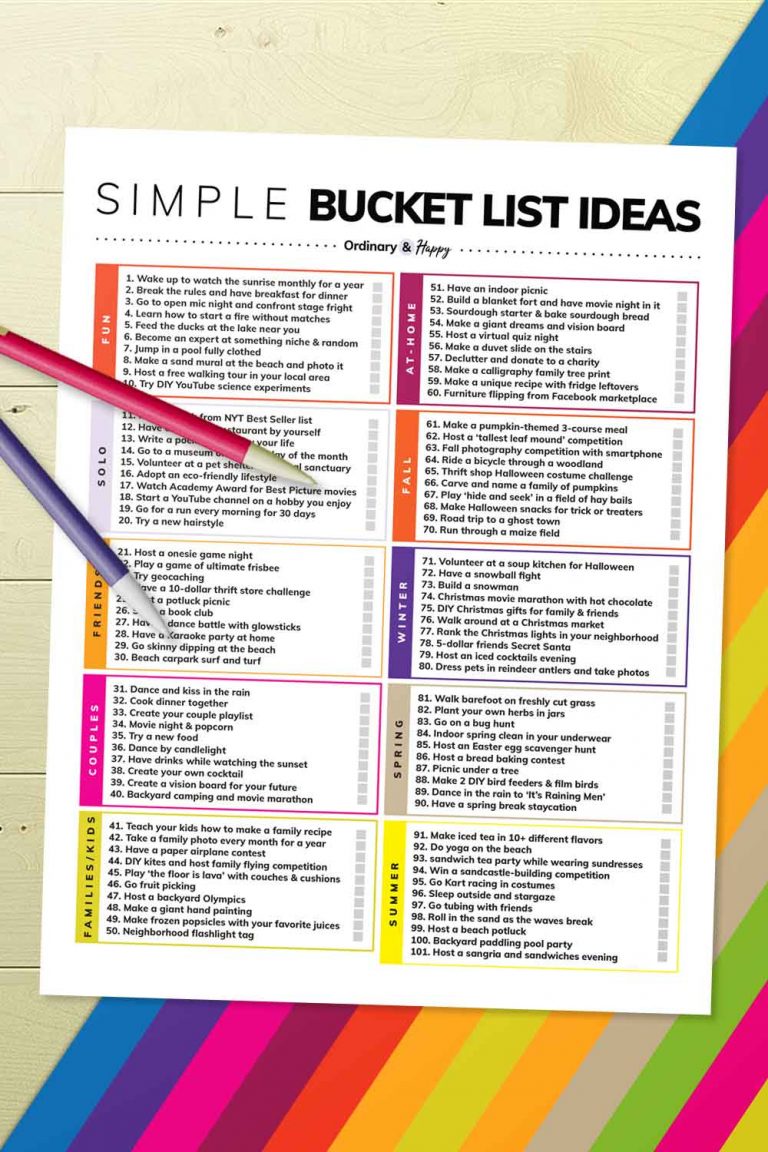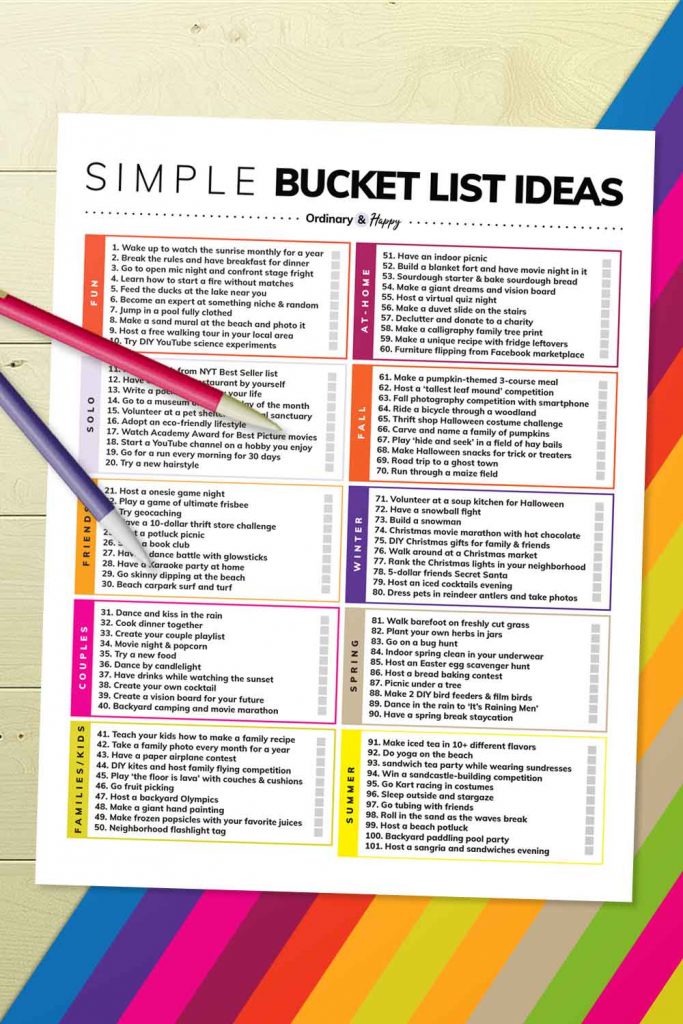 Creating memories doesn't just have to be about expensive vacations and major life moments: we can create incredible moments of joy in even the simplest of experiences.
Our 100+ simple bucket list ideas will help inspire you to get creative and resourceful with what you have around you.
Easy, fun, and inexpensive, with these ideas you can have amazing experiences every day of the week.
Want to challenge yourself to fill your life with as much fun and joy as possible? Scroll to the end of this article to download this ultimate list as a printable PDF, and get checking off all those cool ideas!
Best Simple Bucket List Ideas (Free or Cheap)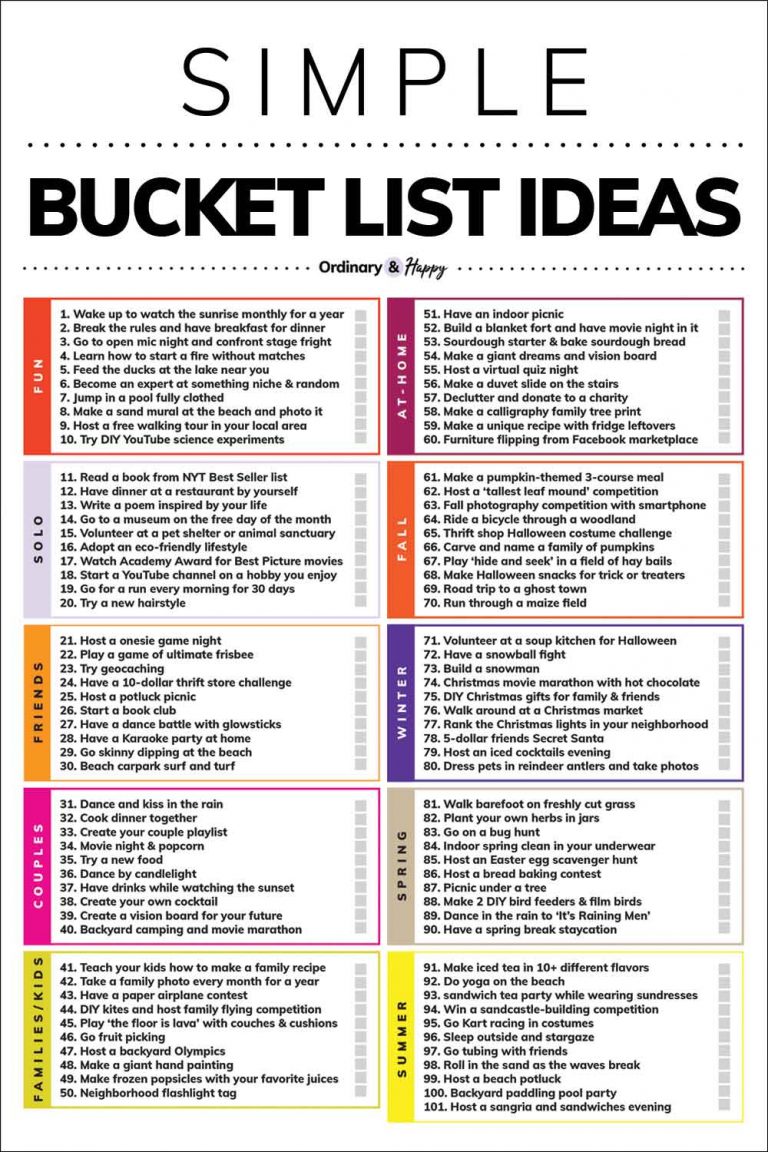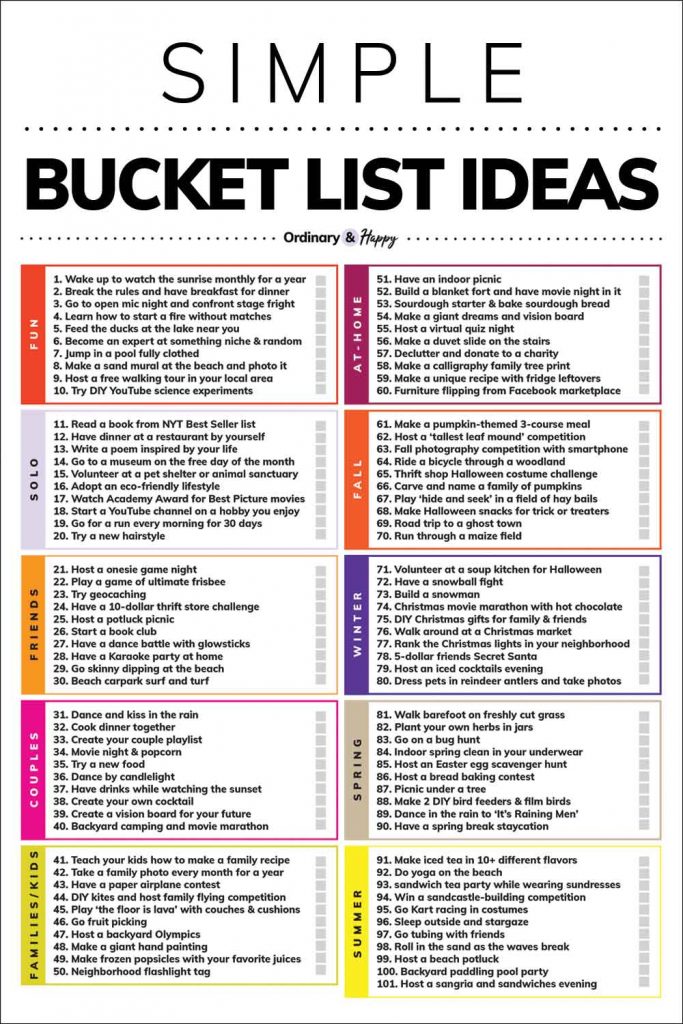 We've grouped them into categories, so you can jump to the section you want: fun // solo // friends // couples // family // at-home // fall // winter // spring // summer or scroll through the article for a big list of ideas.
---
Fun Simple Bucket List Ideas
Get inspired with these simple fun ideas you can start doing today to bring plenty of joy and excitement into your life.
1. Wake up to watch the sunrise once a month for a year
2. Break the rules and have breakfast for dinner
3. Go to open mic night and confront your stage fright
4. Learn how to start a fire without matches
5. Feed the ducks at the lake near you
6. Become an expert at something very niche and random
7. Jump in a pool fully clothed
8. Make a sand mural at the beach and photograph it
9. Host a free walking tour in your local area
10. Try DIY YouTube science experiments
---
Solo Simple Bucket List Ideas
There are plenty of goals and things to strive for by yourself, and these ideas are a great place to start.
11. Read a book from the New York Times Best Seller list
12. Have dinner at a restaurant by yourself
13. Write a poem inspired by your life
14. Go to a museum on the free day of the month
15. Volunteer at a pet shelter or animal sanctuary
16. Adopt an eco-friendly lifestyle
17. Watch every movie that has won an Academy Award for Best Picture in the last two decades
18. Start a YouTube channel on a hobby you enjoy
19. Go for a run every morning for 30 days
20. Try a new hairstyle
---
Simple Bucket List Ideas for Friends
Keep things simple and memorable with your closest friends, and try as many of these experiences as you can in your free time, on evenings, and over weekends.
21. Host a onesie game night
22. Play a game of ultimate frisbee
23. Try geocaching
24. Have a 10-dollar thrift store challenge
25. Host a potluck picnic
26. Start a book club
27. Have a dance battle with glowsticks
28. Have a Karaoke party at home
29. Go skinny dipping at the beach
30. Beach car park surf and turf
---
Simple Bucket List Ideas for Couples
Take your couple's goals to new heights without having to make grand and lavish gestures with these simple ideas that can bring you closer together.
31. Dance and kiss in the rain
32. Cook dinner together
33. Create your couple playlist
34. Movie night & popcorn
35. Try a new food
36. Dance by candlelight
37. Have drinks while watching the sunset
38. Create your own cocktail
39. Create a vision board for your future
40. Backyard camping and movie marathon
---
Simple Bucket List Ideas for Families with Kids
Family fun doesn't have to cost lots of time and money. As these cool ideas show, there's plenty you can do with your other half and kids if you simply use your imagination and get creative.
41. Teach your kids how to make a family recipe
42. Take a family photo every month for a year
43. Have a paper airplane contest
44. Make your own kites and have a family competition flying them
45. Play 'the floor is lava' with couches and cushions
46. Go fruit picking
47. Host a backyard Olympics
48. Make a giant hand painting
49. Make frozen popsicles with your favorite juices
50. Neighborhood flashlight tag
---
At-Home Simple Bucket List Ideas
Your home is a playground of potential fun and memories. All you need is a little inspiration and planning, and these at-home bucket list ideas can bring some truly memorable moments.
51. Have an indoor picnic
52. Build a blanket fort and have a movie night in it
53. Make a sourdough starter and learn to bake sourdough bread
54. Make a giant dreams and vision board
55. Host a virtual quiz night
56. Make a duvet slide on the stairs*
* with caution
57. Declutter and donate to a charity
58. Make a calligraphy family tree print
59. Make a unique recipe with fridge leftovers
60. Furniture flipping from Facebook Marketplace
---
Fall Simple Bucket List Ideas
Embrace the season of color and landmark holidays without expensive trips and luxurious events, and get inspired with these fall ideas you can do on your own, with loved ones, and the whole family.
61. Make a pumpkin-themed 3-course meal
62. Host a 'tallest leaf mound' competition
63. Enter a fall photography competition with your smartphone
64. Ride a bicycle through a woodland
65. Thrift shop Halloween costume/fancy dress challenge
66. Carve and name a family of pumpkins
67. Play 'hide and seek' in a field of hay bails
68. Make Halloween-themed snacks for trick or treaters
69. Road trip to a ghost town
70. Run through a maize field
---
Winter Simple Bucket List Ideas
Embrace the weather and magic of winter, and see how many of these simple things you can do before the warm weather comes around once more.
71. Volunteer at a soup kitchen for Halloween
72. Have a snowball fight
73. Build a snowman
74. Have a Christmas movie marathon while sipping hot chocolate
75. DIY Christmas gifts for family & friends
76. Walk around at a Christmas market
77. Rank the Christmas lights in your neighborhood
78. 5-dollar friends Secret Santa
79. Host an iced cocktails evening
80. Dress pets in reindeer antlers and take photos
---
Spring Simple Bucket List Ideas
Spring is a time of new starts and new ideas, and these super simple and fun ideas are perfect to get you and your loved ones into a new state of mind.
81. Walk barefoot on freshly cut grass
82. Plant your own herbs in jars
83. Go on a bug hunt
84. Indoor spring clean in your underwear
85. Host an Easter egg scavenger hunt
86. Host a bread baking contest
87. Picnic under a tree
88. Make 2 DIY bird feeders and film which one the birds choose
89. Dance in the rain to 'It's Raining Men'
90. Have a spring break staycation
---
Summer Simple Bucket List Ideas
Get busy with fun and simple activities amid the glory of the summer sun, and make this summer a memorable one for everyone involved.
Vacations are always lovely, but if you need some simple fun closer to home, these ideas promise plenty of joy and happiness.
91. Make iced tea in 10+ different flavors
92. Do yoga on the beach
93. Have a sandwich tea party while wearing sundresses
94. Win a sandcastle-building competition
95. Go Kart racing in costumes
96. Sleep outside and stargaze
97. Go tubing with friends
98. Roll in the sand as the waves break
99. Host a beach potluck
100. Backyard paddling pool party
101. Host a sangria and sandwiches evening
---
Don't wait for tomorrow to fill your life with joy and memories. Start today, and get inspired to do fun, exciting, and memorable things in your free time, all the time.
Life is meant for living, so start living it to the fullest today!
You Might Also Like to Read
---
Feel free to download our free simple bucket list ideas PDF and check off as many as you can!
Looking for fun, easy, and affordable ways to bring joy and happiness into your life? Get inspired by our simple bucket list ideas, and keep this article for safekeeping by saving it to one of your Pinterest boards.