This post may contain affiliate links, meaning if you book or buy something through one of these links, I may earn an affiliate commission at no additional cost to you. Learn more
Use our 100+ picnic food ideas to pack for picnics of all types. From healthy food to something sweet, we have got you covered!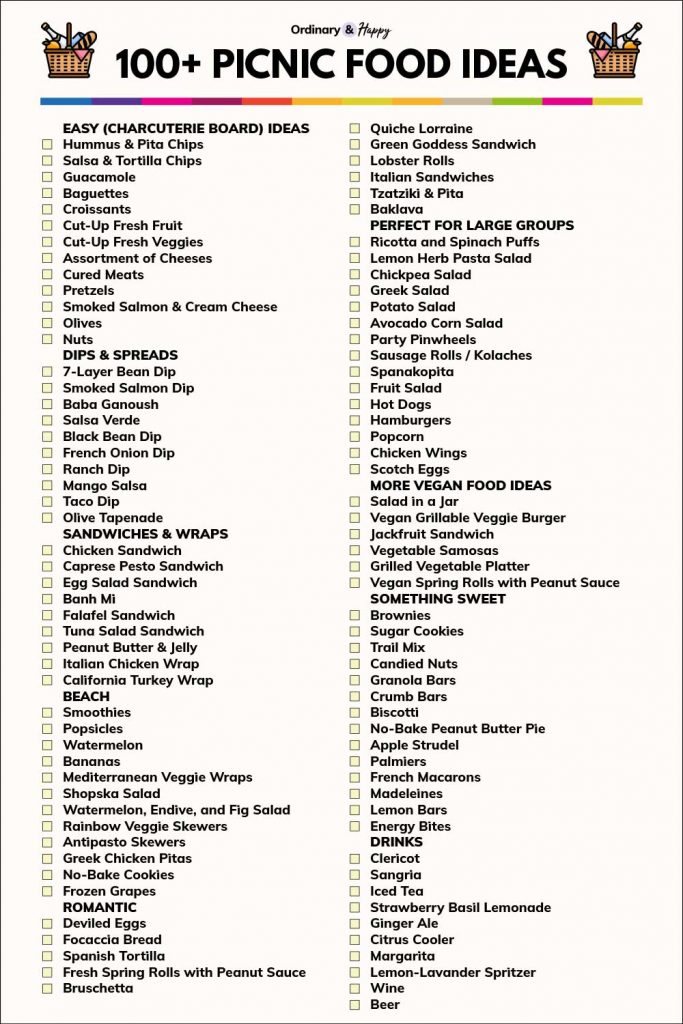 Picnic Food Ideas
Great food makes a great picnic, and it pays to be prepared before you head out to your beautiful location, basket in hand.
When it comes to food, everyone has their own preferences. So it is vital to pack food that is suitable for the location, easy to carry, and that everyone at the picnic can eat.
Our list breaks down food into different types. That way, you can decide what type of picnic you're planning and choose food and drink suitable for it.
If you would like to make life easier, you can download and print this list as a printable, which you can get here.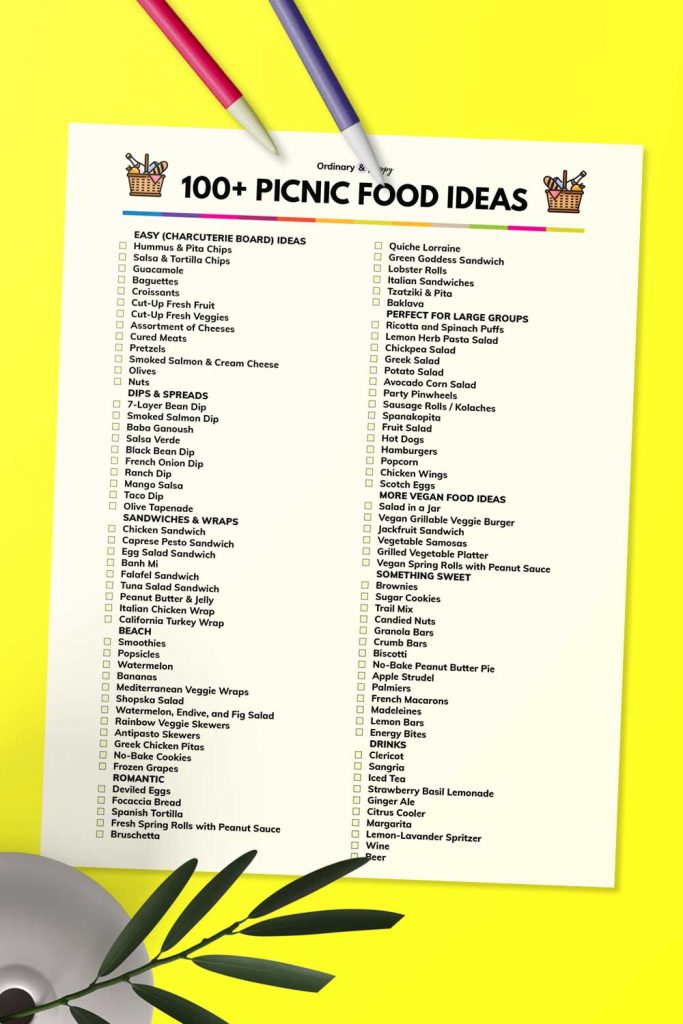 If we're all ready, let's dive in, and plan a picnic that is yummy, fun, and delicious for everyone involved.
---
Easy (Grab & Go Charcuterie Board)
In my opinion, the best picnic consists of a charcuterie board with dips, spreads, crackers, croissants, fresh fruit, cheese, and chorizo. Serving this with a chilled glass of wine while sitting on a comfy picnic blanket admiring the sunset or the ocean is my ideal date.
Here are some ideas to assemble your favorite charcuterie board for a picnic but, of course, mix and match depending on what you like.
---
Dips & Spreads Ideas
We already mentioned hummus, salsa, and guacamole. But here are a few more ideas for some tasty dips.
---
Sandwiches & Wraps Ideas
There are so many delcious sandwich and wrap fillings, the world really is your oyster (unless you don't like seafood!). To help inspire you however, here are some classic go-to fillings.
---
For a Beach Picnic
---
Romantic Ideas
---
For Large Groups
---
Vegan
---
Something Sweet
---
Drinks Ideas
---
Planning the perfect picnic does not need to be stressful. All you need is a little planning and preparation.
Our picnic foods list, complete with over 100 ideas, has something for everyone. It can help inspire you to plan a picnic that everyone loves so much, they'll want to do it all over again next weekend!
You Might Also Like to Read
---
Keep this list of picnic food ideas for safekeeping by saving it to one of your Pinterest boards, ready for when you want to plan your next picnic.