This post may contain affiliate links, meaning if you book or buy something through one of these links, I may earn an affiliate commission at no additional cost to you. Learn more
Get inspired to make your next date a magical one with these summer date ideas, perfect when looking for love amid the heat of summer.
Summer Date Ideas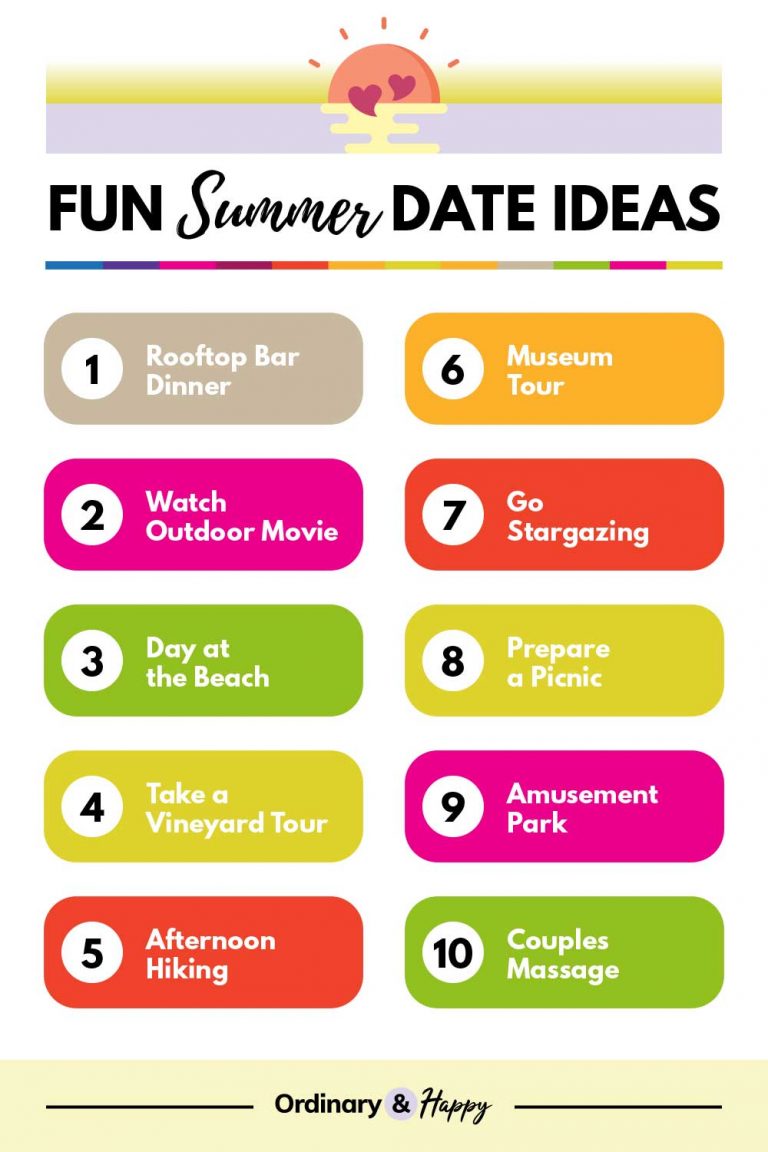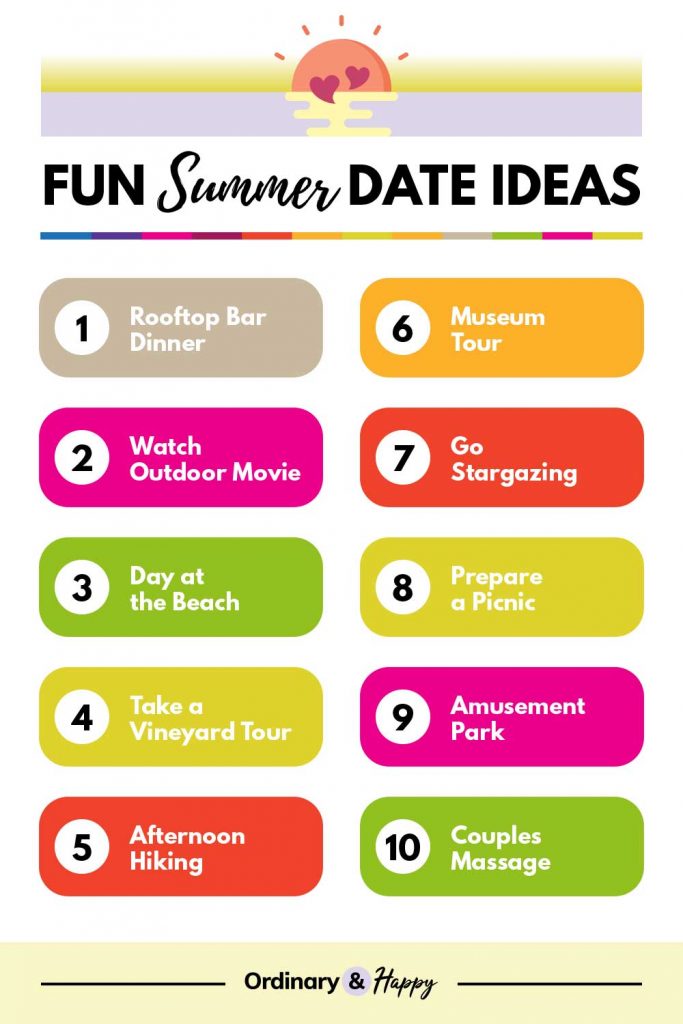 Summer brings warmth, sunshine, and opportunities to enjoy the great outdoors in abundance.
While conventional date ideas are always safe go-to's, summer allows you to try new and exciting things. So take advantage of the warm weather and summer vibes, and use these ideas to plan a date that is creative, exciting, and memorable.
---
Fun
1. Book Dinner at a Rooftop Restaurant
Grabbing dinner is a classic date idea and one that pretty much everyone can enjoy. There is nothing quite like sitting atop a rooftop, enjoying good food or a fancy cocktail, while you gaze out at the city skyline.
If it's a particularly hot summer day, this is a great chance to catch a cool breeze at night, while the city's shimmering lights set the ultimate romantic mood for a great date.
2. Go See an Outdoor Movie
While drive-in movies are less common, summer is the perfect time to watch one. You can still find some local community centers or local parks that might offer movie showings.
And if you can't find one nearby, you can easily set up an outdoor movie yourself, in your own backyard.
It sounds like a lot of work, but all you really need is a projector and somewhere to hang a white bed sheet. Once you do that, you will have your very own outdoor movie theatre at home. Bonus points if you bring popcorn and snacks!
3. Spend a Day at the Beach
If summer has been particularly hot, a trip to the beach is a must-do date idea. Arrange a pickup with your date, pack your swimsuit, beach towels, and sunscreen, and spend the day at the beach.
Spend some time sunbathing, reading a good book, making sandcastles, and frolicking in the cool water. If you really want to turn it up a notch, you can stay to watch the sunset, which is a very romantic way to spend an evening.
Read more: 100+ Things to Do at the Beach (Bucket List)
4. Take a Vineyard Tour
If you and your date both enjoy a nice glass of wine at the end of a hard day, then why not book a vineyard tour at one of your favorite wineries?
Not only will you get to taste test many delicious wines, but you will also get to experience the process of how the wine is made.
Most tours will also take you on a walk around a beautiful, scenic vineyard. Some places also offer a nice meal and live music at the end of the tour, which is a great way to end a date.
5. Go Hiking
For the more adventurous and active types out there, going for a hike is a great option to spend time outdoors, get some fresh air, and get your endorphins pumping. Before going, look up some of the local trails, and plan out where you want to take your date.
Make sure you bring plenty of fluids and try to choose a hiking route that has some great scenery, or views of the city at the end, to make it even more enjoyable.
6. Visit a Museum
How many times have you walked past your local museum and never gone in? The fact is there are so many great museums out there that cater to almost everybody's interests, so you're bound to find one that caters to you.
If you don't know much about the museum, then you probably want to book a guided tour. If it's something that already interests you, you can guide your date and impress them with your knowledge.
Get excited, and look up the latest exhibits at your local art, science, or history museum. Not only will you learn new things, but you may also even find some new shared interests with your date.
7. Go Stargazing
Sitting under the stars with your date can be super romantic if you plan it well. Make sure you pick a nice, open, comfy spot, where you can lay down a blanket.
You should also check the weather forecast beforehand to make sure that the sky is clear for the night you choose to go. You can even bring some tasty snacks and drinks, grab some warm clothes or a blanket, and cuddle up with your date under the night sky.
8. Prepare a Picnic
A picnic is a great summer date idea because you can go pretty much any time of the day. You can turn it into a romantic breakfast on the beach, a nice lunch in your local park, or even dinner under the stars.
Not only that, but you can pretty much pack and prepare foods that cater to any budget. Most picnic foods are quick and easy to make, such as sandwiches, muffins, and fresh fruit.
If you really want to impress, you can also pack a nice bottle of wine. Don't forget to bring any plates, cups, cutlery, and napkins you might need.
9. Have Fun at an Amusement Park
Summer is prime time for funfairs, water parks, and amusement parks. If you're thinking of date ideas, this is a great way to have fun with your date without needing too much planning.
If you and your date are thrill-seekers, you can try all the different rides and roller coasters at the park. If adrenaline isn't your cup of tea, you can always try your luck and win a prize for your date on one of the many games you can find in an amusement park.
To be very cliche, you can re-enact countless movie scenes by sharing a kiss at the top of a Ferris wheel, then enjoy a romantic dinner together.
10. Book a Couples Massage
If you or your date are the types of people that lead busy lives, a couple's massage may be exactly what you both need.
Many spa and wellness centers have packages exclusively for couples, and it can be perfect if you want to relax and destress. This date will surely melt any of your day-to-day stresses away.
Most spas offer soothing music, champagne, aromatherapy, and depending on the package you book, dinner as well.
---
Cute
Prepare to turn the cute factor up to the maximum by enjoying one or more of these cute date ideas with your partner in the heat of summer.
11. Watch a Classic Movie at a Drive-In Movie
12. Take a Road Trip to a New Place and Spend the Night in a Cozy AirBnB
13. Play Mini Golf in Golf Attire
14. Volunteer at a Local Shelter for Animals
15. Sleep Outside the Grass One Warm Summer Night
---
Romantic
Pull your summer date idea straight from a RomCom with some of these wonderful romantic date ideas, and prepare for an afternoon or evening of intimacy and sparks.
16. Attend a Wine Tasting Class and Have Dinner at a Local Vineyard
17. Enjoy a Glass of Champagne in an Infinity Pool
18. Go Salsa Dancing
19. See an Acoustic Act at an Outdoor Concert
20. Have a Spa Day at a Luxury Hotel
---
Unique
Try some new and exciting experiences together with some of these unique ideas to buck the trend of conventional dates.
21. Rent a Convertible and Reinact the Iconic Scene from Grease
22. Try Outdoor Rock Climbing with an Instructor for an Afternoon
23. Build a Blanket Fort and Watch a Scary Movie Together
24. Enjoy an Afternoon in the Sun in an Inflatable Pool in Your Backyard
25. Attend a Yoga or Pilates Outdoor Class Together
---
Don't let date night fall into the same old tick boxes. When it's summer, take advantage of the warmth, positivity, and adventure, and plan a date that is fun and exciting for both of you.
You Might Also Like to Read
---
Get inspired by these fun summer date ideas, and keep them for future reference by pinning this article to one of your Pinterest boards.