This post may contain affiliate links, meaning if you book or buy something through one of these links, I may earn an affiliate commission at no additional cost to you. Learn more
Get into the Christmas spirit from the comfort of your couch by watching one or more of these fun, classic, and memorable Christmas movies throughout the holiday season.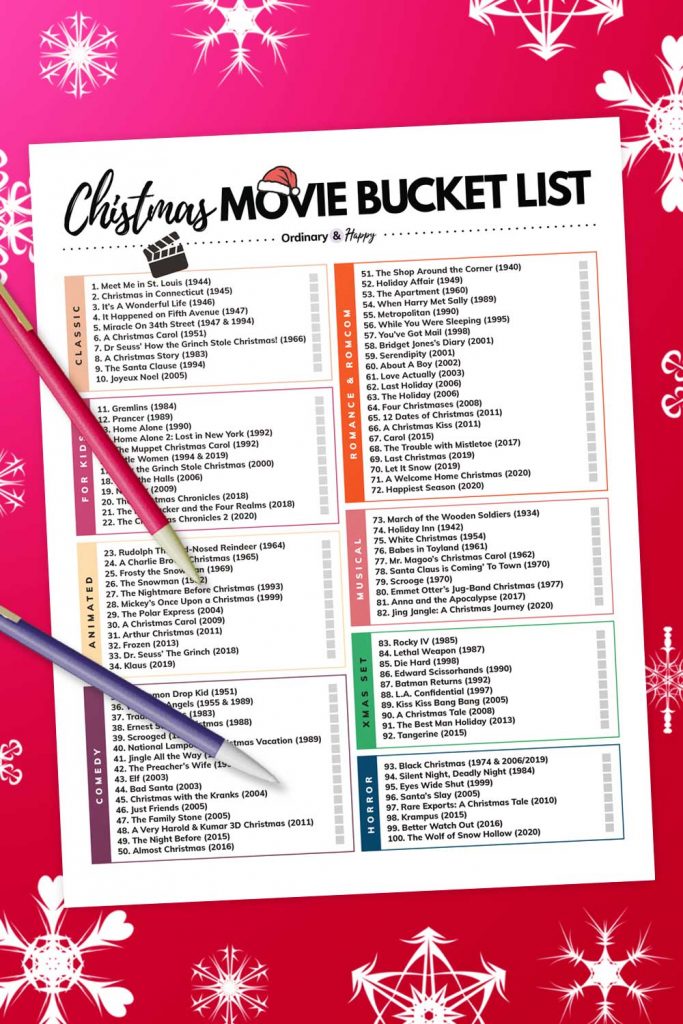 100 Christmas Movies to Watch this Holiday Season
From heartwarming love stories to action-packed car chases around a snow-covered New York, there's something on this list for everyone.
If you're a true film buff, scroll to the end of this article to download our free ultimate Christmas movie PDF printable.
Print it off, grab your popcorn and cola, and see how many Christmases it takes to watch them all!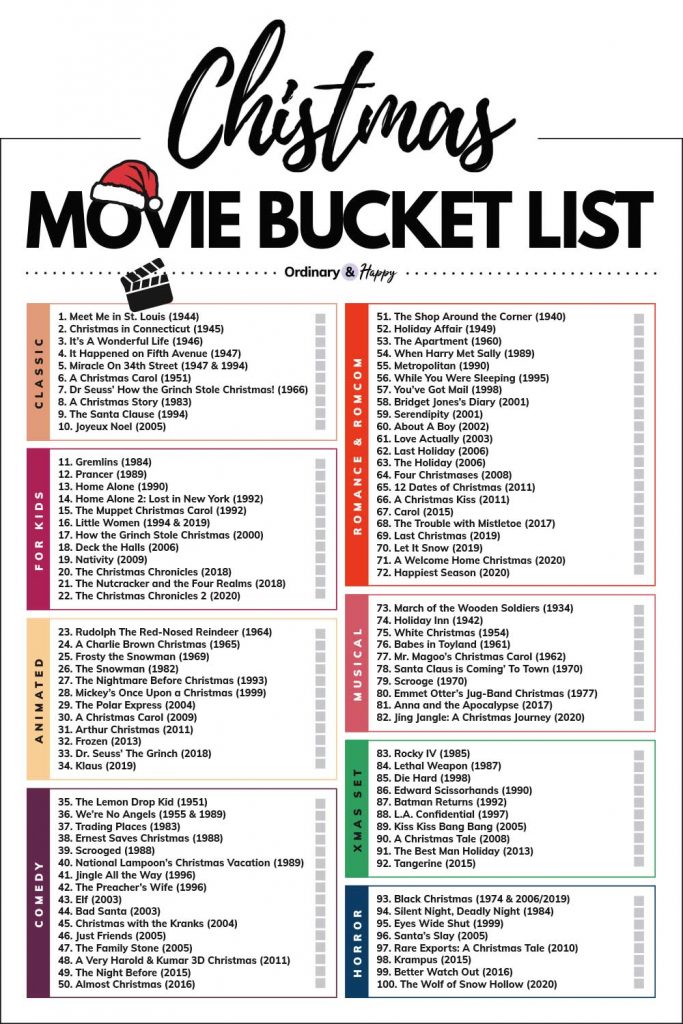 ---
Classic
There are some Christmas movies that simply stand the test of time. Even in an age of advanced filmmaking, these timeless classics never fail to get you all dewy-eyed and smiling.
For a good sing-a-long, love story, or a trip back in time, put one of these beloved Christmas films on, and buckle in for buckets of heart, warmth, and soul.
1. Meet Me in St. Louis (1944)
2. Christmas in Connecticut (1945)
3. It's A Wonderful Life (1946)
4. It Happened on Fifth Avenue (1947)
5. Miracle On 34th Street (1947 & 1994)
6. A Christmas Carol (1951)
7. Dr Seuss' How the Grinch Stole Christmas! (1966)
8. A Christmas Story (1983)
9. The Santa Clause (1994)
10. Joyeux Noel (2005)
---
For Kids
Having Christmas with the kids is simply a magical time, and that shines through in these family-friendly Christmas films.
Perfect for the whole family to sit down and watch together, these Christmas films are all about kids triumphing against adversity, discovering magical worlds, and experiencing the wonder of Christmas at the end of it all.
11. Gremlins (1984)
12. Prancer (1989)
13. Home Alone (1990)
14. Home Alone 2: Lost in New York (1992)
15. The Muppet Christmas Carol (1992)
16. Little Women (1994 & 2019)
17. How the Grinch Stole Christmas (2000)
18. Deck the Halls (2006)
19. Nativity (2009)
20. The Christmas Chronicles (2018)
21. The Nutcracker and the Four Realms (2018)
22. The Christmas Chronicles 2 (2020)
---
Animated
Ideal for young kids, older kids, and adults, there's no end to the laughs, smiles, and joy these animated movies can bring into your humble abode.
Be it the nostalgia of hand-drawn animation, the intricacy of stop-motion, or the extraordinary detail of GCI, all these animated movies tell tales and stories you can fall in love with over and over again.
23. Rudolph The Red-Nosed Reindeer (1964)
24. A Charlie Brown Christmas (1965)
25. Frosty the Snowman (1969)
26. The Snowman (1982)
27. The Nightmare Before Christmas (1993)
28. Mickey's Once Upon a Christmas (1999)
29. The Polar Express (2004)
30. A Christmas Carol (2009)
31. Arthur Christmas (2011)
32. Frozen (2013)
33. Dr. Seuss' The Grinch (2018)
34. Klaus (2019)
---
Comedy
Looking for plenty of laughs over the holiday season? Take your mind off the planning, shopping, and last-minute rush with some of these hilarious Christmas comedies.
Some are all about Christmas, and others are great comedies set during the holidays. But all are great fun to watch and will have you hooting and howling the house down!
35. The Lemon Drop Kid (1951)
36. We're No Angels (1955 & 1989)
37. Trading Places (1983)
38. Ernest Saves Christmas (1988)
39. Scrooged (1988)
40. National Lampoon's Christmas Vacation (1989)
41. Jingle All the Way (1996)
42. The Preacher's Wife (1996)
43. Elf (2003)
44. Bad Santa (2003)
45. Christmas with the Kranks (2004)
46. Just Friends (2005)
47. The Family Stone (2005)
48. A Very Harold & Kumar 3D Christmas (2011)
49. The Night Before (2015)
50. Almost Christmas (2016)
---
Romance & RomCom
Is there a more perfect film genre for the holiday season than romance? Deep down, (nearly) all of us are rooting for our heroes and heroines to find true love over the holidays.
There are some timeless and beloved films on this list. They'll make you laugh, they'll make you cry, and above all, they'll make you root for love, no matter what happens.
51. The Shop Around the Corner (1940)
52. Holiday Affair (1949)
53. The Apartment (1960)
54. When Harry Met Sally (1989)
55. Metropolitan (1990)
56. While You Were Sleeping (1995)
57. You've Got Mail (1998)
58. Bridget Jones's Diary (2001)
59. Serendipity (2001)
60. About A Boy (2002)
61. Love Actually (2003)
62. Last Holiday (2006)
63. The Holiday (2006)
64. Four Christmases (2008)
65. 12 Dates of Christmas (2011)
66. A Christmas Kiss (2011)
67. Carol (2015)
68. The Trouble with Mistletoe (2017)
69. Last Christmas (2019)
70. Let It Snow (2019)
71. A Welcome Home Christmas (2020)
72. Happiest Season (2020)
---
Musical
Christmas is very much a time of song and dance, and these excellent Christmas musical films are perfect for getting you into the festive spirit.
While great stories in their own right, these movies are packed with musical numbers that will have you tapping your feet and humming away throughout their run time.
73. March of the Wooden Soldiers (1934)
74. Holiday Inn (1942)
75. White Christmas (1954)
76. Babes in Toyland (1961)
77. Mr. Magoo's Christmas Carol (1962)
78. Santa Claus is Coming' To Town (1970)
79. Scrooge (1970)
80. Emmet Otter's Jug-Band Christmas (1977)
81. Anna and the Apocalypse (2017)
82. Jing Jangle: A Christmas Journey (2020)
---
Christmas-Adjacent
I couldn't put together a Christmas movie list without one section that has stoked debate for decades!
'Die Hard' was very much the film that started the raging 'is it a Christmas film?' debate, and this is what these films are all about.
All of these films are Christmas-adjacent, meaning their stories are not about Christmas, but they are set during the holidays or have memorable Christmas scenes.
There's action, thrills, suspense, and plenty of magic movie moments to enjoy, all set to a Christmas backdrop.
83. Rocky IV (1985)
84. Lethal Weapon (1987)
85. Die Hard (1998)
86. Edward Scissorhands (1990)
87. Batman Returns (1992)
88. L.A. Confidential (1997)
89. Kiss Kiss Bang Bang (2005)
90. A Christmas Tale (2008)
91. The Best Man Holiday (2013)
92. Tangerine (2015)
---
Horror
If romance, smiles, and a white Christmas are not your thing, then you have very much come to the right place.
Yes, Christmas horror is a genre, and it is most certainly not for the love-rooting, Christmas-loving, faint-hearted film fanatics among us.
From full-blown gore fests to high-stakes suspense set around the holidays, these films are anything but your cookie-cutter Christmas stories.
93. Black Christmas (1974 & 2006/2019)
94. Silent Night, Deadly Night (1984)
95. Eyes Wide Shut (1999)
96. Santa's Slay (2005)
97. Rare Exports: A Christmas Tale (2010)
98. Krampus (2015)
99. Better Watch Out (2016)
100. The Wolf of Snow Hollow (2020)
---
Feel free to download our free Christmas movie bucket list PDF and check off as many as you can!
Movies are such an amazing part of the holiday season, so don't spend hours scrolling through Netflix, Disney+, or TV channels trying to find a good film.
Instead, find one or more films from our ultimate list that is perfect for you, friends, family, and loved ones, and get into the Christmas spirit!
You Might Also Like to Read
---
Keep these 100+ Christmas movies ready for the holiday season, by saving this article to one of your Pinterest boards.