This post may contain affiliate links, meaning if you book or buy something through one of these links, I may earn an affiliate commission at no additional cost to you. Learn more
Use our daily journal printables to bring plenty of positivity into your life, through organizing your tasks, recording your feelings, and practicing gratitude.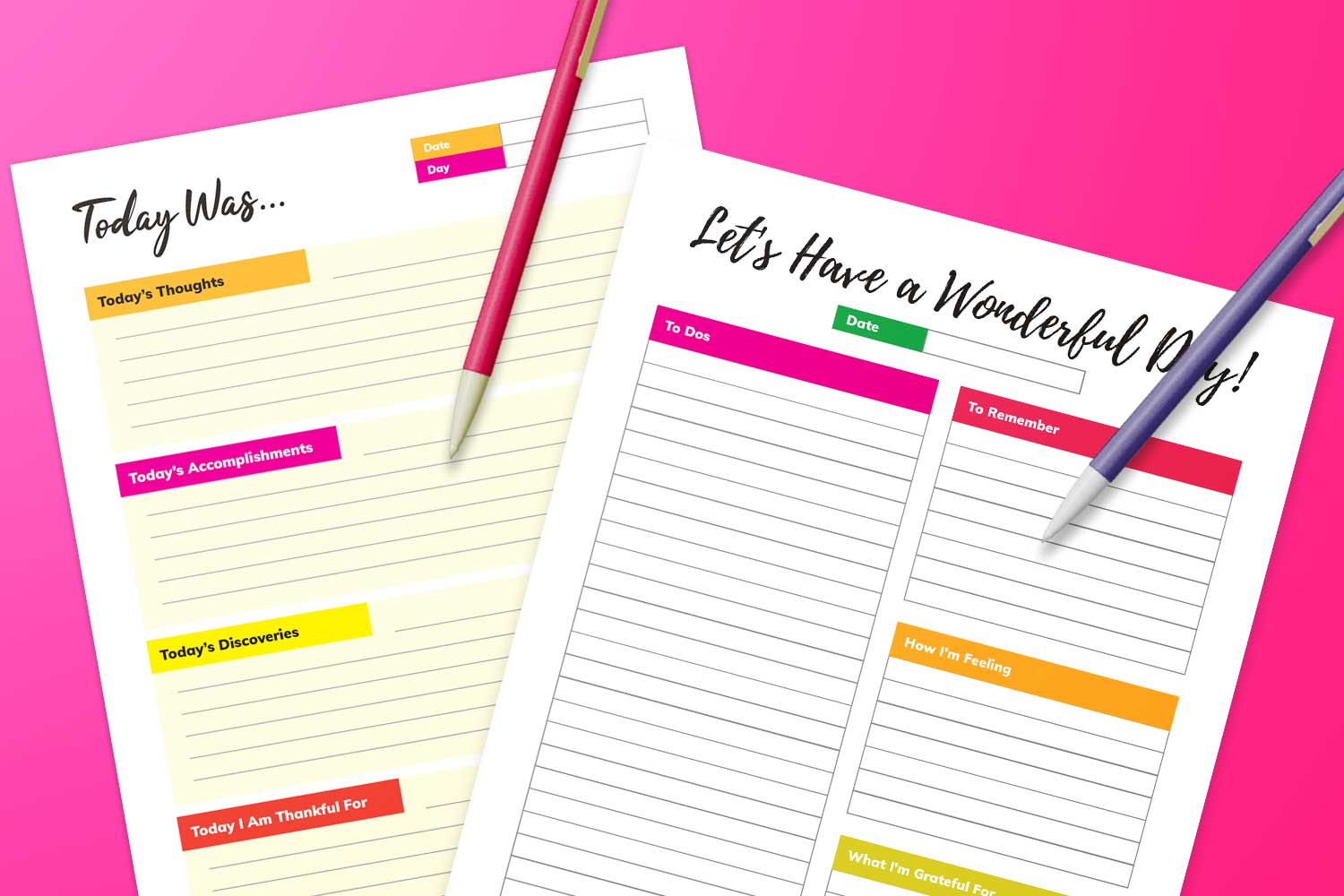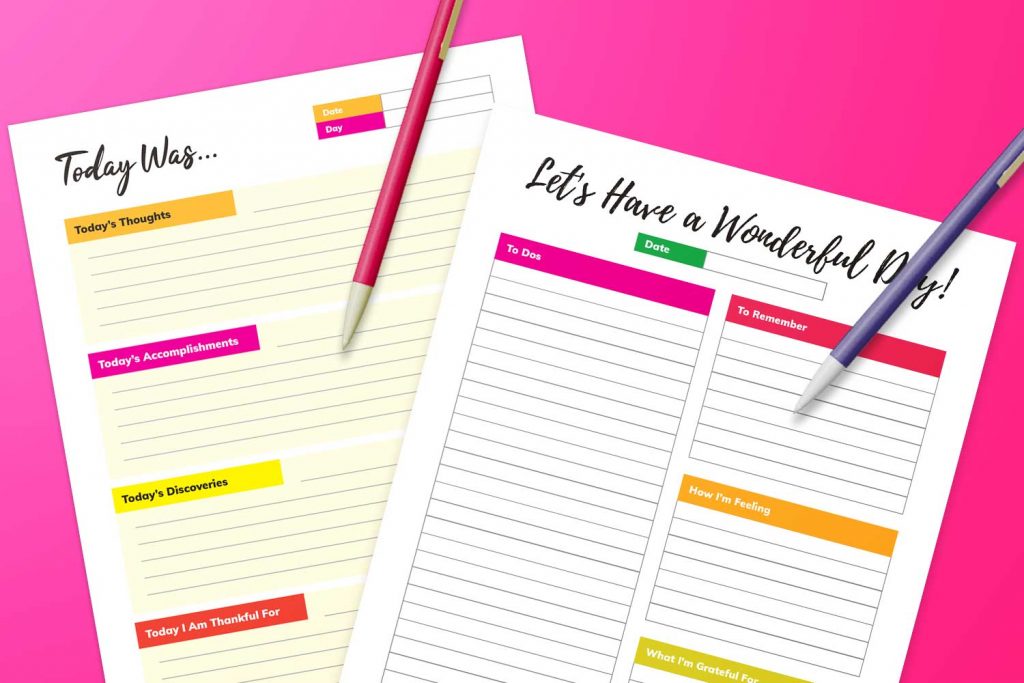 Daily Journal Printables
Our day-to-day lives can be so busy, that we're constantly looking ahead to the future. So often we forgot to be present, take stock, and think about the things that are so great in our lives.
Daily journaling is an amazing way to help you become more positive in life. By not constantly striving for what you don't have, and instead looking back at what you have achieved, and what you do have, you can start to feel grateful for the things you do have.
Our daily journal printables are a great way to help you do this every day. They offer plenty of ways to document your feelings, thoughts, and achievements, and encourage you to think positively about the life you have.
---
Free Daily Journal Printable
Free Daily Journal Printable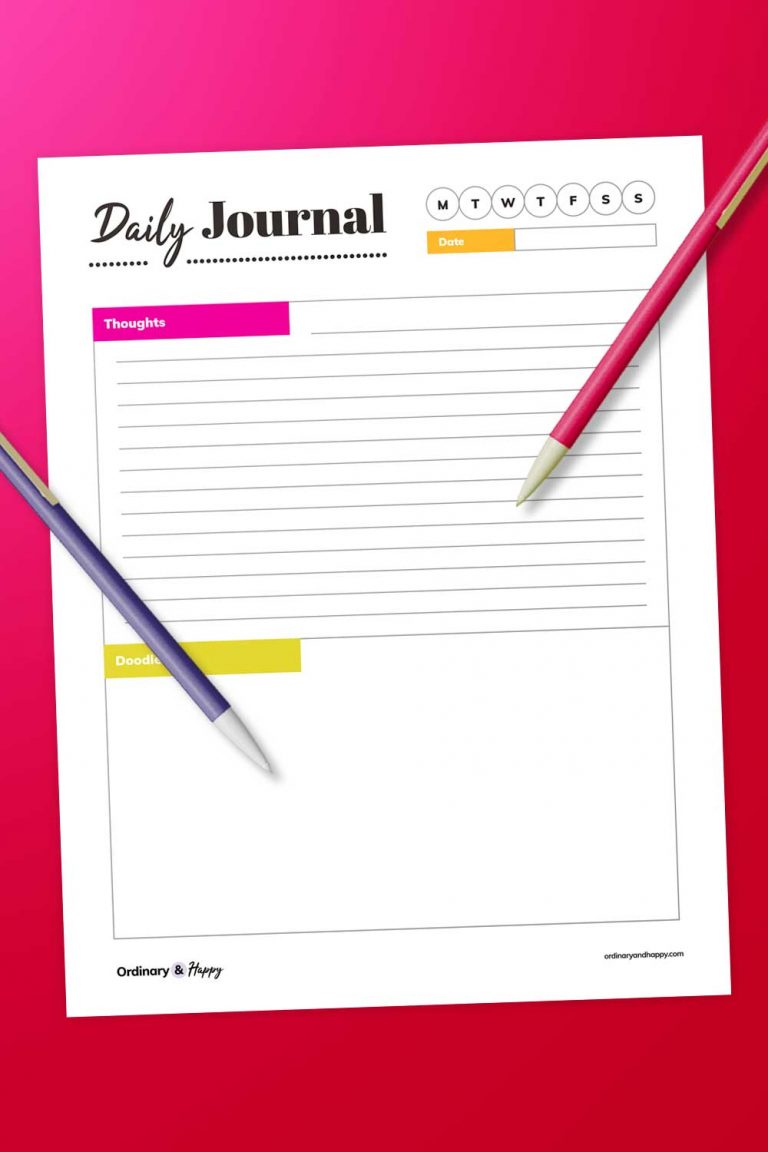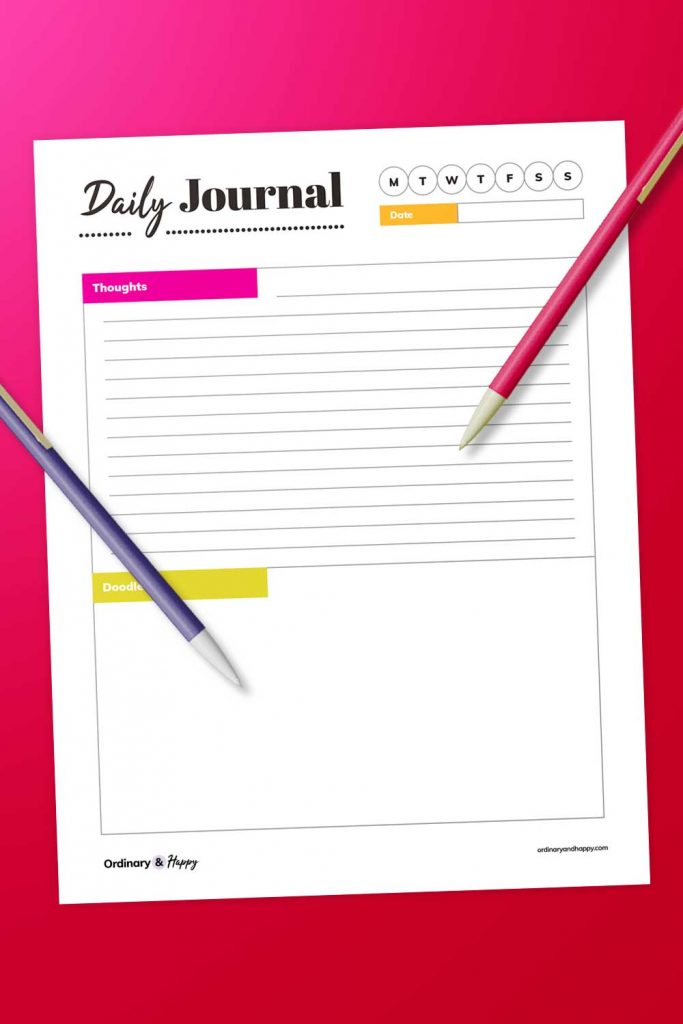 Our free daily journal printable can help you reflect on the day and gather your thoughts in a simple way.
The lined section allows you to write notes, thoughts, and things you feel positive about. You can bullet, write stories, or scribble notes, whatever takes your fancy.
If you want more space and freedom, use the 'doodles' section to write in script fonts, draw thought bubbles, or simply draw how you are feeling.
Get it here
---
Premium Daily Journal Printables
Daily Journal Planner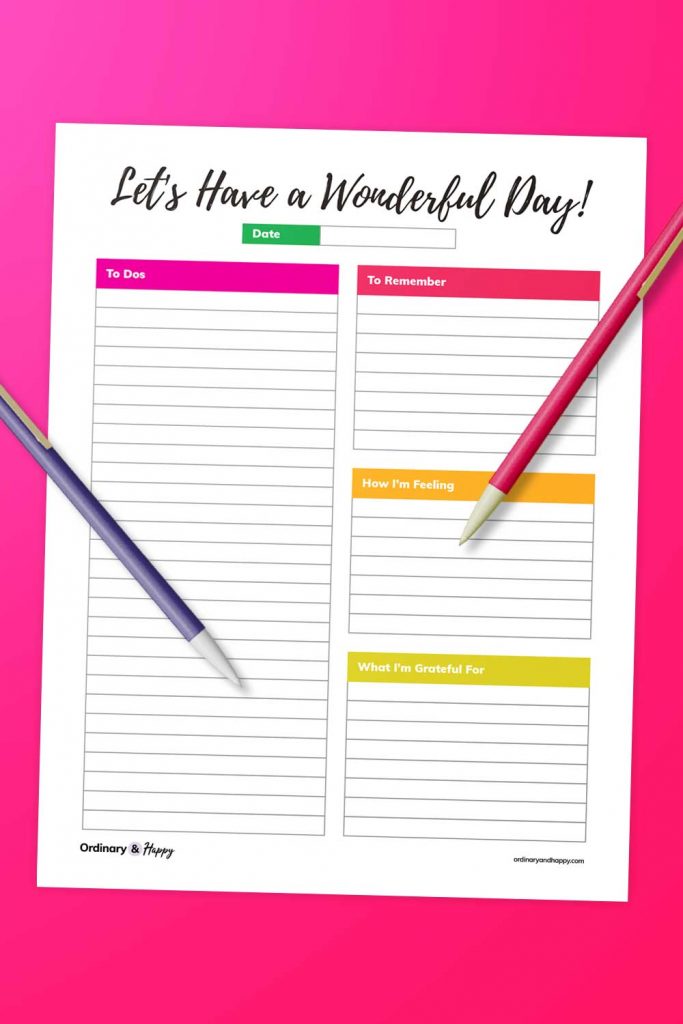 Looking for a daily journal entry that doubles up as a planner? This premium printable is a great choice.
You can use this journal entry throughout the day. Use it in the morning, or the night before, to jot down your daily tasks and to-dos. You can also do this for the 'remember' section so that important information isn't forgotten.
In the morning or evening, you can write down what you're grateful for, and help yourself feel more positive about life.
Finally, the 'how I'm feeling' section you can fill in throughout the day. Track your time to better understand your mood and when you feel at your best.
This is very much a template for those who like to both organize and plan, while journaling and thinking about their feelings.
Get it here
Bullet Daily Journal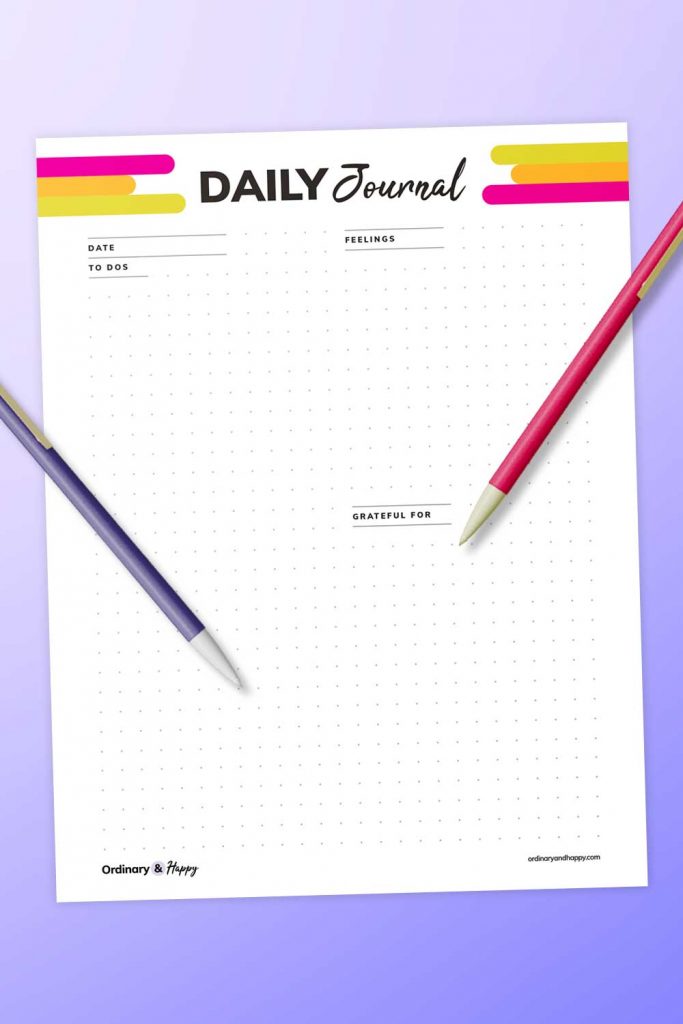 If you love bullet journaling, this is the printable template for you. With nearly a full dotted page, you can bullet journal until your heart is content.
The 'to do', 'feeling's,' and 'grateful for' sections allow you to order your thoughts and notes in a simple, easy-to-read way. But you can just as easily form your own section, and use it how you please.
Bullet journaling is an amazing way to document your thoughts, feelings, and important information. If you can't seem to stick to conventional writing and diary entries, give this method a try.
Get it here
Diary-Style Daily Journal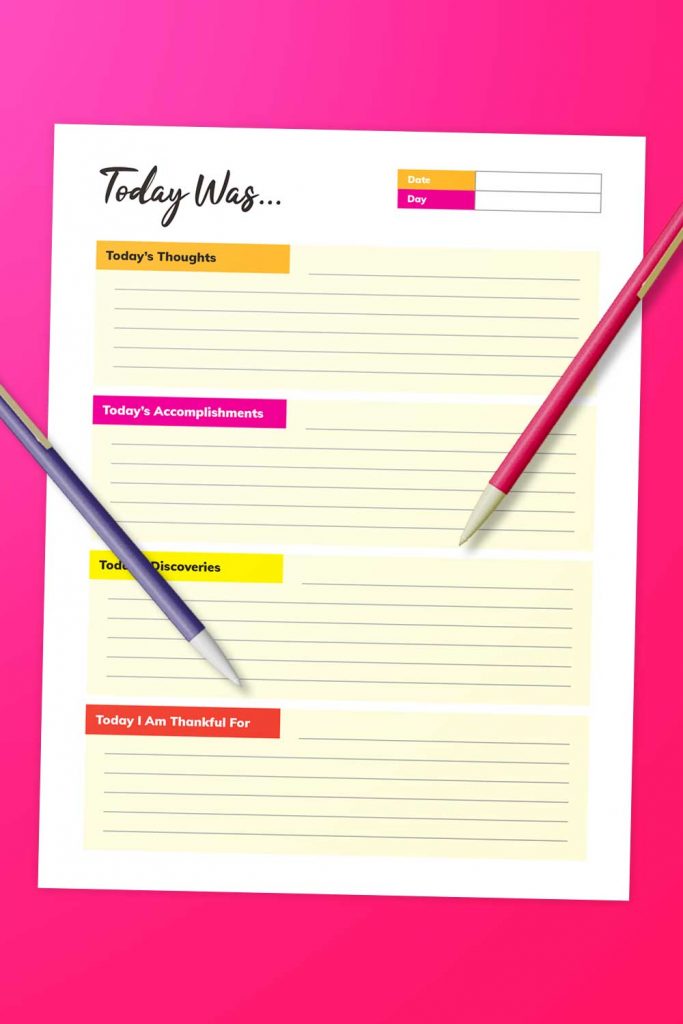 Want your daily journal to be purely about gratitude and positive thinking? Use our diary daily journal to write down everything you're feeling about the day and how it went.
The simple lined sections can be used to write down the day's thoughts, what you accomplished, things you learned or discovered, and importantly, what you are thankful for.
If you get into the habit of using this printable every evening, you can really start to work towards a more positive mindset.
By looking back at the day, you can truly reflect on your achievements, feelings, and where you are in life. These are great practices for getting into a positive mindset.
Get it here
---
Don't spend your life always looking for the next goal, or telling yourself 'you'll be happy when' – learn to live in the moment and be happy with the things you have, right now.
Daily journaling will help you practice gratitude, helping you think more positively about life. You can also organize your days, thoughts, and feelings, and move toward a calmer, healthier, and more grateful you.
You Might Also Like to Read
---
Keep these daily journal printables in a safe place by saving this article to one of your Pinterest boards. And remember to download your free daily journal printable from the link at the top of the article!