This post may contain affiliate links, meaning if you book or buy something through one of these links, I may earn an affiliate commission at no additional cost to you. Learn more
These things to do on a Sunday are the perfect way to round off a busy week in fun and enjoyable ways.
Whether you want to spend your Sunday with family and friends or by yourself, this list of fun things to do will give you plenty of ideas.
Energize your mind and body so you can be ready to take on the week ahead.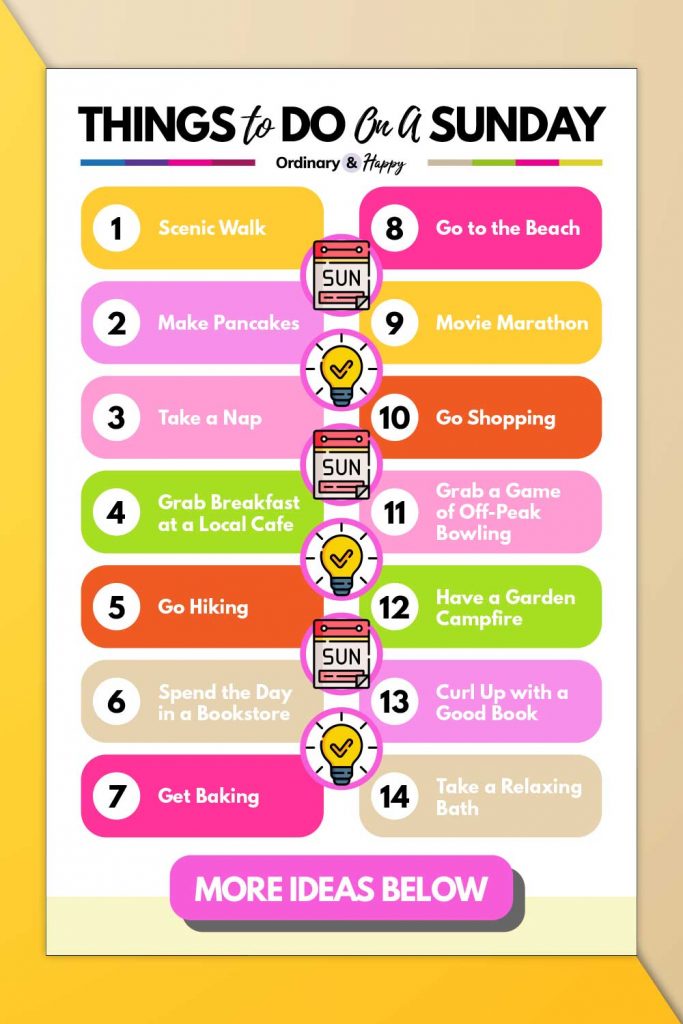 ---
On a Sunday Morning
Lazy Sundays are the best, whether it's sleeping in or making pancakes. Here are a few ideas for how to spend your Sunday morning:
1. Go for a Scenic Walk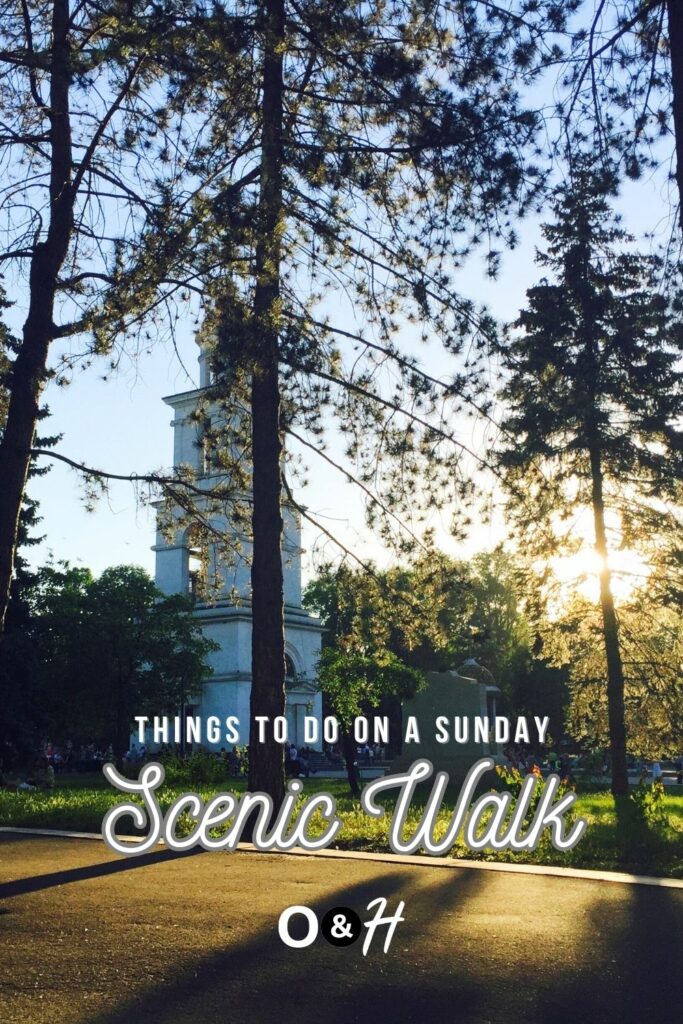 What better way to spend a relaxing Sunday morning than taking a scenic walk around a local park, beach, or lake?
Grab a to-go coffee in your travel mug and hope for some early morning sunshine.
2. Make Pancakes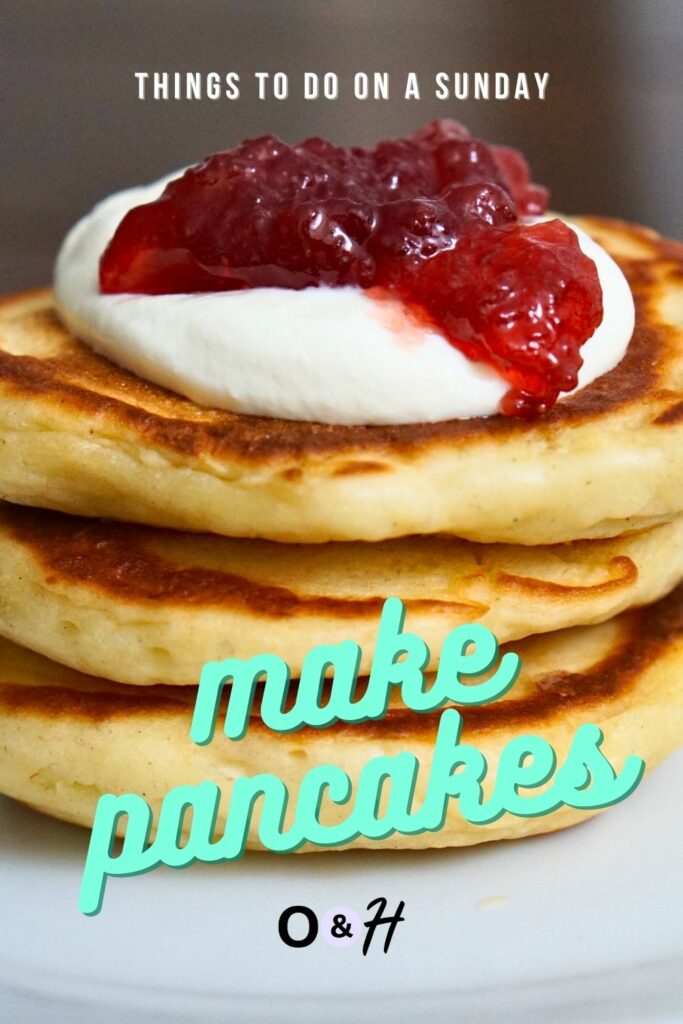 One of life's disappointments is the number of breakfast options in the world versus the limited time we have to make breakfast most weekday mornings.
Take advantage of the weekend and make some delicious pancakes for yourself and your loved ones. Don't forget the maple syrup (or the jam)!
Related: 100+ Best Brunch Food Ideas (The Ultimate List)
3. Take a Nap
Sometimes, life's pleasures are completely free and unsophisticated. Enjoy a nap and do whatever you want after a busy week – you've earned it!
4. Grab Breakfast at a Local Cafe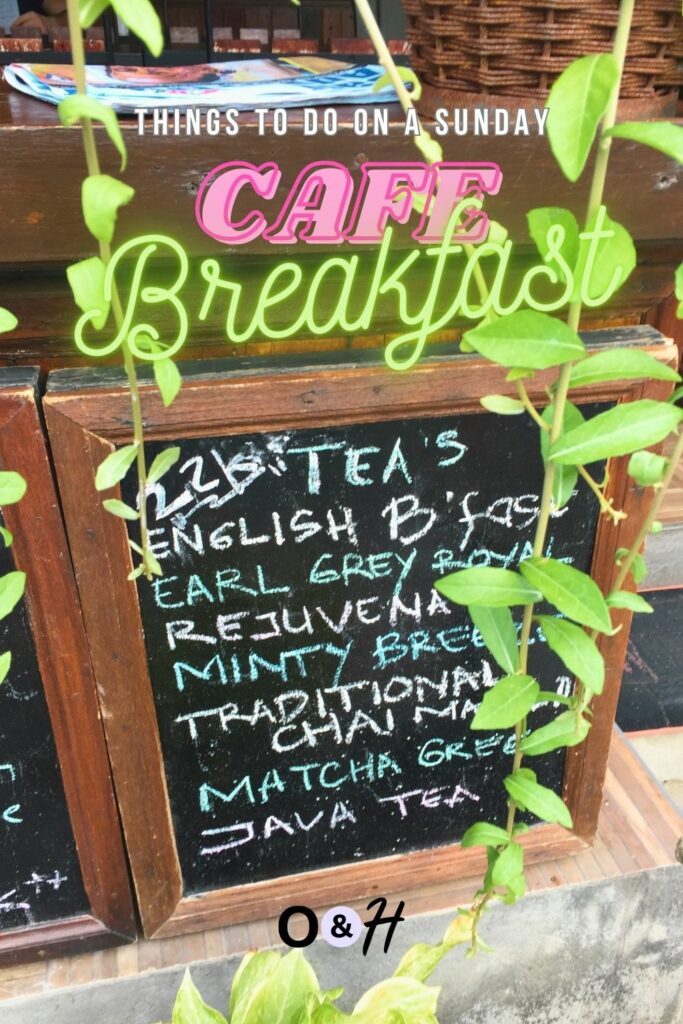 If you don't want to make your own breakfast, why not catch a late brunch at a local café?
Whether you tuck into Eggs Benedict or some delicious Belgian waffles, it'll make a welcome change from your usual toast-on-the-go.
5. Go Hiking
If you're feeling adventurous, you could spend your Sunday hiking in a local nature spot.
Not only will you get in some exercise, but you'll also feel accomplished and ready for the week ahead, and the endorphins rush will combat those Sunday evening blues.
---
On a Sunday Afternoon
Sunday afternoons are the perfect time to recharge and explore activities that bring us joy and personal fulfillment.
Whether you're looking for peaceful solitude or outdoor activities, here are a few ideas for things to do on a Sunday afternoon:
6. Spend the Day in a Bookstore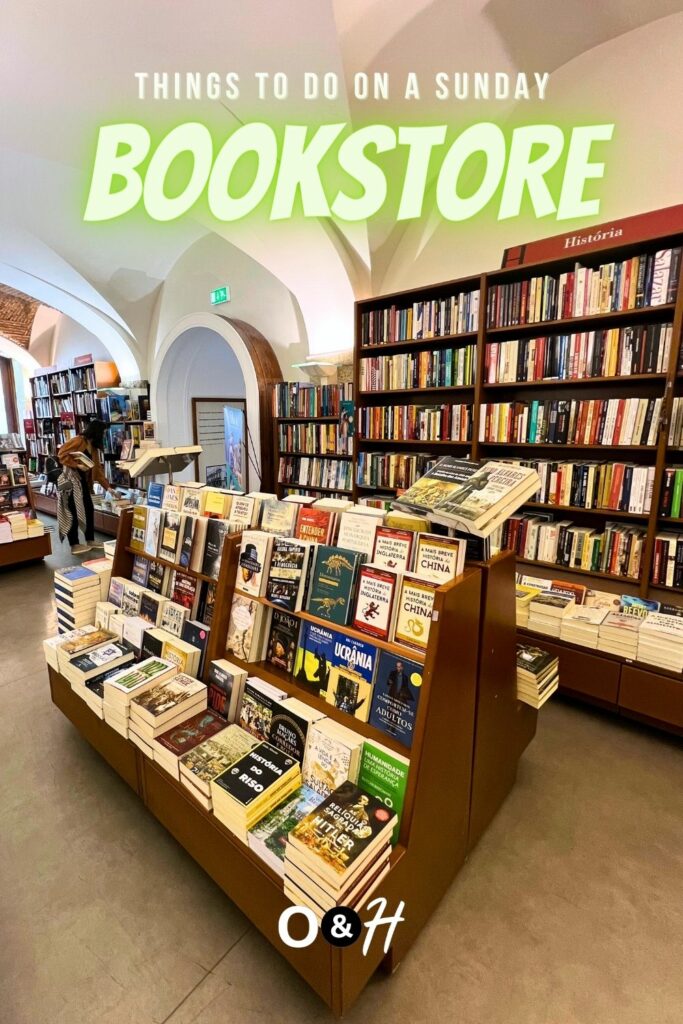 Sundays are all about relaxing, so why not relax in a calm, quiet environment?
Spend the afternoon tucked up in a corner of the shop with a pile of books, and take home your favorite!
7. Get Baking
Is there anything better than the smell of home baking? Plus, you never have the time to bake during the week.
Why not crack out the flour, eggs, and baking powder and see what you can come up with?
8. Go to the Beach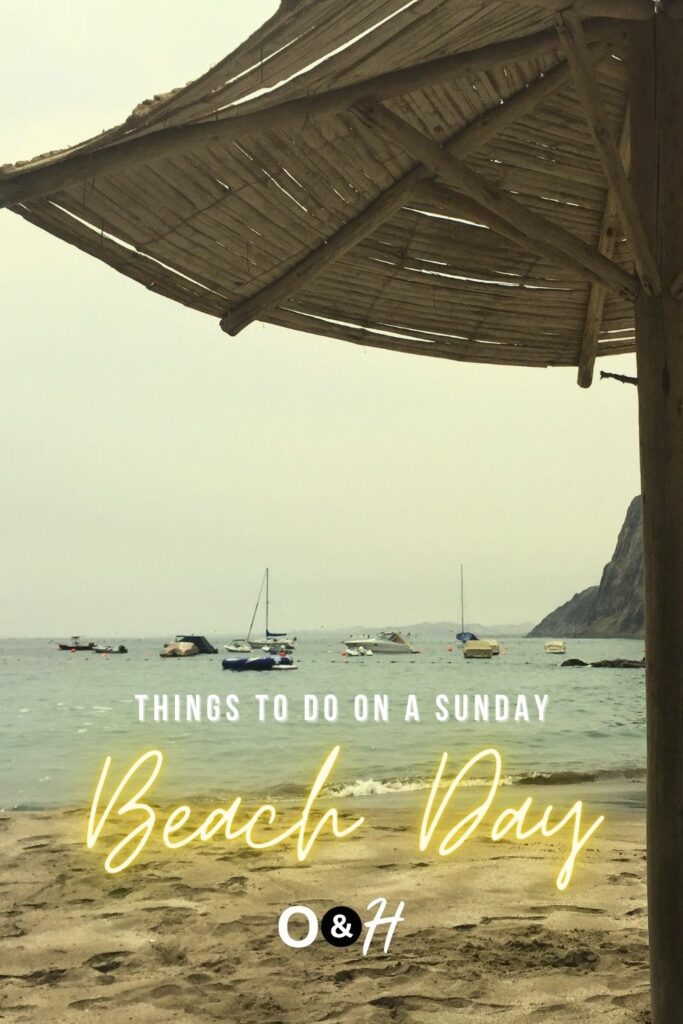 Going to the beach on a Sunday is the perfect way to wind down before the week begins. Get in the car and head to the coast for a super fun day.
Enjoy some snacks by the sea or simply enjoy a scenic walk with the sound of the waves, helping you reset for the new week ahead.
Read more: 100+ Things to Do at the Beach (Bucket List)
9. Try a Movie Marathon
Falling asleep in front of a movie after work is no use!
Instead of re-watching the same 30 minutes every time before nodding off, use your Sunday afternoon to catch up on the movies you want to see – add some popcorn into the mix for an enhanced experience.
10. Go Shopping
Who doesn't love a bit of retail therapy? Go shopping alone or with friends and treat yourself to something special next time you're bored on a Sunday.
Grab a fancy bite to eat while you're at it – it's good to show yourself some love now and again.
---
On a Sunday Evening
For the last hours of the weekend, give these Sunday activities a try:
11. Grab a Game of Off-Peak Bowling
The great thing about going bowling on a Sunday is that it's off-peak. This means you'll get your round of bowling for cheaper, and the venue will be quieter.
Head to your local bowling lane with some friends or family for a fun Sunday evening. Be sure to grab a bite after your game for a fun, chilled end to your weekend.
12. Have a Garden Campfire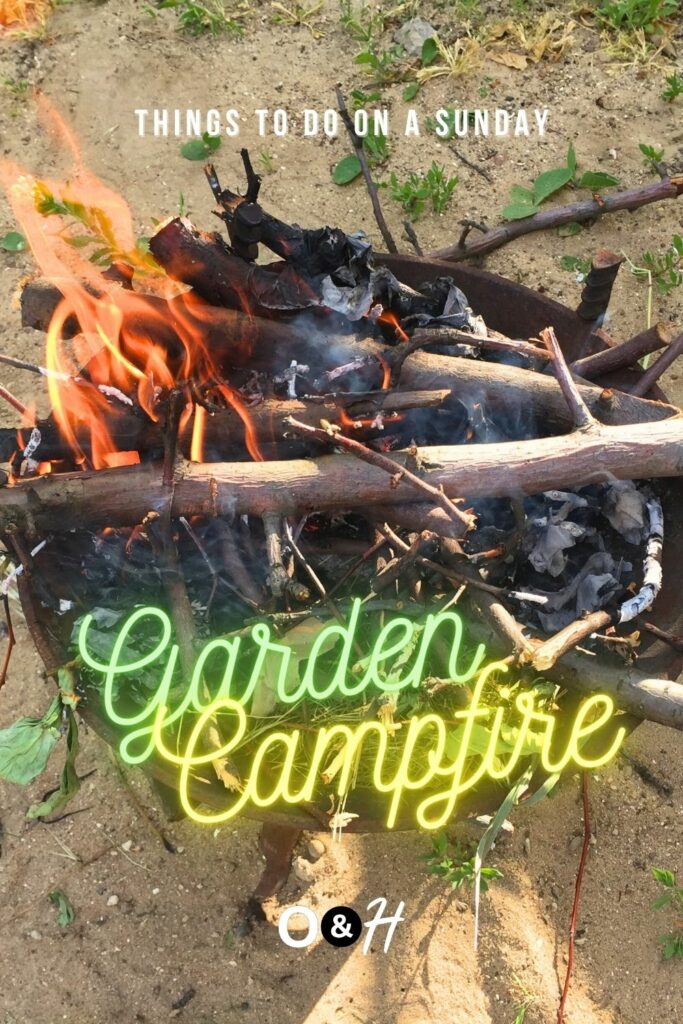 If it's getting chilly, why not organize a fun outdoor campfire? You can toast marshmallows on some roasting sticks like these ones over an open fire, tell stories, and relax before the week ahead recommences.
If it gets too cold, rainy, or dark outside, you can still enjoy all the campfire activities inside. Instead of lighting a fire, you can instead make s'mores with an electric s'mores maker like this one or with a budget-friendlier s'mores maker like this one.
Enjoy your s'mores around the kitchen table or in the living room with the same great stories and company, and make keep the door ajar to let a little of that evening air in.
13. Curl Up with a Good Book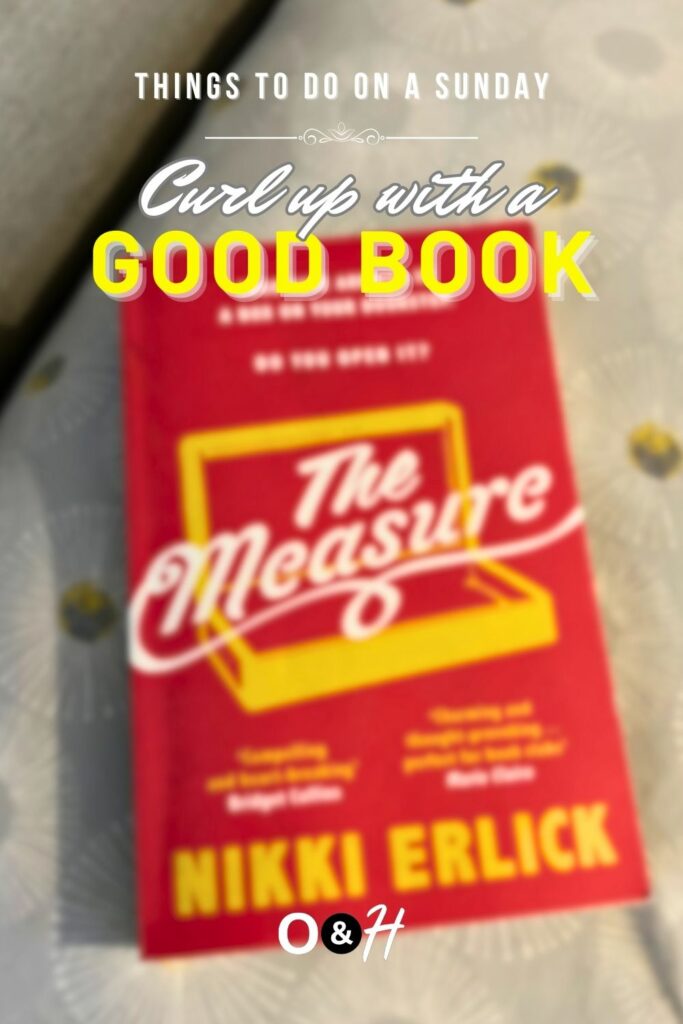 What better way to prepare for Monday morning than to lose yourself in a captivating book?
Curl up in front of the fire if it's cold, or if it's summer, take your book to a local park and read until the sun goes down.
If you don't buy books anymore or don't want to carry them, get yourself a Kindle Paperwhite and sign up for Kindle Unlimited. That way, you can read tens of thousands of titles, old and new, from a super lightweight device anywhere you like.
14. Take a Relaxing Bath
If you're used to those quick 10-minute showers before work, treat yourself to a long Sunday evening bath. Pop on some music, pamper yourself, and prepare yourself for the week ahead.
Once you've run yourself a hot bath, add some luxurious bath foam like this one, with lavender, jasmine, and rosewood, to help ease your aches and relax in tranquility. Or try this budget-friendly lavender bath foam to soothe your body and help you sleep.
Whether you give yourself a full-body exfoliation or simply light some candles while laying back and daydreaming, you'll feel refreshed and reinvigorated, ready for Monday morning.
Related: DIY Spa Night at Home Ideas
15. Journal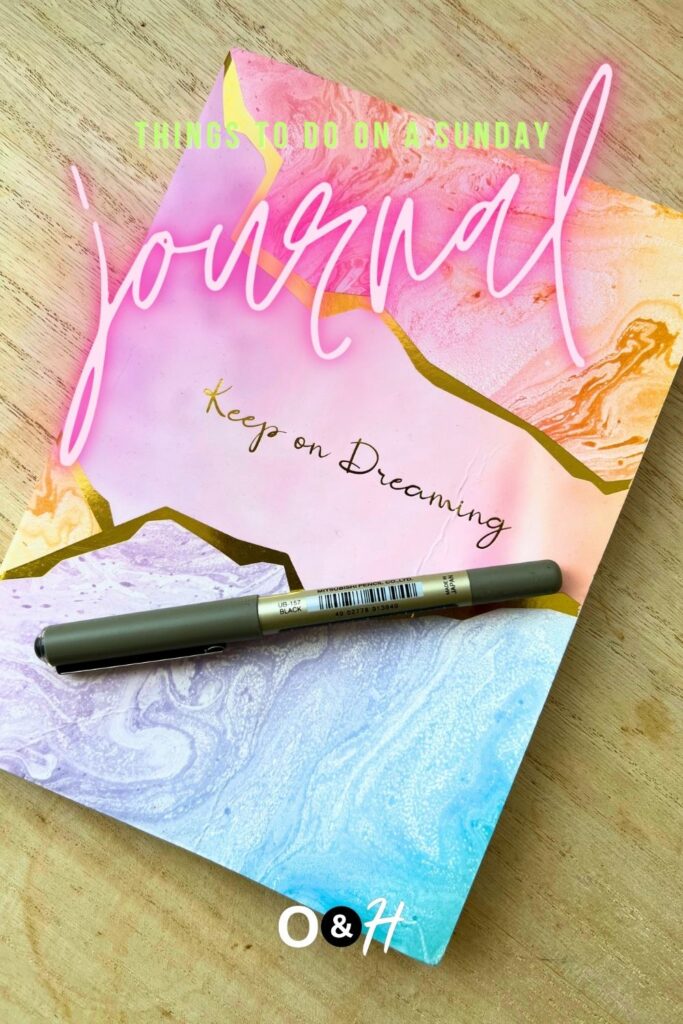 The positive benefits of journaling are well-established. If you've got the Sunday night blues, do some journaling.
Write down your thoughts – both good and bad – and watch how your mood markedly improves. Write down your goals and positive affirmations, and turn this into a productive habit for your well-being.
Related: Free and Premium Daily Journal Printables
---
Fun Things to Do
These fun and memorable activities are the perfect way to make the most of your Sunday:
16. Catch Up on Your TV Shows
If you're tired of your friends spoiling your favorite TV shows, set aside Sunday as your ritual series catch-up day.
Mute your group chat and avoid the office water cooler until you've seen the latest episodes.
17. Organize a Game with Friends
It's great to get moving, and even better to get moving with friends. So, organize a Sunday sports event with some of your pals to keep you all active.
Whether it's a football game or a tennis match, you'll enjoy a little bit of fun competition and exercise at the same time. 
Related: 25+ Outdoor Games for Endless Fun Under Bright Blue Skies
18. Make Homemade Pizza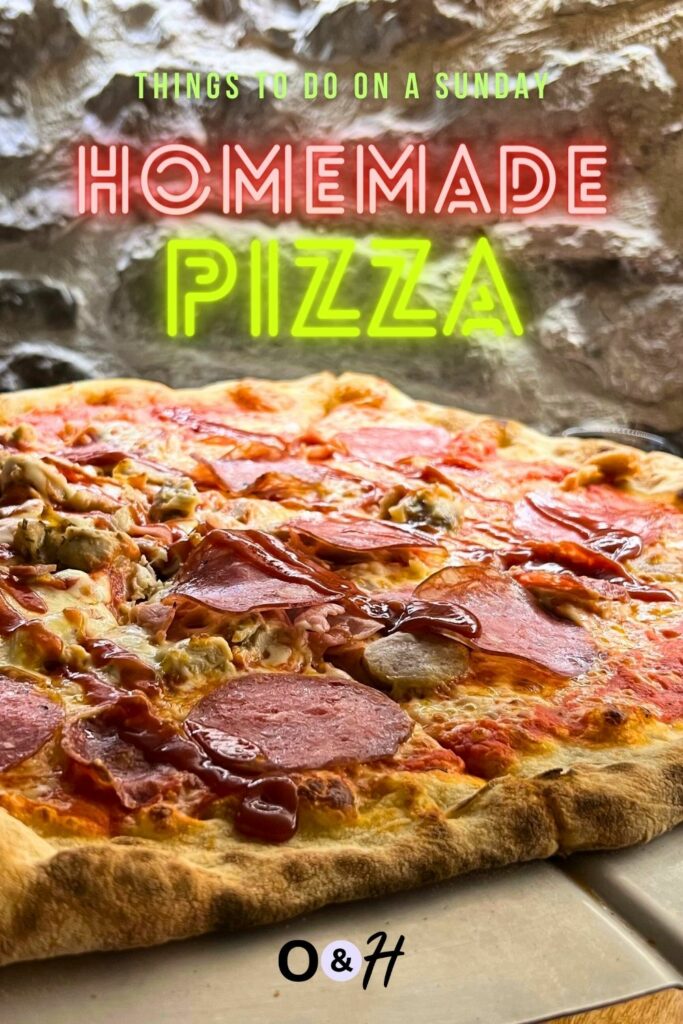 If you've never made homemade pizza before, it's incredibly easy. First, order some pizza dough, Neapolitan-style, like this one, or get a pre-made base from the supermarket. While you're there, load up on all the delicious toppings you want on your pizza.
Once you get home, roll out your dough and top it with all your delicious ingredients. From there, you can load the pizza onto a pizza stone like this one and put it straight into the oven.
Either make a fab pizza for one or treat your family to an authentic homemade pizza experience.
19. Get Creative
A novel you're struggling to finish? Do you love painting but never have the time? Whatever your creative hobby is, dedicate your free time on Sunday to work on it.
When it comes to creativity, consistency is key: make Sunday your creative day.
Related: 100+ Drawing Ideas (The Ultimate List of Things to Draw)
20. Eat in a Local Restaurant
Most restaurants will be fully booked on Saturdays, so it makes sense to head to your favorite eatery on a Sunday.
Often, you'll get better service and enjoy a quieter, calmer atmosphere. Head to a favorite eatery or try something new. 
21. Go to an Arcade
Enjoy a fun nostalgia trip with a day out at the arcade. Change your notes into pennies and spend the afternoon playing on the slot machines, competing at air hockey, and seeing what you can win on the crane machine.
---
Productive Things to Do
Sundays don't have to be just about relaxation and games! Preparing for the week ahead is one of the best ways to reduce stress going into Monday. These are some ideas to get you started:
22. Work Out
Instead of trying to squeeze in a workout on a hectic Monday, get your workout in on Sunday afternoon.
You'll get your first session of the week out of the way and can enjoy being more relaxed on Monday.
Exercise is also great for our well-being so that Sunday evening dread will be less pronounced after a productive sweat session. 
23. Re-organize Your Room or Your Apartment
If your home environment is in need of a little sprucing up, spend your Sunday re-organizing your apartment or bedroom.
Rearrange your furniture, paint a feature wall, or simply have a clear-out. If you're living with a roommate, make sure to brief them first before turning the place upside down.
24. Job Hunt
If you're feeling unsatisfied at work and you typically spend your Sundays doing nothing but sitting around dreading Monday morning, turn the end of your weekends into something positive and productive.
Reserve Sunday afternoons for a productive job hunt. You could also use a few hours of this time to perfect your resume and learn new skills to enhance your professional profile.
25. Do Your Laundry
Laundry piling up and running out of underwear? Use your Sunday to do a full bag of washing.
It'll save you lots of time during the week while ensuring that you'll never have to spend Monday morning searching your drawers for clean underwear!
26. Organize Your Week's Activities
If you love to plan ahead, organizing your days and filling in a paper planner, get it done Sunday evening before the workweek begins.
You'll have one less thing to do on Monday morning, and your future self will appreciate that extra hour to focus on important tasks and getting the work week underway.
Related: Hourly Planner Printables (Free and Premium)
27. Meal Prep for the Week
If you're bored of ordering take-out because you're too tired to cook during the week, why not try out meal prepping?
With meal prepping, you'll be able to tailor what you eat in function to your needs while saving both time and money during the week.
Meal prep doesn't have to be boring, either. You can prepare varied, delicious meals and keep them in the freezer until needed.
You can store your meals in glass containers like these and add labels for the day of the week, or go extra fancy with a bento box like this one, which has lots of compartments to keep your meals and condiments separated before you eat them.
---
Things to Do with Friends
Spending time with friends on the weekend is one of life's little luxuries! And if you want more ideas than the ones below, make sure to check out this list of over 100 things to do with friends.
28. Picnic in the Park
If it's a hot summer month or you're blessed with some great weather, head to the park with some friends and enjoy an outdoor picnic.
Bring along some buffet food, some light champagne, and good conversation for a perfect end to your weekend. Use our picnic foods list to help inspire you.
Related: Best Picnic Essentials to Plan the Perfect Picnic
29. Catch up at a Coffee Shop
If you're not so lucky with the good weather, you can catch up with friends at a coffee shop.
Sundays are always quieter in town, so you'll have more time to chat, drink coffee, eat cakes, and relax while preparing for the week ahead.
30. Participate in a Virtual Gaming Tournament
Just because you want to spend time with friends doesn't mean you need to leave the house.
Why not enjoy a fun gaming tournament online with friends? You can chat together while gaming – perfect for a rainy day or a lazy Sunday evening.
31. Make Some Extra Cash
If you and your friends wouldn't mind some extra money in your pockets, and you've got loads of old books, DVDs, clothes, and other knick-knacks lying around, why not host a garage sale?
You'll make some cash and have a fun weekend at the same time – just try not to spend all your hard-earned cash all at once!
32. Poker Night
While you might think that Saturday might be more appropriate for a poker night, we disagree!
Get yourself a stylish poker set like this one, cover your kitchen or dining table with a cover to protect it, and bring in extra chairs so that everyone has a set. You could even put down coasters so that every player has somewhere to put their drink.
A Sunday evening poker game with friends will distract you from those Sunday-night blues. Whether you go home with the prize fund or just play for fun, you'll have a fun evening with friends.
33. Escape Room
For a thrilling and not-so-relaxing Sunday afternoon with friends, head down to an Escape Room.
Escape rooms challenge your logical thinking and encourage collaboration, so it's a stimulating activity as well as a fun one!
If you don't want to go to an Escape Room in the city, give Exit: Kidnapped in Fortune City, a card-based, family-friendly escape room game you can play at home, a try, and enjoy the thrill of solving puzzles and escaping in the comfort of your own home.
---
Things to Do with Family
Sundays and weekends, in general, are perfect for spending a lot of quality time with family! Whether it's visiting your parents or planning fun and entertaining activities for your kids, here are a few ideas:
34. Host a Sunday dinner
One of the best things about Sunday is having the opportunity to have a sit-down meal with your family and spend time together catching up on the events of the week.
Whether you cook a classic dish or do your own spin on something traditional, you'll enjoy a relaxing afternoon and evening with loved ones. 
35. Go to a Farmers' Market
Lots of farmers' markets operate both Saturdays and Sundays in most major cities, so why not head over to your local farmer's market and buy some fresh produce?
You'll be supporting small, local businesses while buying delicious, fresh ingredients to make a yummy home-cooked meal for your loved ones (or for yourself!)
36. Catch an Off-Peak Movie
With movie theater prices seemingly rising year upon year, it's no surprise that going to the movie theater has gone from being a typical family weekend activity to a rare luxury.
If you love going to the movie theaters but don't want to spend a lot of money on tickets for the family, Sunday is the perfect day to go off-peak and enjoy a movie at a more affordable rate.
37. Go Fruit Picking
If you're lucky enough to live near a farm, head over with the kids and enjoy some seasonal fruit picking.
Depending on the period, the little ones will have the opportunity to pick berries, apples, or even pumpkins during Halloween.
38. Go to a Theme Park
If you love theme parks, but the idea of going to one on a Saturday fills you with dread, opt for going on a Sunday.
You'll often get a chance to go on all the same rides but with more chance of shorter queues. Take the whole family along and enjoy a day out of thrills, spills, and memories.
39. Take a Day Trip to a Neighboring Town
If you've run out of things to do with your family in your hometown, why not take a day trip to a town or neighborhood nearby?
You'll discover new restaurants, new cafés, and new fun activities to enjoy with your family.
40. Play Card and Board Games
Nothing unites (or divides!) a family on a Sunday quite like a game marathon. There are just so many super fun card games and board games out there, you'll never be spoilt for ideas.
You could start with a classic like Uno, where you race to remove all the cards from your hand, and then have a few rounds of a family-friendly game to slow down the pace.
To keep things creative and funny, a few rounds of the family-friendly version of Cards Against Humanity could also be a great idea. From there, you could finish with a classic board game like Clue and see who has what it takes to solve the mystery.
Whether you bring in some new games or dust down some classics from the shelf, the most important thing is you spend your Sunday having fun as a family together.
Related: 20 Board Games for Adults for an Evening of Fun with Family and Friends
---
Sundays don't have to be a day of waiting around for the week to begin. After a long and busy week, you need some time to unwind, have fun, and spend time with the ones you love.
Use these things to do on a Sunday to give you some inspiration when the end of the week comes around, and use the time you have to do some fun and creative activities.
You Might Also Like to Read
---
Keep these things to do on a Sunday for safekeeping, ready for the end of the week, by saving this article to one of your inspirational boards.