This post may contain affiliate links, meaning if you book or buy something through one of these links, I may earn an affiliate commission at no additional cost to you. Learn more
Life is for living to the fullest, so use these beautiful bucket list printable templates to write down everything you want to do, then go out and make all of them happen!
Bucket List Printable Templates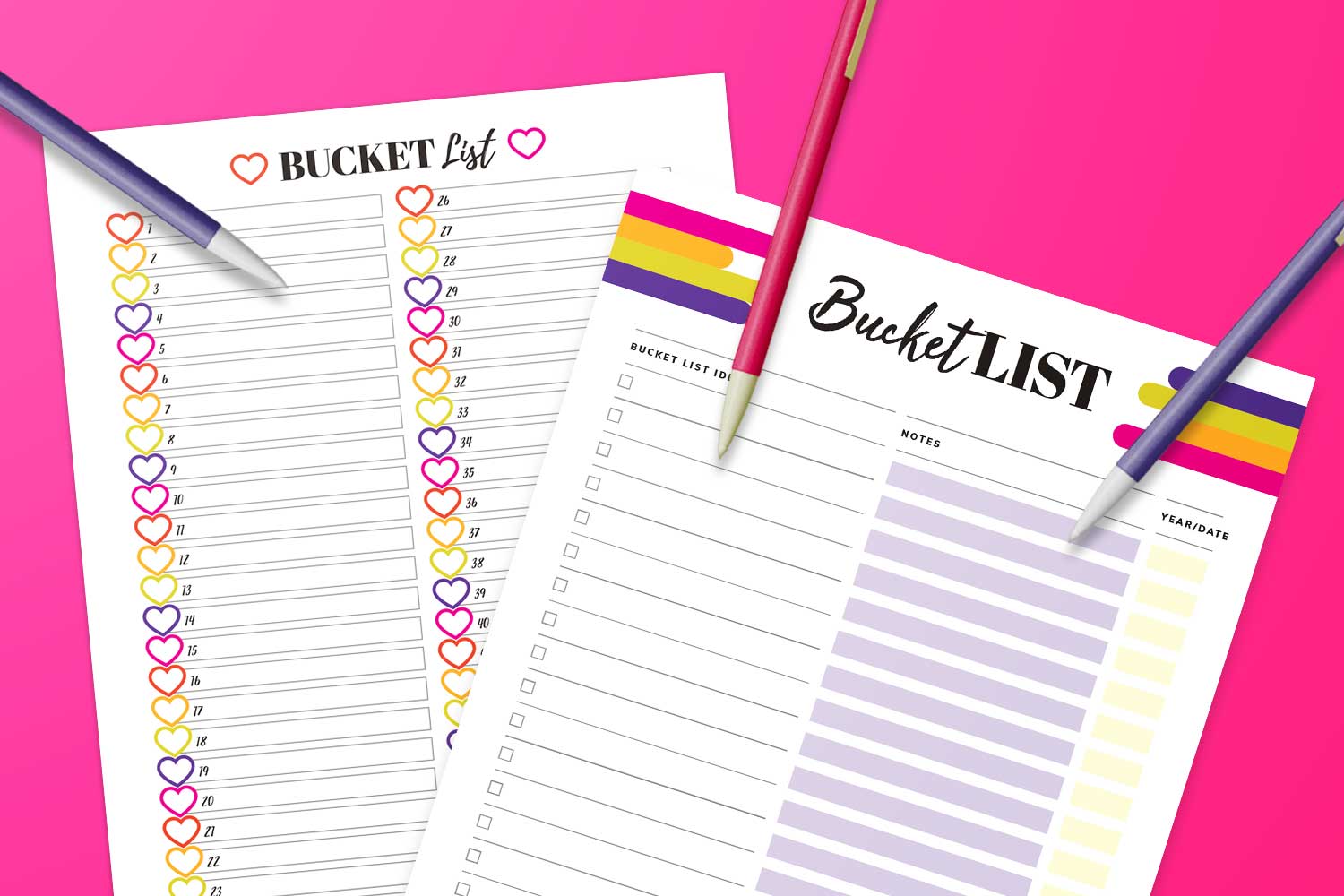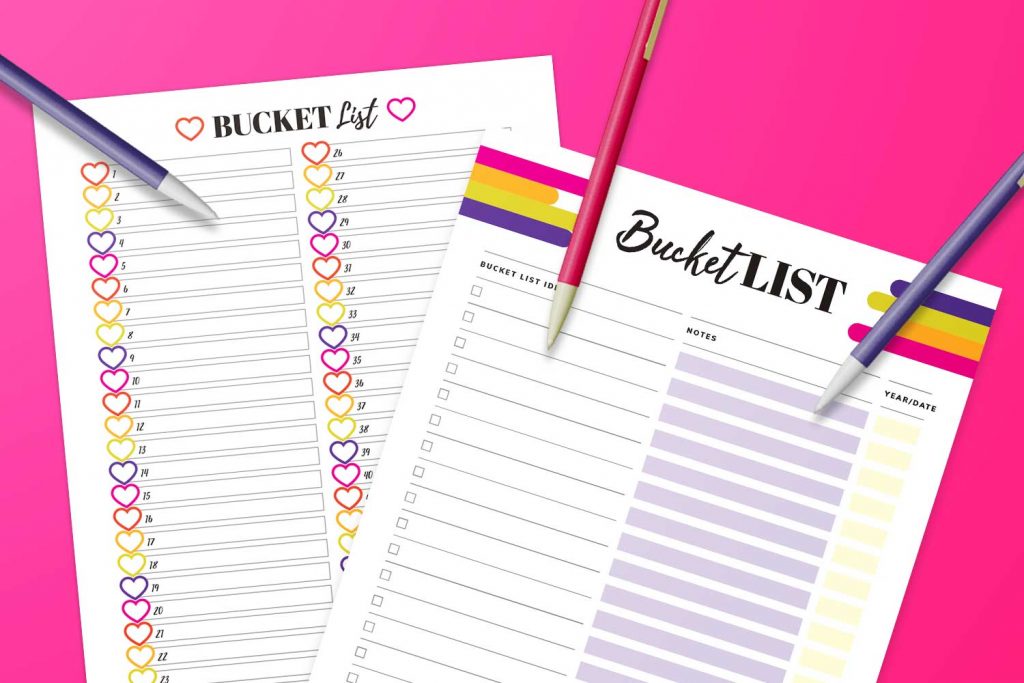 Don't let life sail you by without doing the things you've always wanted to do. Whether it's classics, such as swimming with dolphins, or personal goals, such as learning a language, life should be filled with challenges, dreams, and bucket-list moments.
Our printables will help you get in the right frame of mind. By writing down your dream items, you'll feel far more motivated to put the time in to make them a reality.
Don't wait until tomorrow. Start today, and strive to fill your life with moments, memories, and dreams that will make you feel on top of the world.
---
Free Bucket List Printable Template
Free Simple Bucket List Printable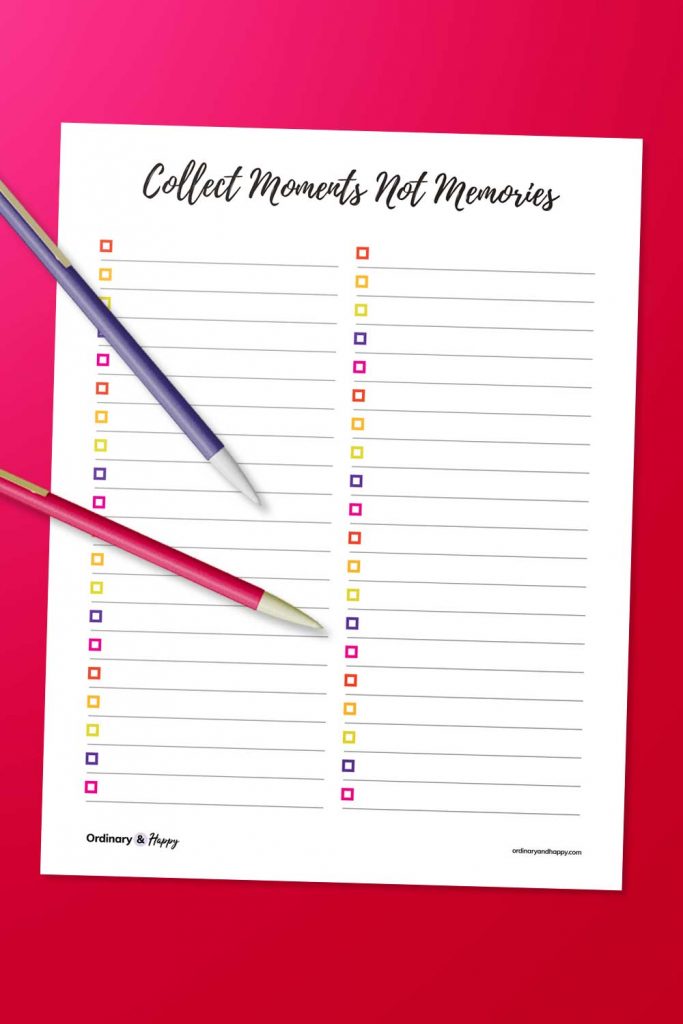 'Collect moments not memories' is such a beautiful mantra to live by. With this printable printed out and stuck to your fridge or desk, you'll be reminded every day of the best way to spend your time.
There's room for up to 40 bucket list items on this list. Write them down, and take the time to check them off, one-by-one. Whether it takes days, weeks, or even years, always keep striving to make them happen.
Get it here
---
Premium Bucket List Printable Templates
Grid Bucket List Printable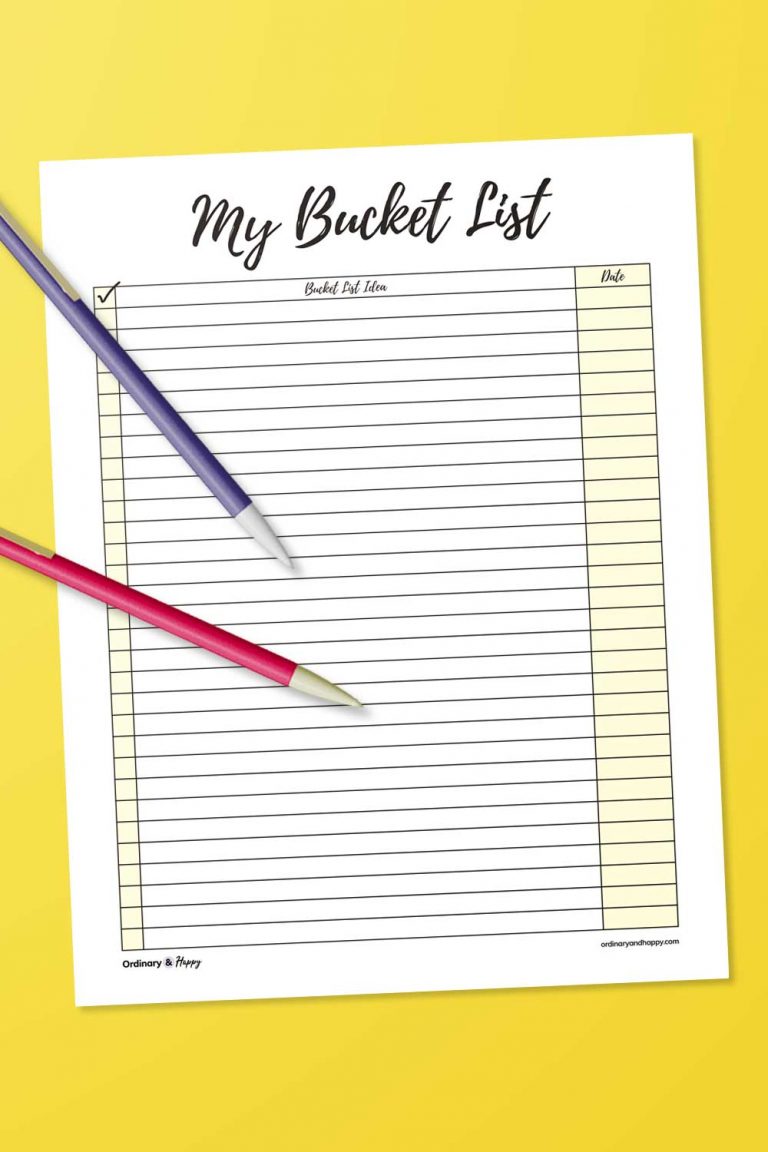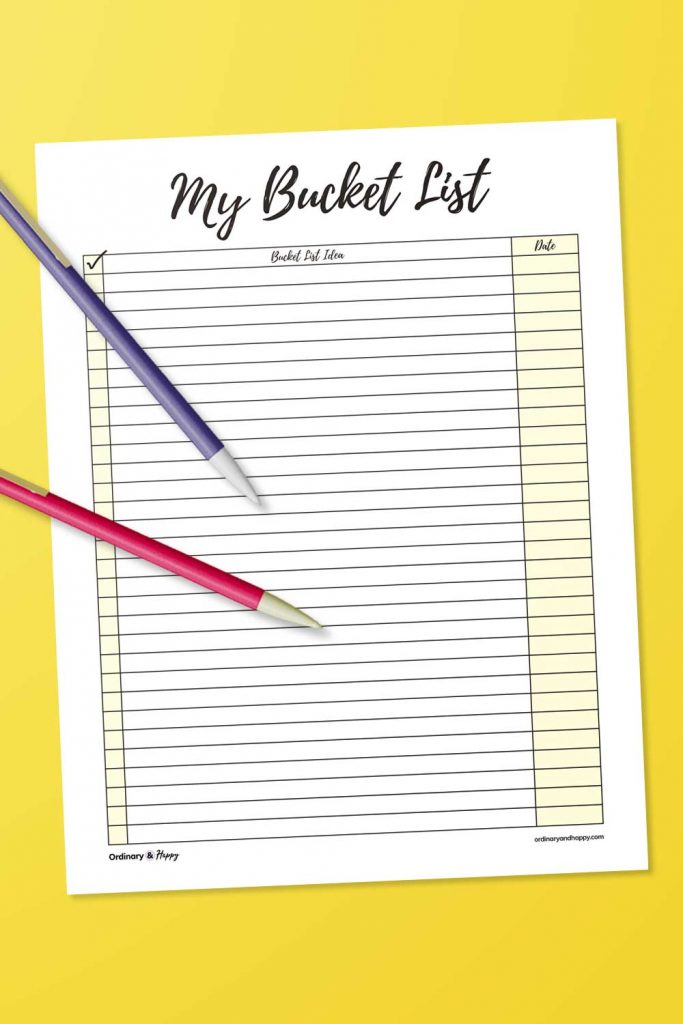 Need a simple bucket list checklist that slides seamlessly into a binder or folder? Our simple grid bucket list printable has you covered.
Complete with checkboxes and a 'date completed' or 'date booked' grid, you can go through your bucket list goals in a chronological, ordered way.
If life is a little busy, this is a great printable to still keep those dream to-dos in your mind. Find the time to do them, book or schedule them in, and feel like a champion when you finally do them and check them off.
Get it here
Detailed Bucket List Printable
If you want more than a list of ideas, this is the printable for you. Complete with space to add notes, booking information, and dates, this bucket list template will really help your ideas come to life.
Sometimes, we need more than just an idea. By adding planning notes and desired dates, our bucket list items suddenly become more real and feel more achievable.
Once done, you can check it off, feel proud, and move onto your next dream item.
Get it here
Top 100 Bucket List Printable
This is the bucket list for the true adventurers at heart! With up to 100 ideas, if you really want to live life to the fullest, try to fill this printable!
You can even add a specific year, if you want, and make this all about small bucket list items you can do in an entire year. Or you can ignore the year, and fill this with life goals, dreams, and challenges.
With up to 100 ideas, you'll never be stuck for your next goal or challenge to try and check off!
Get it here
I Heart Bucket List Template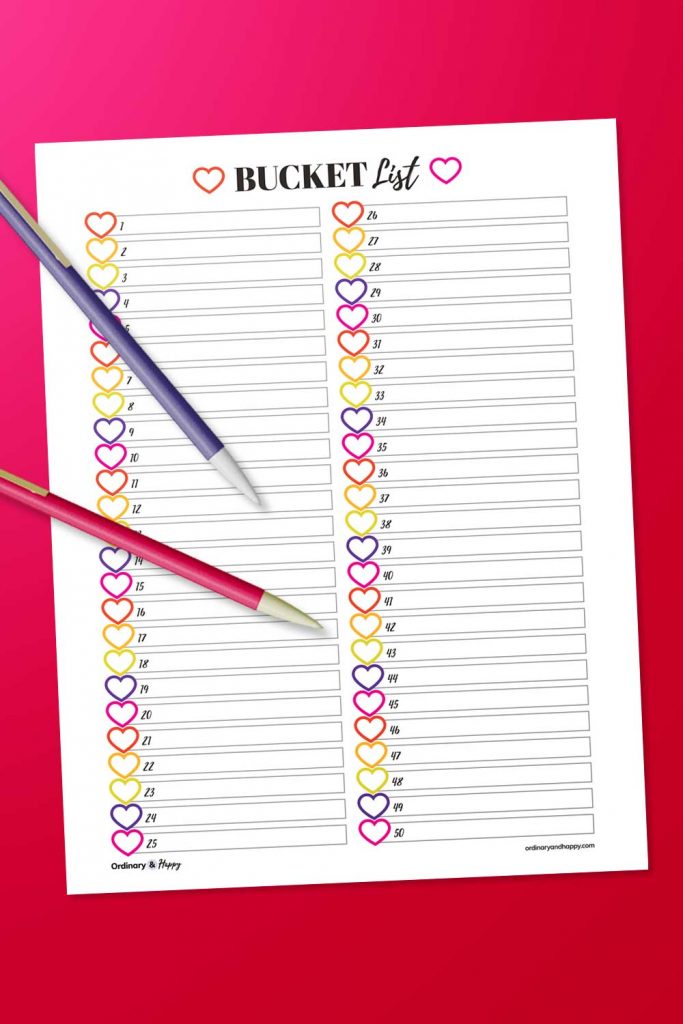 Full of color and love, our heart bucket list printable will inspire you to do the things you add to your list.
With room for up to 50 bucket list items, you can color in each heart with joy and pride every time you complete an item on your list.
Hearts and bucket lists go hand-in-hand. Checking off bucket list items is all about loving the life you have, and making it a life of happiness and wonder.
You can tick the hearts, color them, or doodle in them. However you use this list, remember that you should love the life you have. So get inspired to fill it with things you want to do, and moments you'll never forget.
Get it here
---
Get inspired, get scribbling, and start doing! Bucket list printables are an amazing way to visualize the things you really want to do in life.
Once they are written down, you can then start working toward making them happen. But first, you have to know what you want. Our beautiful and simple bucket list templates can help you do this with style and confidence.
You Might Also Like to Read
---
Keen to start doing the things you've always dreamed of? Use these bucket list printables to help you, and keep this article for safekeeping on one of your inspirational Pinterest boards.