This post may contain affiliate links, meaning if you book or buy something through one of these links, I may earn an affiliate commission at no additional cost to you. Learn more
Get inspired with these second-date ideas to help that spark with someone you just met catch fire, taking the romance to new heights in a fun and enjoyable way.
Second Date Ideas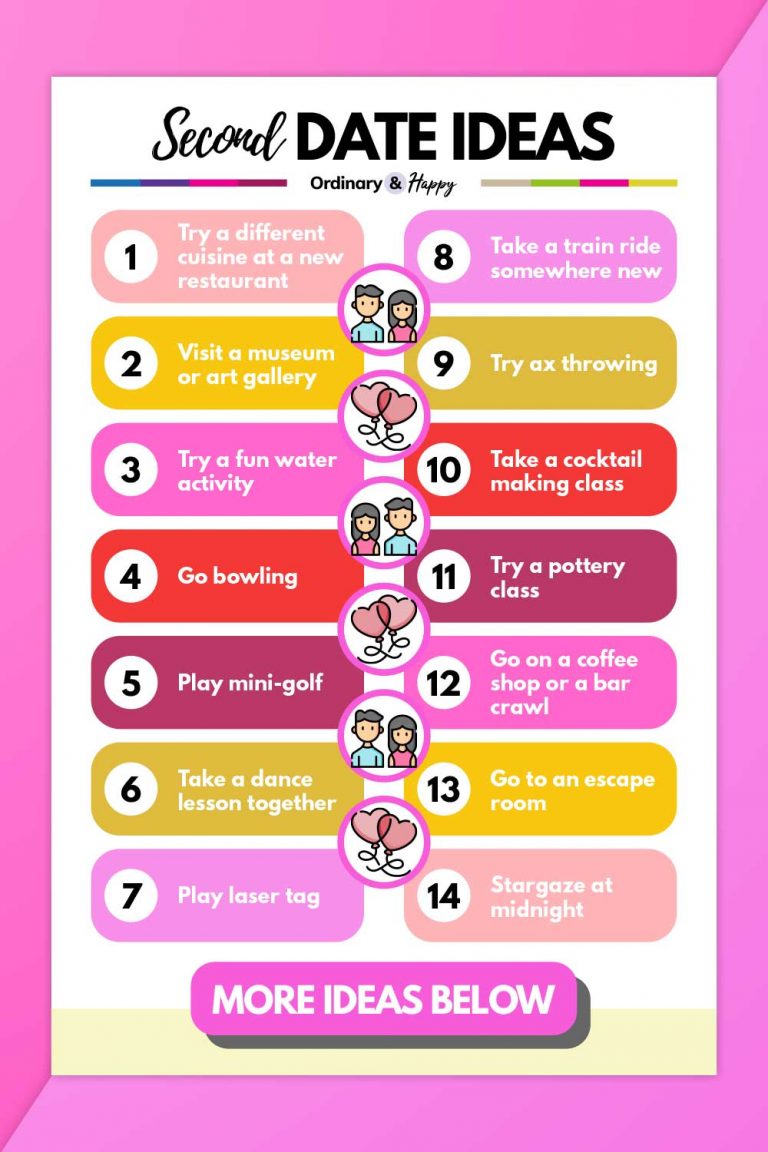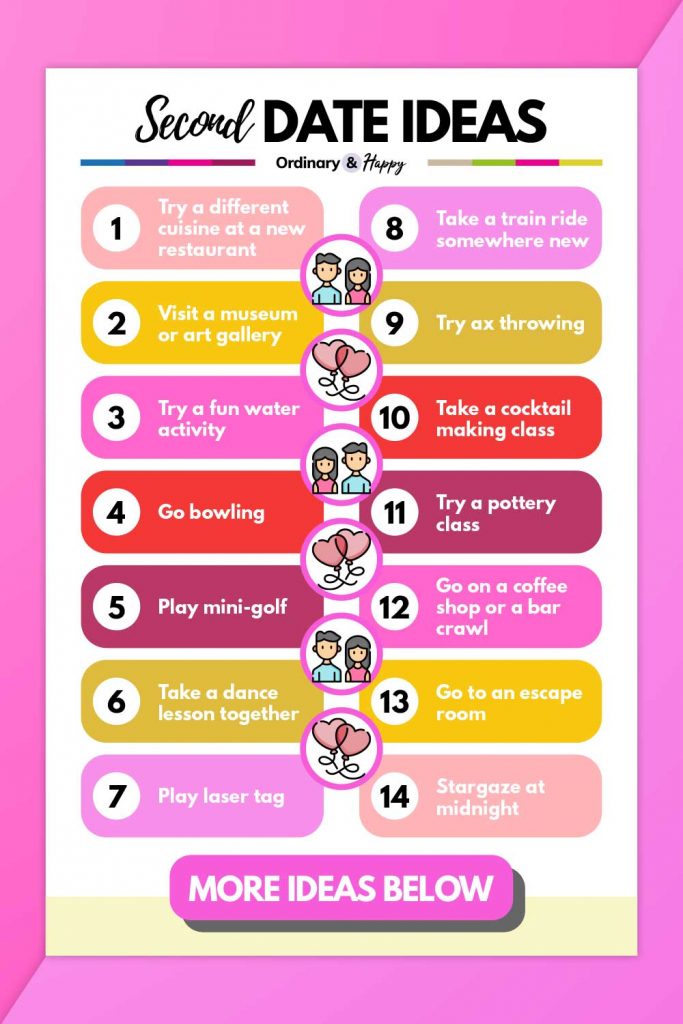 ---
Fun
1. Try a Different Cuisine at a New Restaurant
Going out for food is a universal activity everyone can enjoy. It's an opportunity to try out a new cuisine or discover a different place near your hometown.
A fun idea when it comes to eating out for a date is to go to a restaurant neither of you has been to. That way, you're both experiencing something new for the first time together, which can be a great bonding experience.
2. Visit a Museum or Art Gallery
Second dates can also be an opportunity to get your thinking cap on, and that's where art galleries and museums come in.
Every town and city has some kind of history about it, and if you have a local museum or gallery that isn't too far, why not head there for date night? You could both learn something new and exciting.
3. Try a Fun Water Activity
Second dates are all about having fun with each other and taking part in exciting activities, so hitting the water is a great idea if you're both thrill-seekers.
Whether you live near a water activity hotspot or need to branch out, there are many activities to consider, from canoeing and paddleboarding to surfing.
4. Go Bowling
Embrace your competitive side with a game of bowling or two in your local alley. Bowling is one of those activities perfect all year round, but especially if the weather isn't too great outside.
You can see who is able to score a strike first while enjoying great conversation and some food and drink.
5. Play Mini-Golf
Miniature golf is suitable for all skill levels, is super fun, and allows you to show your competitive side while still engaging in fun and casual conversation.
6. Take a Dance Lesson Together
Feeling the spark between you? Why not take the intimacy levels up a couple of notches by going to a dance class together.
Salsa, for example, is ideal for a second date because salsa classes are often done with lots of people. You can still dance together, but being in a large group helps take the pressure off you both.
7. Play Laser Tag
Perfect for the cooler weather, laser tag is an indoor activity that'll get your heart racing and your competitive spirit soaring.
It's a great choice if you prefer to do things on dates and meetups, and it gives you both the chance to do something fun, without the pressure of cliche romance.
---
Unique
8. Take a Train Ride Somewhere New
Train rides are an exciting way to visit a new destination as you can watch the route pass you by while getting to know each other on the ride.
Once you arrive at your destination, you can have an interesting time exploring a new place and choosing activities you both enjoy doing.
If you're both active, you can head for the hiking trails while the hopeless romantics can enjoy drinks on a rooftop bar.
9. Try Ax Throwing
Not all dates have to be classically romantic, and that's why ax-throwing can always be a fun idea. It's unique, super fun, and a great activity to try together.
Follow it up with some outdoor walks and casual drinks at dinner, and you have a second date to remember.
10. Take a Cocktail-Making Class
Have fun whipping up some classic drinks together at a cocktail-making class. You could go in person to one at a local bar, then enjoy drinks afterward.
If you can't or don't want to drink, look for a mocktail class instead. Such classes as just as much fun but without the alcohol.
11. Try a Pottery Class
Recreate a romantic movie scene at a pottery class. It may be a little messy as a date idea, but that's what makes it one for the memory books.
You'll have an activity to do together, can try something new, and both get creative while having a laugh.
12. Go on a Coffee Shop or a Bar Crawl
Depending on what age you are, one or both options may be suitable. For those over the legal drinking age, a bar crawl can be a fun date night, scouting out all the best bars in your local town or city.
You could also try a coffee shop crawl and have a lovely afternoon or evening searching for the best coffee or cookies in your hometown or nearby city.
13. Go to an Escape Room
It's time to get your thinking cap on with an escape room. Enjoy solving puzzles together, either as a duo or as part of a larger team.
If you're looking to double date with friends, this could also be a really good choice. After you escape, be sure to go for food and drinks somewhere new and exciting.
---
Outdoors
14. Stargaze at Midnight
Nothing says romance more than watching the stars go by in the night sky and opening up to each other about life, dreams, and other deeper topics.
You can do this in many ways, such as going camping and stargazing outside your tent or going on a drive and finding a spot under the moonlight with a picnic blanket.
15. Drive-in Movie Theater
Want something a little more adventurous than a movie at the cinema, but not quite ready for watching a movie together at home?
Find your local drive-in theatre, get the snacks at the ready, and enjoy an epic movie together from the comfort of one of your cars.
16. Visit an Amusement Park
If you're both adrenaline junkies, spending the day at an amusement or theme park is a great way to enjoy each other's company in a thrilling way.
Ride some white-knuckle rollercoasters, enjoy the thrills of a pirate ship or haunted house, and finish the day with food and drink in good company.
17. Bike Ride Along a Scenic Route or Through Your Hometown
For an adventurous date that can take you to so many amazing places, why not both go for a long and enjoyable bike ride in your local area?
It's an easy way to exercise, see the sights, and do a fun activity together. At some point, you can find somewhere for a spot to eat.
18. Hiking Somewhere New
For fitness junkies and nature lovers alike, this can make for an ideal second-date idea. Hike somewhere local or take a road trip somewhere further afield.
Be it hillside views or woodland walks, hiking is a fun activity that also gives you both the chance to learn more about each other.
19. Drinks at a Rooftop Bar
There's no better way to see a city or town late up in the evening than by visiting a rooftop bar.
Order your favorite cocktails, take in the view, and enjoy an evening of laughs and great conversation.
20. Be a Tourist in Your Hometown Together
Go visit those iconic places and landmarks that you never seem to find time to visit together, and enjoy a fun day of exploring and conversation together.
Finish your afternoon of sightseeing with drinks at a bar or food at a market or new restaurant you've been meaning to try.
---
Indoors
21. Shopping and Food at the Mall
You can spend hours at the mall on your second date. From clothes shopping to lattes and lunch, this is a great setting for a second date, without too much intimacy.
If you're both feeling up to it, you could even go see a movie before the day is over.
22. Favorite Takeout Night
We all have a favorite takeout. Whether it's hot and cheesy pizza from a little-known place or Thai food from a well-known restaurant, bonding and taking your relationship to the next level over takeout allows you to create a more relaxing setting in one of your homes.
23. Face Masks and Netflix Night
Why not take a movie or show date night to a more fun and relaxing level with some face masks.
You'll definitely have some Instagrammable moments to snap while enjoying a second date that's casual, relaxed, and full of choice as to what to watch.
24. Take a Cooking Class
There's a world of new and exciting cuisines for you to try. You could either go to a cooking class in person and enjoy the fun and challenge of a professional setting or get the ingredients yourself and try an online cooking class together at home, in a more relaxed environment.
25. Do Yoga Together
Connecting with your body is important for experiencing that calm energy, and yoga is one of the best ways to do this.
Doing yoga together will allow you both to relax and unwind after a busy week while enjoying an activity-driven date that takes the pressure off you having to constantly find topics of conversation.
26. Host a Board Game Night
Being indoors doesn't mean your competitive nature has to leave the room.
Board games for two are always a good idea, and as there's so much choice, you can play a number of different games, with both of you getting to select your favorites.
27. Go Indoor Rock Climbing
Bring the challenge and achievement of outdoor climbing indoors with indoor rock climbing.
This activity can be fun all year round but especially in the colder months when the weather is wet and there's not much opportunity for outdoor adventure.
---
Budget-Friendly
28. Spontaneous Walk
Going for a walk is an underrated activity but also a great second-date idea too. Head off on a spontaneous walk whether you live near the beach, countryside, river, or city.
Wherever you choose, you're bound to see something that'll make you smile while both having time to connect on a deeper level.
29. Have a Beach Picnic
Few places are filled with as much beauty and enjoyment as the coastline, and as long as you can drive or take public transport, you can enjoy the beach for little to no money.
On the way, pick up some great picnic food, including your favorite snacks and drinks from a supermarket or grocery store, and enjoy an afternoon of great food, mini-adventures, and fascinating conversation. Staying for the sunset is the cherry on top!
Read more: Picnic Essentials You Should Have
30. Cook Dinner for Each Other
Want to enjoy great food together, but don't want to face the cost of an expensive restaurant?
Why not set up a cooking date, and spend time in the kitchen getting to know each other while making delicious food together?
You can either work on the same course together or task one of you with making the main and the other the dessert.
31. Bake Delicious Goods Together
Baked goods are a guilty pleasure for so many of us, whatever the occasion.
Be it fresh bread, rich cakes, or indulgent desserts, have fun making a sweet treat you can both gorge on together once the dish is ready.
32. Have an Arts and Crafts Evening
Get arty and creative with all types of crafts with this idea. Whether you're looking to scrapbook, dabble in painting or fancy making some clothes, there are loads of ways to channel your creativity together.
Related: 100+ Drawing Ideas List
33. Paint a Portrait of Each Other
Regardless of whether you're a Picasso or far from it, having a painting evening together can really help you both open up and enjoy being vulnerable and goofy around each other.
Throw some fine wine and hearty snacks into the mix for a casual and inexpensive second-date idea.
Related: 100+ Painting Ideas List
34. Shop at a Farmer's Market
The atmosphere of weekend markets alone is worth the visit. If you stick to your local town, the weekend markets will be easy to walk or drive to, and there's no obligation to buy anything.
Enjoy browsing the craft and food on sale, take in some fresh air, and enjoy a casual and fun time together.
---
Luxury
35. Hot Air Balloon Ride
Nothing says romance like floating up in the air together and seeing the gorgeous views below.
Hot air balloon rides are cut from the old-school romance cloth, hence why they can make for a luxurious and unique experience together.
36. Spa Day
Not all date ideas need to be fast and activity-filled, and that's why a spa day could be the ideal second date for you both.
What's more joyful than having a serene massage, taking a dip in the pool, and chilling out in the sauna?
37. Rent a Convertible Car and Go for a Coastal or Scenic Drive
Roll down the roof and put your sunnies on for a second date you both won't forget in a hurry, and hire a convertible car for a day of road-tripping and sightseeing.
38. Book a Michelin Restaurant
If you both love to be wined and dined, pull out all the stops and book a dinner date at a 3-star Michelin restaurant.
Enjoy the finest wine, gorgeous food, and some truly wonderful food, all in (hopefully) good company!
39. Drinks at a Piano or Jazz bar
Add a level of luxury to a drinks date by making the location a jazz bar or piano bar.
With their romantic atmosphere, mood lighting, and live music, this is a great way to round off an evening of fine dining and scenic walks.
40. Go Wine Tasting at a Vineyard
With rustic views, enlightening insight, and the opportunity to sample some truly divine wine, if you and your date enjoy wine and want to do something a little more luxurious, a visit to a vineyard for a tasting session could be the perfect date for you to bond and grow your relationship.
---
More Second Date Ideas
41. Visit Your Favorite Bookstore
Enjoy a chilled afternoon together, looking for new titles and reading books together, with some coffee and interesting conversation.
42. Go to a Comedy Show
43. Stroll Through a Botanical Garden
44. Sing a Duet at an Open Mic Night
---
If the first date goes well, getting past that initial front opens you up to a world of opportunity, where you can both be a little more casual, honest, and goofy with each other.
These second date ideas should give you plenty of inspiration to plan a second date that you can both enjoy and hopefully get to know each other on a deeper, more human level.
You Might Also Like to Read
---
First date went well? Keep these second-date ideas for safekeeping by pinning this article to one of your Pinterest boards.