This post may contain affiliate links, meaning if you book or buy something through one of these links, I may earn an affiliate commission at no additional cost to you. Learn more
These 30 of the best skills to learn online can help you make money, challenge you, or channel your energy and creativity into something positive.
Skills to Learn Online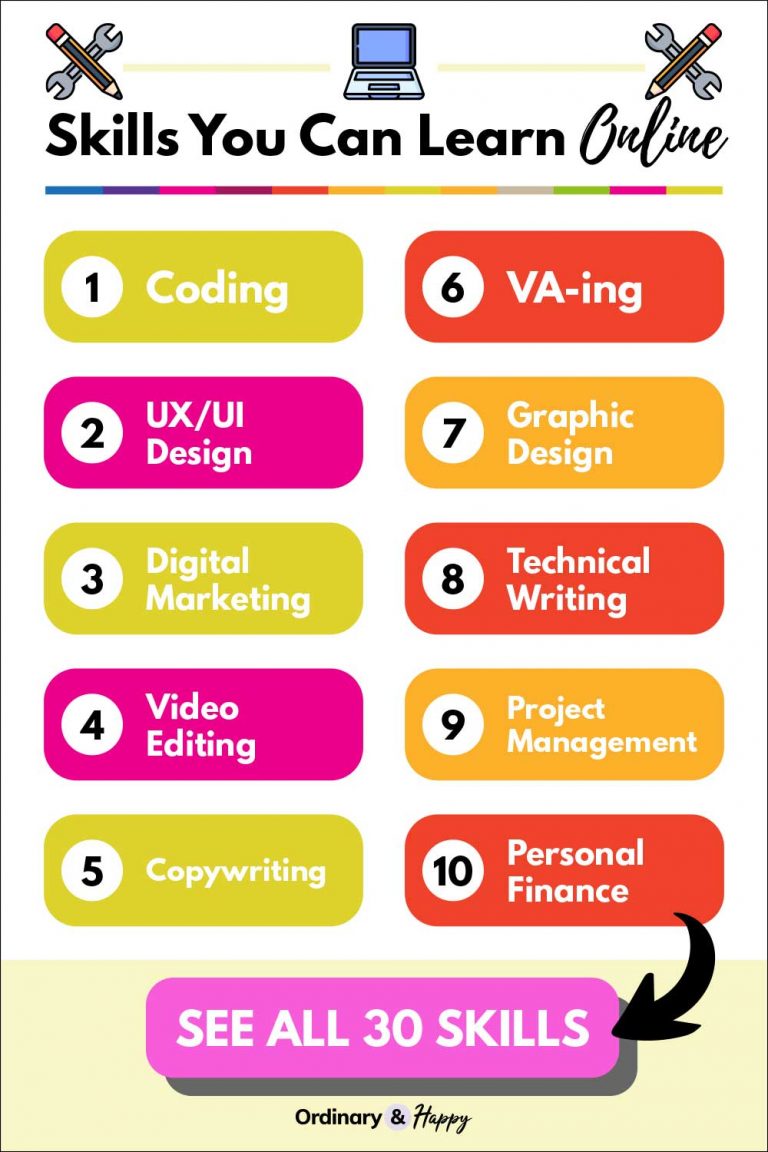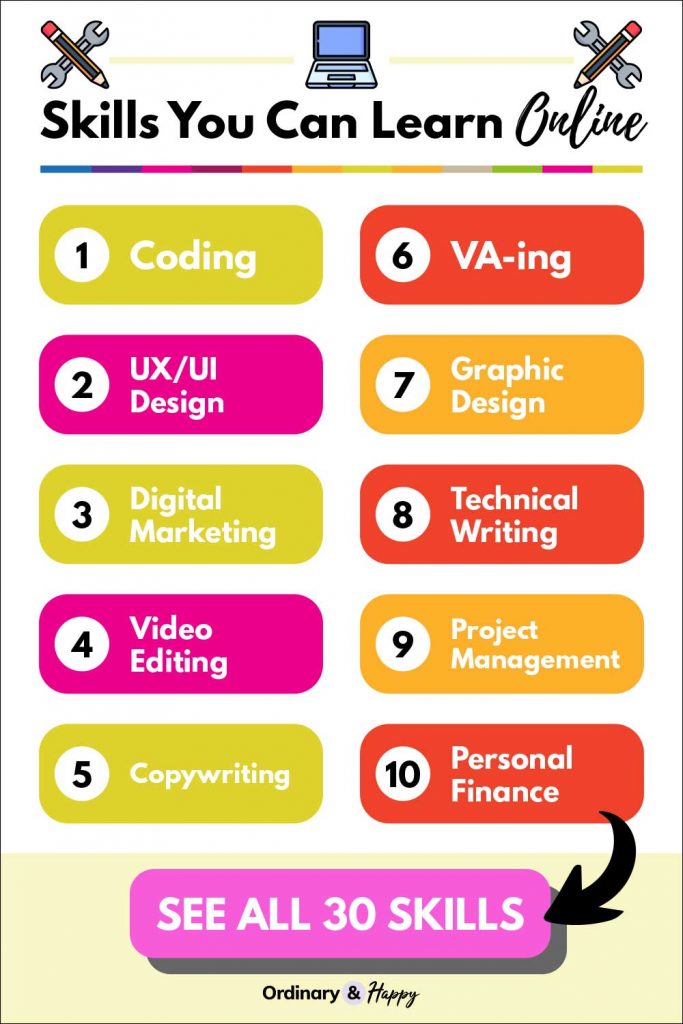 Learning a new skill is one of the best ways to use your free time. It will challenge you, make you feel great, and could open the door to new opportunities and communities.
The wonder of learning online is that you can do it at home when it suits you. There are so many great courses to choose from, no matter what you want to learn.
If you are keen to learn any of the skills in this article, there are some trusted, quality websites we recommend enrolling in courses on. Be sure to look at:
---
Most Lucrative Skills
1. Coding
With so much of our day-to-day life online, there is a high demand for coders to build and maintain websites, apps, and other online services. In fact, coding is arguably one of, if not the most sought-after skills online.
The beauty of coding is that it is one of the best skills you can learn online for free. The online coding community is strong, and there are many ways to learn.
Coding is also one of the most profitable skills you can learn online. Even a basic understanding of one or two programming languages can give you the opportunity to make more than a little extra money online.
Our personal favorite resources for getting started are The Complete Web Developer in 2021: Zero to Mastery, CS50, and freeCodeCamp.
2. UX / UI Design
UX/UI designers create user-friendly interfaces that allow users to use apps, services, and tech products across the world.
With more people using tech than ever before, the job of a UX/UI designer is very important. If users don't like or understand how to use a product or service, they will very likely not use it again.
3. Digital Marketing
Digital marketing is a diverse field to learn skills in. There are many, many ways people and businesses advertise their goods and services online.
If you are creative, content marketing and social media marketing are great to delve into, and you can forge a career path as a content or social media manager, among others, in the marketing department of many companies.
If you are analytical, skills like PPC (Pay-per-click) advertising and SEO (Search engine optimization) are in demand, and understanding how to use tools like Google Analytics can really help you get ahead.
4. Video Editing
Our online world is full of video, from Instagram stories to YouTube documentaries. Behind each video, there are video editors and designers putting all the raw footage together.
If you have a keen eye for detail and enjoy being creative, video editing could be a great skill to learn online.
5. Copywriting
Words can tell stories, inform us, and invoke certain emotions. Online, there is no shortage of businesses looking for copywriters who can sell their products.
If you enjoy both the creative and analytical side of writing, copywrighting is a skill that could be highly lucrative online.
6. VA-ing
Busy business owners and managers need assistants to help them with a wide range of admin and day-to-day tasks.
Virtual assistants also operate entirely online. This means you can make money working from home, and work flexible hours that suit your needs.
If you want to learn more about VA-ing, start with this free guide on how to become a virtual assistant without any prior experience.
7. Graphic Design
Graphic designers use images and words to create visual messages. From logo design to visualizing data, graphic design is a great online skill to learn for creatives.
Whether it be through freelance gigs or full-time remote work, there are plenty of opportunities to make money online as a graphic designer.
A great resource to get you started is this free guide on becoming a graphic designer without any prior experience and working from home.
8. Technical Writing
Technical writers write in certain fields that require an in-depth knowledge of the subject. Therefore, it can be a very lucrative online skill to learn.
Maybe you trade cryptocurrencies or have a background in law. Certain sectors need experts not only to write in those fields but also to write well for how to articles, helping readers gain a better understanding of their point or insight, and to write for features and pieces in the business world.
9. Project Management
In every business, there needs to be someone who sees the big picture. Project managers coordinate meetings, schedules, workflow, and so much more.
If you are naturally organized and love working on multiple things at a time, project management is a desirable skill you can learn from home.
10. Personal Finance
Managing and understanding money is something that every single one of us has to do. Yet, so many of us know very little about how to run our personal finances.
Getting on top of your finances can help you not only pay off debt or stay within budget in the short term but also to plan out your finances in the long-term.
If you can learn to manage money, you will have much more of it in both the short-term and long-term.
---
Fun Skills
11. New Language
Maybe you want to speak in a native language for travel. Or maybe you just want to challenge yourself. Either way, learning a new language is a great thing to do.
There are many online courses if you want to learn a language thoroughly. Or, if you want to learn casually in your spare time, try apps like Duolingo, Rosetta Stone, and Lingvist.
12. Culinary Skills
Looking to level up your cooking skills? Learning new and exciting culinary skills can easily be done through online videos and courses.
With culinary skills, you can develop new and exciting recipes, while presenting your food in a beautiful way.
On Masterclass, you can take culinary courses from multi-Michelin starred chefs such as Gordon Ramsay and Thomas Keller.
13. Baking Skills
Baking is all about precision and timing, and practice makes perfect. Stick with it, and baking can be one of the most rewarding skills you can learn online.
Who doesn't love baking and trying delicious pies and decadent cakes, after all?
Get started with a fantastic course on French Pastry Fundamentals.
14. Photography
If you enjoy taking photos on your camera phone in your spare time, you may want to exercise your creative skills through photography.
Many online photography courses can teach you all about the best equipment, how to use it, and how to take stunning photos that go way beyond the capabilities of a smartphone.
Professional photography can also lead to income opportunities, such as becoming a wedding photographer on weekends.
15. Dancing
From tango to ballroom dancing, there are so many ways you can try dancing online. At home, all you need is a laptop, internet connection, and a spacious area.
Dancing is a great way to stay fit, healthy, and make you feel great about yourself. Who hasn't dreamed of starring in their very own version of Dirty Dancing, right?
If you want to test out the waters and just take one single class, you could get started with Airbnb online experiences, where they have one-time online classes on flamenco, salsa, tango, Balinese dance, and even K-pop.
16. Writing
Whether you enjoy journaling or writing short stories, there are a range of online classes to help you become a better and more prolific writer.
Once you develop your writing skills, a world of opportunities can await. From technical writing to writing a novel, there are many ways to channel your creativity.
17. Drawing
You don't need to be van Gogh or Picasso to draw. Through practice and a little guidance, you'll be amazed at the work even amateur artists can produce in time.
Drawing is a great way to pass the time. It is relaxing, good for mental health, and a hobby that you can develop over time.
Read more: 100+ Drawing Ideas (The Ultimate List of Things to Draw)
18. Musical Instrument
Music makes the world a wonderful place. And for many of us, making music can provide us an outlay for our energy and creativity.
There are plenty of free online videos to teach you music theory, guitar, piano, and many other instruments.
Or, you could take an online course or hire a tutor to guide you. You could learn guitar from Tom Morello or making dance music from Armin van Buuren.
19. Chess
While chess may be thousands of years old, the fact it is still played by millions today shows how sophisticated and challenging a game it is.
Chess is one of the ultimate tests of strategy. You can play with people from all over the world online, making friends and improving your game as you play.
There are many ways to learn about chess and how to play it. Masters like Garry Kasparov even teach it online.
20. Memory Skills
Plenty of studies show that even a few minutes of solving puzzles and performing mental tasks every day can help keep your brain sharp and healthy.
Developing memory skills can be done in many ways. Methods like 'retrieval' where you try to retrieve forgotten memories can be practiced every day.
Or, you can keep your brain sharp by taking on puzzles every day, like Sudoku or crosswords.
21. Singing
You don't need to sound like Beyonce or Celine Dion to enjoy singing. Online courses and tutors can help you improve your breath control and vocal range.
If you love singing in the car, shower, or at home, this can be a fun and exciting skill to develop from home.
22. Public Speaking
So many of us fear public speaking. But if you can master this skill from home and in the very least improve your public speaking skills, it will open you up to a world of opportunities.
You can learn plenty of techniques and methods for public speaking online, from excellent public speakers like newscaster Robin Roberts.
23. Speed Reading
There are many online videos, tutorials, and methods you can use to speed read. From novels to the news, we constantly need to absorb and process information.
Through speed reading, you can become a faster reader that takes in information more efficiently.
24. Gardening
Whether it be in your own garden or an allotment, gardening is a wonderful way to stay fit, healthy, and spend time outdoors doing something productive.
You could plant your own seeds and grow food, or you could get into horticulture and nurture plants to make your garden look beautiful.
25. Sewing, Knitting, Crocheting
The craft and precision of sewing, knitting, and crocheting are therapeutic for many people, and, for some, even meditative.
You can learn how to sew, knit, and crochet from the comfort of your couch. Not only will you develop a new skill, but you'll also have your very own clothes and accessories to show for your time and work.
26. Krav Maga
Krav maga is a discipline of self-defense, created by the military. While it sounds intimidating, it focuses on quick, effective moves to get you out of trouble.
Krav maga can be learned online, through videos and tutoring. Knowing how to better defend yourself is definitely a skill worth learning.
27. Storytelling
Fiction writer Neil Gaiman has an amazing course online that teaches you all about the art of storytelling.
If you constantly have ideas for stories, but struggle to articulate them on paper or talk about them, this is a useful skill you can learn from home.
28. Negotiation
Learning better negotiation skills can help you in life in so many ways. From buying goods to freelance client agreements, we constantly need to negotiate in life.
Businessman Chris Voss is just one of many experts who have online courses that help teach you how to better negotiate.
And one of my favorite books on the topic is "Getting to Yes: Negotiating Agreement Without Giving In."
29. CPR
While moments in life where we need to perform first aid are rare, it's comforting to know that, if that time does come, you will know what to do.
Learning CPR online will give you peace of mind. If that day comes where someone needs to be resuscitated, you'll be in a position to potentially save a life.
30. Emotional Intelligence
Those with greater emotional intelligence are often far more successful in life, both personally and professionally.
Through practice, courses, and online videos, you can develop your emotional intelligence. That way, you can better understand the wants, needs, and reactions of people around you.
---
While there is nothing wrong with watching Netflix or posting on Facebook, too much of it is not a good way to spend our valuable free time.
All these skills we have looked at you can learn from home. Some are great ways to spend time, and others can create opportunities to make money or start a business.
Through free online courses, video tutorials, online classes, and so many other avenues, there are a huge array of options when it comes to learning valuable skills online.
Our time on Earth is precious. So be sure to spend some of it developing habits, trying new things, and learning skills online that can improve your life in some way.
You Might Also Like to Read:
---
Want to keep these skills you can learn from home in a safe place? Save this article to one of your self-improvement Pinterest boards, ready for when you'd like to start learning a new skill.