This post may contain affiliate links, meaning if you book or buy something through one of these links, I may earn an affiliate commission at no additional cost to you. Learn more
Make this fall one of color, magic, and unforgettable moments with our list of fun fall bucket list ideas to do with friends, loved ones, or on your own.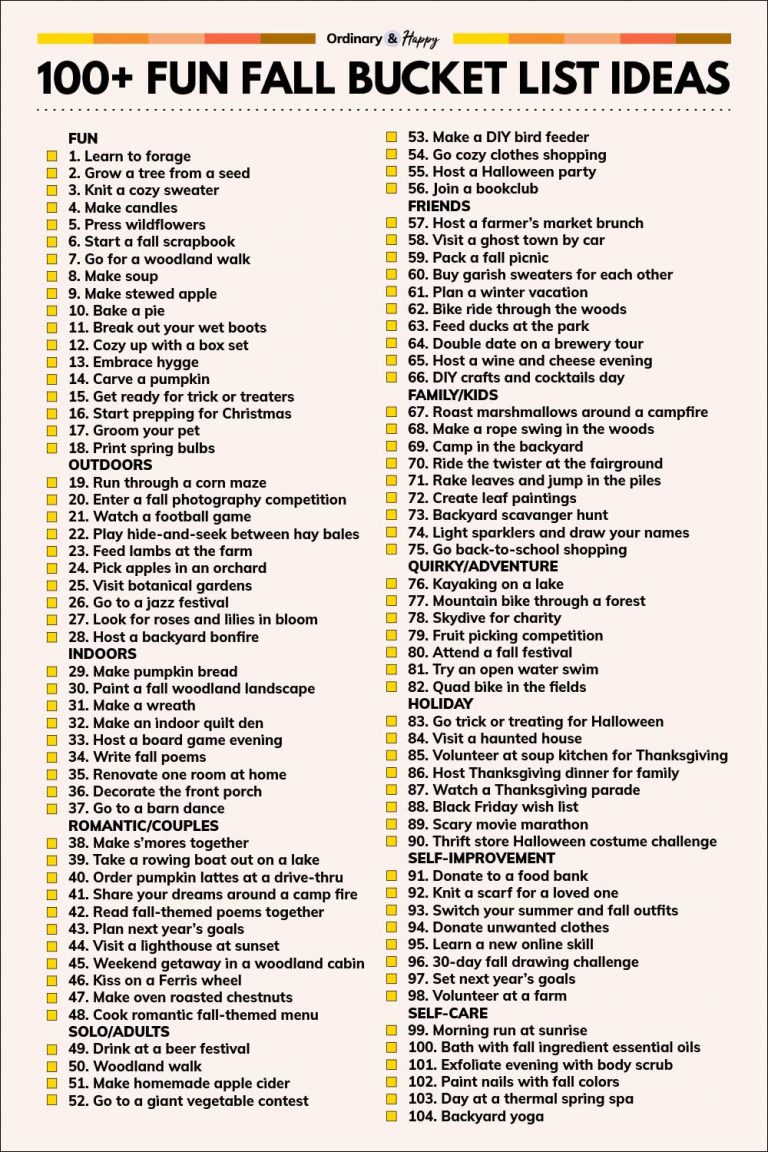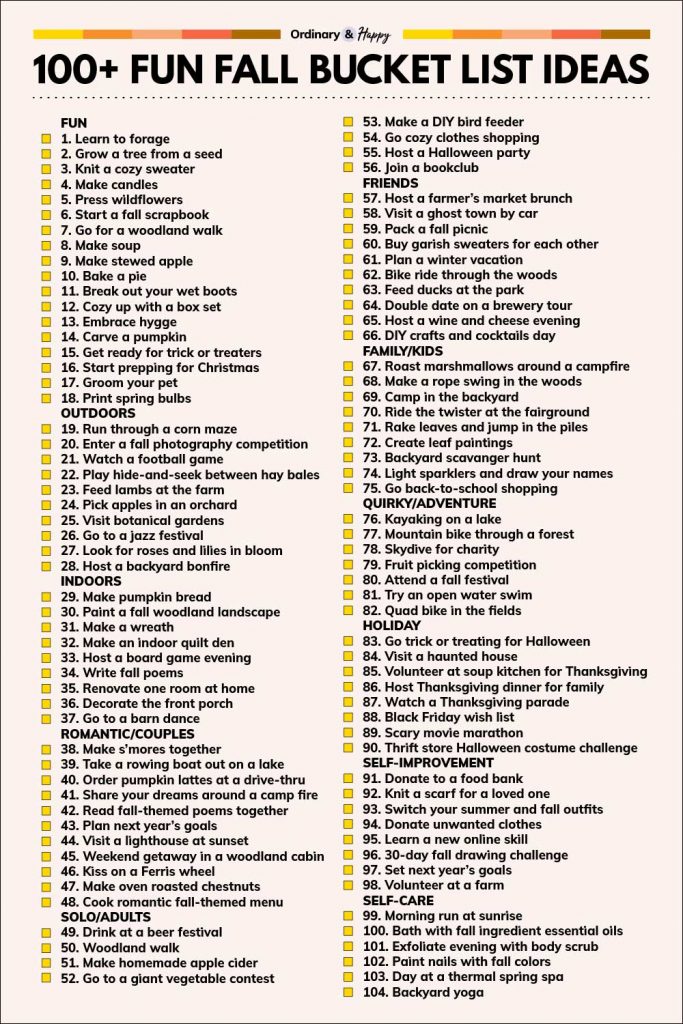 Fall Bucket List
When the heat and fun of summer draw to a close, fall can be the new time of joy, creativity, and happiness.
Fall is a season of awe and color. And with the weather not too hot and not too cold, there are so many fun trips and things you can do, both indoors and outdoors.
Excited about this fall? Feel free to download our fun fall bucket list ideas checklist and check off as many as you can! Scroll to the end of the article to download the free printable.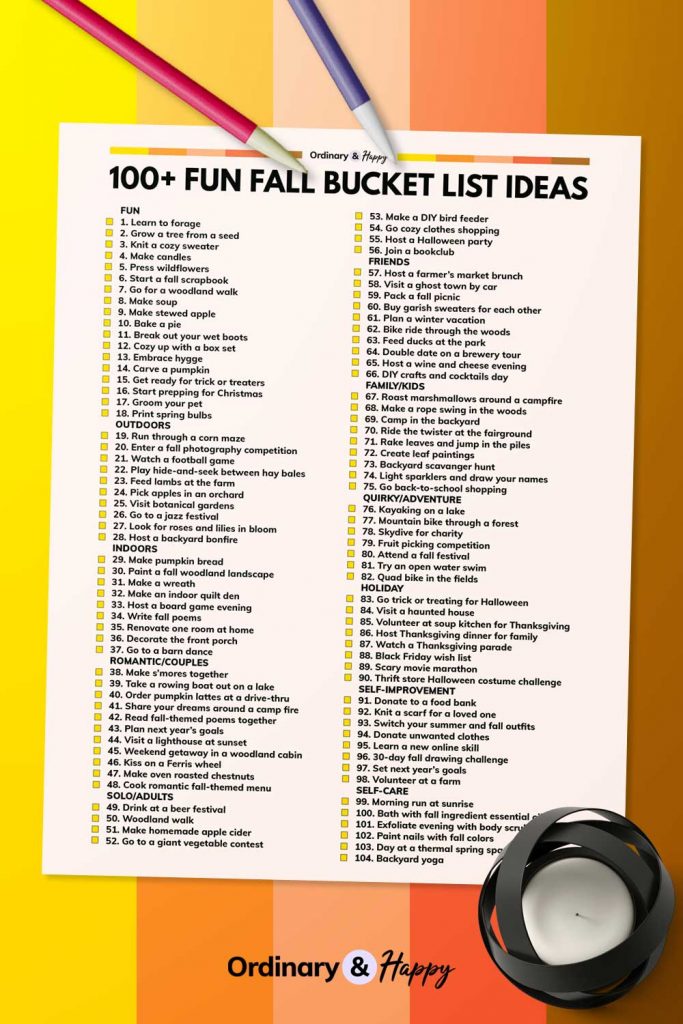 ---
Fun
1. Learn to Forage…
…Without poisoning yourself! One of the great things about fall is all the free food out there. Foraging is a great skill, but it must be learned properly, and that takes time.
For beginners, it's best to stick to the easily identifiable – like apples and blackberries. For anything riskier, always check carefully before eating!
2. Grow a Tree From Seed
There are few things more satisfying than watching a seed grow into a tree. Granted, it takes time.
And often, it might make more sense to buy an established sapling from a nursery, but seeds are free, and also, once they germinate, they are probably hardier too.
No garden? Not a problem. Planting secret seeds in wild woodland (or any other suitable terrain) is great fun. Maybe they will take, maybe they won't – but perhaps in years to come, you will have planted a whole forest of secret trees!
3. Knit a Cozy Sweater
If you knit, now is the time to dust down your needles. Fall calls for warm clothing, and why buy it when you can knit it?
Can't knit? Now is the time to learn – but if a sweater is too hard, start slowly with a scarf.
4. Make Candles
Embrace the wick and wax by creating your own candles! Candle-making has seen an upsurge in recent years – and if you have the time and a bit of patience then this ancient craft can be very satisfying.
5. Press Wildflowers
Fall is a beautiful time of year, but summer blooms quickly fade, so why not preserve them for posterity?
You don't even need a flower press: just line the pages of a heavy book with some greaseproof paper, and voila! Once pressed, you can frame them or hang them on walls.
6. Start a Fall Scrapbook
A fall scrapbook is where you put all the stuff you want to remember about the season into one place.
It doesn't matter what it might be – from leaves to mementos of days out. Anything, from concert tickets to photographs – it all has a place in your fall scrapbook.
7. Go for a Woodland Walk
But before you can make a scrapbook, you have to go somewhere – and that place can only be the woods.
Woodland walks are the jewel in the crown of fall. Even if you don't live near the forest, trees are everywhere, and discovering them is one of the joys of fall!
8. Make Soup
Nothing makes a fall night cozier than the warming aroma of soup. And with the advent of soup makers, making your own has never been easier.
Inexpensive, healthy, and a great way to get your five a day – soups can be prepared in advance and frozen ahead of time.
So, the next time you have leftovers, don't chuck them in the trash – throw them in the soup maker instead!
9. Make Stewed Apple
Stewed apple is the easiest thing in the world, and if you have an apple tree, it's a great way of using some of your hoard!
Use it as a pie filling, or just have it on its own. The thing we love about stewed apples is absolutely anyone can do it. Complicate things if you like, but we like it nice and simple – stewed with a pinch of cinnamon – all you need is a saucepan!
10. Bake a Pie
Now that you have the filling, making a pie is almost mandatory. Shortcrust pastry is simple to make, but if you really want, you can use roll-out sheets.
Pies are the must-have food of the fall, and the list of fillings is as vast as your imagination.
11. Break Out Your Wet Boots
What does it do in the fall? It rains. A lot! No fall is complete without epic amounts of rain, and that means donning your wet boots. So, what better time than to invest in a funky new pair now?
12. Cozy Up with a Box Set
With the long winter nights beckoning, now is the time to get cozy on the couch with your favorite TV show.
Bingeing box sets is one of the undisputed pleasures of fall, but with a hectic summer behind you and the madness of Christmas on the horizon, there's no need to feel guilty for a little me time.
13. Embrace Hygge
Hygge is Danish for comfort. It's that fuzzy feeling that comes from having soft, beautiful things around you to keep warm in the cold.
Hygge is a sheepskin rug next to a roaring fire. It's stroking the cat whilst snug in a lambswool sweater; chenille throws and woolen wall hangings. Although "hygge" does not translate directly into English, when you find it, you will know.
14. Carve a Pumpkin
'Tis the season to be… frightened! Without Halloween, fall would be nothing more than a pile of soggy old leaves.
Since you're unlikely to get through the season without coming face-to-face with ol' Jack O'Lantern, why not learn how to carve one properly?
15. Get Ready for Trick or Treaters
Once you have carved your pumpkin, it's time to hit the candy store because pretty soon, the ghoulish hordes will descend, demanding treats. Be ready!
16. Start Prepping for Christmas
Christmas doesn't happen by magic. It takes hard work and lots of preparation. This year, instead of a last-minute panic use some of your available time to start prepping.
Most things can be made in advance of the big day, in some cases, months ahead. Fall is a great time for making Christmas cake or pudding.
And the same goes for trimmings such as cranberry sauce. Crafting and wrapping can also be done any time you like before December 25th.
17. Groom Your Pet
In the fall, cats will grow extra coats and dogs could probably use a spruce up too. So now is the time to get to grips with your pets' grooming.
After all, you want your four-legged friend to look their best when out on all those long woodland walkies!
18. Plant Spring Bulbs
Fall is arguably the most beautiful of all seasons. But whilst you're basking in its golden hues, don't forget about the future.
After winter, comes spring, in all its floral glory – and fall is the time to plant it. Remember to get your spring bulbs in the ground before it gets too cold – you'll be rewarded for it come the New Year!
---
Outdoors
Embrace the colors and wonders of fall in the great outdoors with these super fun and memorable outdoor activities that can help you truly embrace this incredible time of year.
19. Run Through a Corn Maze
20. Enter a Fall Photography Competition
21. Watch a Football Game
22. Play Hide-and-Seek Between Hay Bales
23. Feed Lambs at the Farm
24. Pick Apples in an Orchard
25. Visit Botanical Gardens
26. Go to a Jazz Festival
27. Look for Roses and Lilies in Bloom
28. Host a Backyard Bonfire
---
Indoors
Get cozy, comfortable, and creative with these on-point fall activities you can do inside, away from the increasingly cold weather, or from the comfort of your own home.
29. Make Pumpkin Bread
30. Paint a Fall Woodland Landscape
31. Make a Wreath
32. Make an Indoor Quilt Den
33. Host a Board Game Evening
34. Write Fall Poems
35. Renovate One Room at Home
36. Decorate the Front Porch
37. Go to a Barn Dance
---
Romantic/For Couples
Fall and romance are a match made in heaven, so immerse in this intimate time of year with your partner or spouse with some of these wonderful and romantic ideas you can do together.
38. Make S'mores Together
39. Take a Rowing Boat out on a Lake
40. Order Pumpkin Lattes at a Drive-Thru
41. Share Your Dreams Around a Campfire
42. Read Fall-Themed Poems Together
43. Plan Next Year's Goals
44. Visit a Lighthouse at Sunset
45. Weekend Getaway in a Woodland Cabin
46. Kiss atop a Ferris Wheel
47. Make Oven-Roasted Chestnuts
48. Cook a Romantic Fall-Themed Menu
---
Solo
Walk tall and soak up all that is majestic about the fall season by going on some solo adventures courtesy of these fun and creative activities you can do by yourself.
49. Drink at a Beer Festival
50. Woodland Walk
51. Make Homemade Apple Cider
52. Go to a Giant Vegetable Contest
53. Make a DIY Bird Feeder
54. Go Cozy Clothes Shopping
55. Host a Halloween Party
56. Join a Book Club
---
With Friends
Make some unforgettable memories this fall with your closest friends, and give some of these fall activities a try together, no matter how big or small your friendship group is.
57. Host a Farmer's Market Brunch
58. Visit a Ghost Town by Car
59. Pack a Fall Picnic
60. Buy Garish Sweaters for Each Other
61. Plan a Winter Vacation
62. Bike Ride Through the Woods
63. Feed Ducks at the Park
64. Double Date on a Brewery Tour
65. Host a Wine and Cheese Evening
66. DIY Crafts and Cocktails Day
---
With Kids
Get your kids excited about this unique time of year, and take the whole family along for the ride with these kids-themed and family-friendly fall activities.
67. Roast Marshmallows Around a Campfire
68. Make a Rope Swing in the Woods
69. Camp in the Backyard
70. Ride the Twister at the Fairground
71. Jump in Piles of Leaves
72. Create Leaf Paintings
73. Backyard Scavenger Hunt
74. Light Sparklers and Draw your Names
75. Go Back-to-School Shopping
---
Quirky and Adventurous
That need for new and exciting experiences bubbling away as the seasons change? Satisfy your desire for something a little out of the ordinary, and go on a fall-inspired adventure with more than one of these activities and ideas.
76. Kayaking on a Lake
77. Mountain Bike Through a Forest
78. Skydive for Charity
79. Fruit-Picking Competition
80. Attend a Fall Festival
81. Try an Open Water Swim
82. Quad Bike in the Fields
---
Holiday
Plenty of important holidays and events occur during fall season. Mark each with a memorable celebration by getting inspired with some of these holiday-influenced ideas.
83. Go Trick or Treating for Halloween
84. Visit a Haunted House
85. Volunteer at a Soup Kitchen for Thanksgiving
86. Host Thanksgiving Dinner for Family
87. Watch a Thanksgiving Parade
88. Black Friday Wish List
89. Scary Movie Marathon
90. Thrift Store Halloween Costume Challenge
---
Self-Improvement
Fall is a time of change in many areas of life, which presents an excellent opportunity to look at yourself. Give some of these activities a try during the fall to help work toward a more caring, rounded, and positive version of yourself.
91. Donate to a Food Bank
92. Knit a Scarf for a Loved One
93. Switch Your Summer and Fall Outfits
94. Donate Unwanted Clothes
96. 30-day Fall Drawing Challenge
97. Set Next Year's Goals
98. Volunteer at a Farm
---
Self-Care
While fall is a time for self-improvement and new challenges, it's also good to be a little selfish once in a while and address your own wants and needs. Take time for yourself this fall with some of these self-care ideas.
99. Morning Run at Sunrise
100. Bath with Fall Ingredient Essential Oils
101. Exfoliate with an Autumn-Scented Body Scrub
102. Paint Nails with Fall Colors
103. Day at a Thermal Spring Spa
104. Backyard Yoga
---
Excited about this fall? Feel free to download our fun fall bucket list ideas checklist and check off as many as you can!
Whatever you do this fall, be sure to enjoy it as much as possible! Use our list to get inspired, and come up with your own fun ideas too!
You Might Also Like to Read:
---
Keep this ultimate list of 100+ super fun fall bucket list ideas in a safe place by saving this article to one of your Pinterest boards.