This post may contain affiliate links, meaning if you book or buy something through one of these links, I may earn an affiliate commission at no additional cost to you. Learn more
Tired of watching Netflix on the sofa? These fun board games for couples are perfect for an evening of laughs and competition with your dearest and beloved.
Best Board Games for Couples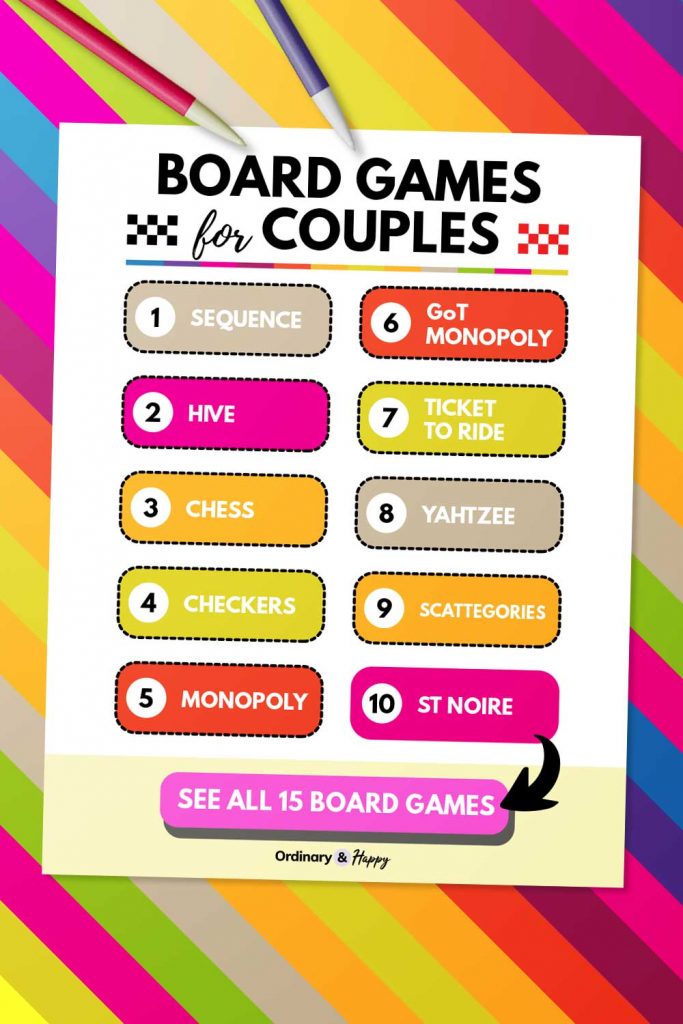 1. Sequence
Check Price on Amazon
Fancy a challenge? Sequence is the game that gives your brain a workout. And although Sequence can be played with multiple players, we think it is best à deux!
Sequence utilizes cards, chips, and all of your brainpower to create sequences on the board – and to have a little fun along the way!
The aim of the game is to complete two entire sequences successfully before your partner gets there. Easy, you might think – but it's much harder than it looks!
2. Hive
Check Price on Amazon
An insect-based game that really gets you buzzing! Pit your wits against your partner, in this game designed for two.
Like chess, this is a game where every piece moves in a different direction. And also, like chess, you can choose whether to play black or white. Similarly, the aim of the game is to capture your opponent's queen – except in Hive, the queen is a bee!
But this is where the similarities end. Unlike chess, Hive is not played on a board but the floor – so budge up and get comfy as a bug on the rug!
Think of Hive as a more frenetic version of chess – with the tantalizing prospect of a tussle on the floor to determine the winner!
3. Chess
Check Price on Amazon
The original game of strategy – and for many, the best! For some, chess is serious business, and they will defend their king to the death. For the rest of us, it's a mind-boggling distraction that provides immense satisfaction and frustration in equal measure!
However, for competitive couples, we think at least one game of chess is mandatory!
In case you've forgotten, the aim of the game is to capture your opponent's king. Every piece moves differently, and there are enough rules to sink a battleship!
But don't be daunted by your lack of prowess – we can't promise you will become a grandmaster overnight, but chess is well worth the investment. Plus, a chess set looks the business in your apartment, and makes you look brainy to boot!
4. Checkers
Check Price on Amazon
Chess a bit too hard? How about a game that is as old as time itself? Okay, not quite, but checkers – also known as draughts – has been played for millennia.
Clear and concise, the counters move diagonally and along the same-colored lines. To get ahead, you jump over and take your opponent. Make it to the other end, and you will be crowned a king!
But that's just the beginning! To win, you must take all the other player's pieces… or grind them down until they are unable to move! Either way, you will see why this game has been frustrating minds since the dawn of time!
5. Monopoly
Check Price on Amazon
It may be old, but Monopoly isn't a classic for no reason! Monopoly appeals to our basest instincts, where greed is good, and more is better!
So, shake that dice, build a hotel in Mayfair – and maybe win a beauty contest along the way!
6. Game of Thrones Monopoly
Check Price on Amazon
Missing Game of Thrones? If regular Monopoly is a bit too 'Sunday afternoon with the in-laws,' then how about swapping that hotel on Park Lane for a gothic castle?
Game of Thrones Monopoly is the ideal night in for fans of the epic fantasy. Just watch out for the totally wild chance cards – which inject plenty of spice into proceedings!
7. Ticket to Ride
Check Price on Amazon
Who can travel the furthest around the globe? Win points and build as many connections between destinations as you can do before your partner gets there first.
Ticket To Ride is just simple enough to grasp quickly (the manufacturers think about fifteen mins) but intriguing enough to keep you hooked until the very end. Bon voyage!
8. Yahtzee
Check Price on Amazon
Yahtzee has been played in households for generations, and it is one of the classic games for friends, families, and couples to enjoy together.
For a fast-moving game with dice, Yahtzee is both fun and surprisingly addictive. Can you roll five fives? Or go for a 1,2,3,4,5 (large straight) sequence? It is simple, fast, and a great test of your mental arithmetic.
9. 21 Questions
Not strictly a board game, but plenty of fun nonetheless – twenty-one questions whiles away many a dull hour.
Like all the best games, the premise is very simple. One of you thinks of something – a place, person, or thing, and the other must guess what it is…!
Discover what your partner is thinking by asking up to twenty-one questions – guess correctly, and you win! But there's one catch – they can only answer by saying 'yes' or 'no' – and nothing else!
10. Scattegories
Check Price on Amazon
If you like word fun, but Scrabble feels like a spelling test, then Scattegories could be for you.
In Scattegories you choose a topic from a list, then roll a twenty-sided alphabet dice. Whatever letter it lands on is the one you must use to list all the word associations for your chosen topic – and there's a lot of topics!
Admittedly, there's a bit more to it than that, and it has the added complication of a time limit. But rest assured, your spelling will not be laughed at, no matter what happens.
11. Two Truths and a Lie
How's your poker face? And can you tell when your other half is lying? While not an actual board game, Two Truths And A Lie is a compelling waste of an evening. Oh, and you'll also get to discover your partner's fib-face!
Simply tell two truths, and one lie, and it is up to your partner to pick which is true. This is a game that really tests your knowledge of each other – can you hide your lying eyes?
12. Jenga
Check Price on Amazon
Few games provide the thrills and hilarity in abundance quite like Jenga. While often played in large groups, and even associated with drinking games, Jenga is still incredibly fun with just two people.
A game that puts your problem-solving under the spotlight, demanding nerves of steel under a time limit, an evening with a bottle of wine and onesies dismantling a Jenga tower brick by brick until one of you sends it toppling is an evening well spent!
13. Scrabble
Check Price on Amazon
So, you think you've got a better vocabulary than your partner? Put it to the test with the classic word game!
Even today, Scrabble is every bit as compelling as ever, and plenty of fun for two players. But beware – lifelong feuds are built in this game!
14. St Noire
Check Price on Amazon
For fans of Hollywood noir, St. Noire is a real treat. It's a highly interactive game, where you listen to the drama, spot the clues, and solve a murder!
St Noire also works together with Alexa to guide you through the mystery and find the killer, giving the game a very immersive feel. So, don your deer stalker and put your sleuthing skills to the test!
15. Bananagrams
Check Price on Amazon
Bananagrams is essentially like Scrabble – but on speed! It's a game all about words, but with the added zing of a time limit, making it ideal for anyone who loves games played at a fast pace.
Unlike Scrabble, it doesn't go on for hours and require an intervention by the Oxford English Dictionary – it's just fast, clean fun that can be easily packed into a bag – and there are not many things you can say that about!
---
Board games are time well spent with a loved one. With so many styles and types of games to choose from, there's a board game to suit all personalities.
Whether you enjoy testing your general knowledge, tackling crazy challenges, or embarking on intrepid adventures, board games are an excellent way to spend quality time with your partner, no matter what the time of day or occasion.
You Might Also Like to Read:
---
Keep these fun board games for safekeeping by saving this article to one of your date idea or date night Pinterest boards.