This post may contain affiliate links, meaning if you book or buy something through one of these links, I may earn an affiliate commission at no additional cost to you. Learn more
Saturday night will never be boring again. Get inspired with my list of things to do on a Saturday night to spend the week's most eagerly anticipated night doing things you love with the people you care about.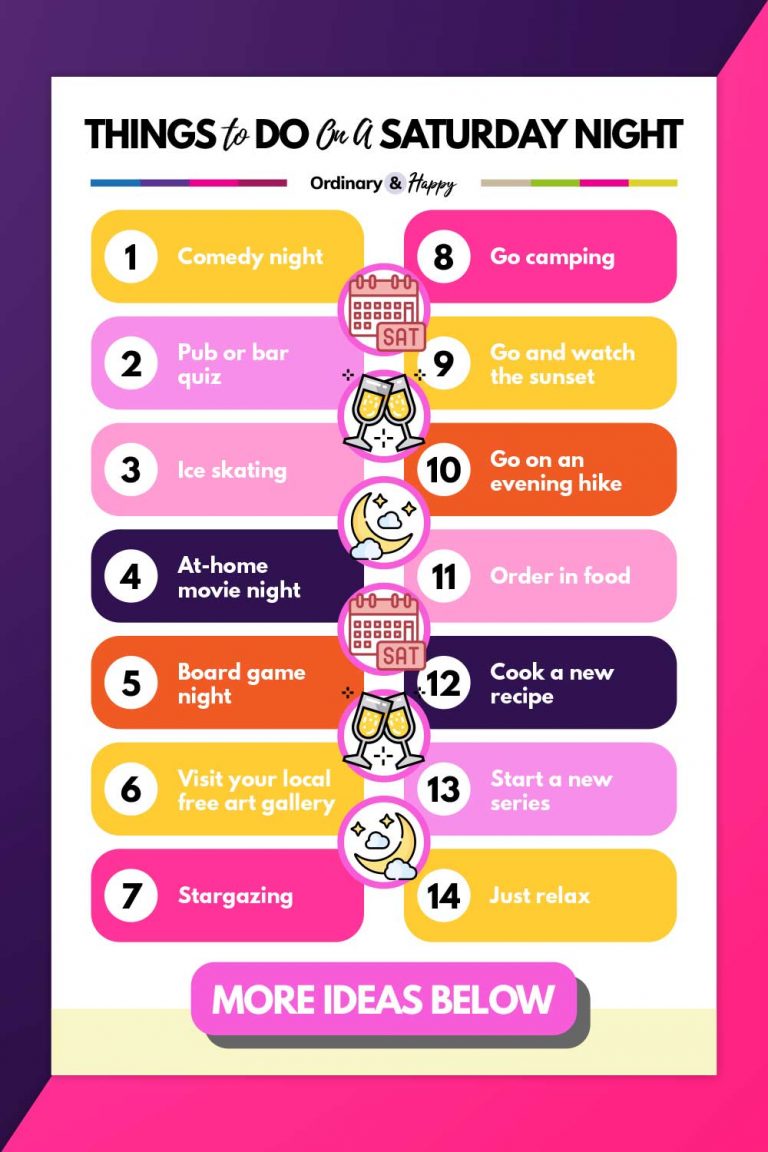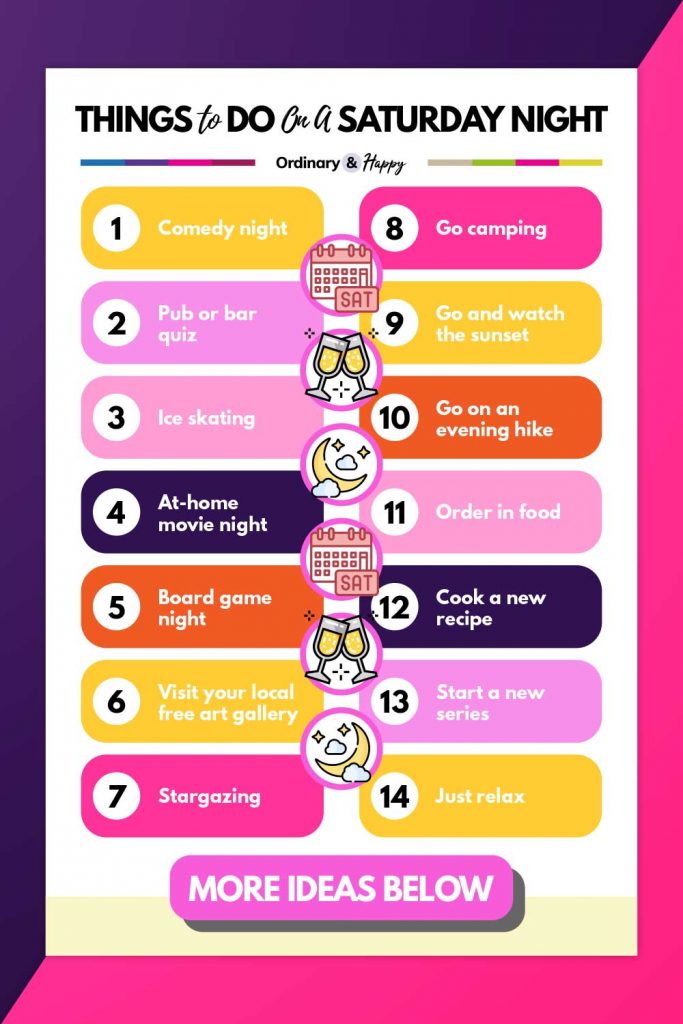 Whether you're looking for something cheap and cheerful, a relaxing evening in, or if you want to go big with friends, this list has something for everyone.
Fun Things to do on a Saturday Night
Comedy Night
Check out if your local bar is hosting a comedy night, or head to a comedy club in your local town or city.
Not only will you get to have a laugh, but you'll also be supporting up-and-coming talent in your local community.
Pub Quiz
Gather up a team and head down to your local bar or pub for a battle of general knowledge, with a few laughs and drinks thrown in for good measure.
Pub quiz nights are a great way to bond with friends, brush up on general knowledge, and get to know others in your community.
Ice Skating
Are you Bambi on ice or the next Kristi Yamaguchi? It's time to find out!
Ice skating is an excellent way to incorporate both fun and fitness into your Saturday night.
There's nothing more freeing than gliding or falling, along the ice, either with your partner, close friends, or on your own.
Things to do on Saturday Night on a Budget (Cheap or Free Activities)
Movie Night
It's never been easier to recreate the cozy feel of the cinema at home. Who doesn't love a night lounging on the sofa with the company of good films?
Grab some popcorn, dim the lights, and snuggle out on the couch with blankets, either on your own or in good company.
Board Game Night
Feeling competitive? Board game nights are so much fun to do with friends, and very inexpensive.
Gather some food and drink, and get each friend to bring their most beloved board game. Whether it's Monopoly or Articulate, game nights provide hours of entertainment, with a healthy dose of competition.
Visit Your Local Free Art Gallery
You might not know, but many art galleries open late, often with drinks or music to help promote young talent in the area.
Look at art galleries close to you, and see what's going on.
Things to do on Saturday Night Outdoors
Stargazing
Set out some blankets and lanterns in your back garden and gaze into the sky. You never know, you might come across a shooting star!
If you're feeling a little more adventurous, drive to a nearby camping spot or hillside, and bring a blanket and plenty of snacks and drinks with you.
Go Camping
Camping doesn't have to be for a weekend or several days – you can camp for one night, and make it a whirlwind thing to do with family and friends.
Head to a nearby camping ground, and spend the evening reminiscing, playing games, and looking up at the night sky.
Go and Watch the Sunset
Watching the different color pallets drift by as the sun sets is truly one of the most enticing and relaxing things to do.
Either go by yourself or ask your friends or partner to come along with you.
Go on an Evening Hike
Evening hikes can be so refreshing, especially in the summer. If you are new to hiking, it's good to stick to a route that you know well.
Catching that sunset at the top of a hillside is truly a sight to behold. Be sure to pack torches and plenty of food and drinks, and be sure you have enough time to return to your car or checkpoint before it gets too dark.
Things to do on Saturday Night at Home
Order in Takeout
Craving your favorite local restaurant meal but just want to spend a night in? Ordering in is just as good as going out, and sometimes it's even better.
Have a look at apps such as Deliveroo or Uber Eats to see who's delivering in your local area.
Cook a New Recipe
If you want to get creative and save a little money from not ordering take-out, scout out a new recipe in a cookbook or online.
Take a trip to the local supermarket, and spend your Saturday evening creating an exciting new recipe you, your partner, and/or your friends can enjoy.
Start a New Series
If you fancy a night lounging on the sofa, it's a good time to start a new series.
Scour the likes of Netflix for binge-worthy shows that'll get you hooked in an instant.
Just Relax
Sometimes the hardest thing for us to do is absolutely nothing at all. Sit back, relax, and just enjoy the peace and quiet.
There is nothing wrong with a night of unproductivity, as we all need to unwind at some point.
Things to do on Saturday Night by Yourself
Get Mindful with Meditation
When you've got a little time to yourself, it's always great to slip in some time for relaxation and reflection.
Whether you use online tutorials, or guide yourself with apps like Headspace, getting yourself into a positive, healthy state of mind is easier to do when there's no one else around.
Pick up a New Hobby
Feeling creative, or what to put your free time to good use? If so, there could be a new hobby out there just waiting for you to fall in love with it.
Have a look at this ultimate list of hobbies, packed with over 100 ideas, and see if you can get inspired to try something new.
Pick up a New Book
Lose yourself in magical worlds and intriguing plots with a good book.
A Kindle Paperwhite (from Amazon) gives you access to thousands of titles on one device and is great to have on hand in case you fancy reading in the moment.
Treat Yourself
Whether it's online shopping, running a bath, or enjoying a sweet dessert, you should always make time to treat yourself. You'll feel so much better for it. Get started with this list of my favorite self-care ideas.
Create a Bucket List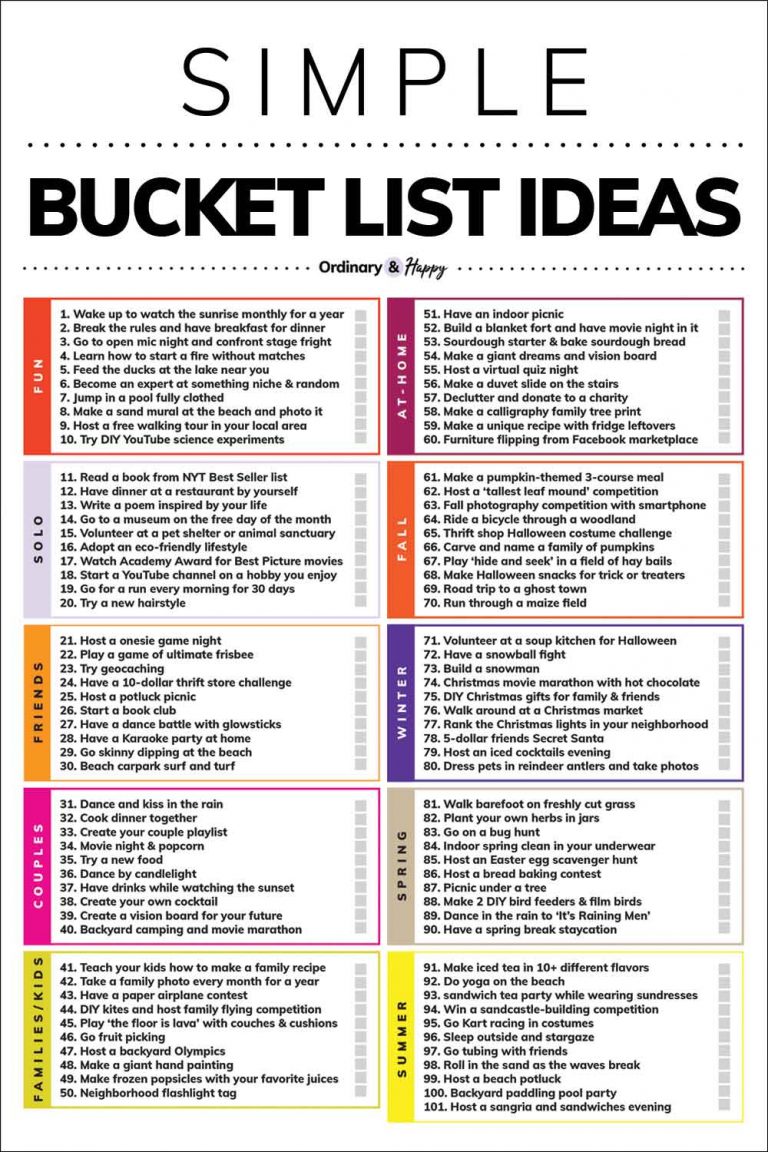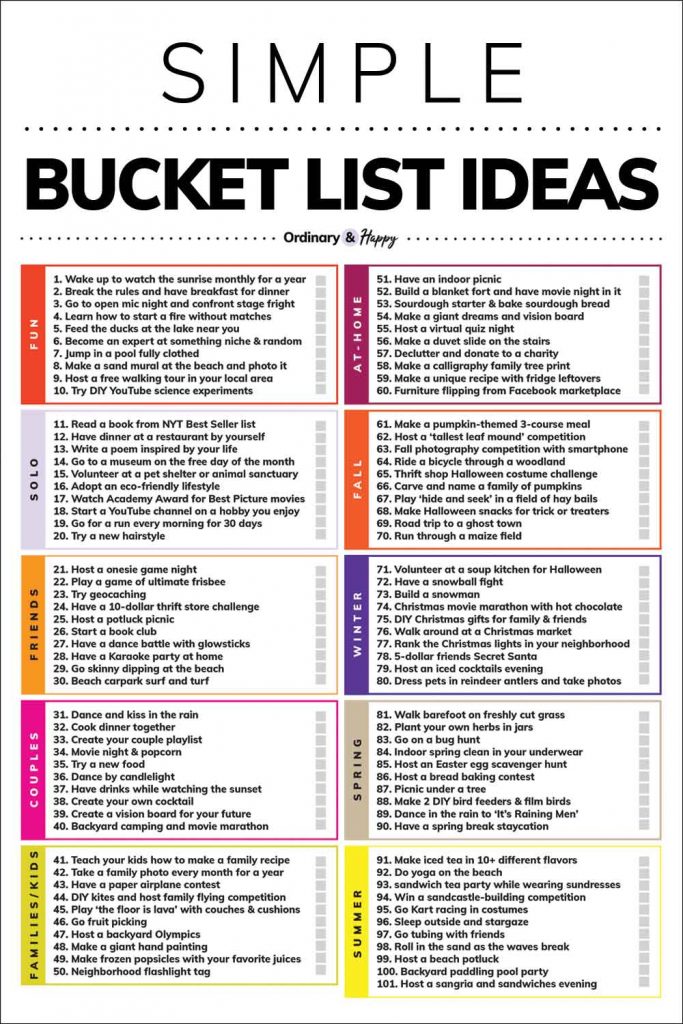 If you could do anything right now, what would you do? Make a list of all the missed opportunities and things you'd like to make happen over the next year.
These bucket list printables will help you do this. Simply download them, print them off, and get planning a dream-filled future.
Things to do on Saturday Night with Friends
Karaoke Night
Get yourself an electronic mic, invite your best friends over, and embrace an evening of classic tunes and lots of laughs.
Use YouTube to search for track requests with lyrics, and be sure to stock up on plenty of food and drink to fuel you into the night.
Girls or Boys Night in
Grab some drinks, games, and movies, and keep things simple. Sometimes, good company is all you need for a great Saturday night.
Read more: Girls Night In and Night Out Ideas
Get Dressed up and Go out-out
Dress to the nines and head down to your favorite club for a night to remember. Sometimes, it's good to let your hair down and dance like no one is watching!
Visit an Escape Room
Escape rooms are a true test of trust, intuition, and skill. Can you figure out how to escape a room before the time runs out?
This is a fun thing to do on a Saturday night with friends. Afterward, as you'll be in the city, you could always go for food or drinks.
Watch a Movie at the Movie Theater
Many movie theaters will have showings as late as midnight, so there's always a choice when it comes to movies.
Either pick a long-awaited release and schedule a weekend to see it with friends, or just show up and take a chance on a movie that's showing that evening.
Look for After-Dark Events
Places such as museums, art centers, and even shopping malls often host after-hours events with drinks and exhibitions that are different from their day-to-day schedule.
Have a look online to see if you can find anything going on near you, and potentially uncover a new and exciting event you can all enjoy.
Host a Dinner Party
Aiming for a night of sophistication? Dinner parties are a chance to get dressed up, enjoy good food, and save money on not having to book a taxi home.
Go to a Gig
Even if you haven't planned anything in advance, most towns have small music venues that independent artists play at on a Saturday night.
What's better than a drink and enjoying some good music? You're also supporting up-and-coming artists too.
Things to do on a Saturday Night as a Couple
Go for a Sunset Picnic
This is an idea that oozes romance. Fill up a picnic basket with wine and nibbles, and head down to your local park for an evening dining by the sunset.
Read more: Picnic Essentials for the Ultimate Picnic
Try out a Couples Dance Class
Do you want to get just that little bit closer? Couples' dance classes are a great bonding experience, very romantic, and will both help you stay fit and active too.
Homemade Pasta and Wine Night
This is my favorite thing to do on a Saturday night. Let's face it, Italian food is one of the most romantic. Pasta is actually pretty easy to make by hand, and when paired with red wine, it's a real show-stopper.
Spend an evening making pasta together, and enjoy your pasta dishes with a bottle of delicious wine, great conversation, dessert, and a movie to finish.
Book a Night Away in the City
Who said you have to jet off to a different country to enjoy a romantic getaway?
Book a night in a fancy hotel in a nearby city, and enjoy an evening of sightseeing, spa treatments, and dinner and drinks.
Read more: Best Board Games for Couples
Things to do on a Saturday Night with Your Parents or Adult Kids
Cook for Your Parents
Let's reverse the roles. Our parents spent our whole lives tending to our every need. Why not return the favor and cook them one of your specialty dishes?
You never know, they might be the ones asking you for your secret recipe!
Visit Your Local Theatre
Going to the theatre is a great way to spend the evening. The whole family can chip in and choose something that you'll all enjoy, whether it's a small play or a big production.
Visit a Distillery
If everyone in the family is old enough, this is a unique and fun experience for all. You'll get to take a tour of the distillery and learn how the drinks are made.
Naturally, you'll be able to sample delicious gins, whiskies, or liquors, depending on where you go.
Some distilleries even let you brew your own unique beverage.
Go to a Game
Everyone has their favorite team, right? Even if you're not a massive fan of sports, the atmosphere of a game is still pretty epic, and definitely worth experiencing
Be it baseball, ice hockey, football, or basketball, among many other sports, an evening watching a game in person is very much one to remember.
Enjoy a Meal out Together
As soon as your kids are older, they finally appreciate the finer things in life. Book a table at your favorite restaurant.
It's a great way to catch up, have some quality time with all the family, and enjoy good food at the same time.
Things to do on a Saturday Night with Kids
Go Bowling
There's a bowling alley in pretty much every city, and it's fun for all ages.
For the younger children, lane bumpers can be put up to prevent them from getting discouraged with too many gutter balls!
If you're a particularly competitive family, you're sure to really immerse in the friendly competitive spirit of bowling.
Build a Blanket Fort
Let's be real, don't you wish it was acceptable for adults to continue building blanket forts? With your kids, it definitely is!
Grab some spare sheets and fairy lights, and see about making an awesome fort in the front room.
Blanket forts make the perfect environment for a cozy movie night on your laptop screen with your children.
Bake Something
Who doesn't love a sweet treat? Baking is a great way to get the whole family to do something together and be handsomely rewarded for all your hard work at the end of it.
Brownies and cookies are always a good shout, and even better when paired with a scoop of your favorite ice cream.
Visit Your Local Arcade
Arcades are super nostalgic, both adults and kids love them, and they're a great way to use up all of those loose coins in your wallet.
Enjoy playing video games, air hockey, and maybe even be the one to finally win the cuddly teddy bear in the claw grab machine.
Start a Puzzle
Puzzles are a true hidden gem when it comes to activities. They're a great way to practice problem-solving, and ideal for bonding with your kids.
Get yourself a challenging puzzle of a beautiful landscape or landmark, then frame it and hang it from the wall once you complete it.
Have a No-Rules Night
Give your kids the ultimate Saturday night, and tell them they are no rules until Sunday morning. They can play whatever games they like, and decide what's for dinner.
Create a Time Capsule
Time capsules are a great way of remembering your most beloved toys, photos, and memories in years to come.
Get each member of the family to put in items, along with a note of their age, what they're currently doing in life, and what their future ambitions are – it's also a nice touch to add in a family photo!
Read more: Best Time Capsule Ideas
Play Dress-Up
Let your kids' imaginations go wild, and dress up as some of their favorite ideas or characters.
Order in the costumes, or DIY them, and have an evening of fun, games, and competitions, all dressed up in amazing costumes.
Have an Arts and Crafts Night
When in doubt, craft it out! Kids can paint, draw, and design for hours on end.
Be it drawing, finger painting, clay modeling, or decorations, there's so much fun to be had with your kids if you host an arts and crafts night.
---
I truly hope my list of things to do has sparked plenty of different ideas of what to get up to on a Saturday night.
From creative challenges to adventures in the city, there are so many fun and memorable ways to spend a Saturday night. Have fun, and remember the beauty of Saturday nights: they come around every week!
You Might Also Like to Read
---
Never feel bored come Saturday again by keeping these fun ideas for safekeeping, pinned to one of your Pinterest boards.