This post may contain affiliate links, meaning if you book or buy something through one of these links, I may earn an affiliate commission at no additional cost to you. Learn more
Plan super fun, enjoyable, and memorable family time with our family bucket list, packed with fun family activities with kids for all times of the year.
Family Bucket List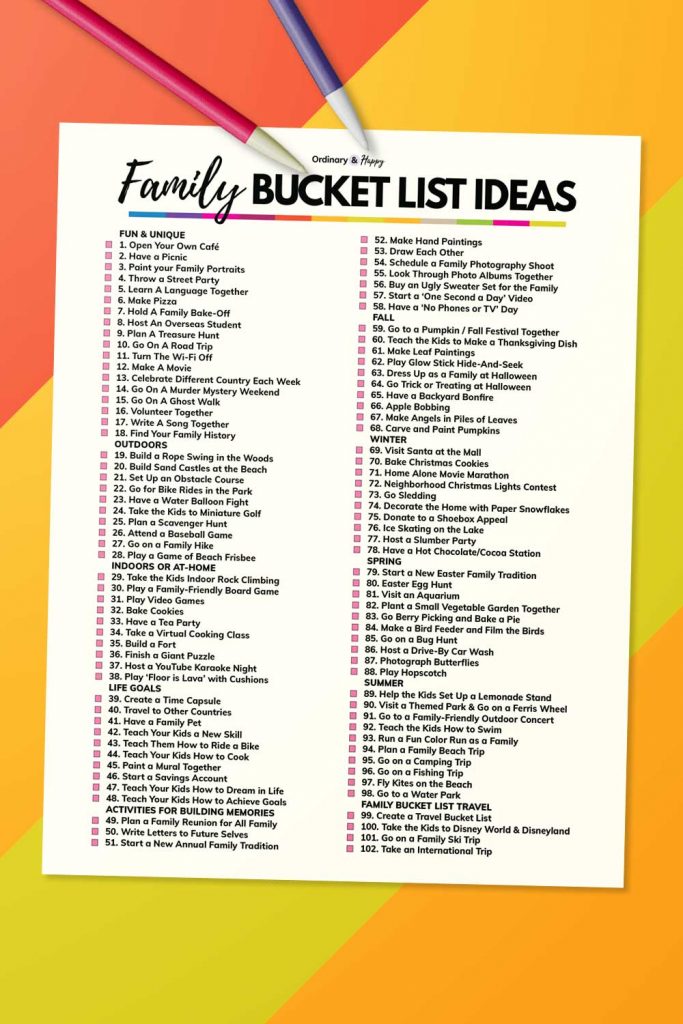 Family time should be fun time. So if you're struggling for ideas, use our list of 100+ awesome activities to help you plan an afternoon, evening, or weekend of laughs, joy, and quality bonding time.
Feel free to download our family bucket list checklist, and challenge yourself to do as many activities on the list!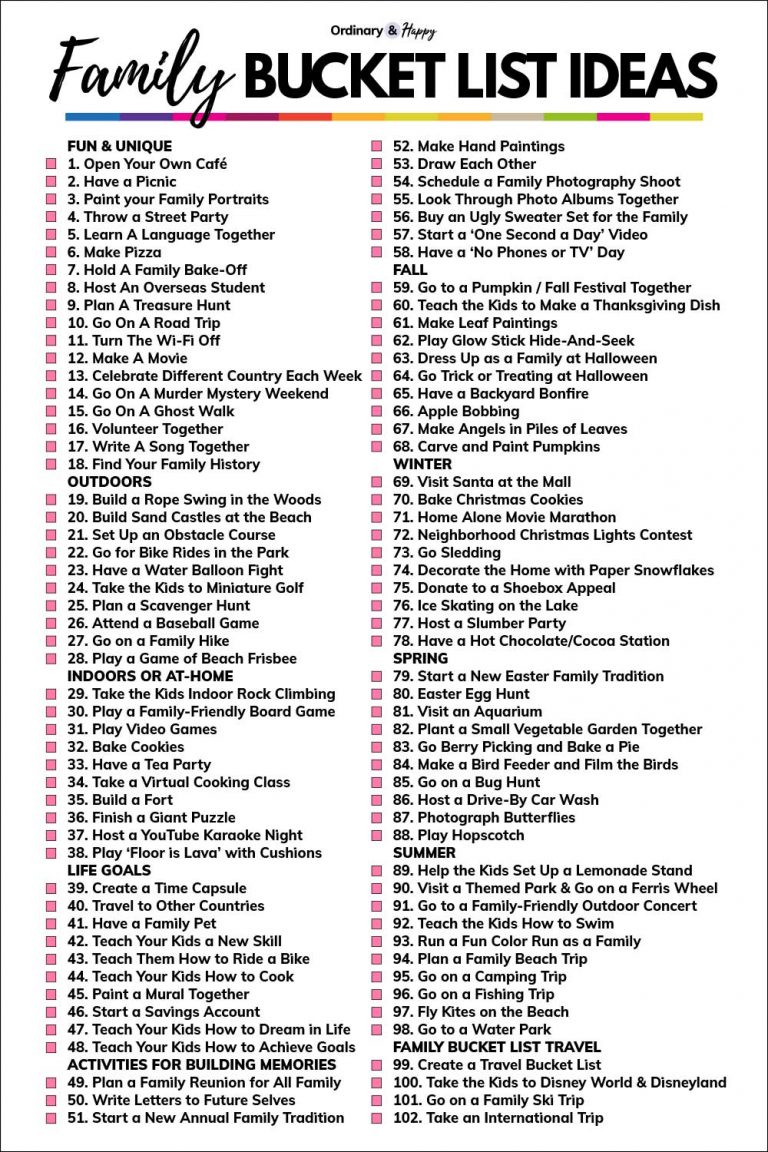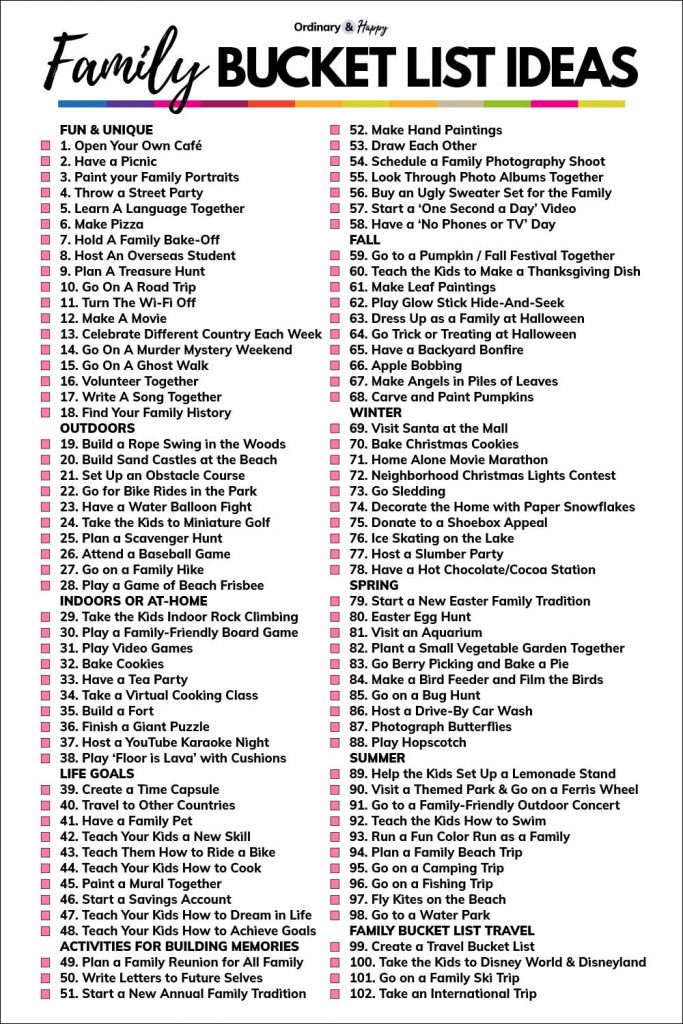 ---
Fun & Unique
1. Open Your Own Café
Lockdown was rough on kids, without any place where to hang out. So why not create your own? With a bit of imagination, you can turn your shed/spare room/ campervan into a café, complete with menu boards, countertops, and checked curtains!
No space? Set up a "pop-up" in your kitchen or lounge. Your kids will love this idea, and it is 100% lockdown-proof!
2. Have a Picnic
The skies, the grass, the bees – mother nature costs nothing, and one of the best ways to utilize it is by dusting down your picnic rug and throwing a few sandwiches in a picnic basket.
Related: Best Picnic Food Ideas
A picnic is cheap and easy entertainment and one that the whole family can get in on. And if peeling eggs isn't your thing – don't sweat.
Entire hampers can be bought ready-made, leaving less time prepping and more time relaxing!
Read more: Picnic Essentials You Need for the Perfect Picnic
3. Paint Your Family Portraits
Is your family nurturing the next Van Gogh? Find out with a family painting night (hopefully minus the ear amputation).
But don't just paint anything. Paint yourselves! It seems everyone has a family portrait taken these days – but bland Instagrammed photos have lost their zing.
So why not paint one instead? Set aside one night for a family portrait painting – and then frame the best into a family gallery. You may be surprised by the results!
Read more: 100+ Painting Ideas
4. Throw a Street Party
We have been stuck inside forever. Now it is time to go outside and what could be better than having a party in the street?
Organizing a street party doesn't have to be daunting – kids are natural ice-breakers – so use them to reach out to your neighbors. This is an idea that works well with social distancing and can still bring people together.
5. Learn a Language Together
Today, learning a language has never been easier. Formal classes can help but are not necessary when there is the internet and foreign students offering private lessons and conversation.
Learning a language is a fun way to bring the family together – without it costing a lot – or anything!
6. Make Pizza
Even fussy kids love pizza, and making it is easy peasy.  It is also delicious, and even an amateur chef can knock the best store-bought pizza into a cocked hat (although, admittedly, this wouldn't be hard).
In other words, it is really hard to mess up pizza, which makes it the ideal activity for kids. Make pizza night a regular slot in your week, and never fork out for a takeaway again. Well, maybe!
7. Hold a Family Bake-Off
There is baking, then there is a bake-off. Make your baking night a little more interesting by adding a competitive slant.
Remember the separate rounds – cakes, bread, and pastries, then score each other on the results. If you don't trust yourselves to be impartial, ask a pal to judge. The winner scoffs all!
8. Host an Overseas Student
Being young and in a strange land is tough. So, if you've got the space and it's appropriate, consider hosting an international student in your home. 
Your kids can learn a lot, and you will provide a welcoming home to a young person finding their feet.
9. Plan a Treasure Hunt
A treasure hunt is great fun for all the family and only takes a little bit of planning. Pick your trail and hide your treasure, then give clues to the kids to navigate!
10. Go on a Road Trip
If you want to go a bit further afield than a treasure hunt, then a road trip is the perfect activity to kill a bit of time off. Deciding where to go is part of the fun –stick a pin in the map or toss for it if you can't make up your mind.
So, strap in your children, pile the car high with snacks, and taste freedom! (After checking the tires thoroughly etc, etc) Just be prepared for a lot of 'are we there yet?'
11. Turn the Wi-Fi Off
Who hasn't threatened this to their kids? But why make it a threat? No Wi-Fi night can be a great thing.
Choose one day a week to read a book, paint, or play out –and show your kids what an old-fashioned childhood was really like* (*within reason.)
12. Make a Movie
If making a drama out of a crisis is your thing, then why not go pro? Make a family movie with a difference – and direct, write, and act in your own family drama!
Filmmaking is great fun for all the family and will test your imagination – as well as your acting skills!
13. Celebrate a Different Country Each Week
Pick a country every week to learn about and discover its cuisine. We promise dinner time will never be dull again as you will never eat the same thing twice!
14. Go on a Murder Mystery Weekend
Whodunnit weekends are great fun and something you can bring the kids to. Sharpen up your sleuthing skills with a weekend of murder mystery!
15. Go on a Ghost Walk
Take your family for a walk on the wild side by finding your nearest ghost walk. Find out local history you never knew you had or explore another town with one of these fascinating nights.
16. Volunteer Together
Helping as a family is a good way to bring the generations together. Whether it's a soup kitchen or an animal shelter, there's a local project wanting YOUR help.
17. Write a Song Together
Are any of you musical? Never mind, it didn't stop Ed Sheeran! But seriously, writing a song together (and performing it) is definitely one to give a try.
Maybe you're not The Osmonds (then again, would you want to be?), but there is probably a song in there somewhere. Just make sure you soundproof the walls first.
18. Find Your Family History
Writing your family history is the ultimate family project, and with various ancestry sites, it's easier than ever.
Assign each family member a branch to investigate, and find out as much as you can about your family tree. This is one to capture the imagination of the entire family.
---
Outdoors
19. Build a Rope Swing in the Woods
If your looking for fun ideas to do outdoors that don't cost the earth, head to the woods with some rope and tools and build a rope swing that everyone can try.
20. Build Sand Castles at the Beach
Make beautiful memories with your kids, and build a sandcastle at a nearby beach. You could decorate it with shells, surround it with a moat, and take lots of pictures together.
21. Set up an Obstacle Course
Use what you have in the home and your garage, and with the family, build a kid-friendly obstacle course that you can time everyone to complete.
22. Go for Bike Rides in the Park
A great way to get fresh air and spend time in nature, a family bicycle ride has all the ingredients for a fun day out. Pack a picnic hamper for lunch, and get ready for a great day out.
23. Have a Water Balloon Fight
A running tap, balloons, and a competitive streak in the family are all you need to enjoy this super fun activity in your backyard or in a local park.
24. Take the Kids to Miniature Golf
Mini golf is an afternoon well spent for families, particularly if you pair it with some post-golf food or a trip to a nearby hotspot.
25. Plan a Scavenger Hunt
Plot a fun and intricate treasure hunt in your garden and around your local area, and hide treats such as chocolate eggs for your kids to give them an adventure like no other.
26. Attend a Baseball Game
There's something magical about taking your kids to a baseball game. An age-old family activity, enjoy hearty food, soak up the atmosphere, and root for your team until the very end.
27. Go on a Family Hike
Hiking doesn't have to be too strenuous for everyone, and you can choose easier trails through woods and along the coast that all the family can enjoy hiking together. Be sure to pack plenty of food and drink for the day.
28. Play a Game of Beach Frisbee
Great fun for all ages, including younger children, you can enjoy hours of frisbee to a backdrop of lapping water as you all jump and try to catch the frisbee on the soft sands.
---
Indoors or At-Home
29. Take the Kids Indoor Rock Climbing
If you want to introduce your kids to new things, indoor rock climbing is an excellent choice. Fun, challenging, and run by professionals, there are hours of fun to be had.
30. Play a Family-Friendly Board Game
There is a wide range of board games for both adults and kids to play, from classics such as Monopoly to an afternoon of creative storytelling with games such as Dungeons and Dragons.
31. Play Video Games
If your kids play a lot of video games, why not show them parents can play too? Schedule a gaming session together, and enjoy the thrills and spills of family multiplayer mode on their favorite titles.
32. Bake Cookies
Prepare for hours of family fun, and bake delicious cookies with a range of colorful toppings you and your kids can add on at the end.
33. Have a Tea Party
There's a whole lot of fun to be had brewing tea, eating cakes, and enjoying a relaxing afternoon with your family, swapping stories and playing games.
34. Take a Virtual Cooking Class
Need a little help coming up with exciting recipes to cook together? Watch along online with a cooking class, and pause after every step to let everyone in the kitchen get their tasks done without pressure.
35. Build a Fort
Bring down some cozy blankets, rearrange the furniture, and enjoy an evening of fun, cuddles, and games with your kids and partner inside the fort.
36. Finish a Giant Puzzle
Keep things simple, and enjoy quality time with the whole family by tipping out a giant puzzle on the floor or table and getting to work assembling a masterpiece.
37. Host a YouTube Karaoke Night
Sing your hearts out to some classic songs with your very own karaoke night. Load up the requests on YouTube, and get yourself an electronic microphone to really feel like pop stars.
38. Play 'Floor is Lava' with Cushions
So simple to play and so much fun, children of all ages can enjoy this creative game you can play in any room of your house.
---
Life Goals
39. Create a Time Capsule
A great entry to your family's bucket list, pack your capsule with lots of memories and messages and set a date in the future to all come together and open it up.
Read more: 50+ Time Capsule Ideas (Best Things to Put in a Time Capsule)
40. Plan a Family Vacation
As fun as domestic travel is, a family trip abroad is perfect for getting plenty of sun, experiencing a new culture, and getting your children excited about travel for when they're older.
41. Adopt a Family Pet
Add a new member to your family, and have honest conversations with your children about what they would like and how much work it may be. From a cute fish to a fun-loving dog, there are so many pets you could consider.
42. Teach Your Kids a New Skill
Help your kids find inspiration for things they love doing, and teach them something your parents taught you when you were younger.
43. Teach Them How to Ride a Bike
Riding a bike opens up your kids' world to fun adventures, both with you and their friends. Find a quiet spot, and follow them closely as they learn how to peddle without stabilizers.
44. Teach Your Kids How to Cook
Be it a new recipe or a family favorite passed down through generations, learning to cook is an important life skill. Plus, it can be a fun pastime to do together.
45. Paint a Mural Together
Embrace your creative sides, and paint a wall or large piece of wood together, using brushes and fingers. Paint a sunny day, a beautiful landscape, or a mythical creature.
46. Start a Savings Account
Understanding money is a key skill that everyone needs to learn. Starting a savings account can help your kids have a leg up in later life, and get them motivated to learn more about finances.
47. Teach Your Kids How to Dream in Life
Break your kids out of the mindset of ticking boxes. Give them papers and pens, and ask them to write down their goals, desires, and dreams. Teach them not to hold back and see what they can come up with it.
48. Teach Your Kids How to Achieve Goals in Life
Once you have high-level thinking, it's time to help your children focus on working smart and getting tasks done. Use printables, trackers, and planners to help them build positive habits early on.
---
For Building Memories
49. Plan a Family Reunion for the Entire Extended Family
Spending time with the entire family is getting more difficult these days. So seize the initiative, and invite all of the family around to enjoy some quality time, while giving your children the chance to meet the extended family.
50. Write Letters to Future Selves
As bucket lists go, this is a simple family activity you can all do together at any time.
Tell your future self how you're feeling, what you think they're up to, and remind them what's important in life.
51. Start a New Annual Family Tradition
It could be making homemade pizza or visiting Yellowstone national park, but whatever you all decide, make sure you commit to doing it on the same day every year.
52. Make Hand Paintings
Fun activities can be abundant when you make them about creativity. Get some simple paints, and make hand paintings with your partner and kids that you can put on the fridge or keep as a memory.
53. Draw Each Other
Get the pencils and pens out, and either all draw the family together or take turns to be the person everyone else has to draw.
54. Schedule a Family Photography Shoot
While selfies and at-home photos are real and intimate, we often tend to do nothing with them.
Family photoshoots allow you to mark a certain point in time in a wonderful way and have professional photos to show for it.
55. Look Through Photo Albums Together
Build the habit of putting all your photos into albums, and at least once a year, look back through them together.
You could also look through albums your parents and grandparents have kept and show your kids what life was like when you were younger.
56. Buy an Ugly Sweater Set for the Family
You're sure to get plenty of likes online if you all pose for a family photo wearing the exact same sweaters!
57. Start a 'One Second a Day' Video
Commit to taking a second of footage every day. At the end of the year, you'll have an entire video of the year. Whether you visit national parks or try some new food, remember to document it all.
58. Have a 'No Phones or TV' Day
A great way to get you all out of the house, commit to a no-technology day. Instead, take a day trip, explore your own city, or do fun activities together that are very hands-on.
---
Fall/Autumn
Make the most of this beautiful time of year with your family by giving some of these fall activities a whirl.
59. Go to a Pumpkin / Fall Festival Together
60. Teach the Kids How to Make a Thanksgiving Dish
61. Make Leaf Paintings
62. Play Glow Stick Hide-And-Seek
63. Dress Up as a Family at Halloween
64. Go Trick or Treating at Halloween
65. Have a Backyard Bonfire
66. Apple Bobbing
67. Make Angels in Piles of Leaves
68. Carve and Paint Pumpkins
---
Winter
Wrap up warm, get into the festive spirit, and treat your entire family to some of these fun and memorable activities.
69. Visit Santa at the Mall
70. Bake Christmas Cookies
71. Home Alone Movie Marathon
72. Neighborhood Christmas Lights Contest
73. Go Sledding
74. Decorate the Home with Paper Snowflakes
75. Donate to a Shoebox Appeal
76. Ice Skating on the Lake
77. Host a Slumber Party
78. Have a Hot Chocolate/Cocoa Station
---
Spring
Welcome the season of growth and fresh starts with some of these awesome spring activities that the whole family can get involved with.
79. Start a New Easter Family Tradition
80. Easter Egg Hunt
81. Visit an Aquarium
82. Plant a Small Vegetable Garden Together
83. Go Berry Picking and Bake a Pie
84. Make a Bird Feeder and Film the Birds
85. Go on a Bug Hunt
86. Host a Drive-By Car Wash
87. Photograph Butterflies
88. Play Hopscotch
---
Summer
Enjoy the time of school, hot weather, and feel-good factor of summer by planning some super fun and exciting activities to make the most of the sun.
89. Help the Kids Set Up a Lemonade Stand
90. Visit a Themed Park & Go on a Ferris Wheel
91. Go to a Family-Friendly Outdoor Concert
92. Teach the Kids How to Swim
93. Run a Fun Color Run as a Family
94. Plan a Family Beach Trip
95. Go on a Camping Trip
96. Go on a Fishing Trip
97. Fly Kites on the Beach
98. Go to a Water Park
---
Travel
Your kids are never too young to visit new places and experience new things. Spread the travel bug with some super fun trips away from home.
99. Create a Travel Bucket List
100. Take the Kids to Disney World & Disneyland
101. Go on a Family Ski Trip
102. Take an International Trip
---
Never be stuck for ideas when it comes to family time again. Come rain or shine, winter or summer, our list of 100+ activities can help you plan events and weekends that will create ever-lasting memories.
You Might Also Like to Read:
---
Keep this ultimate list of fun family bucket list ideas & activities for kids for safekeeping, by saving this article to one of your Pinterest boards.