This post may contain affiliate links, meaning if you book or buy something through one of these links, I may earn an affiliate commission at no additional cost to you. Learn more
Plan super fun, enjoyable, and memorable family time with our family bucket list, packed with fun family activities with kids for all times of the year.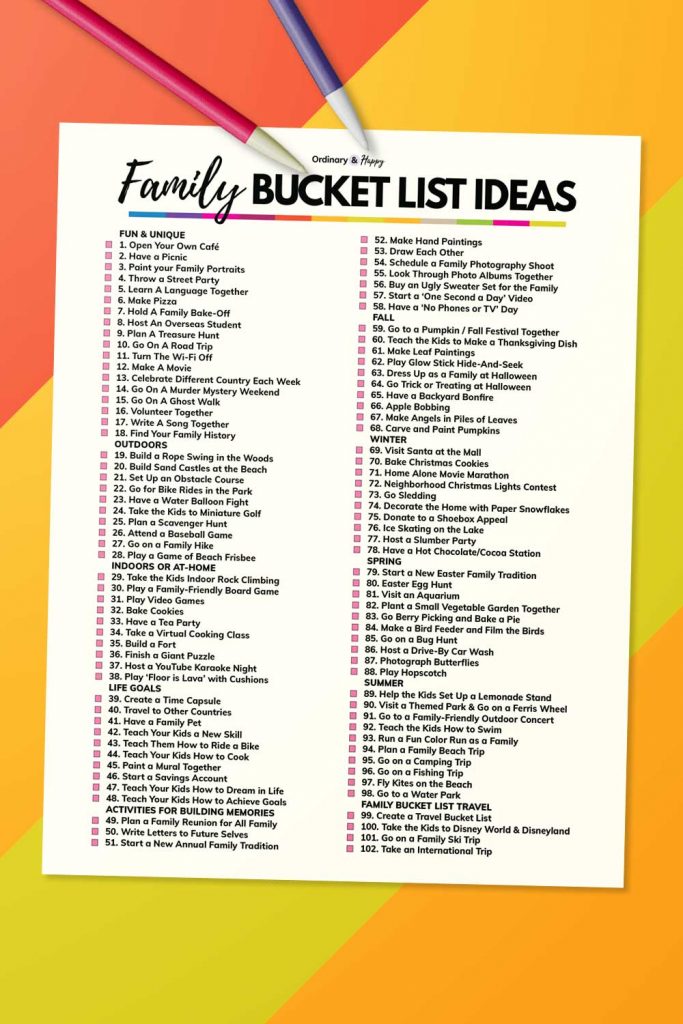 Family time should be fun time. So if you're struggling for ideas, use our list of 100+ awesome activities to help you plan an afternoon, evening, or weekend of laughs, joy, and quality bonding time.
Feel free to download our family bucket list checklist, and challenge yourself to do as many activities on the list!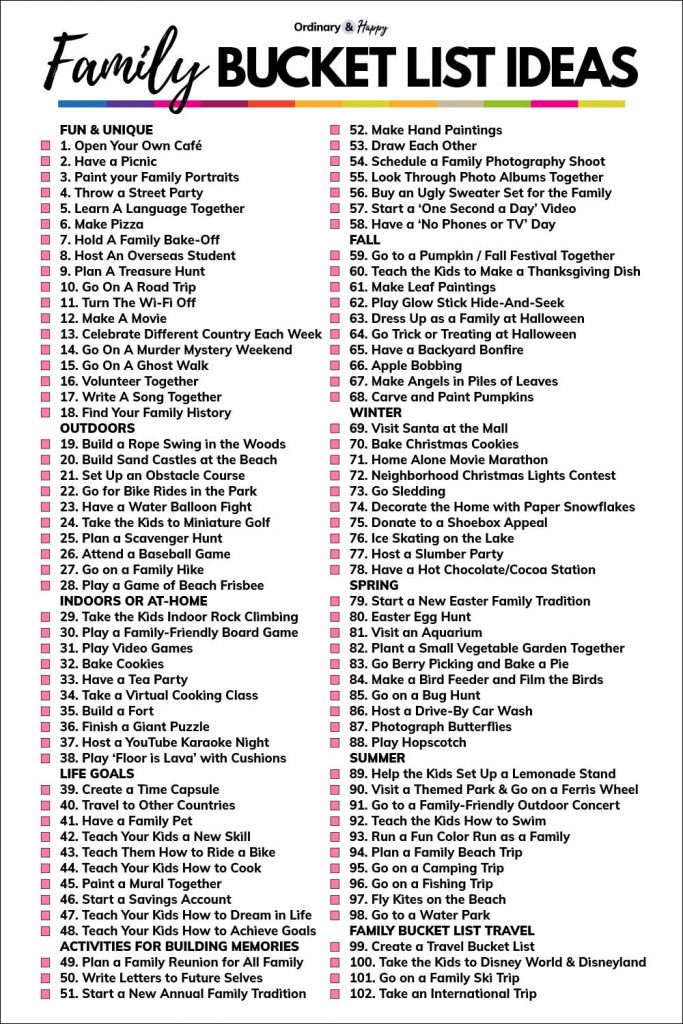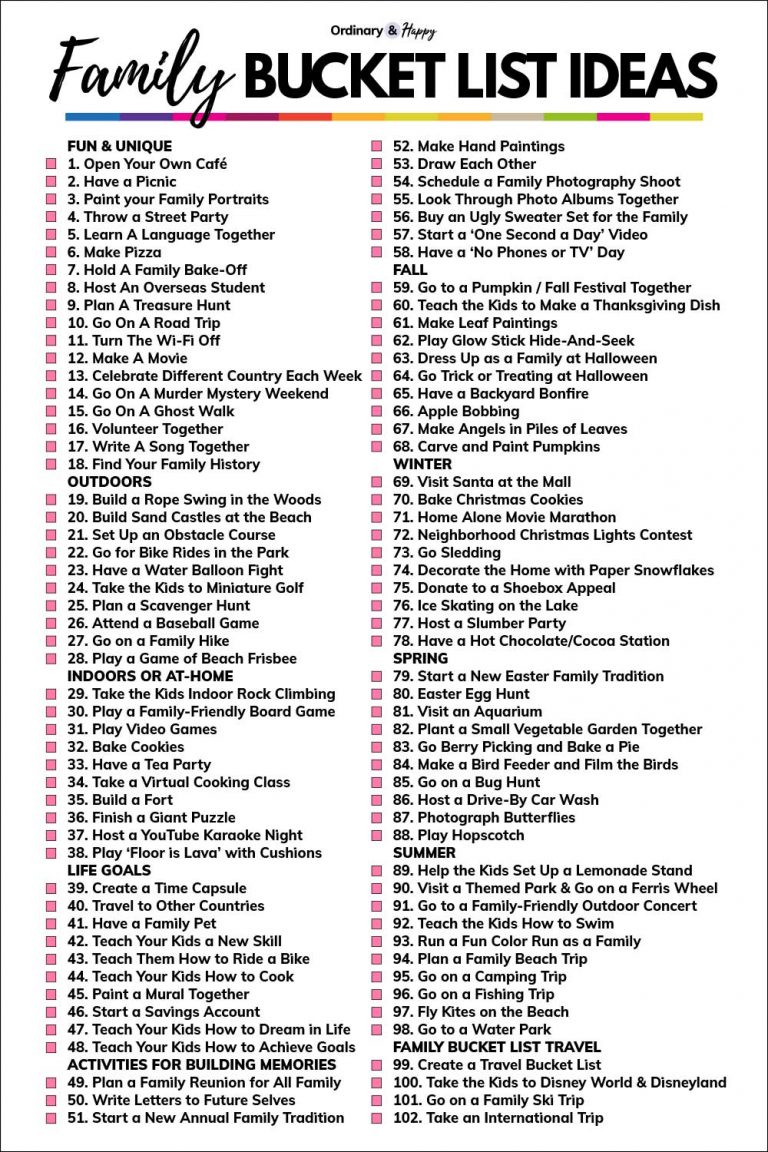 Fun & Unique Family Bucket List Activities
1. Open Your Own Café
Lockdown was rough on kids, without any place to hang out in. So why not create your own?
With a bit of imagination, you can turn your shed/spare room/ campervan into a café, complete with menu boards, countertops, and checked curtains!
No space? Set up a "pop-up" in your kitchen or lounge.
Your kids will love this idea and it is 100% lockdown proof!
2. Have a Picnic
The skies, the grass, the bees – mother nature costs nothing, and one of the best ways to utilize it is by dusting down your picnic rug and throwing a few cucumber sarnies into a hamper.
A picnic is cheap and easy entertainment and one that the whole family can get in on. And if peeling eggs isn't your thing – don't sweat.
Entire hampers can be bought ready-made, leaving less time prepping and more time relaxing!
Related:
3. Paint your Family Portraits
Is your family nurturing the next Van Gogh?
Find out with a family painting night (hopefully minus the ear amputation).
But don't just paint anything. Paint yourselves!
It seems everyone has a family portrait taken these days – but bland Instagrammed photos have lost their zing.
So why not paint one instead? Set aside one night for a family portrait painting – and then frame the best into a family gallery!
You may be surprised by the results!
4. Throw a Street Party
We have been stuck inside forever. Now it is time to go outside and what could be better than having a party in the street?
Organizing a street party doesn't have to be daunting – kids are natural ice-breakers – so use them to reach out to your neighbors.
This is an idea that works well with social distancing and can still bring people together.
5. Learn A Language Together
Today, learning a language has never been easier. Formal classes can help but are not necessary when there is the internet, and foreign students offering private lessons and conversation.
Learning a language is a fun way to bring the family together – without it costing a lot – or anything!
6. Make Pizza
Even fussy kids love pizza and making it is easy-peasy.
It is also delicious, and even an amateur chef can knock the best store-bought pizza into a cocked hat (although, admittedly this wouldn't be hard).
In other words, it is really hard to mess up pizza, which makes it the ideal activity for kids.
Make pizza night a regular slot in your week, and never fork out for a takeaway again. Well, maybe!
7. Hold A Family Bake-Off
There is baking, then there is a bake-off. Make your baking night a little more interesting by adding a competitive slant.
Remember the separate rounds – cakes, bread, and pastries, then score each other on the results. If you don't trust yourselves to be impartial, ask a pal to judge.
The winner scoffs all!
8. Host An Overseas Student
Being young and in a strange land is tough. So, if you've got the space, and it's appropriate, consider hosting an international student in your home.
Your kids can learn a lot and you will provide a welcoming home to a young person finding their feet.
9. Plan A Treasure Hunt
A treasure hunt is great fun for all the family and only takes a little bit of planning. Pick your trail and hide your treasure, then give clues to the kids to navigate!
10. Go On A Road Trip
If you want to go a bit further afield than a treasure hunt, then a road trip is the perfect activity to kill a bit of time off.
Deciding where to go is part of the fun –stick a pin in the map or toss for it if you can't make your mind up.
So, strap in your children, pile the car high with snacks, and taste freedom! (After checking the tires thoroughly etc, etc)
Just be prepared for a lot of 'are we there yet?'
11. Turn The Wi-Fi Off
Who hasn't threatened this to their kids?
But why make it a threat? No Wi-Fi night can be a great thing.
Choose one day a week to read a book, paint or play out –and show your kids what an old-fashioned childhood was really like*.
*Within reason.
12. Make A Movie
If making a drama out of a crisis is your thing, then why not go-pro?
Make a family movie with a difference – and direct, write, and act in your own family drama!
Filmmaking is great fun for all the family and will test your imagination – as well as your acting skills!
13. Celebrate A Different Country Each Week
Pick a country every week to learn about and discover their cuisine. We promise dinner time will never be dull again as you will never eat the same thing twice!
14. Go On A Murder Mystery Weekend
Whodunnit weekends are great fun and something you can bring the kids to. Sharpen up your sleuthing skills with a weekend of murder mystery!
15. Go On A Ghost Walk
Take your family for a walk on the wild side, by finding your nearest ghost walk. Find out local history you never knew you had or explore another town with one of these fascinating nights.
16. Volunteer Together
Helping as a family is a good way to bring the generations together. Whether it's a soup kitchen or an animal shelter, there's a local project wanting YOUR help.
17. Write A Song Together
Are any of you musical? Never mind, it didn't stop Ed Sheeran!
But seriously, writing a song together (and performing it) is definitely one to give a try.
Maybe you're not The Osmonds (then again, would you want to be?) but there is probably a song in there somewhere.
Even if it's just Baa Baa Black Sheep.
Just make sure you soundproof the walls first.
18. Find Your Family History
Writing your family history is the ultimate family project, and with various ancestry sites, it's easier than ever.
Assign each family member a branch to investigate and find out as much as you can do.
Warning – be prepared to unearth a few ne'er-do-wells along the way.
Your research will be appreciated for generations to come!
Outdoors
19. Build a Rope Swing in the Woods
20. Build Sand Castles at the Beach
21. Set Up an Obstacle Course
22. Go for Bike Rides in the Park
23. Have a Water Balloon Fight
24. Take the Kids to Miniature Golf
25. Plan a Scavenger Hunt
26. Attend a Baseball Game
27. Go on a Family Hike
28. Play a Game of Beach Frisbee
Indoors or At-Home Family Bucket List Activities
29. Take the Kids Indoor Rock Climbing
30. Play a Family-Friendly Board Game
31. Play Video Games
32. Bake Cookies
33. Have a Tea Party
34. Take a Virtual Cooking Class
35. Build a Fort
36. Finish a Giant Puzzle
37. Host a YouTube Karaoke Night
38. Play 'Floor is Lava' with Cushions
Life Goals (Family Bucket List Activities)
39. Create a Time Capsule
40. Travel to Other Countries
41. Have a Family Pet
42. Teach Your Kids a New Skill
43. Teach Them How to Ride a Bike
44. Teach Your Kids How to Cook
45. Paint a Mural Together
46. Start a Savings Account
47. Teach Your Kids How to Dream in Life
48. Teach Your Kids How to Achieve Goals in Life
Family Bucket List Activities for Building Memories
49. Plan a Family Reunion for the Entire Extended Family
50. Write Letters to Future Selves
51. Start a New Annual Family Tradition
52. Make Hand Paintings
53. Draw Each Other
54. Schedule a Family Photography Shoot
55. Look Through Photo Albums Together
56. Buy an Ugly Sweater Set for the Family
57. Start a 'One Second a Day' Video
58. Have a 'No Phones or TV' Day
Fall Family Bucket List Activities
59. Go to a Pumpkin / Fall Festival Together
60. Teach the Kids How to Make a Thanksgiving Dish
61. Make Leaf Paintings
62. Play Glow Stick Hide-And-Seek
63. Dress Up as a Family at Halloween
64. Go Trick or Treating at Halloween
65. Have a Backyard Bonfire
66. Apple Bobbing
67. Make Angels in Piles of Leaves
68. Carve and Paint Pumpkins
Winter Family Bucket List Activities
69. Visit Santa at the Mall
70. Bake Christmas Cookies
71. Home Alone Movie Marathon
72. Neighborhood Christmas Lights Contest
73. Go Sledding
74. Decorate the Home with Paper Snowflakes
75. Donate to a Shoebox Appeal
76. Ice Skating on the Lake
77. Host a Slumber Party
78. Have a Hot Chocolate/Cocoa Station
Spring Family Bucket List Activities
79. Start a New Easter Family Tradition
80. Easter Egg Hunt
81. Visit an Aquarium
82. Plant a Small Vegetable Garden Together
83. Go Berry Picking and Bake a Pie
84. Make a Bird Feeder and Film the Birds
85. Go on a Bug Hunt
86. Host a Drive-By Car Wash
87. Photograph Butterflies
88. Play Hopscotch
Summer Family Bucket List Activities
89. Help the Kids Set Up a Lemonade Stand
90. Visit a Themed Park & Go on a Ferris Wheel
91. Go to a Family-Friendly Outdoor Concert
92. Teach the Kids How to Swim
93. Run a Fun Color Run as a Family
94. Plan a Family Beach Trip
95. Go on a Camping Trip
96. Go on a Fishing Trip
97. Fly Kites on the Beach
98. Go to a Water Park
Family Bucket List Travel
99. Create a Travel Bucket List
100. Take the Kids to Disney World & Disneyland
101. Go on a Family Ski Trip
102. Take an International Trip
---
Never be stuck for ideas when it comes to family time again. Come rain or shine, winter or summer, our list of 100+ activities can help you plan events and weekends that will create ever-lasting memories.
You Might Also Like to Read:
---
Keep this ultimate list of fun family bucket list ideas & activities for kids for safekeeping, by saving this article to one of your Pinterest boards.