This post may contain affiliate links, meaning if you book or buy something through one of these links, I may earn an affiliate commission at no additional cost to you. Learn more
Who said turning 30 means you have to grow up? Celebrate this landmark birthday in style with these awesome 30th birthday party ideas, and remind yourself that age is just a number.
30 Ideas to Celebrate your 30th Birthday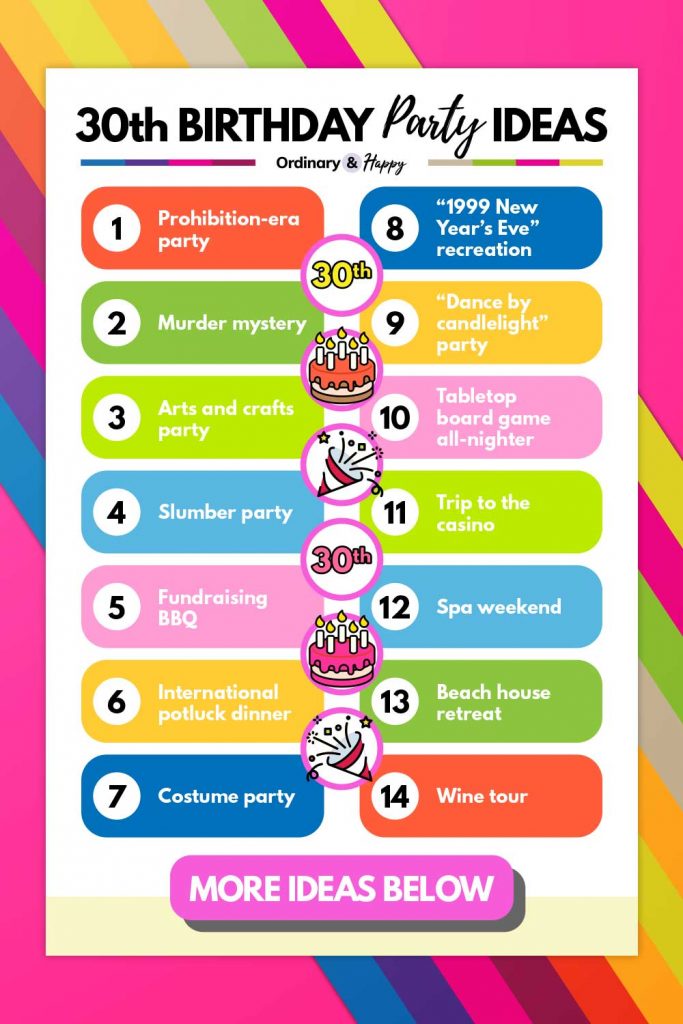 ---
Themed Parties
1. Prohibition-Era Party
The association between the decade and the end of your Roaring Twenties is straightforward to make. But Prohibition offers a few more sources of historical fun.
Beyond the costumes, decadence, and music, the illegality of it all can add a layer of specialness.
Make sure all your guests have a secret passphrase, force them to guess the final venue, or have some make-believe cops interrupt your midnight countdown.
2. Murder Mystery Party
"Murder mystery" dinner parties usually cater to smaller, quieter crowds.
Yet, they can still help you create unique memories while putting a spin on the usually bland table talk of grown-up dinners.
This is an excellent option for anyone who prefers more in-depth conversations with a handful of friends.
Make sure to include at least one guest with role-playing experience: they will help keep everyone else stay in character.
3. Arts and Crafts Party
Briefly popular at some point in the mid-90s, arts and crafts parties were designed to focus kids' energies.
However, an adult spin will likely include some wine and more beautiful take-home results.
Depending on your existing hobbies or the time of the year, you can bring an instructor to teach everyone how to make flower arrangements, jewelry, or color a landscape.
4. Slumber Party
Why did we ever stop doing slumber parties? At some point in your teens, house parties usually become the "cool" norm.
As a thriving 30-year-old, it's time to rediscover the beauty of slippers and a movie flick marathon.
The main advantage is that you can all openly add margaritas into the mix, and nobody's mom will ask you to keep the noise down.
Read more: 16 Fun Things to Do at a Sleepover for Adults (Best Slumber Party Ideas)
5. Fundraising BBQ
If you would prefer an opportunity to give back to the community, a fundraising BBQ can give your 30th birthday party some deeper meaning.
Choose a cause you feel strongly about and contact a local charity. Then, you can sell tickets and donate the proceeds, or ask your guests to bring a particular item in need (such as dog food for a local shelter or non-perishable items for a food bank).
6. International Potluck Dinner
Potluck dinner parties take away a lot of the workload from a regular dinner party and are usually relaxed enough to become a boisterous house party afterward.
However, keeping things too casual can work against your special date. Combat this by asking everybody to bring a dish or cocktail from a specific country or region.
7. Costume Party
Almost a mandatory inclusion for any October birthdays, costume parties don't have to be limited to Halloween.
After all, there are many themes you can choose around the year that will narrow down the costume choice. This will keep everything fun and prevent your guests from overstressing from too much choice.
Examples include movie franchises (Lord of the Rings is a permanent favorite), a Christmas elf workshop special, or a movie subgenre.
8. "1999 New Year's Eve" Recreation
Many of us grew up hearing older cousins saying, "party like it's 1999," – but if you were 8 or 9 back then, you probably missed it.
Try recreating it by combining late 90s and early millennium music, retro fashion, a countdown to midnight, and by pretending the internet stopped working in the middle of the party.
9. "Dance by Candlelight" Party
Candles are romantic and sophisticated enough to turn any event special. Try this if you live somewhere humid enough to negate the risk of a fire, and most of your friends are paired up.
If fire is a concern, candle-like LED lights or even fairy lights can be used to create a magical ambiance instead. You can even combine this idea with Bridgerton-style costumes, Lindy hopping, or a beach theme.
10. Tabletop Board Game All-Nighter
Many of us approach our 30s without the energy (or patience) for a full night of clubbing. But are you ready to give up all-nighters altogether?
Board games can offer a less energy-intensive alternative, plus they may be friendly to the people in your circle who already have kids or fur babies.
Make sure to include a healthy combination of quick, fast-paced games (such as Cards against Humanity) with more intellectually-involved classics like Catan or Risk.
Read more: 20 Board Games for Adults for an Evening of Fun with Family and Friends
---
Group Outings
11. Trip to the Casino
Casinos often get a bad rep for being a money sink. However, their current appeal goes far beyond gambling: the laughter, the adrenaline, and the open bar can help spice up a group outing with your closest friends.
If you can, upgrade this outing into a weekend at Las Vegas or Atlantic City, and start the evening at a comedy club or live music venue before tempting Lady Luck.
12. Spa Weekend
If you would rather spend quality time with just two or three of your closest friends, a spa weekend can be a reinvigorating opportunity for yourselves and for your friendship.
A massage, a series of facials, and a few days of detox will help you start your new decade adequately refreshed. Plus, you will get a chance to catch up with your best friends at a deeper level.
13. Beach House Retreat
If your birthday falls in the summer or on a long weekend, why not take the opportunity for extended exposure to Vitamin Sea?
Look for a remote beach house in a picturesque location and pool resources with a few of your closest friends. Make sure to include a mini barbecue, and institute a "no work talk" at the table.
14. Wine Tour
If you live close to a wine region (or can afford to travel to one), this can combine a group vacation with a several-day-long party.
Most wine tours combine some time at the vineyard with a quick explanation of winemaking techniques or even local history – but only before the actual wine sampling starts.
15. Brewery Tour
If you want to combine knowledge, crafts, and good booze, but would rather steer clear from the sun or extended travel, why not try a brewery tour instead?
You can spend most of the evening sampling the tap offers at a historical pub, or turn it into a classy bar crawl by visiting several microbreweries in a row. This is also a great option as part of a larger trip to any large city.
16. Night at the Museum
Art, intellectual vibes, and often outstanding cafes can all make for an outside-the-box evening out. Find out if any of your local museums have a special day on which they are open late.
Alternatively, you may be able to attend a special event, such as fundraising or the opening of a local exhibit. This will be an excellent opportunity to dress up and contribute to the local arts.
17. Stargazing Night
Camping for several days in a row may take specialized equipment and a strong back. However, if you keep everything to just one night outdoors, you will likely not need to reach out for painkillers the next day.
You can go beyond the simple "tent and beer cooler" by borrowing a few extra lawn chairs, a telescope, and a star map.
Then, head out somewhere far enough from the city, and ensure everyone covers their phones with red cellophane paper.
18. Petting Zoo
No – petting zoos are not just for children. However, if you (or your best friend) already have kids, this is the kind of excursion they may be taken along.
Just keep in mind that cuddling with furry, fuzzy animals is de-stressing for people of all ages. Most petting zoos are also next to a park or picnic area, where you can enjoy a good birthday brunch afterward.
19. A Boat or Yacht Ride
The ocean naturally lends itself to deep reflection, renewal, and rest. Combining it with a yacht and a lively crew can also turn into a floating party.
If you live close to the coast and your birthday is in the summer, research the possibility of chartering a yacht for a day.
Then, pack some drinks, the ingredients for a fresh fish barbecue, and a few aquatic toys. Sunset will arrive in no time.
20. Paintball or Laser Tag Match
A simulated battle is a great way to de-stress and release your competitive spirit. Plus, both paintball and laser tag will immediately get your heart pumping as you escape for your "life." 
Paintball fields can usually be rented for a half-day, making it easier to turn it into a longer celebration.
On the other hand, laser tag requires a shorter burst of intense activity and a good night-eye – but you can always unwind at a bar later.
21. Rollerblading
Rollerblading and roller skating are quietly making a comeback, and now it's relatively easy to find a roller skating rink nearby.
If you are not entirely cool with the possibility of a fast hockey match, or of tackling your best friends, you can opt for a quieter alternative.
Just going around the field, empowered by your new set of wheels, should allow you to fool around and have fun.
22. Trip to a Theme Park
Turning 30 is an excellent opportunity to reconnect with your inner child: you no longer have nobody to impress, so why not visit your old idols?
At a theme park, you can hang out with your favorite characters and act goofy. You can also add a short "adrenaline intermission" at the rollercoaster.
23. Nighttime Cemetery Tour
This spooky outing works excellent if your circle has a penchant for horror stories, but it will be just as fun for history nerds.
Cemeteries hide a lot of history, but somehow, it all feels more real when the lights are low and odd noises surround you. Make sure you hire a good guide and invite your goth friends.
---
Personal Adventures
24. Get a Tattoo
For many of us, tattoos are the ideal way to mark a momentous occasion in our lives.
Maybe you already got inked to celebrate your graduation, marriage, or a move – so why not add to your existing art?
If you have never done it before, now could be a good time to consider it. At 30, the chances are that your immediate family will no longer have a say in it, and you will have a pretty good idea of what your long-term tastes will look like.
25. Bungee Jumping
A few minutes of absolute terror can bring about a rush of adrenaline, followed by a good dose of happiness.
More than your 20s, your 30s will be the decade in which you test yourself and break your boundaries. Welcome them by letting your body know how it feels to defy physics and let go.
26. Experience Flying
Flying is possibly one of the most primal desires shared by humans across all cultures. We may not be built for navigating the air freely, but we can temporarily replicate it.
The degree of realism will depend on your own comfort level: on one end, there's skydiving.
If you would prefer not to push things so harshly, you can try something more controlled, such as paragliding.
27. A "Biking and Homemade Goodies" Picnic
Brunch is very trendy nowadays – but your 30th Birthday deserves something beyond pancakes and mimosas at your usual haunt.
Add some unique extra points by bringing your brunch outside the city, somewhere surrounded by nature. Bring a picnic basket and reward yourself after a good sweat.
Read more:
28. Weekend Playing Tourist in Your City
If you have run out of paid time off, you can switch to a more extended vacation for a luxury staycation. This can be especially fun if you have a partner to include in your celebrations.
Book a room at a local hotel, treat yourself to breakfast in bed, and visit all the stereotypical sights you usually overlook.
29. Visit an Extreme Amusement Park
Dizzying heights and fast drops can offer the same rush as flying. However, extreme amusement parks allow you to combine these experiences with other types of quirky celebrations.
Carnival food, beer sampling, and bumper carts all provide an excellent opportunity to let loose, either with a small crowd or with your immediate family.
30. Make Your Teen Décor Dreams Come True
Remember those overly-aggressive posters that scandalized your mother? The bold color accents and the lava lamp that you weren't allowed to have?
Now that you are officially an adult, there's a good chance that your décor taste has mellowed out a bit.
Still, you give it to your past self to create a corner where that unapologetic spirit can reside. Why not devote a small room or corner of your home to it? Nobody can stand in your way now!
---
Got a 30th birthday on the horizon? Celebrate it with joy, class, and style, and get inspired by these party ideas.
You're never too old to celebrate a birthday in a fun, wild, creative, and memorable way. Do what you love, and welcome your 30s in a memorable way!
You Might Also Like to Read
---
Keep these fun and creative 30th birthday ideas in a safe place on one of your Pinterest boards, ready for when the big milestone is around the corner.