This post may contain affiliate links, meaning if you book or buy something through one of these links, I may earn an affiliate commission at no additional cost to you. Learn more
Celebrate this milestone birthday with class and style, and get inspired with these 50th birthday party ideas to plan a truly memorable event everyone will love.
50th Birthday Party Ideas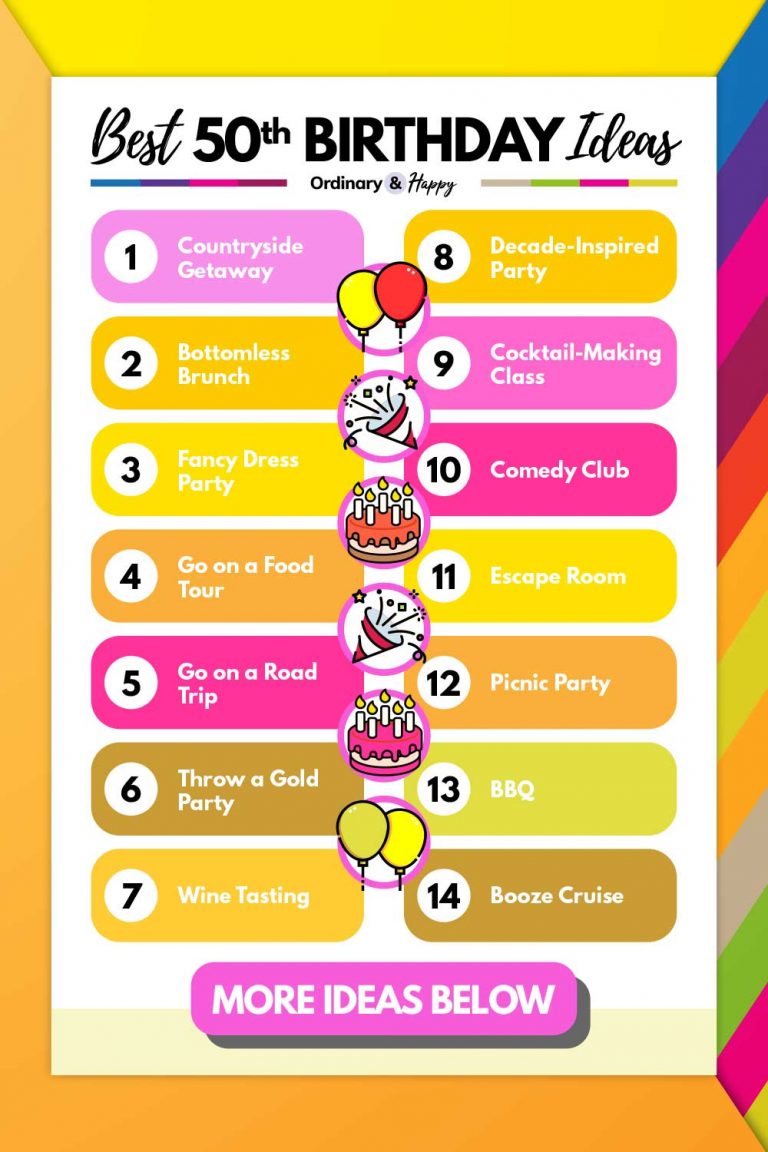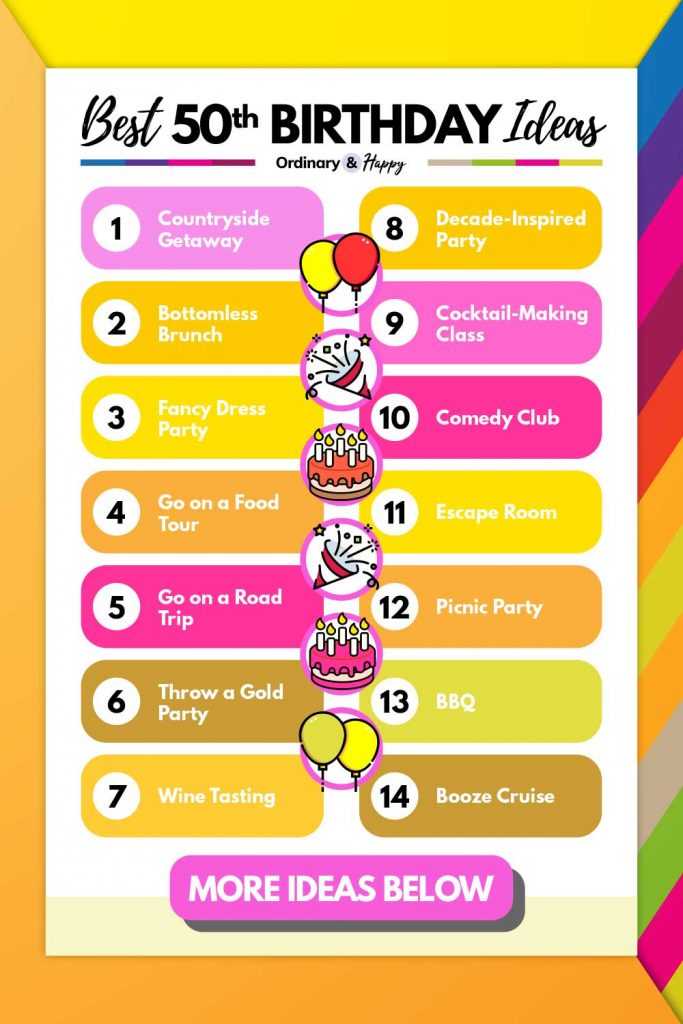 ---
Fun Ideas
1. Go on a Countryside Getaway
There's nothing more relaxing than spending time in nature, so for a celebration that connects you to Mother Earth, grab your best friends and spend your birthday relaxing on a countryside holiday.
You can rent a cottage for the weekend and enjoy walks, picnics, and trips to a countryside pub on your rural retreat.
2. Have a Bottomless Brunch
If you want an all-day celebration for your 50th, start the day off in party mode by attending a bottomless brunch.
These brunches allow you to order unlimited drinks for a specific time period, with some restaurants even offering unlimited food. If you don't fancy splashing out, you can even host your own brunch at home. Plan the menu with our list of 100+ brunch food ideas.
3. Plan a Costume or Fancy Dress Party
Fancy dress is a classic party concept involving you and your guests dressing up in costumes, typically with a theme.
Some unique themes include Great Gatsby, Disney characters, or a masquerade ball. If you need some inspiration, see our list of over 30 party costume ideas for adults. You can even have a competition for the best dressed, with a prize available for the winner!
4. Go on a Food Tour
If you're a foodie, celebrate your birthday with a day of tasty treats by going on a food tour. You can check Cozymeal for food tours near you.
Many cities offer official tours of various restaurants, often themed by cuisine, but if you want to do your own thing, you can simply visit all of your favorite restaurants in the city and have one dish at each place. Bon appétit!
5. Go on a Road Trip
If you're in the mood to celebrate your 50th birthday with some adventure, grab your closest friends and go on a road trip.
You can visit a nearby city to spend the day as a tourist, or take a trip to a rural area to relax in nature. Either way, you're guaranteed a day of fun birthday celebrations somewhere new.
Read more: Places to go on Your Birthday
6. Throw a Gold-Themed Party
50th birthdays are traditionally associated with gold, so make the most of this connection by hosting a gold-themed party.
You can mandate a gold-only dress code, buy gold-themed party decorations, and even create a playlist based on albums that have gone gold. You may even be lucky enough to get some gifts made out of gold!
---
Unique Ideas
7. Sign up for a Wine Tasting
Are you a wine aficionado? Do you know your Merlot from your Malbec? If you're passionate about wine, why not include it in your 50th birthday celebrations?
Sign up for a wine tasting session with your closest friends and celebrate your birthday whilst enjoying a tipple (or five)!
You can even try a wine tasting sail experience, wine and cheese aerial tour, wine tasting kayak tour, and more incredible and unique wine experiences.
Related: Best Gifts for Wine Lovers
8. Host a Decade-Inspired Party
To commemorate the decade you were born in, host a decade-inspired party. Your guests should dress in the attire of the decade, the playlist should be made up of your favorite tracks from the decade, and the party snacks should be classics from the era.
You'll feel like you've gone back in time with a trip down memory lane to celebrate this milestone birthday!
9. Take a Cocktail-Making Class
Throw a birthday bash with a twist by attending a cocktail-making class. You and your besties will learn how to create some of your favorite cocktails, followed by an evening of drinking them.
If you want to enjoy your new creations from the comfort of your home, hire a cocktail expert to come to your house and give the masterclass from your kitchen.
Related: Best Home Bar Accessories and Gadgets to Own
10. Go to a Comedy Club
For a birthday celebration that will have your sides aching from laughter, try attending a comedy club with your loved ones.
If you're worried about being seated in the front row, check out an online comedy show instead, allowing you to enjoy a hilarious stand-up routine from the comfort of your couch.
11. Try an Escape Room
For a 50th birthday party that's out of the ordinary, invite your friends and access your inner detective in an escape room.
The combination of mystery with the adrenaline rush of trying to get out of the room in time will guarantee you an afternoon of fun you won't forget.
---
Outdoor Ideas
12. Have a Picnic Party
If you're celebrating your 50th on a day forecast for sunshine, pack a picnic basket and head to your local park to enjoy delicious food and the company of your closest friends.
Pack a bottle of something bubbly so you can raise a toast to the last five decades and celebrate your milestone birthday.
Related: Best Picnic Essentials and Best Picnic Food Ideas
13. Host a BBQ
Assemble your nearest and dearest in your garden for a BBQ for the ultimate outdoor birthday celebration.
Put on your favorite summery tunes, play some lawn games and enjoy tasty food straight from the grill for an outdoor party you'll never forget.
14. Go on a Booze Cruise
Set sail on the seas to celebrate the big 5-0 by taking yourself and your best friends on a booze cruise.
You can enjoy live music, light bites, and a fully-stocked bar, all whilst enjoying the beautiful views from the comfort of your boat. Don't forget to pack your sailor's hat!
15. Have a Beach Party
If you're lucky enough to live near a beach, bring your best friends, some light bites, and a bottle of something to celebrate on the shore.
If you stay into the evening, you'll have the opportunity to see a beautiful sunset and cozy up around a bonfire, reminiscing on your five decades of life.
Read more: 100+ Things to Do at the Beach (Bucket List)
16. Go Glamping
If you want to spend your 50th birthday in nature but you're not keen on camping, glamping could be the happy medium for you.
Going glamping is a great way to experience the great outdoors with your friends without sacrificing your home comforts.
You can swap the sleeping bag for a stylish yurt or shepherd's hut and enjoy a peaceful weekend in the wild.
---
Indoor or at-Home Ideas
17. Have a Private-Chef-Cooked Meal
Are you looking to celebrate your 50th birthday by hosting a dinner party with a twist? Want the luxury of a 5* meal without having to leave the house?
Bring the haute cuisine home by hiring a professional chef to cook for you and your loved ones! You'll have delicious food without any hassle, allowing you to sit back and enjoy your evening whilst you're served restaurant-quality grub.
18. Plan a Casino Party
If you can't get to Las Vegas, bring Las Vegas to you with a casino-inspired games night.
Invite your pals, set a black-tie dress code, hire a card dealer, and indulge in some light-hearted games of blackjack and poker – keeping the stakes low, of course!
19. Host a Murder Mystery Night
Check Price on Amazon
Throw a 50th birthday party with a twist by hosting a murder mystery night. Each guest should come dressed as the character they're playing, ready to indulge in a night of performance.
Guests will then act out a script, and based on clues and backstories, should then guess which of the other guests they suspect is the murderer. The only question that remains is "whodunnit?"
20. Host Board Game Night
Keep your 50th celebrations simple and inclusive by hosting a board game night. Assemble your friends, family, and some board game classics for a family-friendly night of fun.
Related: Best Party Games for Adults
21. Host a Roast
If you like comedy and aren't easily offended, celebrate your 50th birthday by hosting a roast at your home!
You can hire a professional comedian or ask friends and family to write a routine to poke some fun at you – all good-natured, of course.
However, those who dish it out must be able to take it, as tradition dictates that the host gets the final say by performing a roast of their own all about their guests.
---
Surprise Parties for Him
22. Set up a Scavenger Hunt
If you're looking to surprise the soon-to-be 50-year-old in your life, set up a scavenger hunt for him.
The search can take place in their own home or around a city, with clues in the form of notes, objects, or people to help them reach their destination.
At the end of the hunt, you and their loved ones should wait to surprise him with a party full of his favorite people.
23. Get Tickets to a Concert
If the man in your life is a music lover, surprise him with tickets to see his favorite band live in concert.
He can boogie the night away while singing along to his most-loved tracks, all without having to organize anything himself.
24. Check Something off His Bucket List
If the birthday boy in your life is adventurous, treat him to a 50th birthday celebration to remember by organizing a party based on his bucket list!
Whether it's skydiving or a trip in a hot air balloon, helping him tick off a lifelong goal is the perfect way to celebrate in style.
25. Surprise Him with Tickets to a Sporting Event
If you're throwing a surprise birthday bash for a sports lover, buy him tickets to a once-in-a-lifetime match featuring his favorite sports team.
He's guaranteed an evening of fun watching his most-loved sport live in action – even better if his team manages to win!
Related: Best Birthday Ideas to Surprise Your Husband
---
Surprise Parties for Her
26. Plan a Pamper Party
Does the lady in your life deserve a relaxing birthday celebration? Surprise her with a day out with friends being pampered at a luxury spa.
This fun treat is perfect for celebrating a milestone birthday in style, relaxing with a glass of bubbly whilst soaking in the bubbles of the jacuzzi.
27. Host a Black-Tie Party
If you want to surprise your favorite 50-year-old with a birthday bash, give her the most glamorous celebration imaginable with a black-tie party.
Ask your guests to don their most sophisticated attire and host the party in a function room or somebody's home.
Just make sure the birthday girl knows she's being taken somewhere special, so she dresses the part!
28. Plan a Favorites Party
Show the birthday girl just how well you know her by surprising her with a favorites party.
Create a playlist of her favorite songs, set up a buffet filled with her favorite food, and fill the evening with her favorite games to give her a night she'll always remember.
29. Book a Tasting Menu
If you're looking to throw a surprise party for a foodie, there's no better activity to surprise her with than a tasting menu at a restaurant.
These menus typically comprise multiple courses made with unique and high-quality ingredients, providing a once-in-a-lifetime treat for her tastebuds.
30. Host a Memory Party
Throw the lady in your life a surprise party in the form of a nostalgia fest by celebrating her fifty years of life with a memory party.
Display a slideshow of photos from throughout the years, invite guests to share their favorite anecdotes, and put together a memory book for her, filled with photos, personal notes, and tickets to events she has attended.
---
Low-Key Ideas
31. Plan a Dinner Party
If you want to keep it simple and sophisticated for your 50th, invite a few friends around for a dinner party.
You can cook your favorite meal or even order takeout while you reminisce about the last five decades over good food and flowing wine.
32. Try a Bar Crawl
If you want to keep it casual while fitting multiple destinations into one night, try a bar crawl for your 50th birthday celebrations.
You can enjoy some drinks with friends and even go for dinner, with many gastropubs offering up a menu of tasty classics.
33. Have a Movie Marathon
If you fancy a trip to the cinema for your 50th birthday without leaving the house, bring the cinema to you by setting up a movie marathon in your front room and inviting your best pals to join.
Turn down the lights and get the popcorn ready for that authentic movie theatre feel. If your birthday occurs during the summer, make it an outdoor cinema with a projector and outdoor screen in your backyard.
Related: Movie Night Gift Basket DIY
34. Throw a Pizza Party
For a 50th birthday celebration that doesn't break the bank, throw a pizza party! Invite your best friends over and set up a pizza-making station, complete with homemade dough and everyone's favorite toppings.
Get creative making your own pizzas from scratch to enjoy alongside a movie marathon or a playlist of party tunes.
35. Attend a Yoga Class
If you prefer to keep things zen on your birthday, sign you and your besties up for an outdoor yoga class in the sunshine.
This calm-inducing activity is a great low-key celebration option. You can even top off your yoga class with a picnic in the park, complete with a bottle of bubbly.
---
50 is a truly iconic milestone and deserves a party that brings plenty of joy, smiles, and magic to not only whoever is turning 50, but also their friends and family.
Never get stuck for ideas with our list of 50th birthday ideas. Use them to inspire you to plan a party like no other!
You Might Also Like to Read
---
Got a 50th birthday in the coming months? Keep these awesome party ideas for inspiration by saving this article to one of your Pinterest boards.