This post may contain affiliate links, meaning if you book or buy something through one of these links, I may earn an affiliate commission at no additional cost to you. Learn more
Looking for fun things to do at a sleepover for adults? These grown-up slumber party ideas are perfect for a night of fun, laughs, and memories!
Things to Do at a Sleepover for Adults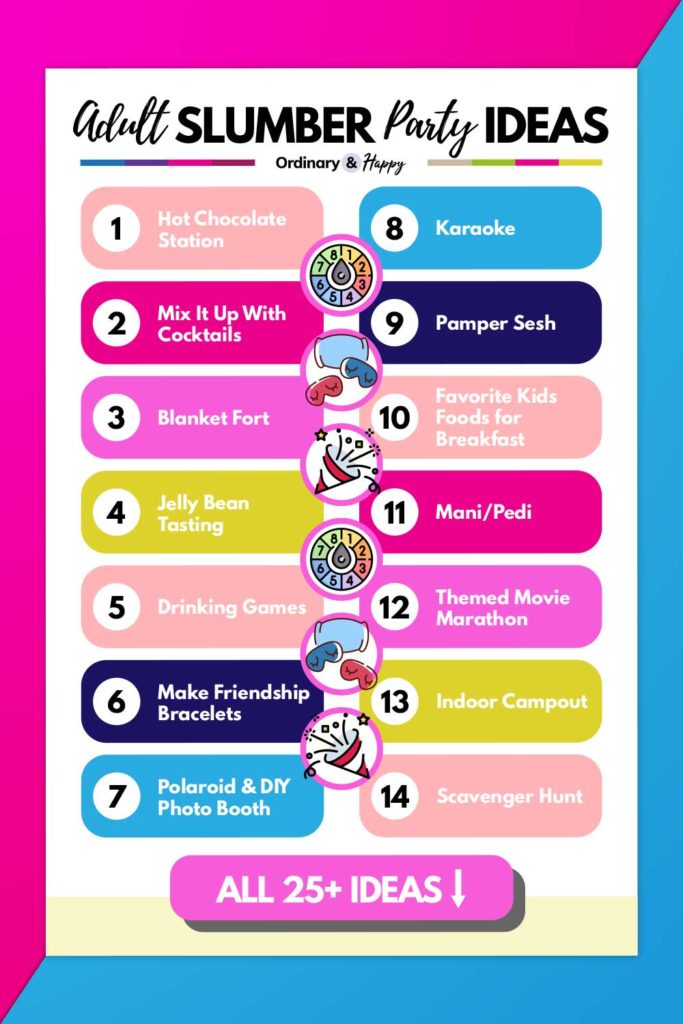 ---
1. Hot Chocolate Station
A hot chocolate station is an easy crowd-pleaser, especially if you're throwing your slumber party on a cold winter night or if the festive season is around the corner.
Get your chocolate station up and running by first ordering a bar sign and some decorations like these and a set of cute mugs for everyone to drink their delicious hot chocolate from.
To make an enormous batch of smooth, luxurious hot chocolate, you barely have to lift a finger.
Just gather your ingredients: milk, cream, and roughly chopped dark or milk chocolate, throw them into the slow cooker for a few hours, and voilà!
Or, to make things even easier, you could get a premium hot cocoa mix like this one and simply add your hot water or warm milk, then stir until ready.
We all know that it's the toppings that are the secret to a really great cup of hot chocolate.
You could go for the classics, such as marshmallows and chocolate shavings, or something a bit more lavish, like toffee pieces or crumbed cookies.
Sauces, like these sea salt caramel and white chocolate ones, are also an amazing idea – all on top of whipped cream, of course!
2. Mix It Up (Cocktails)
Check Latest Price
No all-adult slumber party worth its salt is complete without an array of alcoholic delights, and what better way to get everyone into the spirit – no pun intended – than to get together and whip up a big batch of cocktails?
Whether there's a cocktail savant or two within the group or you're all new to the art of mixology, there's a range of cocktails that can be made en masse to suit every skill level and budget.
If you'd prefer to keep things simple, as well as budget-friendly, a great starter cocktail to batch-make is a simple Madras (no, not the curry!). All that's needed is vodka, orange juice, cranberry juice, ice, and a wedge of lime.
Of course, if you don't drink alcohol, making mocktails can be every bit as fun. You'll also wake up the next morning with the added bonus of not having one of those infamous hangovers that often come as part and parcel of a night on the cocktails.
3. Blanket Fort
Who says blanket forts are just for kids?! There are few things more iconic for a sleepover than building a good old-fashioned blanket den, and they can provide a fun, sacred space for both kids and adults alike.
First of all, once you've chosen your spot, you'll need to put a duvet and some pillows on the floor to make your fort nice and comfy to sit in.
You can use chairs for the walls, clip the blankets onto them with clothing pegs, and even put up some fairy lights or LED candles for a cozy – and fire hazard-free – blanket hideaway.
4. Jelly Bean Tasting
If, like me, you grew up during the Harry Potter craze of the noughties, there's a good chance you took part in the Russian roulette that was a box of Bertie Botts Every Flavour Beans.
Check Latest Price
They really did come in every flavor, from traditional treats, such as strawberry and blueberry, to some real nasties, such as soap and rotten egg.
The real gamble was that both the tasty flavors and their disgusting counterparts were often identical and impossible to tell apart!
Whether you're a jelly bean savant or a newbie, having a game of Spin The Jelly Bean or Bean Boozled is a great activity for a slumber party that'll leave you in stitches.
5. Drinking Games
Though most of the ideas on this list can be fun for kids as well as adults, this one will need to be saved just for grown-ups.
Drinking games are a great way to jazz up a slumber party, and there are activities to suit every group size. You can play individually, or up the ante by playing in teams.
While most of us love a good game of Ring of Fire, there are only so many times you can get someone to drink from the King Cup – the dirty pint.
For some fun drinking game alternatives, try beer pong, never have I ever, drunk Jenga, or fuzzy duck.
6. Make Friendship Bracelets
Another fun, chilled-out activity that can be enjoyed by both adults and kids, friendship bracelet-making can also double up as a cute little keepsake of your slumber party that you can hang on to for years to come.
If you want to make your bracelets more personal, you can get letter beads to spell out everyone's names.
There are also ready-prepared kits you can buy, like this bracelet kit, containing everything you need if you want to keep it simple and save some time.
Alternatively, you can even make your friendship bracelets totally unique by shopping around for an assortment of different beads and strings.
7. Polaroid and DIY Photo Booth
Here's another one that can double up as both a brilliant way to spend an evening and as a sweet memento to reminisce over later on. Polaroids print instantly and can provide hours of fun.
Set up your DIY photo booth with all the props, costumes, and background items you'll need, and remember to order a Polaroid instant camera to take the photos.
You can opt for the typical photo booth props like glasses, hats, and mustaches, or you could take it next level by giving your picture-taking a theme.
These Hollywood photo booth props give you and your slumber party everything you need to look like celebrities, while these 80s-themed props will make you feel like you've all jumped in a time machine and gone back in time!
Or how about turning your photo booth into a moonshine saloon with these wild west-themed props for your photo booth? The fun you can have with this really is endless!
If you want to go all out, get everyone to put on their best glam makeup before getting started.
Whatever you end up doing, you'll have a blast, as well as something to look back on later on.
8. Karaoke
Do you ever feel like a plastic bag, drifting through the wind? No? Oh well, stick with me…
Karaoke is a pastime that's brought joy to sleepover party-goers the world over from the early 1990s and beyond.
When the BYOB drinks are flowing, and you're surrounded by your best gal pals, there's no better time to shout your feels from the rooftops – or the living room – whilst belting out your favorite tunes.
Compile a playlist of everyone's favorite strong female vocalists, from Katy Perry to Alanis Morrisette, to Destiny's Child, ABBA, the Spice Girls, and beyond.
Or, if you really want to create that karaoke bar vibe, get yourself a karaoke station like this, and watch your guests' eyes light up when they enter the living room and see this in the corner!
Each of you can sing on your own, or you can team up and sing your own verses.
If you want to add a little bit of friendly competition into the mix, you can even turn your karaoke party into an X-Factor-style contest.
9. Pamper Sesh
Take a little time out from the everyday humdrum of adulthood to wind down and bliss out alongside your best pals with a pampering sesh at your next slumber party.
The great thing about at-home pampering is that as well as being a relaxing, bonding activity to enjoy with friends, there are treatments to suit everyone's lifestyle and budget.
Set the mood by diffusing essential oils and putting on a bit of music before getting your chill on with some facials, a mani-pedi, or a foot mask.
If you want to save a little money, you can always make the treatments at home yourself!
Once you're all primped and pampered, you and your friends will feel like a million dollars.
Related: The Perfect DIY Spa Day at Home
10. Serve your Favorite "Kid Foods" for Breakfast
No slumber party is complete without factoring in breakfast for the morning after.
After a late, fun-filled night of shenanigans with your pals – if you even slept at all – a bit of sweet, sugary fuel to start the day won't go amiss.
Make it a blast from the past by having everyone bring a favorite sugary childhood breakfast food.
Ideas that are sure to go down well include Lucky Charms, Pop-Tarts in any flavor, pancakes, waffles (with all of the toppings, obviously), and muffins.
Set them all out and enjoy a morning buffet with a touch of nostalgia.
11. Do Your Nails
Another one that's bound to be a hit with audiences of all ages, a good old-fashioned manicure can branch out as part of a home pamper sesh or can be a fab activity on its own.
Start by having everyone get their hands and nails primped to perfection before unleashing your inner nail artists.
Have everyone bring their favorite nail polish, and set up a mini nail bar.
Spice it up by playing a game of spin the nail polish: the game is exactly the same as spin the bottle, but rather than having to kiss someone, the player has one fingernail painted at a time.
Everyone takes turns doing this until each person has a fully painted set of nails.
12. Have a Themed Movie Marathon
Having a themed movie marathon at your all-adult slumber party can be a poignant way to celebrate an event, such as an upcoming wedding, a bachelorette party, or a big birthday.
It's not a necessity, though, and it can still be a brilliantly fun activity if you're having a slumber party just because you want to spend some quality time with your pals.
Whether you and your friends are mad about Marvel or gaga over gangster films, there's sure to be at least one theme that's a crowd-pleaser.
Make it even more fun by throwing in all the trimmings that come with the movie theatre – popcorn, fizzy drinks, and even printing out some customizable cinema tickets.
You could also schedule your adult sleepover around a popular holiday. If you fancy a spook fest, you could watch a few movies from our Halloween movie bucket list on October 31st.
Or you could organize a slumber party for your best friends around the December holidays and watch some classics from our ultimate Christmas movie bucket list to really get into the festive spirit.
13. Create an Indoor Campout
Bring all the excitement of a night away camping into your cozy, warm home by creating an indoor campout at your next slumber party.
Set yourself up with a tent – whether it's the real deal or a makeshift one made from blankets – and enjoy all the fun of the great outdoors whilst staying snug and toasty indoors.
Set the stage by asking friends to bring their sleeping bags, set out some blankets, and if you really feel like going the extra mile, you could even stick some glow-in-the-dark stars onto the ceiling.
Stream a video of a fireplace in place of a real campfire, gather around in a circle and swap ghost stories in the dark, and cook up some yummy s'mores. What's not to love?!
14. Plot a Scavenger Hunt
Scavenger hunts are a great activity to spice up a sleepover party and bring a bit of a competitive edge to your evening.
You and your friends are sure to have a blast, and it'll be a night that no one will forget – in fact, a well-planned scavenger hunt can be every bit as fun for adults as it is for kids!
The scavenger hunt works by creating a checklist to give to each guest and having them race each other – individually or in teams, it's up to you – to find each item on the list.
The items on the checklist can be pretty much anything, and you can make it as wild, tame, naughty, or PG as you like.
If you're feeling particularly adventurous, you can even scale it up by taking your scavenger hunt outside.
15. Bust Out the Games
Monopoly, anyone? Maybe not, as it's the most commonly banned board game in households because of its tendency to cause arguments.
But there are plenty of other options that are much more enjoyable for everyone involved that won't go down like a lead balloon at your next slumber party.
Having a games marathon with your best buddies is a fab way to connect, make memories, and strengthen your bond.
Whilst classic board games such as Snakes & Ladders, Pictionary, and Scrabble are always fun to play in groups, modern technology has gifted us with ways to play games like never before: if there's something you want to play, there's a pretty good chance it's available in a downloadable version for free, or for a small price. Examples include Charades, Heads Up, and Evil Apples.
16. Do Your Own Bake-Off
For baking boffs and beginners alike, hosting your own mini bake-off is a delicious – and different – activity to take part in at your next slumber party. It'll provide heaps of fun while also being budget-friendly.
Chances are, you don't want an entire group of people baking separate things in your kitchen all at the same time, so it's worth asking everyone to BYOB (bring your own bakes!) beforehand.
You'll need a judge or two to vote for the Star Baker. Up the ante by having everyone contribute a small amount of money to get a prize to award the Star Baker.
So, in the run-up to your next sleepover extravaganza, don your apron and get your bake on!
17. Camp in the Backyard
Enjoy all the fun of camping with the comforts of home, and set up a tent and sleeping bags in the back garden for you and your friends to spend the night.
18. Host a Glow-in-the-Dark Dance Party
Dress in all black, set up a Bluetooth speaker, and play some classic dance tunes with glow sticks on hand for a super fun party. Just remember to keep the music down if it's late.
19. Have an Ice Cream Tasting Session
From wine-flavored ice cream to Ben and Jerry's beloved cookie dough tub, order in plenty of fun flavors and make sure everyone has a bowl and spoon.
You could also make your own ice cream if you want to get creative in the kitchen.
20. Go for a Moonlight Group Walk
If you live in a residential area that's safe to walk in, venture out for a little while together at night and take in the beauty of the moon.
You could also spend time in the backyard, or in a communal area if you live in an apartment complex.
21. Binge Watch a TV Show with Face Masks
Engage in a little self-care by ordering a range of face masks for everyone to wear while you binge-watch a new or classic show on the sofa.
22. Host a Silent Disco
If you're worried about the noise but still want to get your dance on, why not host a silent disco?
You can rent a silent disco party pack for the evening and let everyone get their groove on while keeping the noise down.
23. Play 'Never Have I Ever'
A classic slumber party game, our list of 'Never Have I Ever' questions will make sure you've always got ideas good to go to keep the game moving.
24. Play 'Two Truths and a Lie'
Another favorite at parties and gatherings, you can get inspired with our list of 'Two Truths and a Lie' ideas to help keep the game fast-paced and action-packed.
25. Watch a Scary Movie
Not for the faint-hearted, if everyone is up for it, you could play some classic scary movies in the night and see who jumps the most – get ready to hide under the blankets and covers!
---
Adult sleepovers don't have to be boring, early-night affairs. There are so many sleepover activities you can plan for your fun evening with friends to make the night a fun and memorable one.
You Might Also Like to Read:
---
Keep these adult sleepover ideas in a safe place, by saving this article to one of your Pinterest boards.