This post may contain affiliate links, meaning if you book or buy something through one of these links, I may earn an affiliate commission at no additional cost to you. Learn more
Show that special man in your life how much he means to you with these romantic surprises for him, helping you create some intimate, meaningful, and exhilarating moments together.
Romantic Surprises for Him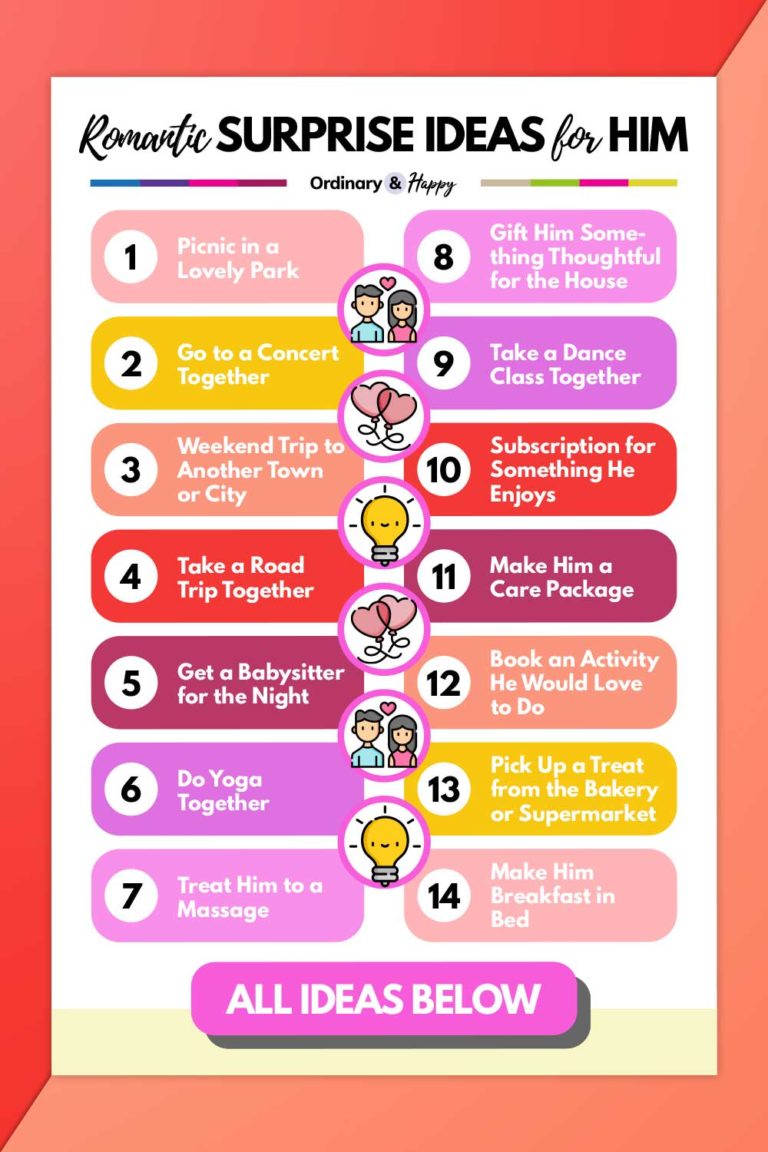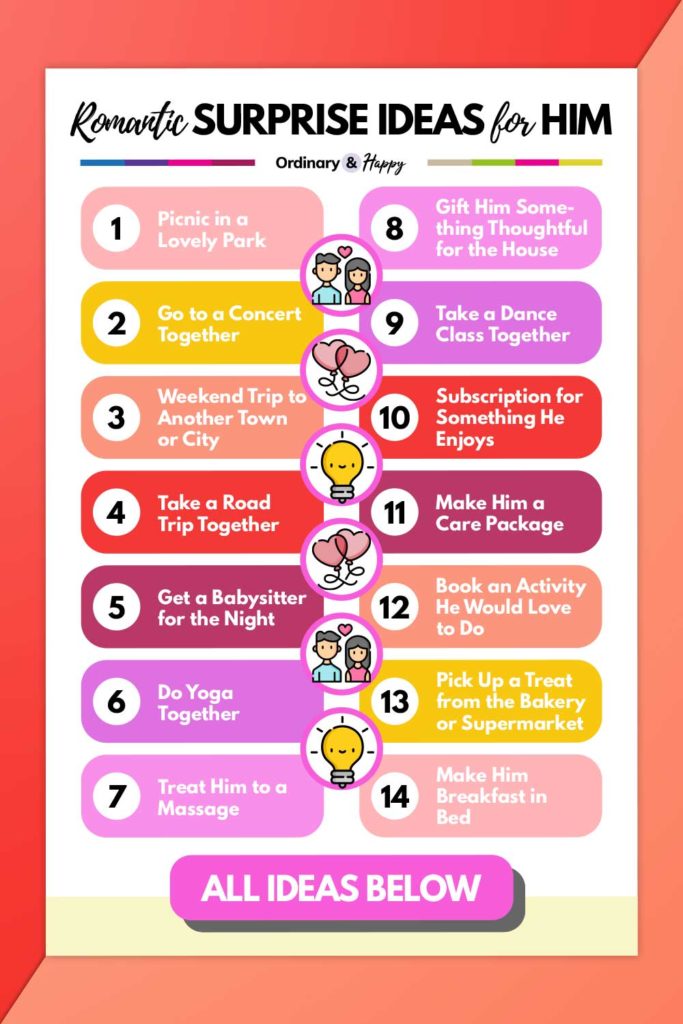 ---
Cute Ideas
1. Picnic in a Lovely Park
Prepare a picnic of his favorite foods, snacks, treats, and drinks, take a big blanket (and some sunscreen if it's sunny), and find a lovely secluded spot to enjoy a cute picnic together.
You can bring a deck of cards or fun outdoorsy games to play together, or a couple of beers and just chill out.
Read more: Picnic Must-Haves and Best Picnic Food Ideas
2. Go to a Concert Together
If you know his favorite band, artist, or DJ will be in town, surprise him with concert tickets. You could even make a weekend of it and get a nice hotel if the concert is in a different city.
Get hyped up together on the drive over or when you're getting ready by listening to the latest album.
3. Weekend Trip to Another Town or City
It's always nice to get out of your usual city for a mini-break, so why not book an Airbnb in a nearby town or city, and visit a new place to do some fun things together? It's always nice to explore somewhere new together and try new things.
4. Take a Road Trip Together
Explore the great outdoors from the comfort of your own car, or a rental car, and plan a road trip somewhere fun and exciting.
Put on a road trip playlist together, get some snacks and enjoy the sights as you go on your own mini-adventure together. You could even book a hotel room for the night and take the romance factor up a notch.
5. Get a Babysitter for the Night
This is a really great way for you both to take the evening off parent duties if you have kids.
Surprise him with a babysitter, so you both can do whatever you'd like for your evening off.
You could go for a nice walk, have a drink at your local bar or pub, or just enjoy the peace and quiet at home, knowing the kids are taken care of.
6. Do Yoga Together
Yoga is a really fun way to relax. It's good for flexibility as well as for the soul.
Surprise your man by doing one of the many easy-to-intermediate yoga classes that are available on Youtube from the comfort of your own home.
This is a fun bonding activity that can set you up for a lovely and mindful start to the day or for a relaxing end to the day.
---
Unique Ideas
7. Treat Him to a Massage
You could either book a professional massage at a nearby spa for a relaxing day together or get creative at home by giving him a massage yourself.
Set the mood with some scented candles and relieve that tension in his muscles with coconut oil and caring hands.
8. Gift Him Something Thoughtful for the House
Whether it's an awesome TV stand or a stylish set of beer glasses, a gift is a pleasant surprise that you can tailor to his likes and preferences.
9. Take a Dance Class Together
If you've ever wanted to take a salsa class, put your right foot forward and dance the night away with your partner.
From the tango to the waltz, you can enjoy being in each other's arms and maybe even pick up a new hobby to do together. Dancing with the Stars – here you come!
10. Get Him a Subscription for Something He Enjoys
There are so many excellent subscriptions you can get today, from wine or beer subscriptions to DIY craft packages.
This can make for a sweet surprise as he might feel like they're too frivolous for himself, but as a gift, it shows you really care about his likes or interests.
11. Make Him a Care Package
Slightly different from a treat box, a care package is a thoughtful DIY way to give him something both sentimental and valuable.
Nice ideas for things to include in the care package are beard oils, moisturizers, shower gels, or grooming kits, among many others. Think of items he wouldn't get for himself but would appreciate having.
12. Book an Activity He Would Love to Do
Has he ever wanted to skydive, or try indoor skiing? Maybe he'd love an afternoon of paintballing? Booking a surprise activity for yourselves, or even him and his best mate is a really thoughtful surprise.
---
Simple Ideas
13. Pick Up a Treat from the Bakery or Supermarket
Surprise your boyfriend or husband when you get home from work with a little something from the bakery, such as chocolate pastries, or a little treat from the supermarket, such as some quality craft beer or a bottle of wine.
14. Make Him Breakfast in Bed
Tell him to relax on a Saturday or Sunday morning and make him a fry-up or whatever he likes for breakfast. Bring it to him in bed with some fresh orange juice and snuggle up to him while you both enjoy a lazy morning in bed.
15. Go on a Fancy Date to a Swanky Restaurant
Plan a romantic night by booking a dinner date at one of his favorite bars or restaurants.
Enjoy your favorite meal together and have some quality time over drinks. Order dessert to make it an extra special evening!
16. Make a Bucket List of Things to Do Together
This is a really cute thing for you both to do together – get a pen and paper and write down all the things you'd like to do with each other.
Ideas could include traveling to another city or country, completing a project together (such as gardening or redecorating), or even something a little sexier, such as some naughty games in the bedroom.
Get inspired with our numerous bucket lists such as this couple's bucket list or this date ideas bucket list and use our free or premium bucket list printables to create your own personalized list.
17. Bake Him Some Delicious Treats
From cupcakes to a wholesome fruit cake, baking him a delightful little treat or two can be a wonderful way to show him how much you care.
---
Creative Ideas
18. Make Him a Card or Write a Poem
If you want to do something low-key and romantic, put your creative hat on.
Make him a cute card with some beautiful typography and vibrant colors, or channel your inner Eavan Boland and write some romantic poetry.
19. Take a Trip to the Beach
If the weather is good, grab a beach bag and your summer essentials and enjoy a romantic escape to the coast.
Build sandcastles, take a barefoot walk along the sand, and enjoy some much-needed sunshine.
20. Have an Arts and Crafts Day Together
Get crafty with origami, jewelry making, or any other creative activity you can do together.
Order a kit online, and enjoy a fun afternoon making fun and thoughtful things for each other.
21. Create a Video or Scrapbook of Your Time Together
Depending on your level of creativity or videography skills, you could make a cute slideshow-type video of your time together, or buy an empty scrapbook, print out some pictures, and get creative!
A scrapbook idea is nice because you can leave some pages empty and then fill them up as you share more memories over time.
---
Fun Ideas
22. Book a Meal at his Favorite Restaurant
Treat him to his favorite steak house, burger joint, or sushi place. You could also call a taxi so that the two of you can enjoy a quiet romantic drink together at a rooftop bar afterward.
23. Tickets to his Favorite Event
Whether it's tickets to a football game or an evening of Dungeons and Dragons, get two tickets to a fun event you can go to together.
You can make it extra special by wearing the team's colors or drawing their emblem on your partner's cheek and taking cute pics together.
24. Plan a Fun Date Night
It's empowering to take the initiative to plan a fun date night once in a while and it helps take the pressure off him too!
You could go mini-golfing (or actual golfing), ax-throwing, go-karting, cinema, or any other activity that he likes.
Read more: 210+ Date Ideas (The Only Date Night List You Need)
25. Gift Him an Experience He's Always Wanted to Do
Has he always wanted to drive a Lamborghini? Or what about an adrenaline-fuelled outdoor experience, like kayaking or mountain biking?
Give him an experience he's unlikely to forget, and better yet, join in with him if you can – or at least take pics of him while he's trying out a fun new experience.
26. Book a Trip Somewhere
Be it an exotic location or a nearby spa retreat, surprise him with a whirlwind getaway for the two of you to enjoy some much-needed downtime and spend quality time together.
---
Budget-Friendly Ideas
27. Go for a Sunset Walk with Drinks
Go for a walk in the evening with a plan to stop at a cute spot to watch the sunset.
Bring a nice bottle of wine or beer (or champagne, if you're feeling fancy), and enjoy a drink as you watch the sun go down.
Bring a blanket in case it gets cold so you can cuddle under it!
28. Get Him a 'Treat Box'
This is a very cute surprise to give him. Fill an empty box with some of his favorite things.
Ideas could include chocolate, a new book, a premium beer, or his favorite magazine – you can make it as personal as you like.
29. Make Pancakes Together
Prepare all the ingredients and surprise him by making pancakes together.
It might be a bit messy but making pancakes is not only great fun but also a hilarious way to see how well you work together!
30. Organize a Surprise Visit from a Loved One
Has he not seen his brother or a close friend for a while? Why not get in touch and organize for them to come to visit for a weekend when you both don't have much planned.
---
Free Ideas
31. Go for a Scenic Hike
Hiking is not only great exercise but also an easy and free way to spend quality time together.
Find a nearby trail or scenic viewpoint and put those hiking boots to good use. Bring sunscreen and take some pictures from the very top too.
32. Make Him a Home-made 'Vouchers' Pack
This is an excellent way to make your surprise for him a little more personal. Prepare a set of handmade gift cards he can redeem at a later date.
From extra cuddles in bed to watching a movie of his choice, there are plenty of ideas you can put on the cards.
33. Go Stargazing
This does involve staying up a bit late, but it is so worth it to drive to the countryside and see the stars once you're away from the light pollution of towns and cities and towns. Don't forget a blanket for snuggles!
34. Write Him a List of All the Reasons You Love Him
Write your reasons on different colored paper in beautiful lettering, fold each up and put them in a jar, and tell him that whenever he needs a pick-me-up to dip in and feel loved even if you're not there.
Need some inspiration? Our reasons why I love you list is full of 100+ ideas to help you put your feelings into words.
---
At-Home Ideas
35. Build a Fort to Watch Movies in
Use all your blankets, throws, pillows, and cushions, put up some fairy lights, and build yourselves a blanket fort in the living room. Then cozy up and watch some movies together.
36. Create an Obstacle Course Around the House for Him to Complete
This is a really fun way of testing your communication skills whilst also having great fun. Set up an obstacle course throughout the house, using chairs, ironing boards, ottomans, and whatever else you can find around the house.
Either compete against each other or blindfold your partner and guide him around the course. Plenty of laughs are guaranteed with this surprise!
37. Cook a New Recipe Together
Put on some of your favorite music, choose a recipe from a cuisine you both love, and enjoy an evening of cooking and bonding together.
38. Take a Relaxing Bath Together
Draw a bath and fill it with bubbles. Set the mood with some scented candles, low lighting, and relaxing music, and enjoy a glass of wine or champagne together in the tub.
---
When you're looking for a little inspiration to let the special man in your life know how much you care, use our list of creative and fun romantic ideas to give him a surprise he'll love.
Together, you can enjoy some intimate moments, share unique experiences, and make some memories the two of you will remember for a long time.
You Might Also Like to Read
---
Keep these romantic surprise ideas for him for safekeeping by saving this article to one of your Pinterest boards.