This post may contain affiliate links, meaning if you book or buy something through one of these links, I may earn an affiliate commission at no additional cost to you. Learn more
Use these fun girls' night ideas to inspire an evening of fun and memories for you and your closest girlfriends to enjoy together.
Girls Night Ideas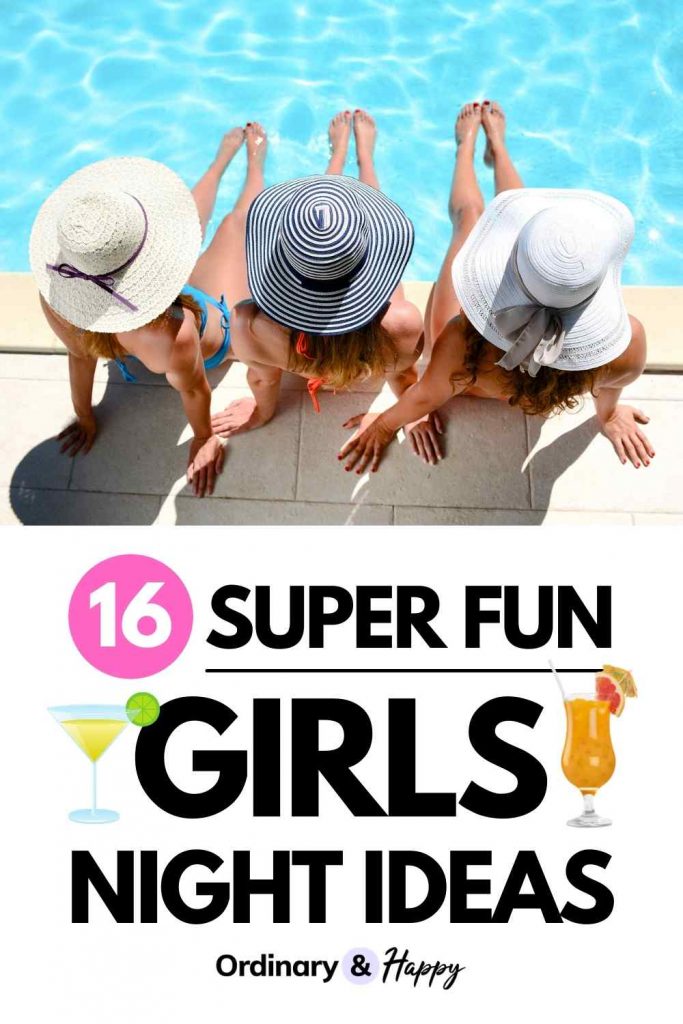 Girls' night is your chance to let your hair down, spend quality with friends, and have lots of fun. And while spontaneous moments are always the most memorable, a little planning will go a long way to assuring you all have an evening of laughs, joy, and fun.
From the 'champagne at the swanky bar' types to the 'Dora the Explorer outdoorsy' friends, there's something on this list for everyone.
---
Best Girls Night In Ideas
1. Movie Night
When it comes to your next girls' night in, you can't go wrong with a classic, tried-and-true chick flick marathon, complete with pajamas, hot chocolate, and popcorn.
Whether you're looking for something to make you laugh, to make you cry, or even a bit of both – movie night's got you covered. Here are a few suggestions to get you started:
Bridesmaids: a feel-good, goofy comedy that centers on Annie (Kristen Wiig) and her series of misfortunes in the run-up to her lifelong best friend Lily's wedding (Maya Rudolph).
Mamma Mia: can't decide on movie night or karaoke? You can have both! This musical rom-com boasts an all-star cast and follows the story of a young bride-to-be (Amanda Seyfried) who invites three men from her mother's past to her wedding in a bid to find her father.
The Notebook: starring Ryan Gosling and Rachel McAdams, this postwar-era romantic drama about two young lovers and the power of miracles is an absolute classic that's bound to pull on your heartstrings. Is someone cutting onions?!
2. Spa Night
While a trip out to the spa can be great for really relaxing, winding down, and helping you feel rejuvenated, sometimes you just can't beat the comfort of your own home.
A DIY spa night can add a real personal, homely feel to the spa experience and be just as fun, if not more. You and your pals can enjoy a night of luxury and relaxation with a spa retreat right in your very own home with some of these pampering ideas:
Home-made face masks: Many high-end facial treatments are made from ingredients you can simply find in your cupboards or fridge. Try egg whites for skin tightening, oat milk for reducing inflammation, or honey for moisturizing and acne prevention.
Turn on some aromatherapy: Turning on an essential oil diffuser can really boost the relaxation factor for your DIY spa night. Try lavender for calming, rose for mood-boosting, or bergamot for reducing stress.
Set the mood: A little background music on a waterproof Bluetooth speaker is great for relaxing. Head to Spotify or YouTube to find a ready-made spa playlist.
Get your supplies on Amazon: essential oil diffuser, waterproof Bluetooth speaker.
3. Tasting Party
Whether you're a wine whiz, a cheese champion, a gin genius, or you simply want to try something new, this culinary-inspired girls' night is bound to become a regular favorite.
Once a food, drink, or theme has been decided, everyone that's coming brings a favorite dish to share. It doesn't have to be limited to just one type of food or drink, the category can be much broader, such as cuisine that comes from a particular country or culture.
You could try champagne tasting, chocolate tasting, or a good old-fashioned cheese or wine evening.
4. Game Night
My personal favorite – I proudly defended my title of Mario Kart champion among my friends for many months – there's so much fun to be had with a game night.
It doesn't have to involve video games – there's something out there for everyone to enjoy. Here are some ideas:
Jenga: This simple balance game is brilliant for playing in groups. Try playing the game with giant Jenga to add an even bigger thrill factor.
Cards Against Humanity: This adult-themed, hilarious card game is best enjoyed by groups who don't mind a bit of dark humor.
Twister: If playing with more than 4 people, there's an edition called Twister Ultimate, which comes with a bigger mat and more colored spots.
Get them on Amazon: Giant Jenga, Cards Against Humanity, and Twister Ultimate.
5. Virtual Night
Maybe you're practicing social distancing, or perhaps you and your pals are spread out a bit too far at the moment to get together in person.
Regardless, virtual nights have become THE way to socialize over the last year, and there are plenty of ways to keep having fun together whilst you're physically apart. Here are some things you could try:
Virtual Cooking Class: If you fancy unleashing your inner Rachel Ray, simply vote as a group on a recipe, buy the ingredients in advance, and pick one of the many cooking class tutorials on YouTube or Food Network.
Quiz it: A surefire way to have a great night with a little competitive edge. A quick online search will bring up tons of pre-made quizzes. Or, if you fancy getting a bit creative, why not design your own?
Work it out: Working out together can be a great way to keep motivated. Find a virtual workout to stream together and get breaking a sweat!
6. Karaoke Night
Girls just wanna have fun, right? There are few things that are more liberating – and noisy – than a karaoke night. There's something that's both unifying and freeing about singing your heart out to your favorite songs when your only audience is your closest friends.
What makes a karaoke night at home even more special is that if there's someone in the group who's a little shy, if they're just with their best gal pals they might be more tempted to get up and take the mic! For your next girls' night in, channel some of that Celine Dion energy to make it a night to remember.
7. Murder Mystery Night
Was it Miss Scarlett with the revolver in the ballroom? Or Professor Plum with the lead pipe in the conservatory? There's only one way to find out…
Hosting a murder mystery party for your next girls' night in will add an element of intrigue and suspense. You could keep it simple with a game or two of Cluedo, or get creative by scripting your own murder mystery plot.
Put some props around the house, and give it a theme such as the Roaring Twenties to add some authenticity and ambiance to the night.
8. Old-School Sleepover
What could be more iconic for a girls' night in than a classic, old-fashioned slumber party? Take a trip back in time with your best pals and stroll down memory lane – you'll have a blast from the past and spend some real quality time together. Here are some ideas:
Stock up on snacks: Any slumber party worth throwing needs tons of snacks. Real crowd-pleasers are tortilla chips, sweets, and chocolate – and something fizzy to sip on.
Game on: You're never too old for a game of truth or dare, or "would you rather." If you get stuck for inspiration while thinking of questions, use our list of truth or dare questions or 'would you rather' questions.
Make friendship bracelets: Make some friendship bracelets or keychains together for a simple but sweet memento of your old-school sleepover party. All you need is some brightly colored string and some beads.
---
Best Girls Night Out Ideas
9. Go Camping
If you're tired of bars and clubs, and you fancy getting back to a bit of nature, camping can be a unique way to branch out and try something different. For your next girls' night, take some time to connect with your pals in the great outdoors, de-stress, and relax.
Camping is one of those things you can think of as a night in or a night out. It's super versatile as you can customize it however you want – not only from where you decide to stay but to how much of a more comfortable 'glamping' experience you want to have.
Either way, chilling out around the campfire with your best friends – possibly with a few glasses of wine – is sure to lead to lots of memory-making and laughter.
10. Night at the Museum
If you and your friends are into arts and culture, a night trip to a museum or gallery is an ideal yet unconventional way to spend your next outing.
Plenty of museums nowadays offer an "after-hours" experience in the evenings, complete with drinks, DJs, activities, and quizzes. Not to mention, emptier halls, a healthy dose of curiosity and suspense, and a chance to view the exhibitions on a whole different level.
If you know your flapjack from your flyswatter, get together with your best pals and channel your inner Ben Stiller by hitting up one of these after-dark adventures.
11. Roller Disco Night
An evening spent in a dark hall with loud music and brightly colored lights whilst trying to navigate your way around – and even dance – in a pair of roller skates might not sound so great on paper, but it is a brilliantly hilarious night out you'll remember for years to come.
If you're anything like me, and you have all the grace and finesse of a newborn giraffe whilst wearing roller skates, you'll probably want to don some protective gear such as elbow pads and a helmet.
For your next girly outing, ditch the high heels and dust off the old skates for an exhilarating evening with a real retro feel.
12. Restaurant Hopping
We all have those nights when we want to grab a bite to eat, but deciding what to have or where to go – especially as a group – seems impossible. So why stop at just one restaurant?
Simply pick a street or district where there are lots of restaurants close together and pop by for just one or two small courses at each.
To make your restaurant crawl a success, plan out where you're heading to beforehand, and keep your group size reasonably small enough to go to each restaurant without a reservation. You'll also want to work out how everyone's going to pay before you go.
A restaurant crawl – if coordinated well – can be an exciting and sophisticated way to spend your next girls' night out, and is sure to delight the foodies of the group!
13. See a Show
No matter where you are, performance theatres are one thing that can be found in cities in almost every country. From New York's Broadway to London's West End to Toronto's Entertainment District, they can be found in every corner of the globe.
There's something to appeal to a seemingly infinite range of tastes, but for a group night out that's sure to please everyone, a musical is likely the safest bet. Here are some suggestions for a great night out at the theatre with the girls:
Wicked: A catchy musical about love and friendship told from the perspective of the wicked witches of Oz.
The Book of Mormon: A musical comedy full of dark humor, from the creators of South Park, about two young missionaries sent to Uganda to try and convert citizens to Mormonism.
Les Misérables: This world-famous beautiful and poignant musical drama is about the Parisian underclass of the 19th century – but it's a total tearjerker, don't forget to bring a tissue or two!
14. Take a Class
This is something that can cater to just about everyone's tastes as there are so many ideas to choose from. For your next night out, why not learn something new whilst having a great time with your best girlfriends?
You could take a fitness class (Zumba, anyone?), attend a face-to-face cooking class, learn to make cocktails like a pro, or bring out your arty side with a painting class.
Whichever you decide to choose, you'll come away with a night of great memories, and you may even discover a new hobby!
Related: Fun Hobbies for Women
15. Get Your Future Told
Whether you're an all-in believer or a skeptic, or even somewhere in between, it would be a fun activity for girls' night. If nothing else, it will at least give you a few giggles and something to reminisce about, and it's a great way to bond with your pals.
On top of all that, there are some things you can chat about with friends for hours – whether to move into that new apartment or make the career change you've been thinking about – and a fresh pair of eyes and ears can help you get some affirmation.
There are plenty of ways to get in touch with all things mystic. You could seek out a tarot card reader, someone who does palmistry, or even a tea leaf reader. You never know – you and your friends might be surprised!
16. Fright Night
This is a unique one that's not for the faint of heart. Even the nerves of the most hardened supernatural skeptics struggle to measure up against a real-life haunted house. That said, if you're truly seeking a thrill on a night out, seek out a local ghost or haunted house tour.
The experience might start with hearing some terrifying tales, about the history of the place, who lived there, and what happened to them.
As you creep around the edges in the shadows, every footstep, every breath a person takes, anything you hear will sound twice as loud, to compensate for everything you can't see in the darkness – so, of course, this is the perfect time to jump out and say shout "boo!" to one of your friends. Once they forgive you, it'll be something you can both look back on and laugh about.
---
With these fun girls' night ideas, you can plan a night that everyone will enjoy. While movies or cocktails are always a great go-to, sometimes we all need a little excitement, and something different.
You Might Also Like to Read:
---
Planning a girls' night soon? Never get stuck for ideas, by keeping this article for safekeeping on one of your Pinterest boards.