This post may contain affiliate links, meaning if you book or buy something through one of these links, I may earn an affiliate commission at no additional cost to you. Learn more
Entertain your little ones in a creative, positive, and super fun way with these awesome things to do with kids, helping you spend plenty of quality time together.
Things To Do with Kids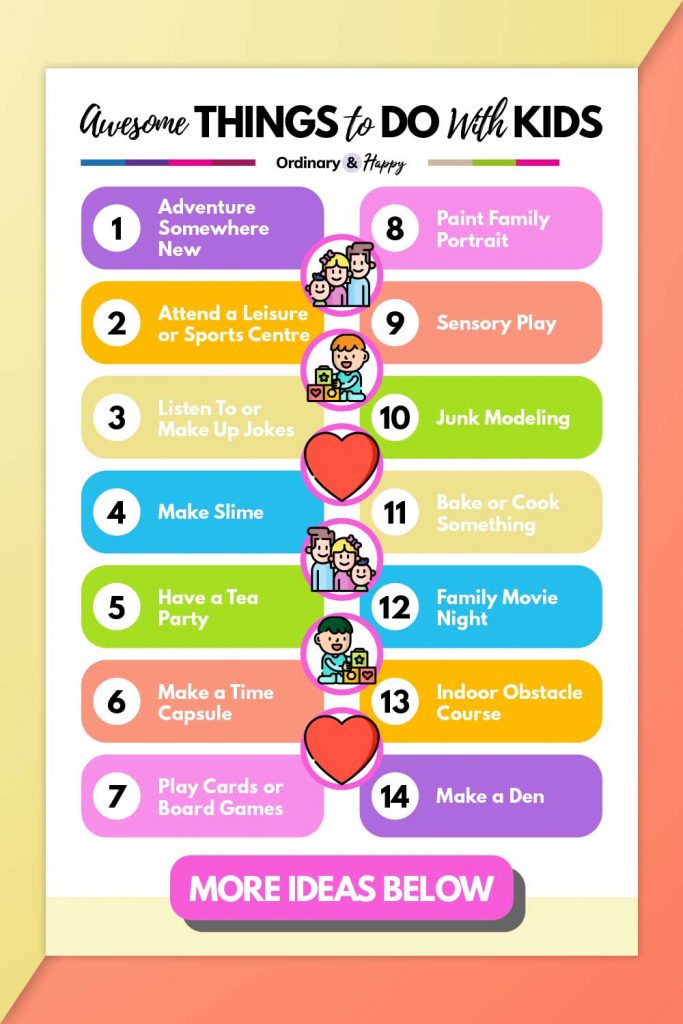 ---
Fun
1. Have an Adventure Somewhere New
Every child loves the thought of going on an adventure. This can be a super simple adventure to a new playground or park or an intrepid adventure in the back garden that requires a little imagination.
Create checklists together, pack essentials like cameras for the children, and even create a map of the location!
2. Attend a Leisure or Sports Centre
Swimming, sports, and group activities are great ways to spend time with your kids, particularly during the summers and school breaks.
You can find many fun activities at leisure centers, like rock climbing, soft play, swimming, and so much more!
3. Listen to or Make up Jokes
Children have an amazing sense of humor. Have a great time looking online for jokes within your child's age range, or have a go at making up some of your own.
Be sure to write them down somewhere to keep or to use on friends and family. You could even play some pranks on each other.
4. Make Slime
Slime is a classic science experiment to do with your children. Kids love it!
Go through the instructions carefully to create the perfect slime to entertain your children for hours. If they loved making slime, you could also try other science experiments too.
5. Have a Tea Party
A tea party is always fun for children. Get them involved in making the sandwiches and cakes, and invite their toys and friends to the tea party. Listen to some party music and have a great time.
6. Make a Time Capsule
A time capsule is something your children can make now to give to their future selves. One way to make a time capsule is to use an old shoebox and have your children decorate it.
Gather some toys they no longer play with, print some old photographs, and write their future selves a message. Then, seal it all up and bury it in the garden, or hide it in the loft.
One day you can come back to these time capsules and reminisce, reveling in the nostalgia and memories.
7. Play Cards or Board Games
Playing card and board games is an easy, simple way to have some fun with children.
From simple card games like Snap to classic board games such as Cluedo and Monopoly, there is so much choice out there. You're bound to find a game you can all enjoy together.
8. Paint a Family Portrait
Take a photo of the family together, and ask your children to recreate their family portrait with their paints and coloring pencils.
They can get super creative with this and use different colors or maybe even turn you all into aliens!
Hang your family portraits somewhere proud so that everyone can see them.
9. Sensory Play
Sensory play allows children to experience different tastes, smells, textures, sounds, and visual effects. This is great for their development and a fun time.
You can create sensory play with your children by creating scented playdough, creating a dark den, using fairy lights, or even playing in sand and water.
---
Indoors
10. Junk Modeling
Do you have any substantial cardboard boxes or other materials that need recycling? Why not use them to create some junk modeling.
The possibilities are endless when junk modeling. You could create a car, a den, a bed for baby dolls, and so much more.
Talk through some ideas with your children first, then gather the resources you need. Your recycling bin can provide lots of fun for kids – but be sure to clean anything dirty first.
11. Bake or Cook Something
Maybe it's a cold rainy day or you're stuck inside with your children, not feeling too great. Baking or cooking something yummy is a great way to entertain your children and get them involved.
You could bake cookies or a cake, and then decorate these delicious treats with icing and lots of treats. Then, for the best part – you get to eat them together!
12. Family Movie Night
A family movie night is an excellent way to spend some quality time with your children.
Whether you're firing up the old DVD player, or choosing from thousands of titles on Netflix, there is no shortage of great children's films to watch together.
You may have to watch their favorite movie for the one-hundredth time in a row. However, they're sure to love it, so be sure to get some snacks ready!
13. Indoor Obstacle Course
Depending on how much space you have, you could create an indoor obstacle course.
This entails tasks and challenges throughout the house, possibly from room to room. For example, in the kitchen, they may need to balance an egg on a spoon. Then walk to the living room, hopping on cushions. You can get really creative with this one!
14. Make a Den
Every child loves den building. It is also the perfect activity to do at home. You could make a den in the bedroom or living room using the sofa, the table, or even your children's bunk beds.
Gather lots of sheets, lights, and cozy cushions to create a super cool den your children will love to play in.
15. Play 'The Floor is Lava'
Children love this game. The floor is lava means you have to stand on anything but the floor. Otherwise, you're in the lava!
Use cushions on the floor, and all of you can enjoy this super fun game, which costs nothing to set up and guarantees plenty of laughs, thrills, and theatrics.
16. Read Books
Reading is, of course, a great skill to learn, practice, and improve upon. It can also be a lovely experience to read with your children.
Either you read their favorite interactive book, or if they have already started reading, read a chapter from an exciting new book together each night.
Getting into the routine of reading daily with your children will improve their vocabulary, imagination, and speech.
17. Play-Pretend Game
Creating play-pretend games with your children has endless opportunities. You could create a café in your kitchen or vets or doctors in their bedroom.
Not only do most kids love to play pretend, but they also learn from your modeling of playing these 'adult' life situations.
18. Help with Jobs Around the House
Maybe your children have been eager for some pocket money. Or you would like them to start helping out around the house more often.
Turn 'boring' jobs around the house into a game. You could create a scorecard; they earn a certain amount of money for helping out with each job or choose what they want for dessert. You can turn chores into fun, and enjoy doing them with your kids.
---
Outdoors
19. Camp in Your Back Garden
Pitch a tent in your back garden to test out the camping experience with your kids before you venture out into the wild.
Your children will also think this is super fun, and if the camping experience is a little much, you can always go back inside.
Set up a little fire pit, eat some snacks, sing songs, and have a fabulous time from the comfort of your back garden.
20. Create Slip and Slide
Creating a slip and slide is so incredibly easy and extremely fun! Pin down large, strong bin bags to the ground, drizzle on washing up liquid, and cover with water (make sure this is on grass and the earth is flat).
Then, run up to your homemade slip and slide, and slide down – a great way to have fun outside in the sunshine!
21. Go to the Park
A simple way to spend time with your children is to take them to your local park, or a favorite park to play in a little further away from your home.
Meet up with friends, let them play games and enjoy some fresh and maybe even pack a picnic too!
22. Grow Vegetables
Learning how to care for plants can be exciting and fun for your children.
Research the best time to grow specific vegetables and how to care for them, and plant a little plot in your back garden, or start a herb garden in your kitchen.
Once they have grown, you can cook with the herbs and vegetables, and your kids will feel so proud of themselves.
23. Make a Bug Hotel
Making a bug hotel is a great activity to do outdoors. Especially if your children love digging for worms or trying to keep snails as pets, this way you can technically keep bugs as pets, in a safe way, in the garden.
All you need is some old wood, plastic pipes, and a little creativity. Look up some online tutorials if you need a little guidance.
24. Make a Birdhouse
If bugs aren't your thing, and your children are less inclined to get muddy, then why not build a lovely birdhouse.
You can purchase ready-made birdhouse building sets or create your own from scratch. Let your children paint and decorate the house how they would like, and place it somewhere in your garden. You can then watch the birds fly in to feed.
25. Outdoor Obstacle Course
From garden chairs to planted trees, there are so many ways you can create an awesome outdoor obstacle course in your garden.
Outside you have lots more room, and plenty of opportunities for timed challenges or group efforts. Let your imagination run wild, and have lots of fun.
26. Play Hide and Seek
Hide and seek is another classic game children love to play. It's a super simple way to have some fun and spend some time with your children.
Your home has so many little spots and nooks for your children to hide in. Take it in turns to be the seeker, and prepare for plenty of laughs and thrills.
27. Create a Mud Kitchen
If your child does love getting messy and making cakes or slop in the mud, why not create an actual 'mud kitchen'?
All you need is some old pots, pans and utensils, a surface, and some water. Your kids can then make as much mess as they want outside. Waterproof jackets are an excellent idea for this activity.
---
On a Budget (Cheap or Free)
28. Visit Friends and Family
An easy thing to do with your kids is to visit your family or friends. Maybe you haven't seen them for a while, or maybe your children love playing with their cousins. You could even arrange a sleepover for added fun.
29. Make Dinner Together
Does your child always want to know what you're doing at dinner time? Why not get them involved!
Making dinner together is a simple and totally free way to spend quality time with your kids, whilst teaching them some important life skills simultaneously.
30. Make Jewelry with Pasta
Pasta jewelry is a craft that is super fun and can easily be done with pasta already in the house.
You can use food coloring or paint to decorate your pasta jewelry once made, and your kids will love showing it off to their friends and family.
31. Paper Crafts
Teaching your kids how to make paper airplanes or other simple paper crafts is cheap, simple, and will keep them entertained for ages!
You could also turn flying the paper planes into a competition for even more fun.
32. Make a Scrapbook
Gather all the photos you have and find an old notebook or buy a cheap scrapbook.
Stick in the pictures with your children, and decorate the pages with stickers, colorful pens, or water paints.
33. Do a Jigsaw
Jigsaws take a lot of time and concentration. So, if you want to focus your child on an activity, or calm them down before bed, completing a jigsaw is a great way to spend some time together.
The satisfaction of finally fitting all the pieces together is also worth the time invested in putting the jigsaw together.
34. Visit a Free Event
Have a look online to see if there are any events for children near you. For example, there may be a festival or a show at the local park.
You can always get free tickets to visit places like museums and galleries, too.
35. Play Together with Toys
Your kids will love you for playing with their favorite toys with them, whether that's playing with their action figures or dolls, role play, or sports outside. Spending quality time like this with your children is priceless.
36. Build with Lego
Most people tend to have old lego sets lying around, or a tub full of the stuff. Get creative and have your kids use their imagination to build something unique with lego.
Not only can this provide hours of entertainment, but it's also always a fun go-to activity for children who love constructing.
---
There are so many fun ways you can spend time with your kids. Sometimes, you just need a little imagination, and a willingness to get creative.
Whatever your kids enjoy doing, try some of these activities to help ensure the time you spend with them is quality time.
You Might Also Like to Read
---
Looking for fun and cool things to do with your kids? Keep these ideas for safekeeping, by saving this article to one of your Pinterest boards.