This post may contain affiliate links, meaning if you book or buy something through one of these links, I may earn an affiliate commission at no additional cost to you. Learn more
Get inspired to plan a birthday everyone invited will love with our fun birthday party ideas for adults – after all, age is just a number!
Birthday Party Ideas for Adults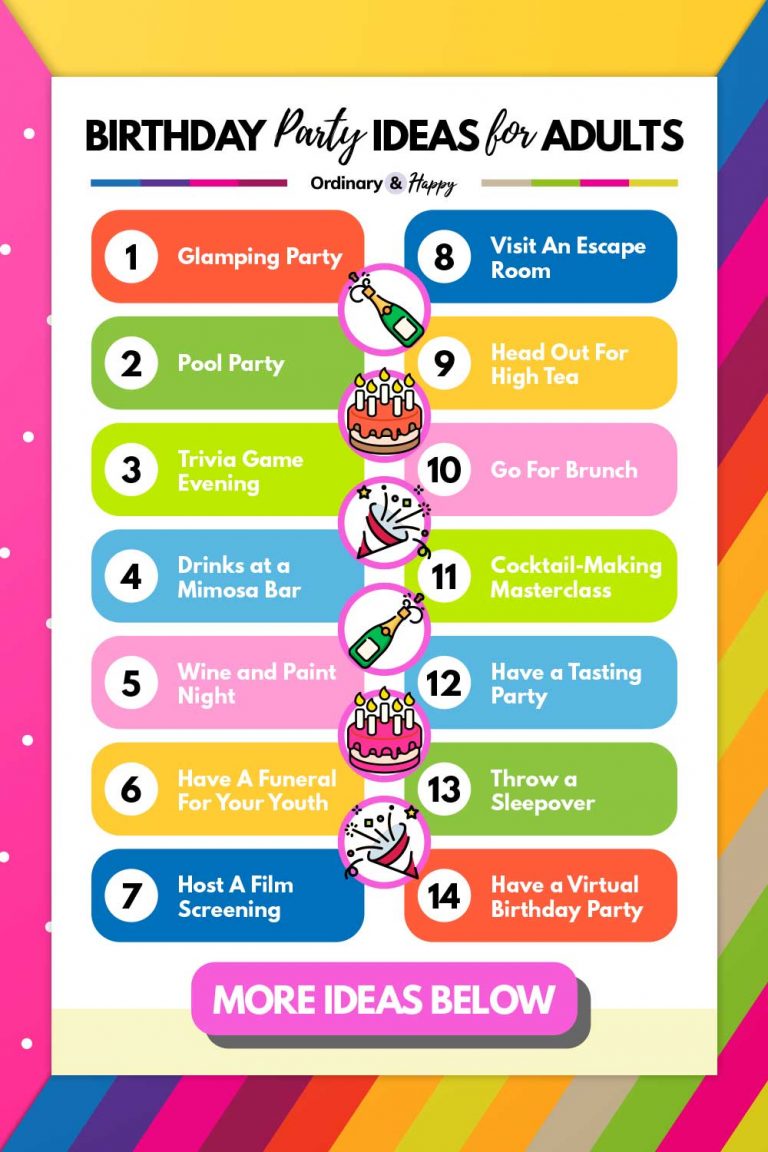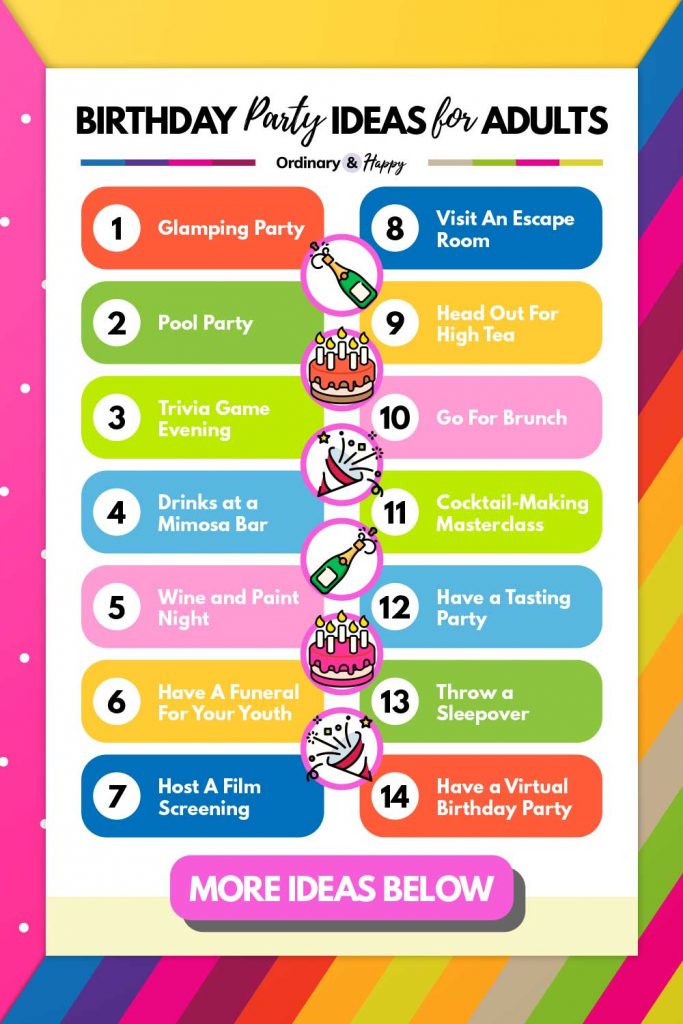 ---
Fun Parties
1. Glamping Party
Take your birthday party into the great outdoors in a luxurious, stylish way with a glamping party.
Enjoy the beauty of the outdoors with the comforts of an indoor slumber party at a nearby glamping spot.
2. Pool Party
Rent a local pool or fill up a paddling pool in the backyard, and let the fun times roll with inflatables, pool games, and lots of laughs. If you have a birthday in the summer, this is a great choice.
3. Trivia Game Evening
Check Price on Amazon
Celebrate your birthday with a battle of general knowledge, be it in a fun and furious quiz format or with a board game such as Trivial Pursuit.
Plenty of thrills and laughs will ensue, and bragging rights will be on the line!
Related: 27 Game Night Games for an Evening of Thrills and Fun
4. Drinks at a Mimosa Bar
Add a touch of class to your birthday with an evening of delicious drinks and great company at a mimosa bar, and prepare for plenty of fizz and a lot of fun.
5. Wine and Paint Night
Check Price on Amazon
Give everyone the chance to channel their creative side with a super fun wine and paint night – let the paints flow and the drinks flow even more.
You could either host it at home or attend a wine and paint night at a designated location.
Related: 100+ Painting Ideas (The Ultimate Painting Bucket List)
---
Unique and Unusual Parties
6. Have a Funeral for Your Youth
While we don't usually associate funerals with birthdays, having a funeral for your youth is by no means as depressing as it sounds.
Many of us have fears and apprehensions over getting older and what the future might hold, so having a funeral-themed party for your next big bash is a dramatic yet light-hearted way to mark the occasion.
By dressing the part – head to toe in all black, of course – and asking guests to follow suit, you can give your younger days a funeral that no one will forget.
Bonus points for giving the party venue a gloomy makeover with black balloons, table decor, and banners.
7. Host a Movie Screening
Rent out a screen at your local movie theatre and have them play your favorite movie or a movie of your choice that they have to hand.
Invite all your nearest and dearest friends and family and enjoy a totally exclusive cinematic experience.
Of course, this can be done at a fraction of the cost at home instead. Prepare tons of popcorn, candy, and slushies to hand out as snacks.
To give your film screening night a more authentic feel, get some popcorn boxes, print out some customizable movie theatre tickets, and lay out plenty of cushions and blankets for everyone to gather on.
You can also get a home movie projector that will blow up your favorite flick to a much bigger screen size – or if you're feeling really nifty, you can make your own.
Related: Best Movie Night Gift Basket DIY Ideas
8. Visit an Escape Room
This is definitely one for the thrill-seekers and think-outside-the-boxers out there. Over the last decade, escape rooms have exploded in popularity.
They create a unique, shared experience where everyone taking part has to work together for the good of the group. They're exciting and different and provide a real sense of teamwork and accomplishment.
There are so many types of escape rooms to choose from, each with different themes, settings, and puzzles.
You can opt for any type of experience, from the terrifying to the downright bizarre or something a bit tamer – many escape rooms nowadays are even kid-friendly.
Whichever type of escape room experience you choose for your birthday bash, you and your friends are sure to have a brilliant, unforgettable time.
---
Sophisticated Gatherings
9. Head out for High Tea
If you're looking to do something on your next birthday that's sophisticated and suitable for pretty much everyone – including any non-drinkers within the group – an outing with your nearest and dearest to an elegant tea room is a perfect way to celebrate.
When you arrive, you'll be greeted and seated before being presented with a medley of fancy teapots filled with teas from earl grey to the classic breakfast blend.
Most places that serve afternoon high tea also offer a variety of bites to eat, such as delightful little crustless sandwiches and fluffy scones topped with cream and jam.
To make it feel more like a birthday celebration, some places even serve champagne to enjoy alongside your tea.
10. Brunch, Darling!
How do you like your eggs in the morning? Maybe you like them poached and paired with creamy avocado slices. Or perhaps you're more of a sunny-side-up atop a slice of toast and a bed of mushrooms kind of person.
In any case, something we can all agree on is that a long, chilled-out catch-up, paired with great food and drinks, surrounded by our best pals, is sometimes just what the doctor ordered.
The great thing about brunch is that you can have it just about anywhere, whether at home or in a restaurant, depending on your preference and budget.
To kick up the celebrations a notch for an extra special birthday brunch, head to a place that serves classic brunch cocktails. Mimosas, anyone?
Or, if you're having your birthday brunch bash at home, simply scour the web for the best brunch food and cocktail recipes.
11. A Cocktail-Making Masterclass
This is another one that can be enjoyed in a range of settings, according to preference and how much money you have to play with.
Wherever you decide to hold it, you can never go wrong with celebrating your birthday in style with a cocktail party.
If you live close to any large towns or cities, chances are that cocktail bars will be a dime a dozen when you head for a night out.
To mix things up a bit – no pun intended – and make it more adventurous, go out with your friends to a professional cocktail-making class, and learn from one of the best in the trade how to master your favorite tipple.
If you'd rather stay home and keep it a more simple affair, hire a mixologist and supply the ingredients you're going to need. Alternatively, streaming a tutorial on a big screen will also work, too.
12. Have a Tasting Party
If you want to celebrate another year around the sun with a relaxed yet sophisticated shindig, consider throwing a tasting party.
Of course, there are always the classic tasting evenings you could go for, such as wine and cheese or gin.
Nowadays, supermarkets and smaller businesses alike provide options online to have a box of delights curated for you and sent to your door. This takes all the think-work out of it, so you have more time to focus your night.
If you want to branch out and do something a bit different, with a bit of research, you can put together a brilliant tasting evening of pretty much anything you like.
Examples include desserts, foods from a certain country, or a fondue pot with all the trimmings.
You can even keep score of how each sample measures up against the others by downloading and printing some tasting evening scorecards.
---
Parties at Home
13. Throw a Sleepover
If you'd prefer to keep your next birthday shindig more on the low-key side, consider swapping a big night out in favor of a big night in with a tried-and-true girly sleepover party.
Though the word "sleepover" conjures up memories of your teenage years, staying up all night on a constant sugar high from a copious amount of fizzy drinks and sweets, and gossiping about your crushes, a grown-up slumber party can be tailored to be much more of a sophisticated soirée.
The great thing about hosting a good old-fashioned sleepover is that there are really no limitations on what you can do, and there are so many activities you can plan.
From mani-pedis to movie marathons, drinking games to dance-offs, the sky (or your living room ceiling) is the limit.
Read more: Fun Things to Do at a Sleepover for Adults
14. Have a Virtual Birthday Party
Can't get your friends or closest people in your life together in the same room? You can have just as much fun hosting a virtual birthday party.
There's no reason why a Zoom party with your closest friends can't be just as much of a giggle as a face-to-face gathering.
Set a date and time, send out your invites, don't be afraid to go big on decor, and fill your evening with some fun virtual activities such as quizzes, bingo, charades, or truth or dare.
---
Outdoor Parties
15. Host a Barbecue Party
For those who are lucky enough to celebrate their birthday in summer, throwing a birthday barbecue party is a brilliant way to keep things casual and chilled. You can host it in your own backyard, at your local park, or even at the beach.
It goes without saying that at the heart of every great barbecue is the food, so it might be fun to get creative: you could have a burger bar with different toppings and sauces or ask your guests to bring the side dishes to make it a birthday barbecue potluck.
To keep the party going, keep things warm and cozy after the grill has died down by gathering around a fire. Not only is this the ultimate – and perhaps the only acceptable – way to make s'mores, swapping stories with your best pals while sitting around the flames will lead to great memories you'll cherish for years to come.
16. Go on a Road Trip
Road trips are awesome. Whether you're a seasoned pro or a novice when it comes to long drives, a great road trip will stick in your mind for years to come.
It doesn't matter if you're turning 18, 68, or anywhere in between. There are perfect road trip ideas and destinations to suit every age and budget. For your next birthday, buckle up with your best friends and get outta town.
If you're stuck for ideas on where to go, no matter where you are in the world, popular destinations include the beach, theme parks, vibrant cities, historical landmarks, and national parks.
Related: 40 Best Things to Do on a Long Car Ride
---
Adventurous Ideas
17. Get Your Dance on
If you want to plan a birthday celebration with a difference – and one that no one will forget in a hurry – round up your best friends and get your dancing shoes on!
There are so many different themes to choose from, from ballroom to breakdance, salsa to swing.
If none of those are your cup of tea, there are plenty of companies that can tailor your dance party experience to your taste.
Whether you're a Bollywood lover or the idea of a '90s-themed dance-off sounds more appealing, there's a dance party experience out there with your name on it.
If the idea of holding the party in an unfamiliar venue doesn't sound like something you'd enjoy, there are plenty of freelance dance instructors you can hire to bring the moves to you.
With a dance-themed party, not only will you and your friends make some really fun (if embarrassing) memories to look back on, you might even discover a new hobby!
18. Be a Daredevil
Another one that's perhaps best saved for the thrill-seekers and adrenaline junkies among us – if you want to jump-start the next year of your life on a 'high' note (see what I did there?), consider taking a walk on the wild side by channeling your inner daredevil.
One such activity that's suitable for both novices and seasoned high-octane adventure chasers is the humble bungee jump. As there are different levels to this extreme sport, there are experiences to satisfy newbies and pro-jumpers alike.
If being taken up in a crane while strapped up with elastic cords and jumping from a huge height doesn't sound like your idea of a great time, there are plenty of other thrill-seeking experiences you can try.
Activities such as paintballing, zip-lining, or even white water rafting are all great fun to do in groups, all without taking your feet too far off the ground.
---
Themed Parties
19. Murder Mystery Party
A night of classy attire, intrigue, and great fun awaits with a murder mystery party – try to rent out a hall or large room to maximize the potential of this great party idea, and be sure to set a smart dress code.
20. Decade Party
Be it the retro costumes of the 70s, big hair of the 80s, or tracksuits of the 90s, a decade party is a perfect way to revel in birthday-themed nostalgia amid dancing and drinks.
21. Favorite TV Show or Movie Theme Night
To truly bring this themed party to life, choose a film or show that you and your friends all love that has a large cast of characters to choose from.
From mobsters to 90s girls next door, there's simply no end to the fun you can have with this idea.
---
Small and Casual Gatherings
22. Wine and Cheese Party
A wine and cheese evening is perfect for a small group of friends. Get everyone to bring their own wine and enjoy delicious food and drink with great conversation.
23. Dinner Party at Your Favorite Restaurant
Call ahead to one of your favorite restaurants, and book a table for all of you to enjoy some great food.
If they know it's your birthday, the restaurant may even bring out a surprise cake for you!
24. Happy Hour at a Local Bar
A simple birthday idea, the atmosphere at happy hour is always electric, while the drinks prices give you a small window to get truly merry!
Find a place you all love, and head on down when the drinks are discounted.
---
Budget-Friendly Parties
25. Host a Game Night
From the hilarity of charades to dusting down the ol' Monopoly board for a few hours of classic board gaming, a game night is a great way to celebrate your birthday for little to no money spent.
Related: 27 Game Night Games for an Evening of Thrills and Fun
26. Picnic and Outdoor Games at the Local Park
Load up a picnic basket with some classic party foods, and take advantage of nearby woods or parks with an awesome and inexpensive birthday-themed picnic for friends and family.
Read more: Picnic Essentials
27. Host a Potluck
Set a theme, and ask all your birthday attendees to bring a dish of their choice to your birthday potluck – great food and even greater company all await with this budget birthday idea.
---
Luxurious Parties
28. Spa Party
Indulge in more than a little self-care by spending an afternoon or full day at a spa.
Relax in the pool and treat yourselves to body scrubs, facials, and massages with this luxurious party idea.
Related: Create the Perfect DIY Spa Day at Home in Just 10 Steps
29. Champagne Brunch
Head to a high-end restaurant and brunch like they do in the movies with bubbles, great food, and plenty of laughs and celebration.
Bonus points if you can find a spot with a rooftop view.
30. Weekend Getaway or Rent a Cool Airbnb
Whether it's a weekend of shopping and luxury in a city or fun and adventure in a rural spot, a weekend getaway with your friends is the perfect way to spend your birthday if you're looking to go all out.
---
Relaxing Parties
31. Book a Retreat
Nothing says "happy birthday" like a real opportunity to wind down and recharge in the company of your favorite people.
Whatever kind of relaxing experience you're after, booking a little retreat to escape from all the humdrum of adult life is not just a great way to celebrate your next birthday but also totally nourishing for the soul.
There are so many different types of retreats out there, so you'll have to find some clarity on exactly what you're looking for, how much money everyone is able to spend, and consider the location.
Do you want a chilled-out wellness retreat with meditation and yoga? Indoor or outdoor? Or maybe you'd like a more spiritual kind of retreat to help you reconnect with the world.
A relaxing spa retreat is also an amazing experience to have, especially in the company of friends.
32. Wine Tasting at a Vineyard
As birthday parties go, this idea is going to put a smile on plenty of your guests' faces!
Wine tasting is great for both small and medium-sized groups, and you can even find packages that will take care of everything, including transport and food.
33. Go for Afternoon Tea
Give your party theme a touch of elegance, and go for afternoon tea in an upscale hotel or spa. Party ideas don't come much more relaxing than this!
Don't forget to tell them it's your birthday, and they may be kind enough to bring out some birthday cake for you.
Related: 48 Fun Tea Party Ideas for Adults (Activities, Games, and More)
---
More Birthday Party Ideas
34. Go for a Birthday Happy Hour at a Local Bar
Don your cocktail attire and head out for 2-for-1 drinks at a local bar. This is a very simple and fun way to enjoy your birthday without having to do too much planning.
35. Host an 'Around the World' Evening and Cook Delicious Recipes
Global cuisine is a great way to make your birthday feel special and a little different. Theme your evening, as ask your party guests to bring their cooking a-game.
From Spanish paella to Thai curry, there's a world of great food out there to try on your birthday with friends and family alike.
36. Have an Outdoor Party in the Garden
If you have a summer birthday, get the party started with one of the best adult birthday party ideas to enjoy the great weather outside.
Order in meat and vegetables for the grill, and a little junk food, then enjoy this memorable day with kids and adults alike.
Related: 25+ Summer Party Ideas and Themes for Endless Fun in the Sun
37. Host a Dress-Up Movie Night
A birthday party theme with a difference, dress-up movie nights are a fun way to celebrate the birthday guy or girl's special day to a backdrop of an iconic movie or show.
You could all dress up as mafioso and watch The Godfather, or host a costume party for Disney characters and watch some classic childhood favorites together – the choice is endless!
---
Birthdays don't just have to become 'another day' with age. Even for adults, there are so many fun and cool ways to celebrate getting a year older.
Our list of ideas will help inspire you to plan a birthday event, party, or surprise both the birthday boy or girl and everyone invited, will remember for years to come!
You Might Also Like to Read
---
Got an upcoming birthday to plan? Keep these fun adult birthday ideas for safekeeping by saving this article to one of your Pinterest boards.