This post may contain affiliate links, meaning if you book or buy something through one of these links, I may earn an affiliate commission at no additional cost to you. Learn more
Give a loved one, close friend, or popular coworker a celebration they won't see coming with these surprise party ideas, ideal for planning behind the scenes to mark an important event or milestone birthday in style.
Surprise Party Ideas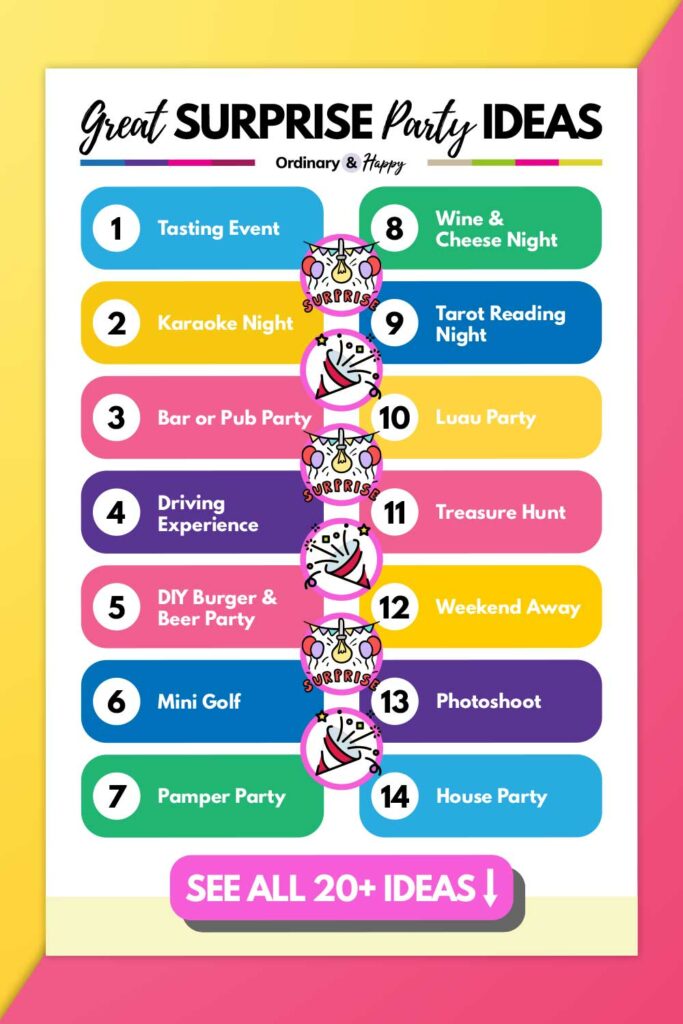 ---
Fun
1. Tasting Event
If you're throwing a surprise party for a foodie, there's no better plan than organizing a tasting dinner for them.
You can do this one of two ways. You can reserve a table at a fine dining restaurant that offers a tasting menu, or you can invite a gourmet chef to your or their home for a more intimate gathering.
Either way, the guest of honor will be guaranteed a night of fun and delicious food!
2. Karaoke Night
If the guest of honor fancies themself as the next Beyoncé or Elvis Presley, let them showcase their singing skills at a surprise karaoke party.
There are two options for this surprise party. You can book a group into a karaoke booth where you sing songs of your choice, or you can buy an at-home karaoke machine and turn your front room into Madison Square Garden.
3. Bar or Pub Party
If there's a pub, tavern, or bar that the guest of honor simply adores, why not throw them a surprise party they'll never forget by renting the space, especially for them?
Simply invite them there for a drink as normal, then enjoy the look on their face when they realize the whole venue has been rented for them and their closest friends and family.
---
For Him
4. Driving Experience
Is the guest of honor crazy about cars? Is he an adrenaline junkie? Does he love trying new things? If so, surprise him with a driving experience.
You can go to a race track and hire some of the best cars on the market (Ferrari, anyone) and give him an experience he'll never forget. Formula One, here we come!
5. DIY Burger & Beer Party
What two things does (almost) every guy love? Beers and burgers!
If you want to throw a surprise party that's a little more laid-back, set up a DIY burger bar at home, with cooked burgers (including veggie options) and toppings that guests can add, such as cheese, bacon, lettuce, crispy onions, and tomato.
Set up a keg or an ice bucket full of tasty beers to wash the burgers down with.
6. Mini Golf
If you're throwing a surprise party for a guy that likes to have fun but doesn't take himself too seriously, ditch the 18-hole golf course and head to a mini-golf course instead.
This party is perfect for somebody who likes a little healthy competition.
To organize a mini golf surprise party, simply book a spot on a course, invited the guest of honor's best buds, and lure the birthday boy there under false pretenses.
---
For Her
7. Pamper Party
If the guest of honor for your surprise rendezvous is in need of a little relaxation, throw her a pamper party!
Gather her nearest and dearest for an evening of nail painting, makeovers, and face masks, with an optional glass of bubbly for that extra VIP feeling.
Related: 20+ At-Home Spa Day Gadgets and Essentials You Need to Try
8. Wine and Cheese Night
If you want to throw a surprise party with more of a sophisticated edge, you can't go wrong with everyone's favorite combination – cheese and wine.
Gather a few of the guest of honor's closest friends for a tasting night you'll never forget.
All you'll need is a few bottles of something red, white, or bubbly, and a selection of delicious cheeses.
For extra sophistication points, pair your food and drink with a jazz soundtrack!
9. Tarot Reading Night
Has your guest of honor got a spiritual side? If so, treat them to a personalized tarot reading, for a surprise party like no other.
Contact a local tarot card reader to come to your home for an evening of future gazing and fun. Bonus points if you provide delicious food and drink to boot!
---
Unique
10. Luau Party
Get your pineapples, coconuts, and flower garland at the ready for a surprise party the special guest will never forget!
Transport yourself to a tropical land with a tiki-themed party, featuring tasty snacks, such as poi and poke, and entertainment like hula.
11. Treasure Hunt
What's the only thing more exciting than a surprise party? A surprise party with a scavenger hunt to get there!
Instead of surprising the guest of honor directly at the destination, make it a little more exciting by leaving clues in different places until your guest finds where all their friends and family are waiting.
You can keep it small, and host the hunt around a backyard and house, or go big and stage the scavenger hunt around your entire city!
12. Weekend Away
If you've got a generous budget and want to really surprise your loved one with something special, book them a weekend away!
Simply tell them what type of clothing to pack, and meet them at the airport or train station for the trip of a lifetime.
Keep it a secret until the day before, and if you want to inject some extra suspense, don't tell them the destination until you're at the airport gate.
13. Photoshoot
There are few moments in life when we get to dress up, pose for the camera, and enjoy a photoshoot experience where we're the star.
That's exactly the experience you can provide for your friend, family member, or partner, with a personalized photoshoot experience.
Whether you go to a professional studio or have a photographer come to you, the result will be just as stunning. Just remember to make an excuse why the guest of honor will have to come looking their best!
---
Indoors
14. House Party
If it ain't broke, don't fit it, and there's nothing wrong with a good old fashion house party. Fill the bowls with punch, lay out a buffet with some snacks, and create a playlist that the guest of honor will love.
Simply invite them round to your home for a 'birthday dinner,' then surprise them with all their closest friends and family members greeting them at the door.
It's easy to set up, budget-friendly, and the perfect way to celebrate your loved one's birthday.
15. Home Movie Theater
If you're throwing a surprise party for a movie lover, why not surprise them with their own home movie theater set-up, tailored especially to their preferences?
Set up their or your home with sofas, a big screen, their favorite movie, and popcorn, of course.
If you want to splash the cash, you could rent an actual screen at a movie theater for the event.
Take them to the movies under the false pretenses of a normal movie trip, then wow them with a screen that's packed with their friends and family, showing their favorite movie.
Related: Best Movie Night Gift Basket DIY Ideas
16. Red Carpet Party
Make your loved one feel like a movie star with a surprise party they'll never forget – a red carpet-themed, Hollywood party.
Buy or rent a red carpet, tell guests to come in their finest attire, and serve champagne (or a cheaper alternative) and canapés.
Just don't forget to invent a reason why the guest of honor will have to dress up – they'll look a little left out if they arrive wearing sweatpants!
17. Games Night
If the guest of honor loves unleashing their competitive side, this surprise party idea is perfect for them.
All you need is their friends, family, and an assortment of their favorite board games and party games to keep everyone entertained.
Maybe let them win one or two games – it is their birthday, after all!
18. Mixology Party
The only thing better than a party with cocktails? A party where you get to make your own cocktails.
For a surprise party that teaches you new skills as well as being fun and unique, host a mixology party with a cocktail expert.
From piñas coladas to mojitos, the special guest will learn how to make their favorite tipple, while enjoying a hilarious night with their nearest and dearest. What could be better?
19. Dinner Party
Not every surprise party needs to be large scale – sometimes less is more.
If you're celebrating somebody who loves nice food and wine, the perfect surprise is a sophisticated dinner party, serving up their favorite cuisine alongside insightful conversation.
---
Outdoors
20. Paintballing
If the guest of honor likes trying new things, why not surprise them with a day out practicing paintballing?
This fun game is perfect for your most adventurous friend or family member, not to mention it's something they'll never expect.
21. Picnic Party
There's nothing better on a sunny day than grabbing some pals, sandwiches, cakes, and a bottle of something bubbly and heading to your local park for a picnic.
Surprise the special guest with laid-back birthday plans by organizing a surprise picnic, either in a park, at a local beauty spot, or on the beach.
Read more:
22. BBQ
If the guest of honor's birthday falls in spring or summer, throw them the tastiest surprise possible, in the form of a backyard BBQ.
All you need are their closest friends and family, a jumbo pack of burgers, and a couple of cold beers for an afternoon they'll never forget.
23. Beach Trip
Does the birthday guy or girl love a day out at the beach? If so, surprise them with a beach party for their next birthday!
Simply take them for a drive while keeping the destination a secret, then arrive at the beach with a picnic and some speakers in tow.
Related: 100+ Things to Do at the Beach (Bucket List)
24. Vineyard Tour
If you want to make the birthday of the wine lover in your life that little bit more special, book them into a vineyard tour.
Not only will they learn more about how their favorite tipple is made, but they might get the chance to taste some specially created by the vineyard. It's truly the best day out for your favorite wine connoisseur.
---
Surprise parties are always lots of fun, but they do require a great deal of planning, and an even greater level of secrecy!
These awesome party ideas should give you plenty of inspiration to plan a celebration that everyone will love. All these ideas can be organized without the person-in-question knowing, and can give them a memorable day or evening surrounded by friends and loved ones.
You Might Also Like to Read
---
Keep these surprise party ideas for safekeeping by saving this article to one of your party planning boards.