This post may contain affiliate links, meaning if you book or buy something through one of these links, I may earn an affiliate commission at no additional cost to you. Learn more
Get inspired to create fun and unique art, and let your creative spark ignite with these awesome painting ideas for all styles, mediums, and ages.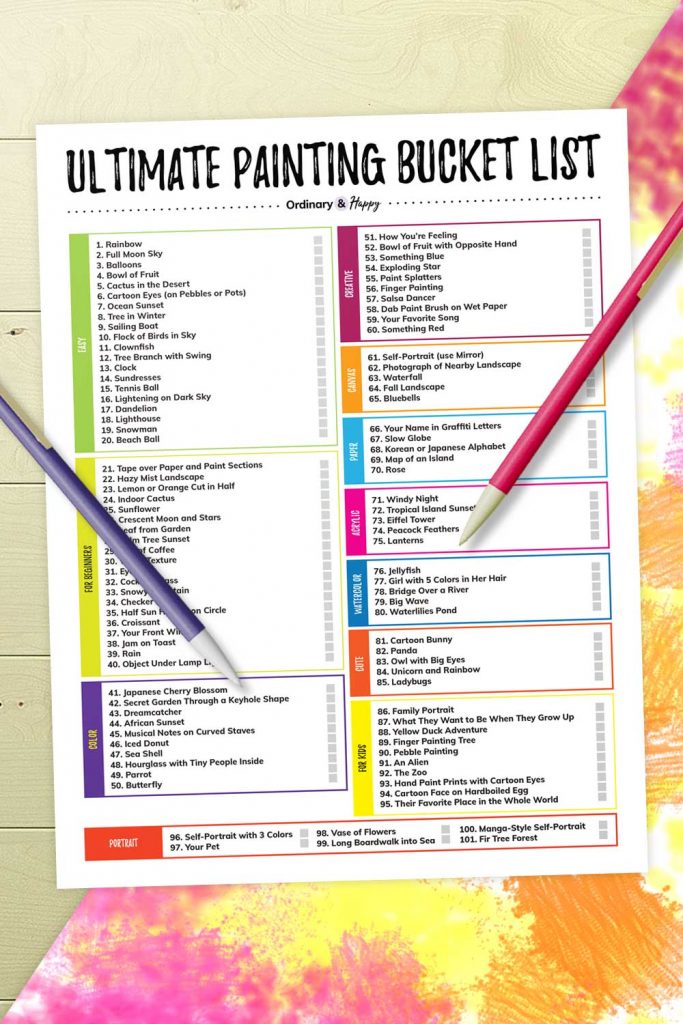 Always loved the idea of painting an epic sunset or colorful self-portrait, but can't get past the blank sheet of paper? You're not alone.
When it comes to painting, overthinking can be a huge problem. So let us take the pressure off deciding what to paint, and use our 100+ ideas to create paintings that will help you grow as a painter, and find an outlet for your creative energy.
Want to try and paint all of these ideas? Download our ultimate painting ideas printable to print off and tick off by scrolling to the end of this article for the download link.
100+ Painting Ideas (The Ultimate List)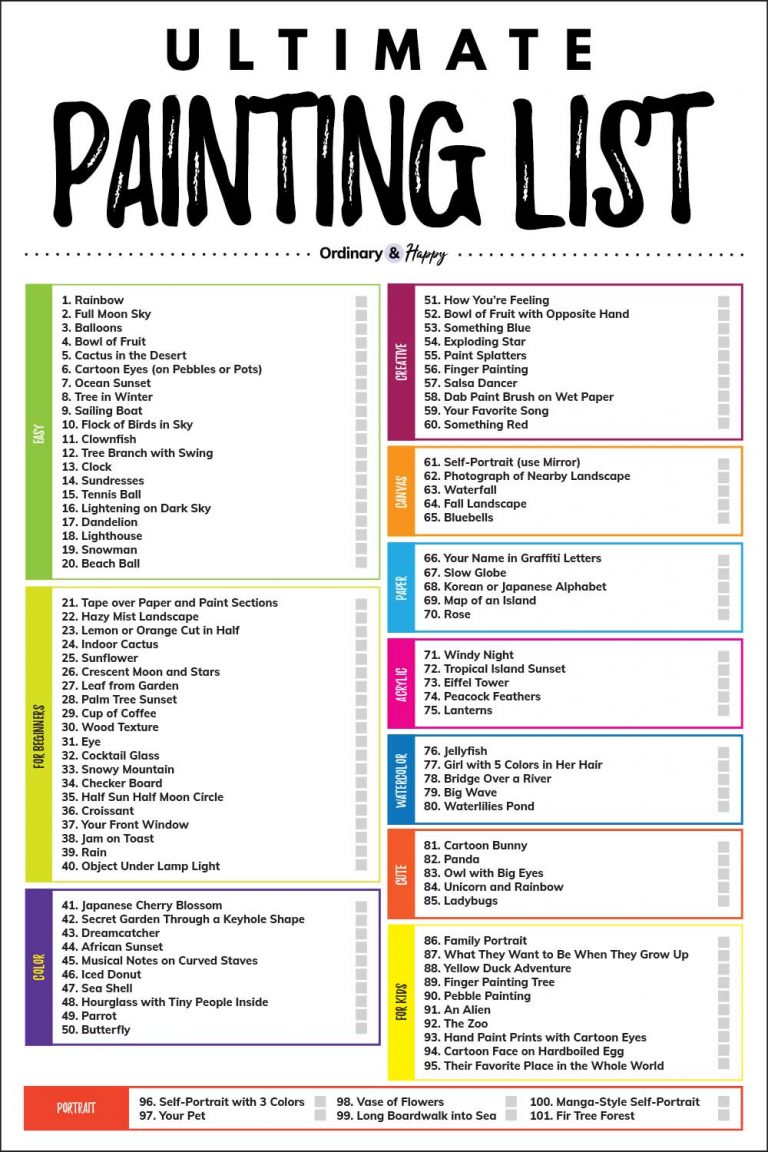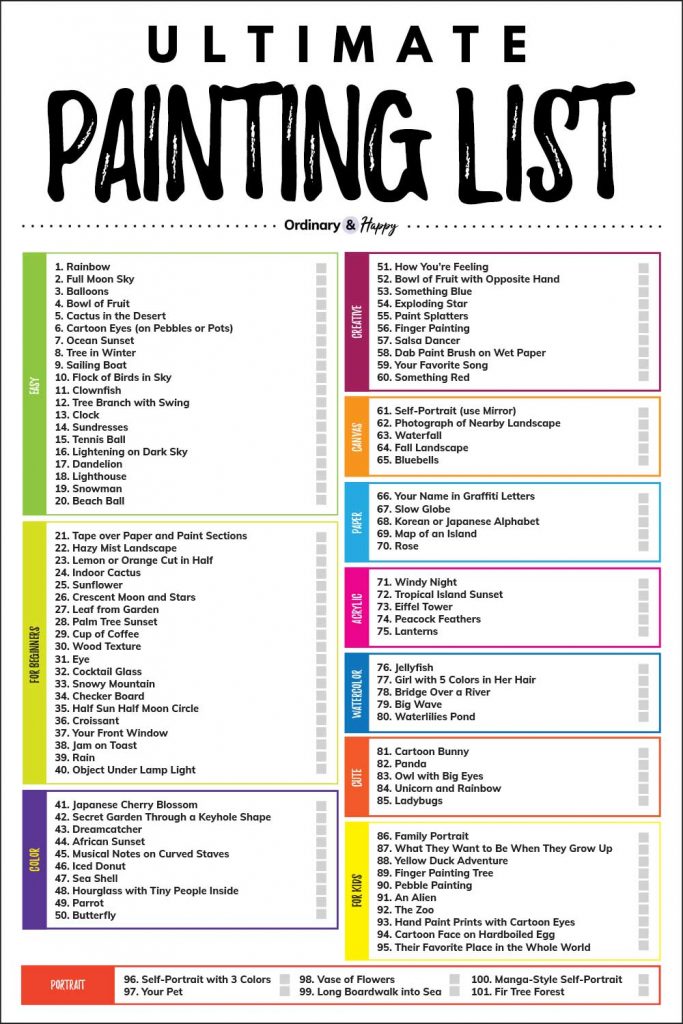 ---
Easy Painting Ideas
Want to paint from nothing to something without too much hassle? Whether you're a total beginner or a seasoned artist, these easy painting ideas are great for quick, simple paintings.
These ideas use simple shapes and colors. They use household objects or are easy to remember or look up online.
1. Rainbow
For an easy painting project, create a rainbow with all its seven colors. You could even paint some clouds and a pot of gold too.
2. Full Moon Sky
Lay down a layer of black acrylic paint, and once it has dried use white or yellow paint to draw a full moon over it. When you're more confident, try adding crescent moons and dotting some stars.
3. Balloons
Draw ovals, connected by straight lines from one point, and have fun painting the ovals in different bright colors. Add white lines to show lighter areas of the balloons.
4. Bowl of Fruit
A great way to create art with a reference point, put fruit in a bowl and put it in front of you. Lightly draw the bowl and fruit first, then color it with your paints.
5. Cactus in the Desert
Draw a line across your white paper, separating the desert from the sky. Paint in long green brushstrokes, with curved arms, and add the spikes with small brushstrokes.
If you're feeling confident, you can paint the desert and sky a range of orange, yellow, and brown colors.
6. Cartoon Eyes (on Pebbles or Pots)
So much fun to do, find pebbles, pots, or stones lying around your home, and paint two white acrylic circles on them. Once dried, use blank paint to add eyes, eyebrows, and funny experiences.
7. Ocean Sunset
If you want to try oil paints, this is the go-to. You can get so creative with the colors, as it's a sunset, and practice blending the paints together to create a beautiful sunset and reflection in the water.
8. Tree in Winter
Practice controlling your brushstrokes by drawing the weaving branches of a tree. Once done, you can dab the branches with white and blue to create the impression of snow.
9. Sailing Boat
You'll only need some basic painting supplies to paint a sailing boat. If you want more of a challenge, try to paint it on your ocean sunset once it has dried.
10. Flock of Birds in Sky
An easy canvas painting to do, over a blue background you can paint a series of curved 'v' shapes in swirling patterns that look like a flock of birds.
11. Clownfish
Clownfish have a simple and symmetrical shape, which you can reference from an online photo, but then can be painted in bright bold colors.
12. Tree Branch with Swing
Use wavy lines to create the tree and branches and straight lines to create the swing. No color is needed, and this is a great painting to practice your line skills.
13. Clock
You can simply use black and white paint to draw the repeated lines and symmetrical composition of a clock.
Use a pencil tied to a string to help you create the circle outline, or draw around an upturned bowl or circular lid before you start painting.
14. Sundresses
First, lightly draw out a simple dress shape, and repeat it across your paper. You can then have fun painting each one with different colors and small patterns. If you enjoy this exercise, there may be a career in fashion design waiting for you.
15. Tennis Ball
Attempt to try painting different textures by starting with the furry texture of a tennis ball, with its simple color.
16. Lightening on Dark Sky
Paint your paper or canvas black, navy, or dark blue. Then, with white or blue paint, streak sharp edges and lines onto the paper, once dry, to create lightning bolts.
17. Dandelion
Find a dandelion in the garden, and paint it from your kitchen or living room table. Or, you can paint from a photo of the seeds blowing away, and practice your line painting.
18. Lighthouse
A lighthouse can be painted on-site or from a photograph at home and is a simple structure to paint.
19. Snowman
Painting a snowman is something most beginners can visualize in their heads. Once you have your three circles, coal eyes, and scarf, you can add a personal touch with accessories and other items of clothing.
20. Beach Ball
Great for painting with contrasting colors, a beach ball gives you simple curved lines to work with while allowing you to improve your curved brushstrokes.
---
Painting Ideas for Beginners
If you're totally new to painting, give these painting ideas a try. While easy to paint or look up, they also allow you to develop certain skills as a painter.
These ideas will help you grasp composition, lighting, and other aspects of painting, while still giving you easy subject matter to paint.
21. Tape over Paper and Paint Sections
Simply get some masking tape, and tape over sections of your paper. Paint on the paper, and once dry peel off the tape to reveal awesome-looking designs.
22. Hazy Mist Landscape
You can create a beautiful mist effect over a simple landscape simply by dabbing colors with a sponge or cotton balls over the top, then blending the colors with a brush.
23. Lemon or Orange Cut in Half
Great art can always be found in nature, and the juicy, symmetrical segments and bumped skin of a lemon or orange make for an interesting painting challenge.
24. Indoor Cactus
Easy to buy if you don't already have one, use a cactus as your subject matter. First paint its green, smooth, curved shape, then once dry add the spikes with sharp lines.
25. Sunflower
Beautiful to hang up on the wall, a sunflower's bright yellow color and simple, symmetrical shape make it an easy painting idea that also looks great.
26. Crescent Moon and Stars
Practice both curved brushstrokes and straight brush strokes by painting with white or yellow on a black background. You could even go bigger, and paint outer space with colorful planets.
27. Leaf from Garden
Easy to find in the garden, a leaf has beautiful patterns to paint when you look very closely at it.
28. Palm Tree Sunset
As art goes, this is one of the most iconic scenes to paint. Sunset allows you to mix gorgeous colors, and once your sky is dry, paint a solid black silhouette of a palm tree over the top.
29. Cup of Coffee
If you drink coffee every morning, why not use it for a quick daily painting? Cups are simple in shape, while the froth and texture of the coffee make for a fun thing to paint.
30. Wood Texture
Have fun with organic, woven lines and earthy colors, and paint a beautiful wood texture. You can be loose with your lines, and enjoy this therapeutic painting idea.
31. Eye
The patterns and intricacies on the iris and eyeballs make painting an eye close-up an amazing painting idea to undertake.
32. Cocktail Glass
Cocktail glasses are smooth and elegant, allowing you to practice painting light on surfaces. You can also paint with vibrant colors if you paint the liquid in the glass.
33. Snowy Mountain
You can have lots of fun trying an abstract style of painting, such as sponge dabbing or paint splattering, to create the effect of snow on a simple mountain shape.
34. Checker Board
All you need is black and white paint, with a little patience, to steadily draw a repeating checkerboard pattern, that looks mesmerizing.
35. Half Sun Half Moon Circle
Have fun adding wavy flames to your sun half and dimple textures to your moon half, and even add eyes, nose, and a half-and-half mouth.
36. Croissant
You can pick up a croissant from a local bakery, and have fun painting its smooth, ridged texture and the rigid, flaky bits that fall off onto the plate.
37. Your Front Window
Painting inspiration is all around you. Set up your table or easel by your front window, and simply paint what you see.
38. Jam on Toast
An art piece that belongs in the pop art movement, you can have a lot of fun with this simple painting idea.
39. Rain
Try different paint types and styles, from watercolor to flicking acrylic paint, and see what amazing rain effects you can create.
40. Object Under Lamp Light
Practice making your objects look more three-dimensional by shining a lamp on an object to really emphasize light and shadow.
---
Cool Painting Ideas
Some pictures just look cool, no matter what. These cool painting ideas will make you and your friends go 'wow' with their vibrant colors, patterns, and awesome effects.
41. Japanese Cherry Blossom
One of Japan's most iconic and cherished sights, the beautiful colors make this a painting you'll love to spend time on. Try painting cherry blossoms on wood panels for an authentic look.
42. Secret Garden Through a Keyhole Shape
Paint a beautiful secret garden inspired by your own garden, either within a pre-drawn keyhole shape or by sitting a piece of paper with a keyhole cut out over your painting once dry.
43. Dreamcatcher
Dreamcatchers' beautiful and intricate shapes make for an awesome-looking painting and an art project that will look majestic hung up in your room.
44. African Sunset
For easy painting ideas inspired by nature, look no further than an African sunset. Streak your sky with warm colors, and paint a silhouette landscape of migrating animals and savannah trees along the bottom.
45. Musical Notes on Curved Staves
You won't necessarily need art supplies for this type of painting, as you could also try using ink. Notes are therapeutic to paint, and you can have a lot of fun with composition.
46. Iced Donut
Mouthwatering to look at, the colors and the light against the icing can really give this painting the wow factor.
47. Sea Shell
Collect seashells from the beach, and spend time painting their sweeping curves and blended color profiles.
48. Hourglass with Tiny People Inside
You can get really creative with this one, and the tiny people only need to be black silhouettes and not fully formed humans.
49. Parrot
If you have a fan brush, the vibrant feathers and beautiful patterns of a parrot are ideal for practicing with this medium.
50. Butterfly
Either draw your own outline, or print off a butterfly template, and have fun blending colors and creating unique patterns.
---
Unique & Creative Painting Ideas
These creative painting ideas really get the creative juices flowing. Focusing on techniques and abstract ideas, there's no 'right or wrong' answer with these painting ideas.
51. How You're Feeling
Creating art doesn't just have to revolve around the physical. Channel your emotion into your work, and paint how you feel.
If you're angry, use bold, aggressive brush strokes, and if you're happy, use bright, warm colors and smooth strokes.
52. Bowl of Fruit with Opposite Hand
Painting with your non-dominant hand is definitely challenging, but really forces you to look at the subject matter at hand. Focus on the fine details, and enjoy creating art in a different way.
53. Something Blue
From the sky to detergent packaging, there's no shortage of blue things you can paint around your home or outside.
54. Exploding Star
A great exercise for abstract painting, first lay down a dark or black layer as your space background. On top, go crazy with splashing paint and aggressive strokes, and see how epic your exploding star can look.
55. Paint Splatters
Let emotion and flow take over, and flick, dab, and swoosh your paintbrushes over the canvas, seeing what abstract paintings you can create.
56. Finger Painting
A fun and easy way to get into painting, you can spend hours lost in a world of adding leaves to treas or water droplets to an ocean using nothing but your fingers.
57. Salsa Dancer
Try to capture the movement of two dancers with streaks of color and quick brushstrokes for a fun way to try painting.
58. Dab Paint Brush on Wet Paper
Wet your paper or canvas first, and simply dab the paint on. See what unique shapes appear, and maybe outline them later on with black paint to create plants, monsters, and other creative paintings.
59. Your Favorite Song
Whether it's a pictorial representation or a display of how it makes you feel, as unique painting ideas go this is right up there.
60. Something Red
From an apple to a postbox, our lives are filled with red items and things. Don't think about it too much, and choose the first red thing you see, then start painting.
---
Painting Ideas on Canvas
Got a blank canvas and want to bring it to life? Give these painting ideas a try. They'll look great as larger paintings.
61. Self-Portrait (use Mirror)
Mastering the self-portrait is one of the ultimate painting challenges. As all you need is a mirror and yourself, this is a great way to practice painting on a daily basis.
62. Photograph of Nearby Landscape
If you can't get out in nature, take a photograph of a beautiful nearby landscape, and use that as your subject matter for your painting.
63. Waterfall
If the swooshes and splashes of a body of water falling look a little confusing, have a look online for some painting tutorials to guide you through creating a beautiful style of art.
64. Fall Landscape
Fall is a time of majestic color, and that can be beautifully captured in a fall landscape of leaves on the ground and trees with colorful leaves. You could even try painting prints using leaves from your backyard.
65. Bluebells
Bluebells look wonderful when painted portrait-style on large canvases or canvas panels and would make a lovely gift for someone.
---
Painting Ideas on Paper
If you're painting on simple paper or notepads, you'll want to not get too heavy with the paints. These painting ideas are a good choice when paper is your medium of choice.
66. Your Name in Graffiti Letters
67. Snow Globe
68. Korean or Japanese Alphabet
Calligraphy is a wonderful way to practice art. Look up the Korean or Japanese alphabet, and practice drawing each individual letter and shape with a fine brush.
69. Map of an Island
Either let your imagination run wild or paint the contours and landscape from an atlas. There's no end to the fun you can have painting maps.
70. Rose
Roses are so elegant to behold, but their shape notoriously challenging to paint. Use this drawing challenge to help you follow lines and look at your subject matter, and go bold with the use of red and pink to really bring its beauty out.
Acrylic Painting Ideas
The bold strokes and ability to layer paint make acrylic painting the ideal medium for many landscapes and subject matter. Give these painting ideas a try if you're using acrylic.
71. Windy Night
Lay down a dark base color for your night sky. Once the paint dries, use bold, curving brush strokes and a lighter color to create a swirling wind, and add a cabin and trees to complete the landscape.
72. Tropical Island Sunset
Blended orange, red, and yellow sunsets lend themselves well to acrylic paint. Paint a black silhouette outline of a palm tree and island over the sunset and shimmering sea for a cool painting idea that looks fabulous.
73. Eiffel Tower
For portrait canvas painting ideas, Paris' iconic tower is great to paint with a photograph on hand.
As it's symmetrical and has a structure, you can use your acrylic paints to draw thick lines over a beautiful and bustling backdrop of Paris.
74. Peacock Feathers
The bold colors of acrylic paints make painting peacock feathers a fun experience. Due to their pattern and symmetry, close up they make for one of the coolest painting ideas to attempt.
75. Lanterns
Lay down a dark base color as your night sky, then use your bright yellow and orange acrylic paints to dot beautiful lanterns drifting into the sky.
For more of a challenge, attempt to mirror the skyline in a shimmering river or body of water, for a fun painting idea that looks gorgeous.
---
Watercolor Painting Ideas
Messy creatives will love watercolor, as you can blend and be far less precious with your brushstrokes. These painting ideas lend themselves well to watercolor.
76. Jellyfish
77. Girl with 5 Colors in Her Hair
78. Bridge Over a River
79. Big Wave
80. Waterlilies Pond
---
Cute Painting Ideas
Want to paint something to make you, your friend, or followers go 'awww?' Give these cute painting ideas a go to really turn up the cuteness factor!
81. Cartoon Bunny
82. Panda
83. Owl with Big Eyes
84. Unicorn and Rainbow
85. Ladybugs
---
Painting Ideas for Kids
If you want to get your kids into painting, the key is to give them a foundation to let their imagination run wild. These painting ideas are great to try and see what amazing paintings they bring to life.
86. Family Portrait
87. What They Want to Be When They Grow Up
88. Yellow Duck Adventure
89. Finger Painting Tree
90. Pebble Painting
91. An Alien
92. The Zoo
93. Hand Paint Prints with Cartoon Eyes
94. Cartoon Face on Hardboiled Egg
95. Their Favorite Place in the Whole World
---
Portrait Painting Ideas
These painting ideas are great for working in a portrait orientation, rather than a landscape. Whether you're working from a notepad, binder, or just want a break from mountains and skylines, give these ideas a try.
96. Self-Portrait with 3 Colors
97. Your Pet
98. Vase of Flowers
99. Long Boardwalk into Sea
100. Manga-Style Self-Portrait
101. Fir Tree Forest
---
More Painting Ideas
Still looking for inspiration? Try some of these painting ideas and see if you can put brush to paper.
102. Pet Rock Painting
103. Mandala Art Dot Painting
104. Sidewalk Chalk Painting of a Rainbow or Sunny Day
105. Spin Art with a Stencil
106. Paint an Old Pair of Shoes
---
Feel free to download our free painting ideas list PDF and check off as many as you can!
Painting is an amazing way to feel great, get creative, and can even become a passion project or side-hustle in time.
For those days you're struggling to get inspired, use our awesome list of 100+ painting ideas to get inspired!
You Might Also Like to Read
---
Keep these cool, fun, and creative painting ideas for a rainy (or sunny) day, by saving this article to one of your Pinterest boards.