This post may contain affiliate links, meaning if you book or buy something through one of these links, I may earn an affiliate commission at no additional cost to you. Learn more
Get inspired to create fun and unique art, and let your creative spark ignite with these awesome painting ideas for all styles, mediums, and ages.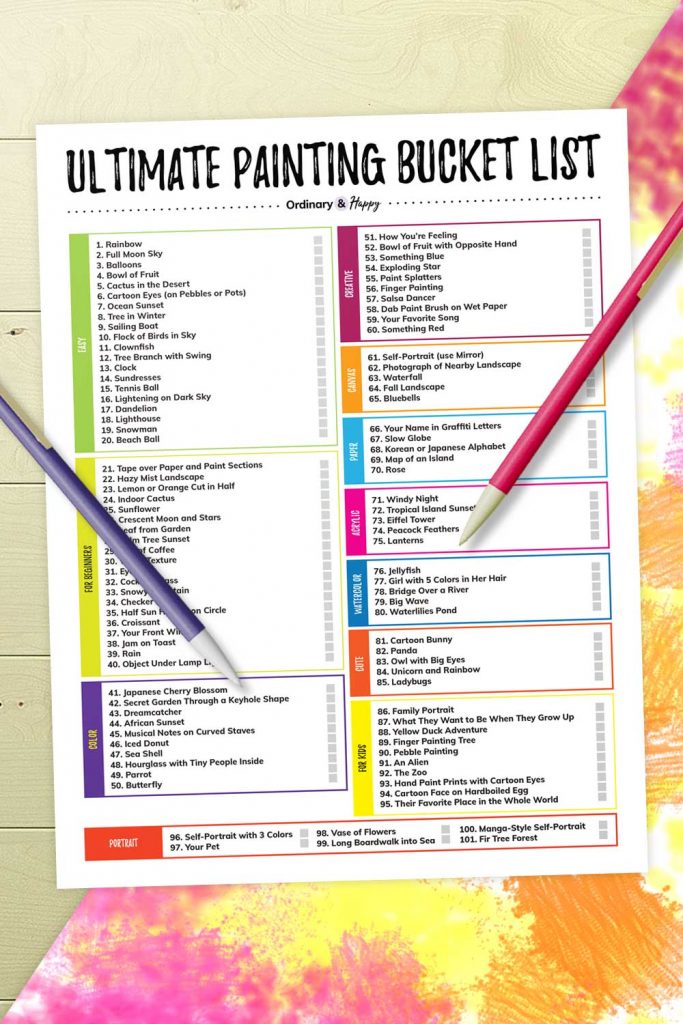 Always loved the idea of painting an epic sunset or colorful self-portrait, but can't get past the blank sheet of paper? You're not alone.
When it comes to painting, overthinking can be a huge problem. So let us take the pressure off deciding what to paint, and use our 100+ ideas to create paintings that will help you grow as a painter, and find an outlet for your creative energy.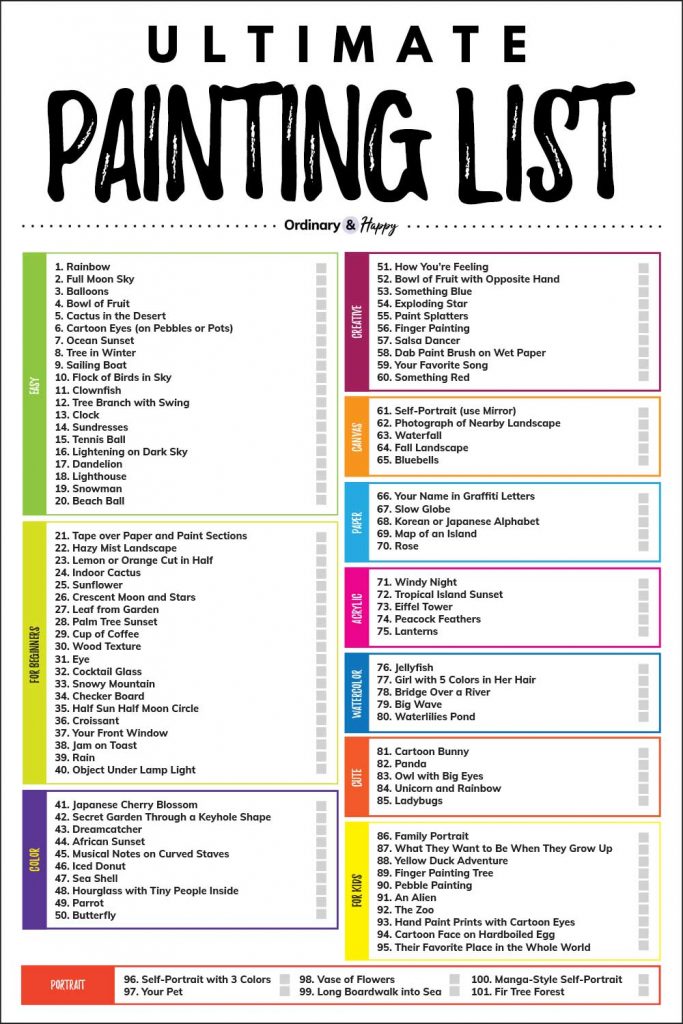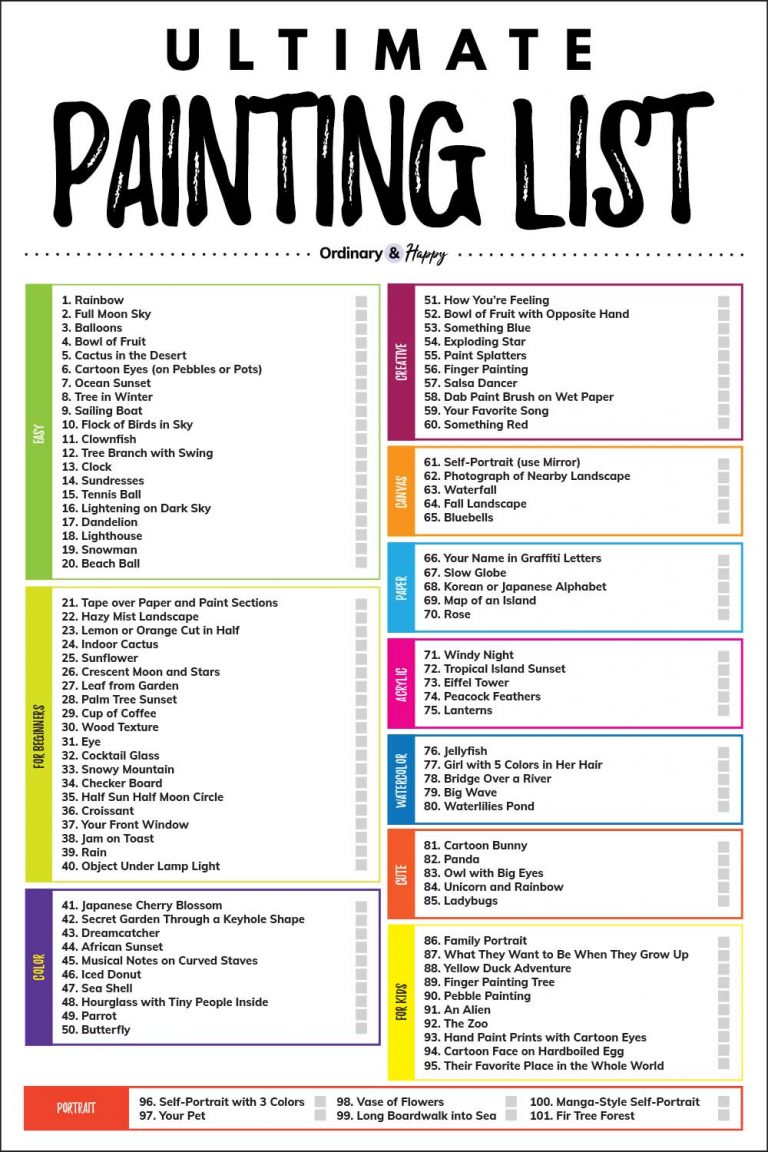 Want to try and paint all of these ideas? Download our ultimate painting ideas printable to print off and tick off by scrolling to the end of this article for the download link.
100+ Painting Ideas (The Ultimate List)
Easy Painting Ideas
Want to paint from nothing to something without too much hassle? Whether you're a total beginner or seasoned artist, these easy painting ideas are great for quick, simple paintings.
These ideas use simple shapes and colors. They use household objects or are easy to remember or look up online.
1. Rainbow
2. Full Moon Sky
3. Balloons
4. Bowl of Fruit
5. Cactus in the Desert
6. Cartoon Eyes (on Pebbles or Pots)
7. Ocean Sunset
8. Tree in Winter
9. Sailing Boat
10. Flock of Birds in Sky
11. Clownfish
12. Tree Branch with Swing
13. Clock
14. Sundresses
15. Tennis Ball
16. Lightening on Dark Sky
17. Dandelion
18. Lighthouse
19. Snowman
20. Beach Ball
Painting Ideas for Beginners
If you're totally new to painting, give these painting ideas a try. While easy to paint or look up, they also allow you to develop certain skills as a painter.
These ideas will help you grasp composition, lighting, and other aspects of painting, while still giving you easy subject matter to paint.
21. Tape over Paper and Paint Sections
22. Hazy Mist Landscape
23. Lemon or Orange Cut in Half
24. Indoor Cactus
25. Sunflower
26. Crescent Moon and Stars
27. Leaf from Garden
28. Palm Tree Sunset
29. Cup of Coffee
30. Wood Texture
31. Eye
32. Cocktail Glass
33. Snowy Mountain
34. Checker Board
35. Half Sun Half Moon Circle
36. Croissant
37. Your Front Window
38. Jam on Toast
39. Rain
40. Object Under Lamp Light
Cool Painting Ideas
Some pictures just look cool, no matter what. These cool painting ideas will make you and your friends go 'wow' with their vibrant colors, patterns, and awesome effects.
41. Japanese Cherry Blossom
42. Secret Garden Through a Keyhole Shape
43. Dreamcatcher
44. African Sunset
45. Musical Notes on Curved Staves
46. Iced Donut
47. Sea Shell
48. Hourglass with Tiny People Inside
49. Parrot
50. Butterfly
Unique & Creative Painting Ideas
These creative painting ideas really get the creative juices flowing. Focussing on techniques and abstract ideas, there's no 'right or wrong' answer with these painting ideas.
51. How You're Feeling
52. Bowl of Fruit with Opposite Hand
53. Something Blue
54. Exploding Star
55. Paint Splatters
56. Finger Painting
57. Salsa Dancer
58. Dab Paint Brush on Wet Paper
59. Your Favorite Song
60. Something Red
Painting Ideas on Canvas
Got a blank canvas and want to bring it to life? Give these painting ideas a try. They'll look great as larger paintings.
61. Self-Portrait (use Mirror)
62. Photograph of Nearby Landscape
63. Waterfall
64. Fall Landscape
65. Bluebells
Painting Ideas on Paper
If you're painting on simple paper or notepads, you'll want to not get too heavy with the paints. These painting ideas are a good choice when paper is your medium of choice.
66. Your Name in Graffiti Letters
67. Slow Globe
68. Korean or Japanese Alphabet
69. Map of an Island
70. Rose
Acrylic Painting Ideas
The bold strokes and ability to layer paint make acrylic painting the ideal medium for many landscapes and subject matter. Give these painting ideas a try if you're using acrylic.
71. Windy Night
72. Tropical Island Sunset
73. Eiffel Tower
74. Peacock Feathers
75. Lanterns
Watercolor Painting Ideas
Messy creatives will love watercolor, as you can blend and be far less precious with your brushstrokes. These painting ideas lend themselves well to watercolor.
76. Jellyfish
77. Girl with 5 Colors in Her Hair
78. Bridge Over a River
79. Big Wave
80. Waterlilies Pond
Cute Painting Ideas
Want to paint something to make you, your friend, or followers go 'awww?' Give these cute painting ideas a go to really turn up the cuteness factor!
81. Cartoon Bunny
82. Panda
83. Owl with Big Eyes
84. Unicorn and Rainbow
85. Ladybugs
Painting Ideas for Kids
If you want to get your kids into painting, the key is to give them a foundation to let their imagination run wild. These painting ideas are great to try and see what amazing paintings they bring to life.
86. Family Portrait
87. What They Want to Be When They Grow Up
88. Yellow Duck Adventure
89. Finger Painting Tree
90. Pebble Painting
91. An Alien
92. The Zoo
93. Hand Paint Prints with Cartoon Eyes
94. Cartoon Face on Hardboiled Egg
95. Their Favorite Place in the Whole World
Portrait Painting Ideas
These painting ideas are great for working in a portrait orientation, rather than a landscape. Whether you're working from a notepad, binder, or just want a break from mountains and skylines, give these ideas a try.
96. Self-Portrait with 3 Colors
97. Your Pet
98. Vase of Flowers
99. Long Boardwalk into Sea
100. Manga-Style Self-Portrait
101. Fir Tree Forest
---
Feel free to download our free painting ideas list PDF and check off as many as you can!
Painting is an amazing way to feel great, get creative, and can even become a passion project or side-hustle in time.
For those days you're struggling to get inspired, use our awesome list of 100+ painting ideas to get inspired!
You Might Also Like to Read
---
Keep these cool, fun, and creative painting ideas for a rainy (or sunny) day, by saving this article to one of your Pinterest boards.