This post may contain affiliate links, meaning if you book or buy something through one of these links, I may earn an affiliate commission at no additional cost to you. Learn more
Make your upcoming adult tea party a truly magical experience with these fun tea party ideas that everyone invited can love, enjoy, and cherish the memories of.
Tea Party Ideas for Adults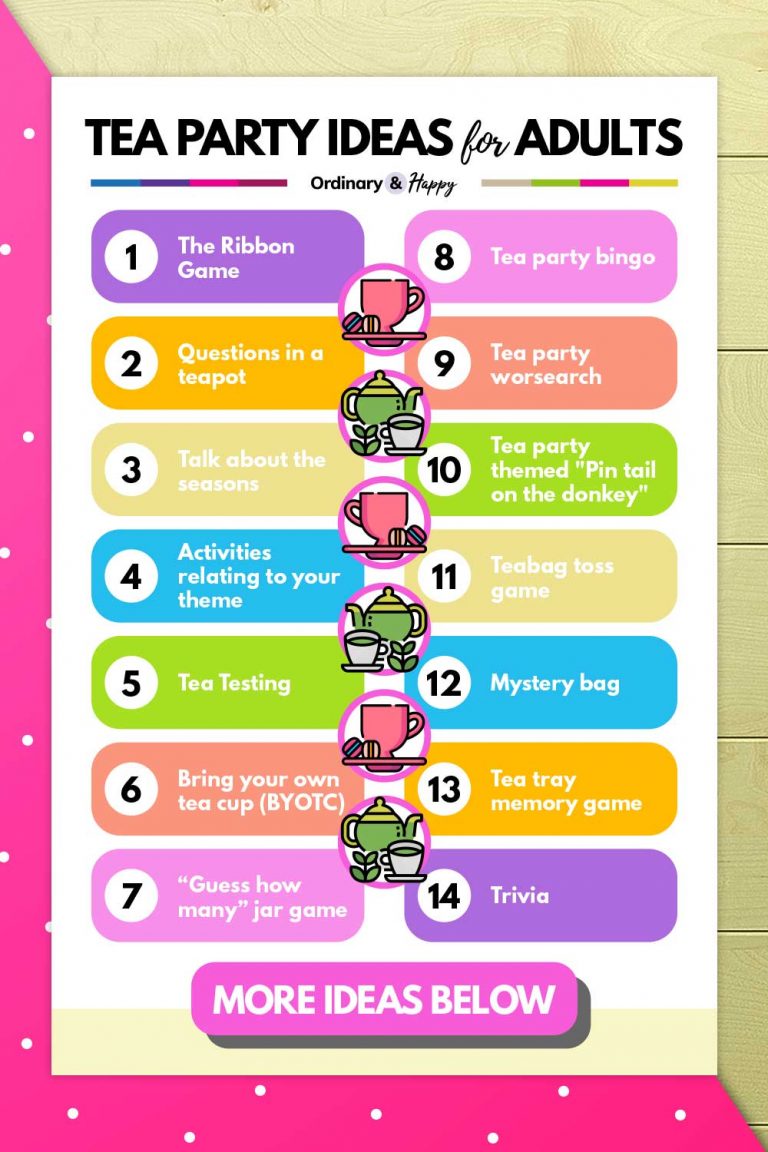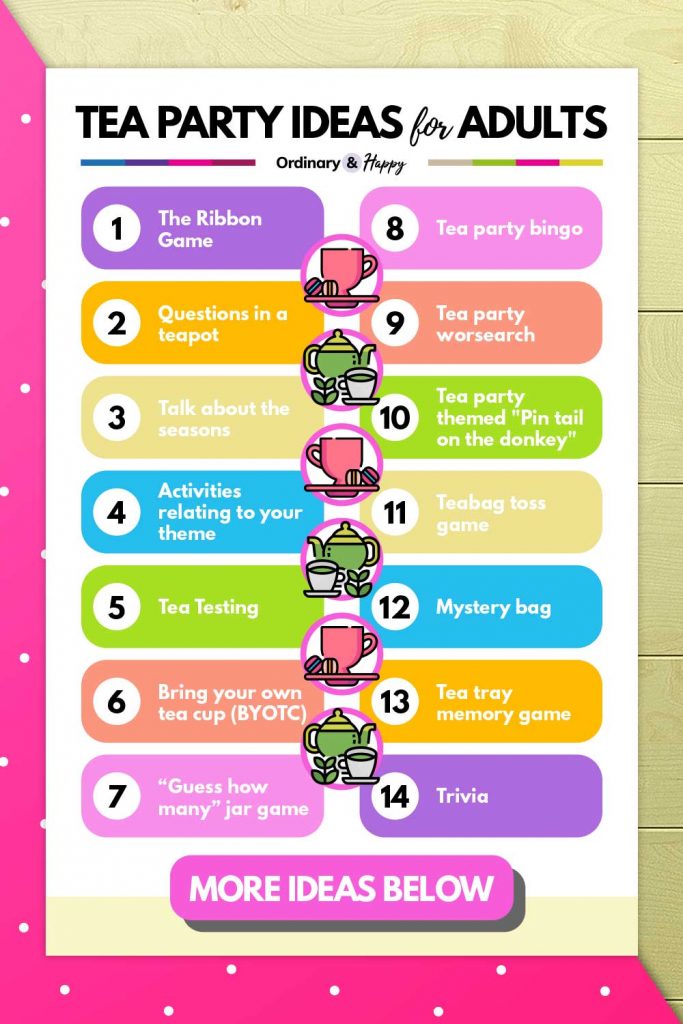 ---
Fun Tea Party Activities
1. The Ribbon Game
The Ribbon Game is a great icebreaker for a tea party where many guests don't know each other.
Here's how it works: give your guests a bit of ribbon upon arrival and tell them to hold onto it (but don't tell them why).
Later, during the tea party activities, tell your guests one by one to address the group and talk about themselves for the length of time it takes them to tie a perfect ribbon with the piece you gave them. Introverts beware!
2. Questions in a Teapot
You'll need a separate teapot from the one you'll be using to serve tea with! Write out fun questions or activities and pop them in a teapot.
Then, pass it around, and let guests take turns pulling activities or questions from the teapot for the group to enjoy.
3. Talk About the Seasons
There is nothing classier at a tea party than to politely discuss the changing seasons: the crunching leaves, the smell of snow, the breezy summer nights. A subject which guarantees no arguments!
4. Activities Relating to Your Theme
If your tea party has a theme – vintage, royal, fairy-tale – include some activities relating to your theme for the group to enjoy together.
5. Tea Testing
Buy a selection of unique teas and tea flavors and let your guests enjoy a tea tasting session.
These boxes of flavored teas could also be used as prizes later on in the tea party, letting guests who win a game choose their favorite tea from the tasting session to take home!
6. Bring Your Own Tea Cup (BYOTC)
If you're feeling unconventional, have each guest bring their own teacup and favorite type of tea, letting them mix and match with other guests!
---
Fun Tea Party Games
7. "Guess how many" jar game
A great game for a tea party is the "guess how many" game. Find a jar (any old, clean sauce jar will do) and fill it to the brim with sweets or pennies (counting every single one carefully).
Let guests write down their guesses when they arrive. The guest with the closest guess will get to keep the jar.
8. Tea Party Bingo
A fun game to create, and even more fun to play – create your own tea party bingo cards, and hand them out to your guests when they arrive.
Some fun bingo suggestions could be "eats a cucumber sandwich" or "eats more than one type of cake." The person with the most boxes ticked at the end of the tea party wins!
9. Tea Party Wordsearch
Create your own or print out some readymade word searches relating to tea parties, and have a timed competition with your guests. Give out a special prize for the fastest person to finish.
10. Tea-Party-Themed "Pin the Tail on the Donkey"
You can remix this party classic to fit the tea party theme: try "pin the handle on the teacup" or "pin the jam on the scone" – okay, perhaps not, but you get the idea!
11. Teabag Toss Game
Try a tea-party-themed take on a classic funfair-style throwing game: set out teacups as "goals" and have your guests try to land their teabags into each cup. The first guest to land five teabags wins!
12. Mystery Bag
Have your guests sit in a circle, and pass around a mystery canvas or paper bag holding an assortment of random items.
Have your guests try to guess what the items are without looking inside the bag, only placing a hand inside to feel the objects. Anyone who guesses all items correctly gets to keep the items in the bag.
13. Tea Tray Memory Game
Using your tea tray, assemble an assortment of items, and let your guests try to memorize the items for five minutes.
After five minutes, remove the items and have your guests list the objects that were on the tray. Whoever can remember them all wins!
14. Trivia
Organize a trivia quiz but limit the subjects to art, culture, and general knowledge: a classic party game, adapted for a classy tea party!
15. Pictionary
Adapt this game-night classic to the tea party theme. Have a stack of pre-organized tea-party-themed words for guests to try to draw, and split your guests into teams to compete.
---
Tea Party Location Ideas
16. Your Garden or Backyard
The ideal place for a tea party during the spring and summer months is your own back garden/backyard. Set up a table, chairs, and a centerpiece, and enjoy the sun and some cucumber sandwiches.
17. Your Living Room
We're not always guaranteed sunny weather, so if you don't have a garden – or you do, but it's raining – assemble your tea party in your living room. Put your dining set in the middle of the room and decorate accordingly.
18. Lakeside
With all the items and decorations that you need to pull off the ultimate tea party, location options can be limited.
If you can find a calm lakeside with space to put out a dining set or even a blanket, pop your tea party essentials in a picnic basket for a low-key lakeside tea party.
19. Park
Tea parties are the new picnics! If you've got a picnic blanket and basket, use them to transport your tea party goodies to a local park and have your tea party al-fresco style.
20. Your College Dorm
If you're a college student looking to eat something other than noodles and cereal, throw a tea party for your dorm.
Decorate the walls with bunting and search charity shops for a cheap tiered cake stand.
21. Beach
It might seem a little unconventional, but why not try your hand at a tea party at the beach?
Beaches host barbecues and picnics every day, so class up your local and have your tea party beside the waves.
---
Tea Party Decoration Ideas
22. Tiered Cake Stands
Check Price on Amazon
A tea party is incomplete without the classic tiered cake stand. Fill your stand with cakes, sandwiches, and finger food, letting your guests pick and choose what they like.
23. Invitations
Design some personalized, hand-written invitations for your guests and – if you can – deliver them yourself for the added personal touch. Make sure to add a dress code for your guests to follow.
24. Pretty Cutlery and Crockery
Check Price on Amazon
You're not going to be serving your guests their Pimms in the old coke glass you won from McDonald's in 2010!
Invest in nice cutlery for an elegant, regal tea party vibe. If you can get your hands on some sophisticated porcelain china, even better.
25. Napkins
Check Price on Amazon
Napkins might seem out of place on this list, but you can use your napkins as a way of communicating your tea party theme to your guests. Floral napkins make for a vintage, authentic tea party look.
26. Handwritten Menus
If you want to go above and beyond for an authentic tea party experience for your guests, create personalized handmade menus and place them on the table for when your guests arrive. To truly impress your guests, laminate your menus.
27. Buffet Table
If your tea party consists of more people than can sit around one single table, why not assemble a buffet table laden with tiered cake stands and full of delicious goodies? Save time on washing up and let your guests mingle over macaroons!
28. Centerpiece
Make sure to give your tea party the elegant touch with a centerpiece. For the classic tea-party look, opt for pink and yellow flowers, and try incorporating a teapot or teacups into your showpiece.
29. Tablecloth
Your tablecloth is another great way to convey the theme of your tea party. Whether you want to use it on your dining table or on a buffet table centerpiece, opt for bright colors and floral patterns.
30. Music
For an elegant tea party, pop on some classical music whilst you serve your guests tea in sophisticated china cups.
31. Party Goodie Bags
Make sure your guests remember your tea party for a long time by having a little goody bag to leave with.
Buy some gift bags and fill them with little treats, such as homemade madeleines, a thank-you card, soaps, handmade jewelry, and some luxury tea bags.
32. A Gorgeous Tea Set
Check Price on Amazon
It's the pivotal moment of the occasion: the moment when you lift the teapot and serve your guests a cup of deliciously hot tea.
Make sure your teapot and teacups are pristine and new, and for the authentic look, try white, floral porcelain china.
33. Trays for Serving Finger Food
Check Price on Amazon
You won't have room for hundreds of tiered stands, so make sure to also invest in some trays or platters for serving guests finger food. A silver tray is a perfect option for creating a high-class tea party vibe.
34. Paper Bunting/Banners
Check Price on Amazon
Don't forget to decorate your tea party venue with some classic vintage bunting or banners. Make sure the bunting reflects your theme if you have one. Otherwise, floral bunting is a classic tea party go-to.
35. Prizes for Your Games and Activities
With all the tea party games we have listed above, you'll need some good prizes to make all of that competition worth it.
Great prizes for a tea party include a tea set, a box of luxury tea bags, a bottle of champagne, a gift card for something luxury, handmade goodies, a gift card for a day out, and some luxury cookies.
---
Tea Party Food Ideas
36. Homemade Pastries
Buy a roll of homemade puff pastry from the supermarket and make your own fancy pastries.
Fill them with fruit or chocolate for the perfect tea party finger food – your guests will be so impressed, they'll ask where you bought them!
37. Cucumber Sandwiches
Go classy with this traditional tea party food. Arrange your cucumber sandwiches on your tiered stand for your guests to help themselves.
38. Mini Quiches
Isn't all food better when it's mini? You can eat as many as you like without feeling too guilty!
Mini quiches are no exception, so pop some on a plate and watch everyone eye up that very last quiche lorraine.
39. Victoria Sponge
A classic tea party cake that won't melt if your tea party takes place outdoors, a Victoria Sponge is a must-have – double points if you make it yourself.
40. Scones and Jam
No tea party would be complete without the classic scone and jam combination. Add some clotted cream, and you have an elegant tea party fit for the Queen herself.
41. Macaroons
Import some French luxury to your tea party with some beautifully colored pastel macaroons.
Pop them on the cake stand alongside your other baked goodies to impress your guests.
42. Madeleines
Another French favorite, Madeleines are the perfect tea-dipping treat.
Serve them with hot tea, ideally when they're fresh from the oven. Madeleines also serve as a high-end conversation starter: Have you read Proust?
43. Pimms
When your guests are looking for some light afternoon refreshments, look no further than a jug of Pimms.
Place it on the table on a hot summer day and watch everyone sip this delicious drink while swapping stories and having a lovely time.
44. Iced Tea
If your tea party happens to fall on a day when the sun is shining, why not go unconventional and let your guests help themselves to a jug of iced tea?
45. Mini Cupcakes
Who doesn't love mini cupcakes? Ice your cupcakes with flowery, pastel colors to make your cake stand pop.
Bake several batches, and if you have too many, put them in your guests' goody bags for a delightful surprise.
46. Loose Tea
According to tea-party etiquette, teabags have no place at an authentic English tea party.
If you want to do a tea party the right way, invest in some loose tea. Oh, and don't forget to google how to brew it properly beforehand!
47. Teacakes
Teacakes are the perfect snack to go alongside a hot cup of tea. Slather the teacakes in hot butter and treat your guests to some currant-filled treats.
48. Homemade-Shaped Cookies
Another great way to communicate the theme of your tea party is to make homemade cookies and shape them according to your theme.
For a traditional tea party, shape them like shortbread, and dust with a little powdered sugar.
---
From location to food, activities to themes, there's plenty to consider when planning an awesome and memorable tea party.
Use our list to inspire you, and help you put together a tea party everyone at the event will love and have a great time at.
Tea parties are a wonderful way to bring friends and family together and give you the opportunity to do something a little more luxurious than your average gathering. Embrace it, and use these ideas to plan the perfect afternoon.
You Might Also Like to Read
---
Planning a tea party soon? Keep these tea party ideas for adults in a safe place for future reference, by saving this article to one of your Pinterest boards.