This post may contain affiliate links, meaning if you book or buy something through one of these links, I may earn an affiliate commission at no additional cost to you. Learn more
Take your summer get-together or celebration to a whole new level of fun with these awesome summer party ideas and themes, ideal for thrills, laughs, and good vibes beneath some bright summer sun.
Summer Party Ideas and Themes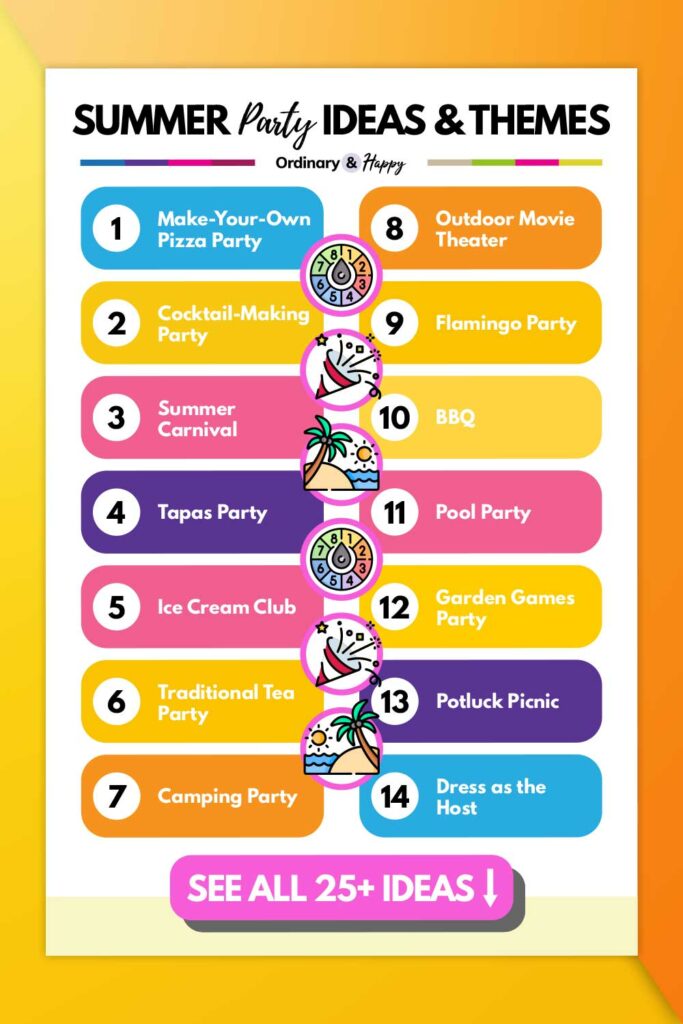 ---
Fun Ideas
1. Make-Your-Own Pizza Party
Is there any food that's more universally loved than pizza? We don't think so!
For the ultimate summer party, allow your guests to create the pizza of their dreams by setting up a pizza-making station either in your backyard or kitchen.
All your need are some pizza bases and everybody's favorite toppings.
2. Cocktail-Making Party
If you don't know what drinks your guests like, a cocktail and mocktail-making party is an easy way to ensure everybody can create something they love.
Simply set up a table either outdoors or indoors with a mix of alcoholic and alcohol-free spirits and liqueurs, as well as juices. Then, let everybody create their own cocktails! They can either use a recipe to make a classic or invent their own.
Bonus points if you turn it into a competition and give out a prize for the best cocktail!
Read more: 21 Best Home Bar Gadgets and Accessories
3. Summer Carnival
If you want to throw a summer party with a twist, while still being family-friendly, try organizing a carnival.
Merge the joys of a county fair and the circus by hanging colorful decorations, making burgers and hot dogs, and running cotton candy and lemonade stands.
Set up carnival-themed party games such as ping pong tables, ring tosses, and dunk tanks. It's a guaranteed afternoon of fun for adults and children alike!
4. Tapas Party
Tapas is the Spanish way of eating that involves sharing multiple small dishes of food with friends.
You could host a tapas event at your summer party by asking each guest to bring a traditional dish such as calamari, patatas bravas, or Padrón peppers and sharing them.
5. Ice Cream Club
Is there anything that unites adults and kids in adoration as much as ice cream? We doubt it.
To make your summer party as memorable as possible, make it ice cream themed, either by hiring an ice cream truck or filling a freezer with ice cream and allowing guests to add their own toppings.
---
Unique Ideas
6. Traditional Tea Party
Want to recreate an afternoon with British royalty? Then throw a traditional English tea party!
This activity can be held either indoors or outdoors. All you need is a selection of small sandwiches, cakes, and, of course, a pot of tea!
Read more: 48 Fun Tea Party Ideas for Adults (Activities, Games, and More)
7. Camping Party
Camping in your own backyard might sound a little usual, but hear us out on this one.
By pitching a few tents, setting up some fairy lights, and roasting marshmallows over an open fire, you can turn your garden into the ultimate glamping site.
Enjoy connecting with the great outdoors, without the risk of running into any woodland creatures!
8. Outdoor Movie Theater
One of the best movies in cinematic history on the big screen? Check. Popcorn in abundance? Check. Outdoor seating so you can watch movies under the stars?! Check.
If you and your guests are movie lovers, consider buying or renting a large projector for your backyard and transforming the space into an outdoor movie theater.
9. Flamingo Party
What happens when you combine hot pink decor, shrimp cocktail, and fun flamingo ornaments? That's right, a flamingo party!
It's a theme your guests certainly won't forget for a long time and gives you an excuse to decorate your home with bright colors and outlandish ornaments.
---
Outdoor Themes
10. BBQ
Is there anything better than sitting outdoors with music on, cooking delicious food on the barbecue, and catching up with your friends and family? If, like us, you don't think so, you should host a BBQ for your summer party!
If you want to take things to the next level, consider hiring a local acoustic band for some laid-back live entertainment.
11. Pool Party
Whether you already have an outdoor pool or decide to hire one, a pool party is a classic summer event that promises a hilarious afternoon of splashing around with buddies and practicing your dives.
Bring your swimsuit, a summer party playlist, and even some cocktails and snacks if you want to spice things up.
12. Garden Games Party
If you're throwing a party for people with a competitive side, consider a garden games party.
Lawn games such as miniature golf or croquet make for a fun, outdoor party, at which attendees get to show off their skills.
Just don't forget the tasty drinks and finger foods!
13. Potluck Picnic
There's no doubt that picnics are incredibly fun, and hosting a picnic in your garden is the ultimate outdoor summer party.
To take pressure off the host, organize a potluck picnic, in which every guest brings their signature dish to your home.
To make it more authentic, set up checkered blankets on the grass and serve the food in classic picnic baskets.
---
Funny Themes
14. Dress as the Host
There are tons of entertaining costume party ideas, but without a doubt, the funniest is a 'dress as the host' theme.
Every guest has to dress up as the host at a different stage of their life, replicating their clothes, hairstyles, and makeup throughout the years.
15. Beach-at-Home Party
Don't live near a beach? You can (kind of) bring the beach to you, with an at-home beach party!
Buy or rent some sand, set up a paddling pool, and dot some surfboards around the place. It will be indistinguishable from the Maldives… or at least close enough!
Related: 30+ Best Beach Party Ideas and Games for Adults
16. Recreate a Photo
Another hilarious costume party idea is to recreate a photo from your past.
Whether it's a photo of your terrible perm from the 80s or a photo of you in a Scooby Doo swimming costume and snorkel, every guest has to try and recreate their own picture as closely as possible.
To add a little competition to proceedings, award a prize to whoever recreates the image most accurately.
17. Scavenger Hunt
If you want to guarantee your guests an afternoon of hilarity, look no further than a scavenger hunt.
Hide clues around your home and garden, and have guests follow each clue until they find the prize at the end.
18. Summer Camp
Do you or any of your guests remember summer camp from your youth? If your camp counselor was slightly too mean or it rained all summer long, you can recreate a better version in adulthood by hosting a summer camp party.
And the best bit is there won't be any of those awkward teenage problems this time!
---
Work-Appropriate Ideas
19. Summer Ball
Whether you're splashing your work's budget on an office-organized event or you're hosting an all-expenses-paid work party at your house, a summer ball is the ultimate classy choice.
This activity can be held outside or in an indoor space. All you need is a formal dress code, a DJ, some fancy drinks, and activities such as an auction to keep the attendees entertained.
20. Teambuilding Party
The best work events are the ones that help your team get to know one another better. Next time you're in charge of organizing the work summer party, consider throwing a teambuilding party.
The location is flexible, but fun activities that help to strengthen bonds are non-negotiable.
Consider activities such as a scavenger hunt or a round of icebreaker questions to help employees get better acquainted. These closer bonds will translate into a more productive workplace when Monday rolls around.
21. Bring a Board
For a work party that's all about getting together and enjoying delicious food, organize a 'bring a board' party.
Every employee has to bring a board of food that represents them, their culture, or a cuisine they love. An Italian board, for example, might contain foods like pizza, arancini, and bruschetta, while a Tex-Mex board would be full of tacos, nachos, and guac.
22. Luau Party
For a party that promises fun for everyone, try a Hawaiian theme. The dress code should include leis, hula skirts, and flip flops, while the menu should consist of pineapple, seafood, and, of course, those all-important piña coladas.
---
More Ideas
23. Taco Party
If you and your guests like Mexican food, try a make-your-own-taco party. Not only is it incredibly fun, but it takes the pressure off you having to cook.
Simply set up a taco station with shells, guac, cheese, sour cream, and popular fillings, and let your guests serve themselves.
24. Hot Dog Bar
Hot dogs are one of the most universally loved food, and they're perfect for a summer party.
Set up a hot dog station in your backyard, where guests can load their hot dogs full of their favorite toppings, such as bacon, cheese, mustard, ketchup, and crispy onions.
Veggies in attendance? No problem! Swap out the meat dogs for veggie dogs and have some vegetarian toppings at the ready.
25. Summer Festival
If you've got the budget, consider hosting a summer festival either in your backyard or at a local event space. Invite local musicians to perform, hire food trucks, and keep the drinks flowing for a day of fun you'll never forget.
26. Bagel Brunch
Are you a bagel lover? We've got the perfect summer party idea for you.
Grab your nearest and dearest and host them at your house. Provide a table full of sliced and toasted bagels, and ensure you have plenty of toppings available. Guests can then assemble the bagel of their dreams and wash it down with a delicious mimosa.
If you don't have the outdoor space to host this event in your backyard, it will be equally as fun (and tasty!) held indoors.
27. Spa Party
Want to celebrate summer in a big way, but keep it relaxing? Try a spa party.
In your home or backyard, set out robes alongside an assortment of nail polishes and skincare products, and let your guests pamper themselves to their hearts' content.
For food and drink, try picnic foods and fruit-infused water.
---
There's no end to the fun you can have with a summer party. While the great weather alone is enough for a good time, a little planning and forward-thinking can give everyone a fun-filled afternoon or evening that will live long in the memory.
You Might Also Like to Read
---
Make sure your summer party is the best by keeping these summer party ideas and themes for safekeeping on one of your Pinterest boards.