This post may contain affiliate links, meaning if you book or buy something through one of these links, I may earn an affiliate commission at no additional cost to you. Learn more
Fill your alone time with creative projects and memorable adventures with these fun and awesome things to do by yourself, and make the most of 'me' time when you're on your own and looking for inspiration.
Things to Do by Yourself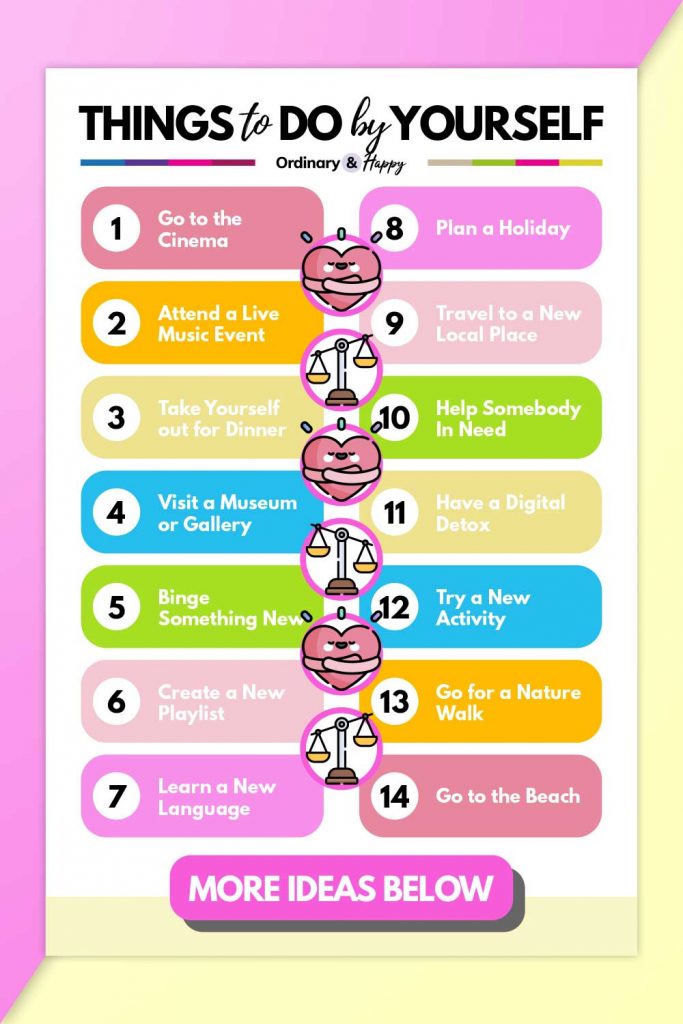 ---
Fun
1. Go to the Movie Theater
Visiting the movie theater to see a new movie always guarantees a fun evening, whether it's a solo trip or a trip with friends.
Grab the popcorn and get yourself to your local cinema to watch the most interesting new release. Some independent cinemas also show re-runs of old films or cult classics; ideal viewing for a film buff.
2. Attend a Live Music Event
Think you can only attend a gig with friends? Think again! If an artist is playing live that you've always wanted to see, take yourself out for a night of getting down to your favorite music.
Once the music's playing, you'll be throwing shapes alongside other attendees in no time.
3. Take Yourself out for Dinner
If you don't have a dinner date – take yourself! Treat yourself to your ideal dish at that restaurant you've always fancied.
If you're worried about boredom between courses, take along a good book or bring your headphones and tune in to an interesting podcast.
4. Visit a Museum or Gallery
Not only do museums and galleries provide an educational day out, but they also tend to be free to visit.
Enjoy a cheap day out by yourself, learning about some of your favorite topics at your nearest museums and art galleries.
5. Binge Something New
We live in the best time for consuming new content, whether it's music, books, TV, or podcasts. Find yourself a new addictive show, and satisfy your inner child by snuggling up on the sofa and spending all day watching it.
Alternatively, search the thousands of podcasts to find something that reflects your interests, and spend the afternoon listening while you catch up on some chores or sit with a coffee.
Related: New Skills to Learn Online
6. Create a New Playlist
It's fun to have playlists for different moods – a workout playlist, a focus playlist, a party playlist, and more.
Use your alone time well by putting together playlists to suit various moods. Next time you want a boogie, you'll be grateful!
---
Cool
7. Learn a New Language
Learning a new language is not only useful for visiting other countries, but it's also a great way to keep your brain active.
Take on the challenge of learning a new language the next time you find yourself on your own.
If you don't want to do it the old-fashioned way with textbooks, there are plenty of apps that can support your language learning for free.
8. Plan a Holiday
If you're by yourself and looking for a way to fill your time, start planning that dream holiday that you've always wanted to go on.
Even if it will require some savings, it's a good idea to start looking at the cost of transport and accommodation, so you can put together a budget.
9. Travel to a New Local Place
You know that town you've always wanted to visit, that's only an hour-long train away? Now's the time to go! Take the opportunity of some alone time to explore a new place or nearby town.
Alternatively, you can explore your hometown like a tourist, making sure to visit the popular cafes and attractions you may never have gone to before.
10. Help Somebody in Need
Next time you find yourself at a loose end, carry out an act of kindness in your community. You could befriend an elderly person via phone, or take part in a beach clean or litter pick.
You can make the most of your free time by using it to help others or the planet. Not only will it fill your time, but you'll feel great for having supported your local community.
11. Have a Digital Detox
Challenge yourself to a full day without using your smartphone or computer – it's trickier than you think!
Fill your day with old-school activities such as reading, walking, completing a jigsaw puzzle, or writing a letter to a friend.
12. Try a New Activity
Maybe there's a sport you've always wanted to try or a skill you want to hone. Try your hand at a new activity by signing up for a real-life or online class – you might even make some new friends along the way.
If you need some inspiration, our ultimate hobbies list is a great place to get inspired to try your hand at something totally new.
---
Outdoors
13. Go for a Nature Walk
When we go for a walk, we're often on our way to run an errand, or simply glued to our phones.
A nature walk involves finding somewhere rural to take a walk and paying attention to the sights and sounds you experience during your walk.
If you incorporate this mindfulness into your new stroll, you might spot wildlife that you've never noticed before.
For bonus fun, grab a hot drink from your favorite cafe, and drink it on your walk.
14. Go to the Beach
Visiting the beach isn't just a group activity. Take your favorite book or arm yourself with headphones and a good podcast, and visit your closest beach for a day of sunbathing and relaxation. Pack a picnic for an extra treat.
Read more: 100+ Things to Do at the Beach (Bucket List)
15. Do a Yoga Session
Yoga improves flexibility, strengthens muscles, and calms the mind. Doing a yoga session outdoors boasts the added benefit of fresh air, and offers the opportunity to practice your downward dog away from any digital distractions.
16. Tend to Your Garden
If you find yourself with downtime, get outdoors and tend to your garden. You'll wield the mental and physical health benefits of spending time in the fresh air, and you'll have a beautiful garden to show for it.
If you don't have your own garden, ask a neighbor if you can help with theirs. This way, you'll be taking part in a relaxing activity, and helping somebody from your local community.
17. Go for a Bike Ride
There's no better way to experience the great outdoors than taking in the sights and sounds of the countryside on your bike.
Not only is cycling a great way to spend time in the fresh air, but it also benefits your cardiovascular health and supports weight management.
18. Go Dog-Walking
If you have a dog, alone time is a great opportunity to take them for a long walk in the countryside.
If you don't have your own dog, you could get in touch with a neighbor and offer to walk their dog or sign up to a dog-walking app.
Spending time in nature with animals benefits your mental health, and taking a long walk in the fresh air will boost your physical health, too. Plus, your dog will thank you for it!
---
At Home or Indoors
19. Read a Book
One of the best ways to spend alone is snuggling up with a good book. Reading is excellent for your mental health, and it supports cognitive function and aids sleep.
If you need a little motivation to help you read, get in touch with a friend and suggest a book club to discuss the book once you've finished it.
If you don't have the space for lots of books, consider getting yourself a Kindle Paperwhite. You'll have access to hundreds of thousands of titles from the touch of a button.
20. Start a Gratitude Journal
Keeping a gratitude journal can help you maintain a positive outlook because they encourage you to make a note of the aspects of your life that bring you joy.
Putting these people and experiences down onto paper will be effective at fostering gratitude and help you look on the bright side when life gets complicated.
Read more: 39 Things to Be Grateful for Today
21. Prep Your Meals
If you're looking for a way to have fun in the kitchen and get organized for the week – look no further than meal prepping.
Meal prepping saves you time and ensures you don't have to wake up worrying about what you're going to eat for lunch that day. As a general rule, make sure your prepped meals include a source of protein, carbs, and some leafy greens.
22. Meditate
Contrary to popular belief, meditation is not only for Buddhists and yoga devotees. Everyone can benefit from taking time out of their daily or weekly routine to meditate.
If you find yourself alone with some spare time on your hands, try your hand at meditating. All you need to do is sit down in a quiet spot, calm your mind, and focus on your breath.
If you need a little help getting started, download a meditation app, or search for a guided meditation on YouTube. There's plenty of great tools and services out there to try.
23. Write Your Bucket List
Make a bucket list of things you want to accomplish or places you want to visit. To challenge yourself further, give deadlines for specific items to be completed.
For example, specify that you want to visit New York in the next five years. Giving your bucket list items a set timeframe can make them more likely to happen!
Related: Bucket Lists to Inspire You
24. Revisit a Favorite
Sometimes we want to try a cool new hobby; other times, we crave the familiar.
Being on your own at home is the perfect opportunity to rewatch your favorite episode of a Netflix show, or re-read the novel that changed your life.
25. Shop Online
Take the opportunity of some alone time to treat yourself to purchases you've had your eye on.
Start your shopping spree with a clear budget to avoid overspending, and focus your browsing on small, independent shops to support small business owners.
---
At Night
26. Stargaze
There's no more wonderful way to spend an evening than staring at the starry night's sky. If you're keen to get into stargazing properly, invest in a proper telescope.
For beginners, using a decent pair of binoculars will suffice. Looking at the moon and stars, and searching for other plants in the sky will put you in touch with your inner child.
27. Have a Pamper Night
You don't have to visit a spa to pamper yourself. Bring the spa to your home by indulging in a decadent bubble bath, and using up those lotions and potions that are gathering dust on your dressing table.
If you need a little inspiration, our DIY at-home spa day ideas will help you create that luxury spa feel from the comfort of your own home.
28. Drinks at a Bar
Treat yourself to that fancy cocktail you've always had your eye on in your favorite local bar. If you're worried about getting bored on your own, take a book to read, or befriend any fellow solo bar-goers.
29. Watch the Sunset
It's easy to take beautiful sunsets for granted, but once in a while, it's beneficial to detox from your phone and spend the evening gazing out whilst the sun says its goodbye.
30. Cocktail Class
If you're looking for an activity during an evening at home, try your hand at making a cocktail or two. With enough practice, you'll soon be making your best boozy beverage for all your friends at the next party.
---
When Bored
31. Try a New Workout
If you find yourself with time to spare, make the most of it by trying a new workout class. If HIIT has always intrigued you, you could follow a HIIT YouTube workout from your living room.
If you've always wondered what running is like, give it a go. There are plenty of great ways to work out on your own, and you may even uncover a new favorite hobby.
When you're feeling bored, working out is a great way to feel better in your own skin, get some fresh air, and better use your solo time.
32. Declutter
If you're sitting at home looking for something to do, find that corner of your bedroom that you've been saying you'll tidy for six months, and organize it.
You can donate your unwanted belongings to charity, or put them for sale online if they're worth some money. Decluttering your house may even prove profitable!
33. Experiment in the Kitchen
If you have cookbooks gathering dust on your shelves, now's the chance to take those new recipes for a spin.
Practice a dish you've always wanted to make, and you'll be an expert chef by the time your next dinner party comes around!
34. Dance Like Nobody's Watching
The ultimate home-alone activity is to crank up your favorite music and throw some shapes!
If you're bored and want to get your endorphins pumping, dancing around the house to a playlist will provide hours of entertainment – all while burning calories too.
35. Get Crafty
Fight boredom with some arts and crafts. Use your time by yourself to draw, paint or create something new.
Our ultimate drawing list and painting list downloadable PDFs can give you plenty of ideas if you're struggling to decide on a subject matter.
You could even be super productive by making a gift for a friend's upcoming birthday. Your future self will thank you for being so organized.
36. Indulge in Some Nostalgia
Reminisce on your favorite memories by making your day into a nostalgia fest. Flick through some old photo albums and souvenirs – you may find a familiar face among the images that you're keen to get back in touch with.
---
More Ideas
37. Have Fun at an Amusement Park
Some quality alone time can be had at amusement parks. From riding the carousel to winning a cuddly toy on the shooting range, there's so much fun to be had.
As such parks are generally busy places, you don't need to be self-conscious of being on your own.
38. Shop at a Local Farmer's Market
Help out small businesses and get plenty of fresh air at a local farmer's market. This creative way to spend time alone still gives you the opportunity to be around people.
Shop for new clothes, buy fresh produce for a new recipe, or simply take a leisurely stroll through the outdoor market and take in the beautiful sights.
39. Scrapbook your Family Photos
A great activity to do at your own pace, both you and your family members will love the memories on display.
Scrapbooking is a creative way to spend quality time alone, and finally gives you something productive to do with the hundreds of photos you have sitting on your phone or laptop, doing nothing.
40. Indulge in a Little Extra Self Care
Whether it's wearing a face mask, getting a new hairstyle, or partaking in a little good housekeeping to relieve stress and tension, alone time is the perfect opportunity to have some quality 'me' time.
You could also get some new makeup brushes, write your wish list for the year, or dance and listen to your favorite songs. There are so many little things you can do to feel better about yourself.
Read more: 60+ Best Self-Care Ideas for a Happier You
41. Carry Out a Random Act of Kindness for Someone
Whether it's for a stranger or for someone you know, do something kind for someone. You could post a nice message to an old friend, or volunteer to go on a dog walk, among many other activities.
Read more: 35 Random Acts of Kindness You Can Do Now
42. Start Your Own Dance-a-thon in a Local Park
Don't want to go to a dance class? Why not start your own? Be it at sunset or sunrise, head down to the park, put on your favorite songs or try some new music, and dance your heart out.
You could even start a local movement or community of people who come and join you, getting some much-needed fresh air and endorphin release at the same time!
---
There's nothing wrong with having a relaxing day on the sofa when you have some free time to yourself.
But if you're bored, or only feel like you can do things with other people, this list has plenty of ideas to help you spend your me-time in a fun, creative, and enjoyable way.
Just because you're on your own, that doesn't mean you still can't have fun, be productive, and do something that will stay with you for a long time – the possibilities are endless!
You Might Also Like to Read
---
Need some ideas on-hand for when you're next alone? Save this article to one of your Pinterest boards for safekeeping, so that you can also get inspired for ideas.