This post may contain affiliate links, meaning if you book or buy something through one of these links, I may earn an affiliate commission at no additional cost to you. Learn more
Whether you're eager to go big for a milestone birthday, or just looking for something a little different, these best places to go for your birthday will give you plenty of ideas to celebrate in style!
Best Places to Go for Your Birthday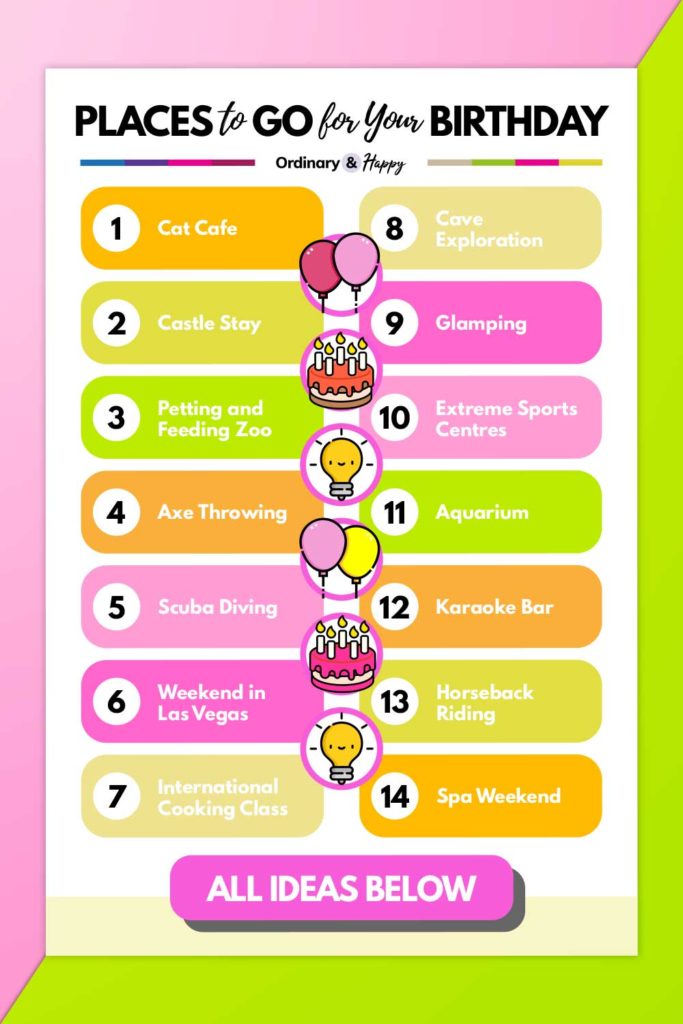 ---
Fun
1. Cat Cafe
Fancy feline fun on your special day? Why not visit a cat cafe? Cat cafes have increased in popularity over the last five years, with visitors often raving about how much escapism it provides.
Popular with students, cat cafes are a great place to cuddle up with your favorite cat species and raise money for charity at the same time.
2. Castle Stay
Beloved by history geeks and nature lovers alike, a castle stay or experience is the perfect place for those looking to take a step back in time and enjoy a birthday celebration with a difference.
3. Petting and Feeding Zoo
Popular zoos often host petting and feeding experiences so you can get up close and personal with your favorite zoo animals.
Zoo petting is a once-in-a-lifetime experience, and as birthday trips go, this is perfect if you are looking for a memorable birthday experience.
4. Axe Throwing
Trust us when we say this activity is not as easy as people make it look! Give ax-throwing a try if you fancy something a little more hands-on for your birthday?
Ax-throwing centers have risen in popularity since the pandemic because they are so versatile! You can invite a group of people or just one partner. The opportunities are endless, and the results are fantastic.
5. Scuba Diving
If you're certified, head to the coast or take a flight to Central America and the Caribbean where the crystal waters lap the white sand beaches, and see what magnificent ocean creatures you can observe and photograph.
6. Weekend in Las Vegas
One of those birthday trip ideas from countless movies, Vegas has everything you need for a weekend of partying, late-night dancing, and urban adventures to celebrate with your best friends.
7. International Cooking Class
Whether it's Thai, Brazilian, or Italian, a cooking class is one of those birthday ideas that strikes the perfect balance between having fun and doing a worthwhile activity. Plus, you get to enjoy the delicious food at the end of it all.
---
Cool
8. Cave Exploration
Perfect for those who are looking to do something a little more outdoorsy! Caves are one of the planet's natural wonders, and cave explorations are often an underrated yet fantastic experience.
Places that offer underground cave tours often come with opportunities to abseil or climb within the caves, so there's plenty to do there whilst you celebrate.
9. Glamping
You can find many glamping sites to celebrate your birthday through apps such as Airbnb. Long gone are the days of sitting in a soggy tent while waiting for your food to cook over a dull flame.
Instead, glamping mixes luxury elements and the outdoors, often letting tourists camp in yurts, teepees, or vans that include more modern features such as wifi and electricity.
So if you want to strike an ideal balance between nature and novelty, then glamping might be the one for you!
10. Extreme Sports Centres
If the birthday person is an adrenaline junkie, then visiting any extreme sports centers could be a great idea to do some thrill-seeking fun things and activities.
Extreme sports centers include experiences such as abseiling, rock climbing, and zip wire. Extreme sports can be fun for the whole party leading to many first times and making for some unforgettable experiences.
11. Aquarium
If you are NOT a fan of Jaws, you might want to skip this one! However, if you are a sea fanatic, having a birthday meal in an aquarium might be one of the best birthday trip ideas for you or the birthday boy or girl.
Local aquariums across the U.S. and worldwide provide guests with the most amazing dining experiences whilst surrounded by various sea creatures.
12. Karaoke Bar
Is there a more enjoyable way to see on your birthday than belting out some classic songs with your nearest and dearest at a karaoke bar? We didn't think so either!
13. Horseback Riding
Tick this awesome activity off your birthday bucket list, enjoy riding one of Earth's most majestic animals at a nearby ranch or park, and take in the spectacular scenery as you go.
---
Romantic
14. Spa Weekend
If you haven't ticked 'spa weekend' off your romantic getaway bucket list, a birthday is an excellent occasion.
Spa getaways provide the most relaxing atmosphere for you and your partner with treats such as massages that relieve those everyday stresses. Try a local spa, or go further afield to a capital city or luxury hotel for a spa day or weekend to celebrate.
15. Log Cabin
Fancy a rustic getaway where no one can disturb you? Why not opt for a log cabin? Log cabins are great for couples looking to celebrate birthdays as they usually come equipped with novelties such as saunas or hot tubs.
If you fancy popping open a bottle of champagne surrounded by the outdoors and bubbles, this might be the ultimate birthday present.
16. World Heritage Site
Embark on some truly special outdoor adventures by taking a birthday-themed trip with your family and closest friends to a renowned world heritage site.
Yellowstone, the Grand Canyon, and Yosemite National Parks are just three of a huge selection of fabulous destinations in the US alone you can enjoy a happy birthday at.
17. Wine Vineyard
What's better than indulging in wine and tapas for your birthday? Wine vineyards are ideal for couples looking to inject some fine dining and romance into their birthday celebrations and enjoy a wine-tasting tour while you're there.
With the options to taste on the wine tours and take-home bottles with you, the experience will prove to be incredibly sentimental for both parties.
18. European City Break
Whether it's sharing a kiss in front of an illuminated Eiffel Tower in Paris, or going full 'Lady and the Trump' with the spaghetti in front of the Pantheon in Rome, a European city break has all the ingredients for a wonderfully romantic birthday getaway.
---
With Friends
19. Escape Room
Are you looking for an activity with elements of strategy and intellect? Then visiting an escape room might be the best activity for you and your friends to enjoy on your birthday.
In a nutshell, an escape room is a room in which players are locked and have to solve puzzles and clues to escape. Usually, there's a race against time, which requires players to find the key before the time runs out.
20. Wine and Painting Night
With this activity, you are bound to unleash your inner Van Gogh or Picasso! For your birthday, visit an arts center, studio, or event space that hosts wine and paint evenings for you and your friends to reveal your inner artistic talents.
This experience includes many great factors, such as taking away your own paintings so you can look back on them for years to come. If you're looking for creative ideas for your birthday, this is worth a closer look.
21. Live Music Festival
Especially in the summer, there's no better place to celebrate your birthday than at a music festival with friends.
Coachella might be too pricey for the whole gang, but local music festivals are also a great way to go out and celebrate your birthday in style. So if a drink and a dance sound like a fantastic idea, book your tickets for your birthday today!
22. Whiskey Distillery Tasting
Visiting a Whiskey Distillery and trying out new varieties of whiskey is a perfect activity for groups looking to indulge in something more sophisticated. With many bottles to taste and take away, it also provides an excellent opportunity for birthday gifts and surprises.
23. New York City
Enjoy delicious food, walk through Central Park, and visit the classic attractions that the Big Apple is renowned for, such as the Empire State Building. A whirlwind weekend getaway to New York City for your birthday can create memories that will last a lifetime.
24. West Coast Road Trip
Hire an RV or convertible, pick up your closest friends, and enjoy the beauty, energy, and magic of the US West Coast. Stay in inexpensive hostels, motels, or AirBnBs, and enjoy the gorgeous coastline, beautiful parks, and all the wonders of landmark cities like San Francisco and Los Angeles.
---
With Kids / Family
25. Go Karting
Go Karting is a great opportunity to test your family's need for speed. Race against family members to see who can go past the finish line first, and celebrate with your family in a fun way.
26. Theatre / Broadway
A visit to your local theatre or NYC's Broadway can be an excellent place for your family to mark the special occasion. With various performances to choose from, including Shakesperian classics and Hamilton, a birthday trip to the theatre eliminates any chances of boredom.
27. Theme Park
Want to go somewhere where kids and adults are entertained for hours? Why not opt for a trip to the theme park for an upcoming birthday?
Popular tourist attractions such as Disney World, Disneyland, and Six Flags serve as great locations for birthday celebrations and have rides suitable for all types of adrenaline junkies.
28. Paintballing
This activity is great for large families and groups. Paintballing can be the perfect birthday treat if you want to get super competitive and enjoy some outdoor activities.
If your kids are a little too young for paintball, you could also swap it for laser tag.
29. Trampoline Centre
Fancy incorporating both fun and fitness into your birthday celebrations? A birthday visit to the trampoline center always goes well with the family.
With trampoline centers, kids and adults can be entertained for hours, both on their own or with an instructor. Just a quick heads up, they make it look easier than it really is!
---
Luxury
30. Greek Island Getaway
If you are a fan of delicious food, rustic scenery, and blue lagoons, a Greek getaway should be right up your street. The island of Skiathos, for example, is famous for being the filming location for the Mamma Mia films.
31. Italy Birthday Vacation
Are you looking to inject a bit of romance into your birthday getaway? Consider a week in Italy. Popular attractions such as Venice, Pompeii, and the leaning tower of Pisa have solidified Italy's reputation as being one of the most sought-after holiday destinations globally.
Whether you decide to tour the Italian countryside on a Vespa or sip authentic Italian ground coffee at a local cafe, Italy holds many an opportunity for you to indulge in a bit of luxury at your own pace.
32. Mexican Beach Vacation
For so many Americans, a white sandy beach complete with cocktails and dancing is only a few hours of flying and a hotel booking away. Treat yourself to the luxury vacation you deserve, with your partner, closest friends, or make it a family vacation.
33. Caribbean Island Escape
Nothing quite says luxury quite like the white sandy beaches of the Caribbean. Book one of those dreamy luxury resorts in Barbados or the Bahamas you've seen on countless bucket lists or Instagram reels, and enjoy a birthday retreat to a tropical island with plenty of sun, beautiful beaches, delicious drinks, and crystal clear waters.
---
On a Budget
34. National Park Camping Trip
Of course, if you don't have much cash going spare, you may feel limited on what you can do. If you are the outdoorsy type, planning a camping trip down a national park could be an excellent location for a celebration.
In the US, most national parks have free entrance, so you don't need to worry about entrance fees, just whether or not you have your camping essentials.
35. Beach Day Trip
A beach getaway is ideal for those who have summer birthdays! With the sun and the sea, the opportunities are infinite. You could grab an ice cream while learning to surf or bask in the sun's rays all day.
Contrary to popular belief, you don't need to go abroad for a slice of heaven; there are plenty of exotic beach locations in the US for people to travel to.
36. Picnic in the Park
A birthday picnic at the park always goes down a treat. If you are looking to incorporate some romantic or luxurious moments, why not pack chocolate-covered strawberries and a bottle of bubbly? Picnics don't have to be boring!
37. Kayaking
If the birthday person is a fan of watersports, renting out a couple of kayaks for the day can prove to be incredibly cheap.
With kayaks, you have many options; you can either swim by yourself or get a two-seater and double up. Be careful with the last choice, though; you don't want only one person to be putting in all the work.
---
Free
38. Birthday "Freebies" Hunt
Ever received those marketing emails from Starbucks or McDonald's claiming you are entitled to a free drink because it's your birthday? Then, make the most of it, head into your local city center, and go on a birthday freebies hunt.
As long as you have a valid photo ID with your date of birth, many companies now offer free marketing incentives as part of your birthday.
39. Virtual Zoom Party
Don't fancy venturing outside for your birthday? Well, you don't have to! Instead, host a virtual zoom birthday party and have fun from the comfort of your home.
With an array of activities to choose from, such as virtual pub quizzes and presentations, zoom parties are an excellent format for reuniting friends who are hard to keep up with.
40. Back Garden Festival
If you have a spare couple of fairy lights, a speaker, and ask people to bring their own beverages, you've got all the ingredients to host a tremendous back garden birthday festival.
41. Games Night
Have you got some old board games buried somewhere that haven't seen the light of day for some time? Dust them off and host a traditional games night.
Warning, there be tears as you debate over Monopoly or pick up four on Uno! A perfect birthday celebration for those who have quite the competitive streak.
---
When it comes to your birthday, feel free to spread your wings a little more than usual and treat yourself to new and exciting experiences.
Be it exotic island escapes, or magical outdoor adventures, there are so many places you can go to celebrate your birthday in fun, unique, and memorable ways.
You Might Also Like to Read
---
Looking for cool places to go for an upcoming birthday? Keep this article for safekeeping by saving it to one of your Pinterest boards.