This post may contain affiliate links, meaning if you book or buy something through one of these links, I may earn an affiliate commission at no additional cost to you. Learn more
Get inspired to plan a party everyone can get excited about with these super fun party themes for adults, and prepare for an afternoon or evening to remember!
Adult Party Themes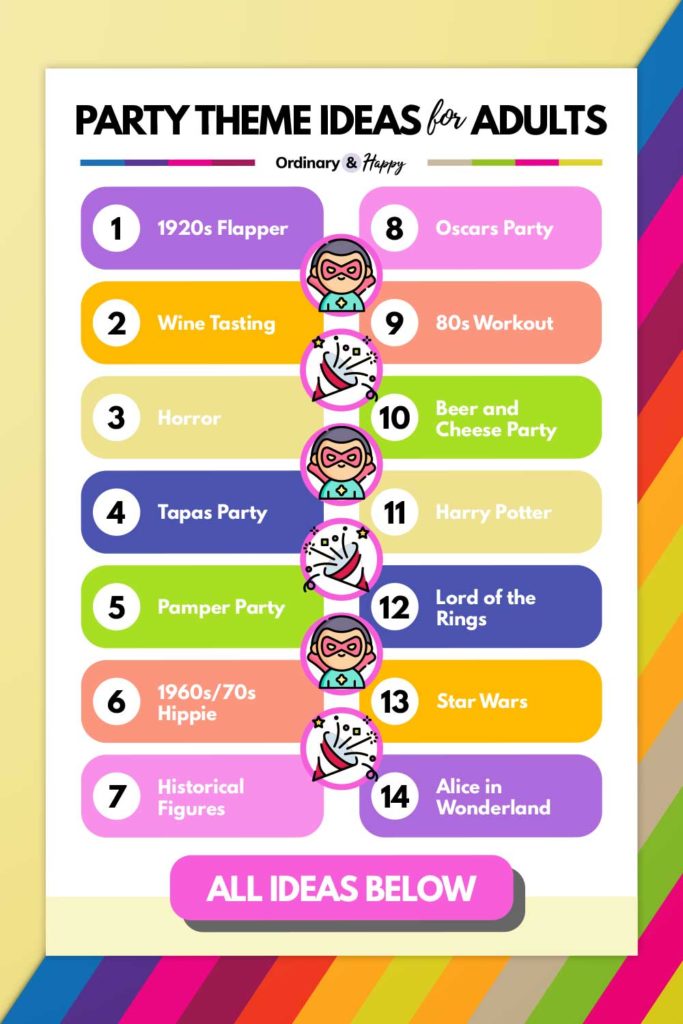 ---
Fun
1. 1920s Flapper
Grab your fringe dress and pearls and bob your hair, ready to be transported back to the 1920s! For an authentic Great-Gatsby-style party, opt for upbeat jazz as the soundtrack of choice and high-quality spirits on the drinks menu.
2. Wine Tasting
Transform your house into a Tuscan vineyard by hosting a wine-tasting session. Invest in a variety of wines (or ask each guest to bring a bottle of their favorite) and set them down on a table, clearly labeled.
Provide each guest with a scoring card to write notes and rate their favorite wine for an evening filled with entertainment and delicious tipples.
3. Horror
Chills and thrills aren't restricted to Halloween! Request that your guests arrive in spooky fancy dress (zombies, vampires, and ghosts all welcome) and serve up some tasty snacks and a jug of punch… or is it blood?!
4. Tapas Party
Tapas is a way of eating that originates in Spain and involves sharing small plates of food with friends and family. If you enjoy crispy calamari, sizzling garlic prawns, and patatas bravas oozing with aioli, this is the party theme for you.
Ask each guest to bring a tapas dish of their choice and enjoy some delicious food. Extra points if you pair the tapas with a delicious bottle of Spanish rioja!
5. Pamper Party
For a party that leaves you feeling refreshed and relaxed, look no further than a spa theme. Hire a few beauty professionals, then set up a nail 'salon,' massage center, and skincare booth for your guests to enjoy.
Finish the evening with a glass of something bubbly and a good old-fashioned catch-up for an afternoon or evening everyone can get on board with.
---
Creative and Unique
6. 1960s/70s Hippie
For a party that mimics the famous Woodstock, opt for a hippie theme. Guests should come dressed in long, floaty fabrics with flowers in their hair, and enjoy a soundtrack that includes the likes of Bob Dylan and The Beatles. Groovy, baby!
7. Historical Figures
For a party that feels like ancient history, ask your guests to come dressed as their favorite historical figures.
From Albert Einstein to Cleopatra, you'll enjoy a huge range of outfits and have fun guessing who each guest is. Bonus points if you award a prize for the most convincing costume.
8. Oscars Party
For movie lovers out there, an Oscar theme is the ultimate way to party. This theme can be interpreted in multiple ways.
Your guests can dress as Oscar-winning films, Oscar-winning actors, or actual Oscars! Either way, the setting should come complete with a red carpet and popcorn for the authentic Oscars experience.
9. 80s Workout
We all remember doing the Jane Fonda videos in our front room. Recreate this hilarious workout craze by hosting an 80s workout party.
The dress code includes legwarmers, brightly-colored leotards, and a permed wig (optional), and partygoers can take part in an old-school 80s aerobics workout in the lounge.
10. Beer and Cheese Party
We've all heard of a wine and cheese party, but did you know that some cheeses also pair perfectly with beer?! Order some good-quality cheeses and a selection of beer (or ask your guests to bring their favorites) for an evening of beer and cheese tasting.
Pretend you're connoisseurs by using a scoring card to rate and review beer and how it pairs with your cheese of choice.
---
Movie-Inspired
11. Harry Potter
Is your sister-in-law a Slytherin? How does your best friend look in a Hagrid wig? Find out the answers to these questions and more, with a Harry Potter-inspired party for one of the most fun and exciting dress up party themes.
Ask your guests to come dressed as their favorite character from the ground-breaking movie series, and serve up your take on Butterbeer (or even Polyjuice potion)!
12. Lord of the Rings
For one evening only, your front room will cease to be your front room. Instead, transform your lounge into Mordor with a Lord-of-the-Rings-themed party.
Discover whether your bestie is a hobbit, elf, or orc by asking all guests to come dressed as their favorite character.
13. Star Wars Party
Do you know your R2D2 from your Chewbacca? Can you successfully use a lightsaber? Are you familiar with Darth Vader's son? If the answer's yes, it's time to throw a Star-Wars-themed party for a costume party like no other!
Invite your guests to dress up as their favorite character, serve up some lightsaber breadsticks, and turn your front room into a spaceship for an evening of intergalactic fun.
14. Alice in Wonderland
For an event that just gets 'curiouser and curiouser,' transform your house into the Mad Hatter's tea party with an Alice-in-Wonderland-themed party.
Every guest must dress up as a character of their choice, and the set-up should perfectly recreate the movie's crazy tea party. Think mismatched tea sets, a bold-patterned tablecloth, and some uniquely flavored cakes.
15. Grease
Is it greased lightning? Not quite, but it's a Grease-themed party. Recreate the hit movie with guests in Grease fancy dress and a front room transformed into a 1950s-style diner.
Or, for a hilarious twist, have half your guests come as Sandy before the transformation, and the other half come dressed as Sandy in her iconic leather outfit!
16. Twilight
Will you dress as a vampire, a werewolf, or a mere mortal? That will be the question on everyone's lips at a Twilight-inspired party, a great party theme idea for fans of the franchise.
Transform your house into Fork's high school, adorn your front room with spooky decorations, and dress up as one of Twilight's two famed mythical creatures for an evening full of fun (and a little magic)!
17. Marvel
Celebrate everyone's favorite superheroes with a party based on the popular Marvel movies.
Guests must come in their favorite superhero costume, with other themed elements including a bright green Hulk punch and Thor's hammer throw game, complete with a homemade mini version of Thor's hammer. For a fun party theme, look no further.
---
TV-Inspired
18. Game of Thrones
Celebrate this smash-hit TV show by throwing a Game-of-Thrones-themed party! Transform your front room into Westeros and tell your guests to come dressed as a Stark, Targaryen, or Lannister, to pledge allegiance to their family of choice. Dragons are optional.
19. Favorite Kids' TV Show
Turn your evening into a homage to your favorite childhood TV shows with this party theme. The rules are simple. Guests should dress as their favorite childhood TV show or character.
The food should continue the theme, with Scooby snacks and Crabby patties on the menu, referencing the ever-popular Scooby Doo and Spongebob Squarepants. Prepare for some truly amazing costume ideas for this one!
20. Bridgerton
Transport yourself and your guests to the world of Bridgerton with this party theme. Guests should come in formal dress, and decorations should include flower garlands and ornate tea sets for an authentic homage to the hit Netflix show.
21. Friends
Are you a Chandler or a Joey? Were Ross and Rachel really on a break? For your next party, find out what your guests think with a party inspired by the hit 90s TV show Friends!
Transform your front room into Monica's apartment and host some games inspired by the classic show, including 'Who said it, Joey or Chandler?' and 'name the lyric' to one of Phoebe's hilarious coffee shop hits. 'The Rachel' haircut is optional for attendees.
---
Elegant
22. Black Tie
For the ultimate elegant party, throw a black-tie evening. The ladies must dress in formal gowns and the men in tuxedos or suits.
Champagne and canapes should feature on the menu. A black-tie affair calls for some classy decorations, so cover your house in soft lighting and swanky ornaments. When it comes to the soundtrack, you can't get much classier than some silky smooth jazz.
23. Afternoon Tea
The Queen of England's called, and she's invited you to afternoon tea! If your party is taking place in the afternoon, not the evening, indulge in the classic British activity of afternoon tea, complete with finger sandwiches, cake, and, of course, tea.
For an afternoon tea with a twist, ditch the tea and opt for a bottle of something bubbly.
Read more: 48 Fun Tea Party Ideas for Adults (Activities, Games, and More)
24. Casino Night Party
Transport your guests to a casino in Las Vegas with this casino-themed party. Just like a real casino, the dress code is formal.
Guests should come dressed to the nines with their poker faces ready for an evening filled with traditional casino games such as poker and blackjack.
25. James Bond
Serve your martinis shaken, not stirred, for this party theme dedicated to the ultimate British agent. The dress code is formal, with the men hoping to emulate 007's effortless charm and the women vying to be the next Bond Girl.
---
Casual
26. Backyard BBQ
The best way to party outdoors is with some delicious food, upbeat music, and a group of friends, AKA a BBQ.
Show off your grilling skills (or have a buddy take over so you can relax) and enjoy an easygoing catch-up with your buddies in your backyard with an afternoon BBQ.
27. Video Game Battle
If you want to have your buddies round without throwing an extravagant party, opt for something more low-key and host a video game battle.
All you need for this fun theme is a few of your closest pals, a box of beers, and your games consoles, for a night of hilarity and friendly competition.
28. Viewing Party
Is there a new series of your favorite Netflix TV show? Has the latest Marvel movie finally been realized on streaming platforms?
Assemble your nearest and dearest for a viewing party, complete with a few beers and some all-important popcorn. For a fun twist, offer your guests the option to come dressed as their favorite character.
29. Garden Picnic Party
For the ultimate outdoors party that doesn't break the bank, invite your nearest and dearest for a picnic in your backyard.
Each guest brings a classic picnic snack, and the garden should be decorated with cozy blankets and adorable straw hampers. Opt for this fun, casual picnic to have a great time with friends with tasty food and mood-boosting sunshine. Party theme ideas don't come much simpler than this.
Read more: Picnic Essentials and Picnic Food Ideas
---
Funny
30. Dress for Your Decade
Give away your age by dressing as the decade you were born in! This theme is sure to wield some hilarious results, with 00s babies adorned in double denim and children of the 80s showing up in legwarmers and a perm. As adult theme parties go, this one is sure to get everyone excited.
31. Karaoke Party
Upgrade your singing from the shower to the stage with a hilarious karaoke session! As per this Japanese tradition, guests will sing along to vocal-free versions of their favorite songs to a delighted audience.
To add a little competition to proceedings, award a prize for the guest that does the best impression of the song's original singer.
32. Dress as Another Guest
This hilarious party theme is guaranteed to cause some laughs (but hopefully no arguments!) when guests arrive dressed as each other.
If you want to take the theme further, have each guest do a roast of the guest they've dressed as – all in good humor, of course.
---
On a Budget
33. Bad Style
If you're throwing a party on a budget (or your guests don't have the money for a new costume), opt for the theme 'bad style.' This theme is as simple as it sounds – you simply ask your guests to come in their least stylish outfit with lousy makeup and terrible hair.
To take it a step further, replace your loveliest furniture with your 20-year-old relics from the attic. You'll have a hilarious evening judging each other's terrible outfits!
34. Potluck
For the ultimate budget party theme, opt for a potluck dinner. The rules are simple. Every guest brings a homecooked meal or side dish of their choice, for a dinner party to be enjoyed by all.
To add to the dinner party ambiance, select a calming soundtrack and opt for a few affordable bottles of wine to accompany the delicious food.
35. Black and White Party
For an elegant party without a hefty price tag, opt for a black-and-white-themed bash. The dress code means no guests will have to spend anything on a costume (who doesn't have something black or white in their wardrobe?!).
The decorations and food can be cheap and cheerful – as long as they're black and white! Think black and white balloons, dark and white chocolate brownies, and a checkerboard tablecloth.
---
Themed parties are an amazing opportunity to get creative and pull out all the stops to make an afternoon, evening, or night for everyone to remember.
Revel in nostalgia, be a famous character or historical figure you've always wanted to be, and let your imagination run wild. These party themes are perfect for taking your party from 'fun' to 'truly epic', and the world really is your oyster!
Whether you're set on a truly unique party theme, planning an adult birthday party, or looking for some great ideas that are so much fun, there's something in our list for every party planner to get excited about.
You Might Also Like to Read
---
Planning a party for adults in the near future? Keep these ideas on hand for inspiration by saving this article to one of your Pinterest boards.