This post may contain affiliate links, meaning if you book or buy something through one of these links, I may earn an affiliate commission at no additional cost to you. Learn more
Get inspired to plan a brunch that wows your guests and tastes utterly delicious with these 100+ best brunch food ideas for all food and flavor preferences.
Brunch Food Ideas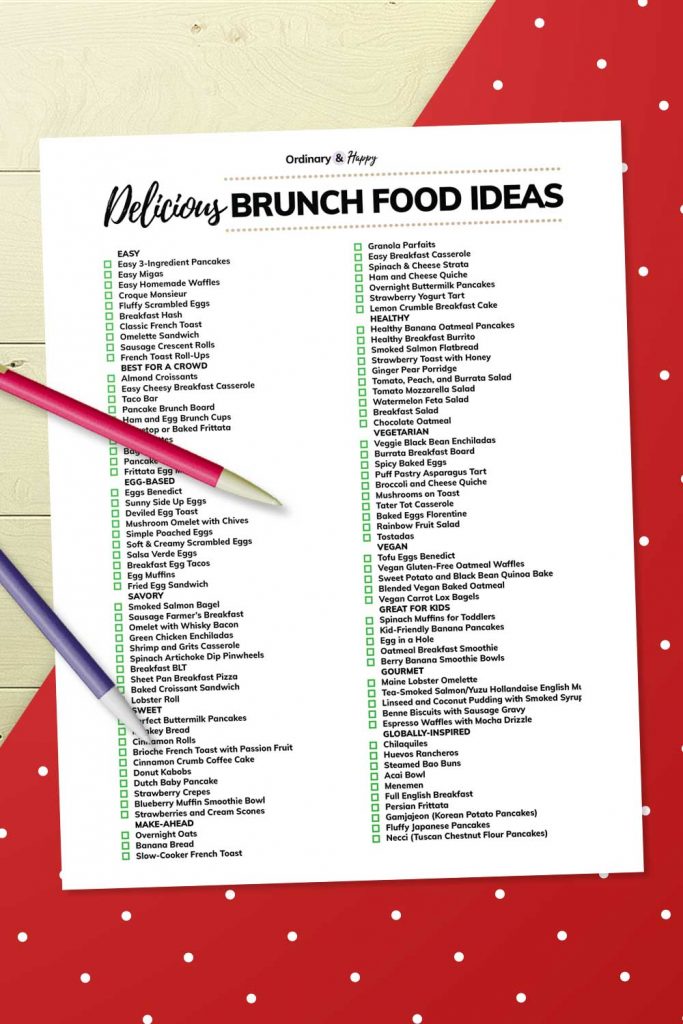 Need to plan a brunch that guests with many different dietary requirements and favorite foods are attending? It's no mean feat!
So let our ultimate brunch food ideas list help you. From classic crowd-pleasers to parents coming with kids, there's something on this list everyone can chow down on.
Want to download this ultimate list and try as many of these foods as you can? Scroll to the end of this article for the link to this beautiful printable.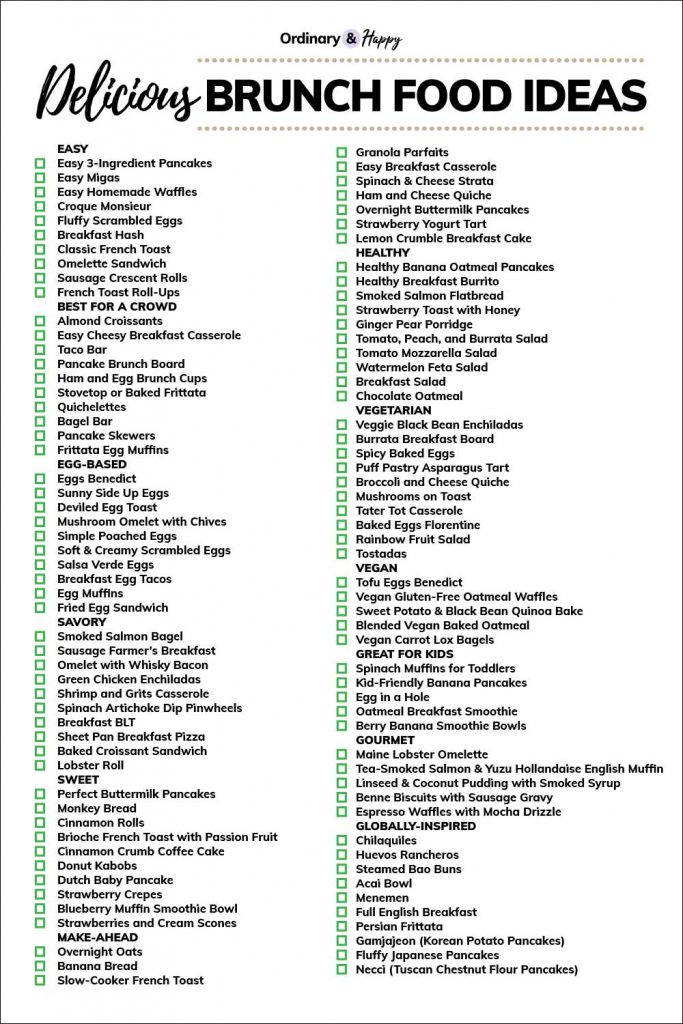 We've grouped them into categories, so you can jump to the section you want: easy // best for a crowd // eggs // savory // sweet // make-ahead // healthy // vegetarian // vegan // great for kids // gourmet // globally-inspired or scroll through the article for a big list of ideas.
Easy to Make
Is time of the essence? If so, these easy brunch food ideas will be your best friend. Not only delicious, but you can also whip these dishes and foods up in under 30 minutes.
Don't put yourself under unnecessary stress. Great-tasting food doesn't have to take hours of preparation. Be smart, and serve these foods at your brunch.
Best for a Crowd
If there are lots of people coming to brunch, you'll want to prepare dishes that lots of people can dive in and eat at the same time.
Use these foods to serve larger gatherings, and watch these crowd-pleasers bring a smile to everyone's face as they chat and enjoy the afternoon.
Egg-Based
Eggs are one of the beloved brunch foods. You can prepare eggs in so many delicious ways, and serve them with a range of sumptuous foods and sides.
Give your brunch guests an appetizer to remember with some of these classic egg-based dishes.
Savory
Got plenty of hungry guests set to arrive for brunch? Be sure to fill their tummies as well as their champagne glasses with one or more of these scrumptious savory brunch foods.
After finishing these dishes, no one can leave brunch complaining they're still hungry!
Sweet
Once the savory dishes have been served, many of your guests will no doubt be craving something on the sweeter side to finish off brunch in style.
Use these tasty sweet food ideas to satisfy their cravings for something a little (or very) sweet, as you round off a perfect afternoon.
Make-Ahead Recipes
If your brunch has been planned well in advance and you've got plenty of time the night before or the morning of, you can really pull out the stops to wow your guests.
These make-ahead dishes you can make beforehand, or keep in the refrigerator overnight. That way, when brunch is upon you, you can serve these delicious dishes and spend all your time with your nearest and dearest.
Healthy
Whether you're trying to keep the weight off, or you have guests who are health conscious, you can still serve delicious food at brunch without groaning at the sugar content or the calory count.
Use these healthy brunch food ideas to plan a brunch that is fresh, light, and good for the mind and body.
Vegetarian
No meat? No problem. There is a wide range of vegetarian dishes you can serve at brunch.
Whether it's due to preference or dietary requirements, these yummy dishes can add plenty of vegetarian options to your brunch.
Vegan
If you or one or more of your guests is vegan, get inspired to plan a brunch that vegans will love with these delightful vegan dishes, delicious for vegans and non-vegans alike.
Great for Kids
Planning a brunch for fellow parents or looking to host your kids and their friends? Brunches can be amazing fun for both adults and children alike.
Serve up some of these scrumptious dishes, great for kids, alongside your other dishes to make sure the kids are well-fed and satisfied.
Gourmet
Want to really dazzle your guests? Take the foodie factor up a couple of notches, and pull out all the stops with these magnificent gourmet dishes.
Once served, sit back, sip your champagne, and watch your guests 'oooh' and 'aaah' as they tuck into your showstopper dishes.
Globally-Inspired
Want to add an international feel to your brunch? There are so many amazing dishes from all over the world you can draw inspiration from.
But if the thought of international food is a little overwhelming, start out simple with these classic, globally renowned dishes. All are perfect for feeding gatherings of people.
---
Excited about brunch? Feel free to download our free brunch food ideas list and check off as many as you can!
Brunch is a time for laughs, great company, and truly delicious food. Whoever is coming to brunch with you, these food ideas will help them have a truly memorable time.
You Might Also Like to Read
---
Planning a brunch soon and need plenty of inspiration? Keep this article for safekeeping by saving it to one of your food idea Pinterest boards.