This post may contain affiliate links, meaning if you book or buy something through one of these links, I may earn an affiliate commission at no additional cost to you. Learn more
Make that iconic milestone of turning 21 a truly magical one, and get inspired with these 21st birthday party ideas to plan a birthday party that everyone will love and no one will ever forget!
21st Birthday Party Ideas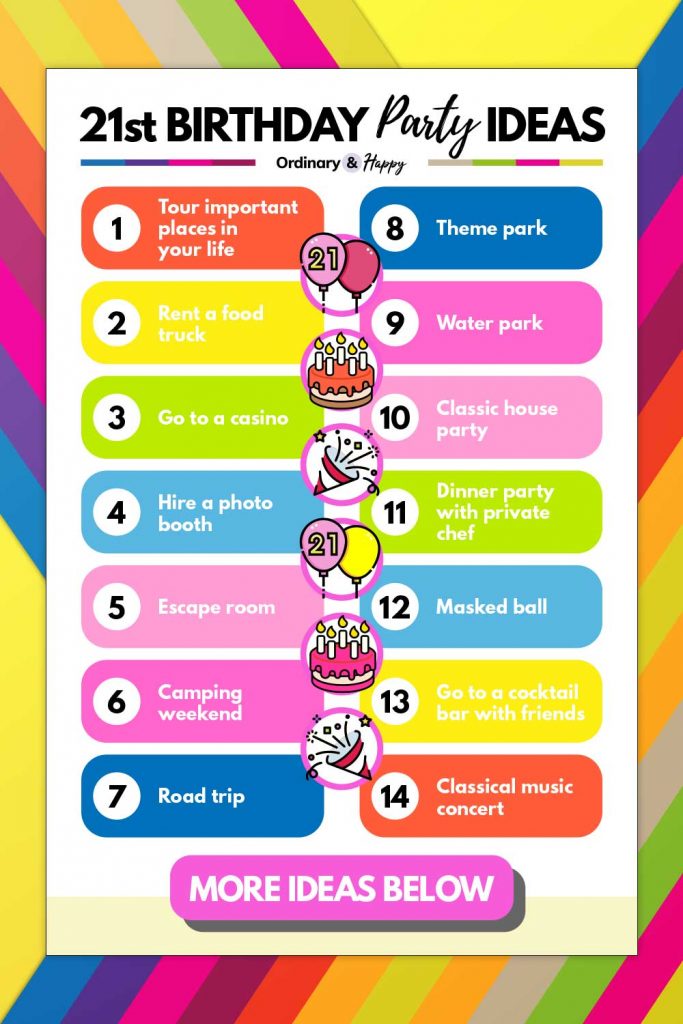 ---
Creative and Unique 21st Birthday Party Ideas
1. Take a Tour of the Important Places in Your Life
The diner where you went on your first date, the park where you broke your arm, the swimming pool where you won your first swimming competition?
Grab some friends and take a tour of the meaningful places in your life, reminiscing over the good old days.
2. Rent a Food Truck
Want to host your friends and family in the comfort of your own home, but don't want to cook? Hire a food truck to park by your house and serve your guests!
Having hot, fresh food readily available all evening will make for an unforgettable 21st celebration, whether the truck is serving waffles, pizza, or a bit of everything!
3. Go to a Casino
What's the use of birthday money if you can't lose it all in one night?
Put on your best outfit and head over to a casino with some friends and try your luck at winning big – just remember to be responsible and set a fixed sum for playing!
4. Rent a Photo Booth
Throw a party at your place and rent a professional photo booth to commemorate the occasion – you and your guests will make fun memories and be able to take home physical souvenirs of the occasion.
You can even customize your photo booth, adding your name and the date of your birthday to the frame!
5. Visit an Escape Room
Escape rooms are becoming a classic go-to party choice. Spend an hour cracking a puzzle with friends and family to celebrate your 21st birthday.
---
Fun 21st Birthday Party Ideas
6. Go Camping
Inexpensive, fun, and a great way to bond with friends, a camping trip is a guaranteed unforgettable 21st birthday experience.
Head to a local nature spot or camping ground, stock up on the essentials, and spend a weekend surviving in the wild!
Related: 40 Camping Activities and Games for a Super Fun Weekend
7. Take a Road Trip
If you know how to drive and are yearning to go out and see the world, taking a road trip could be a fun idea for your 21st birthday.
Research nearby scenic routes, enlist the company of a couple of friends, and head off out into the wild!
Related: Things to Do on a Long Car Ride or Road Trip
8. Go to a Theme Park
Heading to a theme park is the perfect way to have a bit of childish fun while celebrating reaching full adulthood.
Whether you want to buy a birthday package or simply enjoy the rides with friends, a theme park promises a fun-filled, dizzy afternoon. Just make sure to eat afterward, not beforehand!
9. Visit a Water Park
If a theme park is not quite your thing, why not celebrate your birthday in a water park? The perfect alternative for the summer months, water parks are relatively inexpensive and fun for all ages.
And if there isn't a water park near you, create one in your back garden! Stock up on water guns, install a big paddling pool, and spend your 21st birthday chasing your friends around with a super-soaker.
Related: 32 Fun Water Games to Play with Friends and Family
10. Have a Classic House Party
We can all remember being a teenager and envying those house parties in movies. Why not recreate one for your 21st birthday?
Stock up on red cups, and beer and throw a party worthy of a 90s Hollywood blockbuster.
---
Classy 21st Birthday Party Ideas
11. Host a Dinner Party or Hire a Private Chef
Crack out your fanciest cookbooks and serve up a three-course dinner fit for a king and queen.
Or, if you don't feel like cooking on your big day, why not hire a private chef for the evening? You'll feel like royalty, and nobody will be served burnt beans on toast!
12. Plan a Masked Ball
Create an ambiance of mystery and intrigue and host your own masked ball – dancing, drinking, and socializing anonymously will make for an unforgettable 21st birthday!
Just make sure you take off your mask in time to receive your gifts.
13. Go to a Cocktail Bar with Friends
What could be classier than heading to a fancy cocktail bar, and spending your 21st birthday sampling martinis and cosmopolitans?
Some cocktail bars even offer private cocktail-tasting parties as well as mixology classes, if you want to step up your drink-mixing game with some friends.
Related: 25+ Drinking Games to Liven Up Your Gathering
14. Attend a Classical Music Concert
Does anything represent the epitome of class more than classical orchestra music?
If you want to celebrate your 21st birthday in high style, spend an evening listening to classical music at a local theatre. 
15. Rent a Luxury Car
Whether you see yourself in a limo, a Lamborghini, or an Aston Martin, renting a luxury car for the day – or for the weekend – will make for a memorable 21st birthday.
Cruise down your local main street with the roof down for the ultimate experience – your friends won't even know it's you until you pull up beside them!
---
Low-Key and Simple 21st Birthday Party Ideas
16. Have a Sleepover Pajama Party
If you're not one for big parties and prefer to be in your pajamas than in your Sunday best, a sleepover party is a great low-key way to spend your 21st birthday.
Invite some friends over, establish a pajama-only dress code, and prepare some of your favorite snacks for a midnight feast!
Read more: Fun Things to Do at a Sleepover for Adults
17. Have a Meal out with Friends
21st birthdays do not need to involve excessive drinking, hundreds of guests, and a footlong bill to be considered acceptable.
Enjoy a low-key meal with friends to celebrate your 21st birthday, if that's what your style is.
You only turn 21 once, so celebrate how you wish to celebrate. Choose your favorite restaurant and your favorite meal and reflect on reaching full adulthood in a calm, cozy ambiance.
18. Brunch
A great low-key alternative for morning people is to enjoy a delicious brunch either at your own place or in a chic café with a group of close friends.
Celebrate your 21st in style with champagne, orange juice, and freshly cooked eggs, whichever way you like them!
Read more: 100+ Best Brunch Food Ideas (The Ultimate List)
19. Have a Pet Party
If you have a pet and love animals, why not throw a pet party for your 21st birthday?
Send out cute invites to all your friends welcoming them to celebrate your birthday with a plus-one – on condition that their plus-one has paws, a tail, or whiskers!
20. Book a Private Movie Theater Screening
Whilst it might sound fancy or too expensive, renting a private cinema screening for a couple of hours can be a laidback – but still special and affordable – way to spend your 21st birthday.
Enjoy a screening of one of your favorite movies with your closest friends in the tranquillity of an empty movie theater.
With no popcorn-munching strangers or giggling teenagers there to ruin it for you, you'll have an amazing time!
---
At-Home 21st Birthday Party Ideas
21. Make Pizza
A simple but fun-filled activity for all ages, a pizza-making party is a great way to celebrate your 21st birthday at home – for little cost and little planning.
Bulk-buy all the classic pizza toppings, stock up on pizza mix and mounds of mozzarella, and get artistic with your creations!
22. Camp in the Garden
If there are no nature spots nearby to go camping, why not go faux camping in your back garden?
While the challenge is not quite the same, you still get to sleep under the stars – with the added security of knowing that you can head back indoors at any time in the event of a thunderstorm (or in the event of an insect takeover of your sleeping bag)!
23. Rent a Hot Tub
The perfect party idea for a hot summer day, renting a hot tub (or a place with a hot tub) is unique, fun, and not as expensive as you might imagine!
Impress your friends and throw a hot tub party in your back garden, just try to make sure to accurately predict good weather – a rainy hot tub party isn't quite the same!
24. Have a Garden Party
Another great party idea for summer birthdays is a garden party, especially if you know that you are guaranteed good weather.
Throwing a party outdoors can be as formal or informal as you like, but the classic formula is as follows: prepare a classic buffet full of finger food, establish a dancefloor, and invite all your closest friends to celebrate your 21st birthday in style.
If you're feeling luxurious, rent a champagne fountain as a garden centerpiece.
Related: Fun Tea Party Ideas for Adults (Activities, Games, and More)
25. Karaoke
Whether you want to host a karaoke party at your place or rent out a club venue to fulfill all your wildest X-Factor fantasies, a karaoke party is a fun way to let go of your inhibitions and celebrate your 21st birthday in style.
---
Small 21st Birthday Party Ideas
26. Have a Picnic in the Park
Pack a picnic of all your favorite foods and set up camp in a local park or beauty spot. Who said that 21st birthdays had to be expensive and time-consuming?
Spend an afternoon with your closest friends, enjoying the downtime and snacking on homemade sandwiches. Bring a bottle of champagne with you to really get into the birthday spirit!
Read more: Best Picnic Essentials
27. Barbecue at the Beach
If you're searching for a low-key 21st birthday celebration and you're lucky enough to have your birthday fall on a summer day, why not head to the beach and have a classic barbie by the waves with some friends?
After a dinner of hot dogs, burgers, and roasted marshmallows, try a game of beach volleyball or – temperature permitting – take a dip in the ocean.
Related: 30+ Best Beach Party Ideas and Games for Adults
28. Go on a Restaurant Tour for Birthday Freebies
It's well-known that certain restaurants offer customers a free cupcake/ice cream sundae/bowl of fries if it's their birthday.
Why not go to all of them and claim your rightful freebies? Bring along some friends to help you polish off the goodies and celebrate your birthday on a budget.
---
Themed 21st Birthday Party Ideas
29. James Bond
Turn your party venue into a casino, implement a formal dress code for guests, and channel the magic of Ian Fleming's novels for your 21st birthday. Don't forget the Vesper martinis; shaken, not stirred.
30. 1950s Hollywood
Fill your house or party venue with film clapboards, place a real-life red carpet at the entrance, and assign a friend the job of being paparazzi.
There will be at least four guests dressed as Marilyn Monroe, but everybody will feel like Hollywood royalty for the night! This has all the makings of a classic themed party for your 21st.
31. Disney
Get the nostalgia going with a Disney-themed 21st birthday party.
Dress up as your favorite characters, serve recreations of onscreen dishes (there are many online recipe resources for this), and make the perfect playlist full of classic songs from the films.
Give your guests a pair of Mickey Mouse ears as a parting gift and your party will be talked about for years to come!
32. Pastel
Everything is pastel. The dress code, the decorations, even the food and drink (hello, macaroons!) must be pastel-colored. Your party will feel like a real-life dreamy Instagram filter.
33. 90s Icons
This is the perfect party theme to satiate our nostalgia for simpler times.
Implement a no-phones policy, plaster the walls with photos of old boybands and soap actors, and create the perfect 90s playlist to last the evening.
Related: What to Wear to a 90s Party
---
Last-Minute 21st Birthday Party Ideas
34. Host a World Cuisine Buffet
The international aisles in the supermarket were invented for this very reason! If you don't have a lot of time or money to plan a fancy 21st birthday party, stock up on some international food.
Use Google to find some quick recipes, and create an intercontinental buffet for your guests: pizza, tacos, hot dogs, you name it.
Print off some flags or buy some cheap online, and let your guests think that your party was planned for months!
35. Plan a Movie Marathon
With every possible film available to stream, buy, or rent online, a movie marathon is a great last-minute party idea if you've left it too late for something fancier.
To up the ante, give your movie marathon a theme – the 80s, Old Western, Star Wars – and prepare your party food and party decorations accordingly.
36. Have a Cake-Making Party
A last-minute cake-making party is a great low-cost alternative if you haven't had the time to plan an extravagant party.
Stock up on some flour, sugar, butter, and eggs, and all your favorite chocolates and sweets, and see what creations your guests come up with.
Why sing Happy Birthday around just one cake when you can sing it around ten?
---
More 21st Birthday Party Ideas
If you're still looking for inspiration, see if some of these awesome 21st party ideas are more your style.
37. Record a Super Fun Music Video with Your Friends and Upload it to YouTube
38. Rent a Party Bus for the Evening
39. Attend a Sporting Event like a Baseball or Basketball Game
40. Go on a Shopping Spree with Your Closest Friends
41. Take a Mixology Class at a Bar or Fancy Restaurant
42. Host a Casino Night at Home
43. Host a Pool Party with an Inflatable Obstacle Course
44. Have a Brunch and Spa Day with Steam Room, Mud Bath, and Rooftop Pool Drinks
45. Go on a Food Tour Followed by a Bar Crawl in Your Local or Nearby Town or City
46. Host a 90-s Themed Night in a Private Karaoke Room
47. Plan a Scavenger Hunt with a Fun Theme Based Around You or Your Childhood
---
You only get to turn 21 once, so be sure to make it a memorable one! There are so many fun and creative ways you can celebrate your 21st birthday, so go that extra mile to make it a little extra special.
But whether you're planning it for yourself, a friend, or one of your kids, always remember: whoever is turning 21, it's their party, so choose and plan something they will love, above all else.
You Might Also Like to Read
---
Got a 21st birthday on the horizon? Keep these awesome party ideas for safekeeping, by saving them to one of your Pinterest boards.