This post may contain affiliate links, meaning if you book or buy something through one of these links, I may earn an affiliate commission at no additional cost to you. Learn more
Start your 20s as you mean to go on with one or more of these 20th birthday party ideas, and celebrate in style, surrounded by your nearest and dearest.
20th Birthday Party Ideas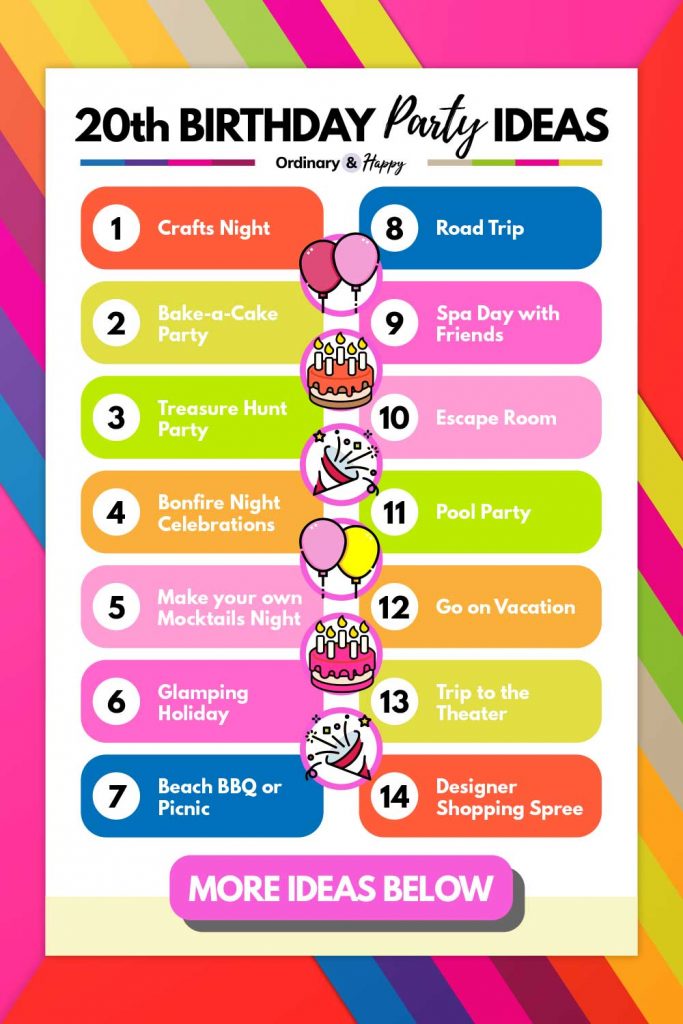 ---
Creative and Unique
1. Crafts Night
Crafting can be a fun activity for everybody involved, and it can involve many different activities, including pottery, sewing, making cards, and painting.
You can host it with a group of family and friends at your house, or head over to a pottery or art studio for the real deal.
2. Bake-a-Cake Party
It's not a party without cake, and to save money and have fun, why not make one yourself?
You can all bake together and decorate cakes how you like them. Then the best part? Eat every piece of your cake you've made!
3. Treasure Hunt Party
A treasure hunt party allows you to get a little creative with planning because it's an activity as well as a celebration.
You can plan lots of different hunts around the party, and all the decorations can be themed with the idea too.
4. Bonfire Night Celebrations
To experience the night sky and a more laidback atmosphere for your 20th birthday, a bonfire night is a way to light your birthday in a fun and unique way.
Find somewhere you're able to set up a bonfire, launch fireworks, and bring a load of food to cook on the fire to have a great time with your friends.
5. Make your own Mocktails Night
Mocktails can be the most delicious of drinks, and the best way to experience them is by experimenting with your own.
To celebrate the big 20, invite your friends over and have everyone think of a different drink to create. The fun part? Trying them all out and seeing which is the most refreshing.
---
Fun
6. Glamping Holiday
Glamping is the new camping, and if the outdoor nature scene is for you, then this is the activity to consider.
Either rent out a cabin, yurt, or any type of glamping accommodation for you and a group of friends. You can have a BBQ, spend the night in a hot tub, or plan an outdoor dinner party with views of the forest.
7. Beach BBQ or Picnic
The beach is always a place for celebration, as there's nothing more magical than watching the sun behind the sea and the sands.
For your birthday, having a BBQ or picnic here is an exciting way to gather your friends, eat some great food, and appreciate the coastline.
8. Road Trip
Nothing says birthday like a big adventure, and that's why a road trip is always a good idea.
You can either stay local or set off afar; it's your birthday after all. We'd suggest mapping out a route of places you'd like to see throughout the day and go have fun.
Read more: Best Things to Do on a Long Car Ride.
9. Spa Day with Friends
Get your relaxation on for a new decade with a spa day. Spas are a great place to hop in the hot tub, embrace the zen mode, and experience a range of treatments.
From massages, facials to getting your nails done, you'll be completely pampered by the end of it.
10. Escape Room
For a slightly more quirky activity, an escape room should be top of your list. It's an opportunity to do something fun with all your friends with a combination of adventure and mystery.
Each escape room has a different theme and puzzle, so you'll always be left wanting more.
---
Classy and Luxurious
11. Pool Party
In the summer months, pool parties are a winner, especially if you already have a pool in your backyard.
If you don't, there are many large pools you can hire or treat yourself to a hot tub and turn it more into a hot tub party. Wear your favorite bathing suit, switch on the fairy lights and music, and make it a night you'll never forget.
12. Go on Vacation
Turning 20 deserves a big celebration. As it's the start of your twenties, why not jet off somewhere new to see in this milestone?
It could be the next state over, or on a beach vacation near you, whatever tickles your fancy.
13. Trip to the Theater
Seeing a musical or show on stage is always an incredible experience and one that fills your soul with joy, meaning it is a brilliant birthday plan.
Whether you'd like to see Wicked, Hamilton, or head to your local theater, there are so many shows to go watch.
14. Designer Shopping Spree
We all deserve a little splurge once in a while, especially on our birthday, so why not hit up the designer shops for a spree? Treat yourself to a handbag, pair of shoes, or just have a browse – it's your day after all!
15. Go to a Concert
Music is the way to our heart, and singing along to your top band or artist is an incredible way to celebrate your birthday. See what's on in your local concert venue, or head off further afield and make a weekend of it.
---
Low-Key and Simple
16. Party Picnic
Picnics are one of the simplest things you can do, but they can also mean so much because you can dress them up as much as possible or have them as small as you like.
Whether it's a simple picnic in the park or one with fancy cakes and over-the-top decorations, it can be the day you've always wanted.
If you need some inspiration, have a look at our ultimate picnic foods list to help you decide what treats to pack.
17. Movie Marathon
The movie lovers out there will adore a chance to celebrate their favorite movies, and what better way than for your birthday?
You can make your decorations, use the DVDs you already have at home, and buy all your favorite snacks for a 10/10 night to enter your 20th year.
18. Al-Fresco Dinner Party
Dining al-fresco is always better than indoors with a different dining experience and, in the warmer months, the promise of sunshine.
Either have your friends around your place, rent an Airbnb to host the event, or go to your favorite restaurant with your friends to celebrate the occasion.
19. All You Can Eat Takeaway Night In
On your birthday, it's only right that you order in from your top restaurant or fast food place, and not only that but order as much as you can.
You deserve to feast like kings and eat a meal everyone can join in with!
20. Beach Walk
The beach is the simplest pleasure in life, and if you only want something low-key for your birthday, it's a great place to go. Head over and go along on a walk, embracing the coastal air and friendly locals.
---
At-Home
21. Group Cooking Evening
There's no better way to celebrate than to have good food, and that's why a cooking party may be a great idea.
You can invite everyone around to cook together and at the end, all your guests can eat their delicious creations – plus it's an activity to all do together.
22. Games Night
Games night is always guaranteed to be a good time for every person. The beauty of games night is that the options are limitless.
From classic board games to charades, poker, and quiz-style games, there are many games you can play together.
Plus, accompanied by delicious food, this is a great way to celebrate your 20th birthday in a fun and casual way.
Read more: Best Party Games for Adults.
23. The Ultimate Sleepover
You're never too old for a sleepover. Sleepovers are so much better as you get older, as there are no rules from parents.
You can stay up as late as you want, eat what you want, and do every activity that brings you joy. Create the ultimate sleepover with matching PJs, endless games, and movies.
Read more: Things to Do at a Sleepover for Adults.
24. Themed Dinner Night
Dinner parties are a great choice when you get into your twenties. They're a way to socialize, eat good food, and catch up on everyone's lives.
But for a party, theming the dinner party is always an exciting idea. You can theme it by cuisines, go for a murder mystery night, or even a color scheme – whatever you fancy.
25. BBQ Party
BBQs are a dreamy occasion in the summer months, and even better to have for your 20th birthday.
Light up the BBQ with your favorite meat and non-meat options, and fill your garden with all types of happy birthday banners and a balloon arch.
---
Themed Parties
26. Great Gatsby Theme
Enter your roaring 20s with a bang and in the best way possible with a Great Gatsby theme. The roaring 20s was one of the most exciting eras in American history.
You can bring that celebratory vibe to your party with flapper-style dresses, a black and gold theme, endless sparkles, and an excuse to dance all night long.
27. Coachella Theme
Bring the summer energy to your 20th birthday party with a Coachella theme. Coachella is the goal-worthy festival we all want to attend, and you can create the vibe and overall look of it at your party.
Either utilize an outdoor space or do up an indoor hall in festival-style decorations, dress in your best festival wear and sprinkle glitter in any direction.
You can hire live music for the ultimate experience or have the DJ playing the best live music sets.
28. 2000s Party
Every decade is celebrated and remembered for certain events, trends, music, and fashion, and the 2000s are no different.
There are many kinds of trends you can hop onto from the 2000s, including the crop top and low-rise jeans style, the endless iconic hits to play, and colorful/glitzy decorations.
You can ask guests to dress up as their favorite icon from the 2000s or to be in line with what was trendy at the time.
29. Tropical Theme
Embrace the sunshine and tropical ambiance with an island party theme. You can decorate the venue like a beach with palm trees, tiki cups, and food that'll match the whole design.
30. Superheroes Theme
Whether it's Marvel or your favorite childhood superheroes, there are plenty to choose from for a superhero party that'll make a name for itself.
All your guests can dress up as the superhero that matches their personality the most and enjoy a party packed with superfood, decoration, and music that makes you feel alive.
31. Glitz and Glamour Theme
Get the ball gowns and tuxedos ready for a glitz and glamour theme. If you're one to dress up to the nines, this is the theme to celebrate your 20s.
Buy your favorite dress or suit, and light up the room with glitzy decorations and tunes that'll make you want to dance all night long.
---
Last-Minute
32. Go Bowling
Score a strike to celebrate the joy of being 20 at your local bowling lane. You can get a couple of people together and challenge each other – and afterward, eat delicious burgers and fries with a milkshake. Absolute bliss!
33. Head on a Dessert Crawl
Desserts are something we always deserve to enjoy, but especially on our birthday. A wild idea, and one where you're guaranteed to have a sugar high, is to go on a dessert crawl.
You can head around your local town and have a dessert or piece of cake in every restaurant/cafe you can find until you're too full to move.
34. Go to a Dance Class
Trying something new is always exciting and a fab way to kick start a new decade. Why not try a dance class?
There's everything from ballroom to tap, ballet, and more. You'll be swaying to the rhythm of the beat in no time.
35. Head out for Brunch
Brunch is a classic activity we all love to do, and is essential on your birthday. Whether you need a pancake fix or a giant cup of coffee, it can be a yummy way to celebrate your birthday either in the late morning, or early evening.
36. Have a Karaoke Night
Sing your heart out to some of your favorite classic songs with those you love around you, and embrace the madness of karaoke.
Karaoke is a fun activity you can do from home, or hire a venue out for. It's a place to be as wild and free as possible, and just have fun singing your favorite songs.
---
Turning 20 is a landmark occasion, therefore should be celebrated in a fun and memorable way.
With these fun and creative birthday celebration ideas, you've got plenty of inspiration to plan a party that everyone invited will love, and remember for a long time to come.
You Might Also Like to Read
---
Planning a 20th birthday party? Keep this article for safekeeping to help inspire you, by pinning it to one of your party planning Pinterest boards.