This post may contain affiliate links, meaning if you book or buy something through one of these links, I may earn an affiliate commission at no additional cost to you. Learn more
Bring plenty of fun, creativity, and romance to your humble abode with these at-home date night ideas, ideal for when money or free time are stopping you from going out together.
At-Home Date Night Ideas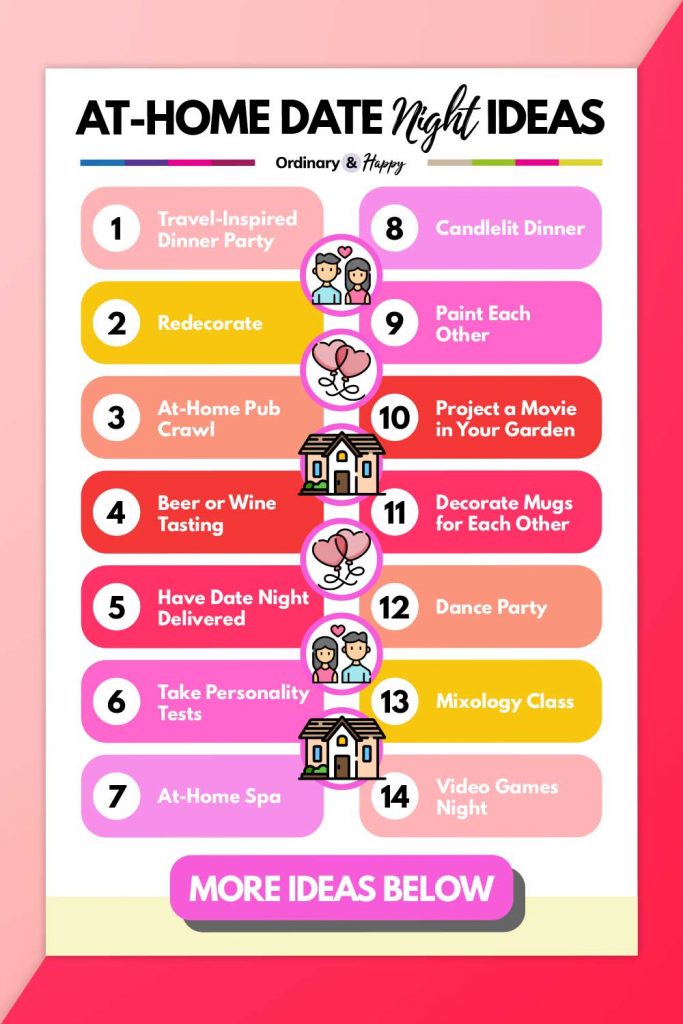 ---
Out of the Box and Unique Ideas
1. Travel-Inspired Dinner Party
We've all heard of 'Around the World in 80 Days,' but you can go around the world in 80 minutes with a travel-inspired dinner party!
To take part, each pick a cuisine and cook a starter, main, and dessert based on that cuisine's delicacies. You'll feel like you're on holiday while you try each other's tasty dishes. You never know, you might find a new favorite dish!
2. Redecorate
Looking for something quirky to do at home for your date night? Arm yourself with a roller and some paint and redecorate.
Redecorating might not sound like a traditional date night activity, but with some music in the background and a couple of glasses of wine, you'll have tons of fun.
3. At-Home Pub Crawl
When you want a night at the pub, but you're feeling the pinch, bring the pub to you with an at-home pub crawl.
Decorate each room of your house as though it's a unique bar or pub, and spend the night traveling between them with your favorite drinks and some fun games. It's just like a night out on the town, but for half the price!
4. Beer or Wine Tasting
Are you a beer enthusiast or a wine connoisseur? Assemble yourselves at the kitchen table with a few bottles of your favorite tipple, and indulge in an at-home wine or beer tasting session.
Grab a few varieties that you wouldn't normally drink to give your tastebuds a new experience.
If you want an authentic tasty experience, make some scorecards you can use to score the drinks out of 10 and write notes about their flavor.
5. Have Date Night Delivered
If you're low on ideas, outsource your date night plan to somebody else with a date night subscription box.
Many companies now supply these quirky boxes, which contain all the necessary ingredients for a night of fun and romance with your other half. That way, you can have all you need for your date delivered, with no need to plan ahead.
6. Take Personality Tests
Find out something new about your significant other by taking some personality tests.
You might see a side to your partner you've never seen before, and you're sure to have a hilarious time comparing results and debating their accuracy.
---
Romantic Ideas
7. At-Home Spa
Want a day at the spa without any of the expense? Relax and pamper yourselves with an at-home spa by setting up candles, a bubble bath, and a 'pampering station', complete with lotions and massage oils.
Use our DIY at-home spa day guide to give you more than a little inspiration for ideas and essentials.
8. Candlelit Dinner
For the ultimate romantic night in with your significant other, organize a candlelit dinner.
You can cook something delicious together, then enjoy it with mood lighting and your favorite album playing in the background.
For a candlelit dinner with a playful twist, set up a tent in your garden – lit by only fairy lights and candles – and eat dinner there.
9. Paint Each Other
Access your inner artist by painting a portrait of your other half or even painting on your other half.
You can draw your best attempt at how they look or opt for a more abstract interpretation. The only rule is – no stick men allowed!
10. Project a Movie in Your Garden
For the ultimate movie night with a twist, swap the sofa for the garden chairs and stream a movie in your garden using a projector.
That way, you'll get to snuggle together under the stars while enjoying one of your favorite movies in the big-screen format.
11. Decorate Mugs for Each Other
If you both enjoy getting crafty, grab a couple of cheap, plain mugs and paint them for each other!
You can translate your love into art by painting a romantic message or pretty artwork onto the side of your partner's new favorite mug.
---
Fun Ideas
12. Dance Party
You don't have to be in the club to dance like nobody's watching. Turn down the lights, put on your best party gear and blast out your favorite tunes for a dance party night with your partner. Extra points if you include a disco ball!
13. Mixology Class
If you're a cocktail lover, you'll benefit from knowing how to make them yourself at home.
Whether you're an espresso martini purist or a margarita aficionado, there are tons of virtual cocktail-making classes you can sign up for, which will show you and your partner exactly how to create your favorite tipples from the comfort of your kitchen.
If a virtual class doesn't interest you, simply grab the ingredients and follow some online recipes to teach yourselves.
14. Video Games Night
This is your chance to prove to your other half that you actually can beat them at Mario Kart like you've been claiming for years! If you want a fun, affordable date night activity, look no further than video games night.
You can unleash your competitive side whilst playing your favorite video games with your partner as your opponent. The loser has to pay for the next date night!
15. Karaoke Night
This popular Japanese pastime makes the perfect at-home date night activity – especially for couples who love to sing.
If you have a karaoke machine, now's the time to utilize it. If you don't have a karaoke machine, no problem. You can find instrumental versions of your most beloved tracks online and sing your version over the top.
16. Have a Tapas Night
Tapas is a way of eating that originates in Spain and involves sharing a selection of delicious small plates, such as calamari, patatas bravas, and various cheeses and meats.
Transport yourself to a 'plaza' in a Spanish city by indulging in a tapas night, complete with traditional dishes such as tortilla, garlic prawns, and chorizo cooked in wine.
If you like the idea of small plates but don't want the hassle of cooking meals, opt for a cheese and charcuterie board instead.
---
Adventurous Ideas
17. Blindfolded Tasting Session
This blindfolded tasting session gives you a choice – feed your partner their favorite foods in the world or get back at them for a previous prank by giving them a tablespoon of hot sauce!
To play, you'll each take turns being blindfolded while your significant other feeds you a food or condiment. You have to guess what you're eating, and the player will the most correct guesses wins.
18. Try a New Hobby
Trying a new hobby is always fun; even more so if you're doing it with a loved one! Maybe you've always wanted to try yoga? Perhaps you want to unlock your inner Picasso by attending a virtual art class?
Whatever your interests are, try something new with your significant other for the ultimate adventurous date night.
Read more: Hobbies You Need to Try
19. Have a Bake-Off
Whether you're baking connoisseurs or complete beginners, you'll have a whale of a time competing in a bake-off.
You and your significant other have to create what you think is your best bake, then taste and compare them both to see which of you comes out on top. The best part is, you'll have dessert sorted for days.
20. Camp Out in Your Back Garden
If you like camping but enjoy having your home comforts nearby, try camping in your back garden.
Pitch a tent, grab a mattress and blankets, and sleep under the stars with your significant other. For the authentic camping experience, set up a fire pit and roast marshmallows.
21. Plan a Holiday
One of the best parts of being in a couple is the opportunity to make magical memories together. Use your date night to plan an extra-special holiday together and make a list of the activities you'd like to do during your visit.
Have you always dreamt of a stay in LA? Desperate to see elephants in Thailand? Now's the chance to make that dream a reality.
If you want to make your trip even more adventurous, simply pick up a map, close your eyes and place a pin anywhere on the map. The destination you've picked should be the next place you visit!
22. Ask Me Anything
We may think we know everything about our partners, but there will always be some anecdotes or stories we're yet to hear. For a night of deep chats and revelatory stories, play 'ask me anything' with your partner.
You're allowed to ask each other twenty questions that they must answer honestly, providing an ideal opportunity for meaningful discussions and hilarious anecdotes.
---
Budget-Friendly Ideas
23. Games Night
If you and your partner like to get a little competitive, try a games night! Go head to head with classic board games, or keep things simple by playing card games such as 'Snap!'
Make a night out of it by competing in a whole tournament that includes five games, with the winner being whoever wins the most.
Read more: Best Board Games for Couples
24. Make a Scrapbook
Indulging in some nostalgia is always a great idea, so reminisce on your favorite memories and create a way to access them by putting together a scrapbook.
The scrapbook should be filled with photos of your experiences together, as well as tickets from your favorite activities, love letters, and cards you've bought for one another.
Spending the evening looking back on happy memories is guaranteed to strengthen your relationship!
25. Complete a Jigsaw Puzzle
Put your brains to the test by joining forces to complete a jigsaw puzzle. With a glass of wine in hand and romantic tunes playing in the background, this activity from your childhood can quickly become the ideal date night activity.
If you want to turn it into a competition, both complete one jigsaw puzzle, each the same size, and see who completes theirs first!
26. Fill in a Couple's Journal
Couples that write together stay together! If you're looking for a romantic yet affordable way to spend a date night at home, look no further than filling in a couple's journal.
You can buy couple's journals that contain thought-provoking questions about your relationship, or, for a cheaper option, create your own journal, writing down things you love about one another and listing your future plans together.
---
Last-Minute Ideas (No Planning Required)
27. Write Your Couples Bucket List
A bucket list is a list of the activities or experiences you hope to do before you die. Enjoy an evening of imagination by putting together a joint bucket list filled with future holiday ideas and hobbies you'd both like to try.
Spice things up by adding a time limit to some of the items. That romantic weekend in Paris you want to organize – why not put a five-year deadline on it?
Get started with our bucket list printable templates and get inspired with our couples' bucket list ideas to help you jot down and organize your bucket list together.
28. Have Dessert for Dinner
Remember when you were a kid and fantasized about eating nothing but cake for dinner?
Now you're an adult – you can do just that! Grab your favorite cakes, brownies or cookies, and two spoons – then tuck in!
29. Binge Your Favorite Movies
Bring the cinema to your house by spending a day in front of the TV watching your favorite movies.
Whether they're Disney classics, soppy rom coms, or intellectual thrillers, you're guaranteed a fun evening experiencing each other's most-loved movies.
30. Cook Dinner Together
Date nights often involve one person cooking dinner for the other, so why not try something different and cook together?
You can make a favorite recipe or try something completely new – either way, you'll have a great time putting together a tasty meal and enjoying it over some candles and good conversation.
If you're stuck on what to make, add some adventure to your evening by opening one of your cooking books on a page at random and cooking the recipe you land on.
31. Have a Picnic
Picnics can only take place in the park, right? Wrong! With enough imagination, you can transform your living room or garden into the perfect picnic destination by laying down a blanket and preparing a selection of sandwiches and snacks to complete the set-up.
If you want to create a summer's day vibe, grab a couple of bottles of fruity ciders or some smoothies to help you wash down the tasty food.
Read more: Picnic Essentials and Tasty Picnic Foods to Pack
---
Date night doesn't have to be a luxurious, over-the-top experience. Often, simple and fun activities make for the most intimate and enjoyable experiences together.
If you're at home and you can't go out, for whatever reason, don't let that smother the romance. Get your thinking caps on, and use these at-home ideas to inspire an afternoon, evening, or weekend of fun, laughter, and making memories together.
You Might Also Like to Read
---
Keep these at-home date night ideas for safekeeping by saving this article to one of your Pinterest boards.